Climate change: Greenland's ice sheet has melted past the point of no return – FRANCE 24 English
Issued on: 15/08/2020 – 14:58
Greenland's ice sheet may have shrunk past the point of return, with the ice likely to melt away no matter how quickly the world reduces climate-warming emissions, new research suggests.
Scientists studied data on 234 glaciers across the Arctic territory spanning 34 years through 2018 and found that annual snowfall was no longer enough to replenish glaciers of the snow and ice being lost to summertime melting.
That melting is already causing global seas to rise about a millimeter on average per year. If all of Greenland's ice goes, the water released would push sea levels up by an average of 6 meters — enough to swamp many coastal cities around the world. This process, however, would take decades.
"Greenland is going to be the canary in the coal mine, and the canary is already pretty much dead at this point," said glaciologist Ian Howat at Ohio State University. He and his colleagues published the study Thursday in the Nature Communications Earth & Environment journal.
The Arctic has been warming at least twice as fast as the rest of the world for the last 30 years, an observation referred to as Arctic amplification. The polar sea ice hit its lowest extent for July in 40 years.
The Arctic thaw has brought more water to the region, opening up routes for shipping traffic, as well as increased interest in extracting fossil fuels and other natural resources.
Greenland is strategically important for the U.S. military and its ballistic missile early warning system, as the shortest route from Europe to North America goes via the Arctic island.
Last year, President Donald Trump offered to buy Greenland, an autonomous Danish territory. But Denmark, a U.S. ally, rebuffed the offer. Then last month, the U.S. reopened a consulate in the territory's capital of Nuuk, and Denmark reportedly said last week it was appointing an intermediary between Nuuk and Copenhagen some 3,500 kilometers away.
Scientists, however, have long worried about Greenland's fate, given the amount of water locked into the ice.
The new study suggests the territory's ice sheet will now gain mass only once every 100 years — a grim indicator of how difficult it is to re-grow glaciers once they hemorrhage ice.
In studying satellite images of the glaciers, the researchers noted that the glaciers had a 50% chance of regaining mass before 2000, with the odds declining since.
"We are still draining more ice now than what was gained through snow accumulation in 'good' years," said lead author Michalea King, a glaciologist at Ohio State University.
The sobering findings should spur governments to prepare for sea-level rise, King said.
"Things that happen in the polar regions don't stay in the polar region," she said.
Still, the world can still bring down emissions to slow climate change, scientists said. Even if Greenland can't regain the icy bulk that covered its 2 million square kilometers, containing the global temperature rise can slow the rate of ice loss.
"When we think about climate action, we're not talking about building back the Greenland ice sheet," said Twila Moon, a glaciologist at the National Snow and Ice Data Center who was not involved in the study. "We're talking about how quickly rapid sea-level rise comes to our communities, our infrastructure, our homes, our military bases."
(REUTERS)
5:42 Chilean astronomers discover a unique planet – Prensa Latina
Santiago de Chile, Sep 21 (Prensa Latina) Chilean astronomers discovered a planet classed as 'the first Ultra Hot Neptune', 260 light years from Earth, according to a study published on Monday in the Nature Astronomy journal.
That celestial body, classified as LTT 9779, reaches temperatures of up to 1,700 degrees Celsius and is an exoplanet located in the Neptune Desert, an area with low planetary density and that, having bodies like the planet Neptune, allow scientists to study planetary atmospheres.
The planet's discoverers are James Jenkins, a scholar from the Department of Astronomy of the Faculty of Physical Sciences and Mathematics of the University of Chile, and Matias Diaz, a doctoral candidate in Astronomy at that center.
Both scientists studied the readings from the Transiting Exoplanet Survey Satellite, or TESS, in what was considered an 'unlikely' finding.
Jenkins explained that it is deemed an unlikely discovery because it is located in the Neptune Desert, where there are almost no planets and the existing ones have orbital periods of less than four days, and with masses and sizes similar to Neptune, which allows the investigation of its atmosphere.
He added that LTT 9779 has an atmosphere despite its closeness to the star it orbits and that it is very difficult to explain why this planet did not become a rock core, nor to find many more examples like this orbiting other stars as bright.
rly/omr/agp/rc
Oncology nurses should be routinely tested for SARS-CoV-2, warn researchers – News-Medical.Net
Researchers from the NHS Foundation Trust, University of Cambridge and Cambridge Clinical Laboratories have warned that until a vaccine for severe acute respiratory syndrome coronavirus 2 (SARS-CoV-2) becomes available, antigen and antibody testing should be carried out among oncology nurses as part of routine patient care.
The team's study of 434 patient-facing oncology staff who worked during the peak of the coronavirus disease 2019 (COVD-19) pandemic in the UK, found that the highest seroprevalence rate for SARS-CoV-2 was among nurses.
David Favara and colleagues say that current UK guidelines recommend that all patients receiving systemic anticancer therapy should be tested for SARS-CoV-2 by PCR (polymerase chain reaction) before starting treatment, with further testing considered at intervals during treatment.
The guidance regarding healthcare workers, on the other hand, only recommends testing in the broadest sense, says the team.
"We propose that there should be a focus on routinely testing oncology nursing staff for both SARS-CoV-2 antigen and antibodies until an effective vaccine comes available," write the researchers.
A pre-print version of the paper is available on the server medRxiv*, while the article undergoes peer review.
Summary of relationship between role, previous symptoms and antibody results (June 2020 sample collection). All participants were nasopharyngeal swab SARSCOV-2 PCR negative at time of SARS-COV-2 antibody testing.
Cancer patients may be at greater risk of contracting SARS-CoV-2
Since the first cases of SARS-CoV-2 were first identified in Wuhan, China, late last year, the virus has now infected more than 31 million people globally and caused more than 961,000 deaths. Despite researchers' intense efforts to develop therapies, no effective antiviral treatments or vaccines have yet been developed.
Cancer patients may be at a greater risk of contracting SARS-CoV-2 owing to the multiple hospital visits they need to attend for diagnosis, treatment, and follow-up.
Recent studies have suggested that while anticancer therapy does not increase the mortality risk among cancer patients infected with SARS-CoV-2, it may increase the risk of severe complications following infection.
Guidance is therefore needed to safeguard both patients and oncology staff, say Favara and colleagues.
However, data regarding oncology-specific SARS-CoV-2 infection and immunity rates in the UK are lacking, and the risk of transmission among staff who care for cancer patients is not known.
"To date, no large study has specifically reported and tracked patient-facing oncology staff SARS-CoV-2 exposure," say Favara and team.
What did the current study involve?
Favara and colleagues recruited 434 patient-facing oncology staff who worked during the peak of the COVID-19 pandemic at three secondary care NHS Foundation Trust hospitals in the UK, namely the Queen Elizabeth Hospital, Peterborough City Hospital, and Cambridge University Hospitals.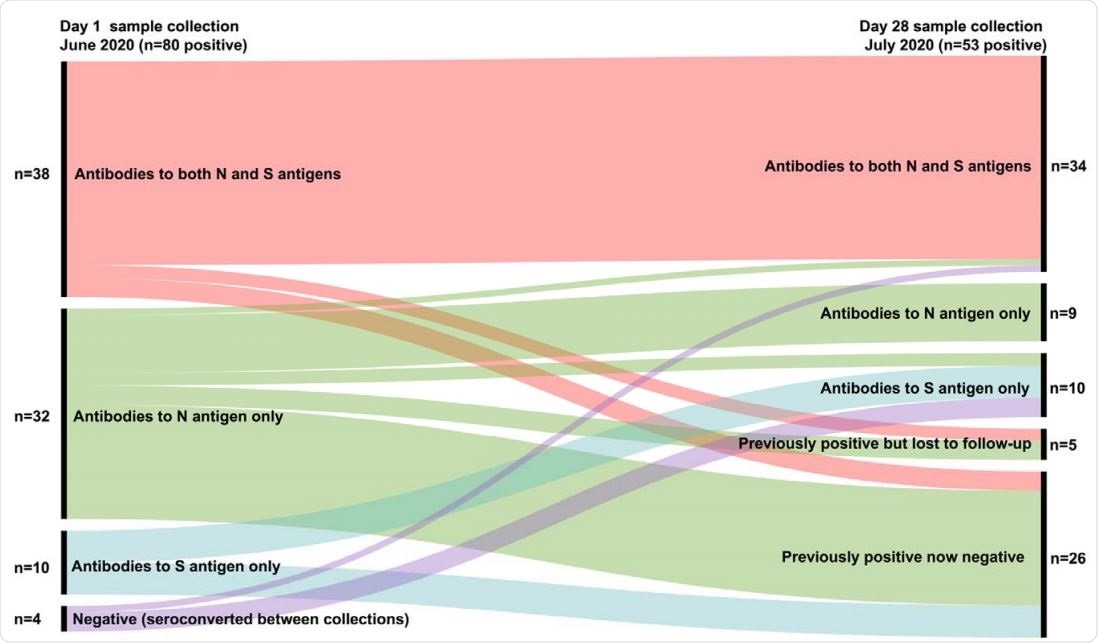 Summary of Relationship between day 1 and day 28 positive antibody results (by SARS-CoV-2 antigen target).
Staff members had nasopharyngeal swabs tested for SARS-CoV-2 by PCR in June 2020 (day 1 samples) and again in July (day 28 samples). They also had their blood tested for SARS-CoV-2-specific antibodies (at the same points) using a laboratory Luminex-based assay and a rapid point-of-care (POC) assay.
Of the 434 participants involved in the study, 58.3% were nurses, 21.2% were doctors, 10.4% were radiographers, and 10.1% were administrators. The overall median age of the study population was 40 years and 82% were female.
Prior to June, 26.3% of participants reported having symptoms indicating potential SARS-CoV-2 infection, and 1.4% had tested positive for infection by PCR.
What did the study find?
On day 1 and day 28 of testing, all participants tested negative for SARS-CoV-2 by PCR.
The Luminex-based assay identified 18.4% of participants as SARS-CoV-2 seropositive on day 1, 42.5% of whom also tested seropositive by PCO.
Luminex-based seropositivity rates were higher among nurses (21.3%) and doctors (17.4%), compared with among administration staff (13.6%) and radiographers (8.9%).
Of 400 participants who also underwent testing on day 28 in July, 13.3% tested seropositive by Luminex, 92·5% of whom had previously tested positive, and 7·5% of whom were newly positive.
Of all the staff groups tested, the seroprevalence rate was highest among nurses, at 16.5%.
"The daily interactions of nurses with multiple patients at close quarters will undoubtedly contribute to these stark statistics," say Favara and colleagues.
Of the participants who tested seropositive on day 1, 32.5% became seronegative by day 28, suggesting that SARS-CoV-2 antibody seropositivity declines over time.
Nurses should be tested regularly as part of routine patient care
The researchers say that until a vaccine becomes available, the high prevalence of SARS-CoV-2 seropositivity in oncology nurses, along with the high rate of decline in seropositivity over 4 weeks supports regular antigen and antibody testing in this staff group as part of routine patient care.
"This study sets the first seropositivity baseline for UK oncology staff and provides new information to consider incorporating into international guidance on safeguarding patients," say Favara and team. "We propose that there should be a focus on routinely testing oncology nursing staff for both SARS-CoV-2 antigen and antibodies until an effective vaccine comes available."
The researchers suggest that since seropositivity can fluctuate within 4 weeks, testing should be carried out at least once a month. Ideally, weekly PCR-testing with fortnightly serology would be performed.
"Increasing availability of lower-cost, high sensitivity, and specificity SARS-CoV-2 testing methods should make this targeted approach viable, would help protect patients and staff and enable containment and tracking of new, asymptomatic infections," they conclude.
*Important Notice
medRxiv publishes preliminary scientific reports that are not peer-reviewed and, therefore, should not be regarded as conclusive, guide clinical practice/health-related behavior, or treated as established information.
NASA Publishes Artemis Plan to Land First Woman, Next Man on Moon in 2024 – Stockhouse
WASHINGTON , Sept. 21, 2020 /PRNewswire/ — Following a series of critical contract awards and hardware milestones, NASA has shared an update on its Artemis program, including the latest Phase 1 plans to land the first woman and the next man on the surface of the Moon in 2024.
In the 18 months since NASA accepted a bold challenge to accelerate its exploration plans by more than four years and establish sustainable exploration by the end of the decade, the agency has continued to gain momentum toward sending humans to the Moon again for the first time since the last Apollo lunar mission in 1972.
"With bipartisan support from Congress, our 21st century push to the Moon is well within America's reach," said NASA Administrator Jim Bridenstine . "As we've solidified more of our exploration plans in recent months, we've continued to refine our budget and architecture. We're going back to the Moon for scientific discovery, economic benefits, and inspiration for a new a generation of explorers. As we build up a sustainable presence, we're also building momentum toward those first human steps on the Red Planet."
In its formal plan, NASA captures Artemis progress to date, identifying the key science, technology and human missions, as well as the commercial and international partnerships that will ensure we continue to lead in exploration and achieve our ambitious goal to land astronauts on the Moon.
The agency's powerful new rocket, the Space Launch System (SLS), and the Orion spacecraft are closer than ever to their first integrated launch. The spacecraft is complete while the core stage and its attached four engines are undergoing a final series of tests that will culminate in a critical hot fire test this fall.
Early Artemis Missions
Following a successful hot fire test, the core stage will be shipped to the agency's Kennedy Space Center in Florida for integration with the spacecraft. NASA will launch an SLS and an Orion together on two flight tests around the Moon to check performance, life support, and communication capabilities. The first mission – known as Artemis I – is on track for 2021 without astronauts, and Artemis II will fly with crew in 2023.
In the Phase 1 plan, NASA notes additional details about conducting a new test during the Artemis II mission – a proximity operations demonstration. Shortly after Orion separates from the interim cryogenic propulsion stage, astronauts will manually pilot Orion as they approach and back away from the stage. This demonstration will assess Orion's handling qualities and related hardware and software to provide performance data and operational experience that cannot be readily gained on the ground in preparation for rendezvous, proximity operations, and docking, as well as undocking operations in lunar orbit beginning on Artemis III.
While preparing for and carrying out these flight test missions, NASA already will be back on the Moon robotically – using commercial delivery services to send dozens of new science investigations and technology demonstrations to the Moon twice per year beginning in 2021.
In 2024, Artemis III will be humanity's return to the surface of the Moon. After launching on SLS, astronauts will travel about 240,000 miles to lunar orbit aboard Orion, at which point they will directly board one of the new commercial human landing systems , or dock to the Gateway to inspect it and gather supplies before boarding the landing system for their expedition to the surface.
Wearing modern spacesuits that allow for greater flexibility and movement than those of their Apollo predecessors, astronauts will collect samples and conduct a range of science experiments over the course of nearly seven days. Using the lander, they will return to lunar orbit before ultimately heading home to Earth aboard Orion.
Work is progressing rapidly on the Gateway. NASA will integrate the first two components to launch – the power and propulsion element and the habitation and logistics outpost – in 2023. This foundation for the Gateway will be able to operate autonomously, conducting remote science experiments when astronauts are not aboard. NASA has selected the first two science instrument suites to conduct space weather investigations in lunar orbit before crew visits.
While NASA has not made a final decision to use the Gateway for Artemis III, Artemis IV and beyond will send crew aboard Orion to dock to the Gateway, where two crew members can stay aboard the spaceship in orbit while two go to the surface. Over time, the outpost will evolve, with new modules added by international partners, allowing crew members to conduct increasingly longer lunar missions.
As detailed in the agency's concept for surface sustainability earlier this year, an incremental buildup of infrastructure on the surface will follow later this decade, allowing for longer surface expeditions with more crew. That concept calls for an Artemis Base Camp that would include new rovers, power systems, habitats, and more on the surface for long-term exploration of the Moon.
Throughout the Artemis program, robots and humans will search for, and potentially extract, resources such as water that can be converted into other usable resources, including oxygen and fuel. By fine-tuning precision landing technologies as well as developing new mobility capabilities, astronauts will travel farther distances and explore new regions of the Moon.
Learn more about NASA's Artemis program at:
View original content to download multimedia: http://www.prnewswire.com/news-releases/nasa-publishes-artemis-plan-to-land-first-woman-next-man-on-moon-in-2024-301135059.html
SOURCE NASA