Collector Suzanne McFayden on Finding Art That Moves the Soul
Suzanne McFayden with a painting by Julia Jo. Photo by Olivia Frierson. Courtesy of Suzanne McFayden.
Few collectors have minds as crystalline as Suzanne McFayden. Serving as board chair of the Blanton Museum of Art in Austin, Texas, and an esteemed patron at the Studio Museum in Harlem, her effect can raise a vibration. With her honeyed lilt and resonant inflections, immediately one feels compelled to sit up straight. McFayden's snatch-your-spirit elegance is a balm.
"I'm only interested in works that move the soul," McFayden said of her approach to collecting. "I call it a quickening, usually a blood-rushing sensation I feel in my stomach. It's an urge that makes me want to get closer, one that lures me in to learn or ask questions. That's the feeling I enjoy the most, and it really doesn't happen often."
McFayden, while sitting in front of a breathtaking mural called Stay Focus by Delphine Desane, recalled the first time that this "quickening" took hold. She was at Art Basel in 2010, where she encountered a lithograph of the Caribbean sea by Japanese artist Hiroshi Sugimoto. When she learned that Sugimoto was inspired by his time in Jamaica—McFayden's place of birth—she felt as if he were speaking directly to her. It's this kind of communion that inspires each of her purchases.
McFayden's first "serious art purchase" was in 2014: I Have Peg Leg Nightmares by Kenyan artist Wangechi Mutu. The wondrous watercolor collage depicts a woman looking over her shoulder, hands clasped primly in leather gloves, wrists snaked in diamonds. The woman is nude, one leg severed above the knee, as blood spills gorgeously like strewn rose petals.
Works by Deborah Roberts, Adrienne Elise Tarver, and Delphine Desane, hung on a Mural by Diego Miro. Photo by Olivia Frierson. Courtesy of Suzanne McFayden
Suzanne McFayden with a painting by Bony Ramirez. Photo by Olivia Frierson. Courtesy of Suzanne McFayden.
"At the time my kids found the portrait a little scary," McFayden recalled, laughing. "But I fell in love instantly. Mutu's works reflect the conditions that many Black women, across the diaspora, find themselves in. Even though we may be wounded, we still go on and we often find ways to make beauty of the pain we've endured."
McFayden is fixated with internal alchemy, experienced through the depth of feeling. Rather than rush to consume the next best thing, McFayden is interested in forging personal connections and exploring deeper histories with works that will evolve with her over time.
McFayden's collection is an amalgam of her ever-changing moods, sensations, and dreams, from a neon text by British artist Tracey Emin that reads "TRUST YOURSELF"—an aphorism of inestimable value given the dismemberment facilitated through mass media—to dreamy photographs by Ethiopian American artist Awol Erizku.
A true Taurus, she has an affinity for works that conjure beauty. McFayden's definition is not characterized by formal aesthetics, however, but by a kind of internal ignition that charges the senses. For example, in her hydrotherapy room, a Noah Davis nude hangs on the wall, a reminder to embrace in her own sensuality.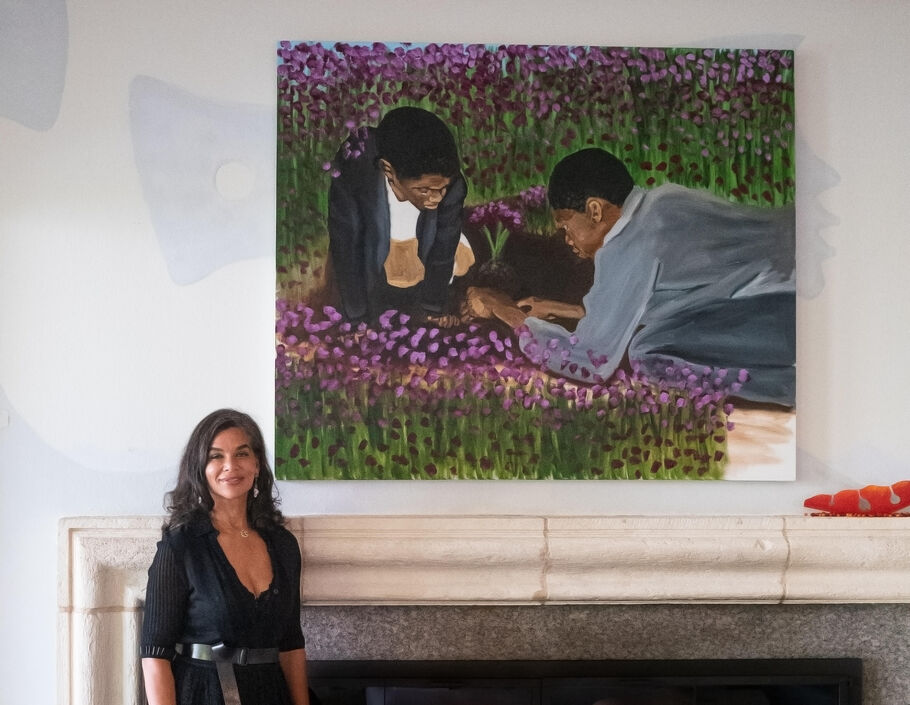 Suzanne McFayden with a painting by Jerrell Gibbs, hung on a mural by Diego Miro. Photo by Olivia Frierson. Courtesy of Suzanne McFayden.
A faithfulness of "respecting her feelings" was also instilled in McFayden at an early age, she told Artsy: "I grew up around women who were always fully embodied, who claimed themselves with complete authority, women who were central to themselves. As a young girl, I wasn't fully aware of how powerful their sovereignty was, especially in relation to the legacy of colonialism and enslavement that surrounded us. In hindsight, I can understand how vital it was for me to have women on both sides of my family who were steadfast regardless of their environment or circumstances."
As a writer and avid reader, McFayden is interested in the "alchemy of truth" that is distilled through art.
Witnessing Mutu responding to Constantin Brâncuși's narrowed primitive gaze which inspired his "African" works, or learning the source of inspiration behind the young Black boy in Titus Kaphar's portrait Enough About You, had a revelatory impact on her: "I don't like art that's trivial," she said. "It's important to me that art demands an emotion, a memory, that in some way it touches the lives of other people or expands a conversation."
Still, this isn't to suggest that McFayden is solely partial to severely sophisticated modernist masterworks. Simple, minimal art can be equally stimulating. One of her recent purchases was a work by visual artist Kenny Rivero. "Every time I see his work it brings a smile to my face," she said. "There's something playful in his exhibitions."
Other artists who've helped nourish McFayden's creativity include Alma Thomas, whom she described as a "force offering a way forward," and Joan Mitchell, "an artist of real power who continued making work regardless of what was happening around her." Both, she said, were eons ahead of their time: Thomas and Mitchell sizzled with élan and sock-it-to-me styles, bulldozing their way through eras of feminine domestic subjection. Paving a way for our current cultural reckoning, nothing excites McFayden more than the seismic shift across the art world today.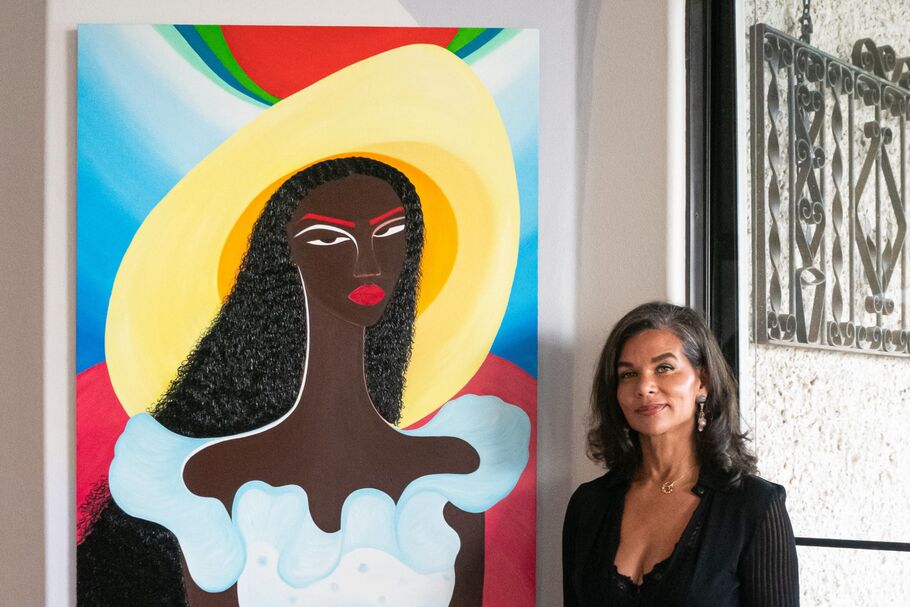 Suzanne McFayden with a painting by Delphine Desane, hung on a mural by Diego Miro. Photo by Olivia Frierson. Courtesy of Suzanne McFayden.
"When I was a child growing up in Jamaica…the standard of beauty was typecast as one thing. I see much more self-love and self-acceptance which is exploding across the art world," she said. "We're witnessing Black artists reclaiming abstraction, allowing themselves to make work that is more radical, more political, and more fluid."
One recent experience of this came during this year's Venice Biennale; McFayden was moved to tears by the seismic showcases of Simone Leigh and Sonia Boyce and the ever-expanding fields of unity across cultures.
"We know that art is a pendulum, but this is not a moment, this is not a phase," McFayden said. "I had a renowned art collector say to me, 'I've never seen the American pavilion look as good as what Simone has done to it.' When you see that sort of reaction live, it's not being said out of tokenism. The elastic band isn't just going to snap back into place. Of course, there's fear from artists who aren't of color and might feel as if they're being squeezed out, but no…finally they're being called to merit their spots."
When we spoke with McFayden, she was rotating her collection for winter. A synchrony of works that match the winter season was called forth, with works from Deborah Roberts, Rachel Jones, Qualeasha Jones, Sheila Hicks and Adrienne Elise Tarver returning, though abstraction is the mood and medium of the moment.
McFayden continues to challenge herself to support in meaningful ways. Inspired by Agnes Gund and her efforts of selling works of art to fund causes, McFayden sees no value in graceless profiteering. Instead, she looks forward: "We can all do more, especially in these times, to support not only ourselves but to help our next generation."
Killian Wright-Jackson
Criss Bellini Art Fans Urge for Pop-Up Gallery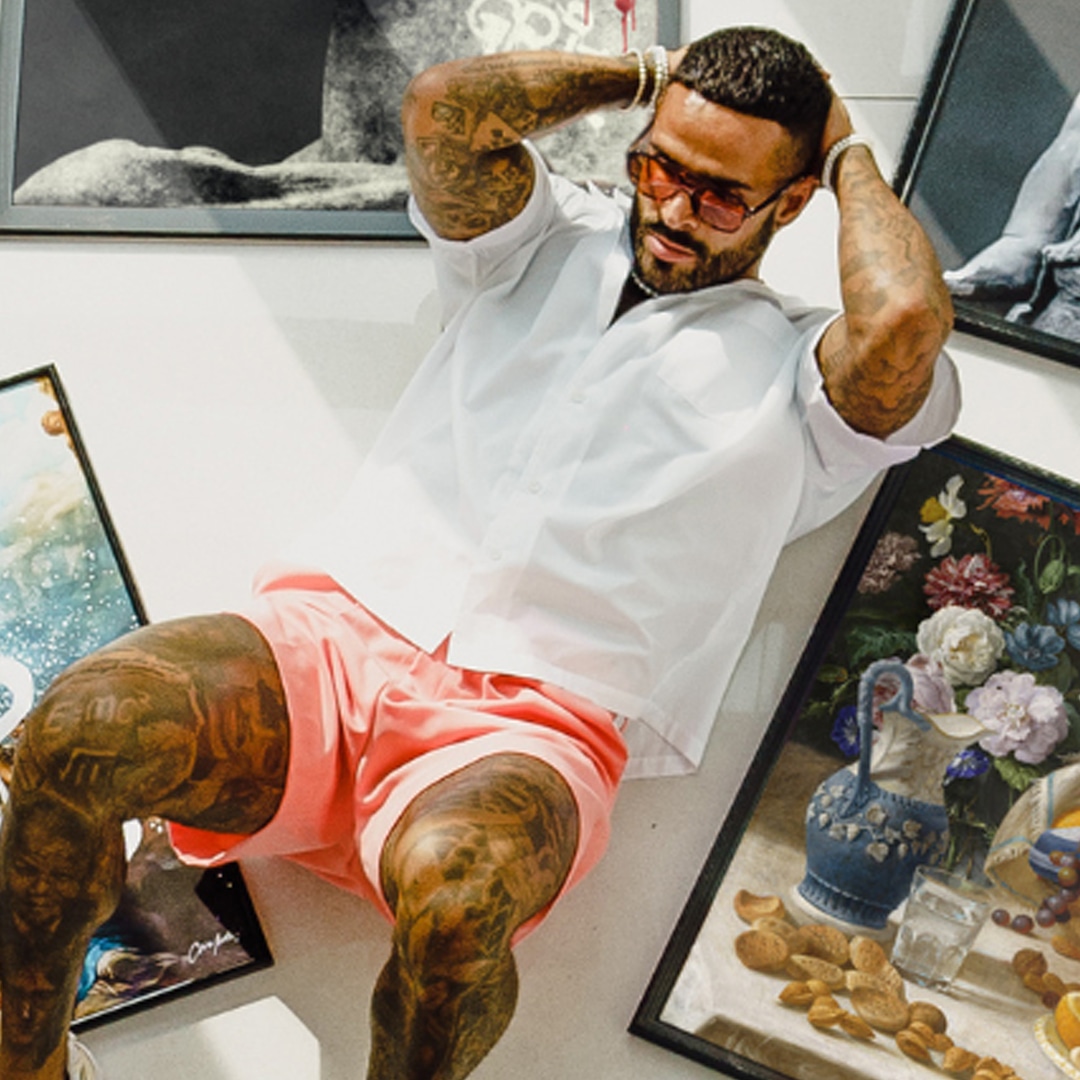 Since the brand's launch in 2020, Bellini's sales have skyrocketed, selling over $1 million in its first year and exceeding its sales in 2021, in 2022, with over 2 million sales in euros. Seeing this, it is clear that art sales are booming, and people want to see more of his unique pieces.
However, because Bellini's website is the only place to view and purchase his art, the public has begun to request a gallery or a pop-up gallery where they can go visit Bellinis' work and see it for themselves.
Wish you could set fire to the last 3 years? A huge flaming art installation is coming to Toronto – CBC.ca
What if you could just set fire to the past? Would you feel liberated — free to start fresh in 2023, flush with feelings of love and peace and other things you could file under positive vibes?
The City of Toronto launched an interactive art project last Thursday called The Burn, a seven-week initiative that aims to offer a moment of respite in the wake of COVID-19, and it comes to a climax on March 11 — the third anniversary of the pandemic.
On that date, a monumental art installation will go up at Nathan Phillips Square, and the centrepiece involves three towering steel sculptures that'll be set aflame for 24 hours — fires that will keep on burning with a little help from the public, who'll be invited to add bits of (supplied) wood to the blaze.
It's a scenario that sounds significantly more thoughtful and controlled to hear Roger Mooking describe it. Mooking is the lead creative on the project, and he talks about The Burn as a chance to heal and grow as a collective. In short, it's bigger than an all-day bonfire.
Mooking says he began thinking about the work in 2021, prompted by the "overwhelming melancholy" of lockdown. "I recognized that I was not the only one, that we were in this kind of collective consciousness globally, and we all needed to heal," he tells CBC Arts. And with The Burn, he's inviting Torontonians to actively begin that healing process.
The first phase of the project is already underway, and involves a series of interactive sculptures — significantly smaller vessels than the ones that'll go up at Nathan Phillips Square. They're being stationed at public sites around the GTA as part of a tour that launched Jan. 19 in three locations: Fort York National Historic Site, the Toronto Zoo and Twist — Mooking's restaurant at Toronto Pearson International Airport.
Here he is, testing it out in Terminal 1.
As of writing, people can find The Burn at three new sites through Feb. 1: Spadina Museum, Native Canadian Centre and the Market Gallery at St. Lawrence Market.
"We want to make sure that we're hitting every corner of the GTA: north, east, south, west, central — all the nooks and crannies," says Mooking. Twenty-one locations are currently scheduled for the tour, and a full map and schedule can be found through the city's website.
Through March 11, visitors will find metallic dodecahedrons at different destinations — sculptures created by local artist Javid JAH. And under each sculpture is a bowl of wooden balls: spheres the size of marbles that have been carved out of cedar.
Take a ball, and you'll be asked to stop and think — to sit with your feelings, really. In the language of The Burn, you'll be "setting an intention." Is there something weighing on you: an emotion you wish you could change or simply set free? Once you've identified that feeling, you're asked to drop your ball inside the sculpture. It's a moment for "letting go," so to speak.
"People are carrying so many things, especially coming through this COVID time," says Mooking. "It's a very simple thing … that can be very, very emotional."
A multihyphenate known for his success as a chef, TV personality (Man Fire Food), and musician (Bass is Base), Mooking's presented participatory art projects for the city before. Just last August, to coincide with Emancipation Month programming at Toronto history museums, he launched Read(In), an interactive installation that also appeared in multiple locations throughout the GTA.
To bring The Burn to life, project curator Umbereen Inayet connected him with collaborators JAH (who designed and produced the installation's ornate sculptural elements) and artist Catherine Tammaro, a Wyandot Elder who served as an advisor, particularly concerning the project's spiritual bent. Says Mooking: "There's a deep history of Indigenous cultures using fire and water for cleansing and preservation and healing, so we needed that guidance to make sure that we were respecting that tradition."
The wooden balls collected at each tour site will eventually fuel the fire on March 11, and Mooking says those attending the activation at Nathan Phillips Square will also have the opportunity to set an intention. At the big event, visitors will send their cedar spheres down a chute, directly into the flames. And when the fire's extinguished, all the ash that's left behind will be collected for use in city gardens. "We're really trying to emulate the cycle of life: from the spark to the ash," says Mooking. "We're looking to carry the spiritual intentions from everybody in the city to fortify our Earth."
The city says it will be announcing more public projects that respond to COVID's impact on residents. Like The Burn, they're part of a program called Stronger Together that launched in late November. More programming is expected to be revealed in February.
In the first few days of The Burn's cross-city tour, Mooking says he was receiving reports from the participating venues. Folks are interacting with the sculptures already, he says. "It's been cathartic, I hope. … I can't wait to see how much healing we're able to do when we really roll out the full scale of this at Nathan Phillips Square."
Full event details, including a map of The Burn's tour locations, can be found on the project's website.
Art is everywhere this weekend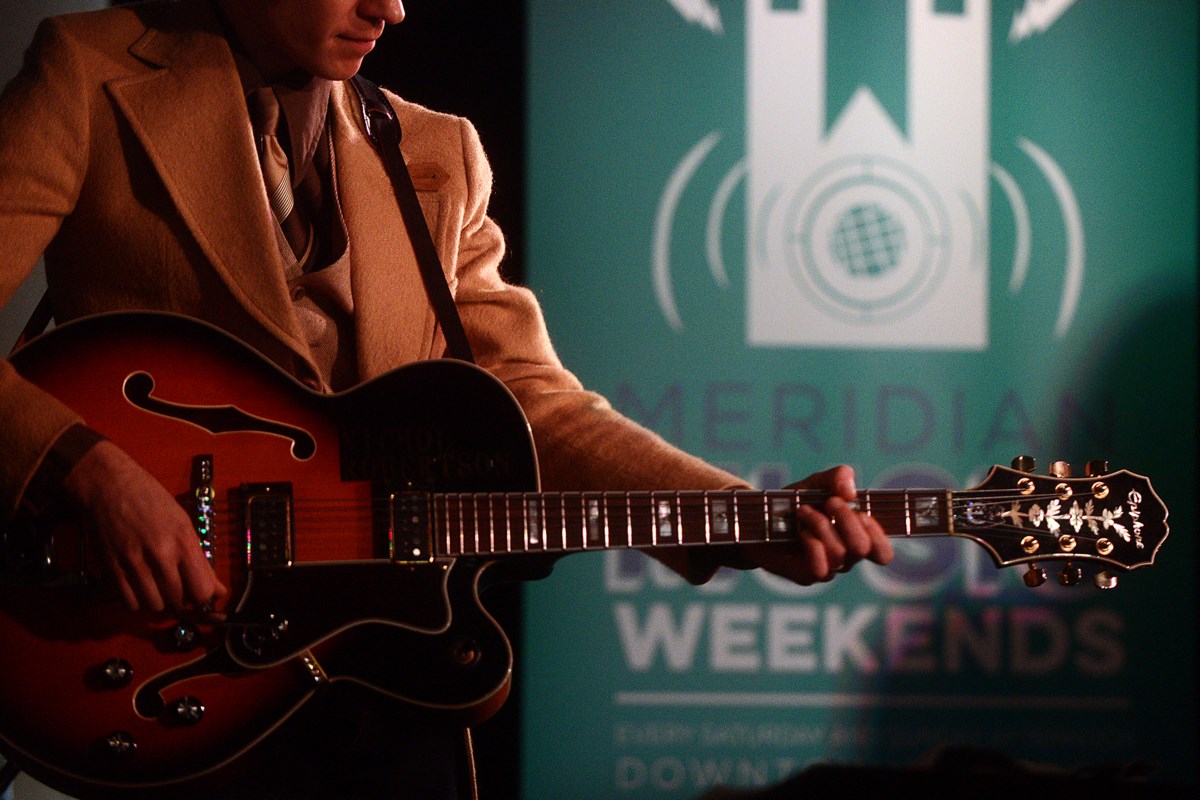 Saturday, Jan. 28
2023 ArtsEverywhere Festival
Multiple locations; 10 a.m. to 10 p.m.
From film screenings to drag brunches and book fairs, the free annual festival has something for everyone. Learn more here.
Winterstock
Royal City Studios; 7 p.m. to 11 p.m.
Join Royal City Studios for a live music tribute to Woodstock 1969; attendees are encouraged to wear their best 60s style clothes. Get tickets here.
Music Weekends
Western Burgers & Steaks; 2:00 p.m. to 5 p.m.
The genre-bouncing Probable Cause will perform live at The Western, pay-by-donation. Doors open at 2 p.m., show starts at 2:30.
Sunday, Jan. 29
2023 ArtsEverywhere Festival
River Run Centre; 10 a.m. to 2:30 p.m.
The last day of the free festival features a lecture and a film screening, both at the River Run Centre. Learn more here.
Music Weekends
Onyx Nightclub; 2p.m. to 5 p.m.
Join SHEBAD for their live concert at Onyx. It's family-friendly and pay-by-donation. Doors open at 2 p.m., show starts at 2:45.
OHL Hockey
2 p.m.: Guelph Storm vs. Sudbury Wolves, Sleeman Centre