Comet Neowise – Wawa-news.com

Post Views:
264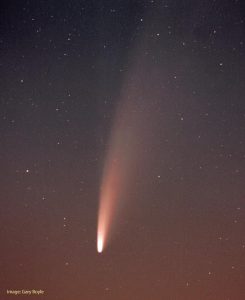 A bright comet is now in the evening sky and you can see it without a telescope. Comet F3 (NEOWISE) has been a fantastic object in the early morning pre-dawn sky but will be well placed below the Big Dipper to see and photograph over the next couple of weeks and hopefully into August. I have been following and imaging this comet since the first week of July and could see it even without binoculars (naked eye).
The comet was discovered on March 27, 2020, by the NEOWISE space telescope as it looks for near-earth objects that could potentially impact our planet. Measuring a little more than half the height of Mount Everest, this object falls into the category of a "once in a decade comet".
Every year astronomers both amateur and professional observe 5 to 10 comets with telescopes. In most cases, they show a green nucleus from the sublimation of frozen chemicals such as ammonia and others. The extremely faint tail is seen when photographed but all comets are different in composition and appearance as Neowise does not appear green. The last bright comet that was visible to the naked eye for the whole world to see was Comet Hale-Bopp in 1997. And like Neowise, it too had a blue ion or gas tail and a fan-shaped dust tail created when comets round the sun as this one did on July 3 at a close distance of 43 million kilometres.
Neowise will be closest to earth on its way out of the solar system on July 22 at a safe distance of 103 million kilometres and will be starting to fade with a shortening tail as it retreats from the sun's heat and back to the icy depths of space. Comet Neowise originates from the Oort Cloud, where long-period comets reside and will return close to 6,800 years from now. Halley's Comet is a short period comet originating from the Kuiper Belt. Along with this chart of the comet's path, many smartphone astronomy apps will also guide you to our celestial visitor.
Enjoy this spectacular comet every chance you can as you never know when the next bright will come to visit.
3 COVID-19 misconceptions Ottawa Public Health would like to clear up – CBC.ca
As people continue to adjust to a lifestyle with COVID-19 in their midst, Ottawa Public Health is advising residents about how to protect their social circles and when it's best to get a test.
Cases of COVID-19 in Ottawa might be lower than the consistent double-digit daily reports of a couple of weeks ago, but officials still report that large groups gathered, outdoors, over the August long weekend without masks or physical distancing.
"This virus has been with us for the past five months and many of us just want to get out and enjoy socializing with friends," associate medical officer of health Brent Moloughney said Wednesday.
"But I can't stress enough that we must be wise about how we socialize."
That means limiting the number of people you entertain in your backyard or at your cottage if you can't keep a distance of two metres. Treat your mask and hand sanitizer as valuables the way you would your wallet and mobile phone. Leave a scenario you feel uncomfortable in, and get tested if you feel unwell, Moloughney said.
Risks of larger gatherings
Moloughney thinks a key message might not have been "loud and clear" when the provincial government increased the size of gatherings to 50 people indoors and 100 outdoors as part of the Stage 3 reopening in mid-July.
"Yes, you can have gatherings, and yes there's larger limits that the province has given, but physical distancing is still part of that," explained Moloughney.
Fifty people would require a lot of indoor space if people keep their two-metre distance, he noted.
Gatherings are distinct from "social circles", the small group of 10 or fewer consistent people who are members of your household plus a few chosen others.
Moloughney explains a social circle comes with an agreement and a sense of reciprocity that you protect the small group by wearing a mask or keeping your distance with anyone outside of it.
When to get a test
Ottawa's three testing centres have seen steadily increasing demand over the past month — in the middle of last week they were conducting about 1,600 tests per day.
The Queensway-Carleton Hospital's care clinic on Moodie Drive, for instance, was originally set up for 200 patients per day but consistently saw more than 400 in July. That's because of more people showing up, and a change in who is eligible for testing, according to a statement from the hospital.
The wait can be between 30 minutes and four hours for a test, so the Champlain region's COVID-19 response committee (CCRC) is looking to add staff, extend hours, or possibly create new sites to meet the demand.
In the meantime, Moloughney said he's spoken with those who are running the test sites who say some individuals are "using the test in ways that are less than ideal."
One situation sees people get in line for the test immediately after fearing they were exposed, but before a few days have elapsed so that the virus can be detectable by a throat or nose swab.
"If you're concerned, if you're worried, for sure get tested. But really that should be about five days after you've been exposed," said Moloughney.
WATCH | Testing too early
Relief after a negative test
A final misconception that Moloughney sought to clear up relates to those who test negative for COVID-19.
Some people might seek the reassurance of a test to visit loved ones or start a new job, but it's tricky, he said.
"The result only gives you an answer for the day that you were tested as to whether there were sufficient virus in the back of your throat."
It's still possible that you were infected a couple of days prior, but the illness wasn't far enough along to show up on a test. Or, you could become exposed after the test.
Many of Mars' stream valleys might have formed under an ice sheet – Ars Technica
The further back into Earth's history your mind wanders, the more work your imagination has to put in. That's even more true for Mars. None of us have physically stepped foot on the present-day version of the planet, and its past was clearly very different from its present, with evidence pointing to flowing and standing water.
Among the relics of the watery past are networks of valleys incised into Mars' surface. The Red Planet's southern hemisphere highlands host many valleys, which have largely been interpreted as formed by rivers and groundwater springs. The source of water in rivers—whether rainfall in a warm climate or just melt from glacial ice—has been a question mark.
It's thought that Mars' past was generally quite cold, so a connection between the valleys and glacial ice is quite plausible. But how direct is that connection? We can identify the drainages in which water flows beneath ice sheets based on physical characteristics of the valleys left behind. So a team led by Anna Grau Galofre at Arizona State set out to analyze the valleys on Mars to see if any would better match a sub-glacial origin.
They worked with topographic data for over 10,000 valleys in almost 70 connected valley networks, characterizing each by a number of metrics. That includes some simple things, like valley width, the number of tributaries upstream, and the angle between connected channels. Another metric that turned out to be important is whether the valley undulates up and down a bit, or instead drops smoothly down-slope without interruption.
Combining all the metrics, the valleys fall into several clusters. There's an indistinct area of overlap, meaning some valleys couldn't be identified as one thing or another, but the others fell in line. Valley width, for example, is good at picking out valleys that are carved by glacial ice here on Earth. Simple channels with few tributaries indicate groundwater springs that trickle downhill. And sub-glacial drainage valleys tend to meet at angles closer to 90 degrees and undulate up and down—driven by high water pressure under a glacier.
Of the 66 networks of valleys, 18 couldn't be identified and three looked like the result of groundwater springs. Only 14 were identifiable as formed by rivers. But nine valley networks had the characteristics of glacial erosion, and 22 fell under the sub-glacial drainage category.
To see if that made sense, the researchers compared the locations of the sub-glacial drainage valleys against a previously published ice sheet model. Glaciers and ice sheets have an upper, colder zone where snowfall accumulation dominates, and a lower, warmer zone where losses from melt or sublimation dominate. Sub-glacial drainages should exist in that lower zone, where meltwater is being produced. Laid out on a map, those 22 valley networks do generally sit in the region where the ice sheet model predicts they should—between the edge of the ice sheet and the "equilibrium line" that divides the melt zone from the accumulation zone.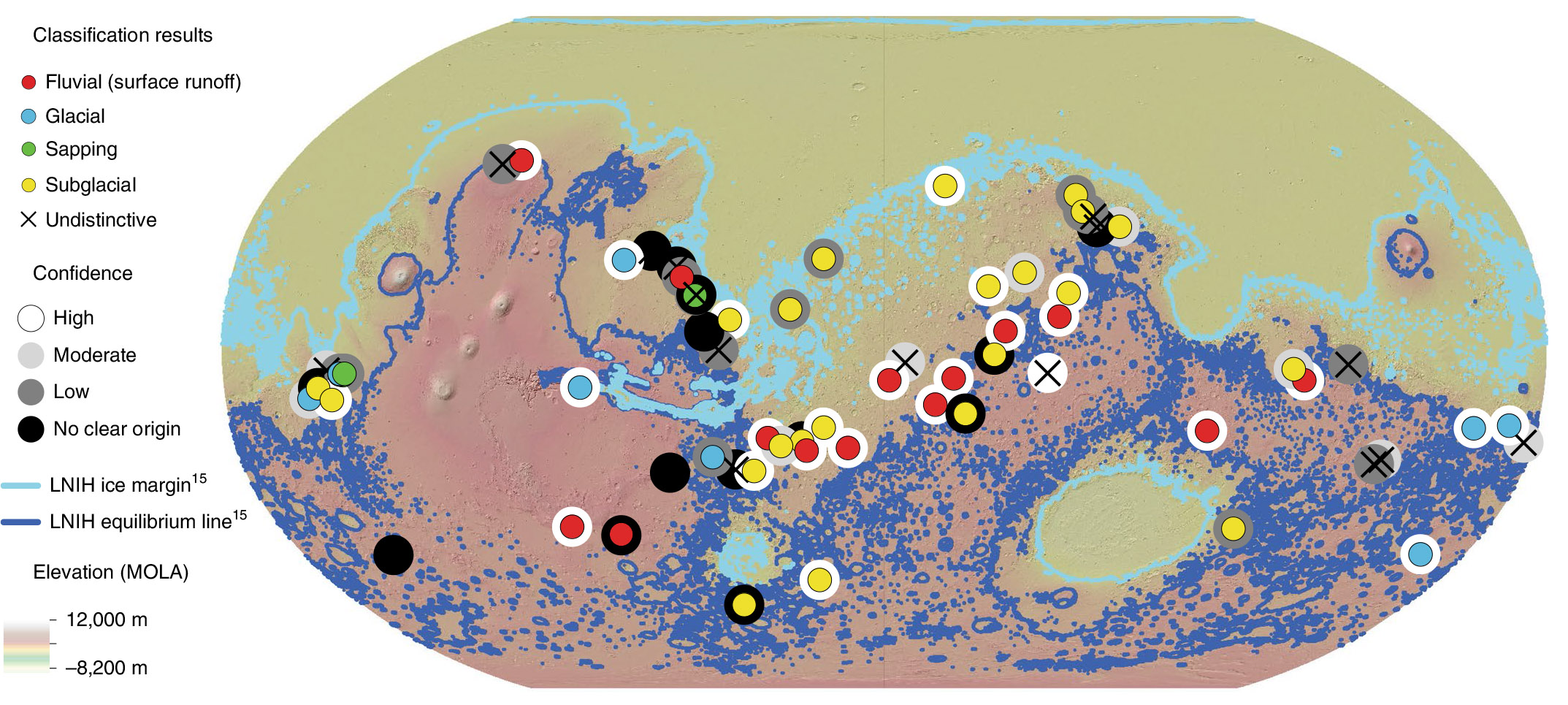 The researchers think this ice sheet could have mostly been frozen to the ground, but with localized areas where friction or geothermal heat from below melted ice at the base. That would actually be a simple explanation for consistent sources of flowing water on a cold Mars, although it might paint an icier picture than the one you've had in your head.
"This picture alters the current understanding that all Martian valley networks originated by surface runoff and provides geomorphological support for the presence of ice sheets on early Mars," the researchers write, "which reconciles climate predictions with observations from the geological record."
Nature Geoscience, 2020. DOI: 10.1038/s41561-020-0618-x (About DOIs).
NASA Curiosity rover marks 8 years on Mars with 'Spaghetti Western' view – CNET
Cue an Ennio Morricone sound track. NASA released a fresh view of Mars, and it looks like Clint Eastwood is about to stroll across the red planet.
NASA's Curiosity rover arrived on Mars on Aug. 5, 2012 (or Aug. 6 depending on your location). To celebrate, the space agency released eight eye-catching images of Mars this week that tie into the rover's past and present experiences on the planet.
One of the newly released looks shows what NASA describes as a "Spaghetti Western landscape." Curiosity snapped the 130 images used for the panorama in December 2019. It shows a spot called Western Butte in the foreground.
You can check out the full, massive panorama on NASA's Mars Exploration Program site.
Another newly released image shows a striking portrait of Mount Sharp, the massive central mountain inside the Gale Crater, in October 2019.
NASA shared a total of eight Martian "postcards" to mark each year for Curiosity. One image traces to back to 2014 and even shows a far-off view of the rover's current location.
"I can't help but also think about the corresponding distance we've traveled in our understanding of Mars' habitable past since the time we took this picture," said Curiosity deputy project scientist Abigail Fraeman.
It's been an epic eight years for the rover. Curiosity has traveled more than 14 miles (23 kilometers) over rough and rocky terrain. It just drilled its 27th hole on the red planet.
The rover may be leaving some physical marks on Mars, but it's also building out its impressive science legacy. The vehicle is healthy and looking forward to its continuing mission of peering into Mars' past, looking for evidence that it may have once been habitable for life.
Curiosity will soon be welcoming a friend to Mars. NASA's Perseverance rover is scheduled to arrive in February 2021 after a successful July launch. China is also sending along a rover with its Tianwen-1 mission.
The rovers will all be exploring different regions of Mars, so there won't be any firsthand hellos exchanged. When it comes to Mars, the more the merrier.