COMMENTARY: How 'Uncle Tom' still impacts racial politics in the 21st century – Global News
Published nearly 170 years ago, Uncle Tom's Cabin by Harriet Beecher Stowe had a profound impact on American slavery. But Uncle Tom is not a relic from the 19th century: this complex figure still has a hold over Black politics. In fact, the Uncle Tom stereotype is quite possibly the most resilient figure in American history. He has survived pandemics, lived through 33 presidents (including President Joe Biden), and remains the most recognizable Black character in history.
While most people know that Uncle Tom is the titular character of Uncle Tom's Cabin, few people know how and why this literary character has transformed since his initial appearance. Why is Uncle Tom still alive in the 21st century?
Stowe's Uncle Tom
The bestselling novel of the 19th century, and the second bestselling book of that century (after the Bible), Uncle Tom's Cabin first appeared in the United States in 1851 as a serialized work of fiction published one chapter at a time, in the National Era, a weekly abolitionist newspaper edited by Gamaliel Bailey.
Today, we do not necessarily think of novels as shaping national identity. However, in 19th-century America, Stowe's vision of Uncle Tom constructed a form of Black manhood that deeply impacted the nation. Despite being ripped from his wife and children, chained and sent off in a coffle with other enslaved men and women, let down by even a "good master," and beaten, finally to death, Uncle Tom does not ever speak ill of anyone. He is loyal, passive in the midst of white violence and dies as a martyr.
Since then, various Black men have been called "Uncle Toms." From Dr. Martin Luther King, Jr. to former president Barack Obama, at some point, they were accused of being too passive or a sell-out to the race.
Legalized rights did not translate to reality
In the 1896 landmark case, Plessy vs. Ferguson, the U.S. Supreme Court ruled that African Americans had access to the legal system, equal to that of whites, but they had to maintain separate institutions to facilitate these rights. The ruling institutionalized a racial hierarchy that placed whites at the top and Black people at the bottom in nearly every facet of public life.
To live in North America meant that one had to choose not only between racial loyalty and disloyalty, but also between life and death. Survival meant performing servile roles as Uncles and Mammies, in public or on the job.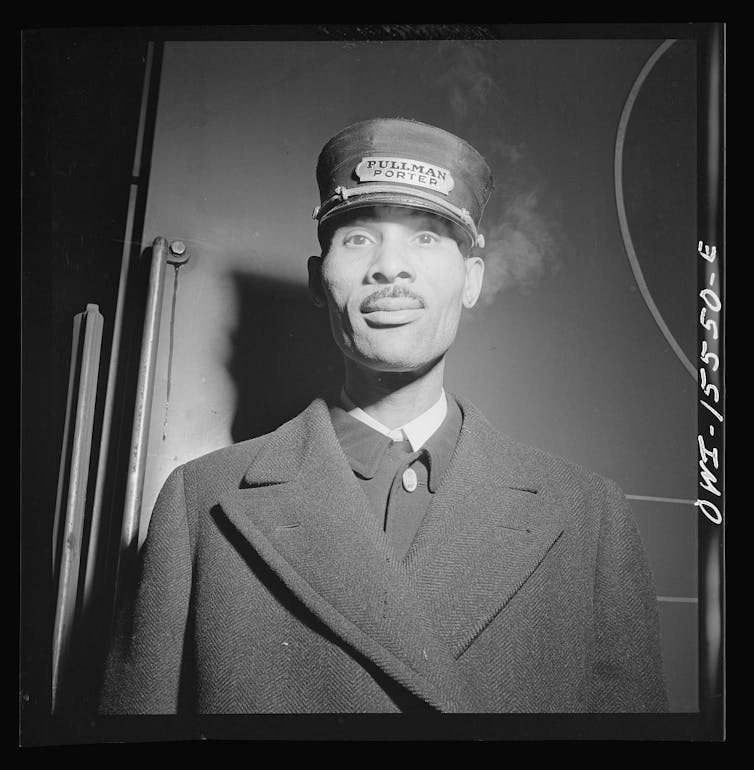 In this environment, Black people were forced to acquiesce to the white public's desire to perpetuate the servile relations of slavery. Black men and women who violated these Jim Crow norms risked their homes, jobs and lives.
For survival in a racially segregated environment, the Pullman sleeping car porters, for instance, Black men who were employed on the railways of North America, had to perform the role of, and were measured against the image of, a servile Uncle Tom.
In Canada, the only reference for Uncle Tom is at Uncle Tom's Cabin Historic Site. The former home of Rev. Josiah Henson, who lived from 1789–1883, has been turned into a museum to showcase Henson's life, as founder of the Dawn Settlement in Dresden, Ont., for fugitive African Americans. Stowe's novel was loosely based on Henson's biography, The Life of Josiah Henson, Formerly a Slave, Now an Inhabitant of Canada published in 1849. The museum documents Henson's life but also reaffirms his connection to Stowe's Uncle Tom.
The insatiable appetite of the white North American public for a docile, symbolically emasculated Black male archetype and the Uncle Tom controversies that follows them, speaks profoundly to how monumentally resistant to change this character has been.
From servant to sellout
In the decades following the novel, Uncle Tom transformed into a stereotype of Black masculinity characterized by docility, castrated sexuality, a happy-to-please-whites attitude with a safe, child-like essence, at the same time. Shirley Temple's blond ringlets paired with Bill "Bojangles" Robinson's soft-shoe routine in their "buddy" films of the 1930s is one example of the cinematic repackaging of Stowe's Uncle Tom and his child-patron, Little Eva.
The servile Uncle Tom has been reproduced in Joel Chandler Harris' Uncle Remus tales published in the 1880s, later adapted by Disney for Song of the South. Uncle Tom also became a feature at blackface minstrel shows known as "Tom shows." Later, he mutated into commodity spokespersons such as Rastus the Cream of Wheat trademark and Uncle Ben.
The concept of the sellout Uncle Tom, however, is characterized by the idea of a Black man who appears only interested in serving whites, the government, corporations or "the system" generally. The insult is meant to connote that these men, these "Uncle Toms" will ensure that white needs come before the needs of both the Black community and themselves.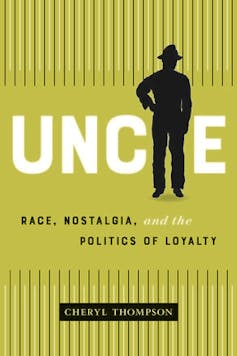 Men (or the fictionalized characters of men) who have faced accusations of being a sellout Uncle Tom include the film roles of actors like Sidney Poitier and, later, Bill Cosby during the height of his fame in the '70s and '80s, as well as Christopher Darden during the O.J. Simpson trial (not to mention O.J. himself), and even athletes like Tiger Woods.
Black people hate him, but it also seems we cannot live without him. The trope is especially brought up when it comes to political figures. Some political careers have been marred by Uncle Tom accusations. This includes people like Supreme Court Justice Clarence Thomas, and more recently Kentucky's Attorney General Daniel Cameron.
Foils for Black social progress
The challenges that are brought to contemporary Black men in positions of authority, power and prestige who are either in service to white institutions or become the public spokespersons for white companies are very real.
The reason these Black men are accused of Uncle Tomism is that communities suspect them of thwarting Black social progress. It is a reliable trope called upon during moments when a Black individual is perceived by the Black community as maligning the race in order to win favour with white authority and institutions.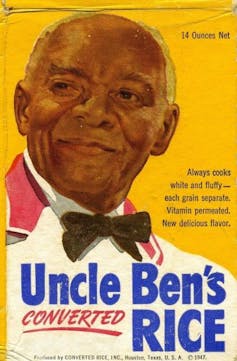 Beyond politics, we are surrounded with imagery of Black men who serve one purpose: to make the public (imagined as white) feel safe. They are useful only if they are clearly committed to the American way of life, which is to say consumer culture. From Uncle Remus there to sell white childhood innocence, Uncle Ben to sell rice, and even Michael Jordan's squeaky-clean image, this image of Black masculinity has had a firm grip on what it means to be a Black man in North American society.
Why can Uncle Tom not just fade from memory, as have so many other characters from other mid-19th-century novels?
Stowe may have created this character to support the abolition of slavery. However, through constant reinvention and reproduction, Uncle Tom will continue to exist if the Black community remains divided on how to live within a capitalist system built on slave labour.
Yet this figure also reminds us to look deeper and to ask difficult questions about how we choose to relate to white society and its institutions. Uncle Tom will persist as long as anti-Blackness persists.
This article is adapted from Cheryl Thompson's forthcoming book, 'Uncle: Race, Nostalgia and the Politics of Loyalty' (Coach House Books).
Cheryl Thompson, Assistant Professor, Creative Industries, Ryerson University
This article is republished from The Conversation under a Creative Commons licence. Read the original article.
Green Party in turmoil, leader resists calls to step down
Canada's Green Party was increasingly mired in an internal dispute over its position on Israel on Tuesday, and a news report said the bloc would hold a vote next month on whether to oust its leader, Annamie Paul, who was elected just eight months ago.
The Canadian Broadcasting Corp (CBC) reported that the Greens had triggered a process that could remove Paul, the first black person to head a mainstream Canadian party, beginning with a vote next month.
A Green Party spokesperson declined to comment on the report, but said the party's "federal council" would meet later on Tuesday. Earlier in the day, Paul, 48, rejected calls from the Quebec wing of the party for her to resign after a member of parliament left the Greens due to the Israel controversy.
"I believe that I have been given a strong mandate. I believe that I have been given the instructions to work on behalf of Canadians for a green recovery," Paul said at a news conference in Ottawa.
Paul herself is not a member of parliament. The Greens – who champion the environment and the fight against climate change – had only three legislators in the 338-seat House of Commons and one, Jenica Atwin, abandoned the party last week to join the governing Liberals.
Atwin has said that her exit was in large part due to a dispute over the party's stance on Israel. Atwin on Twitter has criticized Israel's treatment of Palestinians, while a senior adviser to Paul, Noah Zatzman, has posted on Facebook that some unspecified Green members of parliament are anti-Semitic.
The party's executive committee voted last week not to renew Zatzman's contract, local media reported. Paul converted to Judaism some two decades ago after she married a Jewish man.
While the Greens are the smallest faction in parliament, they perform well in British Colombia and hold two seats there. The current turmoil may favor their rivals ahead of a national election that senior Liberals say could be just a few months away.
The Greens would win about 6.7% of the vote nationally if a vote were held now, according to an average of recent polls aggregated by the CBC.
(Reporting by Steve Scherer and Julie Gordon; editing by Jonathan Oatis)
Hope, anger and defiance greet birth of Israel's new government
Following are reactions to the new government in Israel, led by Prime Minister Naftali Bennett.
BENJAMIN NETANYAHU, FORMER ISRAELI PRIME MINISTER
"We'll be back, soon."
JOE BIDEN, PRESIDENT OF THE UNITED STATES
"On behalf of the American people, I congratulate Prime Minister Naftali Bennett, Alternate Prime Minister and Foreign Minister Yair Lapid, and all the members of the new Israeli cabinet. I look forward to working with Prime Minister Bennett to strengthen all aspects of the close and enduring relationship between our two nations."
NABIL ABU RUDEINEH, SPOKESMAN FOR PALESTINIAN PRESIDENT MAHMOUD ABBAS
"This is an internal Israeli affair. Our position has always been clear, what we want is a Palestinian state on the 1967 borders with Jerusalem as its capital."
BORIS JOHNSON, BRITISH PRIME MINISTER VIA TWITTER
"On behalf of the UK, I offer my congratulations to
@naftalibennett and @yairlapid on forming a new government in Israel. As we emerge from COVID-19, this is an exciting time for the UK and Israel to continue working together to advance peace and prosperity for all."
TOR WENNESLAND, U.N. MIDDLE EAST PEACE ENVOY VIA TWITTER
"I look forward to working with the Government to advance the ultimate goal of a lasting peace between Israelis and Palestinians."
CHARLES MICHEL, EUROPEAN COUNCIL PRESIDENT VIA TWITTER
"Congratulations to Prime Minister @naftalibennett and to Alternate PM & MFA @yairlapid for the swearing in of the new Israeli government. Looking forward to strengthen the partnership for common prosperity and towards lasting regional peace & stability."
FAWZI BARHOUM, HAMAS SPOKESMAN
"Regardless of the shape of the government in Israel, it will not alter the way we look at the Zionist entity. It is an occupation and a colonial entity, which we should resist by force to get our rights back."
BENNY GANTZ, ISRAELI DEFENCE MINISTER
"With all due respect, Israel is not a widower. Israel's security was never dependent on one man. And it will never be dependent on one man."
CHUCK SCHUMER, U.S. SENATE MAJORITY LEADER
"So, there's a new Administration in Israel. And we are hopeful that we can now begin serious negotiations for a two-state solution. I am urging the Biden Administration to do all it can to bring the parties together and help achieve a two-state solution where each side can live side by side in peace."
JUSTIN TRUDEAU, PRIME MINISTER OF CANADA
"Congratulations on the formation of a new Israeli government, Prime Minister @NaftaliBennett and Alternate Prime Minister @YairLapid. Together, let's explore ways to further strengthen the relationship between Canada and Israel."
MANSOUR ABBAS, ARAB MEMBER OF NEW ISRAELI GOVERNMENT
"We are aware that this step has a lot of risks and hardships that we cannot deny, but the opportunity for us is also big: to change the equation and the balance of power in the Knesset and in the upcoming government."
DAPHNA KILION, ISRAELI IN JERUSALEM
"I think it's very exciting for Israel to have a new beginning and I'm hopeful that the new government will take them in the right direction."
EREZ GOLDMAN, ISRAELI IN JERUSALEM
"It's a sad day today, it's not a legitimate government. It's pretty sad that almost 86 (out of 120 seats) in the parliament, the Knesset, belong to the right-wing and they sold their soul and ideology and their beliefs to the extreme left-wing just for one purpose – hatred of Netanyahu and to become a prime minister."
SEBASTIAN KURZ, CHANCELLOR OF AUSTRIA, VIA TWITTER
"Congratulations to PM @naftalibennett and alternate PM @yairlapid for forming a government. I look forward to working with you. Austria is committed to Israel as a Jewish and democratic state and will continue to stand by Israel's side."
(Reporting by Stephen Farrell; Editing by Andrew Heavens, Daniel Wallis and Lisa Shumaker)
Boris Johnson hails Biden as 'a big breath of fresh air'
British Prime Minister Boris Johnson hailed U.S. President Joe Biden on Thursday as "a big breath of fresh air", and praised his determination to work with allies on important global issues ranging from climate change and COVID-19 to security.
Johnson did not draw an explicit parallel between Biden and his predecessor Donald Trump after talks with the Democratic president in the English seaside resort of Carbis Bay on the eve of a summit of the Group of Seven (G7) advanced economies.
But his comments made clear Biden had taken a much more multilateral approach to talks than Trump, whose vision of the world at times shocked, angered and bewildered many of Washington's European allies.
"It's a big breath of fresh air," Johnson said of a meeting that lasted about an hour and 20 minutes.
"It was a long, long, good session. We covered a huge range of subjects," he said. "It's new, it's interesting and we're working very hard together."
The two leaders appeared relaxed as they admired the view across the Atlantic alongside their wives, with Jill Biden wearing a jacket embroidered with the word "LOVE".
"It's a beautiful beginning," she said.
Though Johnson said the talks were "great", Biden brought grave concerns about a row between Britain and the European Union which he said could threaten peace in the British region of Northern Ireland, which following Britain's departure from the EU is on the United Kingdom's frontier with the bloc as it borders EU member state Ireland.
The two leaders did not have a joint briefing after the meeting: Johnson spoke to British media while Biden made a speech about a U.S. plan to donate half a billion vaccines to poorer countries.
NORTHERN IRELAND
Biden, who is proud of his Irish heritage, was keen to prevent difficult negotiations between Brussels and London undermining a 1998 U.S.-brokered peace deal known as the Good Friday Agreement that ended three decades of bloodshed in Northern Ireland.
White House national security adviser Jake Sullivan told reporters aboard Air Force One on the way to Britain that Biden had a "rock-solid belief" in the peace deal and that any steps that imperilled the accord would not be welcomed.
Yael Lempert, the top U.S. diplomat in Britain, issued London with a demarche – a formal diplomatic reprimand – for "inflaming" tensions, the Times newspaper reported.
Johnson sought to play down the differences with Washington.
"There's complete harmony on the need to keep going, find solutions, and make sure we uphold the Belfast Good Friday Agreement," said Johnson, one of the leaders of the 2016 campaign to leave the EU.
Asked if Biden had made his alarm about the situation in Northern Ireland very clear, he said: "No he didn't.
"America, the United States, Washington, the UK, plus the European Union have one thing we absolutely all want to do," Johnson said. "And that is to uphold the Belfast Good Friday Agreement, and make sure we keep the balance of the peace process going. That is absolutely common ground."
The 1998 peace deal largely brought an end to the "Troubles" – three decades of conflict between Irish Catholic nationalist militants and pro-British Protestant "loyalist" paramilitaries in which 3,600 people were killed.
Britain's exit from the EU has strained the peace in Northern Ireland. The 27-nation bloc wants to protect its markets but a border in the Irish Sea cuts off the British province from the rest of the United Kingdom.
Although Britain formally left the EU in 2020, the two sides are still trading threats over the Brexit deal after London unilaterally delayed the implementation of the Northern Irish clauses of the deal.
Johnson's Downing Street office said he and Biden agreed that both Britain and the EU "had a responsibility to work together and to find pragmatic solutions to allow unencumbered trade" between Northern Ireland, Britain and Ireland."
(Reporting by Steve Holland, Andrea Shalal, Padraic Halpin, John Chalmers; Writing by Guy Faulconbridge; Editing by Giles Elgood, Emelia Sithole-Matarise, Mark Potter and Timothy Heritage)