Compared: Magic Keyboard versus Brydge Pro+ for iPad Pro – AppleInsider
Apple's Magic Keyboard for the iPad Pro with a floating design, backlit keyboard, and glass multi-touch trackpad is now available. We compare it to the new Brydge Pro+ to see which device wins out in features and quality.

Magic Keyboard (left) and Brydge Pro+ (right)
Brydge Pro+ and Magic Keyboard similarities
Both of these premium-quality accessories fit the same models of iPad Pro. There are versions for both the 11-inch and 12.9-inch sizes of the 2018 and 2020 iPad Pros. With the Logitech Combo Touch only available for older iPads at the moment, these are the only true options that users have if they want a keyboard and trackpad combo.
[embedded content]
Each of them sport fantastic build quality, with Brydge being made up of aluminum with a glass trackpad while the Magic Keyboard has a vinyl exterior with metal hinges and a glass trackpad of its own. Both manufactures can also push firmware updates to these devices, making sure they stay up to date and compatible with the latest iPadOS updates.
There are full backlit keyboards on each, an adjustable hinge to set your preferred viewing angle, and protection for the display of your iPad.
From there, these two excellent productivity tools begin to diverge.
Apple's Magic Keyboard
Apple's own Magic Keyboard sets the bar in terms of what an iPad Pro keyboard should be. Rather than rely on Bluetooth, Apple uses the Smart Connector which means you never have to charge the keyboard. As long as your iPad Pro has power, so does your Magic Keyboard. An additional USB-C port on the hinge makes this even easier to manage.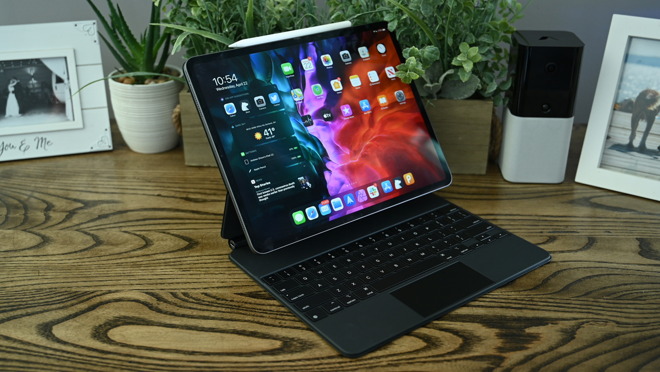 Apple's Magic Keyboard for iPad Pro
To connect your iPad, just bring it near and the magnets do the rest. They pull the iPad into place and hold onto it well. As we adjusted it, it never misaligned or came free errantly.
The keyboard itself has a great amount of key travel with very solid keys. There is a small amount of key wiggle compared to the 16-inch MacBook Pro, but not much at all. Brydge has a higher degree of wiggle to the keys, often with us having the occasional keystroke not register.
The backlight is near perfect, with almost no light leak around the keys. Brydge has quite a lot of backlight leaking around the keys which can be distracting, especially depending on your viewing angle.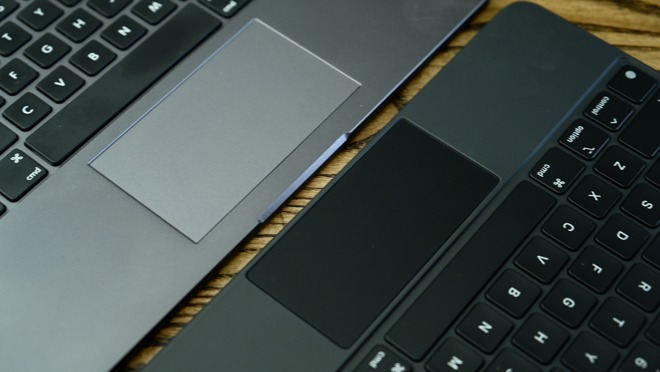 Magic Keyboard trackpad (right) versus Brydge Pro+ trackpad (left)
To no surprise, Apple nailed the trackpad as well. It is decently sized, though can feel cramped if you are used to the larger ones on a MacBook Air or MacBook Pro. It supports multi-touch gestures for going to the home screen, accessing the app switcher, and moving between apps. Not to mention two-finger swipes to go back inside of apps, two fingers for scrolling, and pinching for Maps and Photos.
Apple also managed to enable clicks around the entire trackpad surface. Brydge uses a diving board style trackpad which means the far end is fixed, allowing the rest to flex and click. This hurts the user experience when you try to press down and it simply doesn't let you.
Brydge Pro+
The Brydge Pro+ keyboard has a full row of function keys above your standard keys. These make it easy to control media, lock the iPad, adjust volume, and even control brightness.
Apple decided not to include these function keys, which is disappointing. It makes manually adjusting the keyboard backlight on Apple's offering much harder, requiring users to dig into settings.
A Control Center toggle for this could go a long way. Apple's keyboard does adjust automatically based on the room's ambient light, but if you do want to adjust it on your own it isn't as simple as it could be.
Brydge Pro+ also has a far better angle variance. Brydge Pro+ can go from 0 degrees while closed to 180 degrees when fully opened. Magic Keyboard restricts movement to only around 125 degrees. If you want it to go further back, you're out of luck.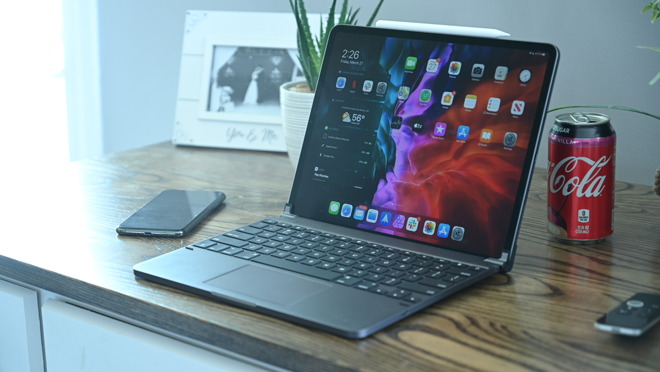 Brydge Pro+
The trackpad on Brydge Pro+ is bigger than the Magic Keyboard, which would be better if it supported all the gestures that the Magic Keyboard supports. But, in our testing, we're seeing some lag between user input, and the movement of the pointer on the iPad screen. This isn't great.
The Brydge Pro+ is much more affordable than the Magic Keyboard. It still maintains a premium price tag, but at $199 for the 11-inch, it comes in at a hundred dollars less than Apple's offering.
Which should I buy?
If money is no object, then go with the Magic Keyboard. It has a better design, keyboard, and trackpad. The physical Smart Connector reduces any lag, of which can be a frustrating problem with Brydge's trackpad.
| | Brydge | Magic Keyboard |
| --- | --- | --- |
| iPad support | 2018 and 2020 11-inch and 12.9-inch iPad Pros | 2018 and 2020 11-inch and 12.9-inch iPad Pros |
| Material | Aluminum | Metal and vinyl |
| Function keys | Yes | No |
| Backlit keys | Yes, adjust through function keys | Yes, adjusted automatically |
| USB-C Port | USB-C input for charging keyboard | Additional USB-C for charging iPad Pro |
| Connectivity | Bluetooth | Smart Connector |
| Supported angles | 0 to 180 degrees | 0 to 125 degrees |
| Price | $199 and $229 | $299 and $349 |
However, if you are willing to compromise and still want an excellent keyboard with a functional trackpad, Brydge can save you some cash while still delivering a quality typing experience.
Where to buy
The brand new Brydge Pro+ is set to begin shipping at the end of April, running $199 for the 11-inch and $229 for the 12.9-inch model.
The Magic Keyboard for Apple's new iPad Pro is available to purchase from Adorama, Amazon and B&H Photo. The 11-inch version costs $299, while the 12.9-inch version retails for $349.
Sega Celebrates Its 60th Anniversary With A Micro Version Of The Game Gear – Nintendo Life
Sega has just announced the Game Gear Micro. As the name suggests, this is a mini version of its original 1990 system.
According to a Twitter image within the source code of the official teaser website, this micro device will launch in Japan on 6th October for ¥4,980, which is expected to translate to about $50 / €50 here in the west.
This new but old system will be available in black, blue, yellow, and red.
What do you think? Tell us below.
Safari in iOS and iPadOS 14 Might Include Built-In Translator, Full Apple Pencil Support – MacRumors
Apple is planning to add a built-in language translation feature and full Apple Pencil support to Safari in iOS and iPadOS 14, according to details found in a leaked version of iOS 14 by 9to5Mac.

Safari's built-in translation feature would allow users to translate web pages without using a third-party app or service. If such a feature comes to ‌iOS 14‌, we can probably also count on it coming to the next-generation version of macOS as well.
The code suggests the translation option will be available for each website that's visited, but an automatic translation feature will also be able to be turned on, similar to Chrome's automatic translation. Apple also appears to be testing translation options for other apps, such as the App Store, allowing users to do things like read reviews in other languages.
Apple's translations are powered by the Neural Engine and may work with or without an internet connection.
As for the ‌Apple Pencil‌, Apple may be planning to add full support for ‌Apple Pencil‌ input on websites, which would allow it to be used for drawing and marking up. This feature would be limited to ‌iPadOS‌ 14 as the ‌Apple Pencil‌ does not work on iPhones.
Earlier this year, MacRumors discovered new PencilKit features that will allow users to handwrite text in any text input field using the ‌Apple Pencil‌, with the handwritten content then converted into standard text.
The code also indicates Apple is working on a kind of "Magic Fill" feature that will let users draw a general shape in an app and have it filled in by the operating system.
The leaked version of ‌iOS 14‌ that's been floating around the internet is an early version of the software and it's not clear if Apple's development plans have changed or if some features might be delayed due to the global health crisis.
We'll find out what we can expect in ‌iOS 14‌ on June 22, which is when Apple's virtual WWDC event is set to kick off.
Judge tosses former Maryland basketball players' Fortnite dance lawsuit – ESPN
A federal judge has dismissed a lawsuit in which two former University of Maryland men's basketball players accused makers of the Fortnite video game of misappropriating a dance move that the ex-teammates popularized.
U.S. District Judge Paul Grimm in Maryland ruled Friday that the Copyright Act preempts claims that Jared Nickens and Jaylen Brantley filed in February 2019 against Epic Games Inc., creator of the wildly popular online shooting game.
Nickens and Brantley claimed the Cary, North Carolina-based company misappropriated their identities by digitally copying the "Running Man Challenge" dance that they performed in social media videos and on "The Ellen DeGeneres Show" in 2016.
Their copyright infringement lawsuit claimed the "Running Man" emote — a celebratory dance in Fortnite — that players can purchase for their characters is identical to the dance that Nickens and Brantley took credit for creating.
The judge said the key question is whether plaintiffs have a claim that is "qualitatively different" from the rights protected by the Copyright Act.
"And here Plaintiffs claim is based on Epic Games allegedly 'capturing and digitally copying' the Running Man dance to create the Fortnite emote that 'allows the player's avatars to execute the Running Man identically to Plaintiffs' version. This is squarely within the rights protected by the Copyright Act,'" he wrote.
Brantley, of Springfield, Massachusetts, and Nickens, of Monmouth Junction, New Jersey, were seeking more than $5 million in damages.
Epic Games spokesman Nick Chester declined to comment Monday on the judge's ruling.
While the game itself is free to play, players can purchase emotes and other character customizations.
Other artists, including Brooklyn-based rapper 2 Milly and "The Fresh Prince of Bel-Air" star Alfonso Ribeiro, also have sued Epic Games over other dances depicted in the shooting game. Ribeiro dropped his lawsuit against Epic Games last year after the U.S. Copyright Office denied him a copyright for the "Carlton" dance that his character performed on the 1990s sitcom.
Nickens and Brantley appeared on DeGeneres' talk show alongside two New Jersey high school students who were posting videos of the dance online before the two University of Maryland basketball players filmed their own version. Brantley told DeGeneres that Nickens first showed him the dance in a video on Instagram.
"We dance every day for our teammates in the locker room," Brantley said. "We were like, 'Hey, let's make a video and make everybody laugh.'"
One of their dance videos has millions of views on Instagram, YouTube and Facebook, their lawsuit said.
The judge dismissed their lawsuit's claims for invasion of privacy, unfair competition and unjust enrichment based on preemption under the Copyright Act. He also threw out their trademark claims and claims accusing the company of unfair competition and "false designation of origin" under the Lanham Act.
"Plaintiffs seek to place the same square peg into eight round holes in search of a cause of action against Epic Games for its use of the Running Man dance in its game Fortnite. But Plaintiffs' claims that Epic Games copied the dance do not support any of their theories," the judge wrote.
Plaintiffs' attorney Richard Jaklitsch said his clients may not be able to afford the costs of appealing the judge's ruling. He said it seems "un-American" for the company to "profit off the backs of" Nickens and Brantley.
"Epic can still step up and do the right thing. Epic can still step up and acknowledge what these kids did," he said.
Nickens was playing professional basketball in Canada and Brantley was working as a sports agent when they sued last year, according to Jaklitsch.