Confederation Centre Art Gallery's receptionist shares her favourite works
Debbie Muttart has a perfect vantage point.
From her desk at the top of the stairs, she has watched 460 different exhibitions come to life at the Confederation Centre Art Gallery over the past 24 years.
The gallery receptionist also has met hundreds of artists and led hundreds of tours.
"It's been a huge learning and growing experience. I study the (works) that go up because I get asked questions about them," said the resident of Cavendish.
Muttart said she knows the whereabouts of each and every piece of art in a given show.
"A work could be on the third floor, over to the side, and I have to know it. So, I write everything down."
However, working with art is only part of her job.
Muttart also acts as a one-person tourist information centre, calling cabs and giving directions to visitors who are heading toward various Charlottetown attractions.
Once, she helped a lost cruise ship passenger who was distraught after being separated from her group.
"They were up the street enjoying ice cream at Cows. I just made a phone call and found out where they were."
A few years ago, Muttart even greeted Canadian superstar Brian Adams and gave him a guided tour of the gallery when he was in Charlottetown.
"There was no one in the gallery that day. Things were peaceful and calm for Brian."
Now, after welcoming thousands of visitors from all corners of the world, gallery staff members are recognizing her with an exhibition of her own.
"It feels wonderful," said Muttart.
The Debbie Show: Views from the Desk, will be on view until April 12 in the Lower East Gallery space, next to her desk.
The exhibition is extensive. It ranges from animal portraits by Lindee Climo (Bathsheba) and Alex Colville (Prize Cow) and Canadian photographer Shari Hatt (47 Dogs) to George Thresher's Yankee Gale of 1851, a storm that caused major destruction along P.E.I.'s North Shore.
Among her favourites are several Group of Seven paintings.
"They remind me of my father's cottage down in Milltown Cross."
Another one of her picks is Backyard by Marion Wagschal. The realistic painting shows a man sitting outside on a lawn chair while his wife seeks shelter from the sun, under a tree.
"When I was doing the research, I discovered the man in the image had a vacant stare like Alzheimer's patients sometimes have. My father had that stare. He had Alzheimer's," said Muttart, who chose the painting to bring the disease into the forefront.
In fact, she's dedicated the entire show to her late father, Ronald B. MacLean Sr., who taught her to love nature.
Mounting the show was a collaborative process, said Jill MacRae, who co-curated the show with Andrew Cairns.
"We started by having Debbie talk about some of her favourite pieces, over the years…Then we had Debbie peruse collections publications and old exhibition photographs to jog her memory and expand her selection," said MacRae.
Finally, the curators spent time in the vault pulling additional pieces based on what types of work Muttart was drawn to.
"We spent time looking at and discussing these works with Debbie and ended up with a final list that was a healthy mix of old and modern, sculpture and two-dimensional work, landscapes, portraits and abstracts."
They even gave Muttart homework to do.
"I had to write essays about each of the artworks I picked and why I picked them."
On Wednesday, looking at the colourful walls around her, she said she is pleased with the outcome.
"There's a feeling of self-satisfaction. I feel like I accomplished something that was in the back of my mind for years. I feel like here I am."
Youth get creative at summer art camp – Lakeland TODAY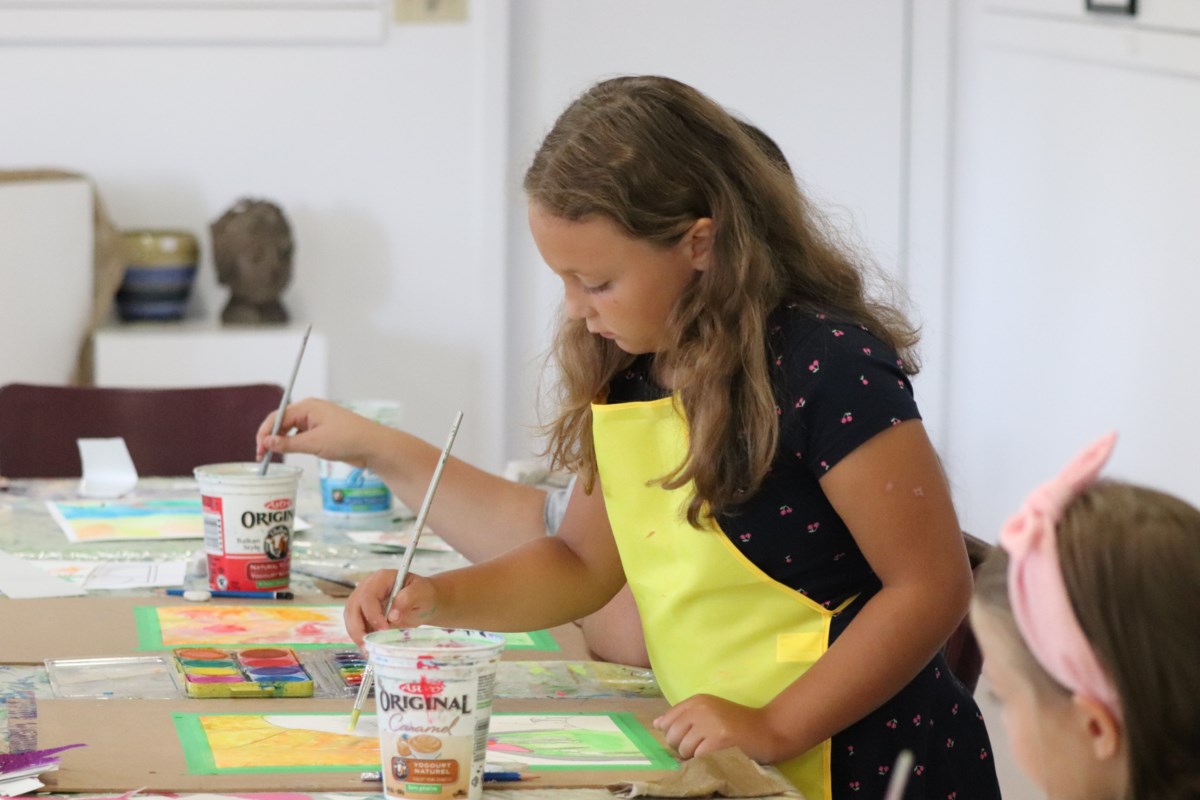 ST. PAUL – A variety of mediums were used to create unique works of art during a week-long Youth Art Camp held at the St. Paul Visual Arts Centre, last week.
Pam Bohn, the art instructor for the art camp, said the camp gives youth the chance to not only do art but form friendships.
"We also go outside to play and go to the park, and so it is also a day where they can make friends."
The art camp included acrylic painting, watercolour painting, mixed media projects, and much more.
"While I facilitate the classes, [the children] are free to create as they please," she said. "That allows those who like to do art that freedom to have different art mediums and try things that they may be unable to do at home."
Bohn said the participating youths have enjoyed the art camps, adding, "They all get excited when they come and take their [art] home to show their parents."
The Hive celebrates three new exhibitions at Art Gallery of Burlington | inHalton – insauga.com
Published August 15, 2022 at 2:41 pm
A special event celebrating three new exhibits is being hosted by the Art Gallery of Burlington.
The Hive is happening Saturday, Aug. 27, from 1 to 4 p.m. This free, all-ages event incorporates the organization, cooperation and energy of a beehive into an afternoon of art, activity, learning and fun.
The Hive will feature a special workshop led by Toronto's Clay and Paper Theatre, live arts and crafts demonstrations, a screen-printing presentation, live performance, food and drink.
The event is being held in celebration of the AGB's three new fall exhibitions:
The Future of Work, an exploration into how the pandemic has affected labour markets and our quality of life

ਨਜਰ ਨਾ ਲੱਗੇ

/Nazar na lage/Knock on wood, a vibrant and meaningful interpretation on the art of rangoli by artist Noni Kaur
Know your Place, an exhibit of cartoon-like clay sculpture that reveal the raw emotional experiences of the artist Sami Tsang
Known for work inspired by oral traditions, folk songs, poems and fables, Clay and Paper Theatre will charm participants and audiences with their original multi-disciplinary performance-based production. Guests who wish to participate with Clay and Paper Theatre should arrive early and be ready to create.
Visitors are invited to an interactive, screen-printing demonstration led by artist Jesse Purcell and are encouraged to bring any used clothing to be transformed into a bunting display to be hung in the gallery by the artist collective Works-in-Progress.
Arts Burlington will be opening its doors to guests with arts demonstrations and the Burlington Handweavers and Spinners Guild will guide guests through a natural plant-based dying demonstration, teaching attendees what they need to know to create from home.
The AGB parking lot will be free for the day. For more information, visit the AGB website.

insauga's Editorial Standards and Policies
Stay the know
Subscribe now to receive our daily email of today's top stories in your city!
advertising
'Miyo Nepin' (Good Summer) art show brings together Indigenous talent – battlefordsNOW
"[Nordstrom] contacted the artists; I contacted some. Then, she [decided] how it would look," Favel said.
"Miyo Nepin," which means Good Summer, is the theme of the show.
"We just came out of the pandemic, [so] it's a celebration of the freedom of movement, the freedom of the summer, and hopefully this freedom can stay in the future," Favel said.
He noted the theme is essentially about the freedom from health concerns, with the hope that everyone can enjoy good health again.
"It's a celebration of life and health," Favel said.
Some of the artists featured in the exhibition include Carl Thunderblanket from Sweetgrass, Meryl McMaster from Red Pheasant, Greg Tootoosis from Poundmaker, Charity Boxell from Poundmaker, and Dana Standinghorn from Sweetgrass.
The curators focused on showing pieces from artists with a substantial body of work.
Favel is particularly impressed with the calibre of the artists' projects in the show.
"We wanted to encourage, shed some light into this area of the talent that exists here," he said. "Hopefully, then, this work can keep going further, and their work can become more well-known provincially."
Favel added the artists are creating pieces of a national and international quality
"If you go to any gallery in Montreal or Toronto, you would see this is the quality of work we have here."
Favel hopes to keep putting the spotlight on many more of the Battlefords area's talented Indigenous artists going forward as well.
"In the future, like in my Performance Arts Festival, we will just keep going, and keep growing, and keep developing. That's our goal," he said.
The Miyo Nepin exhibition that features more than 20 pieces is on now through Sept. 4 at Fort Battleford.
–
Angela.Brown@pattisonmedia.com
On Twitter: @battlefordsNOW