Coronavirus: 19 deaths, 354 new cases in Manitoba Saturday | CTV News – CTV News
WINNIPEG —
In Manitoba's deadliest day, health officials are reporting 19 new COVID-19 deaths and 354 new cases of the disease.
Announced in the province's daily COVID-19 bulletin on Saturday, all of the deaths except one are from Winnipeg.
The deaths from Winnipeg not linked to senior facilities include a woman in her 20s, a man in his 60s, two women in their 70s, a man in his 70s, a man in his 80s and a woman in her 90s.
Three deaths, a man in his 70s, a man in his 80s and a woman in her 90s are linked to the outbreak at St. Norbert Personal Care Home.
Another three deaths, a man in his 70s, a woman in her 90s and a man in his 90s, are linked to the outbreak at Park Manor Care Home.
Health officials also said a woman in her 90s and a woman in her 100s, both linked to the outbreak at Holy Family Home, died of COVID-19.
A woman in her 70s inked to the outbreak at Oakview Place personal care home and a man in his 90s linked to the outbreak at Bethania Mennonite Personal Care Home also died of the virus.
The only death outside of the Winnipeg region was a woman in her 60s from the Northern health region linked to the outbreak at The Pas Hospital Acute Care.
The number of deaths in the province related to COVID-19 rises to 381.
Along with the 19 deaths, 354 cases of the virus were announced.
Of the new cases, 235 are in Winnipeg, which has a five-day test positivity rate of 14.1 per cent.
The total number of cases in Manitoba since early March is 18,423.
The province currently has 9,115 active cases, and 8,927 people have recovered from the virus.
The current provincial five-day test positivity rate now sits at 13.1 per cent.
There are 349 people in hospital with COVID-19, down slightly from Friday, with 51 patients in intensive care.
On Friday, 2,981 tests were performed, bringing the total to 369,154 since early February.
B.C. could relax restrictions this summer if COVID cases curtailed: Dr. Henry – cheknews.ca
British Columbians may be able to remove their masks and rejoin family and friends for outings this spring and summer if they can hold the line on COVID-19 cases until then, says Dr. Bonnie Henry.
In an interview with CHEK News on Monday, Henry said she's hopeful that if people rally to lower B.C.'s daily case count, and the province does not see a large-scale outbreak of the U.K. or South African variant of the virus, that we can enjoy a summer with more freedoms than we saw last year.
"Once we get enough vaccine into people, we're going to see a dramatic drop-off in the virus," said Henry. "We also know it doesn't seem to spread as easily in the spring and summer months. So we've got a lot of things on our side.
"If we can just get through this next few months and get to that place, we'll be able to do a lot more this summer than we ever did last summer. And we'll be able to get to that point where we can get back to not wearing masks again, where we can get back to being together in that way we all so want to.
"But we have to have that patience and resilience and determination to get us through these new few weeks."
Not having to wear masks in certain situations is a possibility, she said.
"I absolutely think by summer we're going to be in a very different situation. As long as we can hold our line right now. Because if we start to see things take off again it's going to be that much longer before we can ease back on things again."
But the path to get to the summer won't be easy.
Henry on Monday called on British Columbians to buckle down, follow restrictions and try to reduce B.C.'s daily new COVID-19 case counts from current levels. She said the province is a critical point, especially with delays in vaccine supply from the federal government disrupting the planned vaccination schedule for long-term care homes. She also on Monday pushed back the length of time to get a second dose of vaccine to 42 days.
Of particular concern is the threat of variant versions of COVID-19, which are more contagious and easily transmissible. Vancouver Island saw three cases of the U.K. variant this month, but they were contained before spreading, said Henry.
"Probably a little more concerning is we've had three of what we call the South African variant, which is slightly different but also worrisome about it being more easily transmitted between people," said Henry.
"And all three of these have been in the Lower Mainland but none of them we can find a travel connection. So that is concerning . . . we still haven't figured out where these people got the virus."
Vancouver Island has seen its daily new case count trend upwards in recent weeks, centered around the mid-Island. On Monday, there were 73 new cases announced.
"We have seen an uptick on the Island, but also across the province and it does reflect increased transmission in the community, people who have travelled and come back to Vancouver Island," she said.
"Where we're most concerned is central Island where we've had quite a bit of transmission, in Port Alberni, Nanaimo, Duncan. So absolutely the focus is on that area and trying to get it under control."
She urged those residents to maintain their distance, cut down on interactions with others, washing their hands and going back to the fundamentals.
Henry also said she hopes some of our societal changes made during the pandemic might become permanent in the future.
The use of social restrictions and masks have reduced B.C.'s regular influenza spread – which often kills numerous seniors annually – to almost nothing this year. Hospitals, which are usually overflowing due to the flu at this time of year, have yet to reach max capacity.
Henry said the basics we have gotten used to in order to prevent COVID-19 would have a large benefit on our society if some of them continued. She cited diligent hand-washing, not attending work or school if sick, and covering your mouth when you cough as major societal changes she hopes are permanent.
But Henry wouldn't go as far as saying distances in lineups, plexiglass at restaurants and mandatory masks in public should stay – noting people need a return to normalcy to feel part of a community.
"I think there's a balancing here," she said.
"I think about the times we have those social interactions in a restaurant with friends and music and that feeling of connectedness of community. We don't want to lose those things. And having those barriers are hard. But those thoughts of making it okay not to go if we are not feeling well, making it okay to stay away if we're feeling the least bit unwell, making it okay to wear a mask if we are not sure. I think we want to keep some of these things."
Watch the full interview with Henry in the video below
With COVID-19 cases trending down in Ontario, could small businesses see the light at the end of the lockdown tunnel? – ThePeterboroughExaminer.com
Ontario business owners are eagerly looking for the light at the end of the lockdown tunnel as COVID-19 cases steadily drop each day — but public health experts say we've got a long road ahead before the province can safely open its doors again.
COVID-19 cases in Ontario have been trending downward by the day — the province announced 1,958 new cases Monday, down from 2,417 on Sunday and 2,578 last Monday. The Monday before that, Jan. 11, the province reported 3,338 new cases.
But on Sunday, Canada's chief public health officer Dr. Theresa Tam said it's too soon to know whether this trend will continue.
"While community-based measures may be starting to take effect in some areas, it is too soon to be sure that current measures are strong enough and broad enough to maintain a steady downward trend across the country," she said in a statement.
The threat of the new virus variants also looms; one disease forecasting company told the Star that the province could see nearly 4,000 cases a day by the end of March if the new U.K. variant takes hold and schools reopen as planned.
Peter Jüni, scientific director of the Ontario COVID-19 Science Advisory Table, said the U.K. variant and South Africa variant are both quite worrying, and make it all the more important to stay in a strict lockdown until cases are under control.
"We may be over the hill, but we're not out of the forest," he said.
Epidemiologist and assistant professor at the Faculty of Information at the University of Toronto Colin Furness said the downward case trend combined with mobility data show the lockdown restrictions are working. But past the short term, he's less optimistic, especially if the new variants take hold.
"I worry that we're going to be up to several thousand cases a day, many thousands … if a new variant really takes hold," he said.
Furness is advocating for widespread testing as a way of loosening the lockdown restrictions.
"I think if businesses want to open, they need to start demanding rapid testing," he said.
On Jan. 18, Ontario's Chief Medical Officer of Health David Williams said the province's daily case count needs to fall below 1,000 before the lockdown measures can be lifted. He added he'd like to see the number of COVID-19 patients in intensive care units drop below 150.
But Furness thinks the decision to lift the lockdown can't be made based on a single number.
"It's not the number, it's the trajectory and the narrative," he said.
Andrew Morris, an infectious disease specialist at Sinai Health and University Health Network, said while the downward trend is encouraging, he too would look for more than that before undoing the current restrictions.
Morris would prefer to wait until cases are "very, very low" and then begin reopening bit by bit, beginning with schools.
He agreed that the province should look at "a bunch of factors" before deciding to ease restrictions, not simply the daily case count — such as health care capacity, but not just in terms of beds and ventilators.
"I think what we also need to be thinking about is the effects on the workforce," he said. "It's not just the numbers."
Ryan Mallough, the director of provincial affairs, Ontario at the Canadian Federation of Independent Business (CFIB), said the organization is calling on the government to come up with a plan to reopen small businesses at a limited capacity — even by-appointment shopping would be better than nothing, said Mallough.
Loading…
Loading…Loading…Loading…Loading…Loading…
He added that business owners want to have some kind of certainty, some date or number to look forward to, instead of being surprised with a reopening and scrambling to prepare.
"It has been incredibly difficult for business owners to survive with no in-store customers. And the longer this goes, the more difficult recovery is going to be and, honestly, the more businesses will wind up losing," said Mallough.
Mallough also noted the ongoing frustration over big-box stores still being allowed to sell non-essential items alongside groceries and essentials, something the CFIB has deemed unfair since the lockdown began.
"At bare minimum from a fairness perspective, if we're going to continue with a lockdown, then those big box stores really should be limited," said Mallough.
Jüni said the government should be making clear the difference between essential and non-essential, and agreed that the government could also be "more stringent" about that distinction to make the lockdown as effective and fair as possible.
"If feasible, if one is able to distinguish between essential and non-essential parts (of a big box store), this would make a difference," he said.
The province recently launched the Small Business Support Grant, which provides up to $20,000 for eligible businesses struggling under lockdown restrictions.
For many businesses, this has been helpful, and easy to access, said Mallough.
But the CFIB is also asking the government to expand the grant, since there are some small businesses that aren't eligible, he said, such as businesses deemed "essential" that are nevertheless seeing dramatic drops in revenue.
Emily Hogeveen, a spokesperson in the Minister of Finance's office, said as of 7 a.m. Monday morning, the province has received around 51,000 applications for the Small Business Support Grant.
Hogeveen said the ministry is aware that many businesses are facing revenue shortfalls, and the government is reviewing the program to ensure that it best serves the businesses that need it most.
With files from Kenyon Wallace and The Canadian Press
Ontario working to adapt to the delay of Pfizer BioNTech vaccines: Public health officials – SooToday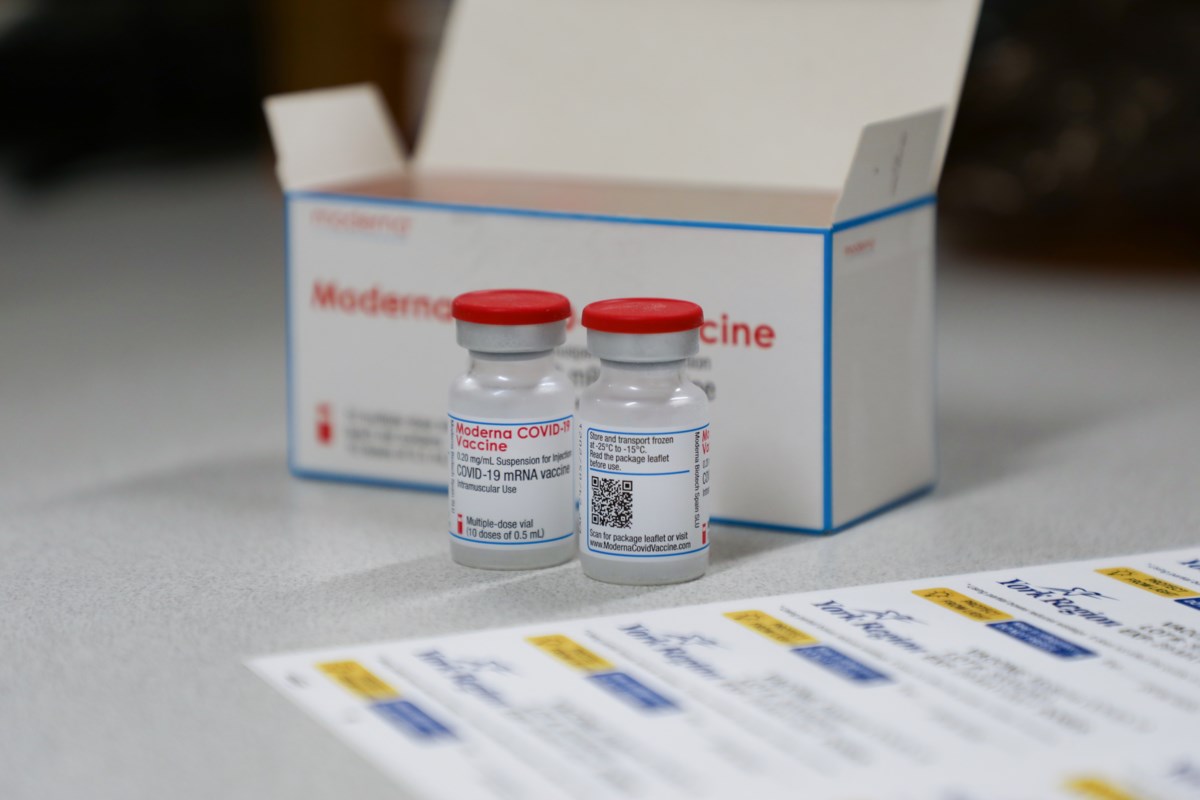 In response to the Pfizer BioNTech delay in delivering vaccines to Ontario, public health officials in this province could extend the interval between the two doses that are given to some less-vulnerable vaccine recipients. Pfizer revealed last week it had to shut down production for one week so it could scale ups European manufacturing capacity.
Both the Pfizer BioNTech and Moderna vaccines that are provided in Ontario are double-dose vaccines, meaning the first dose is administered one day and then the follow-up second dose is delivered 21 to 28 days later.
Despite the shortage, Ontario officials told a technical briefing Monday that the plan is to accelerate the vaccines going out to long-term care homes, to high risk retirement homes and to First Nations elder care homes.
"With uncertainty and reduced allocations we will be reallocating vaccines to 14 public health unit regions that haven't received any vaccine yet so that they can begin to vaccinate their vulnerable populations, starting this week," said a public health official.
She said Ontario is working on a new strategic approach. This will include a focus on areas where Ontario can reduce risk of illness and death for the most vulnerable populations.
"We're accelerating the vaccination of residents in long-term care homes, high-risk retirement homes and First Nations elder care homes," she added.
Ontario is also planning to expand the time allocation between first and second dosages on the Pfizer BioNTech vaccine.
"We will be extending the interval between doses in some situations and only as needed to support the vaccinations of the most vulnerable populations. For resident groups, in long-term care, in high-risk retirement homes and elder care homes, we will be maintaining the recommended maximum interval of 21 to 27 days and for all other groups, we will expand that interval to no more than 42 days."
The idea of expanding the time interval was taken into account during the vaccine trial studies and was proven effective with time intervals from 19 days to 42 days, the briefing was told.
The health ministry official said this measure is supported by the World Health Organization as well as the Centers for Disease Control, based in the United States.
The effort is also being accelerated for remote and isolated First Nations communities.
Despite the one-week delay from Pfizer, the company has stated it will live up to the contractual obligation to provide Canada with a total of four million doses of vaccine by the end of March, the briefing was told.
In response to a media question about the reliability of the Moderna vaccine delivery, the briefing was told that Moderna delivers its vaccines every three weeks, and in both instances, the vaccines from Moderna had arrived on time in Ontario. The next delivery, of about 80,000 doses, is expected on Monday February 1, 2021. There has been no indication that Moderna's delivery schedule will be changed.