Coronavirus: 'Covid toe' and other rashes puzzle doctors – BBC News
Let us know you agree to cookies

We use cookies to give you the best online experience. Please let us know if you agree to all of these cookies.
By Zoe Kleinman Reporter, BBC News
---
Five rashes, including Covid toe, are affecting some hospital patients diagnosed with Covid-19, a small study by Spanish doctors has found.
The rashes tended to appear in younger people and lasted several days.
It is not uncommon for a rash to be a symptom of a virus, such as the spots that indicate chicken pox.
But the researchers said they were surprised to see so many varieties of rash with Covid-19.
Rashes are not currently included in the
list of symptoms of the illness.
There have been many reports about "Covid toe" – a rash appearing on Covid patients' feet even in the absence of other symptoms – but lead researcher Dr Ignacio Garcia-Doval said the most common form of rash in the study was maculopapules – small, flat and raised red bumps that tend to appear on the torso.
"It is strange to see several different rashes – and some of them are quite specific," Dr Garcia-Doval told the BBC.
"It usually appears later on, after the respiratory manifestation of the disease – so it's not good for diagnosing patients," he added.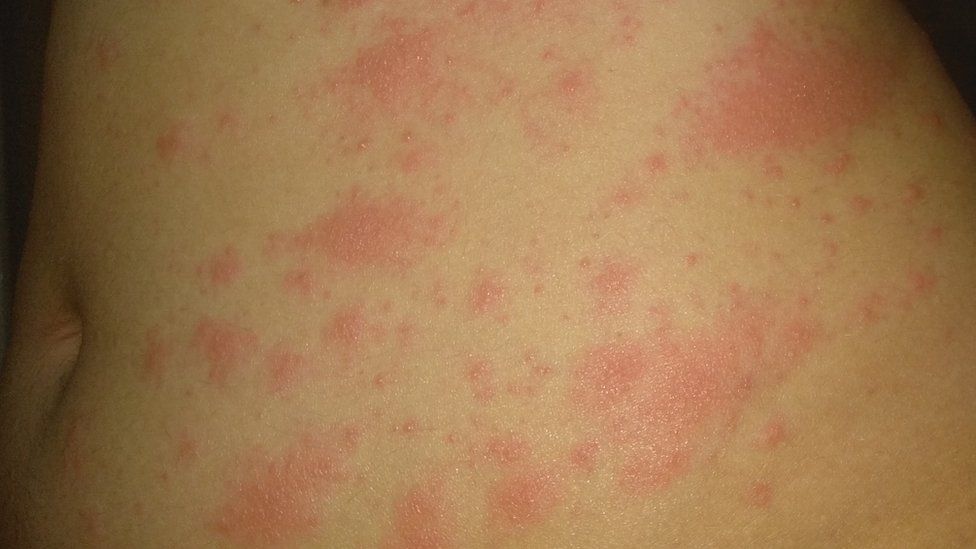 All the patients in the study were already in hospital and had respiratory symptoms.
The peer-reviewed paper was
published this week in the British Journal of Dermatology
.
All dermatologists in Spain were asked to share details of Covid patients they had seen who had developed rashes in the previous two weeks. There were 375 in total.
The five rashes were:
Asymmetrical, chilblain-like lesions around the hands and feet, which could be itchy or painful. Generally found in younger patients, lasted on average 12 days, appeared later on in the course of the disease, and were associated with mild infections. Accounted for 19% of cases.
Outbreaks of small blisters, often itchy, found on the trunk and limbs. These were found in middle-aged patients, lasted around 10 days, and appeared before other symptoms. (9%)
Pink or white raised areas of skin that looked liked nettle rash, and often itchy. Mostly on the body but sometimes on the palms of the hands. (19%)
Maculopapules – small, flat and raised red bumps. These accounted for 47% of cases. They lasted around seven days and appeared at the same time as other symptoms but tended to be seen in patients with more severe infections.
Livedo (also known as necrosis) was present in 6% of cases. The skin looked blotchy red or blue, with a net-like pattern. It's a sign of poor blood circulation. This appeared in older patients with severe illness.
However, the researchers stressed that rashes can have many causes, and it can be difficult to differentiate between them without medical expertise.
"The relevance of this study is not so much in helping people self-diagnose, but rather to help build our wider understanding of how the infection can affect people," said Dr Ruth Murphy, president of the British Association of Dermatologists.
Dr Michael Head at the University of Southampton said that rashes were a well-known side effect of many viral infections, including pneumonia.
"With Covid-19, rashes and skin ulcers have been noted in a few per cent of hospitalised patients. We don't yet know the extent of these links, or precisely why this inflammation occurs in some patients but not others."
The American Academy of Determatology is also
compiling a register of skin symptoms
seen by its members.
---
Director appointed to oversee COVID-19 response at B.C. long-term care home after 22 deaths – Globalnews.ca
Public health officials are bringing in more help at the Lower Mainland care home that's become the site of B.C.'s worst outbreak of COVID-19.
Twenty-two people at the Langley Lodge have died from the virus so far, while 22 residents who were infected have recovered. Ten staff members have also been infected.
Fraser Health announced Thursday it is appointing a director to oversee the pandemic response at the facility and deploying its ultraviolet germicidal irradiation machine, along with infection-control specialists. The machine emits concentrated UV light to disinfect hot spots and kill pathogens such as C. difficile and the novel coronavirus.

0:56


Germ-killing robots help fight COVID-19 at B.C. hospital



"We know this outbreak has been complex and challenging and has been lasting now for a few weeks," said chief medical health officer Dr. Martin Lavoie.
"This is an outbreak that has been taking a toll on staff. It's also challenging for the site leadership as well."
[ Sign up for our Health IQ newsletter for the latest coronavirus updates ]
Additional cleaning staff will also be brought in.
The outbreak started on a behavioural stabilization unit, Lavoie said, where residents don't always understand or follow safety measures.
The outbreak at the lodge was declared over in late April. But days later, a new one, which originated with a staff member, was confirmed at the 139-bed facility.
Meanwhile, a resident at the Nicola Lodge care home in Port Coquitlam has tested positive for the novel coronavirus, Lavoie said. The person is now in isolation as enhanced infection-control measures are brought in.
It is not yet known how the virus got into the facility, he said.
© 2020 Global News, a division of Corus Entertainment Inc.
Canadian study of critically ill patients with COVID-19 found lower death rate – EurekAlert
A Canadian case series of all patients with COVID-19 admitted to six intensive care units (ICUs) in Metro Vancouver found patient outcomes were substantially better than reported in other jurisdictions. The paper is published in CMAJ (Canadian Medical Association Journal).
Researchers looked at outcomes for 117 patients with COVID-19 admitted to one of six hospitals in Metro Vancouver between February 21 and April 14, 2020. Patients ranged in age from 23 to 92 years, with a median age of 69 years. Two-thirds (67.5%) were male. As of May 5, 85% of patients were still alive and 61% had been discharged home. The overall mortality rate was 15%.
"The overall mortality was appreciably lower than in previously published studies, despite comparable baseline patient characteristics and a higher proportion of patients with completed hospital courses," writes Dr. Donald Griesdale, a critical care physician at Vancouver General Hospital and associate professor at the University of British Columbia's Faculty of Medicine, Vancouver, BC, with coauthors.
Data from Lombardy, Italy, showed a 61% mortality rate for patients admitted to an ICU, a case study of 24 people in Seattle had a 57% mortality rate among patients in the ICU, and a case series from Wuhan, China, reported a mortality rate of 80% in patients admitted to the ICU.
Fewer patients in the Canadian series (63%) received mechanical ventilation than in Lombardy (88%), Seattle (75%) and New York (90%), but in Wuhan even fewer (42%) received mechanical ventilation. Very few patients received unproven treatments for COVID-19; one patient received hydroxychloroquine, four received tocilizumab, and none recived remdesivir.
"Despite the observed differences between patients and critical care interventions in these studies, it is unclear whether these solely account for the marked lower mortality that we report," write the researchers. "We hypothesize that these encouraging results may be due to a broader system-level response that prevented an overwhelming surge of critically ill patients with COVID-19 from presenting to our hospitals and ICUs."
###
Disclaimer: AAAS and EurekAlert! are not responsible for the accuracy of news releases posted to EurekAlert! by contributing institutions or for the use of any information through the EurekAlert system.
Two deaths, eight new cases of COVID-19 in Ottawa – CTV News
OTTAWA —
Two more residents of Ottawa have died due to COVID-19, while eight new cases of the virus have been detected.
Ottawa Public Health announced the new cases in its daily epidemiology update on Thursday afternoon.
Since the first case of COVID-19 was confirmed in Ottawa on March 11, there has been 1,930 laboratory-confirmed cases of COVID-19 in Ottawa, including 240 deaths.
Thirty-seven residents are currently in hospital for treatment of COVID-19.
The median age of the COVID-19 cases in Ottawa is 56-years-old. The youngest case involved a four-month-old.
Recovering from COVID-19
Ottawa Public Health says 80 per cent of COVID-19 cases are now resolved.
The report shows 1,544 people have recovered after testing positive for COVID-19.
There are currently 146 active cases of COVID-19 in Ottawa.
Source of COVID-19
Half of Ottawa's 1,930 cases of COVID-19 are linked to an outbreak in a retirement home, long-term care home, group home, hospital or shelter.
Ottawa Public Health says 975 cases are linked to an institutional outbreak.
A total of 426 cases, 22 per cent, are linked to close contact with a known case or linked to a community outbreak.
The report shows 10 per cent of COVID-19 cases, 183 cases, are linked to community transmission of the virus.