Coronavirus deaths surpass 250 in Manitoba on Wednesday – CTV News Winnipeg
WINNIPEG —
The number of Manitobans who have died of COVID-19 has now surpassed 250, after Manitoba's top doctor reported nine more deaths on Wednesday.
Dr. Brent Roussin, the chief provincial public health officer, said Manitoba's most recent deaths include two men, one in their 40s and one in their 60s, and a woman in her 80s from the Winnipeg health region.
A woman in her 50s and a man in his 80s from the Southern Health–Santé Sud health region were also among the reported deaths.
The province also reported several deaths on Wednesday linked to personal care homes.
The death of a woman in her 70s was linked to the outbreak at the St. Norbert Personal Care Home, and the death of a woman in her 90s was linked to the outbreak at Saul and Claribel Simkin Centre, both of which are in Winnipeg.
The death of a man in his 80s was linked to the outbreak at the Buhler Active Living Centre, and the death of a woman in her 90s was linked to the outbreak at the Rest Haven Nursing Home, both of which are in the Southern Health region.
Roussin said a previously reported death, a man in his 20s from Winnipeg, is incorrect. He said due to a data entry error, the man was mistakenly included in the number of reported COVID-19 deaths. Roussin said this man does have COVID-19 and is currently in isolation.
"These are dealing with a lot of data entry and an error was made in this case," Roussin said, apologizing for any confusion. "We have a lot of safeguards on the data and reviewing of the data, so I remain confident in the numbers that we receive, and we have a process to review and correct when needed."
This brings the total number of deaths in Manitoba to 256.
Along with the deaths, the province reported 349 new cases of COVID-19, which has pushed Manitoba's total number of cases to 14,907. The current five-day test-positivity rate in Manitoba is now 14 per cent.
The majority of these cases were once again in the Winnipeg Health Region, which reported 213 cases of COVID-19 as of Wednesday, bringing the test positivity rate in the region to 14 per cent.
The other cases reported on Wednesday include:
22 cases in the Interlake-Eastern Health Region;
30 cases in the Northern Health Region;
11 cases in the Prairie Mountain Health Region; and
73 cases in the Southern Health–Santé Sud health region.
The province also reported 260 more recoveries, bringing the total number of Manitobans listed as recovered to 5,893.
Roussin said the daily caseloads continue to put a strain on the health care system. He said as of Wednesday, 303 people are in hospital, including 50 people in Intensive care.
Along with these hospitalizations, the province also reported COVID-19 outbreaks had been declared at the Woodhaven Manor in Steinbach and the Lions Manor in Winnipeg.
"Our health-care providers on those front lines are overwhelmed – these number of cases and number of deaths reported can't become the norm," Roussin said.
"The message is quite clear – it is to stay home and leave only for essential reasons. That is the best way that we can quickly reduce the amount of contacts we have and thus bring down the number of cases."
Daily COVID-19 vaccinations jump as more doses arrive in B.C. – Vancouver Is Awesome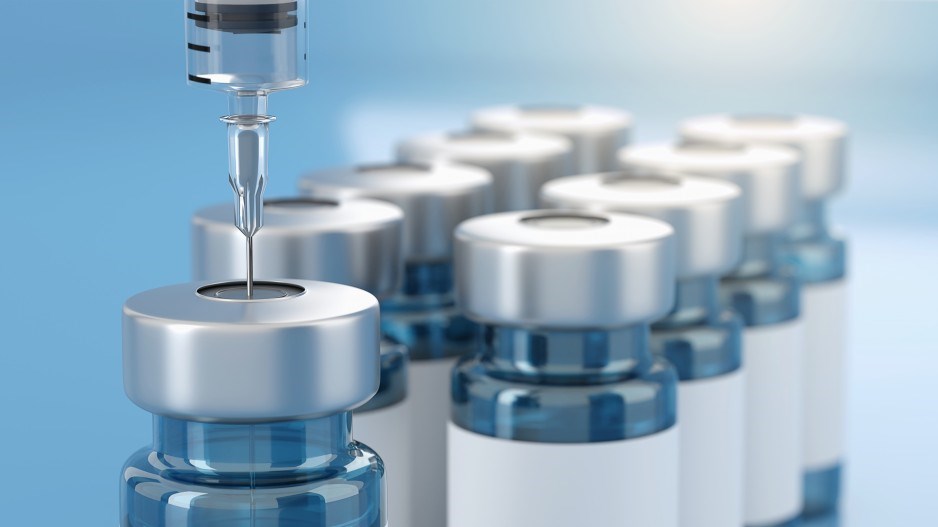 COVID-19 vaccinations are on an upward trend once again following the arrival of more doses in B.C.
The province's entire supply of the Pfizer Inc. and BioNTech SE vaccine was used up early in the week, leading to dips in the number of people being vaccinated on a daily basis.
There have been 69,746 vaccinations as of Thursday (January 14), up from the 63,430 reported a day earlier.
Just over 1,100 vaccinations were administered during the province's previous 24-hour reporting period — much lower than the 6,315 vaccinations reported Thursday.
B.C. Health Minister Adrian Dix said about 25,000 additional doses of the Pfizer-BioNTech vaccine have arrived since he last briefed media Wednesday.
"We're expecting more Moderna vaccine before the end of the week and that allows us to continue across health authorities," he said, adding workers and residents at long-term care homes remain the top priority.
The Moderna Inc. vaccine is easier to transport than the competing Pfizer-BioNTech vaccine, the latter of which must be maintained at temperatures as low as -80C before being thawed.
Once thawed, it must be administered within about five hours.
Those factors make Moderna more practical to bring to long-term care homes than the Pfizer-BioNTech vaccine, which initially was only administered at the manufacturer's sites of delivery back in December before Pfizer loosened its restrictions.
More than 2.6 million doses of both the Pfizer-BioNTech and the Moderna are expected to arrive in the province between April and June.
That's up from the 792,000 doses due to be delivered between mid-December 2020 and March 2021.
The spring estimates do not include any vaccines that have not yet been approved by Health Canada.
For example, more doses could arrive in B.C. in the spring if regulators were to approve the AstraZeneca plc. vaccine, which was given the green light in the U.K. last month.
Vulnerable populations will be the focus of vaccinations between now and March but provincial health officer Dr. Bonnie Henry said more details will be forthcoming next week about plans to begin administering doses to the broader population.
"We've been thinking about this quite a lot," Henry said.
"We know that we want to provide vaccine to people over the age of 18, who live in the communities, who aren't in long-term care … How do we do that in a way that makes sure that everybody is in contact and knows where to go, doesn't have to stand for hours in the rain as we've seen in some places, other places. So we are working on that. We have some great ideas that are coming together and we'll be providing more data."
What you need to know about getting both doses of the COVID-19 vaccine – CBC.ca
Getting vaccinated to protect yourself from the virus behind COVID-19 isn't a one-and-done process in Canada right now.
The two approved options, from Pfizer-BioNTech and Moderna, both require a two-dose regimen, with each dose ideally spaced apart by a specific time interval that was used during clinical trials.
But that's not how every region is handling the vaccine roll-out. While Ontario is striving to hold back enough doses so people get both shots in the recommended time-frames, B.C. is delaying second doses by up to a week or two past manufacturers' guidelines, and Quebec is going even further, waiting up to three times longer.
The goal is to vaccinate as many people as quickly as possible, but there are still questions over just how effective these vaccines will be if policymakers stray too far from the guidelines.
What is the recommended dosing approach?
Official guidelines say the Pfizer-BioNTech vaccine is meant to be given as two doses, 21 days apart, while Moderna recommends spacing doses 28 days apart.
Canada's National Advisory Committee on Immunization, a federal body made up of scientists and vaccine experts, says every effort should be made to follow those dosing schedules.
But, since vaccine shipments are still trickling in, the panel offered some wiggle room — suggesting the second dose for either vaccine could be delayed up to six weeks at the most.
"The flexibility provided by a reasonable extension of the dose interval to 42 days where operationally necessary, combined with increasing predictability of vaccine supply, support our public health objective to protect high-risk groups as quickly as possible," reads a statement released Thursday from Dr. Theresa Tam, chief public health officer of Canada, and the country's provincial and territorial chief medical officers of health.
Why are two doses, at a specific interval, even necessary?
The official guidelines for dosing intervals are based on each manufacturer's clinical trial data, showing that the vaccines were most effective sometime after people got both rounds.
Vaccine efficacy for Pfizer-BioNTech's option was around 95 per cent after both doses; for Moderna's it was around 94 per cent following the second dose. (Certain high-risk groups weren't part of those clinical trials, however, including anyone pregnant or immunocompromised.)
While research suggests there may be some level of protection from even just one shot, the consensus in Canada is that following guidelines based on the clinical trial data — as closely as possible — is the best bet to ensure people are protected.
"We also do not know how long lasting the protection will be," said Dr. Howard Njoo, Canada's deputy chief public health officer, during a briefing on Thursday.
"We know it's better with two doses, but with one single dose, we are not sure."
WATCH | : Dr. Howard Njoo discusses spacing vaccine doses out 42 days:
Canada's Deputy Chief Public health officer, Dr. Howard Njoo, addresses questions on whether the first and second dose of COVID-19 vaccine can be safely administered 42 days apart. 2:34
So can you get sick from COVID-19 if you only get one dose?
Potentially, yes.
Clinical trials showed the level of protection from just one dose is lower for both vaccines, and it also takes time for your body to react — meaning you aren't protected immediately after getting a shot.
The highest level of efficacy reported for Pfizer-BioNTech's vaccine started a week after people got their second dose, and after at least two weeks following the second dose of the Moderna option.
In Quebec, health officials are currently examining how multiple residents of a long-term care home fell ill with COVID-19, despite being among the earliest in that province to receive a first round of the Pfizer-BioNTech vaccine.
That prompted questions over when the residents were infected, and Njoo noted the individuals may have already contracted the virus before getting vaccinated at all.
Long-term research will be helpful in confirming just how much protection people get from one dose of either of the approved two-dose vaccines, and how long it's safe to delay the second shot.
Why are different regions handling dosages differently?
Some provinces, such as Manitoba and Saskatchewan, are sticking with the dosing schedule set out by the vaccine manufacturers.
But since federal recommendations suggest delaying a second dose up to 42 days at the most, other regions are considering a looser approach.
Quebec — one of the country's hardest-hit provinces for COVID-19 cases — is stretching the dosing time-frame to a maximum of 90 days.
The province's Health Minister Christian Dubé stressed it's about protecting as many people as possible with a first dose before April, when vaccine shipments from Ottawa are expected to ramp up.
Njoo acknowledged some regions may be reacting to the realities on the ground.
"The pandemic has intensified," he said. "And there are more hospitalizations and deaths."
Quebec Health Minister Christian Dubé says a second dose of a COVID-19 vaccine may be delayed from 42 to 90 days to allow more vulnerable people to receive their first shot. 1:05
Should you get doses of different vaccines?
It's ideal for people to be given two doses of the same vaccine rather than mixing and matching, Njoo said.
That's because without long-term research, federal officials are again stressing the need to stick as closely to the guidelines as possible, since clinical trials are the best-available data on how to ensure these vaccines are as effective as they can be at warding off COVID-19.
---
Quebec to allow 90-day delay before second vaccine doses, more than double what national panel advises – CTV News Montreal
QUEBEC CITY —
Quebec public health officials said Thursday that provincial advisors have recommended a prolonged COVID-19 vaccination schedule of up to 90 days between the first and second dose — more than double what a national advisory committee recommended a day earlier.
"In our context, that is the best strategy," said Health Minister Christian Dubé at a Thursday press conference on Quebec's vaccination progress.
Quebec announced in late December it would be delaying second doses or "booster shots" of the vaccine, but the province hasn't said until Thursday what kind of delay it had in mind.
Provincial officials now say the second dose should come between 42 and 90 days after the first.
Such a schedule would allow the province to give the vaccine to more people who would otherwise have to wait for their first dose, said the health officials.
A delay of 90 days is much longer than what's been recommended by Pfizer (21 days, for its vaccine), Moderna (28 days, for its vaccine), and federal public health advisors in their recommendation on Wednesday (up to 42 days for both vaccines).
However, that national advisory panel, called NACI, said Thursday that provinces have some leeway to make their own decisions and they aren't opposing Quebec's 90-day timeline.
Canada's Deputy Chief Public Health Officer, Dr. Howard Njoo, said that certain provinces' "exceptional circumstances" may mean they need to depart from federal recommendations.
"It is sort of the interplay between the actual epidemiology, on the ground, the fact that there is a obviously increased rate of cases, hospitalizations," said Njoo, and the vaccine guidelines.
EXTENSION BASED ON 'EXPERIENCE,' NOT DATA, SAYS QUEBEC
So why is the province talking about 90 days?
Health Ministry advisor Dr. Richard Massé said Quebec experts believe it's likely that immunity will last longer than 42 days, as recommended by the NACI panel, but clinical trials have not extended past that.
What they're relying on instead is past experience with other vaccines.
"What we have is the experience working with many vaccines," said Massé. "Immunity is not something that is 'on' or 'off.'"
While Quebec's Ministry of Health has said that a single dose can provide up to about 90 per cent efficacy against the virus, Pfizer says that one dose alone is just 52.4 per cent effective.
Massé told reporters the discrepancy comes from different and more specific analysis of Pfizer's trial data.
He said that Pfizer, when studying the issue, had been including people who had gotten their first dose but hadn't had time to build up immunity.
"It takes 12 to 14 days to have immunity," said Massé. "If you count people who get the disease two, three, five days after getting the vaccine, it's not really a failure of vaccination because immunity [hasn't been built up]."
One expert told CTV News this week that there are big variations in the efficacy estimates because of the small sample size of people who got only the first shot in the Pfizer trial. That expert, Dr. Donald Vinh, said that in his opinion the efficacy is likely somewhere in the range of 60 to 69 per cent.
In a statement to CTV News, Pfizer Canada spokeperson Christina Antoniou reiterated earlier statements that Pfizer has not evaluated the efficacy of its vaccine on alternative dosing schedules.
"There are no data to demonstrate that protection after the first dose is sustained after 21 days," she said.
"We recognize that recommendations on alternative dosing intervals reside with health authorities and may include adapting public health recommendations in reaction to evolving circumstances during a pandemic," she wrote.
But for Pfizer, "as a biopharmaceutical company working in a highly regulated industry, our position is supported by the label and indication agreed upon with Health Canada and informed by data from our Phase 3 study."
Minister Dubé said the province has been talking to Pfizer. On Jan. 5, Pfizer told CTV News that Quebec had not informed the company before deciding to delay the second dose.
"We've had conversations with Pfizer," said Dube, "to inform them as to why we were making those decisions."
Earlier this week, Premier François Legault said that in discussions with the federal government, the province learned there may be a risk of losing Quebec's vaccine supply if Pfizer isn't happy with its dosing regime.
On Thursday, Pfizer's statement said the company "remain[s] committed to our ongoing dialogue with regulators, health authorities and governments, and to our continued data-sharing efforts to help inform any public health decisions aimed at defeating this devastating pandemic."
Both Massé and Dubé said they are hoping for an increased supply, since they would favour a shorter delay before the second dose if the province's deliveries of vaccine increase.
"Saving lives is a moral imperative," said Dubé.
"The more doses we have, the more we're going to be able to decrease the time between the first and second dose."
NEXT STEPS FOR QUEBEC'S VACCINATION
With about 65 per cent of CHSLD residents already given a first dose, Dubé said Quebec will begin vaccinating residents of private seniors' homes (RPAs) on Jan. 25.
He said that with a prolonged schedule between the first and second doses, the province can also consider vaccinating the general senior population sooner.
With new vaccine shipments arriving in the province this week, Dubé said 115,000 people have now been vaccinated.
In total, the province has received 162,000 doses so far. Dubé says Quebec is on track to increase that total to 250,000 in February.
–With files from CTV's Kelly Greig