Coronavirus: Here's what's happening in Canada and around the world on Tuesday – CBC.ca
The latest:
As many parts of the world continue to ramp up their responses to the COVID-19 pandemic, Calgary-based airline WestJet says it will be suspending all commercial international and transborder flights for a 30-day period, re-focusing its efforts on repatriation flights for Canadians stuck abroad.
The company says tickets for the period beginning March 23 will no longer be available for sale, and its final commercially scheduled flight will be Sunday night. After that, the airline will be operating rescue and repatriation flights in partnership with the Canadian government.
Public Safety Minister Bill Blair says starting Wednesday, extra measures are being put in place at airports to ensure people returning to Canada aren't spreading the novel coronavirus, while only Canadians, permanent residents and — for now — U.S. citizens will be allowed to enter Canada.
Each will be asked if they have a cough, difficulty breathing or if they feel they have a fever. They will also be required to fill out a form, as well as acknowledge that they have been asked to self-isolate for the next 14 days.
Most international flights will only be allowed to land at four airports — Toronto, Montreal, Calgary and Vancouver, starting Thursday.
WATCH: COVID-19 prompts Canada to tighten its borders
The travel restrictions come as British Columbia reported three more deaths related to COVID-19. The new deaths stem from an outbreak at the Lynn Valley Care Centre, a long-term care facility in North Vancouver. As of Monday, Canada was reporting a total of 441 cases, both confirmed and presumptive.
Ontario Premier Doug Ford has declared a state of emergency for the province. One of the orders issued Tuesday is the prohibition of organized public events of more than 50 people, including services within places of worship, until March 31. Public libraries and cinemas will also be closed until that date, as will bars and restaurants, which can still offer takeout service.
"This was a decision that was not made lightly," he said.
On Monday, Ford urged people not to panic buy, and said he's been in touch with major retailers about supply chains. "There's plenty of food and household essentials to go around," the premier told reporters.
Ford also said his government is working on a plan for people whose work life is impacted by the outbreak, though full details weren't immediately clear.
Prime Minister Justin Trudeau will address Canadians on the COVID-19 pandemic Tuesday at 11:30 a.m. ET.
The White House has urged Americans, for the next two weeks, to avoid gatherings of more than 10 people and called for bars, restaurants and other venues to close in states where local virus transmission exists. It's also urging homeschooling. U.S. President Donald Trump says the worst of the outbreak may not be over until July or August, if not later.
WATCH: Trump describes new measures to 'blunt' U.S. infection rate
The tally of confirmed U.S. cases has surpassed 4,600 and at least 83 people have died. The virus has infected more than 182,000 people and killed over 7,100 worldwide, according to Johns Hopkins University.
Ohio's top health official halted the state's presidential primary, scheduled for Tuesday, over concerns about COVID-19, hours before voting was to begin.
Officials in Arizona, Florida and Illinois felt they had done enough to ensure the safety of voters, even though there may be too few poll workers and some poll locations have changed. Georgia, Kentucky and Louisiana have postponed their scheduled primaries.
The coronavirus — which has spread to more than 140 countries — has rattled economies and sparked sweeping changes from governments, both in Canada and abroad.
Provinces and territories have cancelled classes, cities are shutting down public spaces such as libraries and recreation centres, and public health officials are urging people to practice proper hand hygiene and social distancing.
WATCH | Canadian family stranded in Peru is trying to get home:
On Monday, the Canada Border Services Agency (CBSA) said on Twitter that it is adding additional screening measures at all international airports. The change came a day after the country's top health official, Dr. Theresa Tam, said that federal officials, who have faced criticism over screening practices, were considering additional screening questions.
The Public Health Agency of Canada (PHAC) said the risk from the coronavirus to the general public is low, but cautioned that seniors, people with underlying health issues and individuals with compromised immune systems face a higher risk of "more severe" outcomes if they contract it.
Top officials with the World Health Organization (WHO) are urging countries around the world to take a "comprehensive" approach to the pandemic.
WATCH: WHO calls on everyone to do their part to reduce transmission
"This is the defining health crisis of our time," WHO director-general Tedros Adhanom Ghebreyesus said Monday, adding that the days, weeks and months ahead will be a test of the world's resolve, a test of trust in science and a test of solidarity.
"Although we may have to be physically apart from each other for a while, we can come together in ways we never have before."
Here's a look at what's happening in the provinces and territories
B.C. said there are 30 news cases of COVID-19 in the province. Dr. Bonnie Henry, the province's top health official, has put out a call for nearly 15,000 people who attended a dental conference in Vancouver to self-isolate immediately, after at least four of Monday's new cases were traced back to the event. In Vancouver, Mayor Kennedy Stewart announced bars and restaurants in the city's downtown core will close starting Tuesday. Read more about what's happening in B.C.
Alberta reported 18 new cases Monday afternoon, including two cases of community transmission. "I am concerned about that potential for community spread," said Dr. Deena Hinshaw, Alberta's chief medical officer. From a room in her house where she is self-isolating and awaiting test results, Hinshaw said she is talking to other provinces every day and working to determine if additional measures are required to help stem the spread. Five patients in Alberta are in hospital. The rest are self-isolating at home. Read more about what's happening in Alberta, and visit this site for a list of closures in Calgary.
Manitoba says all of its reported cases to date are travel-related. The province has four dedicated testing centres, which as of Sunday had seen 900 patients. A new testing centre is slated to open in Thompson, with more to come in rural areas this week. Read more about what's happening in Manitoba.
Saskatchewan, too, is closing pre-K-12 schools, starting Friday. "These measures apply to daycares that are co-located with schools, but do not apply to licensed daycare facilities outside of schools," a government statement read. The province is also overhauling its 811 HealthLine to keep pace with demand for the telephone service. Read more about what's happening in Saskatchewan.
In Ontario, effective Tuesday until March 31, the province has ordered the closure of facilities providing indoor recreation programs, as well as public libraries, private schools, licensed childcare centres, concert venues and theatres, and all bars and restaurants, except those providing takeout service. On Monday, the health minister said hospitals were being asked to begin "carefully ramping down" elective surgeries. All casinos in the province are being closed, and Metrolinx is reducing services starting later this week. In Ottawa, the city's top doctor is recommending that people cancel events, and avoid going out for "non-essential" reasons, saying community transmission is likely taking place in the city. Read more about what's happening in Ontario here.
Quebec — which reported 11 new cases on Monday — ordered the closure of bars, clubs, gyms and movie theatres over the weekend. Spas and saunas are also being closed, the province said. Restaurants can stay open, but are being asked to operate at half-capacity. "We have to give ourselves the best chance to slow the contagion over the next days," Premier François Legault said Sunday. The province, which had already announced the closure of schools, is also urging people to embrace social distancing and avoid going out for non-essential trips. Read more about what's happening in Quebec.
New Brunswick's top doctor says testing centres for COVID-19 are being set up in the province — but the testing will be made available by appointment, and only to those showing symptoms. Dr. Jennifer Russell urged everyone to "do their part" in the province, which has five presumptive and one confirmed case. Read more about what's happening in New Brunswick here.
Nova Scotia is also closing schools and daycares for an extended period, with the premier cautioning that the closure could be extended. "Our No. 1 priority will be the public's safety and the health [and] safety of Nova Scotians and their children," Stephen McNeil said over the weekend. On Monday, the province announced two new presumptive cases of COVID-19, bringing the province's total to five presumptive cases. Read more about what's happening in Nova Scotia.
Prince Edward Island declared a state of emergency and closed schools and daycares for an extended period. Dr. Heather Morrison said the province is monitoring COVID-19 and will reassess the situation as needed. "If we make some good decisions now, it might help us in the weeks ahead," she said. Read more about what's happening on P.E.I.
Newfoundland and Labrador students will be out of class for an extended period. The province currently has one presumptive case, and is making broader plans to try and tamp down the spread of COVID-19. Read more about what's happening in Newfoundland and Labrador.
There are not yet any confirmed cases in Canada's North, but governments there are ramping up their efforts to get ahead of the virus. On Monday, schools in the Northwest Territories and Nunavut announced they would be closing for an extended period. Read more about what's happening in Canada's North here.
WATCH: Debunking misinformation about COVID-19
Here's a look at the latest numbers in Canada. Presumptive cases are individuals who have tested positive, but still await confirmation with the National Microbiology Lab in Winnipeg.
Ontario: at least 177 confirmed cases, including five cases listed as resolved.
British Columbia: 103 confirmed, including four deaths and five cases listed as resolved.
Alberta: 74 confirmed.
Quebec: 50 confirmed.
Saskatchewan: five presumptive, two confirmed.
New Brunswick: five presumptive, two confirmed.
Manitoba: seven confirmed, one presumptive.
Canadians quarantined at CFB Trenton: eight confirmed.
Nova Scotia: four presumptive, one confirmed.
Prince Edward Island: one confirmed.
Newfoundland and Labrador: one presumptive.
Here's what else is happening in the U.S.
From The Associated Press, updated at 4:30 p.m. ET Monday
Officials in six San Francisco Bay Area counties issued a shelter-in-place mandate on Monday affecting nearly seven million people, including the City of San Francisco itself.
The order says residents must stay inside and venture out only for necessities for three weeks starting Tuesday in a desperate attempt by officials to curb the spread of the novel coronavirus.
The dramatic step came as officials across California took increasingly strident steps to separate people and contain the spread of the coronavirus, saying that millions of the state's oldest and youngest residents should stay home.
Bars, restaurants, theatres and movie houses in New York and Los Angeles were ordered to shut down to combat the spread of the coronavirus pandemic, as central banks around the world took aggressive steps to cushion the economic impact of the disease.
The U.S. Federal Reserve slashed interest rates, for the second time in less than two weeks, to near zero and other central banks followed suit. But stock markets and the dollar continued to tumble.
The U.S. Centers for Disease Control and Prevention on Monday reported 3,536 cases of the coronavirus — an increase of 1,858 cases from its previous count reported on March 13. It said the number of deaths had risen by 27, to 68. The CDC figures do not necessarily reflect cases reported by individual states.
Here's what's happening in Europe
From The Associated Press and Reuters, updated at 7:30 a.m. ET
European Union leaders are set to hold their second summit in two weeks on Tuesday, a fresh attempt to forge a joint response to the coronavirus as Europe takes over from China as the front-line in the fight against a disease claiming thousands of lives.
The virus case count in Europe has climbed to over 51,000 and more than 2,300 people have died, the majority in Italy.
After Italy, ground zero in Europe's battle with COVID-19, Spain and now France have imposed lockdowns, confining citizens to their homes except for urgent business like buying food or heading to any hospital that might still have the capacity to treat them.
The European Union is expected to endorse a 30-day travel ban on people wanting to come to Europe for tourism or non-essential business. Long-term EU residents, diplomats and members of European families would be exempt. Health care and transport workers could escape the ban, too.
In Italy, the number of deaths of people testing positive for the coronavirus now tops 2,100. The civil protection agency said 349 people have died in the past 24 hours. The number of positive diagnoses rose to 27,980.
In the U.K., authorities dramatically ramped up measures, urging all residents to avoid unnecessary contact with others and that people in the most vulnerable groups should be isolated for almost three months. As of Monday, Britain had 1,543 confirmed cases and 53 virus-related deaths.
Prime Minister Boris Johnson said Monday that "now is the time for everyone to stop non-essential contact with others and to stop all unnecessary travel." He said people should "avoid pubs, clubs, theatres and other such social venues." The U.K. had previously resisted taking some of the tough measures seen in other European countries.
France's government is pledging 45 billion euros ($70 billion Cdn) in aid for small businesses hurt by the spreading coronavirus. France now has more than 6,600 cases of the virus, including 148 deaths.
In Lithuania, the cargo truck line on the border to enter Poland stretched 60 kilometres long on Tuesday after Poland closed its border to foreigners.
Greece is imposing a compulsory 14-day quarantine on anyone entering the country and extending shop closures to fight the spread of coronavirus.
Madrid faced its third day of lockdown on Tuesday over the coronavirus outbreak. Spain, the fourth most virus-infected country in the world, has been imposing a partial lockdown since Saturday night, allowing people to leave their homes only to go to work, buy food or visit a pharmacy or hospital. The government's official coronavirus death toll rose by 182 overnight to 491 on Tuesday. The number of infected topped 10,000 for the first time and now sits at 11,178.
WATCH: Canadians locked down in Spain trying to get back home
Ireland is expecting the number of cases there to skyrocket in the next few weeks. Prime Minister Leo Varadkar said he expects to see upwards of 15,000 cases by month's end, up from the current 223, and has advised against all non-essential overseas travel. Schools, universities, childcare centres and bars have also been closed.
Here's a look at what's happening in business and finance:
From The Associated Press and CBC News, last updated at 7:45 a.m. ET
Ride-hailing company Uber is suspending its service called Uber Pool until further notice. All other Uber trips, as well as Uber Eats, are still available.
Volkswagen said on Tuesday it would close most of its European plants for two weeks due to uncertainty about demand for cars and supplies of parts.
U.S. stock index futures turned higher in volatile trading on Tuesday, following Wall Street's steepest fall since 1987 in the previous session. At 6:36 a.m. ET, Dow e-minis were up 226 points, or 1.11 per cent. S&P 500 e-minis were up 29 points, or 1.2 per cent.
Cineplex is closing all 165 of its theatres across the country until April 2 and will issue refunds for any advance bookings.
CIBC is temporarily closing 206 of its branches and modifying its hours of operation. More than 800 of its locations in Canada will remain open. The bank says it will list the branches affected and the new hours on its website Wednesday.
Sephora has announced that it will be closing all of its North American retail stores as of 5 p.m. (local times), on Tuesday to help fight the spread of the virus.
Here's a look at what's happening in Asia
From The Associated Press and CBC News, last updated at 7:30 a.m. ET
India says it will bar all passengers — including Indian citizens — from entering the country on flights from the European Union, Turkey and the United Kingdom beginning Wednesday.
According to a statement issued by India's aviation regulator, travellers coming from or transiting through the United Arab Emirates, Kuwait, Oman and Qatar will be required to undergo a 14-day quarantine when they arrive. Arrivals from China, Italy, Iran, South Korea, France, Spain and Germany are already subject to similar restrictions, while many border points with neighbouring Pakistan, Bangladesh and Myanmar have been shut.
India's tourist ministry announced this week that it is shutting down the Taj Mahal, its iconic "monument of love," to visitors.
Several other important monuments have also been shut across the country to keep people safe amid the coronavirus outbreak. Most schools and entertainment facilities have also been shuttered across India.
Malaysia is implementing a drastic two-week lockdown in the country to slow the spread of coronavirus following a sharp spike in the number of cases.
Prime Minister Muhyiddin Yassin said all religious institutions, schools, businesses and government offices will be shut from Wednesday until March 31. All mass gatherings will be banned and only essential services, including supermarkets, banks, gas stations and pharmacies will be allowed to stay open.
The country recorded 315 new cases of the virus in the past two days, causing its total to surge to 553, the highest number in Southeast Asia. Many of the new cases are linked to a recent 16,000-member religious gathering at a mosque in a Kuala Lumpur suburb that also sickened dozens from Brunei and Singapore.
The Philippine Stock Exchange was closed with no trading Tuesday after the president placed the northern part of the country, including Manila, under quarantine. The exchange's CEO said the end of trading activity would be "until further notice." The Philippines has 140 cases of infection and 12 deaths.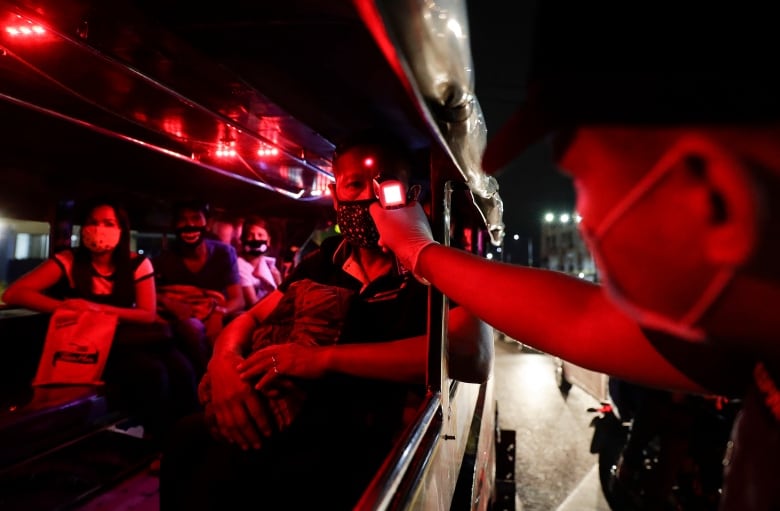 Sri Lanka says it will add more quarantine centres to help fight the coronavirus. An army general said 23 army vacation bungalows will be used as quarantine centres for a group of travellers who arrived recently from London. Sri Lanka has confirmed 28 cases of the virus, with no deaths so far.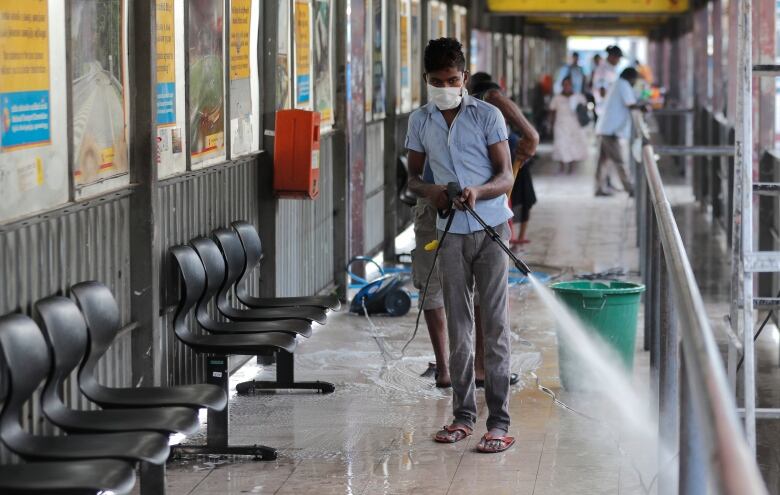 China is relaxing travel restrictions in Hubei, the province hardest hit by the virus, sending thousands of workers back to jobs at factories desperate to get production going again.
The official Xinhua News Agency reported Monday that cities just outside the epicentre of Wuhan were chartering buses to send back to work residents who had returned home for the Lunar New Year in late January.
The move comes as Chinese officials say the outbreak that spread from the city of Wuhan starting in late December has mostly run its course domestically, while they remain vigilant against imported cases.
The outbreak of COVID-19 has had a devastating effect on China's service sector and industries from autos to cellphones, although President Xi Jinping has pledged that economic growth targets for the year will still be met.
In the latest tally, China's National Health Commission on Tuesday reported 21 new cases of the coronavirus in the previous 24 hours, bringing the total to 80,881. The health commission also said 13 people have died, raising the death toll to 3,226.
Japan is dealing with around 800 local cases as well as the passengers from the Diamond Princess cruise ship who tested positive. The Bank of Japan is also looking at taking emergency measures to tamp down the impact of the outbreak on the country's economy, NHK reported.
In South Korea, officials reported a downward trend in new infections for the third day in a row Tuesday. There were 84 new cases, bringing the country's total infections to 8,320. on Monday, according to the Korea Centres for Disease Control and Prevention. A total of 81 people have died in the country, after six more deaths were reported Tuesday, most of them older and with underlying disease. South Korea has further postponed the beginning of the new school year by two weeks to protect students from the virus.
WATCH: CBC News Network covers the latest on the COVID-19 outbreak
Here's a look at some of what's happening elsewhere in the world, including hard-hit Iran
From The Associated Press, Reuters and CBC News, updated at 6 a.m. ET
A third Australian government legislator has tested positive for the coronavirus. New South Wales state Sen. Andrew Bragg said Tuesday that he had suffered flu-like symptoms and tested positive for the virus after attending a friend's wedding on March 6. Authorities say at least six wedding guests have contracted the virus.
Queensland state Sen. Susan McDonald said she tested positive on Monday after becoming unwell on Friday evening. Home Affairs Minister Peter Dutton, who is also from Queensland, tested positive after showing symptoms a day earlier. He has since been discharged from the hospital but remains in isolation at home.
Iran's reported death toll from the coronavirus has reached 853, with 129 new deaths in the past 24 hours, a health ministry official tweeted Monday, adding that a total of 14,991 people have been infected across Iran. "In the past 24 hours, we had 1,053 confirmed new cases of coronavirus and 129 new deaths," Alireza Vahabzadeh tweeted. To contain the outbreak in Iran, one of the deadliest outside of China, officials have called on people to stay at home.

Turkey identified 12 new cases of the coronavirus, bringing its total to 18, Health Minister Fahrettin Koca said Monday, marking the highest daily rise since the country announced its first case last week. Koca said two of the new cases were related to the first case reported in the country, while seven had travelled from Europe and three from the U.S.

South Africa will revoke nearly 10,000 visas issued this year to people from China and Iran, and visas will now be required for other high-risk countries that had been visa-free, including Italy and the U.S. The health minister said a lockdown might be necessary if tough new measures to deal with COVID-19, including travel restrictions and school closings, don't work. He warns of a high risk of internal virus transmission with "the problem of inequality in our society."

In Israel, the government is invoking emergency regulations to speed up the deployment of cyber-monitoring to track infections. The plan to use anti-terrorist technology to track infected people — and anyone with whom they have come in contact — drew criticism from civil rights groups when first proposed over the weekend. But Prime Minister Benjamin Netanyahu moved to circumvent parliamentary consent when he said in a nationally televised address Monday night that his cabinet would invoke emergency regulations to put the order into effect for 30 days. There are nearly 300 cases of COVID-19 in Israel.

Schools have closed in at least 56 countries, the United Nations said, keeping more than 516 million students home.
Coronavirus: After shipment seized from Canada, FBI redistributing nearly 1M masks and gloves – Global News
Medical supplies shipped from Canada to a New York man accused of price-gouging are now being redistributed to doctors and nurses amid the new coronavirus pandemic, according to U.S. authorities.
Baruch Feldheim, 43, was arrested on Monday in Brooklyn and charged with lying to federal agents after he allegedly sold a doctor approximately 1,000 N95 masks and other medical materials for $12,000, a roughly 700 per cent markup, according to the FBI.
READ MORE: Trudeau sidesteps questions on whether China's coronavirus data is trustworthy
Feldheim was also charged with assaulting FBI detectives after allegedly coughing on them during his arrest, claiming to have COVID-19, the agency said in a statement.
U.S. court documents allege that Feldheim acquired and resold the personal protective equipment out of an auto repair shop in New Jersey and his residence in Brooklyn.
The FBI allege about "eight skids of surgical masks" arrived from Canada. The agency did not respond to questions about who in Canada shipped the supplies.
"According to records from Customs and Border Protection, on or about March 25, 2020, [Feldheim's company] received a shipment by truck from Canada of approximately eight skids of surgical face masks," an FBI affidavit says.

1:37


Coronavirus outbreak: Scheer tells Trudeau to release COVID-19 projections



Coronavirus outbreak: Scheer tells Trudeau to release COVID-19 projections
The stockpile of supplies included 192,000 N95 respirators, 130,000 surgical masks and nearly 600,000 medical-grade gloves, the FBI said. Agents also recovered surgical gowns, disinfectant towels, particulate filters, hand sanitizer and spray disinfectant.
[ Sign up for our Health IQ newsletter for the latest coronavirus updates ]
According to the FBI, a doctor told agents he went to pick up his order at an auto repair shop in New Jersey, which was being used as a warehouse, he saw enough materials, including hand sanitizers, Clorox wipes, cleaning agents, and surgical supplies "to outfit an entire hospital."
READ MORE: Counterfeit Chinese-made face masks pulled offline after Global News probe
The U.S. Health and Human Services Department said Thursday those supplies are now being distributed to health care workers in New York and New Jersey. The HHS said it used the Defense Production Act to take possession of the items and will pay Feldheim "fair market value."
James Moriarty, Feldheim's defense lawyer, did not immediately respond to a request for comment from Global News, but Reuters reported that Moriarty had denied the charges. Feldheim has been released on a US$50,000 bond and a promise not to deal in medical equipment before his trial.
Some provinces, including Ontario, have passed emergency legislation that could see price gougers of essential items face jail time amid the novel coronavirus outbreak.
READ MORE: Scammers have never had a more target-rich environment amid coronavirus pandemic — experts
New York has been one of the states hardest hit by the deadly virus, where hospitals have been overwhelmed by patients and there is an urgent need for personal protective gear.
As of Friday morning, there have been more than 92,700 confirmed cases of COVID-19 across the state, including 51,800 in New York City. More than 2,400 people with COVID-19 have died in the state, which has the largest number — around 38 per cent — of confirmed cases in the U.S.

0:49


Coronavirus outbreak: Trudeau asked if Canada expects death projections similar to the U.S.



Coronavirus outbreak: Trudeau asked if Canada expects death projections similar to the U.S.
Across the U.S. there are more than 245,000 cases of the deadly virus that have been confirmed and more than 6,000 deaths.
U.S. officials called the case a blatant example of hoarding of medical supplies and that it was the first of many price-gouging investigations related to COVID-19 equipment currently underway.
"If you are amassing critical medical equipment for the purpose of selling it at exorbitant prices, you can expect a knock at your door," Attorney General William Barr said in the announcement.
"The Department of Justice's COVID-19 Hoarding and Price Gouging Task Force is working tirelessly around the clock with all our law enforcement partners to ensure that bad actors cannot illicitly profit from the COVID-19 pandemic facing our nation."
© 2020 Global News, a division of Corus Entertainment Inc.
Trudeau says coronavirus projections for Canada will be shared in 'coming days' – Global News
Prime Minister Justin Trudeau says the federal government will release "in the coming days" its projections of how many people could die from the novel coronavirus pandemic in Canada.
That comes as Ontario released its projections for a two-year time span for the pandemic and the potential for 1,600 Ontarians to be dead by the end of the month despite the measures in place.
That's compared to the potential death toll of 6,000 by the end of the month if there were none.
READ MORE: Ontario projects just under 1,600 COVID-19 deaths, 80,000 cases by end of April
Countries around the world and several Canadian provinces have moved in recent days to share their best- and worst-case projections for potential death tolls from the virus.
As a result, Trudeau has faced growing calls for the federal government to share its own modelling given the extraordinary demands being placed on Canadians to help mitigate the spread of the pandemic.
READ MORE: As more provinces, countries share coronavirus scenarios, Trudeau tells Canadians: wait
But he has not committed to a specific date for that release, saying officials are still working with the provinces to get better-quality data to inform those models.
"There are things we will be sharing with Canadians but we need to make sure we have a better grasp on the data before we put projections out there," he said.
Health Minister Patty Hajdu also reiterated on Friday that those models will be coming shortly but cautioned they are not exact and rather a "best estimate" of what could happen.

0:49


Coronavirus outbreak: Trudeau asked if Canada expects death projections similar to the U.S.



Coronavirus outbreak: Trudeau asked if Canada expects death projections similar to the U.S.
Trudeau has insisted that releasing projection models is not as useful as sharing hard information, but his refusal so far to share best- and worst-case scenarios has prompted criticism and calls to change.
[ Sign up for our Health IQ newsletter for the latest coronavirus updates ]
Among those voices was former health minister Jane Philpott, who Trudeau kicked out of the Liberal caucus last year for raising concerns about his handling of the SNC-Lavalin scandal.
She tweeted on Thursday that "this is not the time to hide bad news" and urged the government to offer "radical transparency" for Canadians.
Conservative Leader Andrew Scheer also called for the release of the data on Friday morning.
"Mr. Trudeau says his government is being guided by the evidence," he said. "It's time to release that evidence."

1:37


Coronavirus outbreak: Scheer tells Trudeau to release COVID-19 projections



Coronavirus outbreak: Scheer tells Trudeau to release COVID-19 projections
The B.C. government shared its best- and worst-case forecasts roughly two weeks ago, along with the projected potential shortfalls in resources like intensive care beds.
Alberta Premier Jason Kenney offered partial insight into that province's projections Thursday night in the legislature as well, saying health officials there expect to see 250 Albertans need intensive care beds by April 22 — three weeks before they predict the number of cases in the province will peak.
READ MORE: AHS modelling projects 250 Albertans in ICU over COVID-19 later in April
Ford had initially resisted sharing Ontario's projections with the public, saying as recently as Wednesday that he feared they might cause panic. He reversed course on Thursday, pledging to release the data.
"You deserve to see the same data that I see, you deserve to know what I know," he said during a briefing with media on the state of the virus in the province.
A leaked report of the potential forecast in Saskatchewan was also obtained by Global News last week, and that shows the government there views 15,000 deaths as the worst-case scenario.
READ MORE: Ontario reports 462 new coronavirus cases, total now at 3,255 and 67 deaths
Countries around the world have started to offer their grim vision for how the disease could play out. In the United States, officials said Tuesday there could be between 100,000 and 240,000 deaths in that country as a result of COVID-19, with 200,000 expected even "if we do things almost perfectly."
New Zealand published a government-commissioned model to design its "plan for" scenario, in which 65 per cent of the public becomes infected, 336,000 people require hospitalization and between 12,600 and 33,600 to die.
And a report by Reuters on Thursday cited a U.K. official as saying that country's worst-case scenario was 50,000 deaths but also cautioning that isn't being viewed as likely right now.
— With files from Global News' Andrew Russell
© 2020 Global News, a division of Corus Entertainment Inc.
Coronavirus: What's happening in Canada and around the world on Friday – CBC.ca
The latest:
As global reported coronavirus case numbers pass one million — including more than 11,000 known cases in Canada — governments are scrambling to deal with both a mounting public health crisis and growing joblessness.
Prime Minister Justin Trudeau spoke with premiers on Thursday about a range of issues, including the shortage of protective gear for health-care workers.
Faced with rising case numbers and tighter restrictions, there have been some calls for more information from governments about what is expected and what information is driving decisions.
Trudeau has said that such national modelling is coming "soon," but requires more data from provincial and territorial governments — a subject he discussed with premiers during his more than two-hour first ministers' conference call.
WATCH | Federal government under pressure to release coronavirus projections:
Ontario Premier Doug Ford intends to release provincial projection and modelling information Friday, saying that he wants people in the province to know "what I know."
"No beating around the bush, no holding back figures," he said Thursday, adding that the data provided would be hard for some people to hear.
For most people, the coronavirus causes mild or moderate symptoms, such as fever and cough. But for others, especially older adults and people with health problems, it can cause severe symptoms like pneumonia. The Public Health Agency of Canada (PHAC) says the situation is evolving daily but that the risk to Canadians from COVID-19 is "considered high."
Here's a look at what's happening in Canada, the U.S. and around the world Friday.
Here's a look at what's happening in the provinces and territories
As of 6 a.m. ET Friday, Canada had 11,283 confirmed and presumptive cases, with 166 deaths. The provinces and territories that list information about recovered cases have reported 1,979 cases as resolved or recovered. There have also been two reported COVID-19 related deaths of Canadians abroad — one in Japan and one in Brazil.
Public health officials caution that reported case numbers don't provide a complete picture of the scale of the outbreak as that data doesn't capture people who haven't been tested and cases that are still under investigation. Dr. Theresa Tam, Canada's chief public health officer, has urged people nationwide to practise physical distancing and behave as though there is COVID-19 in their community, even if there is no known case.
In British Columbia, six more people have died of COVID-19 in the last 24 hours, bringing the total to 31 in the province. On Thursday, provincial health officer Dr. Bonnie Henry said one of the new cases reported was an inmate at Okanagan Correctional Centre. Read more about what's happening in B.C.
Alberta has declared coronavirus outbreaks at nine seniors facilities. Dr. Deena Hinshaw, the province's chief medical officer of health, said there are now 74 confirmed COVID-19 cases in continuing-care facilities "and I expect that more will be confirmed in the coming days." Read more about what's happening in Alberta.
Saskatchewan's top doctor says six more health workers have contracted COVID-19. "We are aware of at least six instances where individuals may have been working in a health-care setting but it's not clear where the exposure was," said Dr. Saqib Shahab. Read more about what's happening in Saskatchewan.
In Manitoba, unions representing Health Sciences Centre workers say about 70 staff members — including doctors, nurses, clerks and security guards — are self-isolating after COVID-19 exposures. Read more about what's happening at the Winnipeg health facility and across Manitoba.
WATCH | COVID-19: Are we doing a 180 on whether masks are beneficial?
Ontario plans to release what the premier called "stark" modelling projections about coronavirus in the province. The province's chief medical officer of health, Dr. David Williams, noted that the projections are forecasts that will give people a sense of what to prepare for. "If people see what might be possible, could be possible and what we might achieve through our ongoing energy and efforts of public health measures, physical distancing, it means we need to stay at the task and do our part to flatten the curve and impact that and change the projection as best we can." Read more about what Ontario officials are expected to say.
Quebec's premier said health-care workers who are in contact with COVID-19 cases will get an increase in pay. "I don't think there is a group that has ever been more deserving of a pay raise," said Premier François Legault, who also announced a smaller raise for health workers not in direct contact with the virus, as well as a raise for workers in long-term care facilities. Read more about what's happening across Quebec, and get the details of the planned pay hikes.
Health officials in New Brunswick are worried about a potential shortage of COVID-19 test supplies. Premier Blaine Higgs told CBC's Power & Politics if the province "ramped up a bit we could be within like a week of running out of test supplies." Read more about what's happening in N.B.
"If we ramped it up we could be within like a week of running out of test supplies," said New Brunswick Premier <a href="https://twitter.com/BlaineHiggs?ref_src=twsrc%5Etfw">@BlaineHiggs</a>. He said the province is about 3-4 weeks away from running out of protective equipment — but they have orders pending that they hope will arrive. <a href="https://t.co/Q91i0RWQOm">pic.twitter.com/Q91i0RWQOm</a>

&mdash;@PnPCBC
Nova Scotia on Thursday extended its state of emergency for another two weeks. The province also announced help for small businesses and a temporary program to help workers who don't qualify for employment insurance. Read more about what's happening in Nova Scotia.
Prince Edward Island has announced a $1-million fund to help people not covered by other support programs announced since the COVID-19 crisis began. Read more about what's happening on P.E.I, and get the latest update from Premier Dennis King.
Newfoundland and Labrador's health minister is urging people to prepare for an increase in cases. "We are, from experience of our other jurisdictions, not yet into our likely surge period. This is likely to come over coming weeks, and we are working hard to understand when that might be," John Haggie said. Read more about what's happening in N.L.
Northwest Territories health officials have reported two travel-related COVID-19 cases, including one in a small community. The latest cases bring the territory's case count up to four. Read more about what's happening across the North.
Here's a look at what's happening in the U.S.
From The Associated Press, updated at 6:30 a.m. ET
With more than 245,000 people infected with COVID-19 and the death toll topping 6,000, sobering preparations are underway in the United States. The Federal Emergency Management Agency (FEMA) asked the Pentagon for 100,000 body bags because of the possibility funeral homes will be overwhelmed, the military said.
White House coronavirus task force co-ordinator Dr. Deborah Birx said U.S. infection data suggests Americans need to emulate those European nations that have started to see the spread of the virus slowing through strict physical distancing.
The Trump administration was formalizing new guidance to recommend Americans wear coverings such as non-medical masks, T-shirts or bandanas over their mouths and noses when out in public and preserve medical masks for those on the front lines.
But there are still shortages of critical equipment, including masks, in Europe and the U.S.
Gov. Andrew Cuomo warned that New York could run out of breathing machines in six days. He complained that states are competing against each other for protective gear and breathing machines, or are being outbid by the federal government.
Trump invoked the Defense Production Act in hopes of boosting production of medical-grade masks by Minnesota-based 3M to assist first responders. Washington is also trying to crack down on a growing black market for protective medical supplies.
In a sign of the outbreak's impact on the U.S. military, the captain of a navy aircraft carrier facing a growing outbreak of the virus was fired by navy leaders who said he created a panic by sending his memo pleading for help to too many people. Navy Secretary Thomas Modly says the ship's commander, Capt. Brett Crozier, "demonstrated extremely poor judgment" in the middle of a crisis.
Here's a look at what's happening in hard-hit Italy, Spain and parts of Europe
From The Associated Press and Reuters, updated at 9:45 a.m. ET
Europe's three worst-hit countries — Italy, Spain and France — surpassed 30,000 dead, or over half of the global toll.
Spain is closing Friday a black week, with its death toll for the new coronavirus nearing 11,000. More than half of those occurred during the past seven days. There are also more infections than any other country in Europe.
The bottleneck in Spanish labs conducting the tests has led to relatively low levels of testing in Spain compared to other European countries, authorities have acknowledged. But even with statistics that are believed to be conservative in showing the extent of the epidemic, Spain on Friday neared 118,000 cases, second only to the United States. Official Health Ministry data showed that 7,472 of those infections had been in the past 24 hours. Spain also registered 932 new deaths, 18 less than its daily record of 950 the day before.
Italy, with more than 115,000 reported cases as of Friday morning, has seen new infections levelling off after three weeks of the West's first nationwide shutdown.
The head of Germany's disease control agency says the number of people who die of COVID-19 is likely being undercounted. Lothar Wieler of the Robert Koch Institute said Friday that he believes "we have more dead than are officially being reported."
It wasn't immediately clear whether Wieler was suggesting that deaths are being undercounted only in Germany, or worldwide, and reporters were unable to ask follow-up questions during his online news conference. Germany's low death rate from coronavirus has drawn international attention. Experts say the difference compared to other countries is partly due to mass testing and well-equipped hospitals, but they caution that the number of deaths is likely to rise.
The United Kingdom's death toll from the coronavirus rose by 684 to 3,605 as of Thursday afternoon, up 23 per cent from the previous day. A total of 173,784 people have been tested, with 38,168 testing positive as of Friday morning. A new hospital was opened in London on Friday, erected to provide thousands of extra beds for patients with the coronavirus and built in just nine days. The Nightingale Hospital, which will initially provide up to 500 beds equipped with ventilators and oxygen, will eventually be able to treat about 4,000 patients. It has been set up in the Excel Centre in London's Docklands.
With help from the military, it is the first of six new temporary hospitals to be set up across the country to cope with the outbreak, including Birmingham, Manchester and Glasgow in Scotland. Meanwhile, British Prime Minister Boris Johnson said on Twitter Friday he was remaining in isolation with mild symptoms of the coronavirus, including a high temperature. Buckingham Palace said Queen Elizabeth II will give an address about the coronavirus on Sunday at 8 p.m.
The French prime minister said he is "fighting hour by hour" to ward off shortages of essential drugs used to keep COVID-19 patients alive. At least 570 people have died in nursing homes in France's eastern region, suggesting the national death toll could be far higher than thought.
Greece has quarantined a migrant camp after 20 asylum seekers tested positive, the country's first such facility hit since the outbreak. Police in Greece say they have issued 17,358 fines for people breaking the new restrictions on leaving home since a lockdown began on March 23.
The Netherlands is not in a full lockdown, but bars, restaurants, museums, schools and universities are closed and the government is urging people to stay home and practise social distancing. Amsterdam is banning boats from its central canals beginning Sunday as authorities fear warm spring weather will lead to overcrowding on the famed waterways. The country's public health institute on Friday reported 148 new deaths in the outbreak, bringing the Dutch death toll to 1,487.
Here's a look at China, South Korea and some other areas of concern around the world
From The Associated Press and Reuters, updated at 9:45 a.m. ET
The South Korean capital of Seoul says it will ask more than 8,500 theatregoers to self-monitor at home after Canadian and American cast members of The Phantom of the Opera were found to have the coronavirus.
Seoul City official Na Baek-ju said Friday the musical's international tour was halted following the positive test of an unidentified Canadian actress, who began experiencing throat pain and dry coughs days after she began performing at the city's Blue Square theatre on March 14. She last appeared on stage on Monday, a day before her test.
Officials have since tested 138 of her contacts, including colleagues and guests at the downtown Somerset Palace hotel, and confirmed the infection of an American actor on Thursday. Na said officials were still awaiting test results for 48 people while the other 89 tested negative. He said the hotel was ordered to prevent guests from leaving the property and stop taking new customers.
South Korea earlier on Friday reported 86 new cases of the coronavirus, bringing its nationwide total to 10,062.
WATCH | Debunking COVID-19 myths about lemons, masks and holding your breath:
[embedded content]
China on Friday reported 31 new confirmed virus cases, 29 of them from overseas, and four new deaths. China now has recorded a total of 81,620 cases and 3,322 deaths, although those figures are generally considered too low because of a lack of testing and a reluctance to report the scale of the original outbreak.
More than 3,000 health-care workers contracted COVID-19 and the government says 14 died of the disease. Among them was Dr. Li Wenliang, who was threatened with punishment by police after publicizing news of the outbreak but has since been listed among the national "martyrs." His family was issued a "solemn apology" and two police officers were issued "disciplinary punishments" for their handling of the matter.
Singapore will close schools and most workplaces for a month as it moves to curb the increase of COVID-19 transmissions in the country. Most workplaces, except for essential services and key economic sectors, will be closed from next Tuesday, and schools will be closed from Wednesday. Essential services such as food establishments, markets and supermarkets, clinics, hospitals, utilities, transport and banking services will remain open.
"Looking at the trend, I am worried that unless we take further steps, things will gradually get worse, or another big cluster may push things over the edge," said Prime Minister Lee Hsien Loong. Lee urged residents to stay home and only leave to buy essential items.
The country has seen a spike in COVID-19 cases over the last two weeks, and has routinely reported more than 50 new cases daily. As of Thursday, Singapore had 1,049 cases and five deaths. Singapore has also reversed its recommendations that people should wear masks only if they are feeling unwell.
"We will no longer discourage people from masks. Wearing a mask may help to protect others in case you have the virus but don't know it," said Lee, adding that the government will distribute reusable masks to all households as of Sunday.
Indonesia's coronavirus death toll rose to 170, passing South Korea as the country with the highest number of recorded fatalities in Asia after China.
More than half of Africa's 54 countries have closed their land, air and sea borders, while fears rise that the coronavirus-related restrictions are delaying access to critical aid. Humanitarian organizations are now in the extraordinary situation of negotiating humanitarian corridors in peaceful regions. And in Kenya, travel restrictions have delayed the delivery of pesticides needed to fight the most devastating locust outbreak some East African countries have seen in 70 years. A World Food Program official says lockdowns and other restrictions "may affect us very, very much" on a continent where millions of poor people must now stay at home.
India will pull out of a three-week lockdown in phases, Prime Minister Narendra Modi said as officials battle to contain the country's biggest cluster of infections in New Delhi.
The Middle East has confirmed over 85,000 cases of the virus and over 3,700 deaths, most of them in Iran. Iran state TV reported Friday the virus killed another 134 people, pushing the country's death toll to nearly 3,300 amid more than 53,000 confirmed cases. Iran's parliament speaker is among those who have contracted the disease.
Pakistan, with 2,450 confirmed cases and 35 deaths, has been sharply criticized for moving too slow to curb large gatherings, including a gathering of tens of thousands of Muslims from several Islamic countries in March. The gathering of Tableeghi Jamaat missionaries is blamed for several outbreaks of the new virus elsewhere in the world. The first confirmed cases that emerged in Gaza were traced to the gathering.
Turkey is preparing to treat COVID-19 patients with blood donated from people who have survived the disease. Kerem Kinik, the head of the Turkish Red Crescent organization, late Thursday called on "heroes who have come out victorious from the 'Corona War"' to donate blood for the treatment, which uses plasma from people who have recovered to help seriously ill patients. Meanwhile, the Health Ministry sent a circular to the country's 81 provinces setting out guidelines for the volunteer blood plasma donations, the state-run Anadolu Agency reported.
Australian officials closed internal borders on Friday and warned people to stay home over the upcoming Easter holiday as the country seeks to capitalize on a further fall in the rate of new coronavirus cases.
WATCH | How Canadian cities are enforcing physical distancing: