Coronavirus: What's happening in Canada and around the world on Sunday – CBC.ca
The latest:
Vaccine campaigns roll out across European Union.
Ontario becomes 1st province to identify new COVID-19 variant.
Ontario enters provincewide lockdown in effort to curb rising COVID-19 case counts.
Japan to ban entry of foreign travellers to fight spread of new COVID-19 variant.
Most Boxing Day shopping expected to happen online.
Have a question about COVID-19 in Canada? Send your questions to COVID@cbc.ca.
Europe launched a massive vaccination drive on Sunday, with seniors and health-care workers first in line to be inoculated against COVID-19 during a pandemic that has claimed more than 1.7 million lives worldwide.
The region of 450 million people has secured contracts with suppliers for more than two billion doses of the Pfizer-BioNTech vaccine and has set a goal for all adults to be inoculated during 2021.
The first person to get the vaccine in Berlin was Gertrud Haase, who is 101 years old and lives in a nursing home.
"It [the virus] is very dangerous. We hear and read about it, and there are so many people dying in other homes," Haase said. "It is horrible, and that is why it is so good that we can be vaccinated against it. It is a big advantage for all of us who live here."
In Canada, a new strain of the virus that causes COVID-19, first discovered earlier this month in Britain, was detected in Ontario. The variant has been detected in several other countries, including Denmark, Belgium, France, Australia and the Netherlands.
WATCH | Ontario identifies U.K. COVID-19 variant in province:
A couple was found to be carrying the virus, but neither had travelled or been in contact with a known case, officials say. 2:45
The province's associate chief medical officer of health, Dr. Barbara Yaffe, said in a news release on Saturday that the strain of COVID-19 was identified in a couple from Durham Region, just east of Toronto, who have no known travel history, exposure or high-risk contacts.
Provincial health officials say modelling and epidemiological studies suggest the variant can spread more easily and faster than the original version of the novel coronavirus — but is not believed to be more deadly.
WATCH | Pfizer, Moderna vaccines can be modified to tackle variants, expert says:
According to infectious disease specialist Dr. Zain Chagla, vaccines that use mRNA technology can be reverse engineered quite quickly to take on variants — such as the recent U.K. variant of the coronavirus. 1:42
"While early data suggests that these new variants may be more transmissible, to date there is no evidence that they cause more severe disease or have any impact on antibody response or vaccine effectiveness," the Public Health Agency of Canada said.
News of the new variant arriving in Canada came as a provincewide lockdown meant to slow the spread of COVID-19 took effect in Ontario.
WATCH | Provincewide lockdown comes into effect in Ontario:
New restrictions came into effect Saturday, placing the entire province of Ontario in lockdown. In some regions, the measures will stay in place until at least Jan. 23. 4:18
The restrictions will remain in place for southern Ontario until Jan. 23 but will lift for northern Ontario on Jan. 9.
Under the new rules, restaurants can only provide takeout and delivery, while non-essential stores can only provide curbside pickup and delivery. Supermarkets, pharmacies and retailers that sell food can stay open but with capacity limits and physical-distancing measures.
The lockdown began with Ontario reporting a two-day total of 4,301 cases of COVID-19 on Saturday. Health Minister
Christine Elliott reported 2,005 more cases on Sunday. Locally, there were 572 new cases in Toronto, 331 in Peel Region, 207 in York Region and 140 in Windsor-Essex County.
---
What's happening in Canada
As of 6:30 a.m. ET, Canada's COVID-19 case count stood at 541,647, with 78,623 of those cases considered active. A CBC News tally of deaths stood at 14,801.
In Quebec, a provincewide lockdown went into effect on Friday, with businesses deemed non-essential ordered to remain closed until at least Jan. 11. The province did not publish data on the number of new infections or deaths on Friday or Saturday.
Aside from Ontario, the only provinces to release new numbers on Saturday were New Brunswick and Alberta.
New Brunswick announced two new cases, which means the province now has 38 active cases. There have been eight deaths and one person is in hospital, in the intensive care unit.
In Alberta, Chief Medical Officer of Health Dr. Deena Hinshaw released a modified update on Saturday. The province saw an estimated 1,200 new cases on Dec. 24 and 900 new cases on Dec. 25. There was a small increase in the number of patients in the province's ICU, Hinshaw said on Twitter.
With Ontario joining Manitoba and Quebec in closing non-essential retail stores for in-person shopping and much of the rest of Canada curtailing in-store capacity, the new rules have been having an effect on Boxing Day shopping. The limitations are forcing bargain hunters in many parts of the country to look online for deals instead of lining up and crowding into stores in person.
What's happening around the world
As of 7 a.m. ET on Sunday, more than 80.4 million coronavirus cases had been reported worldwide, with more than 45.4 million cases considered recovered or resolved, according to a running tally kept by Johns Hopkins University researchers. The global death toll stood at more than 1.7 million.
WATCH | Is one COVID-19 vaccine better than another?:
Infectious disease physicians answer viewer questions about COVID-19 vaccines, including if one is better than another and how vaccinations will impact the health-care system. 6:35
The United States is by far the leader among nations in cases of coronavirus illness, reporting nearly 18.8 million on Saturday. India follows with 10.2 million; Brazil has counted 7.45 million. There have been more than 330,000 deaths in the U.S., 190,000 in Brazil and 147,000 in India.
There have likely been many more cases of the coronavirus that have not been counted for a variety of reasons, including under-reporting, asymptomatic infections and lack of co-operation with contact tracers.
Each European Union country is getting only a fraction of the vaccine doses needed — fewer than 10,000 in the first batches — with the bigger rollout expected in January when more vaccines become available. All of those getting shots will have to come back in three weeks for a second dose.
Altogether, the EU's 27 nations have recorded at least 16 million coronavirus infections and more than 336,000 deaths — numbers that experts still agree understate the true toll of the pandemic due to missed cases and limited testing.
Japan, meanwhile, says it will ban the entry of all foreign nationals, following the discovery of a new strain of the coronavirus in the U.K. Since Friday, Japan has discovered at least seven cases of the new strain in passengers who arrived from Britain.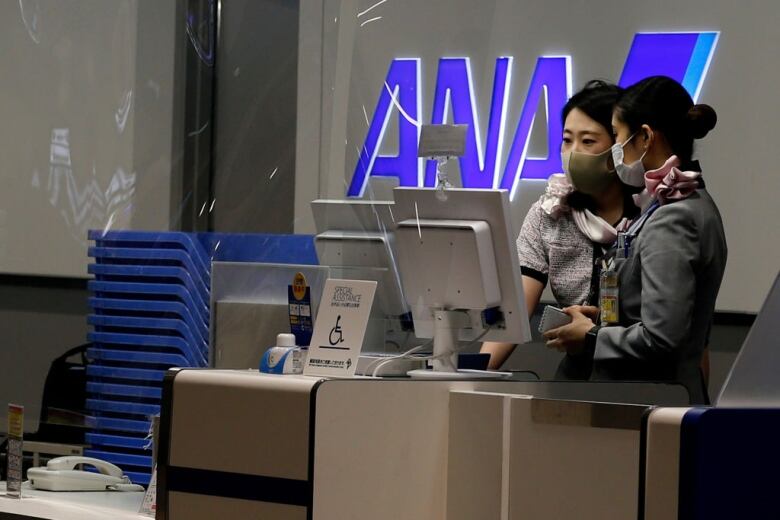 The ban takes effect from Monday and will last until the end of January.
Japanese citizens and residents who are abroad will still be able to return but must show proof of a recent negative coronavirus test. They will also continue to have to quarantine for two weeks.
Hundreds more unmarked graves found at erstwhile Saskatchewan residential school
An indigenous group in Saskatchewan on Thursday said it had found the unmarked graves of an estimated 751 people at a now-defunct Catholic residential school, just weeks after a similar, smaller discovery rocked the country.
The latest discovery, the biggest to date, is a grim reminder of the years of abuse and discrimination indigenous communities have suffered in Canada even as they continue to fight for justice and better living conditions.
Prime Minister Justin Trudeau said he was "terribly saddened" by the discovery at Marieval Indian Residential School about 87 miles (140 km) from the provincial capital Regina. He told indigenous people that "the hurt and the trauma that you feel is Canada's responsibility to bear."
It is not clear how many of the remains detected belong to children, Cowessess First Nation Chief Cadmus Delorme told reporters, adding that oral stories mentioned adults being buried at the site.
Delorme later told Reuters some of the graves belong to non-indigenous people who may have belonged to the church. He said the First Nation hopes to find the gravestones that once marked these graves, after which they may involve police.
Delorme said the church that ran the school removed the headstones.
"We didn't remove the headstones. Removing headstones is a crime in this country. We are treating this like a crime scene," he said.
The residential school system, which operated between 1831 and 1996, removed about 150,000 indigenous children from their families and brought them to Christian residential schools, mostly Catholic, run on behalf of the federal government.
"Canada will be known as a nation who tried to exterminate the First Nations," said Bobby Cameron, Chief of the Federation of Sovereign Indigenous Nations, which represents 74 First Nations in Saskatchewan. "This is just the beginning."
OLD WOUNDS
Canada's Truth and Reconciliation Commission, which published a report that found the residential school system amounted to cultural genocide, has said a cemetery was left on the Marieval site after the school building was demolished.
The local Catholic archdiocese gave Cowessess First Nation C$70,000 ($56,813) in 2019 to help restore the site and identify unmarked graves, said spokesperson Eric Gurash. He said the archdiocese gave Cowessess all its death records for the period Catholic parties were running the school.
In a letter to Delorme on Thursday, Archbishop Don Bolen reiterated an earlier apology for the "failures and sins of Church leaders and staff" and pledged to help identify the remains.
Heather Bear, who went to Marieval as a day student in the 1970s and is also vice-chief of the Federation of Sovereign Indigenous Nations, recalled a small cemetery at the school but not of the size revealed on Thursday.
"You just didn't want to be walking around alone in (the school)," she recalled. There was a "sadness that moves. And I think every residential school has that sadness looming."
The Cowessess First Nation began a ground-penetrating radar search on June 2, after the discovery of 215 unmarked graves at the Kamloops Residential School in British Columbia outraged the country. Radar at Marieval found 751 "hits" as of Wednesday with a 10% margin of error, meaning at least 600 graves on the site.
The Kamloops discovery reopened old wounds in Canada about the lack of information and accountability around the residential school system, which forcibly separated indigenous children from their families and subjected them to malnutrition and physical and sexual abuse.
Pope Francis said in early June that he was pained by the Kamloops revelation and called for respect for the rights and cultures of native peoples. But he stopped short of the direct apology some Canadians had demanded.
Thursday was a difficult day, Delorme told Reuters. But he wants his young children to know "we will get the reconciliation one day with action like today."
($1 = 1.2321 Canadian dollars)
(Reporting by Anna Mehler Paperny in Toronto and Moira Warburton in Vancouver; Editing by Chizu Nomiyama, Alistair Bell, Grant McCool and Daniel Wallis)
Teamsters votes to fund and support Amazon workers
The International Brotherhood of Teamsters, a labor union in the United States and Canada, said on Thursday it has voted to formalize a resolution to support and fund employees of Amazon.com Inc in their unionization efforts.
Amazon did not immediately respond to a request for comment.
(Reporting by Eva Mathews in Bengaluru; Editing by Arun Koyyur)
Citigroup names new sales head for Treasury and Trade Solutions unit
Citigroup Inc has named Steve Elms as the new sales head for the bank's Treasury and Trade Solutions (TTS) unit effective immediately, according to an internal memo shared by a company spokesperson.
Elms, who will oversee the management of the global sales teams, has been involved with the bank's TTS division for over 10 years, according to his LinkedIn profile.
TTS is a division of the bank's Institutional Clients group. The segment offers cash management and trade services and finance to multinational corporations, financial institutions and public sector organizations around the world.
(Reporting by Niket Nishant in Bengaluru and David Henry in New York; Editing by Krishna Chandra Eluri)