Coronavirus: What's happening in Canada and around the world on Thursday – CBC.ca
The latest:
The United States on Wednesday widened its network for administering COVID-19 vaccines to doctors and nurses on the frontlines of a pandemic that has killed more than 307,000 people in the country, even as a major storm threatened to slow progress on the East Coast.
While medical professionals at a growing number of hospitals rolled up their sleeves, lawmakers on Capitol Hill said they were nearing a long-elusive bipartisan deal on $900 billion US in economic relief to pandemic-hit U.S. workers and businesses.
The aid package, to be attached to a massive spending bill that must pass by Friday to avert a federal shutdown, was not expected to include COVID-relief funds for state and local governments, as Democrats wanted, or protections for companies from pandemic-related lawsuits, as sought by Republicans.
Rollout of the first tranche of 2.9 million doses of a newly authorized vaccine from Pfizer Inc. and German partner BioNTech SE was in its third full day, with shipments headed to 66 more U.S. distribution hubs nationwide.
A second vaccine from Moderna could win emergency-use approval from the U.S. Food and Drug Administration this week.
Express delivery companies FedEx and United Parcel Service, sharing a leading role in vaccine shipments, said they were monitoring potential impacts of heavy ice and snow that began to disrupt transport along the Eastern Seaboard.
U.S. Army Gen. Gustave Perna, overseeing the government's Operation Warp Speed campaign, said FedEx and UPS have developed contingency plans to keep any delayed vaccine shipments secure until they can be "delivered the next day."
"We are on track with all the deliveries we said we were doing," Perna told reporters at a briefing. He cited a minor glitch involving four trays of vaccine — two sent to California and two to Alabama — that arrived at temperatures lower than prescribed. The trays in question were shipped back to Pfizer and later replaced, Perna said.
Some 570 other vaccine distribution centres received the bulk of the initial batch of shipments on Monday and Tuesday, and an even larger wave was due for delivery to 886 additional locations on Friday, Perna said.
From each distribution site, vaccine doses were divided up among area hospitals and administered to health-care workers, designated as first in line to be immunized. Some were also going to residents and staff of long-term care facilities. Later vaccine rounds will go to other essential workers, senior citizens and people with chronic health conditions.
U.S. president-elect Joe Biden, who has said he would get the vaccine publicly to help instill confidence in its safety, is expected to receive his first injection as soon as next week, according to his transition team. Biden, 78, is in a high-risk category for the coronavirus due to his age.
'It's not over yet'
Political leaders and medical authorities in the meantime have launched a media blitz assuring Americans that the vaccines are safe while urging them to avoid growing weary of social distancing and mask-wearing while the pandemic rages on.
"It is not over yet," Dr Anthony Fauci, a member of the White House coronavirus task force, told CBS News. "Public health measures are the bridge to get to the vaccine, which is going to get us out of this."
With hospitalizations setting a record for the 19th day in a row — nearly 113,000 patients under treatment on Wednesday — health experts warn that fatalities will rise higher still in the weeks ahead, even as the vaccine campaign steadily expands.
Canadian officials have had a similar message, urging people to follow all local public health rules and keep up mask wearing, social distancing and hand hygiene as the vaccine effort gets underway.
---
What's happening across Canada
WATCH | 'An act of love:' Reflections on getting COVID-19 vaccine:
Rabbi Ronnie Cahana was among the residents of Montreal's Maimonides Geriatric Centre to receive a COVID-19 vaccine. He and his daughter, Kitra, reflected on the moment after several difficult months in a long-term care home hit hard by the virus. 1:55
As of 10:45 a.m ET on Thursday, Canada's COVID-19 case count stood at 484,062, with 76,285 of those cases considered active. A CBC News tally of deaths based on provincial reports, regional health information and CBC's reporting stood at 13,822.
Ontario reported a new daily high of 2,432 new cases of COVID-19 on Thursday and 23 additional deaths.
Hospitalizations stood at 919, with 263 COVID-19 patients in the province's intensive care units.
The update from health officials comes after hospitals in the province called for new and stricter lockdowns in hard-hit regions to halt the rapid spread of COVID-19.
Ontario is reporting 2,432 cases of <a href="https://twitter.com/hashtag/COVID19?src=hash&amp;ref_src=twsrc%5Etfw">#COVID19</a> and nearly 58,200 tests completed. Locally, there are 737 new cases in Toronto, 434 in Peel, 209 in York Region, 190 in Windsor-Essex County and 142 in Hamilton. There are 2,009 more resolved cases.

&mdash;@celliottability
The Ontario Hospital Association's board of directors is making the request to the province after holding an emergency meeting to discuss hospital capacity issues amid surging infections. It is asking the government to implement a four-week lockdown in every public health unit with an infection rate of 40 per 100,000 population or higher.
The province remains "firmly caught in the grasp of a major second wave of COVID-19," the statement released early Thursday said, adding that health-care workers are being asked to carry "a very heavy burden."
WATCH | Ontario hospitals prepare for emergency surge capacity during pandemic:
Ontario hospitals have had to ready their COVID-19 emergency plans and prepare to make space in ICUs. For Ontarians already waiting for medical procedures, the threat of delays is rising along with hospitalization figures. 2:02
In Quebec, schools are closed and most office workers will be working from home from Thursday until at least Jan. 11 as new public health restrictions kick in.
Health officials in the province reported 1,897 new cases of COVID-19 on Wednesday and 43 additional deaths, bringing the provincial death toll to 7,613. Hospitalizations in Quebec increased to 975, with 128 people in intensive care units.
In Atlantic Canada, New Brunswick reported eight new cases of COVID-19 on Wednesday, Newfoundland and Labrador reported five new cases and Nova Scotia reported four new cases. There were no new cases reported in Prince Edward Island.
COVID-19 vaccination efforts got underway Wednesday in all the Atlantic provinces except for New Brunswick, which is set to begin its campaign on the weekend.
Health officials in Manitoba reported 292 new cases of COVID-19 on Wednesday and 15 additional deaths, bringing the death toll in the province to 523.
Manitoba got its vaccination effort underway Wednesday and plans to give 900 health-care workers the Pfizer-BioNTech shot this week.
In Saskatchewan, health officials reported 129 new cases of COVID-19 and no additional deaths.
A new restriction stating that people in the province can no longer have guests in their homes goes into effect Thursday, along with several other public-health rules, and will remain in force until at least Jan. 15.
There will be some exceptions to the new household visit rule — for example, those who live alone can socialize with people in another household that has no more than five occupants.
WATCH | Saskatchewan hospitals overloaded even as COVID-19 cases decline:
Daily COVID-19 cases in Saskatchewan are declining, but hospitals and ICUs in the province are overloaded. All the while, many residents are growing frustrated with what they call mixed messages and contradictory restrictions. 2:02
Alberta reported 1,270 new cases of COVID-19 — one of the province's lowest daily infection counts in weeks — and 16 additional deaths on Wednesday. Hospitalizations stood at 749, with 139 COVID-19 patients in the province's intensive care units, according to the province.
The province's top doctor said an Edmonton arena is being set up as an alternate hospital with help from the Canadian Red Cross. Chief medical health officer Dr. Deena Hinshaw says Alberta Health Services and the national charity are putting 100 patient beds in the Butterdome arena at the University of Alberta. It will take a few weeks to set up the site, but there is no plan to staff it unless the beds are needed, Hinshaw said
In British Columbia, health officials reported 640 new cases of COVID-19 and 16 additional deaths. There have now been 692 deaths in the province since the pandemic began.
A joint statement from provincial health officer Dr. Bonnie Henry and Health Minister Adrian Dix says 409 doses of the COVID vaccine were administered on Tuesday and the province expects to see weekly vaccine deliveries starting next week.
Across the North, there were no new cases of COVID-19 reported in Yukon, the Northwest Territories or Nunavut.
---
What's happening around the world
From The Associated Press and Reuters, last updated at 10:40 a.m. ET
As of late Thursday morning, more than 74.4 million cases of COVID-19 had been reported worldwide with more than 42.1 million of those cases considered recovered or resolved, according to a COVID-19 tracking tool maintained by Johns Hopkins University. The global death toll stood at more than 1.6 million.
In the Asia-Pacific region, South Korea reported a record number of coronavirus deaths on Thursday as the country's biggest wave of infections since the start of the pandemic strained hospital resources and sparked panic-buying in anticipation of a harsh new lockdown.
The Korea Disease Control and Prevention Agency on Thursday said the COVID-19 death toll was now at 634 after 22 patients died in the past 24 hours, the deadliest day since the emergence of the pandemic. Among 12,209 active patients, 242 are in serious or critical condition.
The Japanese capital, Tokyo, faced with acute strains on its medical system from the pandemic, raised its alert level to the highest of four stages on Thursday as the number of new COVID-19 cases spiked to a record daily high of 822.
In Africa, Nigeria expects to receive its first doses of a vaccine in January.
In the Middle East, Saudi Arabia has kicked off its COVID-19 inoculation campaign, with the health minister receiving the first dose a week after authorities approved the Pfizer vaccine.
The Gaza Strip has recorded more than 1,000 coronavirus cases in one day for the first time since an outbreak began there, threatening to further overwhelm the territory's decrepit health system.
In the Americas, health officials in Alaska have reported that a second health-care worker had an adverse reaction to a COVID-19 vaccine.
Bartlett Regional Hospital in Juneau said the two workers showed adverse reactions about 10 minutes after receiving the vaccine and were treated. One received the vaccine Tuesday and will remain in the hospital another night under observation while the other, vaccinated Wednesday, has fully recovered.
U.S. health authorities warned doctors to be on the lookout for rare allergic reactions when they rolled out the first vaccine, made by Pfizer and Germany's BioNTech. Britain had reported a few similar allergic reactions a week earlier.
The Inter-American Development Bank said it would mobilize $1 billion US to help countries in Latin America and the Caribbean acquire and distribute COVID-19 vaccines, adding to some $1.2 billion already committed in 2020.
Pfizer has not yet applied for emergency use of its COVID-19 vaccine in Brazil, health regulator Anvisa said on Thursday, adding that the company has not yet provided enough data for the vaccine to be used locally.
In Europe, Denmark is shutting down nationwide, with shopping malls and department stores ordered to close as of Wednesday and small shops — except for food stores and pharmacies — told to shut as of Dec. 25.
Prime Minister Mette Frederiksen said the restrictions will apply until Jan. 3. Hairdressers and beauty shops will close as of Dec. 21.
Frederiksen said she was "deeply concerned about how it will go in the coming winter months," adding that Denmark's "health-care system is under pressure."
British Prime Minister Boris Johnson said people should exercise extreme caution but he refused to outlaw festive family gatherings as cases soared across swathes of Britain.
Bulgaria's government is extending a nationwide lockdown until the end of January, as the number of new coronavirus infections and fatalities remain high and is putting pressure on the overloaded health-care system.
The number of infections in the Netherlands, meanwhile, jumped by more than 11,000 in 24 hours, hitting a new record.
COVID-19 is hitting First Nations in Western Canada especially hard – CBC.ca
While Ontario and Quebec are the epicentres of COVID-19 outbreaks in Canada, people in First Nations are being hit the hardest in Western Canada, where they make up half the number of hospitalizations in some provinces.
The rising curve is alarming federal officials, who urged the provinces during a press conference in Ottawa on Wednesday to continue prioritizing Indigenous populations as they roll out vaccines.
"So what we're saying to Canadians, to Indigenous Peoples, is now is not the time to let down your guard," Indigenous Services Minister Marc Miller said. "This is not the time to ease public health restrictions."
The CBC's David Thurton asks Indigenous Services Minister Marc Miller, associate deputy minister Valerie Gideon and Chief Medical Officer of Public Health Dr. Tom Wong about the concentration of active cases of COVID-19 in Prairie provinces. 4:29
As of Jan. 19, Indigenous Services Canada was reporting 5,571 active cases on reserves — most of them in Prairie provinces:
British Columbia: 580
Alberta: 1,312
Saskatchewan: 1,196
Manitoba: 2,241
Ontario: 93
Quebec: 144
Atlantic: 5
Indigenous Services Canada has reported 13,873 confirmed COVID-19 cases on reserves since last March. More than 90 per cent are in Western Canada:
British Columbia: 1,348
Alberta: 4,459
Saskatchewan: 3,525
Manitoba: 3,643
Ontario: 428
Quebec: 462
Atlantic: 8
First Nation leaders and health experts say there are several reasons why infections are increasing in First Nations communities in Western Canada, including overcrowding, gatherings, people letting their guard down, relaxed restrictions and people driving in and out of communities with road access for goods and work.
Lack of housing
With COVID-19 caseloads rising all across Canada, the pandemic is emerging in places where it wasn't before, said Dr. Anna Banerji, an infectious disease specialist at Temerty Faculty of Medicine and the Dalla Lana School of Public Health.
"It's quite concerning that COVID is starting to break into these communities," Banerji said. "They've held the forts for so long."
Banerji researched respiratory infections in Inuit communities for over two decades. She said the main risk factors facing First Nations are poor access to health care services, underlying ailments, food insecurity, poverty and overcrowding.
Banerji said she fears that when people get sick in First Nation communities, they can't find places to self-isolate.
Onekanew (Chief) Christian Sinclair of Opaskwayak Cree Nation, 628 kilometres northwest of Winnipeg, said his community needs 600 more houses.
"When you have people living under one roof, anywhere from six to as high as 14 members living under one roof on the Opaskwayak Cree Nation, you can see how quickly that spread can happen," Sinclair said.
"We're second-class citizens living in Third World conditions in a first world country."
Opaskwayak Cree Nation has had success in preventing and controlling outbreaks by enforcing curfews and monitoring who enters and leaves the community with border patrols paid for by Indigenous Services Canada.
The highest funding requests the department has seen for the Indigenous Community Support Fund — which was created to help communities fight COVID-19 — have been for perimeter security, said Valerie Gideon, associate deputy minister of Indigenous Services.
Close to 350 First Nations communities across the country have closed their borders to non-essential travel, she added.
But even with the added layer of security in some places, the Assembly of Manitoba Chiefs says 50 per cent of all active COVID cases in Manitoba are First Nations members.
Call for stricter provincial measures
Relaxed provincial measures are also being blamed for the rise in First Nations cases.
The Federation of Sovereign Indigenous Nations in Saskatchewan is calling on the province to close bars and liquor establishments.
"We believe alcohol in the bars is a contributing factor," said FSIN Vice Chief David Pratt, who recently recovered from COVID-19.
"When you're on alcohol, you're more likely to lose your inhibitions, share drinks and not keep those social distance practices in practices and in check."
Grand Chief Jerry Daniels of the Southern Chiefs' Organization in Manitoba is urging the provincial and federal governments to enforce tougher rules to limit travel.
Daniels said he thinks caseloads are rising because of people going back and forth from First Nations communities to urban areas.
"I think until COVID is completely wiped out, they should be taking the strongest approach possible," Daniels said.
Daniels said nearly 80 per cent of the 34 Anishnaabe and Dakota communities he represents are trying to control the spread of COVID-19.
Concern for loss of elders
Dr. Shannon McDonald, acting chief medical officer at the First Nations Health Authority in British Columbia, said there isn't enough rapid testing available to test everyone who needs to travel to B.C. First Nations, and some tests can't detect infections in their first few days.
"It only takes one person to come in and spend time with people in the community," McDonald said.
McDonald fears the pandemic could take a particularly heavy toll on First Nations communties.
"I always worry about our elders," McDonald said. "Our elders are our knowledge-keepers, our language holders and they are the human libraries, culturally. So communities are very sensitive to that, but individuals who are choosing not to adhere to public health advice are putting those individuals at risk and I really worry about that."
Lawrence Latender, a member of Dauphin River First Nation, has felt first-hand the impact of COVID-19 during an outbreak in his community 250 kilometres north of Winnipeg.
He recently lost seven neighbours and friends to the virus, including two aunts and an uncle.
"I don't know if I had time to really grieve because it's one thing after the other," Latender said.
"It's like you're focused on one death and then you're, well … 'OK now I got to focus on this one. Ok, this one is gone, now I got to focus on this one.'"
Letander, his wife and two young sons also tested positive, but have since recovered.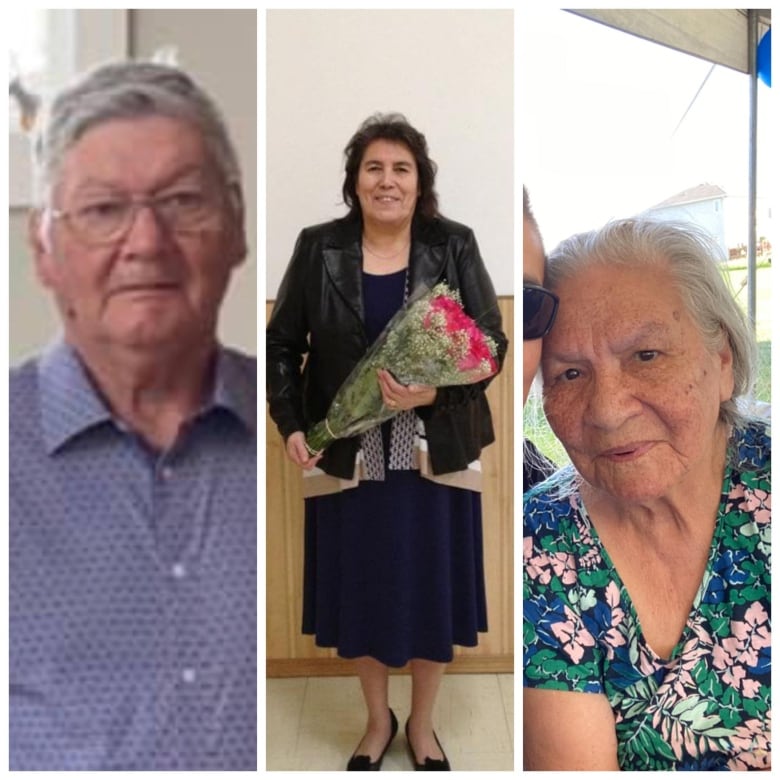 Indigenous Services Canada says that, so far, there have been 120 COVID-19 deaths in First Nations.
But with 169 Indigenous communities now administering the Moderna COVID-19 vaccine and more doses on the way, there's hope the chain of transmission will break.
Coronavirus: What's happening in Canada and around the world on Thursday – CBC.ca
The latest:
President Joe Biden's top medical adviser on COVID-19, Dr. Anthony Fauci, says the United States will cease reducing U.S. staff counts at the World Health Organization and pay its financial obligations to it as it vows to stay fully engaged with the UN health agency to help fight the coronavirus pandemic.
"I am honoured to announce that the United States will remain a member of the World Health Organization," Fauci told the WHO's executive board meeting in Geneva via video conference. The administration announced just hours after Biden's inauguration that the United States would revoke a planned pullout from the WHO in July that had been announced by the Trump administration.
Fauci's quick commitment to WHO — whose response to the coronavirus outbreak was repeatedly berated by the Trump administration — marks a dramatic and vocal shift toward a multilateral approach to fighting the pandemic.
He said the Biden administration "will cease the drawdown of U.S. staff seconded to the WHO" and resume "regular engagement" with WHO. He added: "The United States also intends to fulfil its financial obligations to the organization."
Biden will sign 10 executive orders on Thursday to fight the coronavirus pandemic, including directing that disaster funds be used to help reopen schools and requiring that people wear masks on planes and buses, officials said.
Biden, a Democrat who took over from Republican President Donald Trump on Wednesday, has promised a fierce fight against the pandemic that killed 400,000 people in the United States under Trump's watch.
The U.S is entering "what may be the toughest and deadliest period of the virus and must set aside politics and finally face this pandemic as one nation," Biden said in his inauguration speech.
One order will require mask-wearing in airports and on certain modes of public transportation, including many trains, airplanes and intercity buses, officials said.
He also plans to sign orders on Thursday to establish a COVID-19 testing board to ramp up testing, address supply shortfalls, establish protocols for international travellers and direct resources for minority communities hit hard by the infectious disease.
He plans to direct the Federal Emergency Management Agency (FEMA) to reimburse states and Native American tribes fully for the costs associated with National Guard and emergency supply efforts to combat the virus. Biden's measures also restore "full reimbursement" from the FEMA Disaster Relief Fund for costs related to reopening schools.
FEMA funds are typically disbursed after hurricanes, floods or other natural disasters. Institutions including hospitals can apply after Trump declared the pandemic a national emergency in March. The fund had previously been reimbursing 75 per cent of costs.
Biden plans to partner with state and local governments to establish vaccination spots in conference centres, stadiums and gymnasiums.
The new administration will also deploy thousands of clinical staff from federal agencies, military medical personnel and pharmacy chains to increase vaccinations, and make teachers and grocery clerks eligible.
-From The Associated Press and Reuters, last updated at 6:45 a.m. ET
---
What's happening across Canada
COVID-19 case counts are dropping in the two provinces hardest hit by the pandemic, offering some hope that newly imposed restrictions are working.
Quebec and Ontario have both seen new infections trend downward compared to last week's totals, weeks after each province enacted a series of more stringent pandemic measures.
Quebec marked a fourth consecutive day on Wednesday with fewer than 2,000 new cases, reporting 1,502 new cases. Ontario, meanwhile, recorded 2,655 new cases on Wednesday.
As of early Thursday, Canada had reported 725,496 cases of COVID-19, with 68,414 cases considered active. A CBC News tally of deaths stood at 18,462.
Here's a look at what's happening across the country:
-From The Canadian Press and CBC News, last updated at 6:30 a.m. ET
---
What's happening around the world
As of early Thursday morning, more than 96.9 million cases of COVID-19 had been reported worldwide, with more than 53.4 million of the cases considered resolved or recovered, according to a tracking tool maintained by Johns Hopkins University. The global death toll stood at more than two million.
In the Asia-Pacific region, India has sent one million doses of a coronavirus vaccine to Nepal, a gift that is likely to help repair strained ties between the two neighbours. Nepal's health minister says the AstraZeneca-Oxford University vaccine, manufactured under license by Serum Institute of India, will be given to health workers and other front-line personnel. He says Nepal would like to purchase four million more doses, and asked for the Indian government's help.
India, the world's largest vaccine producer, began supplying coronavirus vaccine to its neighbours this week. Relations between India and Nepal have been strained by a territorial dispute.
China is imposing some of its toughest travel restrictions yet as coronavirus cases surge in several northern provinces ahead of the Lunar New Year. Next month's festival is the most important time of the year for family gatherings in China, and for many migrant workers it is often the only time they are able to return to their rural homes.
This year, however, travellers must have a negative virus test within seven days of departure, and many local governments are ordering quarantines and other strict measures on travellers.
A national health official had this message Wednesday for Chinese citizens: "Do not travel or have gatherings unless it's necessary."
The director of the Africa Centers for Disease Control and Prevention says access to medical oxygen is a "huge, huge critical need" across the continent as Africa's case fatality rate from COVID-19 is now above the global average and health centres are overwhelmed.
John Nkengasong said the case fatality rate across the African continent is 2.5 per cent while the global average is 2.2 per cent. And while confirmed coronavirus cases in the past week across Africa dropped by seven per cent, deaths rose by 10 per cent.
"It's beginning to be very worrying," Nkengasong told reporters Thursday. He noted that a Nigerian colleague has said struggling health workers are having to decide which cases to manage and which not to manage in Africa's most populous country.
Twenty-one of Africa's more than 50 countries have case fatality rates above the global average, led by Sudan at 6.2 per cent. The continent has seen more than 6,000 deaths in the past week, with more than 81,000 overall. Africa has had more than 3.3 million confirmed virus cases. Almost all African countries are still waiting for COVID-19 vaccines.
In the Americas, Mexico has had a second consecutive day of COVID-19 deaths surpassing 1,500. Officials reported 1,539 such deaths Wednesday, a day after 1,584 deaths were listed. There was also a near-record one-day rise in new virus cases of 20,548.
Mexico has seen almost 1.69 million confirmed coronavirus infections and over 144,000 test-confirmed deaths related to COVID-19. With the country's extremely low testing rate, official estimates suggest the real death toll is closer to 195,000. Mexico City is the current epicentre of the pandemic in the country, and 89 per cent of the capital's hospital beds are in use. For the nation as a whole, 61 per cent of hospital beds are filled.
In the Middle East, authorities in Lebanon on Thursday extended a nationwide lockdown by a week to Feb. 8 amid a steep rise in coronavirus deaths and infections that has overwhelmed the health-care system.
Despite increasing the number of hospital beds in the country of nearly six million, doctors and nurses have struggled to keep pace with patients flooding their facilities. Intensive care unit bed occupancy has been rising, hitting 91 per cent late Wednesday, according to the World Health Organization.
Registered daily infections have hovered around 5,000 since the holiday season, up from nearly 1,000 in November. The death toll has surpassed 2,000 with new deaths of between 40 and 60 a day in the past week.
Doctors say with increased testing, the number of confirmed infections has also increased, recording a positivity rate of over 20 per cent for every 100 tests. Nurses and doctors are overwhelmed, and more than 2,300 health-care workers have been infected since February.
In Europe, Germany is pushing its partners in the European Union to reduce coronavirus infections in an effort to keep a new variant first detected in Britain at bay, and says new border checks might be needed if they don't co-ordinate.
Chancellor Angela Merkel and Germany's 16 state governors agreed on Tuesday to extend the country's lockdown by two weeks until Feb. 14. Although Germany's infection figures are finally declining, officials worry that more infectious variants could push them back up quickly if allowed to take hold.
Merkel said on Tuesday: "If countries were to go very different ways — which I don't see at the moment, but it could happen — then we would have to be prepared [to] say, 'then we have to reintroduce border controls.'" She stressed that "we don't want this."
Her chief of staff, Helge Braun, on Thursday emphasized the need to push infections down "to keep the mutation out of core Europe."
Braun told ARD television: "All countries must do this, and if a neighbouring country doesn't do this we can hardly protect ourselves against the mutation, and then even tougher entry measures on our internal borders are unavoidable. And since everyone doesn't want that, it's important that we act together now."
Sweden's government extended on Thursday several national COVID-19 restrictions, including requirements to work from home and a ban on selling alcohol after 8 p.m. Both were extended to Feb. 7.
A requirement that face masks be worn on public transportation was also extended through the spring. A national recommendation on remote education also was extended to April 1 but adjusted so that distance learning and teaching on site will be mixed. It will be up to local principals to work that out.
"To Sweden's high school students: now a tough time continues. But you have shown that you can meet this challenge," said Sweden's Education Minister Anna Ekstrom.
The country of 10 million has opted to keep parts of its society open and lifted in September a national ban on visiting elderly care homes. It has reported 537,967 cases, including 10,797 deaths
Americans fleeing Trump's presidency faced Canada's stiff immigration process – CBC.ca
After Donald Trump was elected president of the United States in 2016, many Americans considered moving to Canada, but some have realized it's not that easy leaving their country behind.
Heather Vargas was one American who actually made the move after Trump's inauguration in early 2017.
She moved to Halifax that same year, a plan that started as a joke the night Trump was elected.
But she has since moved back to her home state of Arkansas.
"America is my home," she said. "Yes, America is currently a dumpster fire, but it's my dumpster fire and I love it."
After Donald Trump won the presidency back in 2016, hoards of Americans planned to escape to Nova Scotia, but four years later, some have realized it's not so easy to leave their own country and culture behind. CBC's Shaina Luck has that story. 2:13
Vargas lived in Halifax for a year and a half.
Rob Calabrese would consider Vargas one of the lucky few.
The radio announcer started the website Cape Breton if Trump Wins in early 2016 as a way to attract Americans to rural areas of Nova Scotia.
During Trump's campaign and his eventual election, Calabrese had thousands of inquiries from Americans wanting to move to Atlantic Canada.
But only a handful of people followed through.
"People who contacted me about moving to Canada, who had means or professions that likely made them a good candidate for immigration, found that our countries are alike, but there is a culture shock even for Canada and the United States," he said.
"So I found that people would rarely make that move even if they were able."
And if that was the case, Calabrese discovered immigrating to Canada isn't as easy as it seems.
David Nurse, an immigration lawyer with McInnes Cooper in Bridgewater, N.S., has witnessed this first-hand.
Nurse said he immediately started receiving calls from people who were interested in immigrating to Canada "largely or entirely because of Trump's election" in 2016.
"What I saw in practice, though, was that not all of these individuals would have a pathway to Canada," he said.
To immigrate to Canada, individuals must be supported through specific programs offered through the federal government, which are designed to attract the young and educated who are skilled in in-demand occupations.
"A lot of people, I guess I would say, were somewhat exploring the opportunity," Nurse said.
"They never obviously considered emigrating from the United States before and once they found out what was involved in terms of the effort, the cost and the time, many of them backed away."
Vargas said she doesn't regret her decision to move to Canada, despite it being a brief stay.
"Overall, it was an amazing experience. I'm very, very thankful that I moved to Canada," she said.
However, she said she won't be leaving the U.S. again.
"I want to stay, and I want to try to fight for everything that I can to make America the best country that I know it can be."
MORE TOP STORIES