Coronavirus: What's happening in Canada and around the world on Tuesday – CBC.ca
The latest:
More than 20 heads of government and global agencies in a commentary published Tuesday called for an international treaty for pandemic preparedness that they say will protect future generations in the wake of COVID-19.
But there were few details to explain how such an agreement might actually compel countries to act more co-operatively.
World Health Organization Director-General Tedros Adhanom Ghebreyesus and leaders including Prime Minister Boris Johnson of Britain, Premier Mario Draghi of Italy and President Paul Kagame of Rwanda proposed "a renewed collective commitment" to reinforce preparedness and response systems by leveraging the UN health agency's constitution.
"We are convinced that it is our responsibility, as leaders of nations and international institutions, to ensure that the world learns the lessons of the COVID-19 pandemic," the authors wrote. Although the document calls for "solidarity," and greater "societal commitment," there was no indication any country would soon change its own approach to responding to the pandemic.
Speaking at a briefing Tuesday, Tedros said the time to act is now. "The world cannot afford to wait until the pandemic is over to start planning for the next one."
President of the European Council Charles Michel, who also spoke on Tuesday, said that it's not a question of if the world will see another pandemic, but when.
"COVID-19 has been a harsh reminder — no one is safe until everyone is safe," Michel said, noting that leaders need to take responsibility to ensure that pandemic preparedness and global health systems are fit for the 21st century.
International regulations governing health and implemented by WHO already exist — and can be disregarded by countries with few consequences.
Despite an obligation for nations to share critical epidemic data and materials quickly with WHO, for example, China declined to do so when the coronavirus first broke out. And with no enforcement powers, WHO officials had little means of compelling them to share details, an AP investigation last year found.
Steven Solomon, WHO's principal legal officer, said the proposed pandemic treaty would be shaped in future talks and needs to be ratified by lawmakers in the participating countries. The engagement of governments in the work of negotiating and approving a treaty is a way of promoting implementation, Solomon said.
"Specifics about enforcement will be up to member states to decide on," the WHO legal officer said.
Canada, U.S., Russia, China not listed
Canadian Prime Minister Justin Trudeau is not listed among the signatories to the letter, nor are the leaders of China, Russia or the United States.
When asked about China, Russia and the U.S., Tedros said signatories to the letter mainly joined through an opt-in process in which countries signalled their wish to join, though he noted that in some instances the WHO invited regional representation.
"The comment from member states, including U.S. and China, was actually positive," Tedros said. "And we hope the future engagements will bring all countries."
Last week, Tedros pleaded with rich countries to immediately donate 10 million COVID-19 vaccines so that immunization campaigns could start in all countries within the first 100 days of the year.
Not a single country has yet publicly offered to share its vaccines immediately, but Tedros said Tuesday that the WHO is in discussions with some countries.
-From The Associated Press, CBC News and Reuters, last updated at 7 a.m. ET
---
What's happening in Canada
WATCH | Change in advice renews apprehension around AstraZeneca vaccine:
A change in advice has renewed apprehension around the AstraZeneca vaccine, which has been compounded by contradictory messages in Ontario. There's also concern the confusion will add to vaccine hesitancy. 3:14
As of early Tuesday morning, Canada had reported 971,723 cases of COVID-19, with 45,211 cases considered active. A CBC News tally of deaths stood at 22,900.
Health officials in New Brunswick reported 11 new cases of COVID-19 on Monday — the only new cases across the Atlantic Canada region. All of the cases were in the Edmundston region, in the northwest of the province.
There were no new cases reported in Nova Scotia, but health officials did report that three previously identified cases had been confirmed to be B117 variant cases.
Health officials in Prince Edward Island on Monday moved to suspend all use of the AstraZeneca-Oxford COVID-19 vaccine because of safety concerns. The province's Chief Public Health Officer, Dr. Heather Morrison, said the vaccine had been administered to 1,680 Islanders between the ages of 18 and 29.
Morrison said anyone who has received the AstraZeneca-Oxford vaccine should watch for symptoms including shortness of breath, chest pain, leg swelling, persistent abdominal pain, sudden onset of severe or persistent headache or blurred vision, and skin bruising other than the site of vaccination. However, she also said those people should know that the risk of a serious side effect such as blood clots is very low and there have been no such cases in Canada.
In Newfoundland and Labrador, there were no new cases of COVID-19 reported on Monday.
In Quebec, health officials reported 891 new cases of COVID-19 on Monday and five additional deaths. Hospitalizations in the province stood at 477, with 120 people in intensive care.
Ontario health officials reported 2,094 new cases of COVID-19 and 10 additional deaths on Monday. A provincial dashboard put the number of COVID-19 hospitalizations at 841, with 382 people listed as being in Ontario's intensive care units.
In the Prairie provinces, there were no new COVID-19-related deaths reported on Monday.
Manitoba reported 53 new cases of COVID-19 and no new deaths. Health officials in Saskatchewan reported 202 new cases and no additional deaths. In Alberta, meanwhile, health officials reported 545 new cases of COVID-19 and no additional deaths.
British Columbia has taken a step backward in its fight against the COVID-19 pandemic, forcing the province to impose circuit-breaker measures for the next three weeks to slow the rapid spread of the virus, the provincial health officer said Monday.
Dr. Bonnie Henry said starting Tuesday until April 19, indoor dining at restaurants, bars and pubs, and adult group activity at fitness centres are paused, while the Whistler Blackcomb ski resort will be closed as COVID-19 cases spread in the community. She said the province will also amend its mask-wearing mandate in all schools for children from grades 4 to 12.
WATCH | Dr. Bonnie Henry says B.C. needs a 'circuit-breaker to stop this virus now':
Dr. Bonnie Henry says health officials have agonized over bringing in additional restrictions but the exponential growth in cases has made it necessary. 1:28
Only last week, Henry announced the easing of restrictions on indoor religious services, but that has also been reversed.
"It is with a heavy heart that I have to announce this," she said Monday. "I cannot in all conscience, with the increased numbers of cases that we are having and the risk that we see from indoor services, allow these types of activities to happen right now."
Henry said recent data continues to show that indoor settings are where COVID-19 transmissions are occurring and the case trajectory continues upward.
Across the North, there were no new cases of COVID-19 reported in Yukon or Nunavut. In the Northwest Territories, the Office of the Chief Public Health Officer reported one new case at the Diavik Diamond Mine.
-From The Canadian Press and CBC News, last updated at 7 a.m. ET
---
What's happening around the world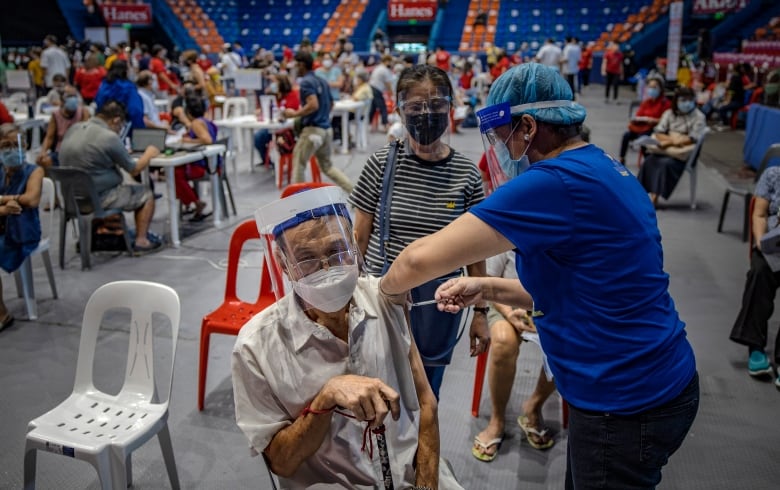 As of early Tuesday morning, more than 127.7 million cases of COVID-19 had been reported worldwide, according to a tracking tool maintained by Johns Hopkins University. The global death toll stood at more than 2.7 million.
In the Asia-Pacific region, Australia's Queensland state warned that more cases were expected to emerge as authorities scrambled to contain an outbreak linked to the virulent B117 variant, throwing Easter travel plans into disarray.
India reported the highest daily increase in coronavirus cases in five months, with the second wave of the disease driven by surging infections in the country's richest state Maharastra.
In the Americas, U.S. President Joe Biden urged states to pause reopening efforts and a top health official warned of "impending doom," amid a surge in COVID-19 cases that threaten efforts to quash the coronavirus pandemic.
Honduras said it would temporarily restrict arrivals from South America, citing fears about the variant first discovered in travellers from Brazil entering its territory.
In Africa, Ethiopian health authorities on Tuesday received 300,000 doses of China's Sinopharm COVID-19 vaccine. The shots arrived a day after the East African country introduced stricter lockdown measures to stem a spike in infections.
Earlier in March, Ethiopia received nearly 2.2 million doses of the AstraZeneca vaccine through the COVAX initiative that ensures vaccine access for low- and middle-income countries.
Johnson & Johnson said it's agreed to provide up to 400 million doses of its one-dose COVID-19 vaccine to African countries, starting this summer. The drugmaker said under its agreement with the African Vaccine Acquisition Trust, the company will provide up to 220 million vaccine doses for the African Union's 55 member countries, with delivery beginning in the July-to-September quarter. The trust will be able to order 180 million additional doses from J&J, for a total of up to 400 million shots through 2022.
The company's vaccine still must receive authorization from regulators in the African countries, but the World Health Organization approved it for emergency use on March 12. In late-stage testing, J&J's vaccine prevented about 67 per cent of symptomatic infections with the coronavirus and was 85 per cent effective at preventing severe disease, beginning 28 days after vaccination.
In Europe, the German state of Berlin is again suspending the use of AstraZeneca's coronavirus vaccine for people under 60 due to reports of blood clots. Berlin's top health official Dilek Kalayci said the decision was taken as a precaution after the country's medical regulator announced 31 cases of rare blood clots in people who had recently received the vaccine. Nine of the people died.
The Paul Ehrlich Institute says all but two of the cases involved women ages 20 to 63. Reports of an unusual form of blood clot known as sinus vein thrombosis prompted several European countries to temporarily halt the use of the AstraZeneca vaccine earlier this month.
Some 2.7 million doses of the AstraZeneca vaccine have been administered in Germany so far.
Germany is extending virus-related border controls along its border with the Czech Republic by a further 14 days but ending entry requirements for people coming from the Austrian region of Tyrol.
WATCH | Why the Czech Republic is being hit hard by the 3rd wave:
Experts say poor contact tracing and vaccine hesitancy are among the reasons why the Czech Republic now has some of the highest COVID-19 infection and death rates in the world, despite having low rates earlier in the pandemic. 2:01
Britain will focus on vaccinating the whole of its adult population before it can provide any surplus shots to other countries such as Ireland, British business minister Kwasi Kwarteng said on Tuesday. More than 30 million Britons have received their first shots in the fastest vaccine rollout in Europe, with the aim of offering shots to all adults by the end of July.
However, Britain has found itself involved in a public spat with the European Union, where the vaccination program has been much slower, over the supply of doses.
In the Middle East, Israel has reopened its border crossing with neighbouring Egypt for the first time since the start of the coronavirus pandemic. Israeli authorities on Tuesday started allowing 300 citizens per day to enter and exit for the purpose of tourism in the Sinai Peninsula, provided they pass coronavirus tests before each crossing and are vaccinated against COVID-19 or recovered from it.
-From The Associated Press, Reuters and CBC News, last updated at 9 a.m. ET
Canadian National challenges Canadian Pacific with $33.7 billion Kansas City bid
By Shreyasee Raj
(Reuters) -Canadian National said on Tuesday it had offered to buy Kansas City Southern railroad for about $33.7 billion, and shares of U.S. company soared as investors anticipated a potential bidding war with Canadian Pacific.
Canadian Pacific had agreed a deal to acquire Kansas City Southern for about $25 billion last month. Either combination would create a North American railway spanning the United States, Mexico and Canada as supply chains recover from being disrupted by the COVID-19 pandemic.
The acquisition interest in Kansas City Southern also follows the ratification of the US-Mexico-Canada Agreement last year, that removed the threat of trade tensions which had escalated under former U.S. President Donald Trump.
Kansas City said it would evaluate Canadian National's offer. If it found it could lead to a better deal, Canadian Pacific will be given the opportunity to raise its bid.
Canadian National's cash-and-stock offer, worth $325 per share, is at a 26.8% premium to Kansas City Southern's offer as of Monday's trading close.
"We are surprised by this move given the healthy valuation Canadian Pacific had already offered to Kansas City Southern shareholders," Stephens analyst Justin Long wrote in a note to clients.
Kansas City Southern shares rose 15.8% to $297.12, indicating most investors deemed it unlikely the company would stick with Canadian Pacific's offer.
One investor that took a different view is Chilton Investment Co, which has a less than 1% stake in Kansas City Southern. Citing regulatory hurdles, it said it preferred a deal with Canadian Pacific.
"There's more overlap with Canadian National deal which makes it harder to get (regulatory) approval. The Surface Transportation Board (STB) doesn't like overlap," Chilton CEO Richard Chilton said.
Canadian National CEO Jean-Jacques Ruest said his network and that of Kansas City Southern are "highly complementary networks with limited overlap." They only run parallel for 65 miles, between Baton Rouge and New Orleans.
Kansas City Southern has domestic and international rail operations in North America, focused on the north-south freight corridor connecting commercial and industrial markets in the central United States with industrial cities in Mexico. Calgary-based Canadian Pacific is Canada's No. 2 railroad operator, behind Canadian National.
The STB updated its merger regulations in 2001 to introduce a requirement that Class I railways have to show a deal is in the public interest. Yet it provided an exemption to Kansas City Southern given its small size, potentially limiting the scrutiny that its acquisition will be subjected to.
Canadian Pacific agreed in its negotiations with Kansas City Southern to bear most of the risk of the deal not going through. It will buy Kansas City Southern shares and place them in an independent voting trust, insulating the acquisition target from its control until the STBLatest clears the deal. Were the STB to reject the combination, Canadian Pacific would have to sell the shares of Kansas City Southern, but the current Kansas City Southern shareholders would keep their proceeds.
Canadian National said it was willing to match these terms. It said its offer does not require approval from its own shareholders because of how much cash it has, eliminating a condition in Canadian Pacific's offer.
Bill Gates' Cascade Investment, which is Canadian National's biggest investor with a 14.25% stake, said it fully supports the combination.
A private equity consortium led by Blackstone Group Inc and Global Infrastructure Partners (GIP) made an unsuccessful offer last year to acquire Kansas City Southern. But it was Canadian Pacific's announcement of a deal with Kansas City Southern that spurred Canadian National into action, as it raised the prospect of losing out to its rival, according to people familiar with the matter.
(Reporting by Shreyasee Raj and Ankit Ajmera in Bengaluru; Additional reporting by Greg Roumeliotis in New York; Editing by Shinjini Ganguli, Anil D'Silva and David Gregorio)
CEO shake-up at Canada's Nutrien could pave way to M&A: shareholders
By Rod Nickel and Maiya Keidan
WINNIPEG, Manitoba (Reuters) – Investors expect the new chief executive of Canada's Nutrien Ltd to swing deals as part of a more aggressive growth strategy, after an abrupt shake-up at Canada's biggest agriculture company.
Nutrien, the world's biggest fertilizer producer by capacity, surprised shareholders on Sunday by promoting its chairman, Mayo Schmidt, to CEO, replacing Chuck Magro, who had led the company since it formed from Agrium's 2018 merger with Potash Corp.
Schmidt, raised on a Kansas farm, is best known for leading the Saskatchewan Wheat Pool grain cooperative's acquisition of competitor Agricore United in 2007, creating Viterra Inc, one of Canada's biggest grain handlers. He subsequently bought Australia's ABB Grain before leading the sale of Viterra to commodity trader Glencore PLC in 2012.
"Acceleration of M&A is a natural progression as we enter the next commodity supercycle," said Michael Underhill, chief investment officer at Capital Innovations LLC, which owns Nutrien shares. "I would not bet against him."
Nutrien shares were down 1.3% on Tuesday, after falling 3.5% on Monday. They have risen about 35% year over year, riding soaring corn prices, but gained only 2% since they began trading in 2018.
Some investors had grown uncertain about Nutrien's growth strategy under Magro, said Mike Archibald, vice-president and portfolio manager at AGF Investments, which owns C$136 million ($109 million) worth of the company's stock.
Archibald said now the strategy looks likely to shift to deals.
"The incoming CEO does have a history as a deal-maker so, to the extent he lives up to what he's done in the past, we should expect sometime in the next 12 months that we'll get something happening on the M&A front," Archibald said.
POTENTIAL DEALS
Nutrien could try to acquire U.S. nitrogen fertilizer rival CF Industries, which has a $10-billion market capitalization, or accelerate the company's roll-up of smaller farm retail stores, Archibald said. A CF spokesman did not immediately respond to a request for comment.
Conversely, Schmidt could sell off the retail business to focus on fertilizer production, Archibald said.
Nutrien declined an interview request for Schmidt. A company spokeswoman said Schmidt's plans include following the company's climate change initiatives, which Magro unveiled this month.
Schmidt may also eye selling Nutrien's phosphate fertilizer business, even though it recently got a boost from U.S. duties against Russian and Moroccan imports, said Brian Madden, senior vice-president at Goodreid Investment Counsel, a Nutrien shareholder.
The CEO change is positive, as Schmidt has an exceptional record of creating shareholder value, said Scotiabank analyst Ben Isaacson. He added that Nutrien could look to consolidate the nitrogen industry.
Schmidt would find it difficult to sell Nutrien itself, Madden said. There is no obvious domestic acquirer and the Canadian government rejected a foreign bid for Potash Corp in 2010.
"Schmidt has got cred in the ag world," Madden said. But he added that abruptly changing chief executives is not how successions should occur at large companies.
(Reporting by Rod Nickel in Winnipeg and Maiya Keidan in Toronto; Editing by Marguerita Choy)
Canadian Business During the Pandemic
In 2019 the world was hit by the covid 19 pandemic and ever since then people have been suffering in different ways. Usually, economies and businesses have changed the way they work and do business. Most of which are going towards online and automation.
The people most effected by this are the laymen that used to work hard labors to make money for there families. But other then them it has been hard for most business to make such switch. Those of whom got on the online/ e commerce band wagon quickly were out of trouble and into the safe zone but not everyone is mace for the high-speed online world and are thus suffering.
More than 200,000 Canadian businesses could close permanently during the COVID-19 crisis, throwing millions of people out of work as the resurgence of the virus worsens across much of the country, according to new research. You can only imagine how many families these businesses were feeding, not to mention the impact the economy and the GDP is going to bear.
The Canadian Federation of Independent Business said one in six, or about 181,000, Canadian small business owners are now seriously contemplating shutting down. The latest figures, based on a survey of its members done between Jan. 12 and 16, come on top of 58,000 businesses that became inactive in 2020.
An estimate by the CFIB last summer said one in seven or 158,000 businesses were at risk of going under as a result of the pandemic. Based on the organization's updated forecast, more than 2.4 million people could be out of work. A staggering 20 per cent of private sector jobs.
Simon Gaudreault, CFIB's senior director of national research, said it was an alarming increase in the number of businesses that are considering closing.
"We are not headed in the right direction, and each week that passes without improvement on the business front pushes more owners to make that final decision,"
He said in a statement.
"The more businesses that disappear, the more jobs we will lose, and the harder it will be for the economy to recover."
In total, one in five businesses are at risk of permanent closure by the end of the pandemic, the organization said.
The new sad research shows that this year has been horrible for the Canadian businesses.
"The beginning of 2021 feels more like the fifth quarter of 2020 than a new year," said Laura Jones, executive vice-president of the CFIB, in a statement.
She called on governments to help small businesses "replace subsidies with sales" by introducing safe pathways to reopen to businesses.
"There's a lot at stake now from jobs, to tax revenue to support for local soccer teams,"
Jones said.
"Let's make 2021 the year we help small business survive and then get back to thriving."
The whole world has suffered a lot from the pandemic and the Canadian economy has been no stranger to it. We can only pray that the world gets rid of this pandemic quickly and everything become as it used to be. Although I think it is about time, we start setting new norms.