Could social media hold evidence of alleged Russian war crimes? – CBC.ca
A driver's-eye-view as a car weaves down a street strewn with bodies. Corpses burned almost beyond recognition. Bodies of men and women, some with their hands bound, half-buried in the dirt of what appears to be a mass grave.
These scenes of mutilation and death, posted to social media and rapidly shared many thousands of times, could hold crucial clues for investigators probing alleged war crimes by Russian soldiers in the Ukrainian city of Bucha. The mounting evidence of widespread civilian deaths in the city just northwest of Kyiv has incited global outrage and harsher sanctions against Russia, who began its invasion of Ukraine on Feb. 24.
In March, International Criminal Court prosecutor Karim Khan said he was opening an investigation into possible war crimes in Ukraine.
"Social media has completely transformed the way human rights investigations happen," said Yvonne McDermott Rees, a professor who specializes in international criminal law at the Hillary Rodham Clinton School of Law at Swansea University.
With just a simple search on platforms like Twitter, Facebook, TikTok and Telegram, investigators can access a "phenomenal" amount of information — often in regions they otherwise couldn't reach due to fighting, McDermott Rees said.
But it takes more than just a tweet — or even thousands of them — to prove a war crime.
Those posts are only a starting point for investigators, who are also in a race against time, as social platforms' moderators remove content that violates their policies — potentially deleting that evidence forever.
Video's historic role in war crimes convictions
The use of video as evidence in war crimes prosecutions isn't new.
Black and white footage, filmed by Allied troops as they liberated Nazi concentration camps, was used as evidence at the Nuremberg Trials in 1945.
Similarly, a video of a mass execution of Bosnian Muslim men in 1995 — part of the Srebrenica massacre, in which thousands of Bosnian Muslim men and boys were executed — shocked the world when it was revealed during the trial of former Serbian president, Slobodan Milošević, a decade later.
But legal experts say the near real-time access that social media offers is a game-changer.
"[In previous conflicts], you were often trying to find those rare pieces of video footage that might exist, or photographs that people had taken. And you might be going door to door, knocking on doors, literally, to try and capture that information," said Alexa Koenig, executive director of the Human Rights Center at U.C. Berkeley School of Law.
"Today, with the prevalence of information posted to social media … it's really finding the signal through the noise."
Social media has already played a role in a handful of war crimes convictions under domestic laws in Germany, Finland, the Netherlands and Sweden, involving individuals who fought in Syria and Iraq, according to Human Rights Watch. In some of those cases, the criminals were photographed posing with the bodies of enemy combatants, and the photos were then uploaded to Facebook.
Online content has also been used as evidence in a limited number of cases at the International Criminal Court. But the conflict in Ukraine may be social media's greatest legal test in a war crimes case, according to McDermott Rees.
Challenges of social media as evidence
Experts warn, however, that the sheer volume of social media content will create new challenges for those trying to make a legal case, and could even slow down the investigative process.
"It's kind of like looking for a needle in a haystack made out of needles, because there are all these videos that claim to be of a particular incident, and it's your responsibility and job to really wade through all of it," Koenig said.
There are numerous investigative teams sifting through social platforms looking for clues, Koenig said, including Ukrainian prosecutors, foreign government agencies, and citizen groups like Bellingcat, with the help of artificial intelligence tools to scour, gather and analyze data, in hope that it could one day be used as evidence.
But, she adds, every photo and video first has to be cross-checked several ways.
Investigators will assess any metadata attached to images, such as the time, date and location it was created, she explained. They will analyze the source who uploaded it, and try to trace it back to its original creator. And they'll also examine the image itself — comparing it with other photos and video, satellite images, and witness testimony, to try to corroborate any evidence it contains, Koenig said.
WATCH | Evidence of war crimes in Ukraine, says veteran investigator:
"It's clearly a war crime and indeed its breadth and depth suggest that there's crimes against humanity as well," said veteran war crimes investigator Bill Wiley. "There's no evidence of genocide at this point." 7:16
The quality of the images also matters. The rush to film and upload a scene of atrocities can lead to shaky footage, or video that misses key details, said Dalila Mujagic, a legal advisor with WITNESS, an organization that trains people to document human rights abuses.
"That sometimes compromises the substance or the potential for evidence that these videos [or] content might have."
Social media platforms' responsibilities
Social media companies face pressure from governments to swiftly remove violent and extremist content. Online giants, including Facebook, Twitter and Google, jointly pledged to step up those efforts after a shooter in Christchurch, New Zealand, live-streamed a deadly mosque attack in 2019.
But groups like Human Rights Watch say those takedowns can result in companies deleting evidence of war crimes, without archiving it, thereby potentially hampering future investigations.
Mujagic said those platforms need to recognize their responsibility as "social evidence lockers" and protect that data.
To date, "no company has done this successfully", Mujagic said, adding that platforms face the difficult task of balancing graphic images against "making sure that the truth gets out," while also ensuring that even if videos are taken down, they can be preserved and accessed by the right people afterwards.
Koenig says companies have begun to work with human rights and other organizations to come up with solutions, but it's unclear exactly how much of that content is currently being preserved.
"The challenge for them is always going to be the scale of what they're grappling with, and a lack of clarity as to what actually constitutes an international crime and what might be evidence of it."
'Exploring ways to preserve this'
Meta, the parent company of Facebook and Instagram, told CBC News in a statement that in the case of Ukraine, it is "exploring ways to preserve this type and other types of content when we remove it in case it constitutes evidence of violations of international humanitarian law."
Twitter, YouTube and TikTok did not respond to requests for comment.
For all the evidence accumulating on social media, both McDermott Rees and Mujagic emphasize that it's an add-on — not a replacement — for more traditional evidence of war crimes, such as witness testimony.
"We can't lose sight of the human here," says McDermott Rees.
"These are individuals who should have the opportunity to tell their story and to bear witness to the atrocities that they've seen. We must keep an eye on that and not lose sight of that when we get excited about the potential of social media for accountability."
Female Eye Film Festival Celebrates 20 Years June 9-12, 2002
 Toronto, ON – Returning LIVE, the Female Eye Film Festival (FeFF), founded by Canadian trailblazer Leslie Ann Coles, celebrates its 20th Anniversary June 9 to 12, 2022, at TIFF Bell Lightbox.
FeFF was way ahead of its time at its founding, and the festival's tagline, "Always Honest, Not Always Pretty," says it all. It's an eclectic program of features, documentaries, shorts, and the highly anticipated Late-Night Thrills and Chills – an international program of horror, suspense, and thrillers directed by women – on Friday, June 10, and Saturday, June 11, at 10PM. 
Voted one of the "Top 50 Film Festivals Worth the Entry Fee" by Movie Maker Magazine for a 10th consecutive year (2013–2022), FeFF is a competitive international women's film festival that provides an exclusive showcase for Canadian and foreign women and gender-diverse directors.
FeFF has tackled gender equality and inclusion since its inception. The Indigenous Filmmaker Series launched in 2008 with Indigenous Canadian filmmaker Jules Koostachin at the helm. In 2009, FeFF produced the inaugural Young Filmmaker Development Workshop, a mentorship for debut female filmmakers. To date, FeFF has produced 46 short debut films, 26 by Indigenous filmmakers, and all had their premieres at Female Eye. FeFF continues to provide a dedicated showcase for local directors with the Toronto Filmmaker Series, which held its inaugural event in 2001. The Script Development Program, open to both men and women, celebrates its 15th edition in 2022.
The BEST IN THE BIZ TRIBUTE celebrates 2022Honorary Director Valerie Buhagiar on Saturday, June 11, at 1PM. In Buhagiar's latest feature, "Carmen," based on true events, 50-year-old Carmen finds her voice and her true calling and liberates villagers in a small Maltese town. (Supported by Telefilm Canada's Promotion Program.)
"When I answered Leslie Ann Coles's call about receiving the Honorary Director's Award at this year's Female Eye Film Festival, I felt a warm embrace, along with the accumulation of years sitting at my kitchen table writing, organizing, and envisioning project after project," says Buhagiar. "FeFF has presented four of my films since 2008. This year they are opening the festival with my fourth feature film as writer/director: 'Carmen.' It is communities like FeFF and the WIDC [Women In the Director's Chair] that have propelled me forward to reveal my true voice in cinema. The greatest gift you can give someone is inspiration, and the team at FeFF has done this over and over again. I am truly grateful and honoured. Thank you."
Other notable Canadian features, supported by Telefilm Canada, include "We're All in This Together," a clever adaptation of the novel by Amy Jones written by, directed by, and starring Katie Boland in her debut directorial feature film; "The Kissing Game," a passionate urban fantasy and solo performance that explores love, betrayal, friendship, and identity directed by newcomer Montreal filmmaker Véa; "Be Still," by Elizabeth Lazebnik, an homage to Canadian photographer Hannah Maynard, who was 40 years ahead of the Surrealist movement. FeFF also celebrates Toronto media artist Edie Steiner with a film retrospective and artist talk.
"In this ever-evolving landscape, supporting women in film and uplifting their work continues to be a priority at Telefilm Canada," said Christa Dickenson, Executive Director & CEO, Telefilm Canada. "Increased career development, training for women of colour and Black women at all levels of experience, and enhanced data collection are all integral to supporting more diverse storytellers in Canada. Celebrating 20 years of believing and elevating Canadian talent both nationally and on a global scale, we'd love to thank Female Eye Film Festival for all the work they do in putting talented Canadians in the spotlight."
Foreign film highlights include documentaries "Mama Irene: Healer of the Andes," directed by Elisabeth Möhlmann and Bettina Ehrhardt, a documentary that features a remarkable 84-year-old shaman from Peru who draws upon endangered Indigenous knowledge and traditions (Peru); "Independent Miss Craigie," directed by Lizzie Thynne, which captures the extraordinary life story of Jill Craigie, one of the first women to direct documentaries in the United Kingdom, whose work has long been neglected (UK); "Moonlight Shadow Wall," directed by Shiman Ma, which tells the story of three families who reside at the foot of the ancient city of Xi'an who embrace cultural traditions while trying to embrace a new era (China); and "Forbidden Womanhood," directed by Maryam Zahirirmehr, a poetic and symbolic portrayal of betrayal and loss in which 12-year-old Mahi's mother refuses to tell her how a woman gets pregnant (Iran).
This year's INDUSTRY INITIATIVES, supported by Ontario Creates and ACTRA Fraternal Benefits (AFBS), feature industry panel discussions, script readings, the 10th Annual Live Pitch, the Directors' Roundtable, and a panel dedicated to women in virtual production who hold positions of creative control in this quickly evolving pipeline. This panel will showcase excerpts from their work and explore the topics of democratized storytelling, female authorship, and creative empowerment. The filmmakers will use process videos to demonstrate aspects of the VP workflow as it pertains to pre-visualization, production, and creative collaboration.
"For the past 20 years, in an industry where female filmmakers and screenwriters have been underrepresented, FeFF has brought a female perspective and diversity to the art of screen-based storytelling," said Ron Zammit, President and CEO of AFBS. "AFBS is proud to stand behind FeFF as a long-term supporter."
"WIDC is delighted to co-present the annual Directors' Roundtable at the 20th anniversary of the Female Eye Film Festival. While the festival returns to in-person screenings and festivities, hosting the roundtable online offers an opportunity to enrich and expand the festival's community of women and non-binary screen directors and guests across the globe," says Dr. Carol Whiteman, co-creator and producer of Women In the Director's Chair (WIDC), which recently celebrated its 25th anniversary.
In 2014, Coles began international collaborations with the KIN International Film Festival (Armenia); the Flying Broom International Women's Film Festival (Turkey); FemCine (Chile); the Los Angeles Women's International Film Festival (USA); and Doctober (USA). In 2021, Coles juried films for the Beirut International Women Film Festival (BIWFF; Lebanon) and the Porto Femme International Film Festival (Portugal). FeFF shares a tradition of mentoring young women on their debut films, which premiere at our festivals with Beirut and Women's Voices Now (WVN; USA). FeFF proudly presents a selection of short films directed by female youth produced by BIWFF and WVN. We also look forward to co-presenting a selection of dance-on-film shorts with Dance Camera West (Los Angeles) and shorts culled from Porto Femme.
Special thanks to our sponsors: Telefilm Canada, Ontario Creates, ACTRA Fraternal Benefit Society (AFBS), Cinespace Film Studios, ACTRA National, and Women In the Director's Chair and Encore+.
TIFF tickets are available at ticketmaster.com/tiff3. 
Discounts available for seniors and students and TIFF members.
Follow Female Eye Film Festival:  
Media inquiries: 
Sasha Stoltz Publicity & Management: 
Sasha Stoltz | Sasha@sashastoltzpublicity.com | 416.579.4804 
Sasha Stoltz Publicity:
Sasha Stoltz | Sasha@sashastoltzpublicity.com | 416.579.4804
St. Albert seniors create social media buzz over hockey TikToks – St. Albert TODAY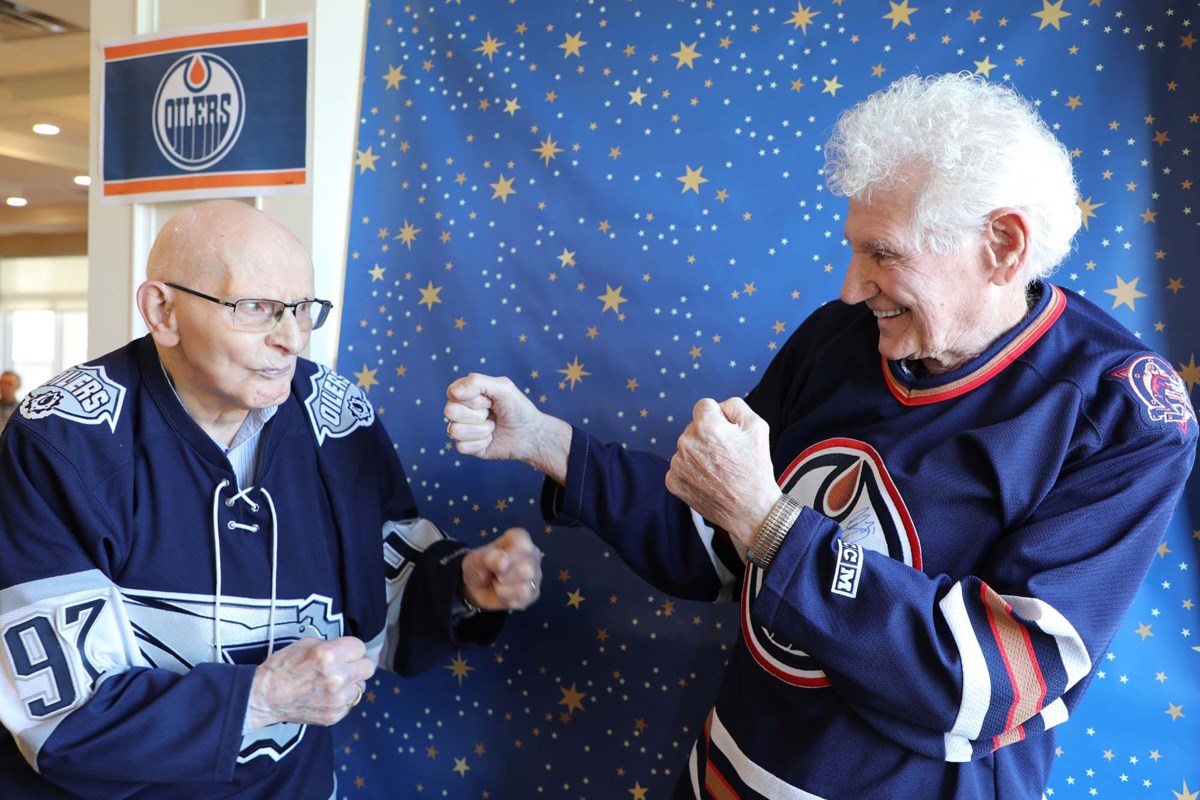 St. Albert seniors Ron Espey and Gib Paradis said TikTok has become quite interesting since they have found social media fame with their viral videos inspired by hockey.
Seniors at the St. Albert Retirement Residence have racked up thousands of likes on videos of them cheering on the Edmonton Oilers as the Oilers make their way through the Stanley Cup playoffs.
Espey said they were quite surprised when a video of him and Paradis wearing Oilers jerseys, dropping gloves, and pulling punches to the tune of You Gotta Fight for Your Right by the Beastie Boys received more than 200,000 likes.
"Oh, gosh. We were really surprised with that. Quite, quite a surprise," said Espey.
"Unbelievable," said Paradis.
Both Paradis and Espey are long-time Oilers fans and who have been enjoying the playoff games.
"We're really interested in the final thing here with Calgary and Edmonton," said Espey.
Paradis thinks the Battle of Alberta will be a busy one.
"But the Oilers have a better team, I think. I'm sure." he said.
Lori Kari is the recreation therapist and the regional director of health and wellness at the St. Albert Retirement Residence. She said staff and residents have been blown away by the number of likes some of their videos have received.
Kari said usually they would be happy to see 100 likes on a video.
"Like, 'Woo! We're doing so awesome,' and, 'That's great families are seeing it — that is so great!' Then all of a sudden, the fighting video had reached 1,000 [likes], and then 2,000. And then it was 100,000. And now I think it's 230,000 likes. It just really blew us away," she said.
Kari said they started the TikTok account in August of 2020 because she was looking for innovative and creative programming that is engaging.
"With the social media, that's kind of what's on trend. And so, if my kids can do TikTok, why can't my seniors do TikTok," she said.
As for what the seniors think of the fame, Kari said they are just having fun with it.
She said they have received lots of calls from family and lots of calls from different media organizations as well.
Paradis said he has even heard from a daughter in Victoria over the TikToks.
Kari and Paradis will soon be featured on the television program Good Morning Toronto.
"Every single time [Paradis is] hilarious. He says, 'You gotta be kidding. You gotta be kidding.' He just can't even believe it either. Because, like I said, for them it's just a fun program," she said.
Kari said she and recreation aide Loida Geralde brainstorm the ideas for the videos. They get inspiration from what is trending.
"A lot of times, it's just impromptu as well. We don't know what they're going to say. We don't develop a script for them. So, they have really no idea [either]. It just kind of falls into place," she said.
Kari said filming the videos also adds a lot of buzz to the building.
"A lot of times, when we film a video, especially if it's in our multi-purpose room, there's 15 other residents that will just come and watch because they find it so funny to watch their table mate or their best friend in these videos," she said.
Kari said there is a lot of excitement for the Battle of Alberta between the Edmonton Oilers and the Calgary Flames, and a future video might feature one of their seniors calling a senior at one of their Calgary sites.
"The Battle of Alberta is going to be happening. And we think that's going to be a funny one," she said.
As for whether everyone in the building is an Oilers' fan, Kari said there are at least two residents who are Flames fans.
"I put little Oiler flags on every table in the dining room just for fun. There was one resident, he took it down. He was like, 'No, no, no, Lori. We need a Flames [flag] at this table.'"
Water World becomes a Reality
Our planet's population is always increasing, and with this uncontrollable momentum ever-present, so too the many problems presented to humanity caused by this increase and climate change.
1. Rising sea levels could devastate coastal cities.
2. How and where will the food needed to feed the population of our planet come from?
Since 1880, the world's average sea level has risen by 8-9 inches, one-third of that increase over the past 25 years.
3. Rising sea levels are eroding the coasts of landmasses at an alarming rate.
4. Rising sea levels are flooding coastlines and contaminating freshwater supplies.
5. An estimated 41% of the world's population lives within 62 miles of the coastline.
6. In addition, cities built on the coastline tend to sink over time.
Regions like New Orleans, Kolkata, Bangkok Ho Chi Min City, Jakarta, London, and New York City face increasing pressure from flooding and saltwater intrusion.
The earth is drying up. Drought has spread throughout our planet, especially in those areas that mass produce/grow our food. whether due to climate change or simply the planet's climate cycle, drought has taken away our precious fertile landmasses giving us dessert in return. The earth's underground aquifers are being depleted at an alarming rate. three-quarters of the planet is covered by water, yet 96.5% of this water is undrinkable. 3.5% of our water is found in the form of ice, in our Polar Regions, but it is melting. What to do?
Do you remember a movie with Kevin Costner as the lead…WaterWorld? The planet was covered in water, and the surviving population lived on boats and artificial floating devices. The possible solution to the world's problems can be found in this movie's premise that we can use the water that surrounds us.
Floating Cities could combat this problem, but no one has ever built such a marvel before. Well off the coast of South Korea such an ambitious project is underway. Known as "Oceanix Bruan, this collaboration between the United Nations, the Port of Busan and the Contract Firm is building such a city. Oceanix was founded in 2018 with the goal of designing and building a prototype sustainable floating city. In 2022 The United Nations unveiled the program to the world.
Neighbourhoods would be interconnected with one another and the mainland via bridges. A living area will be developed, creating living space, lodging platforms, and areas for community activities such as retail and food vendors and recreation. Employment would be centred upon research and development of the project and fulfilling the needs of their neighbourhoods. With a temperature-controlled atrium at its center, the floating city would have its own center for hydroponic agriculture. Each neighbourhood would be secured firmly to the ocean floor with enough slack to take into account the movement of the ocean. Biorock will be used to make the buildings, and surfaces of this city. Biorock is a material that is produced using low electric currents applied to materials that become stronger than concrete yet are buoyant. The floating city is pedestrian-friendly, with no roads. Electric vehicles will be used.
Each neighbourhood will have its own water treatment and recycling plants. Turning saltwater into drinkable water will fulfill the new cities' needs. The first segment of the neighbourhood will be built by 2026, with a cost of approximately 630 million dollars. Estimates of $10,000 per square meter have arisen, but with further development and research, the project will present to the world a far more affordable living option. Imagine a livable, prosperous island, a neighbourhood that is self-supporting in every way. Such imaginative and bold projects will hopefully pave the way to Earth's transformation into an all-inclusive living space.
Steven Kaszab
Bradford, Ontario
skaszab@yahoo.ca
Sourced from United Nations, Smithsonian archives.