COVID-19: As Canada's child vaccination rates drop due to lockdown, experts fear other infectious outbreaks – National Post
Vaccination rates among children have dropped as much as 20 per cent in parts of Canada, ramping up anxieties that the country could face a series of infectious outbreaks while still battling COVID-19.
As public health officials peel back coronavirus restrictions, allowing Canadians to return to a form of pre-pandemic normalcy, pediatricians worry children who are delayed in their vaccination schedules may be at higher risk of contracting vaccine-preventable diseases, such as measles and bacterial meningitis.
The National Post reached out to a number of pediatric infectious disease specialists in recent days, and nearly all said child and infant immunization rates are declining. They said the full extent of this decline is unknown, because most provinces and territories do not maintain up-to-date data.
One of the few provinces to provide the Post with data, Manitoba, saw a 25-per-cent decline in administered measles, mumps and rubella (MMR) vaccines for the months of March and April 2020, compared to the same period last year for children two and younger.
Manitoba also recorded a 21-per-cent decline in diphtheria, tetanus and pertussis (DTaP) vaccinations in the same age group for March and April of this year, compared to 2019.
The Post reached out to Dr. Jim Kellner, a pediatric infectious disease specialist based in Calgary who also sits on the federal government's COVID-19 immunity taskforce. Kellner divulged a conversation he had with an unnamed public health physician. The physician estimated that Calgary had seen a 20-per-cent decline in overall vaccinations in March and April, meaning parents had been delaying their children's routine vaccinations.
Every specialist pointed to COVID-19 restrictions implemented across the country as an inadvertent cause for diminishing immunity among child and infant populations.
Some spoke about the potential for an imported case of measles to wreak havoc on vulnerable populations in which, to be fully protected, a vaccination threshold of 95 per cent or more must be maintained. If that rate isn't maintained, there is no herd immunity and outbreaks can emerge with even the slightest dip, said Dr. Caroline Quach-Thanh, a pediatric infectious disease specialist in Montreal. Like Kellner, she also sits on the federal government's COVID-19 immunity task force.
Kellner added that a measles outbreak is highly worrisome because measles is far more contagious than COVID-19 due to its routes of transmission; the former is airborne while the latter is understood to infect largely via droplets that remain on surfaces. Measles primarily targets unvaccinated children, who can experience flu-like symptoms and rashes. In rare cases, it can lead to death. With children who contract COVID-19, experts have so far discovered they often experience mild illness, with a substantial portion remaining asymptomatic.
In 2018 alone, more than 142,000 people died — a large portion were children younger than five — due to measles and more than 9.7 million became infected worldwide., according to estimates from the World Health Organization.
Even if families largely adhered to social distancing and isolation guidelines laid out by public health officials during the pandemic, that is no guarantee a baby or toddler is safe from contracting a vaccine-preventable disease, warned Dr. Joan Robinson, a pediatric infectious disease specialist in Edmonton.
Which infectious disease should a parent particularly worry about? In Robinson's mind, it's bacterial meningitis.
"Most parents today have never come across a child who has had bacterial meningitis — that's all because of vaccines," she said.
Despite months of social distancing, isolating within the family unit and largely remaining at home, meningitis can infect younger children because older kids and adults can carry the disease for months without so much as a symptom.
A child who has missed his or her routine vaccination for meningitis, usually administered some time in middle school, can be more susceptible to catching bacterial meningitis. Most people who get it recover, but the disease can also cause lifelong problems such as learning difficulties, hearing loss and, in rare cases, death.
Follow the schedule
Children across Canada follow an immunization schedule in which, at two months old, the first set of vaccines is administered. From there, every two months, the child receives a set of vaccines until they are six months old. The next set of vaccines is typically administered at 12 months, then again at 18 months, at two years and then at four years of age. The vaccine a child receives depends on the province.
"Getting routine infant and toddler vaccinations are especially important because they are considered a 'primary vaccination series'," wrote Dr. Vinita Dubey, an immunizations and vaccine-preventable diseases expert with Toronto Public Health.
"Without those vaccines, the child may not have full protection against the diseases the vaccine can prevent. As well, vaccinations often require time to build up immunity, and many doses are required in infancy to get the best protection. Waiting to provide these vaccinations can leave a child vulnerable to disease infection."
One of the major contributors to delayed vaccination and decreased immunity could be something as simple as a parent inadvertently forgetting to get their child immunized, said Dr. Scott Halperin, a pediatric infectious disease specialist in Nova Scotia.
When a parent has a newborn, it's drilled into the parent's mind that at two months old, the baby needs to get his or her first vaccines. If a baby reaches nearly six months old at the same time that COVID-19 restrictions are in place, it could be another few months before that child receives the required vaccines.
This isn't because there are restrictions in place that prevent the child from receiving the vaccine, Kellner said. In fact, most public health clinics and many pediatricians have continued to administer vaccinations throughout the lockdowns.
Rather, the parent, because of the strong public health messaging to avoid doctor visits, may confuse the message and hold off from bringing the child in for routine immunization for fear of contracting COVID-19. In reality, the only public vaccination programs that were brought to a stop were in-school vaccination clinics, meaning children who would otherwise have received shots at school, may not have done so.
One Toronto pediatrician said his clinic had held off on allowing children to come in for routine vaccinations until the end of April, because he was unsure of the impact COVID-19 had on children. Understanding the danger in delaying early child vaccinations, however, Dr. Daniel Flanders initiated a drive-thru clinic so that parents could bring in their young ones for shots. Before installing the drive-thru, Flanders said he noticed children coming in for their immunizations had dropped by roughly half.
Most parents today have never come across a child who has had bacterial meningitis — that's all because of vaccines
Every doctor contacted by the Post said that it's important parents adhere to their child's immunization schedules. These are designed to ensure a child has built enough immunity before he or she is at highest risk of contracting the infectious disease.
When there's deviation from the schedule, communities lose their immunity and protection against vaccine-preventable diseases. Unlike measles, where 95 per cent or more of the population must be vaccinated for adequate coverage, most jurisdictions strive for vaccination rates of 90 per cent or higher when it comes to other infectious diseases for which there is a vaccine.
Before COVID-19 the latest available data, from 2017, showed vaccination uptake across the country as a whole did not meet public health goals, as published by the childhood National Immunization Coverage Survey.
In Canada, 90 per cent of two-year-olds had received at least one dose of the measles vaccine and 76 per cent of two-year-olds had received all four recommended DTaP vaccines.
The Post reached out to every province and territory, requesting data on child and infant vaccination rates for the months of January to April 2020 and for the same period in 2019.
Aside from Manitoba, the only other province to get back to the Post with data for January to April 2020 was Saskatchewan, which didn't see any huge fluctuations in pertussis and measles vaccines among children who are registered in the province's immunization database.
Toronto pediatrician Flanders shared concerns about the data coming from Saskatchewan.
"It would seem odd to me that the COVID situation would not impact vaccination rates at all," in Saskatchewan, he said, whereas Manitoba — a province right next door — had a 20 per cent drop.
While vaccinations for kids aged two and younger dropped by about a fifth for measles and a quarter for pertussis in Manitoba during March and April this year, children between the ages of two and 17 saw a far greater drop during the same time period.
Administrations for the MMR vaccine dropped by more than 60 per cent and administrations for the DTaP vaccine dropped by 55 per cent.
A provincial spokesperson said the preliminary data is likely attributable to the COVID-19 outbreak.
British Columbia, Prince Edward Island, Nova Scotia, and the Yukon did not respond to the Post's request for data. Ontario, the Northwest Territories, New Brunswick, Newfoundland, Nunavut and Quebec all said they did not have the requested data. Alberta did not provide a month-by-month breakdown, but rather the vaccination rates for January through April combined.
"We don't have any great figures of how great of a problem delayed immunization is during the pandemic," said Halperin, the specialist from Nova Scotia.
"We suspect from what we're hearing that there are children delaying their immunizations, but we don't know the extent of that. If anyone gets delayed, that's a concern."
Quach-Thanh surmised that in Quebec, those tasked with tracking vaccination rates in the province have largely been shifted to focus on the government's coronavirus response.
A spokesperson with the Quebec's health ministry confirmed that the province collects surveillance on immunizations every two years and that the province had begun working on the report for 2018 before halting it due to COVID-19 demands.
Quach-Thanh noted the lack of data available on population immunity is "absolutely" concerning. She echoed the stance put forward by the National Advisory Committee on Immunizations, which implored Canadians to adhere to vaccination schedules.
Both the committee and the doctor acknowledged governmental efforts to limit non-essential strains on the health-care system but firmly stated that immunizations, especially early vaccinations, are considered essential.
Quach-Thanh pointed to the United States, a country that is seeing a dangerous drop in vaccination rates, as the New York Times reported in April).
Nationwide, in the U.S., the administration of MMR vaccines dipped by 50 per cent from mid-February to the beginning of April.
"What is happening in the U.S. is happening here," she said.
Samsung chairman Lee Kun-hee, head of South Korea's biggest conglomerate, dies at 78 – Reuters
SEOUL, Oct 25 (Reuters) – South Korea's Samsung Electronics Chairman Lee Kun-hee died on Sunday, the company said.
Born in 1942, Lee helped grow his father Lee Byung-chull's noodle trading business into South Korea's biggest conglomerate. (Reporting by Cynthia Kim, Joyce Lee; Editing by William Mallard)
Eastern Ontario Health Unit imposes new COVID-19 restrictions on restaurants, gyms, fitness centres – CTV Edmonton
OTTAWA —
The Eastern Ontario Health Unit is imposing new restrictions on food and drink establishments, sports and recreation facilities and personal care services in Alexandria, Cornwall, Casselman, Clarence-Rockland, Hawkesbury and other areas of eastern Ontario.
The new measures to limit the spread of COVID-19 in the community were announced as Public Health Ontario reported 43 new cases of COVID-19 in the Eastern Ontario Health Unit region on Saturday.
Medical Officer of Health Dr. Paul Roumeliotis issued a new Order under Section 22 of the Health Protection and Promotion Act that will come into effect on Monday, and remain in effect for 28 days.
"The last thing I want is for businesses in our community to have to shut their doors again as they did in the spring," said Dr. Roumeliotis.
"By putting these new measures in place, I'm hoping we can stop the rising number of infections and prevent another shutdown that would hurt our economy."
The new COVID-19 measures include limiting the number of people who can be seated at a table in bars and restaurants to a maximum of six people, while the total number of patrons in the indoor and outdoor sections of a food and drink establishment must not exceed 100.
Indoor dining at bars and restaurants in eastern Ontario is still allowed.
For banquet halls, the total number of patrons permitted in the premises is limited to the number that can maintain a physical distance of at least two meters, and in any event cannot exceed 50 indoors or 100 outdoors.
Establishments must also conduct a COVID-19 screening on every patron and record their name and contact information.
"This really mimics what happened on Oct. 2 when Ottawa, Toronto and Peel were put in these enhanced zones, before they were put into the red hot zone," said Dr. Roumeliotis during a media conference late Friday.
"I think this is very fair request and saving closures."
The new measures for indoor sports and recreational facilities include limiting the total number of people permitted in a class, organized program or organized activity to a maximum of 10 people, excluding instructors/trainers/coaches.. The total number of people permitted to be indoors at the facility in areas containing weights or exercise machines cannot exceed 50.
The order applies to gymnasiums, health clubs, community centres, multi-purpose facilities, arenas, exercise studios, yoga studios, dance studios, and other indoor fitness centres.
For personal care settings, including hair salons and barber shops, manicure and pedicure salons, spas and tanning salons, they must conduct a COVID-19 screening for every client and record their name and contact information.
Last Sunday, Dr. Roumeliotis told CTV News Ottawa the region may have to consider moving to a modified Stage 2, like Ottawa, due to rising COVID-19 cases.
On Thursday, the medical officer of health said he was no longer recommending eastern Ontario move into a modified Stage 2, but wanted to impose new restrictions on establishments to help limit the spread of COVID-19.
Ontario introduced new restrictions on bars, restaurants, fitness centres and other recreation complexes in Ottawa on Oct. 2. On Oct. 10, the Ontario Government moved Ottawa into a modified Stage 2, which included prohibiting indoor dining at bars and restaurants, and closed gyms, fitness centres and movie theatres.
6 New Cases Of COVID-19 In Windsor Essex As Of Saturday – windsoriteDOTca News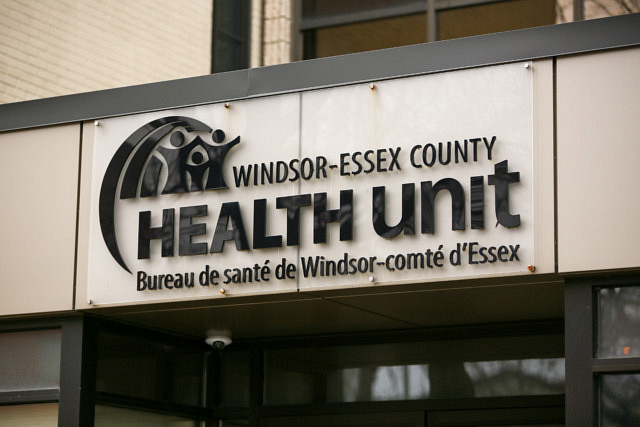 The Windsor Essex County Health Unit has announced 6 new cases of COVID-19 as of Saturday, bringing the local total to 2,787. They say 2,686 people locally have recovered.
Cases increased from 2,781 on Friday October 23rd to 2,787 on Saturday October 24th and 25 cases of COVID-19 are currently active in Windsor-Essex.
The Health Unit says 2 cases are local health care workers, 2 cases are close contacts of confirmed cases, and 2 cases are community acquired.
Article Continues Below Local Sponsor Message
There have been no additional deaths due to COVID-19 as of Saturday and the local death toll stands at 76.
As of Saturday, the Health Unit lists 2 people as hospitalized with confirmed cases of COVID-19 in Windsor Essex, and 1 person in the ICU. One hospitalization is listed at Windsor Regional Hospital.
Workplace Outbreaks
As of Saturday, the Health Unit says the following workplaces are under outbreak:
1 construction company (in Lakeshore)
1 food & beverage services company (in Kingsville)
A workplace outbreak is declared when two or more employees test positive for COVID-19 within a reasonable timeline to suspect transmission in the workplace, according to the Health Unit. Officials with the Health Unit have said a workplace will only be named if a threat to the public exists.