COVID-19 survivors are twice as likely to get re-infected, are urged to get vaccinated – Firstpost
Vaccinated survivors can make antibodies that can recognize all kinds of variants even if you were never exposed to the variant.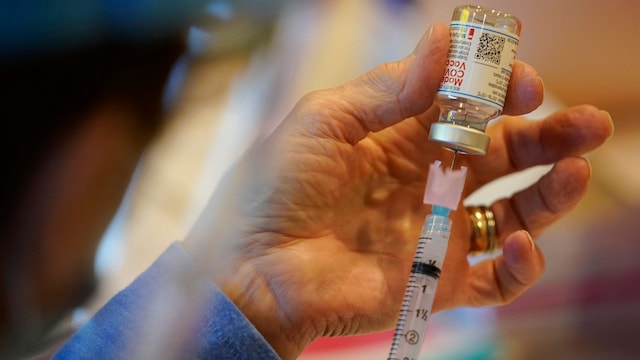 Even people who have recovered from COVID-19
are urged to get vaccinated, especially as the extra-contagious delta variant surges — and a new study shows survivors who ignored that advice were more than twice as likely to get reinfected.
Friday's report from the Centers for Disease Control and Prevention adds to growing laboratory evidence that people who had one bout of COVID-19
get a dramatic boost in virus-fighting immune cells — and a bonus of broader protection against new mutants — when they're vaccinated.
"If you have had COVID-19
before, please still get vaccinated," said CDC Director Dr Rochelle Walensky. "Getting the vaccine is the best way to protect yourself and others around you, especially as the more contagious delta variant spreads around the country."
According to a new Gallup survey, one of the main reasons Americans cite for not planning to get vaccinated is the belief that they're protected since they already had COVID-19
. From the beginning health authorities have urged survivors to get the broader protection vaccination promises. While the shots aren't perfect, they are providing strong protection against hospitalization and death even from the delta mutant.
Scientists say infection does generally leave survivors protected against a serious reinfection at least with a similar version of the virus, but blood tests have signaled that protection drops against worrisome variants.
Researchers studied Kentucky residents with a lab-confirmed coronavirus
infection in 2020, the vast majority of them between October and December. They compared 246 people who got reinfected in May or June of this year with 492 similar survivors who stayed healthy. The survivors who never got vaccinated had a significantly higher risk of reinfection than those who were fully vaccinated, even though most had their first bout of COVID-19
just six to nine months ago.
A different variant of the coronavirus
caused most illnesses in 2020, while the newer alpha version was predominant in Kentucky in May and June, said study lead author Alyson Cavanaugh, a CDC disease detective working with that state's health department.
That suggests natural immunity from earlier infection isn't as strong as the boost those people can get from vaccination while the virus evolves, she said.
There's little information yet on reinfections with the newer delta variant. But U.S. health officials point to early data from Britain that the reinfection risk appears greater with delta than with the once-common alpha variant, once people are six months past their prior infection.
"There's no doubt" that vaccinating a COVID-19
survivor enhances both the amount and breadth of immunity "so that you cover not only the original (virus) but the variants," Dr Anthony Fauci, the US government's top infectious disease expert, said at a recent White House briefing.
The CDC recommends full vaccination, meaning both doses of two-dose vaccines, for everyone.
But in a separate study published Friday in JAMA Network Open, Rush University researchers reported just one vaccine dose gives the previously infected a dramatic boost in virus-fighting immune cells, more than people who have never been infected get from two shots.
Other recent studies published in Science and Nature show the combination of a prior infection and vaccination also broadens the strength of people's immunity against a changing virus. It's what virologist Shane Crotty of California's La Jolla Institute for Immunology calls "hybrid immunity."
Vaccinated survivors "can make antibodies that can recognize all kinds of variants even if you were never exposed to the variant," Crotty said. "It's pretty sweet."
One warning for anyone thinking of skipping vaccination if they had a prior infection: The amount of natural immunity can vary from person to person, possibly depending on how sick they were to begin with. The Rush University study found four of 29 previously infected people had no detectable antibodies before they were vaccinated — and the vaccines worked for them just like they work for people who never had COVID-19
.
Why do many of the previously infected have such a robust response to vaccination? It has to do with how the immune system develops multiple layers of protection.
After either vaccination or infection, the body develops antibodies that can fend off the coronavirus
the next time it tries to invade. Those naturally wane over time. If an infection sneaks past them, T cells help prevent serious illness by killing virus-infected cells — and memory B cells jump into action to make lots of new antibodies.
Those memory B cells don't just make copies of the original antibodies. In immune system boot camps called germinal centers, they also mutate antibody-producing genes to test out a range of those virus fighters, explained University of Pennsylvania immunologist John Wherry.
The result is essentially a library of antibody recipes that the body can choose from after future exposures — and that process is stronger when vaccination triggers the immune system's original memory of fighting the actual virus.
With the delta variant's super infectiousness, getting vaccinated despite a prior infection "is more important now than it was before to be sure," Crotty said. "The breadth of your antibodies and potency against variants is going to be far better than what you have right now."
'Waning immunity?' Some experts say term leads to false understanding of COVID-19 vaccines – CBC.ca
The idea of waning immunity has picked up steam in recent weeks, with some countries using it to justify rolling out third-dose COVID-19 vaccine boosters to their populations. But immunologists say the concept has been largely misunderstood.
While antibodies — proteins created after infection or vaccination that help prevent future invasions from the pathogen — do level off over time, experts say that's supposed to happen.
And it doesn't mean we're not protected against COVID-19.
Jennifer Gommerman, an immunologist with the University of Toronto, said the term "waning immunity" has given people a false understanding of how the immune system works.
"Waning has this connotation that something's wrong, and there isn't," she said. "It's very normal for the immune system to mount a response where a ton of antibodies are made and lots of immune cells expand. And for the moment, that kind of takes over.
WATCH | Waning immunity sparks debate about need for COVID-19 booster shots
:
Recent studies show a drop in effectiveness for COVID-19 vaccines, but the lack of information about how severe breakthrough cases were has sparked a debate about whether booster shots are necessary. 2:03
"But it has to contract, otherwise you wouldn't have room for subsequent immune responses."
Antibody levels ramp up in the "primary response" phase after vaccination or infection, "when your immune system is charged up and ready to attack," said Steven Kerfoot, an associate professor of immunology at Western University in London, Ont.
Memory of pathogen remains
They then decrease from that "emergency phase," he said. But the memory of the pathogen and the body's ability to respond to it remain.
Kerfoot said B-cells, which make the antibodies, and T-cells, which limit the virus's ability to cause serious damage, continue to work together to stave off severe disease long after a vaccine is administered. While T-cells can't recognize the virus directly, they determine which cells are infected and kill them off quickly.
Recent studies have suggested the T-cell response is still robust several months following a COVID-19 vaccination.
"You might get a minor infection … [but] all of those cells are still there, which is why we're still seeing very stable effectiveness when it comes to preventing severe disease," Kerfoot said.
A pre-print study released this week by Public Health England suggested that protection against hospitalization and death remains much higher than protection against infection, even among older adults.
So the concept of waning immunity depends on whether you're measuring protection against infection or against severe disease, Kerfoot said.
Ontario reported 43 hospitalized breakthrough cases among the fully vaccinated on Friday, compared with 256 unvaccinated hospitalized infections. There were 795 total new cases in the province that day, 582 among those who weren't fully vaccinated or had an unknown vaccination status.
British Columbia, meanwhile, saw 53 fully vaccinated COVID-19 patients hospitalized over the last two weeks, compared with 318 unvaccinated patients.
"You'll hear people say that vaccines aren't designed to protect infection, they're designed to prevent severe disease," Kerfoot said. "I wouldn't say necessarily it's the vaccine that's designed to do one or another … that's just how the immune system works."
Moderna, Pfizer back need for booster
Moderna released real-world data this week suggesting its vaccine was 96 per cent effective at preventing hospitalization, even amid the more transmissible delta variant, and 87 per cent effective at preventing infection — down from 94 per cent efficacy seen in clinical trials last year.
Moderna CEO Stéphane Bancel said that dip "illustrates the impact of waning immunity and supports the need for a booster to maintain high levels of protection."
Pfizer-BioNTech has argued the same with its own data, and an advisory panel to the U.S.-based Food and Drug Administration voted Friday to endorse third doses for those aged 65 and older or at high risk for severe disease.
However, the panel rejected boosters for the general population, saying the pharmaceutical company had provided little safety data on extra jabs.
The University of Toronto's Gommerman said the efficacy data presented by Moderna doesn't signal the need for a third dose.
"The fact it protects 87 per cent against infection, that's incredible," she said. "Most vaccines can't achieve that."
Bancel said Moderna's research, which has yet to be peer reviewed, suggested a booster dose could also extend the duration of the immune response by re-upping neutralizing antibody levels.
Looking beyond the antibody response
But Dr. Sumon Chakrabarti, an infectious physician in Mississauga, Ont., said looking solely at the antibody response is misleading and could be falsely used as justification for an infinite number of boosters.
Israel, which has opened third doses for its citizens, recently talked about administering fourth doses in the near future.
"This idea of waning immunity is being exploited, and it's really concerning to see," Chakrabarti said. "There's this idea that antibodies mean immunity, and that's true … but the background level of immunity, the durable T-cell stuff, hasn't been stressed enough."
While some experts maintain that boosters for the general population are premature, they agree some individuals would benefit from a third jab.
The National Advisory Committee on Immunization has recommended boosters for the immunocompromised, who don't mount a robust immune response from a two-dose series.
Other experts have argued that residents of long-term care homes, who were prioritized when the rollout began last December, may also soon need a third dose. The English study suggests immunity could be waning in older groups but not much — if at all — among those under age 65.
Chakrabarti said a decrease in protection among older populations could be due more to "overlapping factors," including their generally weaker immune systems and congregate-living situations for those in long-term care.
Immune cells live for years within bone marrow
"These are people at the highest risk of hospitalization," he said. "Could [the length of time that's passed following their doses] be playing a role? Yeah, maybe."
While we still don't know the duration of the immune response to COVID-19 vaccination, Gommerman said immune cells typically continue to live within bone marrow and make small amounts of antibodies for "decades."
"And they can be quickly mobilized if they encounter a pathogen," she said.
Coronavirus cases in Quebec rise by 821 with three new deaths and two more hospitalizations – CTV News Montreal
MONTREAL —
Quebec reported Saturday that 821 more people have tested positive for COVID-19 in the province, bringing the overall number of infections to 402,283.
Of the new infections, 609 people were unvaccinated when they received their positive result, 49 received one dose of vaccine more than two weeks prior, and 163 were double-vaxxed more than a week before the test.
Hospitalizations rose by two bringing the total number of people receiving care in the province's hospitals to 264. The ministry reports that 36 people checked in for care, and 34 were discharged. Of the 36, 28 were unvaccinated, two received one vaccine dose more than 14 days prior and six got both jabs more than a week before entering the hospital.
There are 89 people in intensive care wards, which is six fewer than on Friday.
Three more people have died due to COVID-19, bringing that total to 11,321 since March 2020.
There are 508 active outbreaks in the province.
Quebec's vaccination rate remains at 88 per cent for one dose of the eligible population and 82 per cent for both doses.
Spike in COVID-19 cases is pushing New Brunswick's health-care system to the limit – CTV News Atlantic
MONCTON, N.B. —
New Brunswick's jump in COVID-19 cases has overloaded the health-care system this week.
The Horizon Health Network is now looking to hire more staff across the province to help with the growing demand for testing and vaccinations.
The health network has seen an increased demand in testing as COVID-19 cases have soared over the last month.
"Two weeks ago, if you wanted a test, you could walk in or call and get it at almost anytime you wanted," said Dr. Jeff Steeves with New Brunswick's Medical Society.
But now, assessment centres are seeing long line ups and delays in testing.
Steeves wants people to get the jab and practice caution during this time to prevent overloading the system even more.
"Remember, we were running short even before COVID, so we're trying to maintain that," Steeves said. "Therefore, we can't divert the staff like we did before, hence the call for new staff."
Horizon Health's vice-president said in a statement Friday that they are currently looking to recruit staff at vaccination clinics, assessment centres and school clinics in Moncton, Saint John and Fredericton.
"Given the recent rise in COVID activity in New Brunswick, and the increased demand for these services, we are hoping to replenish our pool of available clinicians and administrative support staff as we ramp up activity at these locations," said Jean Daigle.
Since the province announced proof of vaccination requirements this week, public health has reported a significant jump in vaccination appointments.
On Wednesday, 1,700 appointments were booked, while yesterday there were 1,929.
Health officials say prior to Wednesday's number, the recent average for vaccinations was 600 bookings per day. On Thursday, 600 additional vaccines had to be delivered to a clinic in Moncton.
"Things have picked up dramatically," said Fredericton pharmacist Alistair Bursary, who says they've been busy taking calls from people looking to get their first or second dose.
"So, whereas we were doing perhaps 10 patients a day on average now we are probably going to hit 40-50 just at our pharmacy alone," Bursary said.
While the demand for services continue to climb, those working on the frontlines hope to get the help they need sooner rather than later.