Covid: Cases in UK rise above 30,000 for first time since January – BBC News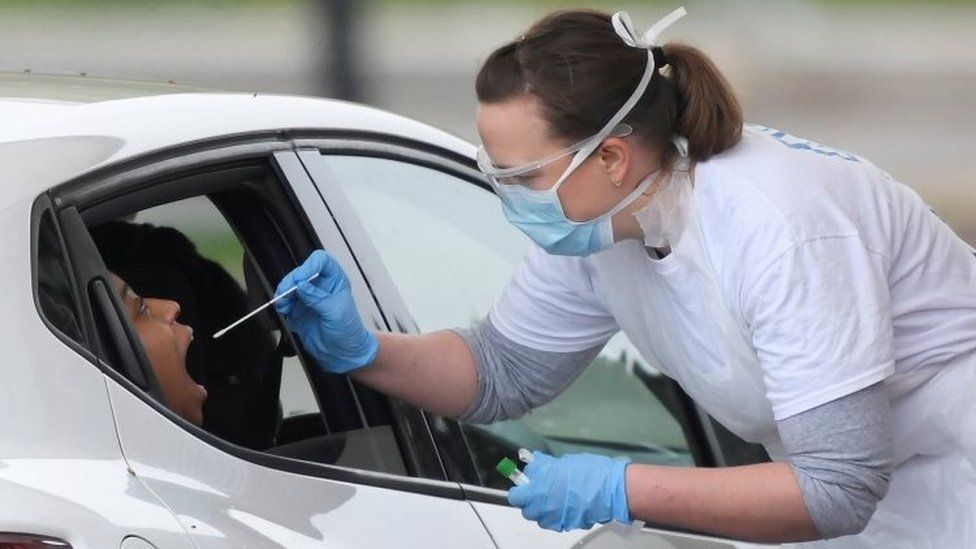 Coronavirus cases in the UK have risen above 30,000 for first time since January, official figures show.
Wednesday's data showed there had been a further 32,548 confirmed Covid cases.
And there were another 33 deaths reported within 28 days of a positive Covid test.
It comes as Boris Johnson has defended the government's approach to easing England's lockdown, saying the link between infection and serious disease and death has been "severed".
The prime minister has pledged to scrap most of England's coronavirus regulations at step four of the roadmap out of lockdown, expected on 19 July.
It means the government is now braced for a surge in coronavirus cases, possibly around 100,000 a day, as restrictions are lifted.
Speaking at Prime Minister's Questions, Mr Johnson said it was "certainly true" there was a "wave of cases because of the Delta variant" of the virus.
"But scientists are also absolutely clear that we have severed the link between infection and serious disease and death," he said.
"Currently there are only a 30th of the deaths that we were seeing at an equivalent position in previous waves of this pandemic."
However, on Monday the government's chief scientific adviser Sir Patrick Vallance was more cautious, saying vaccines had "weakened the link between cases and hospitalisations, but it's a weakened link, not a completely broken link".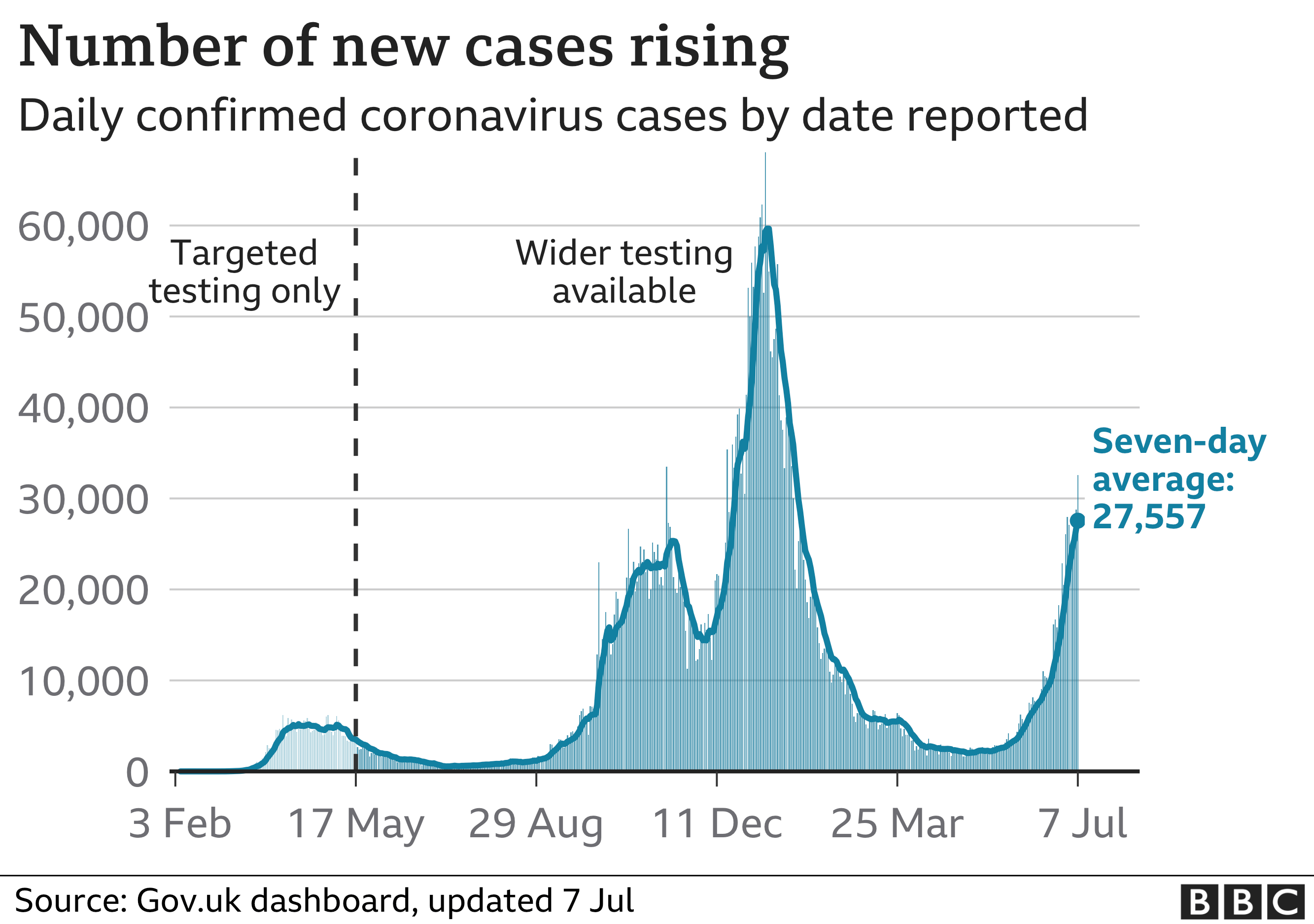 Wednesday's daily figure for Covid cases in the UK is above 30,000 for the first time since 24 January.
In terms of hospitalisations, England is seeing more than 330 admissions a day on average at the moment. The most recent day – Monday – saw 416 admitted.
As of Wednesday, 2,144 people are in hospital in England with Covid – the first time this figure has topped 2,000 since April.


Wednesday's case total represents an increase from 28,700 on Tuesday.
It is not unusual for there to be a big jump on a Wednesday as a result of a weekend effect – slightly less testing is done.
What's important is the trend. Week on week this represents a 43% rise. That is actually down on what has been seen recently. They are going up quickly, but not as quickly as last week.
It's too early to say whether that is part of a longer-term pattern. But what is certain is that government officials are watching this data like hawks.
The policy of opening up in England is based on the hope that the virus will soon hit the wall of immunity built up by the vaccination programme and natural infection.
Ministers have said we should be prepared to see 100,000 cases a day. But they are hoping this wave of infection peaks well before that.
Because while the vaccination programme has weakened the link between cases and hospitalisation, it has not broken it entirely.
On current trends that many infections would lead to 2,000 daily admissions – twice what the NHS would normally see in the depths of winter for all types of respiratory illness.

The PM has also defended the timescale for ending self-isolation for contacts of Covid, insisting it is a "sensible approach".
The government has said people who are fully vaccinated will not have to self-isolate if they come into contact with someone who has tested positive for Covid-19 from 16 August.
Giving evidence to the Commons Liaison Committee, Mr Johnson rejected the suggestion 16 August had been chosen because it was when the government expected the population to have reached herd immunity .
"That's not the consideration… it's the time by which we feel that there will have been much more progress on vaccination," he said.
And the PM said to do it any sooner would "effectively be allowing many more people to be vector of disease."
"All decisions are a balance of risk," he said.
Asked how many people the government expected to end up self-isolating over the next month, he said: "That will depend on the spread. I haven't seen any data on that. It will depend on the numbers."
Meanwhile, World Health Organization emergencies director Dr Mike Ryan has urged countries to use extreme caution when reopening their economies from Covid restrictions so as "not to lose the gains you have made".
Asked at a briefing if the UK was aiming for herd immunity, Dr Ryan said: "I'm not aware that that's the logic driving our colleagues in the United Kingdom, I suspect it's not.
He said the argument that it was better to infect more people was morally empty and epidemiologically stupid.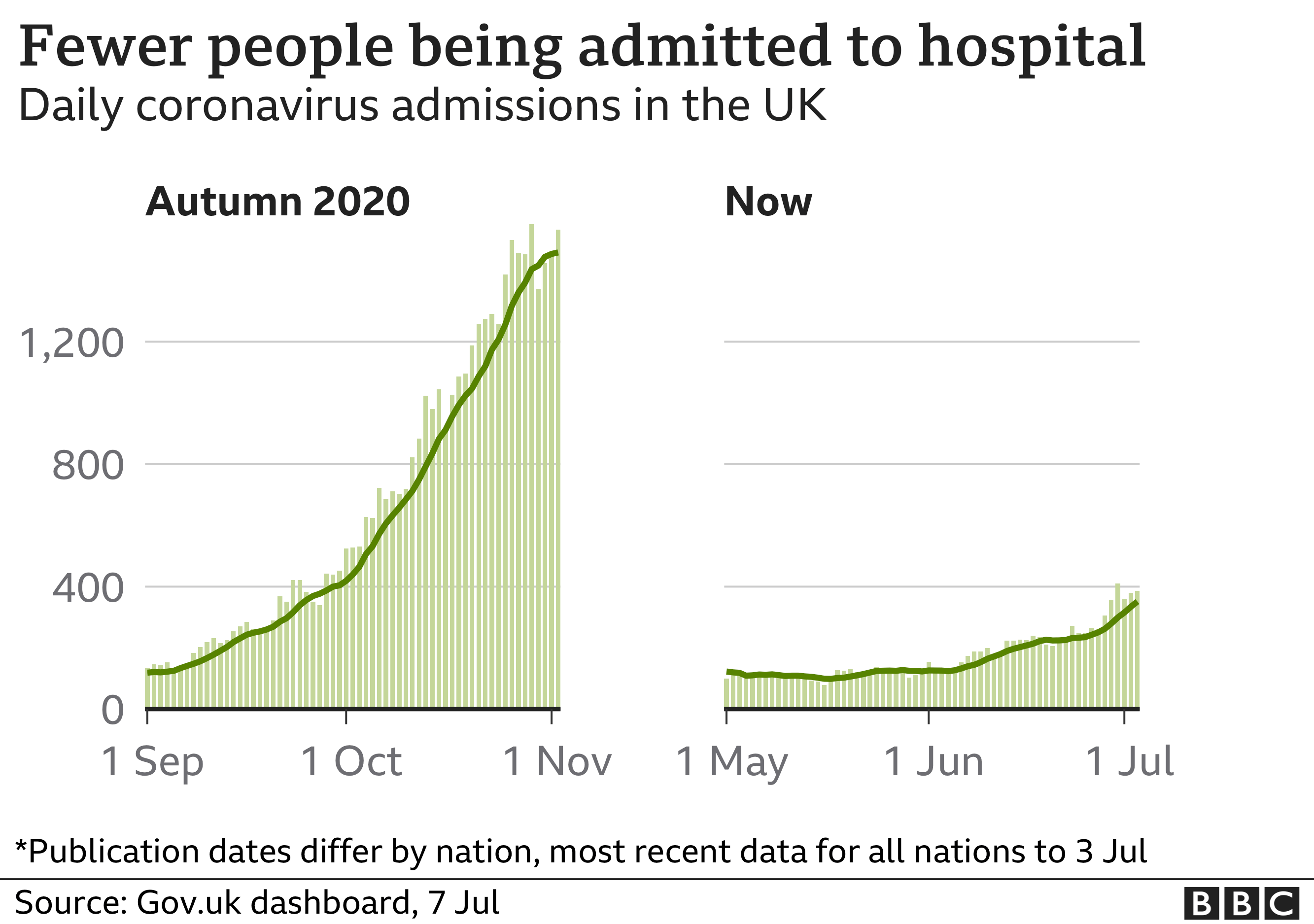 At PMQs, he said the country should open up "in a controlled way" and urged Mr Johnson to ensure masks still have to be worn on public transport.
The lifting of rules on 19 July will be confirmed next Monday after a review of the latest data.


New Brunswick to go green at midnight; report seven new cases of COVID-19 Friday – CTV News Atlantic
HALIFAX —
New Brunswick is reporting seven new cases of COVID-19 on Friday, as the number of active cases in the province rises to 19.
Five new cases were identified in the Moncton region (Zone 1), involving an individual under 19, three people in their 20s, and an individual in their 30s. Three cases are under investigation, one is travel related and the other case is a contact of a previously confirmed case.
Two new cases were identified in the Fredericton region (Zone 3), involving an individual under 19 and an individual in their 30s. One case is travel related and another is under investigation.
N.B. TO MOVE TO GREEN PHASE OF REOPENING AT MIDNIGHT
New Brunswick will move into the Green phase of its recovery plan at midnight, lifting all public health restrictions and opening the province to travel.
As of 11:59 p.m. on July 30, the following restrictions will be removed in the province.
Lift all mandatory travel and public health restrictions that have been in place over the course of the pandemic.
Lift all provincial border restrictions; provincial border checks will cease, and registration will no longer be required to enter New Brunswick from anywhere in Canada.
Lift all limits on gatherings and the number of people within facilities. Capacity limits in theatres, restaurants and stores will no longer be required.
End the requirement to wear face masks in public.
"We came to this decision because we have reached our goal of 75 per cent of our eligible population having received their first vaccine, and are now at 81 per cent," said N.B. Premier Blaine Higgs during a news update. "We know that there will be new cases, but thanks to the amount of people that are already vaccinated, we do not think that our health care system will be threatened."
As of midnight Friday, all provincial border restrictions will be lifted, provincial border checks will cease, and registration will no longer be required to visit New Brunswick from anywhere in Canada.
However, travellers will still be subject to Canada's federal restrictions on International travel.
"At this time, patients, staff and visitors to all hospitals and health-care facilities, including COVID-19 assessment centres and vaccination clinics, must continue to wear masks to reduce the risk of transmission within the health-care system," said Dr. Jennifer Russell, chief medical officer of health. "Any patient with a valid medical exemption to wearing a mask, is asked to call in advance to the department or service to ensure arrangements can be made to accommodate them."
N.B. CASE DATA
New Brunswick has had 2,365 cumulative cases of COVID-19 since the start of the pandemic.
In total, 2,299 people have recovered, and 46 people have died in the province from COVID-19.
There is currently no one hospitalized in New Brunswick due to COVID-19.
On Thursday, 748 tests were conducted in the province. A total of 380,447 tests have been conducted since the beginning of the pandemic.
The number of cases is broken down by New Brunswick's seven health zones:
Zone 1 – Moncton region: 497 confirmed cases (seven active cases)
Zone 2 – Saint John region: 302 confirmed cases (four active cases)
Zone 3 – Fredericton region: 452 confirmed cases (five active cases)
Zone 4 – Edmundston region: 754 confirmed cases (no active cases)
Zone 5 – Campbellton region: 185 confirmed cases (no active cases)
Zone 6 – Bathurst region: 136 confirmed cases (three active cases)
Zone 7 – Miramichi region: 39 confirmed cases (no active cases)
VACCINE UPDATE
New Brunswick's COVID-19 online dashboard provides an update on the amount of vaccines that have been administered to date.
As of Friday, 1,031,439 doses of COVID-19 vaccine have been administered in New Brunswick. The province says 82 per cent of the eligible population has received at least one dose, with 66.7 per cent now fully vaccinated.
All eligible New Brunswickers can book their second dose appointments if at least 28 days have passed since their first dose.
To receive their second dose, New Brunswickers are asked to bring a signed consent form, their Medicare card and a copy of the record of immunization provided after receiving their first dose.
Appointments for people who have not yet received their first dose continue to be available to all New Brunswickers aged 12 and older at regional health authority clinics and through participating pharmacies.
Public Health is also reminding New Brunswickers to keep a copy of their Record of Immunization form as their official proof of vaccination.
The provincial government has organized a series of mobile walk-in clinics for those who have not yet received their first or second dose of a COVID-19 vaccine.
Clinics are taking place this week at the following locations:
Knights of Columbus Hall (22 Hallett Rd., Beechwood) Friday, July 30, between 11 a.m. and 4 p.m.
A mobile walk-in vaccination clinic will be held Monday at the Crowne Plaza at 659 Queen St. in Fredericton from noon to 5 p.m. The clinic will be for those who have not yet received their first or second dose of a COVID-19 vaccine. Pfizer will be available at this clinic.
YELLOW LEVEL REMINDER
All of New Brunswick remains under the Yellow level of recovery under the province's order, which will be lifted effective 11:59 p.m. July 30.
Canada's economy shrank for 2nd month in a row in May – CBC.ca
Canada's gross domestic product shrank by 0.3 per cent in May, the second consecutive monthly contraction as most industries slowed down.
Statistics Canada reported Friday that most industries shrank, especially construction, manufacturing and retail.
Even Canada's red hot real estate sector shrank for the second month in a row. The real estate and rental and leasing sector was down 0.4 per cent in May after falling by 0.8 per cent in April. That's the first two-month streak of declines since March and April of 2020.
"As housing sales and construction levels gradually return to more sustainable levels, this area of the economy could be a drag on growth in coming months," TD Bank economist Sri Thanabalasingam said.
Agriculture and forestry, mining and oil and gas extraction, utilities and the public sector all expanded slightly.
All in all, the total value of all the goods and services produced by Canada's economy was just shy of $1.98 trillion during the month. That's still two per cent below the slightly more than $2 trillion that the economy was worth in February 2020.
The numbers for May come at the time when Canada's economy was on the downslope of the third wave of COVID-19, and much of society was on some sort of lockdown or reduced capacity. But there are signs that a rebound has happened since.
Preliminary data for June suggests the economy grew by 0.7 per cent during the month. And July may have been even better — credit and debit card data suggests that consumers returned to spending on high-contact services including in-person dining, recreation activities and travel that had long been restricted to them, Thanabalasingam said.
June's uptick means the economy will expand by about 0.6 per cent in the second quarter overall. That's about a 2.5 per cent annual pace — much slower than the 6.5 per cent pace the U.S. economy clocked in the same period, but much better than the 8.3 per cent contraction seen in countries that use the euro.
Thanabalasingam said the data for May and June show just how up and down the economy may go from here on out.
"It may not be smooth sailing for the rest of the recovery," he said.
"The delta variant is wreaking havoc around the world, leading to a retightening of restrictions in some countries. Canada has so far avoided the worst of this virus, but cases are rising in some provinces. A fourth wave could lead to another stalling in the recovery, though with relatively high rates of vaccination a full reversal appears less likely."
Canada's Imperial Oil posts 7% fall in quarterly profit
Canada's Imperial Oil Ltd reported a 7% fall in second-quarter profit on Friday, impacted by planned turnaround activity and weaker realized margins in its downstream refining business.
However, the company continued to post strong output from its largest asset, the Kearl oil sands mine in northern Alberta, which hit a new monthly production record in June.
Due to improved reliability Imperial is switching to one turnaround a year at Kearl, cancelling maintenance planned for this fall, and raised 2021 full-year production guidance to 265,000 barrels per day (bpd) from 255,000 bpd previously.
Like its peers Imperial has been benefiting from an increase in global oil prices, although fresh lockdowns and restrictions in some parts of the world to deal with rising cases from the Delta variant of the coronavirus have dented market optimism.
"We're not out of the woods yet," Imperial Chief Executive Brad Corson told an earnings call. "We saw another quarter of increasing commodity prices, but with continued slow recovery in demand."
Calgary-based Imperial, which is majority-owned by Exxon Mobil Corp, said its net income fell to C$366 million ($294.16 million), or 50 Canadian cents per share, in the second quarter ended June 30, from C$392 million, or 53 Canadian cents per share, in the previous quarter.
Downstream recorded net income was C$60 million in the second quarter, compared with net income of C$292 million in the first quarter, the company said.
Total production averaged 401,000 barrels of oil equivalent per day in the quarter ended June 30, down about 7% from the first due to planned oil sands turnarounds.
Imperial's shares were last down 3% at C$33.82 on the Toronto Stock Exchange.
($1 = 1.2442 Canadian dollars)
(Reporting by Sahil Shaw in Bengaluru and Nia Williams in Calgary; Editing by Krishna Chandra Eluri and Chris Reese)