COVID Restrictions Lifted, China's Businesspeople Hit the Road to Revive Export Economy
Hong Kong — 
Yiwu, a city in China's Zhejiang province, produces more than half the world's Christmas ornaments purchased by the billions of people who celebrate the holiday.
China's "zero-COVID" policy, coupled with global pandemic fears, dulled the local export-fueled year-round glitterfest. Christmas orders fell by 50% in 2020, according to the official Global Times with raw material costs and labor shortages hindering a recovery in 2021, which saw only a 10% to 20% increase in sales over the previous year.
Then, faster than elves could hitch those nine reindeer to Santa's sleigh, a day after Beijing began lifting zero-COVID restrictions on December 3, a Zhejiang trade delegation departed for Germany and France to launch the "Thousand Missions and Ten Thousand Enterprises to Expand the Market and Grab Orders Action." The goal: Sell enough stuff to help spark China's economy back to pre-pandemic growth.
They hit a snag. "It seems like the Europeans' and Americans' purchasing power is so weak now. If the markets there are weak, China's economy is definitely suffering too," said Steven Gao, a businessman in Zhejiang province who exports Christmas ornaments and other trinkets to Europe and the U.S.
Beyond pandemic aftereffects such as not-yet-normal supply chains, Gao blames the bleak economic prospect on President Xi Jinping's recent policies, particularly his focus on "common prosperity" during the 20th party congress, which met in October in Beijing and gave him a third term. The phrase refers to an official effort to address income inequality, a push often linked to personal wealth accumulated by founders and executives in sectors such as tech.
"Many of my rich friends are thinking about moving to other countries," said Gao, 45, who asked to use a pseudonym to avoid attracting official attention when he spoke with VOA Mandarin on Tuesday. "They are afraid their wealth will be seized. This lack of faith, combined with pandemic control, led to the slide of economic growth."
According to a CNBC report on December 4, U.S. manufacturing orders in China are down 40%, according to the latest CNBC Supply Chain Heat Map data, and Chinese factories are expected to shut down two weeks earlier than usual for the Lunar New Year that falls on January 22, 2023.
When Xi presided over a December 6 meeting of the Politburo of the Communist Party, China's second-highest decision-making body, he emphasized the need to stabilize the economy and to attract foreign investment.
After the gathering, the official Securities Times reported on December 7 that the Suzhou Bureau of Commerce planned to charter flights to France and Germany after a "successful trip" to Japan returned with guaranteed orders worth more than 1 billion yuan, or $142 million.
A similar flight organized by the Suzhou province government took off for Europe on December 9. "Racing against time, grabbing more orders and opportunities … these are the most crucial tasks the Chinese companies took on when boarding the plane," editorialized the official Global Times news outlet which pointed out "Yiwu… has been the starting point of numerous international trade channels linking the entire world."
Alibaba, China's biggest e-commerce platform, recently launched a special operation code-named "Digital Hybrid Trade Show" to start at least 100 overseas exhibitions in the near future, Securities Times reported on December 12. The exhibitions cover more than 10 important foreign trade target markets, including the United States, Germany, Britain, Japan, Singapore and Australia.
Some analysts, however, believe that China's response to the pandemic may have made it less attractive to foreign businesses for manufacturing and investing.
The state news agency Xinhua reported that those in the December 6 meeting stressed that stability is Beijing's top priority in an international economic environment marked by "high winds and waves."
Zhao Chunshan, chief adviser of the Asia-Pacific Peace Research Foundation, a private think tank in Taiwan, told VOA Mandarin that "Capitalists are running away. No one dares to invest, causing economic instability. If there is a problem in the economy there is no way to stabilize."
Zhao says that local governments with high debt loads must look outside China rather than to the central government for stability.
"China's central government has no way to solve local debts," he said. "The central government's allocation alone is not enough. They have to attract foreign investment and business on their own. To some extent, the central government also gives localities such authority."
In an interview with VOA Mandarin, Lai Rongwei, an assistant professor at the Center for Liberal Studies at Taiwan's Longhua University of Science and Technology, said the fact that provinces and cities are scrambling to form groups to go abroad reflects the fears of local officials.
"China's measures to seal off cities have led to a severe shortage of supplies, including medicine," Lai said. "The debt of local governments is already huge, and the lack of revenue in the past years has made the situation even worse. People actively going abroad shows a great deal of panic, fearing that the economic downturn can't be alleviated, and the risks are becoming bigger."
But Lai said that after the pandemic lockdowns, China is no longer as attractive to foreign investors as it used to be.
"Foreign investors must take into account the cost of investment," Lai said. "Cities could be shut down and power cut off any time when there's an order from higher authorities. … Private enterprises find it hard to survive, and now the governments are looking for solutions from foreign investors."
Bo Gu contributed to this report.
U.S. economy posts strong fourth-quarter growth, but with underlying weakness – The Globe and Mail
The U.S. economy grew faster than expected in the fourth quarter, but that likely exaggerates the nation's health as a measure of domestic demand rose at its slowest pace in 2-1/2 years, reflecting the impact of higher borrowing costs.
The Commerce Department's advance fourth-quarter gross domestic product report on Thursday showed half of the boost to growth came from a sharp rise in inventory held by businesses, some of which is likely unwanted.
While consumer spending maintained a solid pace of growth, a big chunk of the increase in consumption was early in the fourth quarter. Retail sales weakened sharply in November and December. Business spending on equipment contracted last quarter and is likely to remain on the backfoot as demand for goods softens.
It could be the last quarter of solid GDP growth before the lagged effects of the Federal Reserve's fastest monetary policy tightening cycle since the 1980s are fully felt. Most economists expect a recession by the second half of the year, though a short and mild one compared to previous downturns, because of extraordinary labour market strength.
"The U.S. economy isn't falling off a cliff, but it is losing stamina and risks contracting early this year," said Sal Guatieri, a senior economist at BMO Capital Markets in Toronto. "That should limit the Fed to just two more small rate increases in coming months."
Gross domestic product increased at a 2.9-per-cent annualized rate last quarter. The economy grew at a 3.2-per-cent pace in the third quarter. Economists polled by Reuters had forecast GDP would rise at a 2.6-per-cent rate.
Robust second-half growth erased the 1.1-per-cent contraction in the first six months of the year. For 2022, the economy expanded 2.1 per cent, down from the 5.9-per-cent logged in 2021. The Fed last year raised its policy rate by 425 basis points from near zero to a 4.25 per cent-4.50 per cent range, the highest since late 2007.
Consumer spending, which accounts for more than two-thirds of U.S. economic activity, grew at a 2.1-per-cent rate, mostly reflecting a rebound in goods spending at the start of the quarter, mostly on motor vehicles. Consumers also spent on services like health care, housing, utilities and personal care.
Spending, which grew at a 2.3-per-cent pace in the third quarter, has been underpinned by labour market resilience as well as excess savings accumulated during the COVID-19 pandemic. Income at the disposal of households after accounting for inflation increased at a 3.3-per-cent rate after rising at a 1.0-per-cent pace in the third quarter. The saving rate rose to 2.9 per cent from 2.7 per cent.
But demand for long-lasting manufactured goods, which are mostly bought on credit, has fizzled and some households, especially lower income, have depleted their savings.
As a result, inventories surged at a $129.9-billion rate compared to a $38.7-billion rate in the prior quarter, adding 1.46 percentage points to GDP growth. There also were contributions from government spending and a smaller trade deficit.
Stripping out inventories, government spending and trade, domestic demand increased at only a 0.2-per-cent rate. That was the smallest increase in private domestic final sales since the second quarter of 2020 and was a deceleration from the third quarter's 1.1-per-cent pace.
"Rising inventories could bode poorly for growth in early 2023 as corporations may look to reduce excess stocks of goods," said Erik Norland, senior economist CME Group.
Stocks on Wall Street were trading higher. The dollar rose against a basket of currencies. Prices of U.S. Treasuries fell.
Despite clear signs of a weak handover to 2023, some economists are cautiously optimistic the economy will skirt an outright recession, suffering instead a rolling downturn where sectors decline in turn rather than all at once.
They argue that monetary policy now acts with a shorter lag than was previously the case because of advances in technology and the U.S. central bank's transparency, which they said resulted in financial markets and the real economy acting in anticipation of rate hikes.
Though residential investment suffered its seventh straight quarterly decline, the longest such streak since the collapse of the housing bubble triggered the 2007-2009 Great Recession, there are signs the housing market could be stabilizing.
Mortgage rates have been trending lower as the Fed slows the pace of its rate hikes.
"A large portion of the reaction to higher interest rates is already in the economy and the financial markets," said Sung Won Sohn, a finance and economics professor at Loyola Marymount University in Los Angeles. "Since the Fed has succeeded in precipitating a rolling recession, it is time to think about an exit strategy."
Inflation also subsided in the fourth quarter. A measure of inflation in the economy rose at a 3.2-per-cent rate, retreating from the third quarter's 4.8-per-cent pace of increase.
While many parts of the economy have shifted to lower gear, the labour market is showing no signs substantial cooling.
A separate report from the Labor Department on Thursday showed initial claims for state unemployment benefits fell 6,000 to a seasonally adjusted 186,000 for the week ended Jan. 21, the lowest level since April 2022. The number of people receiving benefits after an initial week of aid, a proxy for hiring, increased 20,000 to 1.675 million for the week ended Jan. 14.
Companies outside the technology industry as well as interest-rate sensitive sectors like housing and finance are hoarding workers after struggling to find labour during the pandemic.
"There are no signs in the latest jobless claims data that the labour market is cracking at the start of the new year," said Conrad DeQuadros, senior economic adviser at Brean Capital in New York.
To save Egypt's economy, get the army out of it – The Economist
TO THE LIST of spectacular ruins across Egypt, you can now add its economy. The Egyptian pound lost half its value over the past year and has been the world's worst-performing currency in 2023. On January 5th the government devalued it for the third time in less than a year. Nearly half of the state's revenue goes to servicing its debts, which amount to 90% of GDP. Officially, inflation is running at 21%. The price of food is rising even faster. But official figures have not kept up with Egypt's economic decline, so the reality is almost certainly worse.
This has brought misery to the Egyptian people. Around a third of them live on less than $2 a day. Another third are on the brink of joining them. They have been failed by officials who put their own interests above those of their citizens.
Egypt's economic crisis has been a long time in the making, and is partly caused by forces beyond the state's control. Russia's invasion of Ukraine has hurt Egypt badly, since it is the world's biggest importer of wheat and its two biggest suppliers have usually been Russia and Ukraine. Higher wheat prices have made it ruinously expensive for the government to provide the ultra-cheap, subsidised bread that Egyptians have come to expect (they may riot if it is unavailable). The war has also walloped tourism which, before the pandemic, generated about 5% of GDP. Costly grain and a lack of sunburnt Russians have put pressure on Egypt's foreign-exchange reserves and the pound. Foreign investors have dumped Egyptian bonds. Egyptians now struggle to get hold of hard currency.
But the country's main underlying problem is the stranglehold on the economy exercised by the state, and specifically the army. Official statisticians are strangely reluctant to provide a measure of this. The government has said that the army controls just 1.5-2% of output. The true extent of its influence, both direct and indirect, is far greater. And under the rule of President Abdel-Fattah al-Sisi (previous job: commander-in-chief of the armed forces) it has expanded.
The army's empire now includes everything from petrol stations to mineral water and olives. It has hooked the fish-farming market and engineered control over carmaking. The security services have bought up big chunks of Egypt's media. The army built a huge new cement plant, causing a supply glut that crushed private firms. In industry after industry it squeezes out or scares off competitors, deterring private investment. No ordinary company can compete with an outfit that pays no tax or customs fees and which can throw its rivals in jail. For ordinary Egyptians, the army's crushing of competition means slower growth, higher prices and fewer opportunities.
The imf should bear this in mind, as Egypt comes knocking on its door for the fourth time in six years begging for a bail-out. It is now the fund's biggest debtor after Argentina. In the past Mr Sisi's regime has agreed to carry out reforms in exchange for imf cash. Under the terms of a $12bn agreement struck in 2016, it has devalued the currency and trimmed subsidies. But Mr Sisi has conspicuously failed to keep his promises to reduce the state's economic bootprint.
Under its most recent deal with the IMF, struck in December, the government has vowed once again to withdraw the state and the armed forces from "non-strategic" sectors. But the men in (or recently out of) uniform who dominate it have little incentive to do so. Many have benefited handsomely from rent-seeking. And in any case, in a country with a history of coups, few would dare challenge the army's privileges.
Donors keep bailing out Egypt because they are terrified it might collapse if they do not. It is the most populous country in the Middle East and a key Western ally. An implosion might send fleets of refugees across the Mediterranean. These fears are not irrational. Yet supporting a regime whose refusal to reform makes Egypt steadily poorer and its people steadily angrier is no recipe for long-term stability. Egypt's frustrated Gulf allies are becoming less generous. The IMF should now hold the government to its commitments. Egypt must start demilitarising the economy, or expect fewer handouts. ■
US economy slowed but still grew at 2.9% rate last quarter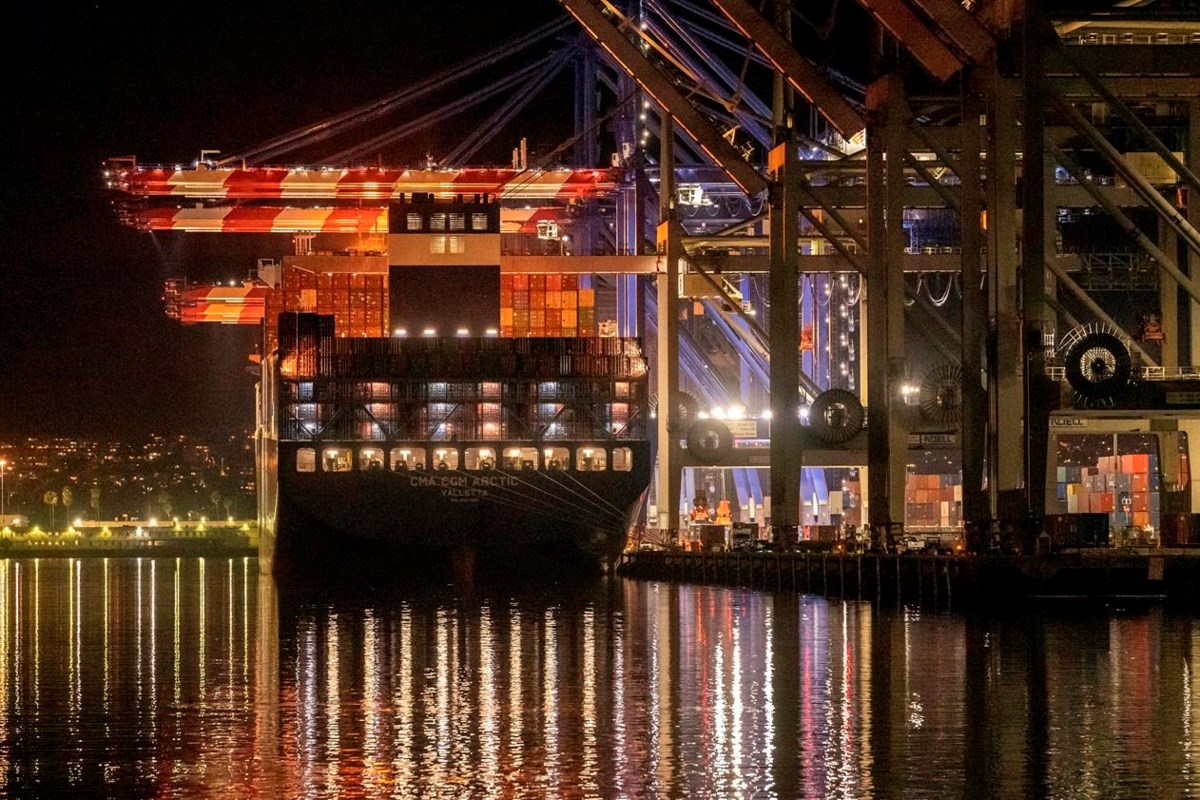 WASHINGTON (AP) — The U.S. economy expanded at a 2.9% annual pace from October through December, ending 2022 with momentum despite the pressure of high interest rates and widespread fears of a looming recession.
Thursday's estimate from the Commerce Department showed that the nation's gross domestic product — the broadest gauge of economic output — decelerated last quarter from the 3.2% annual growth rate it had posted from July through September. Most economists think the economy will slow further in the current quarter and slide into at least a mild recession by midyear.
The economy got a boost last quarter from resilient consumer spending and the restocking of supplies by businesses. Federal government spending also helped lift GDP. But with higher mortgage rates undercutting residential real estate, investment in housing plummeted at a 27% annual rate for a second straight quarter.
For all of 2022, GDP expanded 2.1% after growing 5.9% in 2021.
The economy's expected slowdown in the months ahead is an intended consequence of the Federal Reserve's aggressive series of rate increases. The Fed's hikes are meant to reduce growth, cool spending and crush the worst inflation bout in four decades. Last year, the Fed raised its benchmark rate seven times. It is set to do so again next week, though this time by a smaller amount.
The resilience of the U.S. job market has been a major surprise. Last year, employers added 4.5 million jobs, second only to the 6.7 million that were added in 2021 in government records going back to 1940. And last month's unemployment rate, 3.5%, matched a 53-year low.
"The news couldn't have been any better," President Joe Biden said of Thursday's GDP report. "We're moving in the right direction. Now, we've got to protect those gains."
Yet the good times for America's workers aren't likely to last. As higher rates make borrowing and spending increasingly expensive across the economy, many consumers will spend less and employers will likely hire less.
"Recent data suggest that the pace of expansion could slow sharply in (the current quarter) as the effects of restrictive monetary policy take hold," Rubeela Farooqi, chief U.S. economist at High Frequency Economics, wrote in a research report. "From the Fed's perspective, a desired slowdown in the economy will be welcome news."
Consumer spending, which fuels about 70% of the entire economy, rose at a sturdy 2.1% annual rate from October through December, down slightly from 2.3% in the previous quarter.
More recent numbers, including a 1.1% drop in retail sales last month, indicate that consumers have begun to pull back.
"That suggests higher rates were starting to take a bigger toll and sets the stage for weaker growth in the first quarter of this year,'' said Andrew Hunter, senior U.S. economist at Capital Economics.
Economists at Bank of America expect growth to slow to a 1.5% annual rate in the January-March quarter and then to contract for the rest of the year — by a 0.5% rate in the second quarter, 2% in the third and 1.5% in the fourth.
The Fed has been responding to an inflation rate that remains stubbornly high even though it has been gradually easing. Year-over-year inflation was raging at a 9.1% rate in June, the highest level in more than 40 years. It has since cooled — to 6.5% in December — but is still far above the Fed's 2% annual target.
"The U.S. economy isn't falling off a cliff, but it is losing stamina and risks contracting early this year," said Sal Guatieri, senior economist at BMO Capital Economics. "That should limit the Fed to just two more small rate increases in coming months."
One additional threat to the economy this year is rooted in politics: House Republicans could refuse to raise the federal debt limit if the Biden administration rejects their demand for broad spending cuts. A failure to raise the borrowing cap would prevent the federal government from being able to pay all its obligations and could shatter its credit.
Moody's Analytics estimates that the resulting upheaval could wipe out nearly 6 million American jobs in a recession similar to the devastating one that was triggered by the 2007-2009 financial crisis.
At least the economy is likely beginning the year on firmer footing than it did at the start of 2022. Last year, the economy shrank at an annual pace of 1.6% from January through March and by a further 0.6% from April through June. Those two consecutive quarters of economic contraction raised fears that a recession might have begun.
On corporate earnings calls for the April-June quarter of 2022, nearly half of companies in the S&P 500 had cited a "recession" — the highest such proportion since 2010 — according to the data provider FactSet. Forecasters at Bank of America and Nomura had predicted that a recession would hit by the October-December quarter.
But the economy regained strength over the summer, propelled by resilient consumer spending and higher exports.
____
AP Writers Christopher Rugaber and Josh Boak contributed to this report.
Paul Wiseman, The Associated Press