COVID shakes up the art market – DW (English)
Lockdown sales slump pushes galleries, fairs, and auction houses towards non-traditional territory: the internet.
For art expert Dirk Boll, the art market is on the verge of a "turning point." He told DW that the COVID-19 crisis had had a "catalytic effect" in transforming the tradition-bound industry, with digitalization moving "at turbo speed."
Boll is an art historian and one of four presidents, who with managing director Guillaume Cerutti, head the London auction house Christie's.
Boll recently published a book in German on economic crises and new art markets, in which he analysed the impact of recent economic crises on the art market. With a view of the ongoing COVID-19 pandemic, his book is titled, Was ist diesmal anders? ('What's different this time?').
It was already evident after the first lockdown in spring 2020 that COVID had the art world in its grip, as shown, for example, by the mid-year survey of 795 galleries from around 60 countries.
Conducted by Art Basel and the Swiss bank UBS, the study revealed that gallery sales worldwide had shrunk by more than a third compared to 2019. The mood in the galleries was also somber: around half of those affected feared a further decline in sales.
The new lockdown is likely to fuel this pessimism even further. "The pandemic has presented the art market — and the gallery sector in particular — with some of its greatest challenges," the study's director, Irish art economist Clare McAndrew concluded.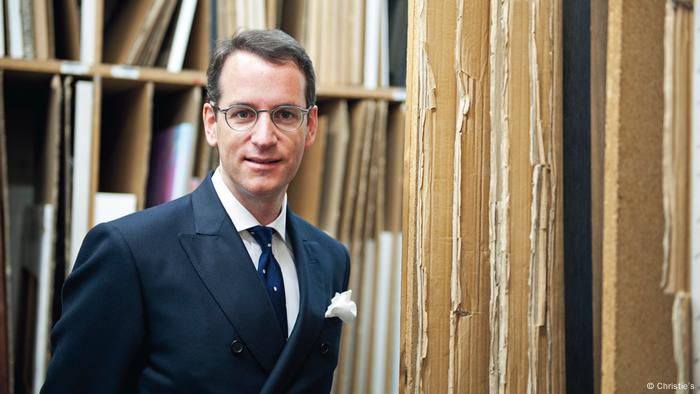 Christie's Dirk Boll
Unabated demand for art
The auction market has also suffered, and continues to suffer from the pandemic, albeit to a lesser extent. According to calculations by the French online portal ArtMarket.com, Less than one-fifth of artworks went under the hammer in the auction houses compared to the previous year. Sales even slumped by almost half until August.
"The auction houses have succeeded in continuing their activity to a large extent," ArtMarket.com managing director Thierry Ehrmann stated on its website. He also said art market prices had "by no means systematically" fallen, as evidenced, for example, by the sale of Giorgio de Chirico's painting Il pomeriggio di Arianna (1913) for $15.9 million (approximately 13 million euros) at Sotheby's in New York on October 29, 2020. In fact, he said, demand for masterpieces continued unabated.
So, what does the pandemic mean for the art market? While many art fairs, auctions and exhibitions were canceled because of the lockdown in spring this year, a new start seemed a long way off even in autumn. The end of major art events hit dealers hard, because for many traders, fairs are the most important sales platforms. The industry thus shifted its trading hub to the internet as far as possible. Online galleries sprang up like mushrooms. Art fairs such as Art Basel and Art Cologne opened "online viewing rooms," to varying degrees of success. Boll explained that those who were already big were also able to invest in new technology faster and on a larger scale.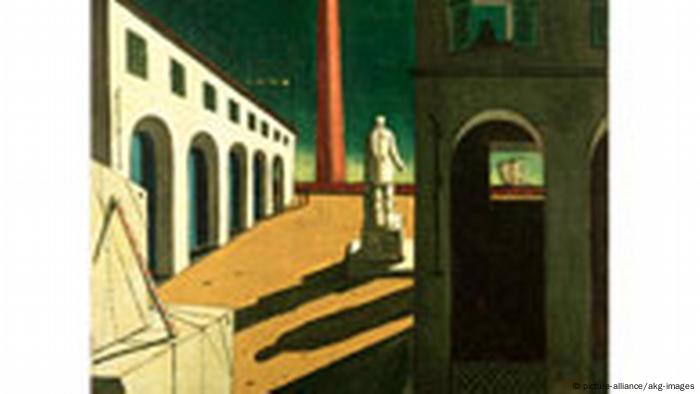 A 1915 painting by Giorgio de Chirico titled 'Fear of Waiting'
Online art trade booming
Art buyers and collectors were also contributing towards making the offer more conservative, according to art expert Boll. At digital fair appearances and in online viewing rooms, newer and lesser-known players were having a harder time making themselves visible. As Kristian Jarmuschek , chairman of the Federal Association of German Galleries (BVDG), put it in an interview with DW, "Well-known artists benefit because brands sell better, as we all know!" The losers are smaller galleries that don't yet have any artist brands on offer, but instead do basic work, like devoting themselves to the development ofyounger and unknown artists.
Before the crisis, the internet was mainly used as a showcase for art. Sales were negligible: of the $64.1 billion in global art market sales last year, according to Artmarket, the online sector accounted for 10%. But in the first quarter of 2020, that share skyrocketed to 37%.
The digital market has already departed from its niche status and become a serious contender, at least in the auction trade. "We expect to sell about half of all our objects via online-only auctions in 2021," Boll said, adding that auction houses had already significantly raised the value thresholds of their sold objects, which he saw as a sign of buyers' growing confidence in digital art sales.
With the new lockdown, some dealers' hopes for 2021 could evaporate. After all, at mid-year, half of the galleries surveyed were still expecting sales to rise in the new year. Meanwhile, Germany's gallery owners currently have little reason to complain, the BVDG's Jarmuschek reiterated.
No gallery has yet had to close due to COVID. Rather, he said, the lockdown has benefited traditional gallery work. "We can make time for our customers, who in turn have more time for art."
Adapted from German by Brenda Haas.
Winter wonderland: A look at snow art across Ottawa – CTV Edmonton
OTTAWA —
This past weekend saw the biggest snowfall of the winter in the capital, and it wasn't just any kind of snow. It was the sticky type, perfect for sculpting everything from snowmen, to dragons to igloos.
And people's imaginations were running wild.
"We woke up Saturday morning and saw all the snow. The kids ate breakfast and raced outside," says Ottawa resident Michelle McCombs. "It was the perfect snow for making a snowman."
But just one or two snowmen weren't good enough for the McCombs family. More than a dozen snowmen sit on their front lawn, greeting people as they pass.
"People have been stopping by all weekend. It kind of lifts your spirits up," says McCombs.
Jayson Ambrose wanted to build a giant snowman, but instead built a little Buddha on top of a giant snowball. A perfect accident, he called it.
"I just kept playing with it and it ended up kinda looking like a little snowy laughing Buddha sitting on top of are giant snowball here," he said.
Lindsay Hunter and her family needed a place to play checkers outside, so they built themselves what they call their Irish igloo, complete with tables and chairs.
"We're very tired of being inside all day," says Hunter, "and when the beautiful snow came, which was the stickiest, best textured snow to make stuff, and on top of that it was warm out, we couldn't help but spend all day outside."
Many people around the city took to their yards, spending hours making snowy masterpieces and the talent was off the charts.
But Daniel Benoit's castle in Embrun is next level.
"We were doing it during lunch break, and then after dinner with the kids." says Benoit. "After the kids go to bed, both of us go out and spend some time away from the TV screen or computer screen."
The Benoit family had been working on it for two weeks, and with all the snow that fell this past weekend, they were able to finally complete it. But they might not be done just yet.
"My wife was already taking about another tower or something so we'll see," says Benoit.
Online art course with Adrian Baker – Millstone News
NEW! Appleton Studio – online 'ART MENTORING' course
Instructor: Adrian Baker, BFA, MFA
Want to keep making art this winter, but could use a little guidance? I'm offering personal feedback sessions by email, one-on-one online meetings, and online group feedback sessions. Work on your own projects in your choice of medium, under the guidance of a professional artist. Receive valuable feedback from your peers. Flexible scheduling to suit your routine.
'Art Mentoring' runs from the week of January 18th to March 26 (choose your own times/days).
Cost is $180
What you get:
– Weekly personal assessment of your current art project via email, with constructive critiques and professional guidance. (eight sessions)
– One-on-one online meetings to discuss the progress of your work (six sessions)
– Online group feedback sessions with fellow participants (two sessions)
– Regular links to online painting tutorials relevant to your work.
What you do:
– Choose a project to work on in your choice of medium. Your first email session can be a discussion of what to paint, how to get started, colour & compositional decisions, etc.
– Photograph your artwork regularly as it progresses over the ten weeks and send the pictures by email for feedback from the instructor, for a total of eight email instructional sessions.
– Schedule six one-on-one meetings with instructor over the 10-week period (schedule of available days/times will be provided)
– Participate in two online group critiques (coffee, tea or wine are optional!)
– Have fun! Be creative! Keep on making art!
I am accepting a limited number of participants, so let me know asap if you are interested.
To register, or for more information:
613-257-4233
appletonstudio@gmail.com
www.adrianbakerart.com
Are phone skills a lost art? Time to get back to basics say East Coast Experts – TheChronicleHerald.ca
The family phone used to be a hot commodity and phone time a valuable resource.
Waiting until evening rates to place a long-distance phone call to a friend or family member could easily take up a Saturday night. But these days, a person can reach virtually everyone they know instantly, with a few swipes of their fingertips.
Smartphones and technology have ushered in an age of texting, emailing, and messaging communication within both personal and professional aspects of many people's lives. And with these forms of communication, there's less need for speaking person-to-person over a voice call.
But this doesn't mean the phone is on its way out, even if people might be finding increasing anxiety around phone calls, according to Mary Jane Copps, whose professional business, The Phone Lady, fosters connections between people and phone conversations.
Even if video calls are the new fad, Copps says voices are still what brings people together.
"The medium may change as technology continues evolving, but phone and voice calls are here to stay," she says.

In general
Copps says comedian Jerry Seinfeld wasn't kidding when he quoted a statistic in a stand-up routine that said people feared public speaking more than death itself. She says this feeling is one that many now equate with phone calls.
She says anxiety around phone calls is due to people now being used to the delay that comes with texting or email.
"We can edit and think about it – we don't have to think of an answer off the top of our head," she says. "For some people, there's anxiety around what they see as a performance part of a real-time conversation."
But even with that anxiety, Dalhousie University communications researcher and professor Dr. Binod Sundararajan says people are still gravitating towards the personal connection that voice provides, pointing to the prevalence of voice message exchanges in smartphone messaging apps.
"People still crave a synchronous connection – a real-time conversation – so they video chat or send voice recordings back and forth on apps like WhatsApp," he says.
It's because it lacks voice that Sundararajan says email and texting are "terrible" forms of communication beyond simple exchanges, as they cannot effectively convey true emotion.
And with the stress that the COVID-19 pandemic has brought, an empathetic voice on the other end of the phone could be exactly what is needed to relieve said stress, even if feelings of anxiety precede that call.
"There is so much uncertainty these days. The last thing someone should worry about is how to interpret communication, so asynchronous phone call is the thing that can best alleviate anxiety around this," he says.
---
---
Phones at work
The importance of tone and inflection in the voice, whether virtual or over a phone conversation, is something Copps says plays a key role in professional interactions, even with the advent of video conferencing.
Copps says the past year has shown there are many distractions during virtual meetings that cause those in attendance to miss something or lose their ability to pay attention. While a 15-minute phone call can be "lovely," she says, a one-hour one is often the opposite.
"Being on camera is exhausting for us," says Copps. "A lot of people turn off cameras and listen, which is the same as a phone call."
With phone calls still making up a significant amount of business communication, especially as people work from home, Sundararajan says proper phone etiquette – and specifically knowing how to communicate effectively and empathetically – is as important as written communication.
"Being professional doesn't mean being cold and aloof – you can have empathy and warmth and still be professional," he says. "A good phone call goes miles in making people feel respected, acknowledged, and listened to."
Call it personal
---
---
It's the allure of voice that means phone calls continue to be an important form of communication, according to Dalhousie University communications associate professor and researcher Dr. Kathleen Kevany, who says voice calls, like radio, are often more intimate than video media.
"Voice alone demands more of us, requires more interaction and imagination … and we like to activate our imagination. It's why people listen to the radio or read a book," she says.
This is why Kevany says a phone call remains the most effective and personal way to check in with loved ones and friends, something she says has become critical as COVID-19 keeps many people apart.
"We are in a time of isolation, so the more human connection we can foster, the better for our own wellbeing and others. Reaching out, picking up the phone, and calling someone can make a difference in their day and is much more memorable than receiving a text," she says.
Sundararajan says the pandemic is perhaps the best example of why people need to fight for the phone and reconnect with feeling comfortable around using it, both personally and professionally. He says the same goes for people receiving a call, who must listen and respect the person who's reached out.
"Yes it appears that calling someone on the phone is disappearing and yes, we should fight to retain that," he says.
Connecting younger generations
Feeling comfortable on the phone is something Sundararajan and Copps say young people need to start mastering, as it's crucial to succeeding in the job market.
Sundararajan says as the first phase of a job interview is often a phone or video call, the skill is critical to landing a job.
Copps has also seen a huge increase in her business since the fall in training professionals in phone communication. She says this is due partially to a lack of phone skills in today's young professionals.
"Big companies are all really clear that soft skills are the most important thing they now look for, above education. Communication is part of that and it's something we need to be teaching to kids," she says.
Kevany, who teaches her students about public speaking and verbal communication, says humans have always felt a great sense of confidence in communicating until faced with presenting. Like presenting, phone calls are a skill she says comes down to practice.
"You learn knowledge, but you cultivate a skill. That goes for public speaking and it also goes for phone calls," she says.
There is only one way to overcome a fear of the phone, according to Copps.
"You've got to pick up the phone and make the call," she says.
RELATED: