COVID: Short on ICU nurses, Germany looks abroad – DW (English)
Amid a nursing staff shortage, German hospitals have had to take matters into their own hands. When the coronavirus pandemic hit, a new arrival from Mexico proved very valuable at Berlin's well-known Charite Hospital.
The story of German Health Minister Jens Spahn and Judith Heepe, the nursing director at Berlin's Charite Hospital, is a little like the tale of the hare and the hedgehog. Heepe, like the wily hedgehog, is somehow always faster.
In September 2019, Spahn was in Mexico signing a contract to speed up the process for Mexican nursing staff to receive work permits in Germany. Heepe had already been there. A month before that, Spahn had sent his state secretary to the Philippines on a recruitment mission. Heepe had been there, too.
In the Brothers Grimm fairy tale, the hare thinks to itself: That's not possible. Judith Heepe sees the funny side as she recounts her imaginary competition with Spahn. In the race to recruit nursing staff from overseas, you must be highly creative. And sometimes take matters into your own hands.
For more than five years, Heepe has led the nursing division at Charite, Berlin's oldest hospital and Germany's most famous. She is responsible for 4,600 staff members, and during the second wave of the pandemic they've been working under pressure every day, especially the intensive care nurses in the COVID-19 ward.
Struggle to recruit nurses in Germany
If the pandemic had broken out four years ago, Charite would probably have had to admit defeat. "At that time we were lacking 400 nurses. Every year we have plugged this gap by 100 workers and expanded our training capacities at the same time," says Heepe.
That's why she has not only flown to Mexico and the Philippines, but has also been to Albania and made approaches in South America. Soon, Charite also wants to bring Brazilian nurses to Germany. "The market in Germany has totally run dry," she says. According to the German Interdisciplinary Association for Intensive and Emergency Medicine (DIVI), the country lacks about 3,500 to 4,000 skilled workers in intensive care.
Politicians are constantly asking Heepe how the situation has come to this. "I can only tell them: this situation is our own fault. In recent years there have simply not been enough people trained and qualified. We now have what was a totally avoidable gap in the next four or five years," she says. It's an emergency that could cost Germany dearly in the next few weeks, with intensive care stations overcrowded due to the pandemic. "It also means that we must pay people better," Heepe says.
Struggles with officials and bureaucracy
Heepe is someone who gets things done. Her motto: Don't take no for an answer.
"At some point, I was more familiar with the State Office for Health and Social Affairs than I ever wanted to be," she says with a laugh. She was always having to discuss the office's requirements for foreign nurses to supply original documents. Her relationship with the Berlin health authorities has a history: It happened almost three years ago, half a world away in Mexico. And Heepe can still recall every detail.
"I was in a video conference with 15 Mexicans who were in complete despair because their recruitment company had gone bust," she remembers. "And then I told them: 'Who cares? We can do it! We'll bring you here!'"
For Heepe, that marked the start of a nerve-wracking side job. She took on everything that the agencies would normally sort out, from visas and flights to dealing with officials, bank accounts and health insurance to organizing language courses. And sometimes, when the whole project looked at risk due to German bureaucracy, she took unconventional measures.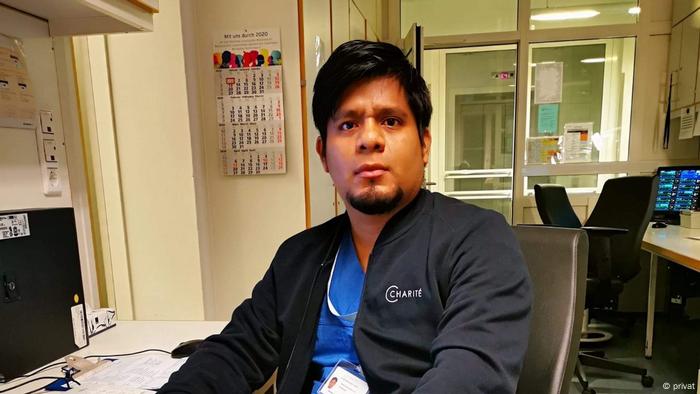 'I tell my German colleagues: 'You have everything here. You don't need to emigrate," says Mexican nurse Herbert Perez
A suitcase full of documents
In April 2018, Herbert Perez boarded a plane from Mexico City to Berlin with a suitcase and a backpack. Charite had paid for the flight. In the backpack were two pairs of trousers, three T-shirts and two shirts. In the suitcase: all the original paper documents for the 15 Mexican nurses who wanted to work in Germany. The young Indigenous nurse from the southern state of Oaxaca with the German first name became the vanguard; he had everything in his luggage that officials in Berlin were demanding.
"The scales at the airport showed exactly 22.5 kilograms," Perez remembers. "At the very last second people were still coming to the airport to drop off documents." The nurse can laugh now when he thinks back to his first trip to Germany, but at the time he was a nervous wreck.
"What would have happened if I had forgotten something amidst all the hustle and bustle, or if documents were lost in transit or if the airlines made a mistake and the suitcase went missing?" All these thoughts were running through his head. But everything worked out. Today, following a six-month program to certify his credentials, Perez is a valued colleague. He works on the coronavirus intensive care ward and helps day in, day out to bring Germany through the crisis.
Dramatic situations in intensive care wards
"The current situation is extremely critical, there are only a few intensive care beds," Perez says. "At the moment we are reaching the limits of our capacities." He has himself already tested his limits — like many nurses he contracted the coronavirus and was bedridden with fever for a week.
Perez wanted to be a nurse since he was a small child. He is the kind of person who needs to be told when to slow down. Even today, he's surprised whenever his colleagues tell him he needs to relax, that he is entitled to a vacation or days off. "I didn't know such things from Mexico, there you have fewer rights as a worker."
Heepe is organizing everything so that Perez's partner, a preschool teacher, can soon join him in Berlin and start work in Charite's kindergarten.
An international success story, then, with only winners? Not quite. There is growing criticism that Germany is snapping up well-trained personnel from developing nations when they are also urgently needed in their own countries. A recent report in the German newspaper Frankfurter Rundschau spoke of "nursing imperialism."
'Germany needs to solve its nursing problem itself'
The German Interdisciplinary Association for Intensive and Emergency Medicine (DIVI) is familiar with these accusations. The experts agree: Germany's nursing shortage is a problem of the country's own making and in an emergency like the current coronavirus pandemic, other countries should not be further weakened.
"Bringing in qualified staff from abroad always sounds like the big answer to the problem. But the more you investigate it, the less of an answer it seems," says Michael Isfort, deputy board chairman of the German Institute of Applied Nursing Research. The proportion of foreign nursing staff in the hospital sector is currently about 1%. "That is extremely small."
Nurses like Herbert Perez go mainly to large cities like Berlin; according to Isfort 90 to 95% of the international staff are working in the big urban centers. "We've still not yet succeeded in getting care workers from abroad into rural areas," he says.
According to experts, it's clear that recruiting staff from abroad won't be the long-term solution to Germany's nursing emergency.
This article was translated from German.
COVID-19 vaccine update: B.C.'s premier, top health officials to give update on province's immunization plan – CTV News Vancouver
VANCOUVER —
British Columbians eager to know when it'll be their turn to get a COVID-19 vaccine were given a full immunization schedule on Friday.
Premier John Horgan announced the full plan alongside Health Minister Adrian Dix, provincial health officer Dr. Bonnie Henry and Dr. Penny Ballem, who is B.C.'s executive lead for the province's immunization rollout.
"The COVID-19 pandemic has challenged us all in extremely difficult ways," Horgan said on Friday.
"Together, we have faced this pandemic with strength, courage and compassion, and we are starting to feel optimistic that one day COVID-19 will be in our rear-view."
The province said its goal is to reduce deaths and severe illness, and since older people are at highest risk of falling ill from the virus, groups will be prioritized by age.
Officials explained the plan is based only on access to the Pfizer's and Moderna's two-dose vaccines. If other vaccines are approved for use in Canada, more populations or entire communities may be targeted at an earlier date.
Previously, B.C.'s health officials announced who would be vaccinated in Phase 2, taking place in February and March, including community-based seniors who are at least 80 years old and Indigenous seniors who are at least 65 years old.
On Friday, health officials announced Phase 3 and Phase 4 of the immunization plan, which together stretch from April through to September.
"At every step, our plan puts the health and safety of our most vulnerable people at the centre, and when it's your turn, I encourage everyone to get their COVID-19 vaccine and help us move forward, together, to a healthier province," Horgan said.
Phase 3, from April to June, includes people aged 79 to 65, in five-year increments based on birth year. People with several heath conditions will also be eligible during this phase as they're considered "clinically extremely vulnerable." A full list of those conditions is included at the bottom of this article.
Here is the timeline for Phase 3, based on birth year:
Anyone aged 79 to 70 can get their first dose in April and their second dose in May.
Anyone aged 69 to 65 can get their first dose in May and their second dose in June.
Anyone aged 64 to 60 can get their first dose in June and their second dose in July.
Anyone aged 79 to 16 who is considered "clinically extremely vulnerable" can get their doses between April and June.
"Our immunization plan is based on evidence and data and focused on immunizing people who are most vulnerable to the virus first," Henry said Friday.
"We know that the single-greatest risk factor for illness and death from COVID-19 is increasing age."
Phase 4, from July to September, will include people aged 59 to 18.
Here is the timeline for Phase 4, based on birth year:
Anyone aged 59 to 40 can get their first dose in July and their second dose in August.
Anyone aged 39 to 35 can get their first dose in July or August and their second dose in August or September.
Anyone aged 34 to 30 can get their first dose in August and their second dose in September.
Anyone aged 29 to 25 can get their first dose in August or September and their second dose in September.
Anyone aged 24 to 18 can get their first and second doses in September.
Extensive trials haven't been completed on people under the age of 18, officials explained.
"Right now it's not necessarily a concern in that the evidence still supports young people are much less likely to get infected and much less likely to have severe illness," Henry said.
"It is very likely once we have more traditional vaccines, they will be available for younger people … but our focus is on those most likely to have severe illness."
How do I sign up for a vaccine?
More clinics will be set up in March by health authorities and may include mobile sites and home visits where necessary. Large spaces will likely be used for mass immunization in urban areas including in stadiums, convention halls, arenas, community halls and school gyms. In rural areas, mobile clinics in self-contained vehicles – like transit buses – might be used.
To get a vaccine, pre-registering will begin in March, with appointments set up by age about two to four weeks in advance. Registration will be available by mobile device, computer or phone. As well, a province-wide communication campaign is launching in February to let British Columbians know how they can register.
On the day of their appointment, people will have to go through a check-in process, get their vaccine and then wait in an observation area for about 15 minutes afterwards to watch for adverse reactions. Those who get a vaccine will receive a paper copy of their record and a reminder for when to book their second dose. Digital copies of a vaccine record will also be available.
Health officials explained that nobody will lose their place in line. For example, if someone is eligible to get their vaccine in Phase 2 but can't for whatever reason, they can be immunized at any point after.
What health conditions are considered 'clinically extremely vulnerable'?
Officials explained on Friday that anyone aged 16 to 79 who has a condition that makes them extremely vulnerable to COVID-19 can get their dose starting in April, regardless of age. Officials estimate there are about 180,000 people in B.C. who are eligible for early vaccination.
Those conditions include:
Solid organ transplant recipients
People with specific cancers including of the blood or bone marrow such as leukemia, lymphoma or myeloma who are at any stage of treatment
People with cancer who are undergoing active chemotherapy
People with lung cancer who are undergoing radical radiotherapy
People having immunotherapy or other continuing antibody treatments for cancer
People having other targeted cancer treatments that can affect the immune system, such as protein kinase inhibitors or PARP inhibitors
People who have had bone marrow or stem-cell transplants in the last six months or who are still taking immunosuppression drugs
People with severe respiratory conditions, including all cystic fibrosis, severe asthma and severe chronic obstructive pulmonary disease
People with rare diseases that significantly increase the risk of infections (such as severe combined immunodeficiency, homozygous sickle cell disease)
People on immunosuppression therapies enough to significantly increase risk of infection (biologic modifiers, high-dose steroids, AZT, cyclophosphamide)
People who had a splenectomy (spleen removed)
Adults with very significant developmental disabilities that increase risk (details to come from the health ministry)
Adults on dialysis or with chronic kidney disease (Stage 5)
Women who are pregnant with significant heart disease, congenital or acquired
Significant neuromuscular conditions requiring respiratory support
As of Thursday, B.C. had administered 104,901 doses of the Pfizer and Moderna vaccines so far, including 1,680 second doses.
It's estimated approximately 4.3 million people will be vaccinated in B.C. by the end of September.
Couple charged after travelling to Yukon to get COVID-19 vaccine – CollingwoodToday
WHITEHORSE — A cabinet minister says a couple from outside Yukon travelled to a remote community in the territory this week and received doses of COVID-19 vaccine.
Community Services Minister John Streiker says he's outraged the man and woman allegedly chartered a flight to Beaver Creek, the most westerly community in Canada near the border with Alaska, to get the shots.
Streiker says he heard Thursday night that the Canadian couple arrived in Yukon on Tuesday and declared they would follow the territory's mandatory two-week self-isolation protocol, but instead travelled to Beaver Creek.
He says the two people have been charged under Yukon's Civil Emergency Measures Act for failure to self-isolate and failure to behave in a manner consistent with their declaration upon arrival.
Streiker says the couple allegedly presented themselves as visiting workers, misleading staff at the mobile vaccination clinic in Beaver Creek.
He says territorial enforcement officers received a call about the couple, who were later intercepted at the Whitehorse airport trying to leave Yukon.
The maximum fine under the emergency measures act is $500, and up to six months in jail.
The RCMP have been notified, he said in an interview on Friday.
Streiker hadn't confirmed where the couple are from, but he said they didn't show Yukon health cards at the vaccination clinic.
Yukon has two vaccination teams that are visiting communities throughout the territory with priority going to residents and staff of group-living settings, health-care workers, people over 80 who aren't living in long-term care, and Yukoners living in rural, remote and First Nation communities.
Beaver Creek was chosen as a priority community to receive doses of COVID-19 vaccine because it's a remote border community, he said.
Yukon's chief medical officer of health has indicated he believes the risk to the community as a result of the couple's visit is low, Streiker added.
Streiker said there may be more scrutiny at vaccine clinics when people show up from outside Yukon, but officials are still working through options to prevent such a situation from happening again.
"I find it frustrating because what that does is it makes more barriers," he said. "We've been trying to remove all barriers to get the vaccine for our citizens and so if there's another sort of layer of check, I just don't want it to make it harder for Yukoners to get their vaccines."
This report by The Canadian Press was first published Jan. 22, 2021.
The Canadian Press
B.C.'s COVID-19 mass vaccinations expected to start in April – Cowichan Valley Citizen
B.C.'s health ministry expects to start registering four million people for COVID-19 vaccine in March, beginning with the oldest and reaching everyone 18 and older who wants to be immunized by the end of September.
The largest immunization program in the province's history will set up clinics in 172 B.C. communities, using school gymnasiums, arenas, community halls, church halls and convention centres, as well as mobile clinics for rural areas. Mobile teams will also be dispatched to people who aren't able to leave their homes, using transit buses and other self-contained vehicles.
Health Minister Adrian Dix says the current phase one of vaccinations has reached most long-term care staff and residents as well as front-line acute care staff with a first dose. Decisions on increasing access and mobility in long-term care homes can be considered in March, he said.
Phase two in February and March continues to target the highest-risk populations, seniors aged 80 and up in communities, hospital staff, community physicians and staff in home support and nursing for seniors.
Age schedule for #COVID19BC, dose 1 and 2 #bcpoli pic.twitter.com/NLBb0a5RGY

— Tom Fletcher (@tomfletcherbc) January 22, 2021
The mass vaccination starts with phase three from April to June, with people registered for vaccination in five-year increments, starting with the group aged 75 to 79. Phase four, from July to September, moves to people younger than 60, moving down to age 18. Approximately 900,000 of B.C.'s population of more than five million are under 18, and won't be eligible for vaccine under the current plan.
With the delay in delivery of Pfizer's vaccine while it expands its production facility in Belgium, deliveries to Canada are interrupted until February. Despite that, provincial health officer Dr. Bonnie Henry said seniors aged under 80 in communities are likely to be registered and start receiving vaccine by the end of March.
Dr. Penny Ballem, the former deputy health minister appointed to lead the B.C. vaccine rollout, said the program is designed to be flexible, diverting vaccination to emerging situations like infection clusters in communities, work camps, and other group situations that may need earlier protection.
Details of the registration are still to come. Ballem said a phone call centre will be available to assist seniors who don't have online access to get registered. For those who miss an appointment, they don't lose their place in line and will receive priority for rescheduling.
---
@tomfletcherbc
tfletcher@blackpress.ca
Like us on Facebook and follow us on Twitter.