Crises in religion and politics intertwined – Winnipeg Free Press
IN a very western democratic tradition, although religion and politics are joined at the hip, they have always experienced an uneasy, sometimes tenuous, coexistence. Both are seen as necessary to human flourishing but, left unchecked internally within their own realms, they tend to creep into each other's spaces in ways which jeopardize, or do harm to, both. While this is not a new tension, some of today's religion-politics interactions are particularly disturbing. By way of examples, I note the protestations against COVID-19 mandates and the renewed abortion debate in the U.S.
To a large extent the current perplexities arise from the ongoing, sometimes contentious, debate about the separation of church and state. That principle of separation is built upon the premise that religion and politics need to be protected from the overreach of the other, meaning that over the years various court rulings and constitutional changes have reaffirmed freedom of religion and non-interference of government.
Protecting government from some religious interference has proven less successful. Religious freedom was among the justifications provided for a so-called truckers' blockade in Ottawa, or the more recent motorcycle convoy, some of whom declared God was coming with them. Opportunistic politicians jumped on their bandwagon.
The false implications in all of this are that government is opposed to religious freedom, that only the protesters have a direct line to God whose will they are carrying out, and that their cause is so noble and righteous that incivility, lawlessness and violence are warranted. Prayer meetings and church services became political rallies; God and religion becoming political weapons.
In contradistinction, freedom-of-religion lawmakers believed that religion provided a type of moral authority, a supernatural check on human frailty, outside and above the realm of human affairs.
Governments can make no claim to moral authority — theirs is legal and political. That constitutes their only defence as inevitable transgressions and failings are made public. On the other hand, when religious groups weaponize God, or embrace conspiracies and deny science, they also lose any claim to moral authority.
Conflating politics with religion creates an impossible political situation. Religion is not about persuasion; it is based on a kind of absolutism as in you either believe or you don't, you're either in or you're not. For some that rigid and distinct certainty is the appeal of religion — little room for even interpretative difference eliminates doubts. However, in human affairs, forgone conclusions are sure killers of political dialogue, compromise and harmony.
Being human among other humans requires continuous judgments and moral disagreements about what is right and good, and a constant desire to seek others' flourishing at the same time as one is pursuing one's own — the best of what we call politics.
But being human, as in doubt and error, is just what religious intolerance has little room for. It is hard to defend oneself against accusations of religious intolerance even by those who follow different faiths from the one prevailing at the protests when any attempt at rational dialogue is seen as an attack on the "true believers." This situation is exactly what the framers of freedom-of-religion legislation were attempting to prevent — the forcing of one religion's beliefs on others — assuming humans can play God, and some more than others.
Even in the 18th century, political thinkers were worried that not entrenching freedom for all religions would lead to a type of religious tyranny undergirded by politics. That's where the U.S. is headed today with its moves to criminalize abortion. No matter where one stands on that debate, the ways it is being rejuvenated is cause for real concern.
Deceptively couched in partisan politics, "white replacement theory" fear mongering and constitutional revisionism, Christian evangelicals, apparently successful in stacking legislatures and the courts, are more interested in winning than religious tolerance. These actions are power plays, not acts of faith. They are endangering the very freedom they say they embrace, not only for themselves but for all religions.
Simultaneously, opportunistic politicians, with the duplicitous aid of some religious groups, are exacerbating the current confusions and conflicts creating a threat to both religion and politics. Exercising political rights do not constitute moral authority, just as claiming a right (moral) justification does not necessarily result in good political decisions, as in reasonable and beneficial practices and consequences.
It's time for religion and politics to revisit the ideals behind the separation of church and state, re-negotiating a mutually appreciative, as opposed to mutually exploitative, relationship.
John R. Wiens is dean emeritus at the faculty of education, University of Manitoba. A lifelong educator, he has served as a teacher, counsellor, work education co-ordinator, principal, school superintendent and university professor.
From politics to pawlitics: N.L. finance minister's dog wins big at Westminster – CBC.ca
A dog from a breeding business owned by Newfoundland and Labrador's deputy premier won Best of Breed at the 146th Westminster Kennel Club Dog Show in New York on Wednesday.
Siobhan Coady, also the province's finance minister, told CBC News the win makes Beau, a Labrador retriever, one of the top dogs in the world.
"To have him here at Westminster, to see him stack up against the best of the best, it certainly is an honour," Coady said.
Beau, whose full name is Beaumont Hamel, was bred by GoFetch Labradors, the St. John's dog breeding business run by Coady and her husband.
"My husband and I have been breeding Labradors because we wanted to have the best Labradors in the world," she said. "They're a heritage animal in Newfoundland and Labrador and they're the best animals in the world."
The retriever's name holds significance for Newfoundland and Labrador too — Beaumont Hamel is the site in France where more than 700 members of the Newfoundland Regiment were killed, wounded or went missing on July 1, 1916, during the First World War.
Coady said Beau, who was already a grand champion in both Canada and the United States, won the title Best of Breed out of 67 dogs.
He was led to his win by dog handler and co-breeder Fabian Negron, who said he was "thrilled" with Beau.
"Every single box was checked. His attitude was there. His movement was there. He just put on a fantastic performance and the judge recognized it," he said.
Negron said the Best in Breed title is "amazing recognition" for Beau, as well as for his owners and breeders.
"We're just very excited and we just want the people of Newfoundland to know how proud we are to be representing the breed with one of their own," Negron said.
Coady owns Beau's mother, Jersey, and Negron owns his father. Despite his world-champion status, Coady said Beau is "a sook."
"He's a lovely, kind, sweet dog. He's a typical Labrador retriever. He likes to swim and likes to fetch. He likes to sleep. He likes to give kisses. He's a really kind and gentle soul," Coady said.
Coady said Beau will be featured in a dog show in Bay Roberts this summer.
Read more from CBC Newfoundland and Labrador
Maharashtra: What is India's 'luxury resort politics'? – BBC
Politics in India has once again moved from legislative assemblies to luxurious hotels.
The latest spectacle is playing out in India's richest state, Maharashtra. Around 40 lawmakers – led by influential minister Eknath Shinde – are holed up in an upmarket hotel thousands of miles away from home in Guwahati city in the north-eastern state of Assam.
India's democratic process allows any party that can prove it has a majority – over the halfway mark in legislatures – to form a government. So when electoral margins are low, governments – especially coalitions – run the risk of having the rug pulled from under their feet by rival parties and sometimes by their own disgruntled lawmakers.
This can lead to what is described as "resort politics" – where a political party rounds up lawmakers and takes them to a well-guarded resort or a hotel, where they are kept under close watch to stop them from defecting.
And leaders go to great lengths to stave off their opponents. Reports say that Mr Shinde moved his group all the way to Assam partly because Gujarat – where they were initially taken – was "too close to Maharashtra", raising the risks of disgruntled lawmakers returning to Chief Minister Uddhav Thackeray.
The rebelling politicians belong to the Shiv Sena party, which is currently governing Maharashtra as part of a coalition with the Congress party and the regional Nationalist Congress Party (NCP).
Mr Shinde and the lawmakers are now threatening to withdraw their support from the coalition, pushing it to the brink of collapse.
Reports say that Mr Shinde is likely to form a new coalition with the Bharatiya Janata Party (BJP). The BJP, however, has denied playing any role in the crisis.
On Wednesday, dramatic videos of Maharashtra lawmakers running at Gujarat airport to catch a flight to Assam went viral. The politicians were confronted by a gaggle of reporters who kept bumping into them as they grumblingly made detours to avoid a collision.
Such spectacles are not new and go back to the 1980s when political parties first began moving their lawmakers to resorts whenever they feared defections.
In the past, some venues became famous after hosting politicians who took decisions to make or break governments.
In 1983, the chief minister of Karnataka state, Ramakrishna Hegde, sent his lawmakers to a luxury resort when he feared that a rival party was trying to bring down his government.
While these stories were largely told by newspapers in the 1980s, the present-day politics plays out on TV channels and also on social media.
In 2019, when the state government in Karnataka state felt that the opposition party was making overtures to its lawmakers, it moved them to a luxury resort. Footage showing them relaxing while the state stared at political uncertainty went viral.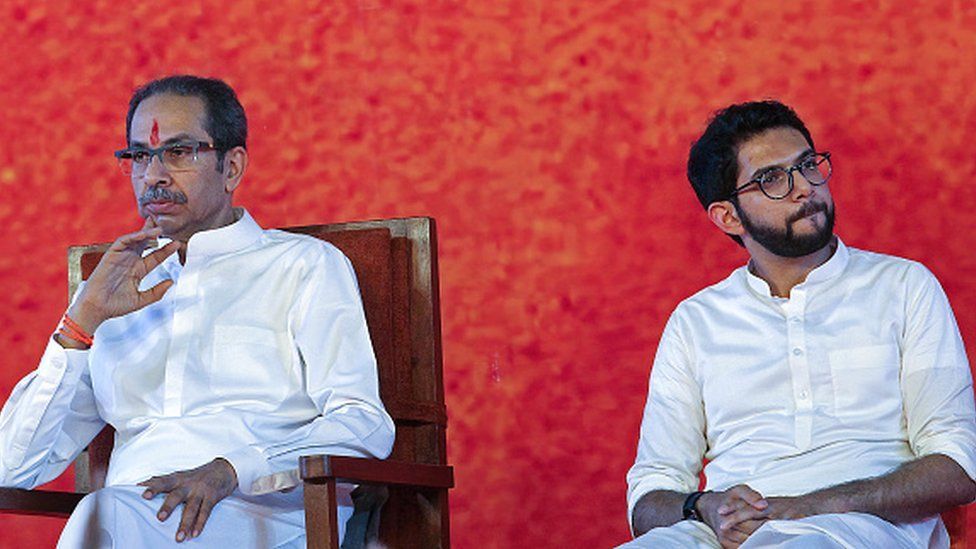 Critics say this points to weakened democratic structures within political parties.
"Lawmakers are sometimes forced to switch sides because they are powerless in comparison to senior party leaders," political scientist Rahul Verma explains.
"Their nomination depends on their loyalty to the leader, so they try to stick to one camp or the other."
Political writer Sudhir Suryawanshi agrees.
"The ethics, principles and commitment to ideology and party does not play a role now. Each elected representative wants to remain in power," he says.
India's anti-defection law bars individual lawmakers from switching sides. However, the law does not apply when the number of lawmakers who quit a political party make up two-thirds of its strength in the legislature.
That's the reason why defections usually happen in large numbers.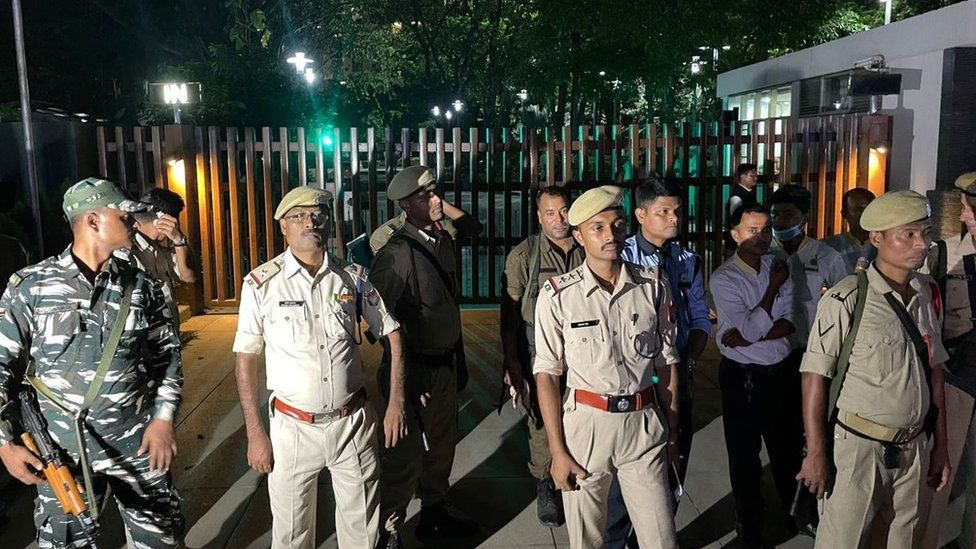 India has dozens of strong regional parties and state elections often give fragmented results, leaving room for defections.
"If you have too many small players in any market, there will always be one player which will always consolidate the competition or become a monopoly. That's how politicians also operate," Mr Verma explains.
Politicians are made to switch off all digital devices, including mobile phones, and they are kept under the watchful eyes of senior leaders.
In 2019, Congress party lawmakers in Rajasthan state were treated to magic shows and film nights at the hotel where they stayed amid days of intense infighting between two senior leaders in the state. Their little vacation inspired a host of memes and jokes on the internet.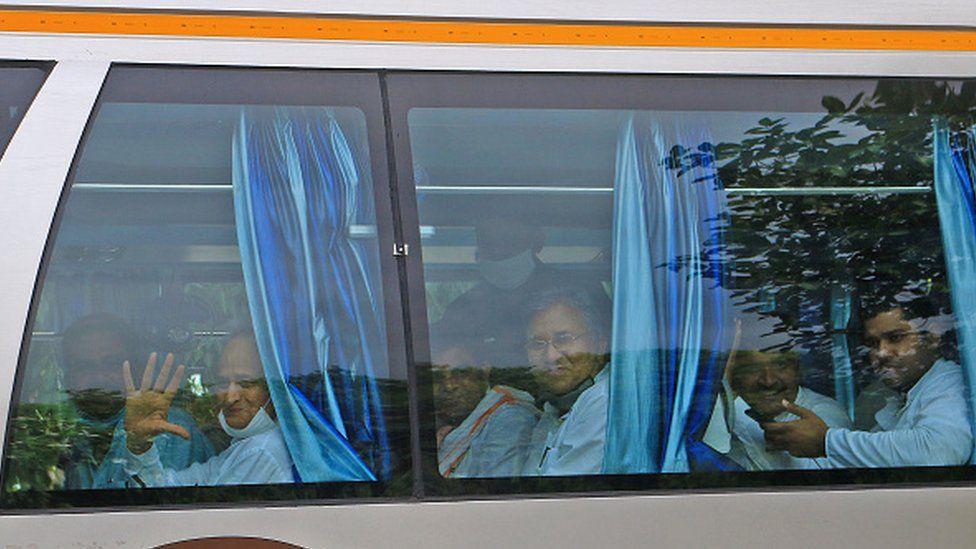 But things always don't go to plan, specially when some lawmakers start second guessing their move.
There have been reports of lawmakers trying to escape from their luxury hotels.
This time, too, some Shiv Sena leaders in Maharashtra have recounted vivid details of what they called their "capture" and eventual "escape".
Kailas Patil said some rebel leaders told him they were going for dinner in Mumbai and instead tried to drive him to neighbouring Gujarat state. He alleged he escaped from the car, but had to walk miles until he hitched a ride on a motorbike and later in a lorry to get back to Mumbai.
Another Shiv Sena legislator claimed that some people forcibly admitted him to a hospital when he tried to escape from the hotel in Gujarat. He still managed to flee and has now pledged his support to Mr Thackeray.
Experts say while such drama may make for good prime time TV, it also points to fast deteriorating ethics in politics.

More from the BBC on India:

Liberals introduce legislation to create national council to oversee reconciliation
OTTAWA — Crown-Indigenous Relations Marc Miller has tabled a bill that would create a national council for reconciliation — a recommendation the Truth and Reconciliation Commission made in 2015 and the Liberal government included in the 2019 budget.
The TRC, which investigated the history and legacy of residential schools, called for an independent, Indigenous-led council to monitor the progress of reconciliation in Canada over the long term and evaluate and report on the implementation of its 94 calls to action.
An interim board that was appointed in 2018 to advise the government on creating the council released a final report that same year, calling for the creation of a transitional committee, which was appointed in 2021.
Bill C-29 says there will be between nine and 13 directors on the council's board, including a nominee each from the Assembly of First Nations, Inuit Tapiriit Kanatami and the Métis National Council.
The other directors would be elected from a list of applicants and at least two-thirds must be Indigenous.
The council would be set up as a not-for-profit, and it would be required to report yearly on the progress being made toward reconciliation, including recommendations.
The Congress of Aboriginal Peoples, which represents primarily non-status Indigenous and Métis people living off-reserve, says in a statement that it is "deeply disturbed" by the structure proposed in the bill.
The group says it's been excluded from the list of national Indigenous organizations for whom a seat on the board is guaranteed, and calls that discrimination against hundreds of thousands of Indigenous Peoples living in urban areas.
The bill was tabled in the House of Commons Wednesday, but the House is expected to rise Thursday for the summer break. MPs will not be back in their seats to debate legislation until September.
This report by The Canadian Press was first published June 23, 2022.
The Canadian Press