Crypto lender Genesis latest to file for bankruptcy as crypto contagion spreads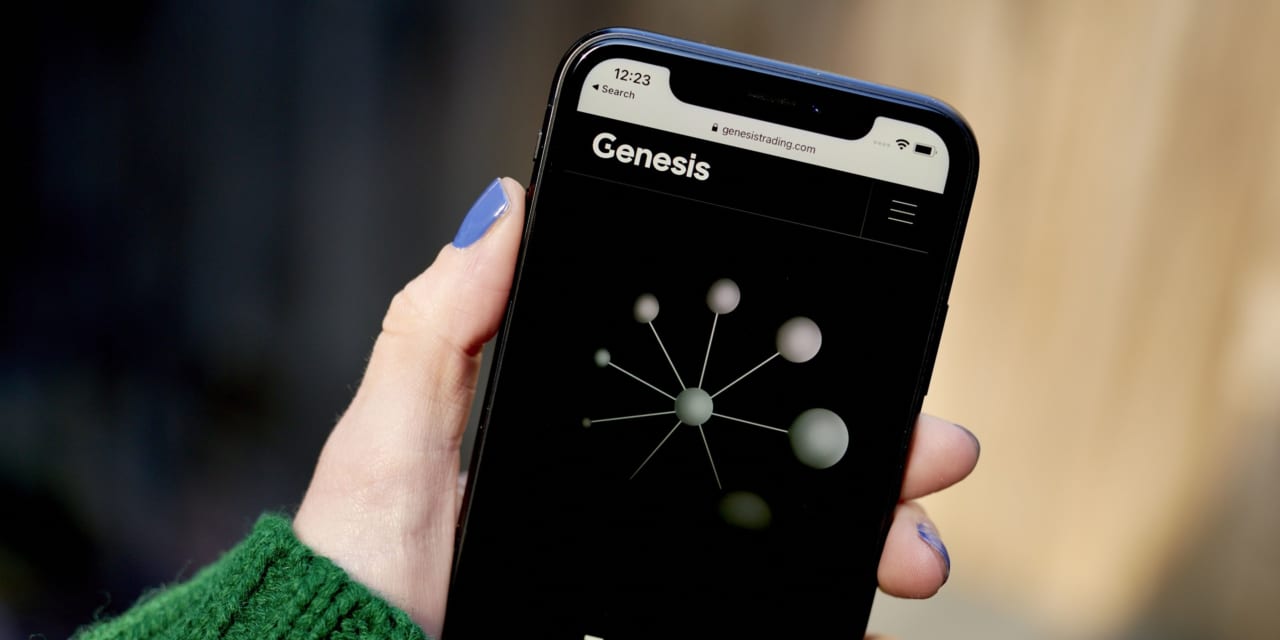 Embattled crypto lender Genesis announced that it had filed for bankruptcy late Thursday, the latest firm to be taken amid a widespread rout among crypto companies driven by plunging prices and charges of fraud at major players like FTX.
Genesis, which froze customer withdrawals in November following the collapse of FTX, filed for Chapter 11 bankruptcy protection in federal court in Manhattan for its lending units, saying it was the best way for it to achieve "an optimal outcome for Genesis clients."
"While we have made significant progress refining our business plans to remedy liquidity issues caused by the recent extraordinary challenges in our industry, including the default of Three Arrows Capital and the bankruptcy of FTX, an in-court restructuring presents the most effective avenue through which to preserve assets and create the best possible outcome for all Genesis stakeholders," said Derar Islim, Genesis' interim chief executive, in a statement on the company's website.
According to its bankruptcy filing, Genesis' lending unit said it had both assets and liabilities in the range of $1 billion to $10 billion and had over 100,000 creditors. The firm said it had about $150 million in cash on hand to support its operations during restructuring.
Among those creditors is Gemini, the crypto exchange founded by twin brothers Cameron and Tyler Winklevoss in 2014, that had $900 million of its customers' money tied up with Genesis.
Genesis was the main partner of Gemini's "earn" program, in which its retail investors received payments for allowing their crypto assets to be loaned out to others.
Cameron Winklevoss welcomed Genesis' bankruptcy filing, saying it would provide Gemini a better venue for getting its clients' money back.
"We will use every tool available to us in the bankruptcy court to maximize recovery for Earn users and any other parties within the bankruptcy court's jurisdiction," he wrote in a post on Twitter.
Both Genesis and Gemini were charged by the Securities and Exchange Commission last week with illegally selling securities to investors through the Earn program.
Genesis and its parent company, Digital Currency Group, had said they were seeking outside investment to help bolster the books and pay customers back in the months before filing for bankruptcy.
As part of its restructuring, Genesis said it would seek to possibly sell the company and also continue to look for additional investment.
Shares of bitcoin
BTCUSD,
+0.94%
were little changed at just above $20,000. There have been some concerns that the announcement of another crypto bankruptcy could unravel a recent recovery for the No. 1 cryptocurrency, up 25% so far in 2023. That puts it back above levels seen before FTX imploded last November.
Elon Musk found not guilty of fraud over Tesla tweet
Tesla founder Elon Musk has been cleared of wrongdoing for a tweet in which he said he had "funding secured" to take the electric carmaker private.
Mr Musk faced a class-action lawsuit filed on behalf of Tesla shareholders who argued he misled them with his posts in August 2018.
The proposed $72bn (£60bn) buyout never materialised.
It took the nine jurors less than two hours to reach their verdict on Friday afternoon.
Mr Musk – who had wanted the trial moved to Texas, where Tesla is based, arguing he could not get a fair trial in San Francisco – welcomed the outcome.
Taking to Twitter, the social media platform he bought for $44bn last October, he posted: "Thank goodness, the wisdom of the people has prevailed!
"I am deeply appreciative of the jury's unanimous finding of innocence in the Tesla 420 take-private case."
Central to the lawsuit was Mr Musk's tweet on 7 August 2018: "Am considering taking Tesla private at $420. Funding secured."
The plaintiffs also argued Mr Musk had lied when he tweeted later in the day that "investor support is confirmed".
The stock price surged after the tweets, but fell back again within days as it became clear the deal would not go through.
Investor losses were calculated as high as $12bn, according to an economist hired by the shareholders.
The US Securities and Exchange Commission (SEC) sued Mr Musk over his tweets, accusing him of lying to investors. Mr Musk agreed to step aside as Tesla board chairman and settled for $20m.
During the three-week trial, Mr Musk – who also leads SpaceX and Twitter – had argued he thought he had a verbal commitment from Saudi Arabia's sovereign wealth fund for the deal.
During his nearly nine hours on the witness stand, the world's second-richest man said: "Just because I tweet something does not mean people believe it or will act accordingly."
Shareholders had argued that "funding secured" suggested more than a verbal agreement.
Although Tesla's share price shot up after the tweet was posted, Mr Musk also questioned whether his tweets had any effect on Tesla's share price.
"At one point I tweeted that I thought that, in my opinion, the stock price was too high… and it went higher, which is counterintuitive," he said – arguing the effect his tweets have on the stock price can be unpredictable.
Mr Musk said he eventually scrapped the plan to take Tesla private after his discussions with smaller investors led him to believe they would prefer that the firm remain publicly traded.
He was not in court when the verdict was read, but he was present during closing arguments earlier on Friday as duelling portraits were drawn of him by the rival legal teams.
Nicholas Porritt, a lawyer for the Tesla shareholders, said: "Our society is based on rules. We need rules to save us from anarchy. Rules should apply to Elon Musk like everyone else."
Mr Musk's attorney, Alex Spiro, said: "Just because it's a bad tweet doesn't make it a fraud."
After the verdict, Mr Porritt said: "We are disappointed with the verdict and are considering next steps."
Mr Musk was generally calm during his testimony – though at times he appeared annoyed at the line of questioning.
There were also times of levity. After a lawyer representing shareholders accidentally called Elon Musk "Mr Tweet", Elon Musk promptly changed his name on Twitter to the same moniker.
Several Tesla directors also testified, including James Murdoch, son of Rupert Murdoch. They testified that Mr Musk did not need the Tesla board to review buyout tweets.
Securities fraud lawyer Reed Kathrein called the tweet about taking Tesla private "as concrete a statement of taking a company private as there can be", and said the not guilty verdict was "a travesty to investors and the securities laws".
U.S. Federal Reserve delivers small interest rate hike, signals a 'couple' more increases necessary to tackle inflation
The U.S. Federal Reserve increased its benchmark interest rate by a quarter percentage point on Wednesday and signalled that a "couple" more rate hikes are still needed to bring inflation under control.
The widely anticipated announcement lifted the federal funds rate to a range of 4.5 per cent to 4.75 per cent. The quarter-point move is the smallest increase since the central bank began ratcheting up borrowing costs last spring in an effort to curb surging prices.
After a string of oversized rate hikes, the U.S. economy has begun to slow and inflation is showing signs of easing. Fed chair Jerome Powell said on Wednesday that "the disinflationary process has started," although he warned that it would be "very premature to declare victory."
"While recent developments are encouraging, we will need substantially more evidence to be confident that inflation is on a sustained downward path," he said in a news conference after the rate announcement.
While the Fed was unambiguous that "ongoing increases" in borrowing costs are still necessary, financial markets responded positively to Mr. Powell's relatively optimistic comments about inflation and the U.S. economy.
The S&P 500 finished the trading day up 1.05 per cent, while the Nasdaq Composite surged 2 per cent. Bond markets also rallied, with the yield on two-year U.S. government bonds falling around 0.1 per cent. Bond prices and yields move in opposite directions.
"While previous statements said the Fed would have to determine the pace of future rate rises, today's statement indicated it will now have to determine their extent," Desjardins economist Francis Généreux wrote in a note to clients. "Rate hikes aren't over, but it may be the beginning of the end."
Members of the Federal Open Market Committee, the Fed's highest decision-making body, which sets U.S. monetary policy, signalled in December that they expect the fed funds rate to exceed 5 per cent by the end of the year. That would imply at least two more quarter-point hikes.
Mr. Powell reiterated this forecast, although he said future rate hikes would be conditional on incoming economic data. He also pushed back against market expectations that the Fed could start cutting interest rates this year. Interest-rate-swap contracts are pricing at least two rate cuts before the end of 2023.
"The historical record cautions strongly against prematurely loosening policy. We will stay the course, until the job is done," Mr. Powell said.
The Fed's insistence that more rate hikes are still needed puts it on a different trajectory than the Bank of Canada.
Last week, Canada's central bank increased its benchmark rate to 4.5 per cent, but said it expects to hold off further rate hikes. This "conditional pause" suggests that Canadian rates have reached a plateau while U.S. rates will keep marching higher.
The Canadian economy is generally seen as being more sensitive to interest rates than the U.S. economy, given how much of the Canadian economy relies on the housing sector. Canadian mortgages also tend to have five-year terms, compared with 30-year terms in the United States, making homeowners more susceptible to rate increases.
What happens next to U.S. interest rates will depend on the trajectory of inflation as well as the strength of the country's labour market.
There are plenty of signs that inflation is trending in the right direction. The annual rate of consumer price index inflation in the U.S. was 6.5 per cent in December, down from a 40-year high of 9.1 per cent in June.
Prices for many goods, such as used vehicles, have fallen in recent months, as supply chains have improved and consumer demand has shifted back toward services. Mr. Powell said he also expects housing-related inflation to diminish in the coming months.
The challenge is service prices, excluding housing, which show few signs of decelerating. This is tied in part to rapid wage growth, which is being driven by the ultralow levels of unemployment, which stood at a record low 3.5 per cent in December.
Mr. Powell said unemployment will likely need to rise to slow the pace of service price growth. He expects this to happen in the coming quarters as higher rates work to slow the economy. Although, he suggested that a soft landing was still possible.
"There's a path to getting inflation back down to 2 per cent without a really significant economic decline or a significant increase in unemployment," he said.
The European Central Bank and the Bank of England will announce their latest interest-rate decisions on Thursday. The central banks are behind the Bank of Canada and the Fed when it comes to tightening monetary policy, and both are expected to announce further half-point rate increases.
ChatGPT to launch paid version of AI tool for $20 US a month
The intelligence embedded in ChatGPT may be artificial, but the creators of the wildly popular chat bot are hoping it can do something humans strive for all the time: make money.
OpenAI, the company that created ChatGPT, will soon roll out a paid version of the service in a pilot project, where people willing to spend $20 US a month will get a premium version of the product.
Starting soon, customers in the U.S. who sign up for the program will get preferential access to the service, even at peak times of demand, when many users are currently locked out.
They'll also get faster response times for their queries, and priority access to new features and improvements as they roll out.
The subscription service will only be available to U.S. users for the time being.
Wildly popular service has its critics
The service has taken the world by storm since its launch in November, becoming the first viral mass-market artificial intelligence tool.
But ChatGPT is not without its critics. Detractors have already waved red flags about the service's potential to lead to job losses, as well as being a haven for plagiarism and cheating.
In a blog post, the California-based company says it is also exploring other options for its business, including lower-cost plans, communal subscriptions for corporate clients and data packs.
But the free version is here to stay, they say.
"We love our free users and will continue to offer free access to ChatGPT," the company said. "By offering this subscription pricing, we will be able to help support free access availability to as many people as possible."