CULT Food Science Corp. Executes Strategic Investment in Novel Farms Inc. – GlobeNewswire
VANCOUVER, British Columbia, Aug. 23, 2021 (GLOBE NEWSWIRE) — CULT FOOD SCIENCE CORP. (TSXV: TLD.H) (the "Company" or "CULT"), a Canadian-based investment platform with an exclusive focus on investing in cultivated (lab grown) meat and dairy assets, is pleased to announce that it has completed a strategic investment in Berkley, California based, Novel Farms Inc. ("Novel").
An XPRIZE semi-finalist, Novel Farms is at the forefront of the 'clean meat' movement, focused on developing proprietary tissue development processes to produce whole cuts of gourmet cultured meats and bring culinary excellence into the cellular agriculture revolution.
Novel Farms plans to use the additional growth capital to expand their team, move operations from lab to pilot scale, and scale the production of their structured cell based meat products through 2022-2023.
Novel Farms' signature product line will include whole cuts of premium meats such as Iberian pork and dry-cured Iberian ham. This product line will first be distributed through premium channels like high-end restaurants and food service, and later on through specialty retailers. Novel Farms' Iberian ham will be one of the few cultivated meat products launched at price-parity.
"Using animals to convert plants to meat is incredibly inefficient. A sustainable, safe and secure solution will be required to meet the global growing consumer demand for meat and dairy products, and at CULT Food Science we unequivocally believe that the future of food will be science-based. Our investment in Novel Farms, a company at the forefront of premium cell-based meats, advances our vision of a cleaner, more ethical, and more secure food supply chain," said Dorian Banks, CEO of CULT Food Science.
The strategic investment in Novel Farms advances CULT Food Science's mission of building a focused portfolio of the most innovative early stage cultivated meat and cultured dairy companies and assets around the world.
Presently, the cultivated meat and dairy space is highly fragmented and in its infancy, with only one publicly traded operating company currently in the world. CULT Food Science is focused on creating an opportunity for individuals to invest in the future of food by gaining diversified exposure to exciting and disruptive private companies in cultivated meat and cultured dairy sectors.
About Novel Farms
A semi-finalist for the XPRIZE 'Feed the Next Billion', Novel Farms is a food-tech Company based in Berkeley, CA dedicated to craft whole cuts of premium cell-based meat delicacies and bring culinary excellence and sustainability into the future of food. By cultivating meat from outstanding animal breeds, they seek to captivate the palates of meat lovers while satisfying environmentally-conscious eaters.
About CULT Food Science
CULT Food Science Corp. (formerly Triangle Industries Ltd.) is an innovative platform advancing the future of food with an exclusive investment focus on cultivated meat and cultured dairy. The first-of-its-kind in North America, CULT Food Science aims to provide individual investors with unprecedented exposure to the most innovative startup, private and early stage cultivated meat and cultured dairy companies around the world.
Additional information can be found by viewing the Company's filings at www.sedar.com.
On behalf of the Board of Directors of the Company,
CULT FOOD SCIENCE CORP.
"Dorian Banks"
Dorian Banks, CEO
For further information, please contact:
Cult Food Science Corp.
+1 604 687-2038
info@cultfoodscience.com
Neither the Canadian Securities Exchange nor its Regulation Services Provider accepts responsibility for the adequacy or accuracy of this news release.
Forward-Looking Information
Information set forth in this press release may involve forward-looking statements, including statements relating to the securities of the Company trading on the CSE. Forward-looking statements are statements that relate to future, not past, events. In this context, forward-looking statements often address a company's expected future business and financial performance, and often contain words such as "anticipate", "believe", "plan", "estimate", "expect", and "intend", statements that an action or event "may", "might", "could", "should", or "will" be taken or occur, or other similar expressions. By their nature, forward-looking statements involve known and unknown risks, uncertainties and other factors which may cause our actual results, performance or achievements, or other future events, to be materially different from any future results, performance or achievements expressed or implied by such forward-looking statements. Such factors include, among others, the following risks: risks associated with marketing and sale of securities; the need for additional financing; reliance on key personnel; the potential for conflicts of interest among certain officers or directors with certain other projects; and the volatility of common share price and volume. Forward-looking statements are made based on management's beliefs, estimates and opinions on the date that statements are made and except as required by law, the Company undertakes no obligation to update forward-looking statements if these beliefs, estimates and opinions or other circumstances should change. Investors are cautioned against attributing undue certainty to forward-looking statements. For further information on risk, investors are advised to see the Company's MD&A and other disclosure filings with the regulators which are found at www.sedar.com.
Why it is wise to add bitcoin to an investment portfolio – The Economist
"DIVERSIFICATION IS BOTH observed and sensible; a rule of behaviour which does not imply the superiority of diversification must be rejected both as a hypothesis and as a maxim," wrote Harry Markowitz, a prodigiously talented young economist, in the Journal of Finance in 1952. The paper, which helped him win the Nobel prize in 1990, laid the foundations for "modern portfolio theory", a mathematical framework for choosing an optimal spread of assets.
The theory posits that a rational investor should maximise his or her returns relative to the risk (the volatility in returns) they are taking. It follows, naturally, that assets with high and dependable returns should feature heavily in a sensible portfolio. But Mr Markowitz's genius was in showing that diversification can reduce volatility without sacrificing returns. Diversification is the financial version of the idiom "the whole is greater than the sum of its parts."
An investor seeking high returns without volatility might not gravitate towards cryptocurrencies, like bitcoin, given that they often plunge and soar in value. (Indeed, while Buttonwood was penning this column, that is exactly what bitcoin did, falling 15% then bouncing back.) But the insight Mr Markowitz revealed was that it was not necessarily an asset's own riskiness that is important to an investor, so much as the contribution it makes to the volatility of the overall portfolio—and that is primarily a question of the correlation between all of the assets within it. An investor holding two assets that are weakly correlated or uncorrelated can rest easier knowing that if one plunges in value the other might hold its ground.
Consider the mix of assets a sensible investor might hold: geographically diverse stock indexes; bonds; a listed real-estate fund; and perhaps a precious metal, like gold. The assets that yield the juiciest returns—stocks and real estate—also tend to move in the same direction at the same time. The correlation between stocks and bonds is weak (around 0.2-0.3 over the past ten years), yielding the potential to diversify, but bonds have also tended to lag behind when it comes to returns. Investors can reduce volatility by adding bonds but they tend to lead to lower returns as well.
This is where bitcoin has an edge. The cryptocurrency might be highly volatile, but during its short life it also has had high average returns. Importantly, it also tends to move independently of other assets: since 2018 the correlation between bitcoin and stocks of all geographies has been between 0.2-0.3. Over longer time horizons it is even weaker. Its correlation with real estate and bonds is similarly weak. This makes it an excellent potential source of diversification.
This might explain its appeal to some big investors. Paul Tudor Jones, a hedge-fund manager, has said he aims to hold about 5% of his portfolio in bitcoin. This allocation looks sensible as part of a highly diversified portfolio. Across the four time periods during the past decade that Buttonwood randomly selected to test, an optimal portfolio contained a bitcoin allocation of 1-5%. This is not just because cryptocurrencies rocketed: even if one cherry-picks a particularly volatile couple of years for bitcoin, say January 2018 to December 2019 (when it fell steeply), a portfolio with a 1% allocation to bitcoin still displayed better risk-reward characteristics than one without it.
Of course, not all calculations about which assets to choose are straightforward. Many investors seek not only to do well with their investments, but also to do good: bitcoin is not environmentally friendly. Moreover, to select a portfolio, an investor needs to amass relevant information about how the securities might behave. Expected returns and future volatility are usually gauged by observing how an asset has performed in the past. But this method has some obvious flaws. Past performance does not always indicate future returns. And the history of cryptocurrencies is short.
Though Mr Markowitz laid out how investors should optimise asset choices, he wrote that "we have not considered the first stage: the formation of the relevant beliefs." The return from investing in equities is a share of firms' profits; from bonds the risk-free rate plus credit risk. It is not clear what drives bitcoin's returns other than speculation. It would be reasonable to believe it might yield no returns in future. And many investors hold fierce philosophical beliefs about bitcoin—that it is either salvation or damnation. Neither side is likely to hold 1% of their assets in it.
This article appeared in the Finance & economics section of the print edition under the headline "Just add crypto"
An Atlantic Investment Bubble Will Help Companies Grow And Create Jobs – Huddle – Huddle Today
Blair Hyslop is the President of the Order of the Wallace McCain Institute. He is co-CEO, along with his wife, Rosalyn Hyslop, of Mrs. Dunster's and Kredl's Corner Market, New Brunswick-based companies that employ more than 200 people and have operations throughout Atlantic Canada.
As the Covid-19 pandemic raged around the world, the four Atlantic Canadian provinces came together in an unprecedented spirit of cooperation and collaboration to tackle the challenges it presented. The result was one the safest places in the world, with untold lives saved. That showed what we can do as a region when we work together.
Recently, a group of entrepreneurs from all four provinces came together to discuss ways to grow our economy and erase that gap that still exists with the rest of Canada.
It's about controlling our own destiny and creating a region with more opportunities for our people.
The Atlantic Investment Bubble
The first item this group is proposing is the creation of an "Atlantic Investment Bubble" – a common equity tax credit to encourage investment across the region. Too often, businesses in Atlantic Canada struggle to find the investment needed to fuel growth compared to the rest of Canada. In fact, there is only $3 of Angel investment per capita in Atlantic Canada for every $28 invested nationally, according to the most recent figures.
That's a huge gap, one that penalizes businesses in our region.
The challenge of finding investment affects all kinds of businesses – food producers like our company, Mrs. Dunster's, as well as technology companies, manufacturers, tourism operators and more. We all face the same challenge – finding the capital needed to help our business grow.
Each province has its own equity tax credit aimed at encouraging local investment in local businesses. These work pretty well, as far as they go. They have different amounts of credit available and some outline support for only specific sectors. Yet the fundamental problem with this well-intentioned approach is that it ignores the regional nature of our business community.
As a region, we are simply just too small to operate only within our home provinces – we need to go to other provinces to find customers, vendors, employees, mentors and investors.
The provincial equity tax credits support investors who invest in a company in their home province. But if I wanted to encourage an investor in Nova Scotia, PEI or Newfoundland and Labrador to invest in Mrs. Dunster's, they wouldn't receive a tax credit. That becomes a disincentive to invest. A regional equity tax credit will address this problem and create a more robust investment environment within Atlantic Canada by promoting more interprovincial investment. That will help us close the gap with the national investment average.
How It Works
We propose a regional equity tax credit of 35 percent overlayed on the existing provincial programs and focused on sectors that will yield the most benefit to our region, including manufacturing, renewable energy, tourism, food and beverage, IT, aerospace, and cultural industries.
This approach will minimize the amount of legislative and regulatory changes required to implement the program. That's important because speed matters here – one of the outcomes of the pandemic is there are billions of dollars on the sidelines looking for opportunities to be invested, including large amounts here in Atlantic Canada. By implementing a regional equity tax credit, we can repatriate our own money that too often gets invested in the public markets in Toronto or New York.
It means we can invest in our own potential.
We recognize, of course, that every dollar counts for provincial governments, and that they can't spend scarce dollars on new programs without consequences. However, we believe that the Atlantic Investment Bubble will be self-sustaining, creating more new tax revenues than it costs.
We propose a four-year pilot program that is backstopped by the federal government, meaning it will have zero cost to the provincial governments. Based on our projections, this incentive would support nearly 50 companies in the first year. By year four after the first year of investment, this equity tax credit will have created over $50-million in labour income and added nearly $80-million to the region's GDP.
Beyond the numbers, it will make our region more competitive and entrepreneurial. It will give Atlantic Canadian businesses the resources they need to grow, creating new jobs and new tax revenues.
Why You Should Care
Admittedly, a regional equity tax credit can seem like a niche idea. Why should you care about it?
I believe that Atlantic Canadians should be angry that our economy continues to lag behind the national average. It means our unemployment levels remain higher and our average incomes are lower.
It doesn't have to be this way. We have the talent needed to grow our economy – we just need the fuel in the form of access to more capital.
The Atlantic Investment Bubble will make our business community stronger, creating access to more private sector investment that will help small- and medium-sized businesses grow and create more jobs for Atlantic Canadians, people just like you. It will make our region stronger, keeping your kids at home by providing them with meaningful opportunities.
The Government of Canada spends hundreds of billions each year providing services to Canadians. The modest expenditure to support the Atlantic Investment Bubble is a smart investment in the potential of Atlantic Canada. It is a short-term, not a long-term, expense that will deliver a strong Return On Investment by driving more private sector investment throughout Atlantic Canada.
The provincial governments in Atlantic Canada proved that they could work together in common cause during the height of the pandemic. They did a great job managing the crisis and have positioned the region strongly for the post-pandemic reality. We can build on that momentum with the Atlantic Investment Bubble.
There is already considerable support for the Atlantic Investment Bubble, including the Atlantic Canada Chamber of Commerce, Conseil économique du Nouveau-Brunswick, New Brunswick Business Council, the Order of the Wallace McCain Institute and TechImpact. They understand that this change will open investment in our region and help us achieve our true potential.
If you would like to learn more about this initiative, or to show your support, visit our website: www.atlanticinvestmentbubble.ca. If you are already sold on the benefits, speak to your MLA and MP and ask them to support this smart, cost-effective policy change.
Huddle publishes commentaries from groups and individuals on important business issues facing the Maritimes. These commentaries do not necessarily reflect the opinion of Huddle. To submit a commentary for consideration, contact editor Mark Leger: [email protected]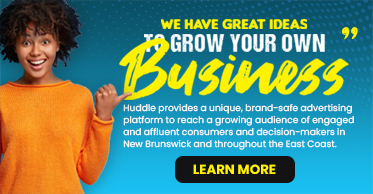 Sudbury med-tech firm lands $8M in investment funds – Northern Ontario Business
Rna Diagnostics has received investment capital that will enable it to complete a clinical trial on its cancer diagnostic tool, the RNA Disruption Assay.
The Sudbury-based med-tech startup announced on Sept. 9 that it's received $8 million from a group of investors, led by iGan Partners, a Toronto-based venture capital firm, and the Crown corporation BDC Capital.
That money will enable Rna Diagnostics to complete its trial, called the breast cancer response evaluation for individualized therapy (BREVITY), which began in 2018.
"The continued support of iGan Partners and our current investors, combined with the support of BDC Capital as a new investment partner, is exciting," said John Connolly, president and CEO of Rna Diagnostics, in a news release.
"The closing of this series A financing will allow us to complete the pivotal validation trial (BREVITY) of the RNA Disruption Assay™ (RDA)™. BREVITY is currently recruiting patients at over 40 breast cancer centres in Europe and North America."
IGan led the way during an earlier round of funding, in 2018, worth $5 million. Rna Diagnostics has additionally received funding through the Northern Ontario Heritage Fund, FedNor, the Northern Cancer Foundation, and the angel investment firm Northern Ontario Angels.
The RNA Disruption Assay determines whether a patient's tumour is responding to cancer therapy five weeks into treatment.
If the patient's tumour isn't responding, the oncologist can change course, cutting down on lost treatment time and considering other treatment methods that may be more effective.
Rna Diagnostics believes this approach could reduce harmful side effects for patients and improve their chances of survival. It could also reduce costs for cancer treatment centres.
"This is an enormous, expensive problem for cancer centres," Connolly added. "Typically, in solid tumour cancers, only 30 to 40 per cent of patients receive a survival benefit from a given drug regimen."
The RNA Disruption Assay was discovered by Dr. Amadeo Parissenti, a researcher and professor at Laurentian University, in 2007.
In moving the test towards commercialization, Parissenti later founded Rna Diagnostics, which operates out of Sudbury's Health Sciences North Research Institute, the research arm of the local hospital, Health Sciences North.