Cultivating Creativity: Local artists reconvene and "Re-Imagine" at Expressions Art Show – Belleville Intelligencer
Article content
ALLEN STEINBERG
Article content
QUINTE ARTS COUNCIL
The Quinte Arts Council's Expressions biennial juried art show, hosted by the Parrott Gallery, features artists and artisans from throughout the Quinte region. The show displays over 80 pieces from 44 artists working in a variety of media, including: painters, photographers, woodworkers, sculptors, metal workers, textile artists, folk artists and mixed media arts. This year, artists were tasked with applying the theme "Re-Imagine" into their work.
For many of the artists, it's the first time their art can be viewed in-person since the beginning of the COVID-19 pandemic. Wendy Rayson-Kerr, the acting curator of the Parrott Gallery, says that Expressions is a fantastic way to kick off the gallery's re-opening:
"The Parrott Gallery has re-opened just in time to showcase a wide variety of artwork by local artists. Expressions is such an exciting way for us to re-open to the public. If anyone was wondering what Quinte-area artists have been doing through the pandemic, this show will answer those questions. Through a large variety of mediums and styles, artists have taken the theme "Re-Imagine" and offered up an exhibition full of exciting, high quality artwork, ready for our community to enjoy, in person and online," she says.
While artists are happy to have their work publicly showcased once again, the final result is the product of many months in the making after running into some unavoidable setbacks. Expressions' official date was pushed back several times due to working around the province's lockdown restrictions. Despite this, the turnout was remarkable. QAC Executive Director Janet Jarrell says: "Artists have been very patient. We announced Expressions in February and we had to push back the launch date several times. It all paid off though! The turnout has been truly special and we can't thank the artists and jurors enough for their cooperation."
Article content
She adds: "The resilience and tenacity of artists to continue creating throughout the pandemic has been truly remarkable. Expressions embodies and celebrates that spirit."
Expressions was juried by renowned painter Valerie Kent and ceramic artist Bill Reddick. Both agreed it was an exceptional collection of art. Out of 44 artists, they chose three winners as well as a handful of honourable mentions.
Juror's Choice Award: Peter Bates, Regeneration
"Regeneration shows mastery of execution. It has a lovely sense of depth and perception.
There is beautiful light in the background and in the foreground. Its asymmetry is pleasing, as is its organic patterning. It has an s-shaped composition, a landscape that juxtaposes the complementary colours which make the whole vibrate. It evokes many interpretations with its motion, balance and tension. It is like a well-crafted piece of music," says juror Kent.
Juror's Choice Award: Michelle Hutchinson, Voices
"'Voices' is loosely painted, but tightly conceived. It has an atmospheric quality
moving into the distance as if it is being looked at from the landscape above," says Kent. "Colours are repeated around the picture plane making it both abstract yet it has an inherent representational feel, much as a landscape might, with its sky, horizon and foliage. It knows restraint in its calligraphy, has a nice balance and unique colour choices. It is textural and the dark tonalities contrast to create that sense of depth. It speaks a creative language.'
Article content
Craft Council Award: Joanne Rich, Discovering the Garden
"It is a unique interpretation with its organic forms teased out of nature, its masterful
competency working with the materials and the way the paper is created to highlight the shapes. It may appear as a shell, as sand dunes, as pathways of light. The branches are critical as escaped freedom expressed by the freed branches that keep it from being an enclosed space. In fact, it is suggestive of more space. It is foraged material: earthy, naturally pigmented and of handmade papers. It has originality of idea and concept, and is so engaging. It is quiet and yet, it pulls you in."
The Expressions art show is open to the public until August 15 and will be available as a virtual show. For more information, visit: quinteartscouncil.org/2021-expressions
Parrott Art Gallery has plenty offer for art lovers – Belleville Intelligencer
Article content
LIBRARY LINE
August is a busy month for us at the Parrott Art Gallery, and we are pleased to be sharing even more exceptional artwork with the public.
Throughout this month, visitors to our third floor gallery will be able to view a selection of artwork by Florence Lennox. Thanks to the recent, very generous donation by her daughter, we are pleased to present several pieces from our Permanent Collection by this popular Belleville artist, now hanging in our corridor gallery.
"Expressions", the Quinte Arts Council's juried exhibition and sale, continues in Galleries 1 and 2 until Thursday, August 12. This show has delivered on quality and content, with artwork in a multitude of different mediums.
While the show is available to view online, it is well worth the trip to our Gallery to experience this artistic collaboration in person. We encourage everyone to vote for their favourite piece as well. A People's Choice Award will be handed out at the end of the show and you can vote online through our website or in person.
Tom Ashbourne's upcoming show, "County Artist, County Art" will open on Saturday, August 21 in Gallery 1. Featured in this summers' edition of Watershed, this Wellington artists' sculpture has been steadily gaining local and international recognition, and has been accepted into exhibitions in London and Florence this year.
Ashbourne also topped the list in World Biz Magazine's, "Artists to Collect in 2021" which features 30 artists from around the world. In his upcoming exhibition at the Parrott Gallery you can expect to see a large assortment of Tom's stone carvings and multimedia assemblages, accompanied by a selection of work from his personal art collection, by County artists like Barb Whelan and Celia Sage just to name a few. We hope you'll come to see for yourself why Ashbourne's sculpture is winning such high acclaim.
Article content
At the same time in Gallery 2, Linda Mazur-Jack will be presenting a show called, "Memento: Alzheimer's, A Personal Journey." Using multi-media installations, sculpture and painting, the artist will be offering her testament to the ongoing devastation of the terrible disease that took her husband's life.
Mazur-Jack will be transforming personal items, found objects, paint, words and more, in a visual experience that cannot help but move the viewer. This show can only be experienced in person, and is guaranteed to be like nothing you have seen before.
While we are still unable to hold in-house events, we are continuing to offer our online art workshops, including Sheila Wright's "Acrylic Pouring Workshops" and Rachel Harbour's "Monday Zoom Classes". These workshops are suitable for new and experienced artists. We will also be holding a zoom webinar on Thursday, September 2 from 7–8:30 p.m., called "Presenting your Art in Today's Online World". This webinar will feature the insight of sculptor Tom Ashbourne and the advice of photographer Mike Gaudaur and we hope that this free webinar will help artists improve their chance of exhibiting both locally and further abroad.
Information about all of our current and upcoming programming is available to view on our website. We are here to answer your questions, and we look forward to seeing you at the Gallery in August!
Wendy Rayson-Kerr is the Acting Curator of the John M. Parrott Art Gallery.
ArtCity: Why are there so few women in art history? – Woodstock Sentinel Review
They say that those who do not learn history are doomed to repeat it, but who wrote the history we learn in the first place?
Article content
They say that those who do not learn history are doomed to repeat it, but who wrote the history we learn in the first place?
Article content
As someone who has been deeply passionate about the arts from a very young age, I've often found myself at odds with this question. Over the years, my interest in the arts has led me to take classes throughout high school and university. I've also volunteered at the Woodstock Art Gallery, where I currently work as a front desk attendant summer student.
Throughout my exposure to the arts, I've learned the discipline, like many others, is built upon the works and contributions of those who came before. Ultimately, within the uniqueness of every piece of art, something innately human is revealed. Yet, the more I read about old masters like Michelangelo, Da Vinci, and Raphael, the more I can't help but wonder – where were all the women artists? When I gathered the courage to ask my former art teacher why the majority of our art history curriculum catered to white men, the answer I was met with was simply this: "It is difficult to learn about female artists in art history because there's hardly any significant female artists to talk about in the first place."
So why is there a lack of female artists to begin with?
Many, including myself, might at first assume that women just aren't as capable as men in terms of artistic ability. In her 1971 essay, Why Have There Been No Great Women Artists, art historian Linda Nochlin writes the mere question "falsifies the nature of the issue at the same time that it insidiously implies its own answer: 'There have been no great women artists because women are incapable of greatness.'" The fact that these assumptions still linger is a testament to the shortcomings of art history. What is the actual reason behind the distinct gender gap we see in art today, and to what extent has historical bias influenced our current perception of the art world?
Article content
It goes without saying that women's underrepresentation and lack of recognition in Western art history is complicated. Women were historically excluded and actively discouraged from partaking within the same spheres as men, including the artistic sphere. Women were likewise barred from entering art academies, undergoing formal artistic training, or even acquiring an education in general – the very building blocks to becoming an artist in the first place. The quintessential middle-class, white, male archetype associated with the default "ideal artist" prevailed because aspiring female artists were excluded from these institutions that helped cultivate artistic proficiency.
As Nochlin explains, one example of gender-based institutional discrimination can be seen through women's access to life drawing during the 19th century. Due to the rising popularity of history painting at the time, life drawing was seen as a mandatory prerequisite to one's artistic cultivation. Even once women were finally allowed into life drawing classes, they were burdened with the responsibility to have their works remain modest – a restriction that did not apply to men – despite the common belief that "there could be no great painting with clothed figures." The male administration specifically prohibited nude models from appearing in anything less than "partially draped." While men could undergo artistic training without restraints, women often faced hostility when fighting for equal footing within those same institutions.
Article content
All in all, to truly learn from history, we must also understand the foundations on which it was written. Though notable names such as Artemisia Gentileschi, Berthe Morisot and Frida Khalo have gained considerable mainstream notoriety, it remains true that the number of male artistic masters still outnumber the women. While we cannot rewrite the past, we can add nuance to how it's told.
As I've learned in my time at the Woodstock Art Gallery, one place we can start is right here at home. The gallery's 2019 exhibition, Given Her Due: Oxford County Women Artists 1880–1908, showcases the work of talented and sometimes overlooked female artists of this region, including Eva Bradshaw, Betty McArthur, Jaquie Poole, Fryke Oostenbrug, and more. You can explore a 3D virtual tour of this exhibition online at www.woodstockartgallery.ca. The gallery's permanent collection also highlights the artwork of Florence Carlyle, who broke boundaries as a prominent Canadian painter in the late 19th and early 20th centuries. Carlyle – along with other notable female artists in the collection – is featured in the current exhibition My Favourite Artwork, which launched when the Woodstock Art Gallery reopened on Aug. 3.
Vicky Lin is the front desk attendant at the Woodstock Art Gallery. The Woodstock Art Gallery acknowledges the support for this position, which is funded by two federal student employment programs: Young Canada Works and Canada Summer Jobs.
Art Beat: A Little Bit of Broadway, Gibsons-style – Coast Reporter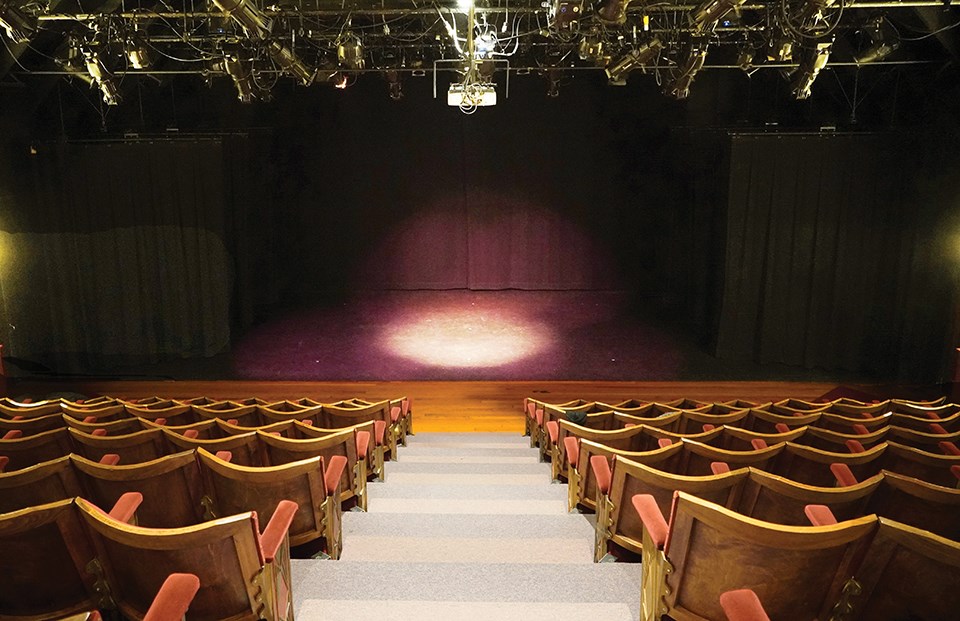 Some of the Sunshine Coast's young musical-theatre talent will be showing what they can do when they hit the stage this weekend at the Heritage Playhouse in Gibsons. The production team Synergy at Play, led by Varya Rubin and Bill Moysey, has been running a two-week performance intensive for youth, preparing for their show, A Little Bit of Broadway. There will be three performances: Friday, Aug. 6 at 7 p.m., and Saturday, Aug 7 at 2 p.m. and 7 p.m. Seats are limited due to ongoing pandemic protocols. Tickets are $15, $10 for kids aged six to 12, five and under are free. Available at tickets@synergyatplay.ca.
Music to our ears
There's a passion to hear live, in-person performance here on the Coast after close to 17 months of doing without. Shows are selling quickly. You cannot get tickets now to see the Rogue Arts Festival show with Brothers in Farms and Staggers and Jaggs at the 101 in Gibsons on Saturday, Aug. 7, the Brandon Isaak concert at the Clubhouse Restaurant in Pender Harbour on Aug. 8, or the SoulShine Garden Concert with Dawn Pemberton on Aug. 12. But there is still plenty to enjoy. Here are just a few of the musical offerings in coming days (check the Coast Reporter's Community Calendar and Coast Cultural Alliance's website for more). Shows marked "free" may also feature a handy tip jar:
Charlotte Wrinch plays the Clubhouse Restaurant at the Pender Harbour Golf Club on Friday Aug. 6 from 5 to 9 p.m. On Sunday, Aug. 8, The Burying Ground will be there with its great, toe-tapping vintage jazz-blues from 2 to 5 p.m.
The Roberts Creek Legion is opening its stage for individuals or groups to play on Friday, Aug. 6 from 4 to 8 p.m. To reserve performance or jamming time, email info@robertscreeklegion.ca. The Burying Ground plays there Saturday, Aug. 7 from 4 to 9 p.m.
At noon on Saturday, Aug. 7, at the Sechelt Summer Music Series behind the library, hear the reggae rhythms of Pete Catastrophe, followed at 1 p.m. by the Wanda Nowicki Trio. Free.
The 1 p.m. show at Music in The Landing at Winegarden Park in Gibsons features the Gambier Island acoustic duo, Kansas and Johnny. At 7 p.m., electric grit-blues maestros Georgia Fats will get you smiling and swaying. Bring a lawn chair or blanket. Free.
The vocal and guitar stylings of Martinez will be on tap from 2:30 to 4:30 p.m. at Tapworks in Gibsons, Saturday, Aug. 7.
Slow Sundays in The Creek, behind the library in Roberts Creek, has another creatively varied lineup for Aug. 8. The Whirlwind Woodwind Quintet starts things off at noon, with teen singer-songwriter Kaishan performing at 1 p.m., and the Martini Madness Band at 2 p.m. Free.
Movies
Indoor seating is still limited, but the Coast's two main movie theatres have reopened. Raven's Cry Thetare in Sechelt is screening films nightly, as is Gibsons Cinema, which is also running weekend matinees. Check your local listings.