Culture Art, culture victims of Lebanon's economic crisis – Al-Monitor
BEIRUT — Since last October, prices of essential items in Lebanon have risen by nearly 50%, the minimum wage fell by 40%, unofficial capital controls have limited withdrawals and scores of businesses have closed.
For the arts and culture sector in Lebanon, this situation has been untenable, already entering the crisis with a precarious financial structure.
Art organizations in Lebanon largely receive money from foreign funds and embassies, philanthropy, community donations and local banks.
Amar Zahr, co-director of the Beirut Art Residency (BAR), an organization that teaches artists and hosts exhibitions, told Al-Monitor that a lot of funding "has dried up because of the circumstances."
BAR was established by a group of young creatives during the 2015 trash crisis. "[We started our work] despite or maybe because of the crisis. … Things were picking up and funding was accessible," Zahr said.
This funding mainly came from embassies that would fund their citizens to come to Beirut, foreign grants and local banks. However, by 2018, Zahr "could tell something was happening — things were getting shaky."
With major banks currently looking to sell assets and the country in economic free fall, funding for the arts was one of the first expenditures to go.
Even when funding was available, the banking sector would often prioritize high-end and established events such as the Beiteddine Festival or Baalbeck International Festival. What money made it to newer organizations like BAR has quickly dried up over the past two years.
With foreign grants and embassies also limiting their funding, BAR, after 5 years and some 120 international and local artist residencies, is moving to a skeleton crew.
"In general a lot of the ways we used to fund our program are being questioned," Zahr said. "We are looking to slow down and run on the bare minimum."
While BAR is looking to reduce its size, while keeping the core projects running, other institutions have not been so lucky.
The Metropolis Art Cinema Association's (MACA) theater in Beirut, Metropolis Empire Sofil, the only cinema in Lebanon dedicated to playing regional and arthouse films, closed in January.
While MACA will continue with other projects to revive and sustain Arab film, the closure marked the end of a storied institution, with the first theater events starting just before the 2006 Lebanon War.
"We kept the cinema open [during the war]," Hania Mroue, founder and director, told Al-Monitor. "[We did] not have huge audiences, but people every day. [During that time] refugees were living in the theater."
"The theater was underground. Can you imagine kids being trapped there? We wanted to offer activities so we screened special programs for kids, and that was how our youth program was founded," she said.
Opening a new theater on the other side of Beirut in 2008, Metropolis partnered with Empire, a commercial cinema chain.
"We were in charge of the programming and [they] managed it. In return, they got the box office [earnings]," Mroue explained. "They [Empire] have been complaining over the past few months that we are not bringing in enough through admissions. But they always said this. We found out they had to pay some money [for the building]. … They decided to shut down the cinema and leave instead. We were just told, 'FYI, we are leaving.'"
While Mroue said that working with a commercial organization had its benefits, she noted, "We were exhausted. … It was this capitalistic system where your employer will never be happy. … At the same time, we knew they did not really care about what we were doing [artistically]."
Mroue said that funding from foreign grants has also decreased, adding, "If we had kept the box office [to fund our programs], we would be rich."
The method of relying exclusively on the box office as the sole income is employed by Metro al-Madina, a cabaret and theater company located in Metropolis' old location, in Beirut's busy Hamra Street.
"[Our budget is] purely from ticket sales. From the day it opened to today we have not taken any funding," Lara Nohra, head of communications at Metro al-Madina, told Al-Monitor.
Hosting musicals, dance performances and plays, Metro is also home to some of the country's most scathing political satires.
"When you are independent [financially] you are also independent in what you can write, and in so many ways we wanted the space to be free [of economic restraints]," Nohra said.
However, this independence comes at a cost. "The past year and a half we noticed from ticket sales that things were not going well. … It's not a priority [for people] and I understand that," she said.
When protests broke out on Oct. 17, 2019, Metro closed for a month in solidarity. However, when they reopened they were faced with a dire balance sheet.
"[Closing] was an option. We didn't have any income, no salaries nothing," Nohra said. "But we all need Metro, everyone around us was against the idea of closing because it is a space that keeps us alive. There is life there."
Instead, Metro moved to a pay-what-you-can system, working with their patrons to ensure their independence. "If we close, we close. We cannot fight the situation forever. But I can say we tried," Nohra said.
While Metro prioritized its independence over everything else, other organizations have chosen a different route.
The Lebanese contemporary dance company Maqamat, while accepting funding from philanthropists and grants, is also one of the few art organizations to work with the Ministry of Culture.
"Our relationship with the ministry went through different stages," Omar Rajeh, founder and artistic director, told Al-Monitor. "I wanted to bring the ministry into what we did."
Rajeh said he only ever got a token amount of money for printing and transport from the ministry, despite the steady decline in other means of funding.
Creating Maqamat in 2002, Rajeh did not just want to bring contemporary dance to Lebanon, he wanted to build a strong and unified art and culture community. He believed that working with the ministry would achieve this.
While he spoke highly of former ministers as being committed to the arts, Rajeh said things have deteriorated. "[Recently] ministers were coming in with no knowledge on culture — it collapsed. I would go to meetings and I feel they are bored by what I am saying, or they look at me with pity," Rajeh said, adding, "You need a culture ministry, you need a plan, real committees. … [Currently] it is just their friends coming in."
The Ministry of Culture, which had a budget of 50 billion Lebanese pounds ($33 million) in 2019, has been combined with the Ministry of Agriculture under Abbas Mortada, a municipality politician and petrol station owner, in the new Lebanese government.
However, it was the closure in August 2019 of Maqamat's performance space, the Citerne Beirut, after hosting the BIPOD dance festival that made Rajeh realize that the government was not going to assist the arts.
The Citerne needed a permit renewal from the Beirut governorate, which was abruptly denied without a clear reason. "We are [not] building a tower and selling each room for $3 million. It is a cultural space. … They are anti-culture — that is all I can say," Rajeh said.
The short notice from the governorate saw the building close before an alternative could be found, losing the performance space.
This experience has colored Rajeh's previous interactions with the government. "[They give out grants] but it's a secret. It happens behind closed doors and they divide the money," Rajeh said. "It is not much money, but we could have created a revolution in culture with it. But they don't want that."
Rajeh said he was leaving for France because he was not sure that he could bring about any change in Lebanon. "Of course, they won't listen to me. They won't think about culture. … They are destroying people's lives and families and forcing thousands to leave the country humiliated and they don't care. You think they care if a theater closes down?"
Despite this, Maqamat will continue. It is planning to hold BIPOD again in 2020, focusing on local artists and relying on the box office for funding, like other organizations turning inward to their community for support.
"I don't think anyone has a clear solution how [the art sector] can operate in the future. But everyone is convinced we need to work together and we need to work differently. Once we get to the bottom, we will come back again. Maybe some institutions will not survive. … We know we have a few years ahead that will be very difficult," Mroue concluded.
Art heist at Kelowna gallery takes four minutes – Vancouver Sun
The stolen sculptures included bronze, stone, and glass pieces. Altogether, the pieces weighed more than 300 pounds.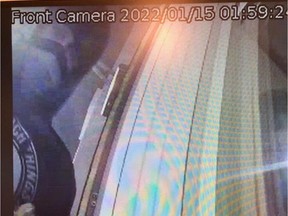 Article content
KELOWNA — Art thieves were in and out of a Kelowna gallery in four minutes early Saturday morning, stealing 11 sculptures worth almost $70,000.
Article content
Two masked men broke into Gallery 421 in the South Pandosy business district, triggering an alarm at 1:58 a.m. They fled at 2:02 a.m., according to a surveillance camera.
"It was most definitely targeted. They knew exactly what pieces they wanted to steal," gallery co-owner Kelly Hanna said Monday. "They were fast, but their movements were deliberate. It wasn't helter-skelter."
The stolen sculptures included bronze, stone, and glass pieces. Altogether, the pieces weighed more than 135 kilograms.
"We're going to put the word out to other galleries, pawnshops, and art houses about what was stolen," Hanna said. It's most likely the thieves will try to sell the pieces outside of Kelowna, either in Vancouver or the U.S., she said.
Article content
One thief was 5-foot-10, medium build, and wore a grey hoodie. The other was 5-foot-6, also of medium build, and was wearing blue pants with white runners.
The stolen pieces included works by artists Vilem Zach, Michael Hermesh, Vance Theoreet, and Jeff Holmwood.
Hanna and co-owner Ken Moen are offering a $1,000 reward to anyone providing information with police that leads to an arrest.
Hanna and Moen bought the gallery, which opened in 2001, two years ago. Hanna said there have been smash-and-grabs of items such as computer equipment before, but never thefts of works of art.
---
More news, fewer ads, faster load time: Get unlimited, ad-lite access to The Vancouver Sun, the Province, National Post and 13 other Canadian news sites for just $14/month or $140/year. Subscribe now through The Vancouver Sun or The Province.
Can New Technology Bring Authentic And Transparent Trust To The Art World? Like VIN Numbers For Art-Works. – Forbes
In 1987, I was lucky enough to attend the auction of Vincent Van Gogh's Vase With Fifteen Sunflowers at Christie's in London. At the time, the sale price of $39.7 million was staggering. Inflation- adjusted, that's $127 million today. Two years later, in 1989, the Dallas Cowboys were sold for $140 million. In November 2017, Leonardo Da Vinci's, Salvator Mundi, was sold for over $450 million. The prestige associated with rare assets (Forbes estimates that the Dallas Cowboys are now valued at over $5.7 billion) has a lot to do with the market value of uncommonly traded assets. Still, authenticating the origin and history of a sports team is easy. But to do the same thing for expensive artworks has always been incredibly difficult.
The art market has seen extraordinary growth in its size and the value of its assets over the past 25 years and longer. Living artists are now able to sell their artworks at significant values at market entry – what are called primary market sales – during their lifetime and to see significant rises in the value of their art including in the secondary market. This is a relatively new experience for the market. History's old masters and more modern artists never got to experience these trends during their lifetimes. Art market auction sales tipped $50 billion in 2021, and the unofficial private sector of the market is probably another $50 billion. Think about a $100 billion annual sales industry, that is based on trillions of dollars of assets, that all need to be authenticated, secured and monitored for many different purposes ranging from insurance to sales values and other market opportunities.
Our guest for today's podcast is Lawrence Shindell, he is the Chairman, President and CEO of LMI Group International, Inc., headquartered in New York. LMI Group is a strategic investment bank-like firm that represents artwork owners and investors in the authentication underwriting and market release of major orphaned artworks – artworks that the data strongly indicate are by blue-chip artists and have expected market values between $15,000,000 and $200,000,000. A trial lawyer by background, Mr. Shindell holds licenses in a number of U.S. jurisdictions including admission to the Bar of the Supreme Court of the United States. Before founding LMI Group in early 2018, Mr. Shindell served as the Chief Executive Officer of a regulated U.S. title insurance company catering to the international art industry.
His insights about the art market and its needs and trends over the next decade – ranging from technologies to solve the challenges of art object identification and authenticity to NFTs – provide a glimpse into a very complex industry sector. It is often said that the world's art serves as the tree rings of society. Advances in technologies can bring efficiency to this market sector just as technology has brought efficiency to other markets, and can give us a sense of comfort about the integrity of these high value assets as we visit art museums, collect art, invest in art, or engage in and around art in many other ways.
Artwork, both old and new, and both digital and physical, make up a huge market that offers cultural engagement as well as incredible economic upsides for investors who invest in art. Improvements in four areas can change the level of comfort for investors.
Anti-money laundering – legislation that is increasingly offering transparency but also putting pressure on market actors to verify source of funds, and seller and purchaser legal status and identity, whether for purchasing or selling art or using art as collateral for loans, for example.
The advent of the blockchain and more recently NFTs are revolutionizing the ways in which we link irrefutable identifying references to physical and digital art, as these assets journey through the market via purchases, gifts, sales, exhibitions and events of condition-conservation among other events, and in the case of NFTs, especially as a medium in which to create art in the first instance, as a means to create verifiable fractional and complete ownership interests.
Different technologies will separately allow us to imprint identifications on existing, secondary market physical works that can distinguish these objects from copies and also enable a conclusive linking of the information around the object captured via the blockchain to the exact physical object.
Advances in artificial intelligence and machine learning science and technologies that can aide traditional measures to appraise and verify art in complement with these other technologies.
The idea of reliable object identification is nothing new. We use VIN numbers for automobiles and CUSIP numbers for the securities industry. And we use DNA markers to authenticate the origin and history of, for example, cloning material.
Hollywood has been using tales of the historical art world for decades, the most known example is perhaps the 1999 version of The Thomas Crown Affair, starring Pierce Brosnan and Rene Russo in the lead roles. While interests and tastes in the art world have evolved from old masters to modernists to an expansive contemporary art market today, the art market as a whole shows no signs of slowing down.
We can expect to see continued rapid growth including with the introduction of NFTs and factional ownership options. Each of the issues just highlighted are central to LMI Group and its specialization in authenticating to conclusive factual standards culturally and historically important works of art that have been lost to history but can reliably be reintroduced to the cultural sector, and in applying its expertise to cultural heritage initiatives that involve complex authentication of historical objects and information.
LMI Group is at the forefront of advances that are designed to enable objective, data-based analyses and decision-making in the art and cultural heritage sector.
Artists Invited To Enter Artwork In Florida Strawberry Festival Fine Art Show – Osprey Observer
A call to artists has been issued by the East Hillsborough Art Guild (EHAG) for the 2022 Florida Strawberry Festival Fine Art Show, which runs from Thursday, March 3 through Sunday, March 13 at the Festival Grounds in Plant City. The show will be held in the Milton E. Hull Building.
Adults are divided into professional groups (entry fee is $15) and amateur groups (entry fee is $12). Adults can enter oils, acrylics, watercolors, graphic/mixed media and sculptures. The entry fee for miniature art (2D media) and sculptures (3D art) is $12.
The youth divisions are by ages. Youth can enter oils, acrylics, watercolors, graphic/mixed media and sculptures. The entry fee is $5.
Adults can enter up to four entries, but no more than two in the same division. Youth can enter up to two entries.
Entries are eligible for substantial monetary awards. This includes $100 for the Strawberry Theme Award (an entry must include strawberries or reflect the current festival theme of '#1 for FUN!'). There is also $300 for Best of Show.
There are prizes for first ($150) and second ($100) place in all adult and youth divisions. Adult amateurs, miniature and sculpture entries receive $100 for first place and $75 for second. Adults who receive third and fourth place receive rosette ribbons.
For youth, first place receives $25 and second place receives $15. Entries who win third and fourth place receive a rosette ribbon. All youth participants receive participation ribbons.
Artists who do not win one of the above prizes are eligible for a Business Leaders Choice Award. Area residents can also become sponsors for the In Honor Award and select a winning artist who will receive a ribbon and $50.
Space is limited and entries are accepted on a first-come, first-serve basis. Early entries are accepted until Friday, February 11. Artists can mail their entry form and fee to East Hillsborough Art Guild, P.O. Box 3055, Plant City, FL 33564. Artwork must be brought to the Festival Grounds on Saturday, February 19 from 12 Noon-6 p.m.
Chairperson Karen Crumley said, "Our entry day was moved to Saturday to allow easier access to more working people or parents with school age children."
Entry forms and rules can be found at www.flstrawberryfestival.com. If you have questions, please email Crumley at kscrumley@yahoo.com or call 924-3829.