Dart: Mission to smack Dimorphos asteroid set for launch – BBC News
A spacecraft is set to launch and test technology that may one day be needed to tip a dangerous asteroid off course.
Nasa's Dart mission will evaluate a longstanding proposal for neutralising a sizeable space rock headed for Earth.
The spacecraft will crash into an object called Dimorphos to see how much its speed and path can be altered.
If a chunk of cosmic debris measuring a few hundred metres across were to collide with our planet, it could unleash continent-wide devastation.
It's the first attempt to deflect an asteroid for the purpose of learning how to protect Earth, though this particular asteroid presents no threat.
"Dart will only be changing the period of the orbit of Dimorphos by a tiny amount. And really that's all that's needed in the event that an asteroid is discovered well ahead of time," said Kelly Fast, from Nasa's planetary defense coordination office,
At 06:20 GMT on Wednesday, a Falcon 9 rocket carrying the Dart spacecraft will blast off from Vandenberg Space Force Base in California.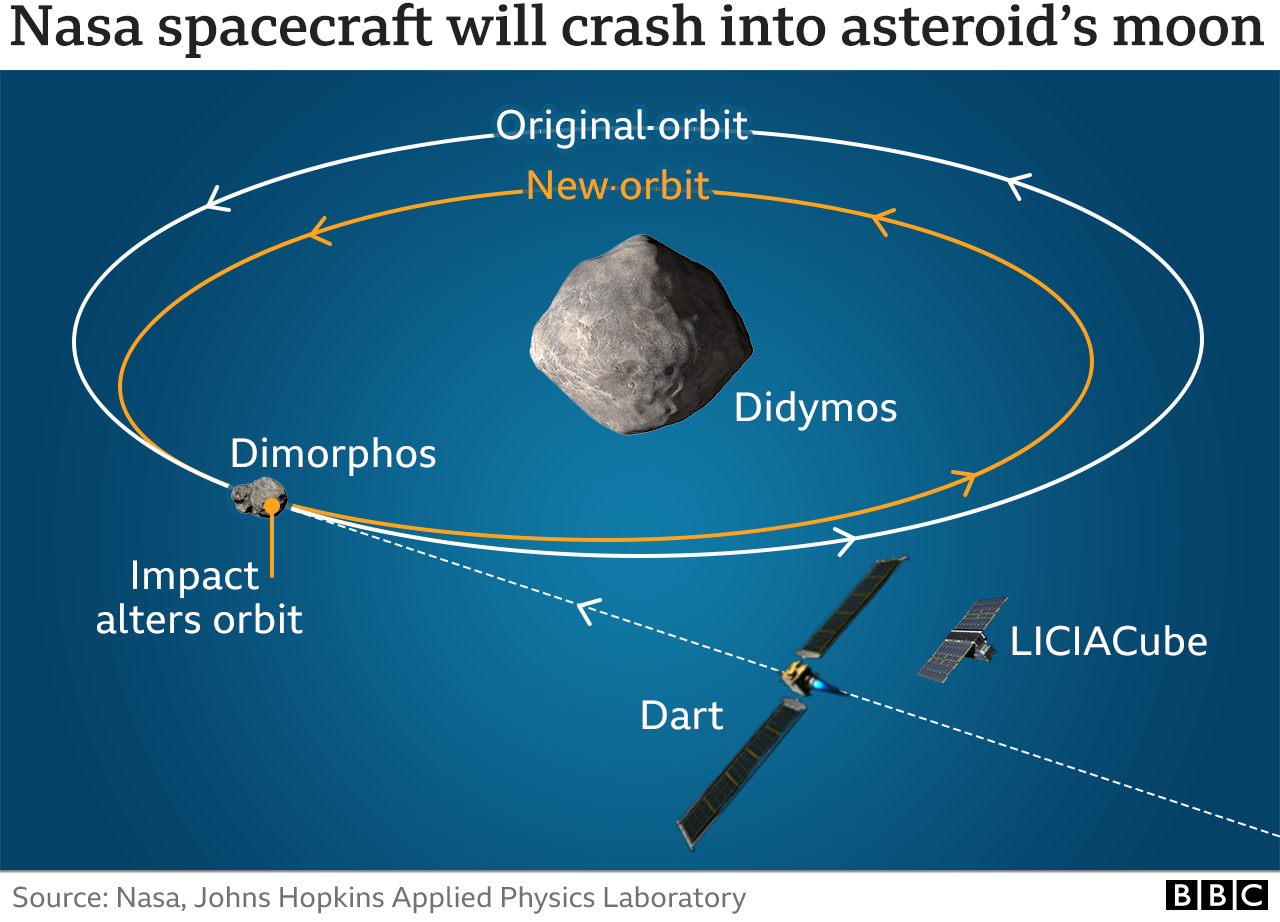 Asteroids are the left-over building blocks of the Solar System, with most posing no threat to our planet. But when a space rock's path around the Sun crosses that of Earth so that the two objects intersect at the same time, a collision may occur.
The $325m (£240m) Dart mission will target a pair of asteroids that closely orbit each other – known as a binary. The larger of the two objects, called Didymos, measures around 780m across, while its smaller companion – Dimorphos – is around 160m wide.
Objects of Dimorphos' size could explode with many times the energy of a typical nuclear bomb, devastating populated areas and causing tens of thousands of casualties. Asteroids with a diameter 300m and larger could cause continent-wide destruction, while those bigger than 1km would produce worldwide effects.
After Dart launches, it will first escape the Earth's gravity, following its own orbit around the Sun. It will then intercept the binary as it approaches within 6.7 million miles of Earth in September 2022.
Dart will smash into the "moonlet" Dimorphos at a speed of around 15,000mph (6.6 km/s). This should change the speed of the object by a fraction of a millimetre per second – in turn altering its orbit around Didymos. It's a very small shift, but it could be just enough to knock an object off a collision course with Earth.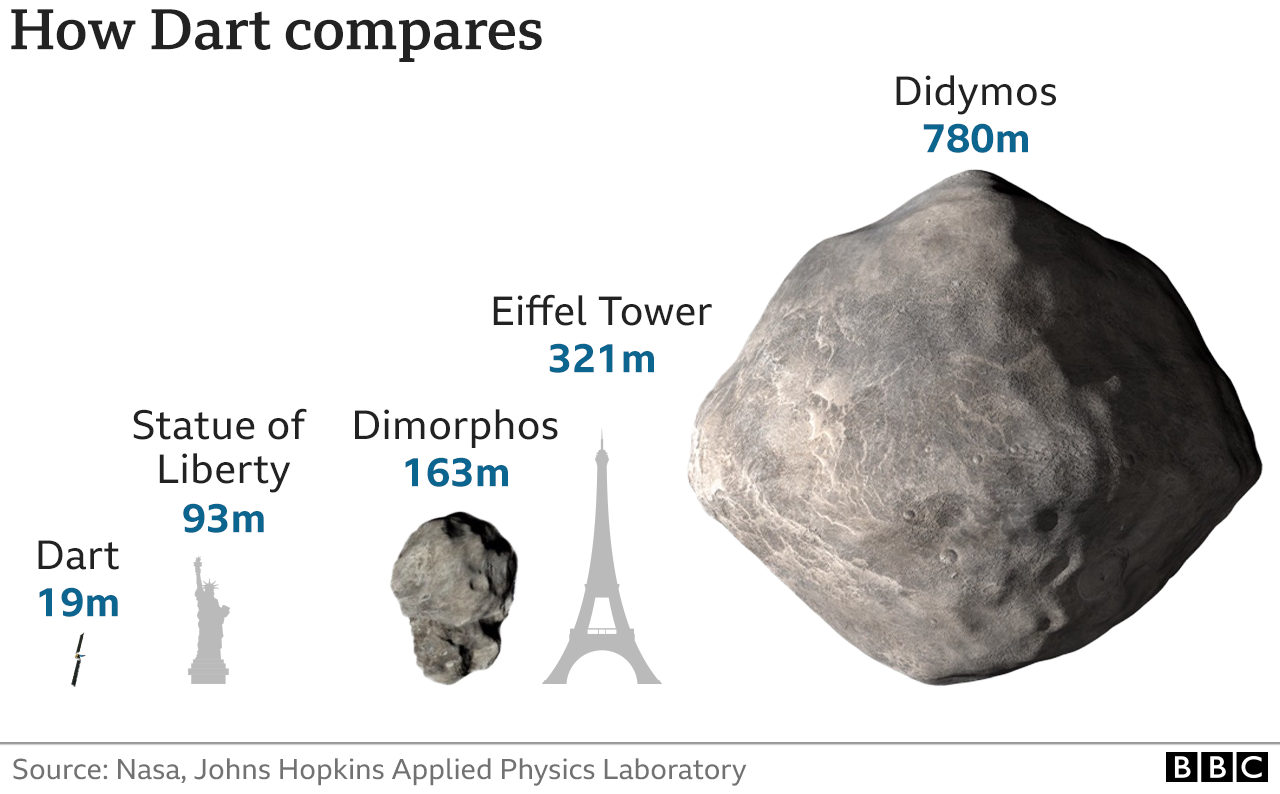 "There are a lot more small asteroids than there are large ones and so the most likely asteroid threat we ever have to face – if we ever have to face one – is probably going to be from an asteroid around this size," said Tom Statler, the mission's program scientist at Nasa.
In 2005, Congress directed Nasa to discover and track 90% of near-Earth asteroids larger than 140m (460ft). No known asteroids in this category pose an immediate threat to Earth, but only an estimated 40% of those objects have actually been found.
Dart is carrying a camera called Draco that will provide images of both asteroids and help the spacecraft point itself in the correct direction to collide with Dimorphos.
About 10 days before Dart hits its target, the American spacecraft will deploy a small, Italian-built satellite called LiciaCube. The smaller craft will send back images of the impact, the plume of debris kicked up and the resulting crater.
The tiny change in Dimorphos' path around Didymos will be measured by telescopes on Earth. Tom Statler commented: "What we really want to know is: did we really deflect the asteroid and how efficiently did we do it?"
A binary is the perfect natural laboratory for such a test. The impact should change Dimorphos' orbit around Didymos by roughly 1%, a change that can be detected by ground telescopes in weeks or months.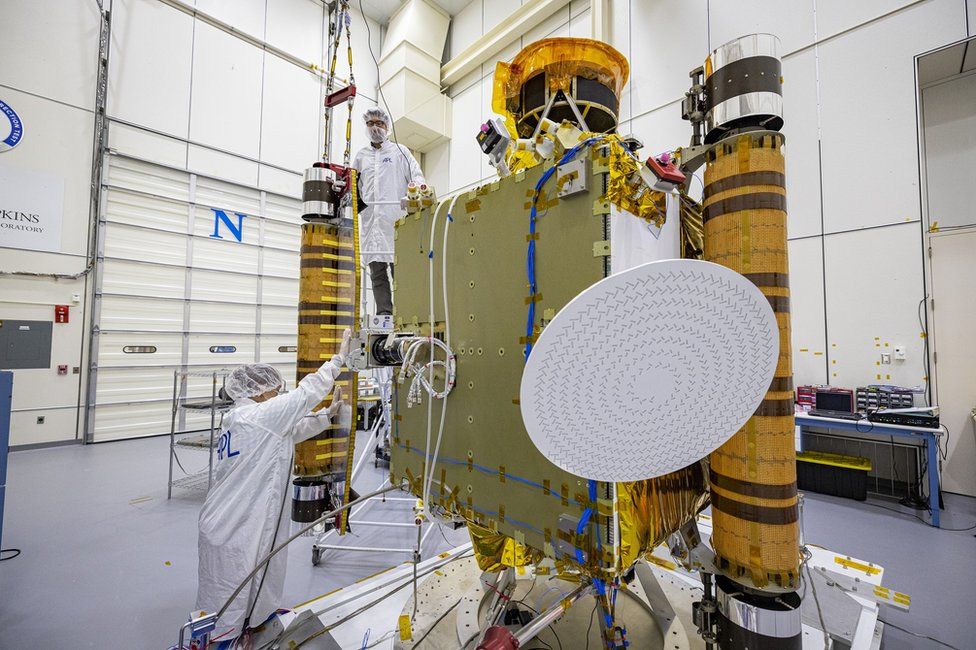 However, if Dart were to slam into a lone asteroid, its orbital period around the Sun would change by about 0.000006%, which would take many years to measure.
The binary is so small that, to even the most powerful telescopes, it appears as a single point of light. However, Dimorphos blocks some of Didymos' reflected light as it passes in front, while the opposite occurs when the smaller object moves behind its bigger companion.
"We can measure the frequency of those dimmings," explained Dart's investigation lead Andy Rivkin, adding: "That's how we know that Dimorphos goes around Didymos with a period of 11 hours, 55 minutes."
After the impact, astronomers will take those measurements again. "They'll happen a little bit more frequently – maybe it'll be two every 11 hours 45 minutes, maybe it'll be 11 hours, 20 minutes," said Dr Rivkin, who is based at Johns Hopkins University Applied Physics Laboratory (JHUAPL) in Laurel, Maryland.
He said there was a degree of uncertainty over how Dimorphos would respond to the impact, in part because its interior structure wasn't known. If Dimorphos is relatively solid inside, rather than full of spaces, it might produce lots of debris – which would give the object an extra push.
Dart's method for dealing with a hazardous asteroid is known as the kinetic impactor technique. However, there are other ideas, including moving the asteroid more slowly over time and even detonating a nuclear bomb – an option familiar from Hollywood movies such as Armageddon and Deep Impact.
Chinese rover investigates 'cube' on far side of the moon – CBC News
A photograph of a cube-like object captured by a Chinese rover on the far side of the moon has fanned speculation over what it could be.
The Yutu-2 caught an image of what seems like a large cubic object on the horizon about 80 metres from its location, said Our Space, a Chinese government science website, citing the rover's last log on Dec. 3.
The solar-powered Yutu, or "Jade Rabbit" in Chinese, will cover the distance of 80 metres in two to three lunar days, according to Our Space, or two to three Earth months. The robotic rover has been operating in the Von Karman Crater in the South Pole-Aitken Basin since its deployment in January 2019.
The mission was a historic first, with no other nation having landed on the far side of the moon until then. With the moon tidally locked to Earth — rotating at the same speed as it orbits our planet — most of its "dark side" is never visible to those on Earth.
Comet Leonard will be visible this December before vanishing forever – CTV News
There is a new comet in town, and December is your only chance to see it before disappears forever. Astronomers say that Comet Leonard is our best and brightest comet to see in 2021.
The comet was first discovered in January by astronomer Greg Leonard. The celestial object has likely spent the last 35,000 years traveling toward the sun, according to Sky & Telescope, and once it makes a close pass of our star on January 3, we won't be seeing the comet again.
As the comet nears the sun, it brightens, which is why the weeks leading up to this event make the comet easier to see.
It's also an ultrafast comet, blazing through the inner solar system at 158,084 miles per hour (71 kilometres per second), but it will still appear like a slow-moving object due to its distance from Earth, according to EarthSky.
Comet Leonard will make it closest approach to Earth on December 12, coming within 21 million miles (34 million kilometres) of our planet. Then, it will sweep by Venus on December 18.
The comet will be visible in the skies of both the Northern and Southern hemispheres this month.
It's difficult to predict how well we may be able to see a comet, but you"ll probably need binoculars to spot this one, according to NASA. Keep an eye out for an object that looks like a fuzzy star.
"In the first couple of weeks of December, Comet Leonard can be found in the east before sunrise, passing between Arcturus and the handle of the Big Dipper," the agency shared in a post.
"It approaches the horizon right around the time of its closest approach to Earth, meaning it'll likely be brighter but more challenging to observe. It then switches over to being an evening object after around Dec. 14th, for just a little while after the Sun sets — as it begins its long haul outward from the Sun again, progressively fading in brightness."
As comets near the sun, these giant iceballs begin to shed some of their material, which forms a halo, or coma, around the object.
Dust and gas stream behind comets to form their extremely long tails. Most comets originate from the icy edge of our solar system and only become visible to us as they travel through the inner solar system, where Earth is located, during their long orbits of the sun.
It's possible that Comet Leonard will be visible to skywatchers looking with the naked eye, but if you're worried about missing this once-in-a-lifetime viewing experience, The Virtual Telescope Project will be sharing a livestream from its observatory in Rome.
Hubble Captures Stunning Image of Colliding Gases in 'Running Man' Nebula – Gadgets 360
Hubble Space Telescope has often captured stunning images of mysterious events in space. It has allowed astronomers to widen their research and uncover new details. Recently, the telescope was trying to understand how young stars influenced their environment and it witnessed a shock wave of colliding luminous gases in the 'Running Man' Nebula. The image of the Herbig-Haro object, known as HH 45, showed clouds of gas and dust glow. Herbig-Haro is a type of nebula that forms when gas from a newborn star collides with dust around it at huge speeds and produces shock waves.
Herbig-Haro objects are rarely seen. This object is located in the nebula NGC 1977, also called the Running Man Nebula, which is a complex structure of three nebulae in the Great Orion Nebula, about 5,000 light-years from the Earth.
The Running Man Nebula is a reflection nebula, meaning it does not emit light on its own but reflects light from nearby stars "like a streetlight illuminating fog," according to NASA. Hubble was looking at this region for "stellar jets and planet-forming disks around young stars." It was trying to examine how their environment affects the evolution of such disks.
The Hubble image showed two sets of ionised gases glowing in blue and purple colours. While blue indicated ionised oxygen, purple represented ionised magnesium. "Researchers were particularly interested in these elements because they could be used to identify shocks and ionisation fronts," the NASA statement read.
This image was not a bad capture for an observatory that was waking up after a technical problem and went into "safe mode" in October. Hubble, a joint project by NASA and ESA, was last serviced in person in 2009 and has not been visited by astronauts since 2011.
NASA is set to launch the more powerful James Webb telescope in December as a "successor" to the Hubble Space Telescope. Citing the differences between the both, NASA has stated that their capabilities weren't identical. One of the differences NASA pointed out was that while James Webb telescope will study the universe largely in infrared, Hubble had been focusing on optical and ultraviolet wavelengths.
---