De-platforming Donald Trump: One of CNN's top 10 media stories of 2021 – CNN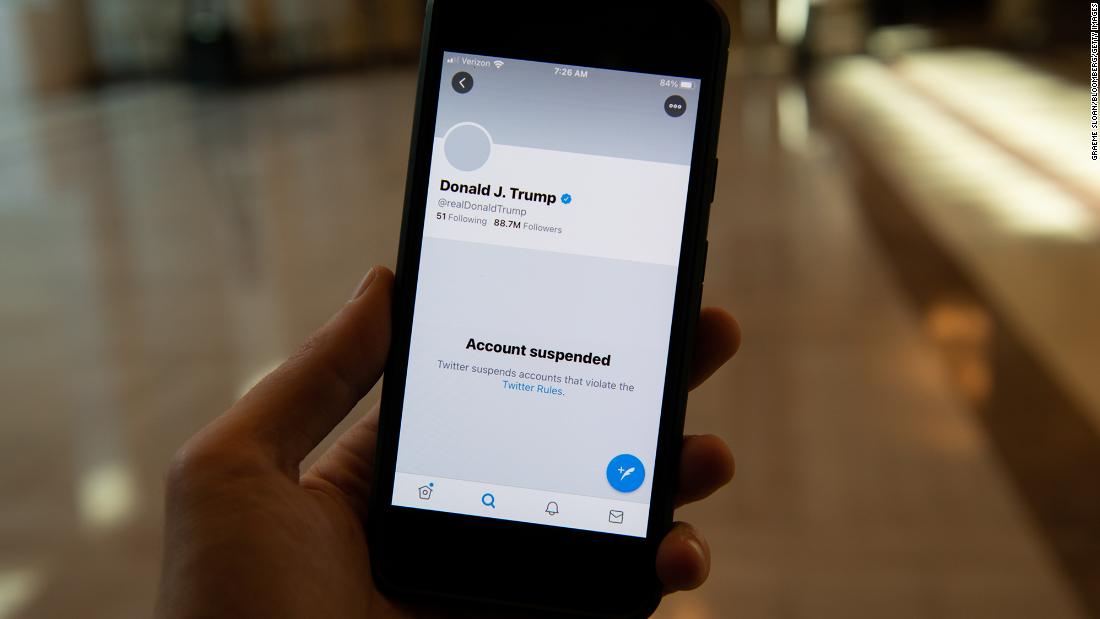 New York (CNN Business)I began 2021 by writing that "we're going to need a bigger homepage." And I'm finishing the year feeling the same way. The sheer amount of news and the absolute inundation of information means we are all overwhelmed by choice. We have to choose carefully, but that means very different things to different people.
Chartbeat's
list
of the year's "most engaging stories" is a window into what we chose in 2021. More than 30 of the 110 headlines are about Donald Trump or members of his family. Only 8 of the headlines are about President Biden, and most of those also involve Trump.
The No. 1 story was Amy Gardner's January 3 scoop for the Washington Post with the audio of Trump's hour-long call with Brad Raffensperger. The call was a key part of Trump's coup attempt.
"Four more of the top 10 were related to the Jan. 6 insurrection," Poynter's Rick Edmonds
pointed out
. "The highest-ranking story about President Biden and his return-to-normalcy administration ranked 52nd."
"Covid-19 did not match the level of interest Trump generated but was represented" on the list, Edmonds added. "Second on Chartbeat's list was a story, revised through the year by Stat infectious disease reporter Helen Branswell, comparing the three main vaccines." Stories about Gabby Petito, the "Rust" shooting, and several killing sprees also ranked highly. But if I had to isolate one theme, it's that the aftermath of the Trump presidency dominated during Biden's first year.
Since it's year-in-review time, what were the top 10 media stories of 2021? What qualifies as a media story, exactly? Here's my imperfect shot at a list:
President Biden restored daily press briefings and other norms, though he was far less accessible than many reporters wanted. His first year in office was misshaped and reshaped by Covid-19. Outside the United States, his administration pledged support for pro-democracy media.
Trump was out of office but not out of sight. He, his family members and allies dominated right-wing media. Lara Trump and Kayleigh McEnany joined Fox. Other boosters competed for time on Newsmax and OAN. Fox remained the beating heart of GOP media, with Newsmax far behind in the TV ratings. The death of Rush Limbaugh prompted a conservative media radio war. Tech startups sought to harness far-right energy but with limited success. Trump said he would launch a massive media platform, and time will tell if he ever does.
All of the cable news channels made post-election schedule changes. Brianna Keilar moved to CNN's morning show. Greg Gutfeld gained a late-night hour on Fox. Lou Dobbs was ousted at Fox Business. Juan Williams left "The Five." Chris Cuomo was fired by CNN. Brian Williams left MSNBC. Rachel Maddow renewed with NBC, but will leave her daily show in early 2022. Chris Wallace leaped from Fox to CNN+, which will launch in early 2022.
— ABC's "World News Tonight with David Muir" was the most-watched daily newscast in the US, with an average of 8.2 million viewers season to date.
— Fox's "Tucker Carlson Tonight" was the biggest show on cable news, with an average of 3.2 million viewers.
— According to Amazon, the year's best-selling new book was "American Marxism" by Mark Levin.
— CNN ranked as the #1 digital news destination, according to ComScore.
— Puerto Rican Reggaeton star Bad Bunny was the most-streamed artist in the world on Spotify.
— The best-grossing movie domestically was "Spider-Man: No Way Home."
Buyer Be Careful In The SPAC/Trump Media Deal – Forbes
Like many special purpose acquisition company (SPAC) deals, the proposed merger of Digital World Acquisition Corp. (DWAC) and the Trump Media and Technology Group is complex, which poses a risk to investors who do not understand SPACs. But this complexity is compounded by the fact that DWAC shares are trading as a meme stock with their own reddit forum, r/DWAC. It is possible, however, to dig into the details of the deal and make some conjectures about the future of the DWAC/Trump Media merger and what that might mean for its stock price movements.
The Deal
In September 2021, DWAC conducted its IPO by selling 30 million units (shares plus warrants) to 11 institutional investors, as well as the founder, at $10 per unit, raising around $300 million. The SPAC is currently trading over $70 per share, so the SPAC is worth more than $2 billion today. For the original IPO investors, the SPAC has been a great deal thus far, earning them at least a 500% return. However, whether it will be a great deal for the investors who bought in after the IPO is questionable.
In October 2021, DWAC announced its merger deal with Trump Media, valuing Trump Media at a minimum of $875 million for a company that is still not operational. Depending on the merged entity's stock price during the three-year period following the merger close, Trump Media shareholders will receive up to 127.5 million shares in the merged entity plus $1.2 billion in working capital. At the current share price, the market is valuing the merged entity at over $10 billion.
In December 2021, DWAC raised an additional $1 billion via a private offering known as a private investment in public entity (PIPE). These PIPE investors have forward agreements to invest $1 billion in convertible preferred shares in the listed Trump Media as part of the merger closing. The number of common shares they can convert to is based on the value-weighted average price (VWAP) over the 10 days after the closing, known as the VWAP period. The lower the VWAP, the more shares allocated.
In its SEC filing for the PIPE offering, DWAC disclosed that it was under investigation by the U.S. Securities and Exchange Commission (SEC). It is illegal for a SPAC to have substantive merger discussions with possible targets prior to their listing and then it is fraud to state otherwise. It has been reported that DWAC and Trump Media discussed the deal prior to their IPO and allegedly lied about it in multiple SEC filings. The SEC investigation into this deal reportedly continues, the latest in a series of reported probes into the Shanghai-based Arc Capital, which was the sole advisor in the creation of DWAC.
Possible DWAC/Trump Media Price Movements
To form conjectures about future price movements, we need to distinguish among three groups of investors: the current investors, the PIPE investors, and the shareholders of Trump Media. The current investors with long positions would like the price to increase as much as possible. Speculators who have short positions, of course, want the price to fall. PIPE shareholders want it to fall during the VWAP period so they will be allocated more shares, and Trump Media shareholders want the price to rise after the merger so they can also be allocated more shares.
Starting with the motivations of the PIPE investors, it is clear that they want the price during this VWAP period to decline to at least to $16.67 to get their maximum share allocation of 100 million shares. The PIPE investors can potentially dump 30 million or more shares on the market during the VWAP period to achieve their goal. Furthermore, the PIPE investors can also short at any price above $33.60 during the VWAP period. Therefore, it seems logical to expect the price to be pushed down during the VWAP period, as close as possible to $16.67.
Clearly, current buyers, including the meme players, expect the merger will get SEC approval and that the listed Trump Media will do well; they also may not understand the motivations of the PIPE investors. Meanwhile, for the current sellers there are two expectations: no SEC approval and an understanding of the PIPE investors. Thus, the current buyers and sellers are playing against each other, generating the current stock price.
To illustrate, let's assume that there is a 50% chance for SEC approval and a share price of $70.00. Some of those who are short selling expect SEC rejection, and therefore have a price expectation of $10.20, the approximate price at which DWAC shares can be redeemed. Those who expect the deal to go through have an implied price target of around $130 because 50% (130.00) plus 50% ($10.20) gives us the share price of $70.00.
There are two factors that are affecting this expected price. First, the meme buyers are irrationally acting as if the probability of SEC rejection is small if not zero, which seems implausible given the evidence. Second, given the limited number of shares to short, there is excess demand from short sellers. According to Bloomberg, DWAC had the highest short borrowing costs of any stock in the fourth quarter, at 86%. These costs put a cap on how much the short sellers can push the price down. All these factors are causing DWAC's current elevated share price, now above $70.
Of course, the price of DWAC will jump if the SEC approves the deal, which would be a good time to sell or short and not the greatest time to buy given the expected actions of the PIPE investors. Informed traders know the motivations of the PIPE investors; therefore, given SEC approval, as the merger closure approaches, we can expect some of these traders to sell their shares if they have not already, and others will short sell, pushing DWAC's price down. If desired, they could buy back during the VWAP period. In addition, immediately after the merger, during the VWAP period, we can expect an increase in share sales and short selling by the PIPE investors.
Post-VWAP period we can expect the shorts to be covered and the stock price to be driven by meme investors, putting upward pressure on the price. However, post-merger, the number of shares available to trade will likely rise from my estimated 15 million shares today to include an additional 45 million shares from the PIPE investors and current institutional investors. Moreover, Trump Media shareholders and the founder will also be able to start selling their shares immediately after the closing if the merged entity's stock price is above $12 for a sustained period, which would add a minimum of another 95 million shares to the market. What remains to be seen is whether there will be enough post-merger demand to soak up all these potential shares.
Which Way from Here
Investors must take into account two critical issues: the possibility that the SEC rejects the deal and the motivation of the PIPE investors, both of which would likely put downward pressure on DWAC's share price. Currently, short sellers are assuming that one or the other of these outcomes will cause the price to fall. The meme players appear to ignore these two possibilities, and hence their continued upward hopes for the stock price. Post-VWAP period, Trump shareholders and buyers of the stock will want to price to climb; but there could be almost ten times the number of shares trading at that time.
Unless investors currently own or are shorting DWAC stock, now is a risky time to buy and an expensive time to short. For those who currently own the stock, it may be wise to sell before the merger, and shares could be bought again post-VWAP period. If you are currently short, hold on to your short as long as possible given the cost of shorting. Whatever the strategy, it's wise with any SPAC merger deal—and especially this one—for investors to know what they're doing and why.
Local teacher removed from board meeting states her case on social media – CambridgeToday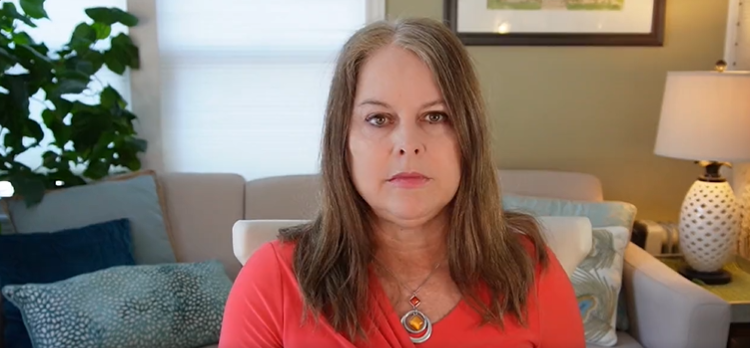 A local teacher is responding on social media after being removed from a Waterloo Region District School Board meeting Monday after accusations of using transphobic language in her presentation.
Teacher Carolyn Burjoski was a delegation to the board and had been presenting her concerns that some books available in school libraries are inappropriate for children.
Burjoski said in the nearly two-minute video on her Twitter page, that she was reading excerpts from children's books and commenting on their age appropriateness when she was halted shortly after she began her presentation and was later ejected from the meeting.
"The following morning, HR informed me that I was immediately assigned to home, pending a formal investigation and banned from contacting my colleagues and students," she said. "This was particularly upsetting to me because I love my students and I have not seen them since December. When my students excitedly returned to school on Tuesday – the first day of in-class learning after yet another lockdown – their teacher was not there, and they did not know why."
Burjoski also gave an interview to the National Post newspaper.
"I am not a transphobic person. It's crazy that just because you ask a question, the first thing people do is call you that," she told the National Post.
Burjoski said she has been 'silenced' and 'punished' after her presentation to the board.
"Meanwhile, board members have taken to radio, television, social media to grossly misrepresent my remarks. I feel bullied, slandered and abused. The school board has removed the video of the meeting from their YouTube channel, so people are not able to hear what I actually said."
Burjoski said that the majority of her remarks was her reading excerpts from two books that are available to any young child who is able to read the few comments that she expressed concerns with about age inappropriate sexual content.
"I did not and do not question the rights of trans persons to exist in any way. I fully support the human rights of transgender people. I have promoted human rights throughout my entire life, and my career has been about valuing every face I look into. This isn't just about me. It's about all of us. Cancel culture needs to stop. We need to recover our ability to listen to each other and to speak with one another with open minds. Respectful dialogue is the core of democracy."
Waterloo Region District School Board Chair Scott Piatkowski said earlier this week that he stands behind the decision to remove Burjoski from the meeting.
"It was unfortunate that it was necessary, but it was necessary," he said, "I'm hearing from school board chairs and other boards that they would not have allowed that either. I'm hearing from past chairs of this board," he added.
The school board issued a statement of its own Thursday, expressing "deep regret for any harm caused to the transgender community."
"As a school board, we are guided by the Ontario Human Rights Code and committed to doing our best so that all students are affirmed in their identity and see themselves reflected in their learning environment," the board said. "The Board is committed to upholding the values and principles set out in Board's Equity and Inclusion Policy 1008 and the Board's Human Rights Policy 1017. The Board is committed to providing a safe, inclusive environment free from inequity, discrimination and harassment."
"The video of the meeting was not posted as the Board was concerned about potential violations to the Code and to the harm that could affect our students, staff and communities in Waterloo Region."
Despite Record Inflation Social Media Is Encouraging Americans To Spend – Forbes
For 2022, one of the greatest concerns Americans are facing could be how record inflation will continue to increase household expenses and eat into wages. The 7 percent increase in the inflation rate over the course of 2021 marked the largest in nearly four decades. Americans saw prices for the basic necessities rise at a dramatic rate in 2021.
While the government's efforts to provide stimulus aid and ultra-low interest rates motivated Americans to spend, supply chain woes resulted in such high demand for goods that prices increased at a record pace. Earlier this month, the U.S. Department of Labor reported that the core inflation rate, which excludes volatile goods such as food and gas, jumped by 5.5 percent in December, the highest in decades.
Yet, U.S. shoppers are continuing to spend – and social media continues to be a major factor on where Americans are taking their business. According to a new survey conducted by Point and OnePoll, more than one in three respondents said they considered social media "very influential" when it comes to their spending habits – with 35 percent of respondents reporting as much, compared to just 12 percent who said social media is "very uninfluential."
The survey also found that more than half Americans – 55 percent – even said that social media had influenced them to go over budget or otherwise spend more money than intended on a particular product. One factor cited was the pressure to "keep up with the Joneses," with 35 percent of respondents agreeing.
It Was The Pandemic
Social media's influence in getting Americans was also amplified by the pandemic. During the lockdowns, and calls to scale back gatherings, Americans actually cut back on spending. However, in 2021 as the country began to settle into the new normal, spending increased – even as the supply chain issues persisted.
"The pandemic changed and continues to evolve consumer shopping habits," explained Mary Schneeberger, senior director of the integrated marketing practice at Avionos, which has also tracked American spending habits in 2021. "Between online, in-person and hybrid shopping, the past two years have proved that retailers will do anything to adapt to their consumers' needs and demands for a seamless shopping experience. In the age of influencers, virtual reality try-ons and live streams, purchasing products through social media is on the rise and is further changing the future of shopping habits."
Social media hasn't just changed the way consumers transact, but also the way they discover new brands and products.
"Social influencers have earned consumers' trust by showcasing their purchases, discussing the quality of the product and giving their opinions to thousands of people on platforms like YouTube, TikTok and Instagram in an entertaining format. Customers are using other customer ratings and reviews to make final purchasing decisions vs. relying solely on brand-published content," said Schneeberger via an email.
The Younger Crowd
Not surprisingly, the Avionos study also found that it has been mostly younger generations who use social media in their shopping decisions.
"Gen Zers (70 percent) and Millennials (68 percent) used social media to purchase and interact with brands more than Gen X (51 percent) and Baby Boomers (33 percent) since these younger users leverage multiple channels to buy products compared to older generations," added Schneeberger.
Gen Zers were also found to spend more time on social media compared to their older counterparts, which further explains why they view social media as a purchase destination compared to older generations.
Yet not everyone is sold on using social media for shopping.
"Of those who have not purchased via a social media platform, 45 percent don't see social media as a destination for purchase and 33 percent don't trust social media apps with my credit card number or other personal information," said Schneeberger. "Additionally, consumers often prefer to complete their purchase on a web browser (16 percent) or want to see a product in-person rather than online before they buy it (15 percent)."
Different Platforms
Avionos found that Facebook, Instagram, and TikTok are used the most to purchase products by young consumers.
"However, 56 percent of Gen Zers purchased an item using a different channel than they originally intended," noted Schneeberger. "Since Gen Zers are more comfortable using digital channels and are more apt to use eCommerce and social platforms to complete purchases, retailers are more likely to tailor to this audience on their preferred social platforms given their heavy influence on evolving consumer behaviors. On the other hand, 45 percent of Millennials and Gen Xers used online platforms to purchase products to pick up in-store or through curbside pickup, so retailers are more likely to engage with them both online and in-store since they prefer to physically see products before they purchase them. This furthers the importance of scaling omni-channel commerce experiences to meet different customers where they want to engage."