Delta variant threat to the global economy means fiscal prudence may take an election back seat – CBC.ca
This week, the world's most influential central banker, U.S. Fed Chair Jerome Powell, called the delta variant a "wild card" for the global economy.
While there are warning signs that the growing impact of this new, more contagious strain may play a role in the upcoming Canadian election, economic observers say that by itself, a slowdown during the campaign may not have the effect it might have had in the past.
As the health of Canadians takes centre stage in the minds of voters, and as parties take turns proposing their own stimulus measures, some say fiscal conservatives may have more trouble rousing voters this time around.
That is not to say economic issues related to the pandemic — such as the cost of housing, a 10-year high for inflation, business shutdowns and the effect of school closings on working parents — won't also become election issues.
Same goals, different methods
A lot of the difference between the federal parties is less in their economic goals — for each, that includes long-term pandemic recovery — than in the details of how they get there, said Michael Smart, a University of Toronto economist and founder of the think-tank Finances of the Nation.
"It's a great time to be a policy nerd," he quipped.
Voters don't always read the policy fine print. And in a global pandemic, it's not only the virus and its variants coming from outside Canada — so too do many of its economic impacts.
A surge in Canadian inflation, caused by the kind of stimulus all the parties are supporting, is hard to separate from the even-higher inflation seen in the U.S., our southern neighbour and biggest trading partner.
The Bank of Canada always insists it sets rates independently, based on the needs of the Canadian economy. But a sudden jump in rates to quell inflation would inevitably affect the loonie, leading to a potentially devastating effect on Canadian exports.
While Canada's high vaccination rate may be helping the country avoid the worst of a delta-driven fourth wave, there are already signs the variant's spread in places such as the U.S. and China is affecting markets and supply lines.
Reports from the U.S. blamed a sharp fall in retail sales on the spreading delta variant there. And the International Energy Agency has warned that a global slowdown caused by the contagious variant will lead to a decline in oil demand — a crucial measure for Canadian exporters.
Productions lags
The Wall Street Journal reported this week that "repercussions from the delta variant of COVID-19 are starting to ripple across companies," from higher staff costs, to lower potato chip production and lower profits.
And production and transportation bottlenecks are showing few signs of easing, leading to higher producer prices and thus higher consumer inflation.
"Public health shocks come from abroad. So do economic shocks," said Smart. "Should Canadians hold politicians responsible for how the economy is performing [right now]? Probably not, to be honest. But will they? I don't know."
One COVID-19-related economic issue that commentators say could well have an impact on how people vote is business shutdowns.
While many small businesses have lobbied against some public health measures that they saw as preventing them from earning a living, a number of small business owners are particularly anxious to avoid new shutdowns at all costs, said Shadi McIsaac, CEO of RBC subsidiary Ownr, which helps new companies register and incorporate.
That may be why a growing number of businesses are now welcoming vaccine mandates and vaccination passports.
"Almost every entrepreneur who lost a customer — and that was upwards of 90 per cent — was still worried about further lockdowns and economic uncertainty that was looming ahead for them," said McIsaac.
Rather than worrying about how the federal government will pay for all the bailouts so far, businesses are still focused on the danger of a fourth wave and whether they can survive it, she said.
"What we heard from business owners is that they are going to be listening very closely on each party's policy and perspective, both from a financial standpoint — so what are the funding and grants that are coming forward to support entrepreneurship and small business community; and what's the sentiment [of each] around further lockdowns."
As Smart explained, there are broadly two considerations for the economy during this election — and both involve more stimulus. One is having a response ready in case the economic recovery falters, whether due to a new variant or some other cause; the other is to recharge the economy once the threat from the virus finally passes.
Sales tax holiday
Whether the stimulus is in new spending, or as the Conservatives have proposed, a sales tax holiday to drive immediate consumer spending, that stimulus will likely end up circulating in the Canadian economy and will pay for itself in higher future tax revenues, said Smart.
David Macdonald, senior economist at the Canadian Centre for Policy Alternatives, agrees that balancing the budget will be a very theoretical consideration in this election.
"I think no matter which party you are, there's no realistic way you're going to get to a zero deficit, probably, in the next three years," said Macdonald.
Beyond retail closures, Macdonald pointed to what could be an even more politically contentious kind of lockdown: Schools, which will open well before voting day on Sept. 20.
Another round of school closures would not just annoy long-suffering parents, he said, but would have an important economic impact, as workers are forced to stay home to supervise kids, many of whom are unvaccinated.
If that happens, he said, the question is where the blame will land for voters.
"I think really the biggest economic issue right now is how we get through the fourth wave," said Macdonald. "How do we support workers and businesses, just the way we've been doing for a year-and-a-half?"
---
Follow Don Pittis on Twitter @don_pittis
Building a resilient economy – UNCTAD
Amidst the hopes of a V-shaped recovery of the Indian economy, the National Statistical Office (NSO) had recently estimated that India's economic growth has surged to 20.1% in the April-June quarter, despite a devastating second wave of COVID-19, while the gross domestic product (GDP) had contracted by 24.4% in the April-June quarter of 2020-21.
Supporting these estimates, in its recently launched Trade and Development Report 2021, UNCTAD has estimated global growth to hit 5.3% in 2021 and growth in India to hit 7.2%.
Growth prospects
According to the report, India showed a strong quarterly growth of 1.9% in the first quarter of 2021, on the back of the momentum of the second half of 2020 and supported by government spending in goods and services.
Meanwhile, a severe and broadly unanticipated second wave of the pandemic hit the country in the second quarter, on top of rising food and general price inflation, forcing widespread lockdowns and drastic consumption and investment adjustments.
Given the inherent fragilities, India's growth in 2021 as a whole is estimated at 7.2%, which is one of the fastest compared to most countries in the analysis, but is still not sufficient to regain the pre-COVID-19 income level.
However, going forward, the economy is likely to experience a deceleration of growth to 6.7% growth in 2022. Beyond that, and even assuming the pandemic is fully under control, the situation is looking increasingly precarious for many emerging economies. To revive and sustain growth, action is needed both at the international and national levels.
The report strongly supports India's proposed temporary suspension of the World Trade Organization TRIPS waiver, which is considered as a necessary step to enable the local manufacture of vaccines in developing countries but is being resisted by some advanced economies.
The need for the waiver increases in the face of the inability of COVAX and C-TAP schemes to mobilize the requisite resources from Northern governments and corporations.
Building resilient growth also requires a global strategy that mitigates the threat of global warming whilst simultaneously addressing the inequities and fragilities of a financialized world.
Given the existing constraints on developing countries, new sources of finance are required, including a significant scaling up of support from the international community in line with its commitment to common but differentiated responsibilities.
A robust public sector
At the national level, efforts are required to build resilience, which can only be delivered through public investment. COVID-19 has reinforced the idea that resilience is a public good and responsibility of the state.
It has to be delivered through a robust public sector with the resources to make the necessary investments, provide the complementary services and coordinate the multiple activities that building resilience involves.
Revisiting a theme that the report, now in its 40th year, has long been promoting, the challenge of mobilizing financial resources for sustained growth is seen as too important to be left solely to market forces.
A financial system that accords a more significant role to public banks, breaks up and guards against the emergence of megabanks, and exercises stronger regulatory oversight is less likely to generate speculative excesses and more likely to deliver a healthier investment climate.
The report also warns against cutting wages to boost competitiveness. Wages are a critical source of demand and their growth can stimulate productivity and underpin a strong social contract.
Minimum wages and related labour legislation are needed for appropriate protection against abusive practices. Policies targeting informality are of particular importance, especially for a country like India with a large informal economy.
It is important to build a healthy, diversified economy. For this, a strong industrial policy focusing on building digital capacities is needed. A resilient economy goes beyond offering a residual category of safety nets designed to stop those left behind from falling further.
---
The article was originally published on The Hindu.
Building Electrification Could Recharge Our Economy – And Save The Climate – Forbes Innovation
It's been a record-setting year for temperature extremes, with a polar vortex hitting Texas in February and heat domes hovering over the country this summer. As climate change worsens, we're facing a dangerous feedback loop: more frequent extreme weather events increase heating and cooling demand, risking more greenhouse gas emissions that worsen the climate crisis.
The budget reconciliation bill Congress is now considering offers a historic opportunity to dramatically reduce emissions from our buildings, while improving home efficiency, cutting bills, and creating hundreds of thousands of new jobs: A true win-win for the economy and the environment.
Electrification—replacing fossil-fueled appliances with efficient electric appliances powered by clean electricity—is the most viable solution to curtail planet-warming emissions and eliminate harmful indoor air pollutants without compromising comfort. Proven technologies like all-electric heat pumps, which provide both heating and cooling, as well as electric dryers and induction stoves are up to four times more efficient than fossil-fueled alternatives, saving consumers money, and are available on the market now.
As we clean our power supply – another critical piece of the budget reconciliation bill, enabled by the proposed $150 billion Clean Electricity Payment Program – we must also rapidly accelerate electric appliance adoption by homes and businesses across the country. That's where smart federal and state policy to drive down costs, transform the market, and quickly scale adoption comes in.
Targeted incentives can help make electric appliances more affordable in the near-term as technology costs fall, and consumer rebates are enormously popular. Updated standards for new appliances and all-electric building codes can also help achieve all-electric building stock by 2050 – when scientists agree we must reach net-zero emissions to protect a livable planet. Workforce training programs can develop the skilled workers needed to build this clean future. And we must prioritize an equitable transition with policies supporting adoption by lower- and fixed-income households and frontline communities.
The problem: fossil fuel-reliant infrastructure
Over a hundred million buildings burn fossil fuels for heating and cooking, contributing 13% of U.S. emissions, and new construction keeps increasing these emissions. Nearly 1.4 million new homes were constructed just last month alone, and more than half of all new homes are built with fossil gas heating or appliances.
Because the average appliance lasts 10 to 15 years and most buildings for at least 50 years, every new appliance or structure burning gas or other fossil fuels locks in higher emissions and costs for decades. Energy Innovation modeling shows electrifying all new buildings by 2025 and all new equipment by 2030 is essential for reaching net-zero by 2050.
Burning fossil fuels in buildings harms our health. Homes with gas stoves can have nitrogen dioxide concentrations 50% to 400% higher than homes with electric stoves, and children living in homes with a gas stove have a 24% to 42% increased risk of developing asthma.
Harvard research shows the health impacts of pollution from burning gas, biomass, and wood in industrial boilers and buildings now surpass the impact of air pollution from dirty coal plants. Commercial and residential buildings in the U.S. are now responsible for approximately 18,300 early deaths and $205 billion in health impacts—one-third of the health burden from stationary source pollution.
Rising energy costs and negative health impacts of fossil-fueled buildings disproportionately burden low-income consumers, communities of color, and frontline communities, making building electrification an essential part of rectifying long-standing environmental justice concerns.
Widespread benefits of electrification
Getting fossil fuels out of buildings is necessary for protecting public health and stabilizing the climate, but it's also an economic powerhouse.
RMI research shows that all-electric new homes reduce homeowner costs and harmful emissions. For example, an all-electric home in New York City creates $6,800 in household savings over 15 years compared to a fossil-fueled home.
Electrification retrofits are also cost-effective. Rewiring America research found 85% of U.S. households would save money on monthly energy bills if they used modern all-electric equipment, and ACEEE analysis shows 27% of U.S. commercial space can be electrified with a payback of less than 10 years, even without rebates. Targeted commercial incentives and appliance standards would increase this percentage. Policies must account for costs associated with electrical upgrades and labor, in addition to the effort needed to facilitate the adoption of newer technologies.
Building or retrofitting every building in the U.S. will require hundreds of thousands of skilled workers and create demand for other clean energy jobs in the utility sector. Building electrification would support a net increase of more than 104,000 jobs just in California, and clean energy workers typically earn higher and more equitable wages compared to the national workforce.
Policy pathways to electrify buildings
But realizing these benefits and ensuring our building stock is fully electrified in the short time we have left to act requires stronger national policies, bolstered by state and local leadership.
The budget reconciliation process underway in Congress is a tremendous opportunity to adopt smart building policies and programs that will yield benefits for millions of Americans now and for decades to come.
For example, the House Energy and Commerce Committee's Build Back Better Act invests $18 billion in home efficiency and electric appliance rebates, including $9 billion for a new High Efficiency Electric Home Rebate Program, modeled after Senator Martin Heinrich's Zero-Emission Homes Act. Rebates up to $10,000 for electric appliances and equipment in single-family homes and multi-family buildings would offset the higher upfront cost of all-electric heat pumps, dryers, and cooktops (faster than the market would on its own) and expedite clean replacement well before 2050.
The proposal wisely carves out $5.5 billion to offer higher incentives for low-income households, for tribes, and for projects located in pollution-burdened communities. The proposal also includes an incentive to cover any needed electrical upgrades and an added incentive for contractors implementing electrification projects. Other provisions offer funding for contractor training programs, which are key to growing a highly-skilled electrification workforce.
Other proposals from the House would expand and improve existing incentive programs, ensuring all homes and buildings are increasingly efficient. Expanded and targeted investment for families and businesses that struggle to afford energy is essential for an equitable transition, particularly in communities with high electricity prices and heating demand. Energy efficiency investments will reduce energy burdens while protecting people from weather extremes.
Beyond the ongoing legislative efforts, the federal government's regulatory authority is a not-to-be-overlooked tool for electrification. The Environmental Protection Agency and Department of Energy can and should adopt next generation appliance emissions and efficiency standards that would cut pollution and offer consumer savings, while stimulating the domestic market for new technologies. For example, an RMI analysis shows that across the U.S., even in cold climates, heat pumps are 2 to nearly 5 times more energy efficient than an Energy Star gas furnace on an annual basis, yet they make up a small fraction of the HVAC market. Strong appliance standards would expedite deployment of clean, efficient heat pumps and other electric appliances, while also phasing out gas appliances more quickly.
Because buildings last for decades, and as new construction growth trends continue unabated, all-electric building codes are another necessary tool in the toolbox. Although every state and local government has the authority to adopt their own building codes, code-setting bodies should work swiftly to adopt more stringent codes that achieve building decarbonization by 2050. We also need a dedicated workforce training program would increase code compliance while preparing a new generation of workers to build the all-electric future.
California just took a major step in the right direction by adopting their 2022 Building Energy Efficiency Standards, which makes electric heat pumps standard for either water or space heating for single-family homes, multifamily and most commercial buildings. The code also requires all-electric readiness for single-family homes to help reduce the costs of future fossil fuel-to-electric appliance conversions. Meanwhile, cities requiring all-electric new construction are leading the way for other cities and states to follow.
Although states and cities are leading, the U.S. still lacks a standardized approach to building codes, which is essential for scaling electrification nationwide. The Assistance for Latest and Zero Building Energy Code proposal included in the Build Back Better Act is a positive step to address this challenge – it would offer $300 million in grants to help states and local governments adopt smart building codes, including zero-energy codes. More federal leadership on building decarbonization and smart energy codes would send a strong market signal and accelerate the transition.
Flip the switch on all-electric buildings for a safe climate and strong economy
The climate crisis is accelerating faster than predicted, with 1 in 3 Americans experiencing a dangerous climate event this year. In light of the recent IPCC report's findings that every fraction of warming threatens greater instability, inaction risks an unlivable future.
Moving quickly to adopt efficient, all-electric technologies, through the enactment of strong policies, codes, and standards, will flip the switch on climate change, cut costs for consumers, protect public health, and grow the economy.
To ensure a livable planet, we must end our reliance on fossil fuels, including in our homes and buildings. But we don't need to sacrifice comfort or performance. With the problem clear and the solutions known, now is the time for Congress to act.
Evergrande: Embattled China property giant sparks economy fears – BBC News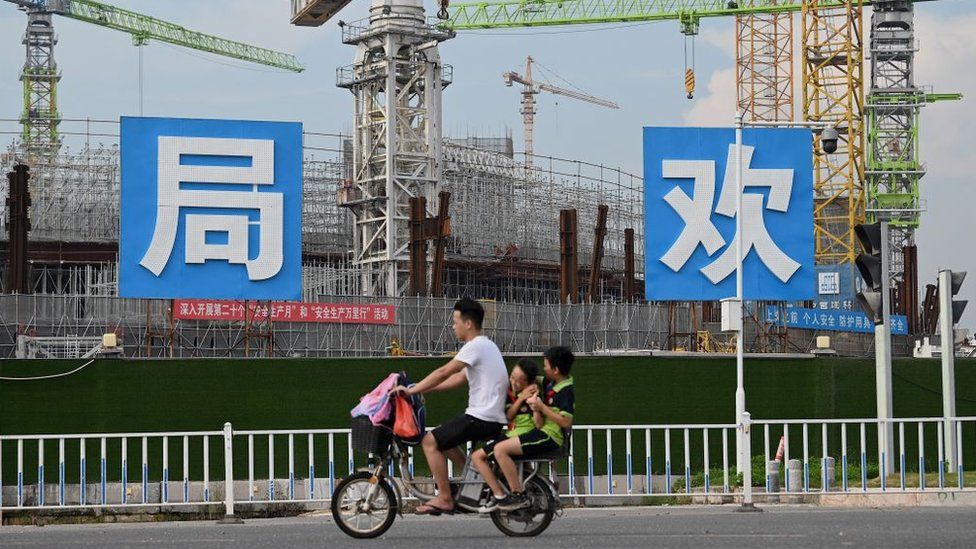 Chinese company Evergrande has started to repay investors in its wealth management business with property, as the world's most indebted real estate developer faces a key test this week.
Major banks have reportedly been told that they won't receive interest payments on loans that are due Monday, while interest payments of $84m (£61m) on the firm's bonds are also due on Thursday.
The company's shares fell by 15% in Hong Kong trade on Monday.
The property giant's deepening debt problems have triggered fears over the impact its potential collapse could have on China's economy.
Why is Evergrande in trouble?
Evergrande grew to be one of China's biggest companies by borrowing more than $300bn (£217bn).
Last year, Beijing brought in new rules to control the amount owed by big real estate developers.
The new measures led Evergrande to offer its properties at major discounts to ensure money was coming in to keep the business afloat.
Now, it is struggling to meet the interest payments on its debts.
This uncertainty has seen Evergrande's share price tumble by around 85% this year. Its bonds have also been downgraded by global credit ratings agencies.
Why would it matter if Evergrande collapses?
There are several reasons why Evergrande's problems are serious.
Firstly, many people bought property from Evergrande even before building work began. They have paid deposits and could potentially lose that money if it goes bust.
There are also the companies that do business with Evergrande. Firms including construction and design firms and materials suppliers are at risk of incurring major losses, which could force them into bankruptcy.
The third is the potential impact on China's financial system.
"The financial fallout would be far reaching. Evergrande reportedly owes money to around 171 domestic banks and 121 other financial firms," the Economist Intelligence Unit's (EIU) Mattie Bekink told the BBC.
If Evergrande defaults, banks and other lenders may be forced to lend less.
This could lead to what is known as a credit crunch, when companies struggle to borrow money at affordable rates.
A credit crunch would be very bad news for the world's second largest economy, because companies that can't borrow find it difficult to grow, and in some cases are unable to continue operating.
This may also unnerve foreign investors, who could see China as a less attractive place to put their money.
Is Evergrande 'too big to fail'?
The very serious potential fallout of such a heavily-indebted company collapsing has led some analysts to suggest that Beijing may step in to rescue it.
The EIU's Mattie Bekink thinks so: "Rather than risk disrupting supply chains and enraging homeowners, we think the government will probably find a way to ensure Evergrande's core business survives."
Others though are not sure.
In a post on China's chat app and social media platform WeChat, the influential editor-in-chief of state-backed Global Times newspaper Hu Xijin said Evergrande should not rely on a government bailout and instead needs to save itself.
This also chimes with Beijing's aim to rein in corporate debt, which means that such a high profile bailout could be seen as setting a bad example.
What does Evergrande do?
Businessman Hui Ka Yan founded Evergrande, formerly known as the Hengda Group, in 1996 in Guangzhou, southern China.
Evergrande Real Estate currently owns more than 1,300 projects in more than 280 cities across China.
The broader Evergrande Group now encompasses far more than just real estate development.
Its businesses range from wealth management, making electric cars and food and drink manufacturing. It even owns one of country's biggest football teams – Guangzhou FC.
Mr Hui has a personal fortune of around $10.6bn, according to Forbes.
Reporting by Peter Hoskins and Katie Silver

You may also be interested in: