Dentists, teachers disappointed they won't be prioritized for vaccine in B.C. – BarrieToday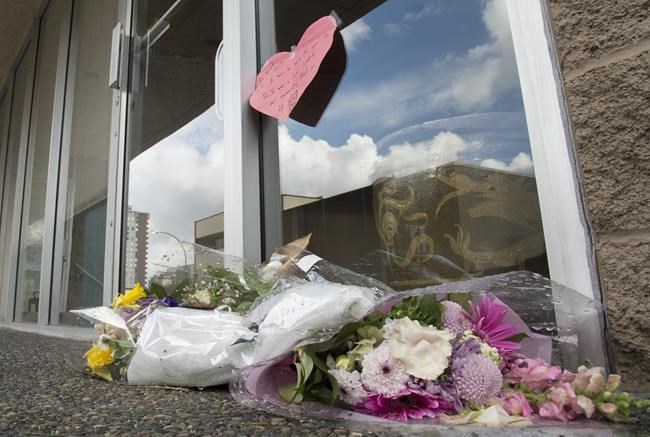 VANCOUVER — Dentists, bus drivers and teachers are among the essential workers who are disappointed they won't be given priority to receive the COVID-19 vaccine in British Columbia.
B.C. rolled out its vaccination plan on Friday, revealing that after the most vulnerable groups have been immunized, shots will be given out according to age, with the oldest residents first in line.
That means many people who have not been able to work from home during the pandemic, including grocery store workers, police officers and mail carriers, will have to wait to get the vaccine along with others in their age group.
The British Columbia Dental Association has written a letter to Premier John Horgan strongly urging him to include dentists in Stage 2 of the vaccination plan, alongside family doctors and medical specialists.
"Dentistry is an essential service. More importantly, dental care, including aerosol-generating dental procedures, are provided to patients who cannot wear a mask during treatment," said association president Dr. Anthony Nadolski in the letter.
"B.C. dentists continue to do everything they can to ensure dental offices are safe for patients and staff. Early access to vaccines will ensure continued access to urgent and emergency dental care."
Other agencies such as the American Centers for Disease Control and Prevention have included dentists and dental workers in Stage 2 along with doctors and specialists not directly involved in providing care to COVID-19 patients, Nadolski added.
More recently, Ontario included dentistry in its second stage because dentists generally provide in-person care and many dental procedures are urgent and cannot be delayed, he said.
The B.C. Ministry of Health did not immediately respond to a request for comment on Sunday.
The province initially suggested that people delivering essential services such as teachers, grocery store workers and those in law enforcement could be prioritized to get the vaccine.
But when the finalized plan was released on Friday, Provincial Health Officer Dr. Bonnie Henry said scientific evidence supports an age-based approach because older populations are at much higher risk of infection and death from COVID-19.
Currently, hospital workers, Indigenous communities and long-term care home residents, staff and essential visitors are among those being vaccinated in Stage 1 of the plan.
Stage 2 will begin in February and include people 80 and over, Indigenous seniors over 65, general practitioners and medical specialists.
In April, the province will start vaccinating the general public according to five-year age groupings, starting with seniors aged 75 to 79 before moving on to those aged 70 to 74 and so on.
However, Henry added that the approval of more vaccines may mean the province's plan could be revised to vaccinate essential workers between April and June.
Metro Vancouver bus drivers are "very disappointed" they will not be prioritized while they risk their lives to provide transportation to the public, said Balbir Mann, president of Unifor Local 111.
The union is calling on the provincial government to immediately change the plan and include transit operators in Stage 2.
"We're basically frontline workers, taking people to work and grocery shopping. Our members are real heroes," said Mann. "They're putting their lives in front of this to help out the general public."
Teachers are also disappointed there is no prioritization for front-line workers who have kept schools, public services and the economy open, said B.C. Teachers Federation President Teri Mooring.
"However, the vaccine supply limit is beyond our control and those among us who are most vulnerable of death and serious illness must be vaccinated first," she said in a statement.
Hopefully more vaccines are approved and the immunization strategy will be appropriately adjusted and accelerated, she said.
Mooring added if teachers are not prioritized for vaccines, the government must take immediate action to improve safety measures in schools, including mandatory masks, better physical distancing and ventilation upgrades.
"There is no denying that teachers are stressed, anxious and even afraid. We do not have the layers of protection in our schools that exist in other environments."
This report by The Canadian Press was first published Jan. 24, 2021.
Laura Dhillon Kane, The Canadian Press
Northern Health to open 30 COVID vaccine clinics for oldest residents, Indigenous seniors – Caledonia Courier
Northern Health's oldest residents, Indigenous seniors and elders will be able to book a COVID-19 vaccination starting on Monday (March 8) in 30 communities across the region.
The only people eligible to book appointments on Monday will be seniors aged 90 and up, Indigenous seniors aged 65 and up and Indigenous elders. There will be 30 clinics set up across 26 communities. Those wishing to sign up for a vaccine are asked to call only when their age bracket is eligible for a vaccine. Most clinics will use Pfizer vaccines, while a few will use the Modena vaccine.
Overall, Northern Health said it plans to vaccinate 15,000 people between March 15 and April 10 as part of the Phase Two effort. Vaccine clinics will operate at different times in different communities. To find out more, visit: https://www.northernhealth.ca/health-topics/covid-19-vaccine-plan.
To book, seniors, or someone calling on behalf of a senior, can call 1-844-255-7555 from 7 a.m. to 7 p.m. PT starting on Monday. Call centres will be open seven days a week. When calling, have the personal health number of the individual being vaccinated available. Be advised that staff will not ask for credit card information or payment.
Northern Health CEO Cathy Ulrich said that vaccine teams are already immunizing people who cannot travel to a clinic, and that callers will be asked if they can get to their clinic when they call. Northern Health will be keeping track of people who call in but miss their communities vaccine clinic dates and potentially return to that community later in Phase Two. People who miss Phase Two vaccinations in their own communities can travel to a neighbouring one or get vaccinated during Phase Three.
---
Like us on Facebook and follow us on Twitter.
Want to support local journalism during the pandemic? Make a donation here.
48 COVID-19 vaccine clinics to open across Interior Health – Salmon Arm Observer – Salmon Arm Observer
Forty-eight COVID-19 vaccine clinics will open across Interior Health (IH) in the coming weeks.
People aged 90 and over (those born before or in 1931), as well as Indigenous people over 65 (born in or before 1956) and elders, will be able to begin booking appointments Monday (March 8) through IH's call centre at 1-877-740-7747. On March 15, that will open to people 85 and older (born in or before 1936) and on March 22, people over 80 (born in or before 1941) will be able to book their appointment to receive the first dose of the vaccine. The call centre will be open between 7 a.m. and 7 p.m. every day.
After a person becomes eligible for the vaccine, they can book an appointment anytime. Eligible people looking to book an appointment can do so themselves or have another person book the appointment on their behalf.
Callers are asked to have on hand their legal name, date of birth, postal code, personal health number and current contact information, including a regularly-checked email address for booking confirmation.
In the Central Okanagan, a clinic at Kelowna's Trinity Hall will open March 15. Another will open at Kelowna Health Services Centre on March 17 and a West Kelowna clinic will open in a TBD location on March 22.

— Michael Rodriguez (@MichaelRdrguez) March 7, 2021
The 48 clinics, located across the health authority's widespread geographical boundaries, are set to open as soon as March 15 and deployment will be adapted as the vaccine rollout continues. A full list of clinics is available on IH's website.
"The list you see today will be adjusted according to need," said Karen Bloemink, IH's vice president of pandemic response, during a press conference on Sunday (March 7).
To prepare for anticipated high call volumes, IH is asking people to stick to the outlined schedule to prevent a system overload. The health authority reassured there will be enough supply for all who want to be vaccinated.
"We would like to assure everyone that they will not miss their chance to get a vaccine if they want to get a vaccine," said Bloemink.
IH will contact individuals when their second dose is due, after about four months, allowing them to make another appointment.
While IH expects the majority of individuals to come to clinics, it is working with known clients who need accommodations due to mobility issues. Those plans could involve home visits if required.
Despite the concerns of many regarding vaccine efficacy rates, recipients will not be able to choose which vaccine they get.
The majority of clinics will be offering the Moderna and Pfizer-BioNTech vaccines, which medical health officer Dr. Albert de Villiers said have comparable efficacy. The AstraZeneca vaccine will be reserved for younger people, and the use of the recently approved Johnson & Johnson vaccine is still to be determined within IH.
Those who are vaccinated in the next few weeks will still need to follow currently in-place health orders. De Villiers said in the coming months, he hopes visitation can increase.
"At this stage, the provincial health officer's orders are still in place," de Villiers said. "Even if you've got your vaccine, you should still follow all those orders."
Do you have something to add to this story, or something else we should report on? Email: michael.rodriguez@kelownacapnews.com
---
@michaelrdrguez
Like us on Facebook and follow us on Twitter.
Health authority opening 19 clinics to immunize Vancouver Island residents – Port Alberni Valley News – Alberni Valley News
Thousands more seniors are set to receive their first dose of COVID-19 vaccine over the coming month at 19 clinics on Vancouver Island.
Island Health announced today, March 7, more details of its regional plan to support the next phase of B.C.'s immunization program.
The health authority identified the locations of 19 community clinics from Sooke to Port Hardy. The list of clinic locations can be found at this link.
Half a dozen clinics on the Island are classified as "mass" clinics able to accommodate 15-20 people at a time, with up to 12 immunizations per station per hour, said Victoria Schmid, Island Health's vice-president of pandemic planning, during a press conference. Mass clinics will be located at Parksville Community Centre, Beban Park in Nanaimo, the Cowichan Community Centre gym in Duncan, Eagle Ridge Arena in Langford, the Archie Browing Sports Centre in Esquimalt and the University of Victoria's McKinnon Gym.
Registration starts Monday, March 8, for non-Indigenous people age 90 and over and Indigenous elders 65 and over, and vaccine appointments will begin March 15. To make an appointment, an eligible person or someone calling on their behalf should call 1-833-348-4787 between 7 a.m. and 7 p.m., seven days a week.
Call centre operators will ask for legal name, date of birth, postal code, personal health number, phone number and an e-mail address.
Individuals 85 and over can start calling March 15 to make appointments for the week starting March 22. Island Health hopes to have all elderly seniors aged 80-plus immunized by April 12.
"The more we can do to make this a successful launch, the quicker we can get through populations and the quicker we're back to having beers on the patio over the summer," Schmid said.
She said Island Health anticipates having "more than enough supply" of vaccine doses and is expecting to receive close to 25,000 doses per week by the end of this month.
"We will just continue to see more and more supply in this phase, which is such a good news story for our population," she said.
Island Health, in the release, said the opening of the community clinics will "continue to build on a successful vaccination program" that has delivered more than 60,000 doses so far to seniors in long-term care and assisted living, health-care workers and members of First Nations communities.
Island Health said its teams have "done a lot of planning and have prepared for a number of contingencies, and appreciate patience and the "continued kindness" that has been shown to health-care workers.
"This is the largest immunization rollout any of us has experienced, and it will not be without challenges," the release concluded. "We will get through those challenges together, as we move closer to a time when we can be together with our loved ones and friends once again."
There are about 30 small and remote communities on Vancouver Island that do not have immunization clinics among the 19 locations on the list. Residents in those communities "will be vaccinated in a whole-of-community approach," the health authority said, which may involve one- or two-day immunization clinics.
---

editor@nanaimobulletin.com
Like us on Facebook and follow us on Twitter