Dentists, teachers disappointed they won't be prioritized for vaccine in B.C. – BarrieToday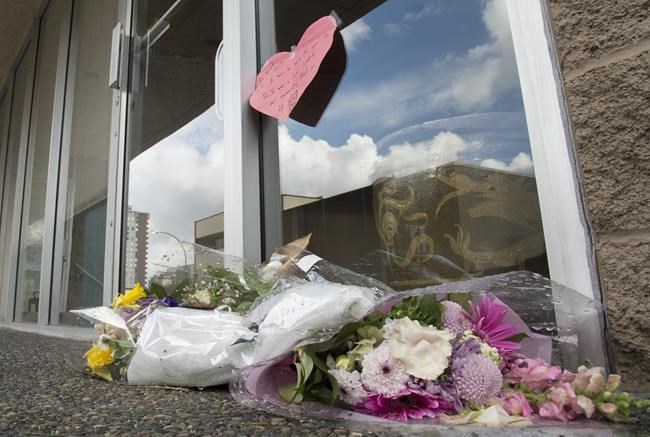 VANCOUVER — Dentists, bus drivers and teachers are among the essential workers who are disappointed they won't be given priority to receive the COVID-19 vaccine in British Columbia.
B.C. rolled out its vaccination plan on Friday, revealing that after the most vulnerable groups have been immunized, shots will be given out according to age, with the oldest residents first in line.
That means many people who have not been able to work from home during the pandemic, including grocery store workers, police officers and mail carriers, will have to wait to get the vaccine along with others in their age group.
The British Columbia Dental Association has written a letter to Premier John Horgan strongly urging him to include dentists in Stage 2 of the vaccination plan, alongside family doctors and medical specialists.
"Dentistry is an essential service. More importantly, dental care, including aerosol-generating dental procedures, are provided to patients who cannot wear a mask during treatment," said association president Dr. Anthony Nadolski in the letter.
"B.C. dentists continue to do everything they can to ensure dental offices are safe for patients and staff. Early access to vaccines will ensure continued access to urgent and emergency dental care."
Other agencies such as the American Centers for Disease Control and Prevention have included dentists and dental workers in Stage 2 along with doctors and specialists not directly involved in providing care to COVID-19 patients, Nadolski added.
More recently, Ontario included dentistry in its second stage because dentists generally provide in-person care and many dental procedures are urgent and cannot be delayed, he said.
The B.C. Ministry of Health did not immediately respond to a request for comment on Sunday.
The province initially suggested that people delivering essential services such as teachers, grocery store workers and those in law enforcement could be prioritized to get the vaccine.
But when the finalized plan was released on Friday, Provincial Health Officer Dr. Bonnie Henry said scientific evidence supports an age-based approach because older populations are at much higher risk of infection and death from COVID-19.
Currently, hospital workers, Indigenous communities and long-term care home residents, staff and essential visitors are among those being vaccinated in Stage 1 of the plan.
Stage 2 will begin in February and include people 80 and over, Indigenous seniors over 65, general practitioners and medical specialists.
In April, the province will start vaccinating the general public according to five-year age groupings, starting with seniors aged 75 to 79 before moving on to those aged 70 to 74 and so on.
However, Henry added that the approval of more vaccines may mean the province's plan could be revised to vaccinate essential workers between April and June.
Metro Vancouver bus drivers are "very disappointed" they will not be prioritized while they risk their lives to provide transportation to the public, said Balbir Mann, president of Unifor Local 111.
The union is calling on the provincial government to immediately change the plan and include transit operators in Stage 2.
"We're basically frontline workers, taking people to work and grocery shopping. Our members are real heroes," said Mann. "They're putting their lives in front of this to help out the general public."
Teachers are also disappointed there is no prioritization for front-line workers who have kept schools, public services and the economy open, said B.C. Teachers Federation President Teri Mooring.
"However, the vaccine supply limit is beyond our control and those among us who are most vulnerable of death and serious illness must be vaccinated first," she said in a statement.
Hopefully more vaccines are approved and the immunization strategy will be appropriately adjusted and accelerated, she said.
Mooring added if teachers are not prioritized for vaccines, the government must take immediate action to improve safety measures in schools, including mandatory masks, better physical distancing and ventilation upgrades.
"There is no denying that teachers are stressed, anxious and even afraid. We do not have the layers of protection in our schools that exist in other environments."
This report by The Canadian Press was first published Jan. 24, 2021.
Laura Dhillon Kane, The Canadian Press
'Weak spot' in virus responsible for COVID-19 could mean new treatments: researchers
VANCOUVER — Researchers at the University of British Columbia have discovered what they are calling a "weak spot" in the virus that causes COVID-19.
A study published in the peer-reviewed scientific journal Nature Communications says the "key vulnerability" is found in all major variants of the SARS-CoV-2 virus.
Researchers say exploiting that weakness could pave the way for new treatments that would be effective against all strains of the illness that has killed almost 6.5-million people across the globe since it was identified more than two years ago.
The study's senior author, Dr. Sriram Subramaniam, a professor in UBC's faculty of medicine, says the team studied the virus at an atomic level, found the weak spot and identified an antibody fragment that can attach to it and all other variants, including the surging Omicron subvariants.
Antibodies counteract viruses by attaching like a key in a lock and are no longer effective when the virus mutates quickly, but Subramaniam says the weak spot is constant in all seven major variants of the SARS-CoV-2 virus, allowing one antibody to act as a "master key" capable of overcoming extensive mutations.
Subramaniam says the weak spot and master key identified in the study "unlock a whole new realm of treatment possibilities" that have the potential to be effective against current or future variants of the virus that causes COVID-19.
This report by The Canadian Press was first published Aug. 18, 2022.
The Canadian Press
How does monkeypox spread? Here's what scientists know so far – CBC News
Can you catch monkeypox from a toilet seat, or by trying on clothes at a thrift store? Is the virus spreading through bodily fluids? Can you pass it to your pets?
Search for "monkeypox" on social media, and those are the kinds of questions you'll find online.
Several months into an unprecedented outbreak of monkeypox, platforms like Instagram, Twitter and TikTok are rife with sensationalized posts about how this virus might transmit, stoking potential fears that people can catch it in their day-to-day lives, even as data overwhelmingly points to sexual contact between men as a primary driver of global transmission.
One analysis of monkeypox-related posts on Twitter, which was published in June as a letter to the editor in the Journal of Infection in Developing Countries, found more than half the posts contained misinformation or unverifiable details.
"There is a big difference between what is possible, and what is likely, and what is actually happening," said Len Tooley, director of evaluation at the Community-Based Research Centre, a queer health policy organization, and one of the first people to catch monkeypox in Toronto.
"What we see actually happening is it is mostly gay and bi men who are getting monkeypox. Most of them are getting it sexually … so if you don't fit into one of those two categories, you probably don't have too much to worry about."
While there are still key unanswered questions about the exact ways this virus spreads between hosts, data shows the bulk of infections remain among men who have sex with men — making it crucial, scientists say, to prioritize limited vaccines and supports to gay, bisexual and transgender individuals who are the highest risk of catching what's often a painful, weekslong illness.
"We know that sexual transmission in men who have sex with men is an important mechanism of spread and is contributing significantly to the ongoing outbreak," said physician and researcher Dr. Boghuma Titanji, an assistant professor at Emory University in Atlanta. "That being said, it is not the only method of transmission."
So here's what global researchers know — and don't — about how this virus transmits.
How much does monkeypox spread through sex?
Before this year's global outbreak, scientists typically thought the monkeypox virus, or MPXV, primarily reached humans through contact with infected animals, leading to household transmission and limited outbreaks in regions of West and Central Africa where this pathogen is endemic.
But Titanji said there were hints MPXV was spreading through sexual networks as well, with Nigerian scientists ringing alarms during a countrywide outbreak in 2017 that largely impacted sexually active young men, often causing genital lesions.
"So it is possible that monkeypox has also been spreading through sexual contact and has kind of flown under the radar, and found its way into very densely connected sexual networks that allowed it to be amplified," said Titanji.
In Canada, the disease is mostly reported among men who have sex with men, and 99 per cent of infected individuals identify as male, with a median age of 36.
Among U.S. monkeypox cases with available data, 99 per cent also occurred in men, including 94 per cent who reported recent male-to-male sexual or close intimate contact.
WATCH | Monkeypox cases rise in Canada:
As cases of monkeypox climb in Canada, there are growing concerns that the vaccine is not widely available, and time may be running out to contain the spread.
Broad European data also suggests cases remain primarily among men who have sex with men between the ages of 18 to 50. According to the latest European Centre for Disease Prevention and Control risk assessment, the likelihood of MPXV spreading further in networks of people with multiple sexual partners is "considered high," while the chance of it spreading into the broader population is "assessed as very low."
Understanding those transmission patterns is key to knowing where to direct limited supplies, including vaccines, said Angela Rasmussen, a virologist with the University of Saskatchewan's Vaccine and Infectious Disease Organization.
"It makes the most sense to distribute that vaccine to the people who are at the highest risk," she said. "People who are men who have sex with men, people who've had multiple partners, people who've had sex recently."
So is it just spreading through skin contact? Or bodily fluids?
When it comes to transmission through sex, what's less clear is whether it's primarily tied to skin-to-skin contact, or if bodily fluids are also playing a major role.
"One of the unknowns is to what extent — and for how long — can this be transmitted through semen," said Toronto-based infectious diseases specialist Dr. Isaac Bogoch.
As Public Health Ontario noted in an August evidence brief, there's not yet clear evidence of genital secretions as a "distinct route of transmission" alongside direct, intimate contact.
Several recent case studies analyzing human semen during active infections did report finding monkeypox DNA, which has been identified in other bodily fluids as well.
Other research suggests people can carry the virus without showing any obvious symptoms, such as telltale bodily or genital lesions. One recent study conducted in France, found 13 out of 200 individuals tested positive for MPXV at the time of an anal swab performed to find other potential infections — even though they were asymptomatic.
"Whether this indicates viral shedding that can lead to transmission is unknown," the researchers wrote.
WATCH | What it's like to recover from monkeypox:
A Toronto resident shares his experience recovering from monkeypox, while officials and advocates say more support is needed for patients during the long weeks of isolation.
Can you catch this virus from surfaces, bedding or clothes?
Monkeypox does have a knack for lingering on contaminated items, like an infected individual's clothes or bedding. But that doesn't necessarily mean someone else will catch it.
In one study, investigators found live virus 15 days after a patient's home was left unoccupied, the U.S. Centers for Disease Control and Prevention noted in mid-July.
Studies also show that other closely related viruses can survive in an environment similar to a household for weeks or months, the CDC statement continued, with porous objects, like bedding and clothing, potentially harbouring live virus for longer periods than non-porous surfaces, like glass or metal.
So, theoretically, this virus can be passed on by touching various objects, or through close, non-sexual contact.
There are concrete examples of household transmission to children and possibly pets, including one case study in France where two men who caught MPXV may have passed it to their dog, who slept in their bed.
WATCH | WHO comments on report of human-to-dog monkeypox transmission:
The World Health Organization says it's very important to isolate pets from a person in the household with the disease, to avoid spread. A dog in Paris is believed to be the first case of human-to-dog transmission of monkeypox.
But if this virus was easily spread through surface-based transmission, "we would have seen a much larger outbreak ages ago," said Bogoch.
"I think it's completely overblown that we should be concerned about touching an inanimate object, like a doorknob going into a place, or a scooter, or washing every item that we get from the grocery store," he said. "I think that's obviously premature."
Dr. Zain Chagla, an infectious diseases specialist with McMaster University in Hamilton, agreed global data on cases during this monkeypox outbreak show infections typically aren't just "showing up out of the blue."
"And the few that are, are not really leading to sustained transmission," he said.
Still, Chagla said there's merit to taking certain precautions, primarily within health-care settings and households where a family member has an active infection.
If someone in a home has monkeypox, the CDC suggests cleaning and disinfecting the entire space, and putting all contaminated clothes and linens in the laundry — and if the person doing that job isn't the one infected, they should wear, at a minimum, disposable medical gloves and a respirator or a well-fitting mask.
What about transmission through the air?
Like lots of other common viruses, including those that cause influenza and COVID-19, MPXV can spread through the air and infect other people — though many scientists don't see evidence yet that it's a major transmission route.
"You can still get transmission through droplets and aerosols," said Titanji, referring to larger and smaller sizes of particles that people can breathe out or inhale.
"But the last two modes of transmission that I've just listed appear to be less frequent than the predominant mode of sexual transmission."
The World Health Organization maintains that transmission through respiratory particles "usually requires prolonged face-to-face contact," which puts health workers, household members and other close contacts of active cases at a greater risk of getting infected.
"If people were getting monkeypox … by inhaling it and breathing it in, then we would see a lot of people who are not men who have sex with men contracting monkeypox," said Rasmussen.
As for misinformation circulating online, implying the general public can easily catch this virus, Tooley said some of it may come from a place of stigma or simply fear.
"I hope all those people who are afraid of getting monkeypox are advocating for services for those who do get monkeypox," he said.
"Because if it does continue spreading into other populations, we want to make sure the health-care system is prepared."
Quebec COVID-19 booster rates stay low as province launches new vaccination campaign
MONTREAL — As Quebec prepares to launch a provincewide COVID-19 vaccination campaign ahead of a potential new fall wave, it's unclear whether it will be enough to prompt a pandemic-weary public to roll up their sleeves for another booster.
As of Wednesday, only 56 per cent of Quebecers aged five and older had received a third vaccine dose — a number that has hardly budged in months. Government officials have said that the low booster uptake is due to the fact that millions of Quebecers have caught the novel coronavirus and consider themselves adequately protected.
Health experts, meanwhile, say pandemic fatigue and government communication have also played a role.
Dr. Don Vinh, an infectious diseases specialist at the McGill University Health Centre, points the finger at the provincial government's messaging. Vinh says the government should have more strongly promoted boosters over the past six to eight months instead of making a big push at a time when the current wave of COVID-19 is waning.
If there had been a "consistent and clear" advisory on boosters, "more people would have been protected and all the consequences of the infection over the last few months would have been avoided," he said in an interview.
Jason Harley, an associate professor in the department of surgery at McGill University, believes many people have shifted to a "post-COVID mentality" that leads them to stop listening to public health advice. After two years of the pandemic, worry has changed to overconfidence.
"A lot of this has to do with exhaustion with the pandemic," they said in an interview.
"It has been over two years, and there was a tremendous amount of anxiety that a lot of people were living with on a day-to-day, sometimes hour-to hour-basis, so it's it's normal and reflexive that people would look for ways to feel better," said Harley, who is also has a PhD in educational psychology.
The challenge, Harley said, is to convince people to continue to protect themselves and listen to guidelines, which requires connecting to people through clear, easy-to-follow public health messaging.
That's something that isn't always easy when people are on "different timelines" because they've become eligible for boosters at different stages of the pandemic, they said. There are also differences between how provinces communicate on COVID-19, and even on who is eligible for boosters.
Health Minister Christian Dubé on Tuesday acknowledged that booster rates had "stalled," but he attributed the phenomenon in large part to the fact that so many people have been infected with COVID-19 in recent months. He told a news conference that 88 per cent of the most vulnerable age cohort — those over 60 — have received their third dose.
Nevertheless, he said all adults should get a booster if it's been five months or more since their last shot, or three months since they were infected with the novel coronavirus. Dubé said vaccine appointments will open for people 60 and older next week and for everyone 18 and up on Aug. 29. Quebec started offering fifth doses of COVID-19 vaccine to residents of long-term care homes and private seniors residences on Monday.
Caroline Quach-Thanh, a microbiologist and the president of Quebec's immunization committee, told the same news conference there was a chance that new vaccines under development will provide longer immunity. The current offerings provide good protection, "but in terms of durability, the long-term response isn't there," she said.
Vinh suggested Quebecers need to get used to the idea of getting regular COVID-19 shots, at least for now. Vaccines still protect very well against serious disease and death, he said, but it's now clear that people will need periodic boosters to maintain immunity.
While some people might be tired or say "we're vaccinating too much," people should instead think of vaccines like any other drug, Vinh said.
"There are drugs you give every day or two, or three times a day, and you know why?
"Because the effect of that drug wears off and it's time for the next dose."
Another microbiologist praised the Quebec government's booster campaign, and especially the decision to drop the terms "fourth" or "fifth" dose of vaccine in favour of calculating the amount of time that has elapsed since the last shot.
Anne Gatinol believes people will get boosters but need a nudge.
"I found out that if people are not encouraged to do it, they just don't do it," the McGill professor in experimental medicine said in an interview.
Both she and Vinh agree that the government is doing the right thing in offering boosters to everyone 18 and older, even though some jurisdictions such as the United States are limiting them to older and vulnerable people.
The health experts note that young people can still get very ill from COVID-19 even if they are less likely to die from it, and they say vaccines can help protect both individuals and the health system.
This report by The Canadian Press was first published Aug. 18, 2022.
Morgan Lowrie, The Canadian Press