Designers warn to avoid orange shirts exploiting Indigenous art ahead of Sept. 30 – CBC.ca
Indigenous designers are cautioning people wishing to mark the first National Day for Truth and Reconciliation by wearing an orange shirt to avoid vendors looking to turn a profit while purporting to represent Indigenous causes.
Sept. 30 will mark the first new federal statutory holiday, which was approved by Parliament days after the Tk'emlúps te Secwépemc First Nation confirmed the discovery of roughly 200 potential burial sites, likely of children, on the site of a former residential school in Kamloops, B.C.
The day has been marked in past years as Orange Shirt Day, originally started in 2013. The day honours residential school survivor Phyllis Webstad, who had her orange shirt taken away on the first day of school.
Tina Taphouse, an Interior Salish photographer and designer from St'át'imc Territory in B.C., is one of many Indigenous artists who have created their own shirt designs ahead of Sept. 30.
For Taphouse, the day, and her own designs, are deeply personal — she has family members who were forced to attend residential school in Kamloops, some of whom never returned.
"I make these shirts to honour my mum and dad who both attended residential schools, my aunties and uncles and all of my family," she said.
She said with each sale, she has a conversation with her customers about what the day will represent — a step that feels to her like an act of reconciliation.
"It's mostly non-Indigenous people that are buying my shirt and a lot of them would like to buy from an Indigenous artist," she said.
"They like that I'm open to talking to them. I like to talk to each one of them and answer any questions that they have because sometimes it's sensitive and they don't know what they can ask."
Taphouse said there are many Indigenous artists across Canada who, like her, are selling their own designs and donating the proceeds to Indigenous organizations. London Drugs is also an official vendor for Orange Shirt Day, with all profits from the shirts going to the Orange Shirt society.
But online vendors with no connection to Indigenous causes have also popped up on sites like Facebook, Amazon and Etsy, in many cases featuring art stolen from First Nations artists.
Facebook said in statements to CBC News that it has taken action against some sites selling orange shirts, but could not confirm how many have been taken down. Amazon said it will be donating to National Day for Truth and Reconciliation and is working with the Orange Shirt Society on a process to ensure that only authorized sellers can sell the society's products, though dozens of unauthorized vendors remain active on Amazon.
Keith Henry, CEO of Indigenous Tourism Association of Canada, said he's disappointed but not surprised to see that companies are cashing in on a day that is supposed to be about reconciliation.
"There's a lot of organizations and companies that have gotten into the commercial space of selling orange t-shirts because it's in the national interest and millions of t-shirts will be bought," he said.
"It's not a surprise — Indigenous artwork is exploited by the billions every year."
Henry said he hopes companies selling Indigenous designs for profit will ask themselves how they are involved in pushing reconciliation forward — or halt those sales.
"What are they putting back into the Indigenous community, how are they contributing to supporting residential school reconciliation, do they have Indigenous staff, have they provided proper resources for the Indigenous artwork that's on that shirt?" he said.
"If you can't answer that clearly, then you clearly aren't supporting reconciliation in the way that we would like to see it."
Taphouse said she encourages Canadians to support Indigenous artists, whose work is a culmination of the history being acknowledged on Sept. 30.
"Our art is inspired by many generations and our ancestors. My mum recently passed away and she sat here and watched me make the shirts — and so I like to honour her and know she's sitting here with me."
Let's Art Teen returns to Cultural Centre – Energeticcity.ca
The Let's Art program received a $2,000 donation from the Rotary Club of Fort St. John last year. The donation covered 100 hours of arts instruction offered at the North Peace Cultural Centre.
Registration is required for the program, which can be done by calling the NPCC at 250-785-1992 or emailing reception@npcc.bc.ca.
The program is also offered for kids aged six to 12, however, the 2021 session took place in March.
Art Beat: It's Art Crawl weekend – Coast Reporter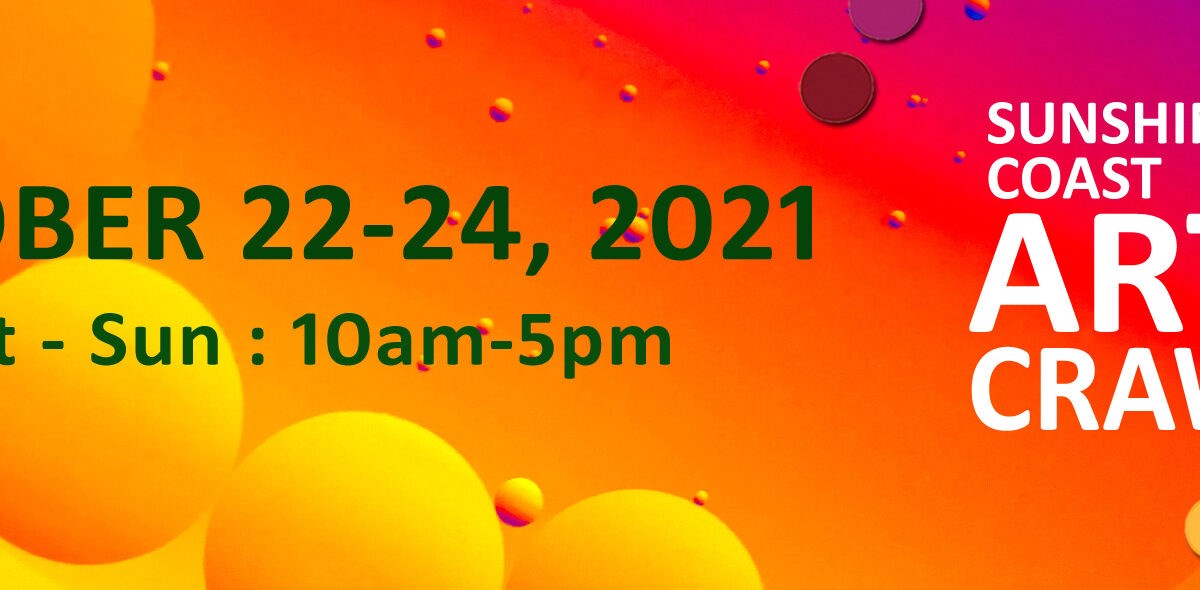 The 2021 Sunshine Coast Art Crawl kicks off Friday, Oct. 22 at 10 a.m., with 164 venues open to visitors until 5 p.m. all three days, through Sunday. And at 10 of those venues (as of press time), Friday evening from 7 to 9 p.m. will also be a time for celebration. Most of the partying is at Gibsons venues, but Redecor + Design (venue #111) on Cowrie Street in Sechelt will also be open, as are Halfmoon Bay venues The Mink Farm Gallery (#146), and Kito Tosetti (#147). Details are at the "Friday Night Parties" link at sunshinecoastartcrawl.com.
Art of Healing
The Sechelt Hospital Foundation's Art of Healing campaign holds its Gala on Saturday, Oct. 23 at the Sunshine Coast Botanical Garden (venue #126). That's where 36 works donated by some great local artists are on display and will be distributed in an exclusive online raffle draw to 36 ticketholders. All visitors to the exhibit can also bid on auction packages, and purchase raffle tickets for the grand travel prizes, among them a grand prize of a trip for two to Venice or any other European destination.
Sechelt Arts Festival
It's also the final weekend of the Sechelt Arts Festival, with the premiere of the play, Voices, at Raven's Cry Theatre. There will be three performances, Friday night, Oct. 22, Saturday night, and a Sunday matinee. The visual art and heritage canoe displays at Seaside Centre become Art Crawl venue #115. Poet Valerie Mason-John speaks in a free event (registration required) at Raven's Cry on Saturday at 11:30 a.m. And your last chance to add your touch to the Paintillio mural at Trail Bay Centre will also be on Saturday, until 4 p.m. Info and tickets at the festival website.
New writers' group
The Sunshine Coast Writers and Editors Society is holding its first meeting on Friday, Oct. 22 at 7 p.m., via Zoom. The society's purpose is "to serve writers, editors and groups on the Sunshine Coast to grow and develop their skills, as well as support other writers' groups and events in the province and across Canada," and "to hold events and launch projects to highlight the incredible talent that exists on the Coast." Contact Cathalynn Cindy Labonte-Smith at 604-724-3534 for a Zoom link.
Meet the author
Writer Jennie Tschoban will be signing copies of her funny and touching memoir, Tales & Lies My Baba Told Me, on Saturday, Oct. 23, from 1 to 3 p.m. at Daffadowndilly Boutique & Gallery, on Marine Drive in Gibsons.
Meet the artists
On Sunday, Oct. 24 starting at 2 p.m., Jennifer Bryant and Jennifer Ireland will talk about their new exhibit, Matters of Scale, on now at the Sunshine Coast Arts Council's Doris Crowston Gallery in Sechelt.
Live Music
The band Astral Motion bring their blend of originals and classics to Roberts Creek Legion on Friday, Oct. 22 at 7 p.m. On Saturday, Oct. 23 at the Creek Legion, Vancouver acoustic band Farmteam start their sets at 7:30 p.m.
The Locals play the Turf Stage at Tapworks in Gibsons on Saturday, Oct. 23, 2:30 to 4:30 p.m. On Wednesday, Oct. 27, Vancouver singer-songwriter Eamon McGrath plays Tapworks at 8 p.m.
At the Gibsons Legion on Saturday, Oct. 23, Poppa Greg and the band kick things off at 7:30 p.m.
At the Clubhouse Restaurant in Pender Harbour, catch Half Cut and the Slackers on Sunday, Oct. 24, from 2 to 5 p.m.
ArtCity: Art education in the gallery (and virtual) space – Woodstock Sentinel Review
In September, I returned to the Woodstock Art Gallery as the assistant curator of education intern, eager to actively bridge arts programming within the permanent collection and the public.
Article content
In September, I returned to the Woodstock Art Gallery as the assistant curator of education intern, eager to actively bridge arts programming within the permanent collection and the public. I have been involved with the gallery for three years, beginning as a co-op student with the education department in 2018 and then as the curatorial and collections assistant in 2019 and 2020. In my previous position, I worked exclusively in a background role curating exhibitions and assisting in collections management. With this new role as assistant curator of education, however, I was able to once again rekindle my interest in bringing the arts to the local community.
Article content
This position, of course, comes with unique challenges during a pandemic. Everything that we once considered emblematic of educational programming – in-person classroom trips, tours and studio events – has been put on pause in an abundance of caution. Over the last year and a half, the staff at the Woodstock Art Gallery have created online lessons and educational resources, virtual exhibitions and other online activities for the public. In addition, artist talks, curator webinars and exhibition openings have all been streamed virtually. It is within these unique circumstances that I began my new position in the education department.
The role of assistant curator of education is a fairly recent addition to the Woodstock Art Gallery staff roster. Created in 2018, this short-term internship aids the education and curatorial departments in realizing public programming. Previous interns have curated exhibitions, written a practical accessibility guide, conducted research and led education programming. The education department's current goals had to be completely reoriented to accommodate the pandemic, however. Virtual resources are being further developed and made accessible to both the public and teachers alike. As collaboration with the curatorial department at the Woodstock Art Gallery has become a central component of arts education programming, alternative methods to experience exhibitions are also currently in the works.
Article content
The future of education programming, however, will not remain entirely within a virtual space. There is a unique value to in-person programming that staff at the Woodstock Art Gallery yearn to return to. Releasing Community Creation Kits and art grab bags throughout this past year, for instance, has been a way to bring art-making materials back into the hands of the public during the toughest restrictions. Now as lockdowns slowly ease and restrictions lessen, we have begun to return to in-person educational programming.
In September, the gallery hosted its first Creative PA day program since the beginning of the pandemic with a small group of kids. The day was filled with the arts as we toured exhibitions, visited the park, and explored lessons in sculpture making. By the end of the day, each child brought home their sculpture and multimedia creations, along with the tools to create more. Building upon this successful day, the education department will slowly begin to roll out more in-person programming, including another Creative PA Day in November. But this, of course, will take time.
Throughout this pandemic, educational programming has taken on many forms – from entirely virtual resources to at-home art kits and PA days, educational programming has required innovation and creativity. The future of education will forever be shaped by the lessons learned during the pandemic and will perhaps take on a whole new form that has yet to be explored.
Julia deKwant is the assistant curator of education intern at the Woodstock Art Gallery. The Woodstock Art Gallery acknowledges the support for this position which is funded by Young Canada Works at Building Careers in Heritage.