Despite Record Inflation Social Media Is Encouraging Americans To Spend – Forbes
For 2022, one of the greatest concerns Americans are facing could be how record inflation will continue to increase household expenses and eat into wages. The 7 percent increase in the inflation rate over the course of 2021 marked the largest in nearly four decades. Americans saw prices for the basic necessities rise at a dramatic rate in 2021.
While the government's efforts to provide stimulus aid and ultra-low interest rates motivated Americans to spend, supply chain woes resulted in such high demand for goods that prices increased at a record pace. Earlier this month, the U.S. Department of Labor reported that the core inflation rate, which excludes volatile goods such as food and gas, jumped by 5.5 percent in December, the highest in decades.
Yet, U.S. shoppers are continuing to spend – and social media continues to be a major factor on where Americans are taking their business. According to a new survey conducted by Point and OnePoll, more than one in three respondents said they considered social media "very influential" when it comes to their spending habits – with 35 percent of respondents reporting as much, compared to just 12 percent who said social media is "very uninfluential."
The survey also found that more than half Americans – 55 percent – even said that social media had influenced them to go over budget or otherwise spend more money than intended on a particular product. One factor cited was the pressure to "keep up with the Joneses," with 35 percent of respondents agreeing.
It Was The Pandemic
Social media's influence in getting Americans was also amplified by the pandemic. During the lockdowns, and calls to scale back gatherings, Americans actually cut back on spending. However, in 2021 as the country began to settle into the new normal, spending increased – even as the supply chain issues persisted.
"The pandemic changed and continues to evolve consumer shopping habits," explained Mary Schneeberger, senior director of the integrated marketing practice at Avionos, which has also tracked American spending habits in 2021. "Between online, in-person and hybrid shopping, the past two years have proved that retailers will do anything to adapt to their consumers' needs and demands for a seamless shopping experience. In the age of influencers, virtual reality try-ons and live streams, purchasing products through social media is on the rise and is further changing the future of shopping habits."
Social media hasn't just changed the way consumers transact, but also the way they discover new brands and products.
"Social influencers have earned consumers' trust by showcasing their purchases, discussing the quality of the product and giving their opinions to thousands of people on platforms like YouTube, TikTok and Instagram in an entertaining format. Customers are using other customer ratings and reviews to make final purchasing decisions vs. relying solely on brand-published content," said Schneeberger via an email.
The Younger Crowd
Not surprisingly, the Avionos study also found that it has been mostly younger generations who use social media in their shopping decisions.
"Gen Zers (70 percent) and Millennials (68 percent) used social media to purchase and interact with brands more than Gen X (51 percent) and Baby Boomers (33 percent) since these younger users leverage multiple channels to buy products compared to older generations," added Schneeberger.
Gen Zers were also found to spend more time on social media compared to their older counterparts, which further explains why they view social media as a purchase destination compared to older generations.
Yet not everyone is sold on using social media for shopping.
"Of those who have not purchased via a social media platform, 45 percent don't see social media as a destination for purchase and 33 percent don't trust social media apps with my credit card number or other personal information," said Schneeberger. "Additionally, consumers often prefer to complete their purchase on a web browser (16 percent) or want to see a product in-person rather than online before they buy it (15 percent)."
Different Platforms
Avionos found that Facebook, Instagram, and TikTok are used the most to purchase products by young consumers.
"However, 56 percent of Gen Zers purchased an item using a different channel than they originally intended," noted Schneeberger. "Since Gen Zers are more comfortable using digital channels and are more apt to use eCommerce and social platforms to complete purchases, retailers are more likely to tailor to this audience on their preferred social platforms given their heavy influence on evolving consumer behaviors. On the other hand, 45 percent of Millennials and Gen Xers used online platforms to purchase products to pick up in-store or through curbside pickup, so retailers are more likely to engage with them both online and in-store since they prefer to physically see products before they purchase them. This furthers the importance of scaling omni-channel commerce experiences to meet different customers where they want to engage."
Uvalde School Shooting Sparks Cries For Action Across Social Media – BNN
(Bloomberg) — With former President Donald Trump scheduled to speak at the NRA's National Meeting this Friday in Houston, in the same state where 19 children and two teachers were killed at the hands of an 18-year old gunman who stormed their school, rallying cries for gun control can be heard across social media.Former President Barack Obama posted a string of tweets that began,"It's long past time for action, any kind of action. And it's another tragedy—a quieter but no less tragic one—for families to wait another day." He added, "Across the country, parents are putting their children to bed, reading stories, singing lullabies—and in the back of their minds, they're worried about what might happen tomorrow after they drop their kids off at school, or take them to a grocery store or any other public space."
From LeBron James to Mia Farrow, an outpouring of grief from celebrities followed an emotionally charged speech by Golden State Warriors' coach Steve Kerr who called a press conference before tonight's NBA semifinals game to express outrage at the "50 senators" who have failed to move on a House bill on common-sense gun safety reforms that President Biden is ready to sign into law.Los Angeles Lakers' LeBron James shared Kerr's remarks and tweeted, "My thoughts and prayers goes out to the families of love ones loss & injured at Robb Elementary School in Uvalde, TX! Like when is enough enough man!!! These are kids and we keep putting them in harms way at school. Like seriously "AT SCHOOL" where it's suppose to be the safest!" Oscar winner Matthew McConaughey, who was born in Uvalde and runs a foundation to help high school students in Texas, asked all Americans to take action "so that no parent has to experience what the parents in Uvalde and the others before them have endured."
Other celebrities taking to Twitter to share their grief include human rights activist George Takei who co-starred in "Star Trek: The Original Series." He tweeted, "14 children and 1 teacher. There are no words. And there are no actions ever taken." National Youth Poet Laureate Amanda Gorman wrote, "It takes a monster to kill children. But to watch monsters kill children again and again and do nothing isn't just insanity—it's inhumanity." Actress Mia Farrow retweeted Gorman and said, "Don't anyone dare do "thoughts and prayers". We are way past that. We need reasonable gun legislation like every other rational country.And late night talk show host James Corden commented on how shocked he is by America's inability to act when it comes to gun control. "It doesn't make sense to me. It doesn't reflect the country that I think America is. The America I've always admired. You have a problem, you solve it. You're on the forefront of medicine, of technology, of innovation. When there's a world war, you are the ones we turn to. Yet on this issue America is one of the most backward places in the world."Cordon noted this year there have been no school shootings in England, Japan, and Australia, but this year there have been 27 school shootings in America and 212 mass shootings and we are just five months into the year.
©2022 Bloomberg L.P.
/REPEAT — Media Advisory – Minister Mendicino to make a funding announcement/ – Canada NewsWire
OTTAWA, ON, May 24, 2022 /CNW/ – Members of the media are invited to join the Honourable Marco Mendicino, Minister of Public Safety, for a funding announcement under the Crime Prevention Action Fund to underscore the Government of Canada's efforts to keep Canadian youth safe in Halifax and surrounding communities.
He will be joined by Lena Metlege Diab, Member of Parliament for Halifax West-Nova Scotia.
Following the announcement, Minister Mendicino and MP Diab will take questions from the media.
Date
Wednesday, May 25, 2022
Time
9:00 a.m. ADT
Location
YWCA Halifax
358 Herring Cove Road
Spryfield, Nova Scotia
Media representatives who wish to attend the event must arrive at least 15 minutes in advance to sign in and present photo ID and credentials.
Media can dial-in by using the numbers below. Media are encouraged to dial-in 15 minutes before the start of the press conference.
Participant dial-in numbers: 1-866-206-0153 / 613-954-9003
Access Code: 9504354#
Media and guests are asked to respect local physical distancing guidelines. Participants will be required to share their name and phone number for possible contact tracing. Wearing masks is recommended, especially when not able to maintain physical distance.
Public health protocols are in effect: please stay home if you are experiencing any of the symptoms listed here: Coronavirus (COVID-19) – Government of Nova Scotia, Canada, practice good hand washing and other hygiene steps, as well as physical distancing.
SOURCE Public Safety and Emergency Preparedness Canada
For further information: Audrey Champoux, Press Secretary, Office of the Minister of Public Safety, [email protected]; Media Relations, Public Safety Canada, 613-991-0657, [email protected]
Analysis: Media coverage of Texas school massacre invokes Sandy Hook – CNN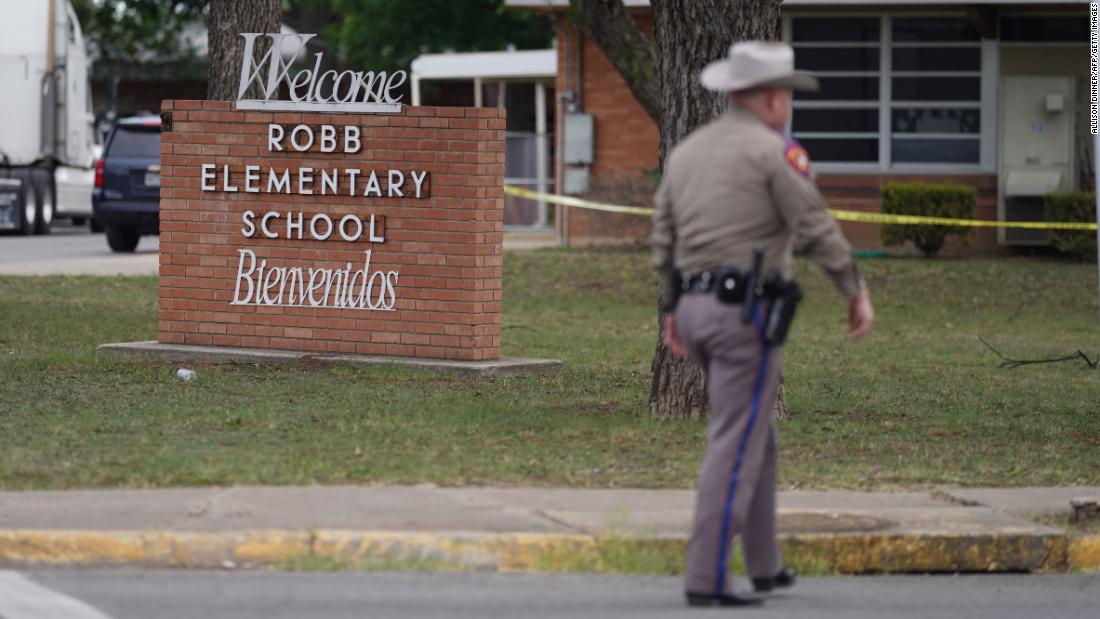 "Mass shootings have become America's copy and paste tragedy," Politico's Tyler Weyant
wrote Tuesday evening
. "We change the place, the town, the number of dead and injured. But the constant is lives lost, people who cannot be brought back, and the nation is left in a numb daze."
At least, until, it happens again. In this case, it only took 10 days from the last slaughter for another spasm of senseless violence and terror to force the nation to go through the motions once again.
It's all so predictable and formulaic at this point. First come the initial reports of a shooting, then details about fatalities and injuries, then details about the shooter and motive, and finally the tributes to the dead. All the while, there are widespread calls for the US to take some — any — action to stop these regular massacres from occurring while Fox personalities and GOP leaders insist the shooting shouldn't be "politicized."
"We perform this same skit every time," pediatrician and Democratic congressional candidate Dr. Annie Andrews
tweeted
. "You say your thing. I say my thing. A few more people join the movement. It's not working."
I realize that, at this point, even pointing out the fact that we are stuck in this endless loop is cliche. But I can't think of anything new or unique to say — and I honestly haven't seen a single original point made in the past few hours. Years and years of these horrific acts have collectively drained us of any groundbreaking observations. Everything is just recycled. Recycled from the last shooting and the shooting before that.
"Make no mistake about it, nothing is done, and nothing is ever done," Don Lemon said on CNN Tuesday night. "And we're going to be back here. Grieving again, over another town."
"This," Lemon added, "is where we are right now."
I wish people would stop saying "there are no words." There are so many words. Inhuman. Grotesque. Shameful.
I worry that rote news coverage and cliche reactions may unintentionally sanitize this sickening violence.
I want everyone to know that reality. I want answers to questions that are painful even to ask. What were the victims at Robb Elementary doing in the final peaceful minutes of their lives? What were they thinking when they heard loud noises down the hall? Did they recognize the sounds as gunshots? Did they fear for their lives? Did they cry out for their moms? For their dads? What did they feel in those final seconds?
There are plenty of words. We just have to use them.
President Biden learned of the school shooting while flying back from Asia aboard Air Force One. Pool reporters on the plane were without WiFi and unaware of the news until press secretary Karine Jean-Pierre came back to the press cabin and said Biden would be speaking at the WH upon landing. Reporters turned on the in-flight TVs to see CNN's live coverage. Per CNN's MJ Lee, "a decision was made to make a 'wire call' — a rare phone call using the phone in the press cabin to alert the wires and news organizations of breaking news. While much of the news we were being told in the air had already been shared on the ground, reporters agreed — given the gravity of the news — upon a joint statement that would be read and disseminated to wires and news networks."
The conversation in right-wing media immediately turned to calling for armed guards to protect schools. In other words, more guns. Pundits and personalities on Fox repeatedly suggested that funding allocated to schools to protect against Covid should be spent on security personnel. Meanwhile, personalities attacked those who called for gun control measures. After Biden did so in his address to the nation, Tucker Carlson attacked him in the most vicious terms. "The President of the United States, frail, confused, bitterly partisan, desecrating the memory of recently murdered children with tired talking points of the Democratic Party," Carlson said, "dividing the country in a moment of deep pain…"
— CNN will remain live all night and through the morning, with some anchors on the scene in Texas…
— Fox News preempted the 11pm comedy show "Gutfeld" for additional live coverage of the massacre…
— Savannah Guthrie will co-anchor Wednesday's "Today" from Uvalde. Other NBC and MSNBC anchors en route to Texas include Lester Holt, Tom Llamas, José Díaz-Balart, and Ali Velshi…
— Tony Dokoupil will co-anchor "CBS Mornings" from Uvalde…