Did the Nazis Force an Art Sale? The Question Lingers 88 Years Later. – The New York Times
The case of Curt Glaser, an art historian who sold his collection before fleeing Germany, illustrates how differently museums can respond to similar restitution claims.
The Nazi authorities removed Curt Glaser from his post as director of the Berlin State Art Library in April 1933 because he was Jewish. He was also evicted from his home and, the following month, sold most of his art collection at two auctions.
Since 2007, 13 private collectors or institutions — including the Dutch Restitutions Committee, the Prussian Cultural Heritage Foundation in Berlin, the Museum Ludwig in Cologne and the city of Basel — have concluded that Glaser sold his collection in May 1933 as a result of Nazi persecution, and agreed to either return or pay some compensation to his heirs for art he sold that wound up in their collections.
But the Metropolitan Museum of Art and the Museum of Fine Arts, Boston have repeatedly rejected the heirs' claims for paintings that were sold at the same auctions. They argue there is not enough evidence that Glaser sold under duress.
The disparity in the decisions highlights how, 76 years after World War II ended, the criteria for determining whether a work of art that changed hands during the Nazi persecution of Jews should be returned still remains a matter of debate.
Both the Met and the Museum of Fine Arts have a record of recognizing claims on art sold under duress. The Met has settled eight claims for art looted by the Nazis or sold under duress since 1998, when the United States endorsed the international Washington Principles, which called for "just and fair" solutions in handling claims for looted art. In 2009, the Terezin Declaration, also approved by the United States, specified that this requirement also applied to sales under duress. The Museum of Fine Arts has previously settled heirs' claims for 13 objects sold under duress.
But in the cases of two works sold at a May 9, 1933 auction — Abraham Bloemaert's 1596 painting "Moses Striking the Rock," which is owned by the Met, and Joachim Anthoniesz Wtewael's "Actaeon Watching Diana and Her Nymphs Bathing" from 1612, which is owned by the Museum of Fine Arts — the museums have taken a position at odds with other institutions who held Glaser works from that sale.
The Dutch Restitutions Committee, for example, returned a painting to Glaser heirs in 2010, determining that the sale of the work at the May 9 auction "can be considered involuntary." The committee concluded it was "likely that Glaser was not able to freely dispose of the proceeds from the auctions" but "probably had to use them to fund his escape to the United States."
Glaser fled Germany two months after the sale. He died in New York in 1943.
The complexities in evaluating art sales more than 80 years after the fact mean diverging views can emerge. "It can be very difficult to determine whether a sale was under duress or not," says Friederike von Brühl, a Berlin-based lawyer specialized in art law. "In practice, we are looking at numerous criteria: Was the purchase price adequate? Was the seller free in spending the proceeds? When exactly was the sale?"
For Agnes Peresztegi, a lawyer and the former president of the New York-based Commission for Art Recovery, the situation highlights the limited state support for claimants in the U.S. "In Europe, it is often the culture ministry or a commission that makes the decision," she said. "In the U.S., it's all private. The current possessor is the decision maker. Museums are free to reject or fight claims and there is no one to tell them this is wrong. For many claimants, lawsuits are prohibitively expensive, especially for lower value works."
The Met takes the view that Glaser didn't sell under duress. "After years of careful research and consideration, the Museum continues to stand by its assertion that 'Moses Striking the Rock' was not unlawfully appropriated, and belongs at the Met," a spokesman for the museum wrote in an email.
The MFA said in an emailed statement that "there is no disputing that Curt Glaser lost his position at the Kunstbibliothek and the residence that went with it due to racial persecution." However, it argued that his decision to sell the art may also have been influenced by his personal life. Glaser's first wife, with whom he had built the collection, had died in 1932.
The museum added "there is nothing to indicate that Glaser did not receive or could not have accessed the proceeds from the auctions, nor that he was under financial duress." The price paid for the Wtewael was "fair and consistent with those for other Dutch Mannerist paintings," it said.
In an earlier claim, the United Kingdom's Spoliation Advisory Panel ruled against restituting eight drawings to the heirs in 2009. It said Glaser's decision to sell the works was informed by a number of factors and the price he got was fair.
Born in Leipzig in 1879, Glaser began his career as an art critic, became a purchaser for the Royal Gallery of Prints in Berlin and was appointed director of the city's Kunstbibliothek, or art library, in 1924. At regular Monday art salons, he and his wife entertained artists and intellectuals in their apartment in the 1920s. He counted Edvard Munch and Ernst Ludwig Kirchner among his friends.
But when Adolf Hitler's government passed a law removing Jews and political opponents from the civil service in 1933, Glaser was forced from his post and auctioned most of his art collection, library and furnishings. The first sale, held at the Internationales Kunst- und Auktions-Haus on May 9, 1933, was followed by a second, two-day sale at the Max Perl auction house in Berlin on May 18 and 19. The market was depressed. The curator Otto Fischer, in a report to the Basel Art Commission about his acquisitions at the second auction, said prices were "not exactly rock-bottom" but nevertheless "low."
---
In 2020, some 12 years after it had rejected a claim by the Glaser heirs, the city of Basel agreed to pay them an undisclosed sum on the basis of a review of the case. In return, the city's Kunstmuseum kept works on paper estimated to be worth more than $2 million by artists including Munch, Kirchner, Henri Matisse, Max Beckmann, Auguste Rodin and Marc Chagall.
The city said Glaser "held an exposed position at the time the National Socialists seized power and was the target of the unjust regime." The persecution he suffered was "the reason why Curt Glaser emigrated and on 18-19 May 1933 auctioned off a considerable portion of his artworks." But in contrast to the Dutch position, it argued that full restitution "is not an appropriate solution" because "it would be too one-sided."
Both American museums offered to label the works to acknowledge Glaser's contribution to art history. In a letter this year to a lawyer for the family, the Met said its label would also recognize that Glaser "lost his position due to the anti-Semitic policies of the newly elected Nazi government." It added, though, that the label would say the sale of his collection "may be attributed to both the political situation in Germany and to personal factors."
Glaser's family reject the suggestion that his wife's death motivated him to sell. The Met and the MFA "are putting forward a counternarrative and want to argue on a speculative basis about Glaser's psychology instead of talking about the material facts and historical circumstances for all Jews at that time," Paul Livant, Glaser's great-nephew and one of his heirs, said.
David Rowland, the New York lawyer who represents the Glaser heirs, agreed, describing the situation as "restitution roulette" — the chances of success hinge as much on where the art has landed as on the merit of their case, he said.
"How is it that the Dutch, the Swiss and the Germans found that the sales were made under duress, but the Met and MFA did not?" he asked. "A physical confiscation by the Nazis is not necessary for the Washington Principles to apply and for a 'just and fair' solution to be warranted."
White House on defensive over Hunter Biden art sales – FRANCE 24
Issued on: 24/07/2021 – 01:08
Washington (AFP)
The White House assured Friday that necessary ethical precautions would be taken around any exhibitions and sale of artwork by President Joe Biden's son, whose personal life and professional career have been peppered with controversy.
Asked by reporters about upcoming exhibitions of Hunter Biden's artwork in New York's Georges Berges Gallery, White House Press Secretary Jen Psaki said the president's son would be "attending gallery events."
The discussions about sales "will be happening with the gallerist" and not Hunter Biden, she said.
"That is different than meeting with prospective buyers."
Psaki had announced July 9 that a system had been established allowing Hunter Biden to practice his profession "within appropriate safeguards," including the confidentiality of any transactions and no contact with buyers.
At exhibits of Hunter's work, "the selling of his art will all happen through the gallerist and the names and individuals will be kept confidential," she said.
When pressed that a buyer could simply tell the artist that he or she is purchasing his work, Psaki stressed that a strict rules structure will be in place.
"He will not know, we will not know who purchases his art," she said.
Contacted by AFP, the gallery did not immediately provide any comment or details.
The Biden administration, which seeks to present itself as ethically unblemished, has been repeatedly questioned about the artistic career of the 51-year-old lawyer and businessman-turned-painter.
US media point out the obvious risks of businessmen or others purchasing the artwork with the sole aim of winning access to or influence with the White House.
Press reports have said the paintings by Biden, who has had no formal training, could sell for up to half a million dollars.
Hunter Biden is one of former president Donald Trump's favorite targets.
During the 2020 presidential campaign Trump and his supporters regularly criticized Hunter Biden for his economic interests in Ukraine and China when his father was vice president under Barack Obama.
Hunter is also the target of a federal investigation into possible tax crimes.
In a memoir published earlier this year, the president's youngest son recounted his struggle with addiction to cocaine and alcohol.
© 2021 AFP
Art exhibits return to Callander's Alex Dufresne gallery – BayToday.ca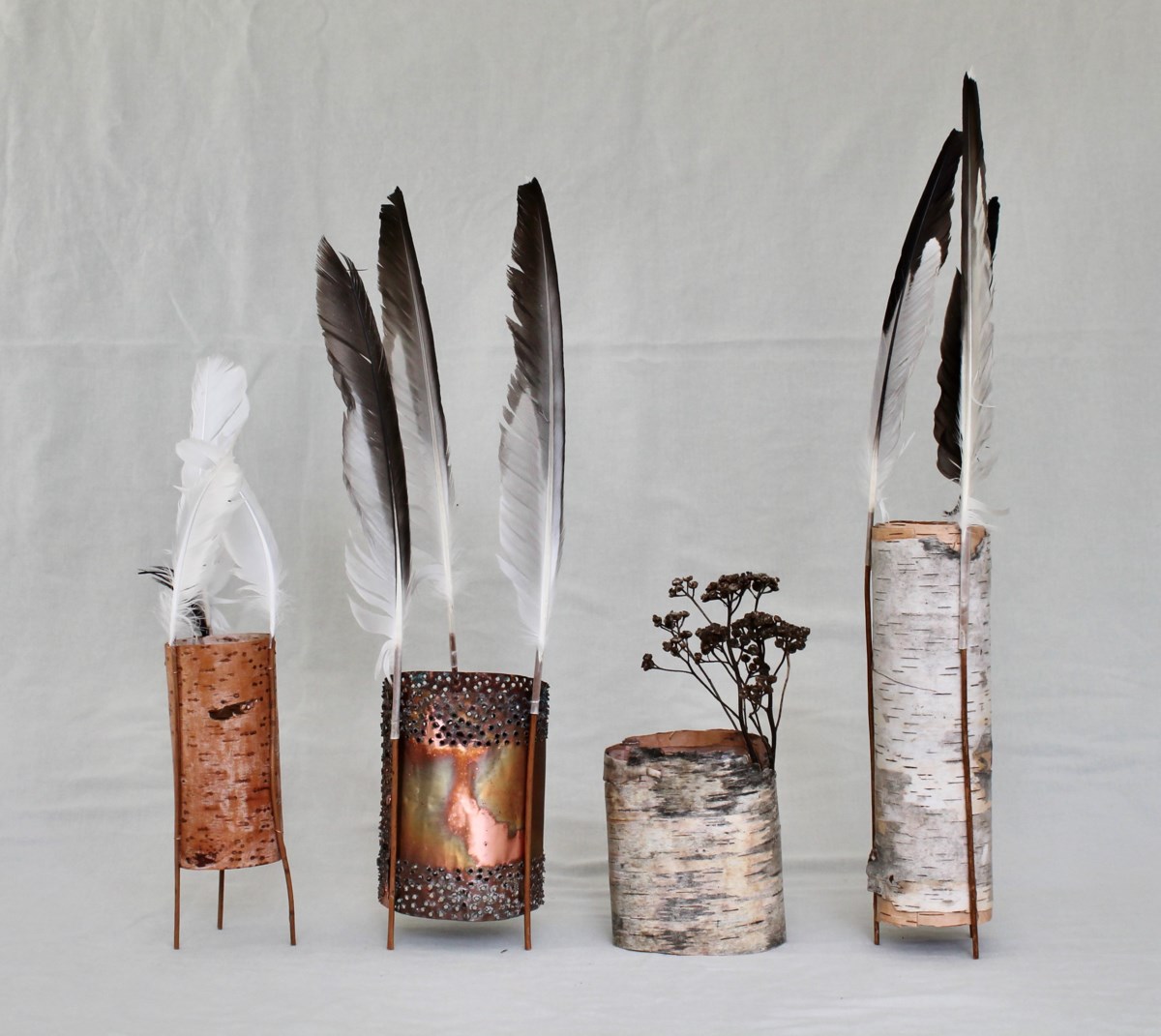 After a long hiatus, art shows are returning to the Alex Dufresne Gallery at the Callander Bay Heritage Museum this Saturday.
The works of Carole Davidson and Sara Carlin-Ball are highlighted in an exhibit entitled "Journeys to a Conversation with Nature."
In a release promoting the show, Davidson and Carlin-Ball explain the "works display a felt presence of our natural environment in unexpected materials and surprising subjects."
Their goal in selecting the pieces for the exhibit is to capture "the luscious spectacular that is Nature, Muse, Essence," and emphasize how these "inspire the audience to revision their place – their gratitude and responsibility – on this Earth."
See: Callander museum reopens from COVID with new art show
"It feels absolutely wonderful to have art back on the walls," said Natasha Wiatr, the gallery's curator.
The last show was this past April but did not last long before Covid regulations closed the event. Since then, "the walls have been empty."
"We haven't consistently had shows in what feels like so long," she said, and is pleased to launch what will hopefully be a long stretch of exhibits.
Currently, the gallery is booked until 2023, "and we've added two more shows per year," Wiatr explained.
"We see ourselves as a community-based gallery," she said, and as such, strive to present as many local artists as possible.
See: White Water Gallery has a new executive director
The Museum and Art Gallery are open Tuesday to Saturday from 10:00 – 5:00 p.m.
The gallery can hold 14 people at once, and walk-ins are welcome. Appointments can also be booked ahead of time at www.mycallander.ca/gallery.
Staff remind to you please wear a mask when you visit and maintain social distance.
Admission to the museum is $5 for seniors and students, $4.50 for kids 6-12, free for children under 6 and adults pay $5.50. Family rate for 4 is $15. Entrance to the gallery is by donation.
See: Mattawa museum celebrates reopening with Community exhibit
Callander museum reopens with art show – The North Bay Nugget
Article content
The art show Journeys to a Conversation with Nature will reopen the Callander Museum and Alex Dufresne Gallery Saturday.
Article content
The works of Carole Davidson and Sarah Carlin-Ball will remain on display to Aug. 20.
"There is an essential longing for life that erupts in a luscious spectacular that we call Nature," the artists said in a statement.
"The human animal is a part of this longing for life that some might call a Muse – a Muse for artists of every passion and discipline. Artists are at the mercy of their muse and transcribe whatever is whispered to them about life, people, and the compelling natural environment they belong to.
"One may be a studied artist haphazardly trained while another may be an experimental soul, interpreting the ever-changing environment around her."
Influenced by the gifts of their lives and the natural offerings around them, each artist interprets what touches her soul. Each piece of art tells a portion of her journey, calling to the viewer to look more closely at what life has to teach us.
Carlin-Ball's muse slumbered as she was raising her children and working. As soon as she could make time, there was an explosion of experimentation driven by her mantra 'What would happen if…?'
Mistakes happily romped with successes. Now, her careful, unique presentations interpret life and nature, and challenge one's imagination.
As she learned of the melting of the muskeg and the possibility that Canada will soon lose that habitat and vibrant spring bloom, Carlin-Bell felt the compulsion to replicate that vital image with unexpected media: patinated and fired copper was punched and threaded through with fibre knotted to create the blooms and surface stems.
Article content
Eventually, the vibrant muskeg spring emerged.
For Davidson, nature was a refuge she quietly celebrated with natural and cultivated talent for art and writing. A busy and brief career in graphic design took over until disabling MS symptoms forced (or allowed) her to slow down.
She began a meditation practice to cope with symptoms and immediately began painting again.
Her creative work parallels her spiritual path and the subjects of her study get smaller and smaller as she has the opportunity to stop and notice. She finds joy in a yellow spider on a sunflower or a nest full of baby robins.
Together, their works display a felt presence of our natural environment in unexpected materials and surprising subjects.
The Museum and Art Gallery are open Tuesday to Saturday from 10 a.m. to 5 p.m. Appointments can be booked ahead of time at www.mycallander.ca/gallery and the museum and gallery also welcome same-day walk-ins.
Those visiting are asked to wear a mask and social distance.
The museum and art gallery are located at 107 Lansdowne St. E., Callander.