Disney: Bob Iger in shock return to media giant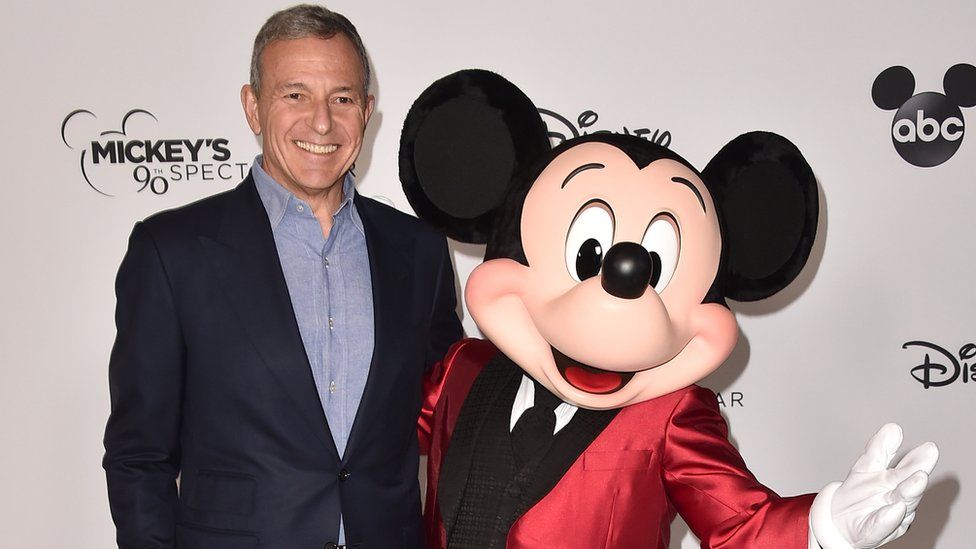 Ex-Disney boss Bob Iger is making a shock return to the firm – less than a year after he retired.
He has been brought back by the media giant to steer it through turbulent times as the share price has plummeted and Disney+ continues to make a loss.
He replaces Bob Chapek, who took over as chief executive in February 2020.
Mr Iger, who headed the entertainment giant for 15 years, told the New York Times in January it was "ridiculous" to suggest he might return.
"I was CEO for a long time," he said. "You can't go home again. I'm gone," he told the newspaper.
Mr Iger, who was chairman until 2021, has agreed to stay in the job for two years, during which time he aims to find a successor to lead the company.
"I am extremely optimistic for the future of this great company and thrilled to be asked by the Board to return as its CEO," Mr Iger said.
As well as overseeing the launch of Disney's streaming service, Disney+, Mr Iger drove major acquisitions involving the likes of animation studio Pixar, comic book company Marvel, Rupert Murdoch's 21st Century Fox, and Lucasfilm, the home of Star Wars.
These moves, as well as amusement park openings, helped the company's market value increase five-fold during his time in charge.
Susan Arnold, who heads the company's board, said in a statement that Mr Iger was "uniquely situated" to take Disney through "an increasingly complex period of industry transformation".
But Disney shares have fallen by more than 40% this year and the company has poured billions of dollars into Disney+.
Mr Iger has replaced Mr Chapek with immediate effect.
Mr Chapek's tenure as the boss of Disney included the shutdown of its theme parks due to Covid restrictions.
"We thank Bob Chapek for his service to Disney over his long career, including navigating the company through the unprecedented challenges of the pandemic," Ms Arnold said in a statement.
It came just a couple of weeks after the company said Disney+ had lost nearly $1.5bn (£1.3bn) in the three months to the end of September.
Disney now has more than 235 million subscriptions across its three streaming platforms, which include the sports-focused ESPN+ and Hulu. It has outstripped Netflix, which has about 223 million subscribers by comparison.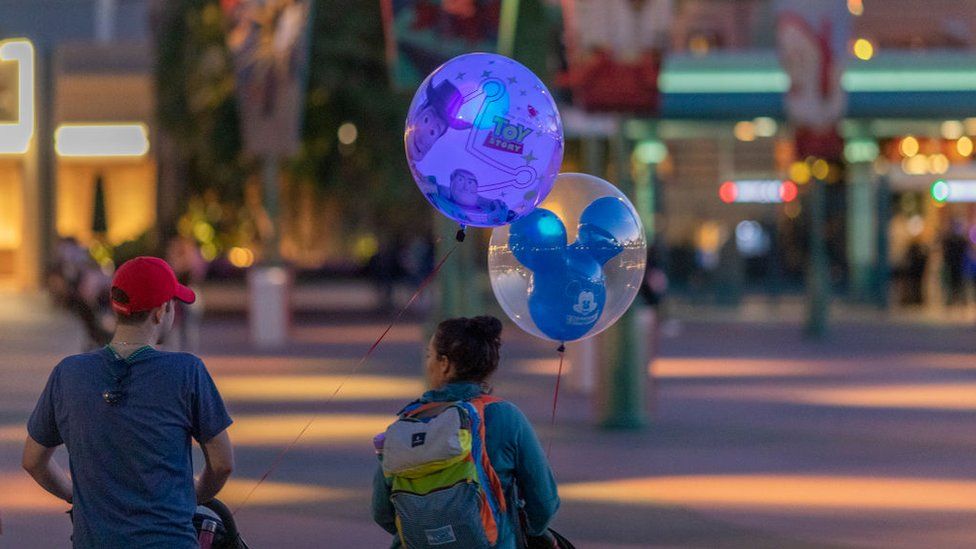 Mr Chapek also faced pressure, however, over his response to Florida's controversial "Don't Say Gay" bill.
In March, he apologised for his "painful silence" on the sex education bill that critics had said would isolate LGBT youth and saw him blasted by employees. Not long after Mr Chapek spoke out, Florida lawmakers passed a bill to strip Disney of its special tax status in the state, which had essentially allowed the company to control the area in Orlando where its theme parks are located.
He also fought a high-profile battle with movie star Scarlett Johansson over the release of the Black Widow film and Disney's decision to release the Marvel superhero film on its streaming service while it was still showing in cinemas. The case was eventually settled, although details of the deal weren't disclosed.
Walter Todd, president and chief investment officer of Greenwood Capital, told the BBC's Today programme that the news of Mr Iger's return was "very shocking", but added that investors were likely to welcome it.
Disney shares jumped 8% in pre-market trade on Monday morning, after the announcement was made.
"Bob Iger is someone who's synonymous with Disney – he oversaw some of the most successful acquisitions in the company's history with Pixar, Marvel, Lucasfilm so I think there's a fair amount of confidence in Bob in his vision for the industry," said Mr Todd.
Mr Todd said that Mr Iger's track record at Disney was why he had such respect in the industry, but he added: "That will only get you so far, so I'll be very interested to hear what his vision is for the company going forward."
Ricky Brigante, a Disney shareholder and founder of Inside the Magic fan community, likened Mr Iger's return to that of the late Steve Jobs to Apple in 1997.
He told the BBC that although the company had recently gone through some "rocky patches", Mr Iger "has the ability to – literally overnight" change the public's perception.
Even the co-chief executive of Disney rival Netflix tweeted about the move. Reed Hastings said: "Ugh. I had been hoping Iger would run for President. He is amazing."
Heading Into 2023 Media And Tech Companies Are Tightening Their Belts – Forbes
Over the past few months, Disney, Paramount
PARA
Global, Warner Bros. Discovery, Comcast
CMCSA
and AMC Networks
AMCX
have all announced employment layoffs, hiring freezes and/or restructuring heading into 2023. Coming out of the pandemic the goal is to continue to grow revenue, reduce debt and increase market value. With viewers steadily migrating to streaming video, media companies have been looking for a moneymaking revenue model as the lucrative linear TV revenue model, that had generated billions for decades, is slowing down. With inflation and concerns about a slowing ad market, media companies, are looking to impress Wall Street as the media behavior of consumers continue to evolve.
These employee cutbacks are not limited to "traditional" media companies, such digital titans as Meta, Amazon
AMZN
, Alphabet, Microsoft
MSFT
and of course, Twitter have also been looking to drive down costs and grow revenue as the digital advertising slows and their market value declines.
Below is a breakout of some recent announcements on the belt tightening taking place across the media and tech industries.
AMC Networks: Ten years ago, AMC Networks was one of the most popular cable TV networks airing The Walking Dead, Breaking Bad and Mad Men. Since then, the cable TV industry has been besieged by cord-cutting as viewers migrated to streaming video. In response AMC launched its own standalone streaming service AMC+. In the latest quarter, AMC+ reported a year-over-year increase in subscribers of 44% and now totals 11.1 million. Nonetheless, for the quarter, AMC's net revenue dropped by 16% to $682 million with a decline of 10% in ad dollars for the quarter.
AMC Networks Chairman James Dolan noted the revenue losses from cord cutting were not being offset by the gains from streaming. As a result, the Wall Street Journal reported AMC will lay off up to 20% of the estimated 1,000 total employees. Also, it was announced AMC CEO Christina Spade was stepping down after only three months at the helm.
Disney: In early November, Disney's then CEO Bob Chapek announced cost-cuts (i.e., curtailing business trips unless absolutely necessary), a hiring freeze with potential layoffs. The announcement came in the aftermath of a disappointing quarterly earnings report with Disney's stock price falling to a 52-week low. In the earnings report Disney noted their streaming services had lost $1.47 billion, more than double the loss from the previous year. Chapek maintained their streaming unit would be profitable by 2024. Ten days later Bob Iger, in a surprise announcement, returned as Disney's CEO replacing his handpicked successor. Chapek had served as Disney's CEO in February 2020 just prior to the start of the pandemic.
The 71-year-old Iger agreed to return as CEO for two more years and will look for another successor. Besides developing a new organization chart, Iger announced Disney's hiring freeze would continue. The CEO will also place a priority on making Disney's streaming unit profitability instead of focusing on subscriber growth. (In its latest earnings report Disney said that Disney+. Hulu and ESPN+ had 235.7 million global subscribers, up from 221 million in the previous quarter.)
Warner Bros. Discovery: When Discovery acquired Warner Media earlier this year, CEO David Zaslav shared with Wall Street plans to cut costs by $3 billion each year for the debt-ridden company. The merger approval came during a tenuous time, as investors were beginning to take a more hardened look at the revenue potential of streaming providers. In addition, Zaslav told investors the ad economy has been weaker than it was during the pandemic and the merger was messier than previously thought. As a result, the market value of Warner Bros. Discovery has been cut in half this year.
Since the merger Warner Bros. Discovery have undergone a sweeping series of layoffs. In August, 70 people were let go at HBO accounting for 14% of the entire staff. In October, the studio group Warner Bros. Television laid off 82 people which was 19% of the staff. Sports was impacted, in mid-November when an estimated 70 people, primarily at Turner Sports and Bleacher Report, were laid off. With the current NBA media rights contract expiring after the 2024-25 season and the possibility fees could triple, Zaslav has said they would stay disciplined when renewal negotiations begin, saying "We don't need the NBA.".
Most recently massive cuts were made at CNN with a reported 400 layoffs. While the direct-to-consumer CNN+ jettisoned within one month of launch, new CNN President Chris Licht announced further layoffs at the venerable news division. The layoffs were made across most CNN units from on-air talent to operations to CNN International. Among the CNN units hit hardest was Headline News which will no longer produce live content. Prior to the cutbacks CNN had a staff of between 4,000 and 4,500 workers.
Warner Bros. Discovery notified the Securities and Exchange Commission that it could cost upwards of $1.5 billion with cutbacks on content that were already approved and severance packages for employees laid off.
Comcast: In September, Comcast announced it was looking to cut $1 billion from its traditional TV networks entertainment division at NBCUniversal. The funding would be allocated to bolster other parts of Comcast's portfolio such as streaming (with 15 million paid subscribers Peacock has room to grow).
The cutbacks would impact both staff members and programming budgets forcing the network to develop lower cost unscripted shows instead of more costly scripted programming. It's been reported that 37 employees were laid off at E! Entertainment which was restructuring. NBCU has recently shuttered G4 cable network with 45 people losing their jobs. Additionally, Comcast has reportedly been offering retirement packages to long-time employees. Besides declining linear TV ratings, Comcast continues to be impacted by cord-cutting and broadband subscriber growth has been slowing.
Paramount Global: In November it was reported Paramount Global was cutting back on its ad sales department with fewer than 100 positions in New York and Los Angeles being eliminated. The media company has also made a number of organizational changes in recent months such as the scripted original division of Paramount+ becoming a part of Paramount TV studios resulting in a loss of jobs.
Roku, a streaming device, announced in mid- November they were planning to lay off 200 employees or about 5% of their 3.000 full-time workforce. The company cited the current financial conditions prevalent in the streaming industries and a sluggish ad economy. During its third quarter earnings report Roku executives told investors to expect a challenging fourth quarter.
Netflix
NFLX
: After reporting a decline in subscriber counts, Netflix earlier in the year announced layoffs. In May, 150 employees saw their position eliminated as well as a number of contractors and part-time workers. The following month Netflix followed up with 300 additional employers laid off. At that time Netflix had about 11,000 full-time workers worldwide.
Digital Media: Even digital media companies are pulling back in these uncertain economic times and sluggish earnings reports.
The mass layoffs at Twitter have been well documented, the micro-blogger site has downsized from 7,500 employees to fewer than 2,500 in just a few weeks.
In mid-November Amazon reportedly was going to lay off 10, 000 workers or roughly 3% of its 1.5 million global work force. Cutbacks will be more prevalent with devices such as Alexa.
In early November Meta announced 11,000 employees would be let go accounting or 14% of the entire workforce. The cutbacks were across all divisions and included Facebook, Instagram and WhatsApp. Also, Meta decided to move out of their 250,000 square foot office in Manhattan's Hudson Yards section. Meta has been focusing on the metaverse and has been incurring startup costs.
In August Snap announced a reduction in their workforce of 20% from what had been 6,400 employers. Snap said the company would be restructuring. The company has been struggling post-pandemic and its stock price had been down 80% since the first of the year.
In October Microsoft announced globally nearly 1,000 workers were to be let go. Similar to other tech companies, Microsoft has seen its stock price tumble this year. Globally, Microsoft has 221,000 employees.
More traditional media are also reporting cutbacks. Gannett
GCI.I
, the nation's largest newspaper publisher, announced that 200 additional workers (6% of the workforce) would be laid off. Washington Post recently announced that after three decades they would no longer publish a Sunday print magazine, resulting in a loss of ten positions. The last issue will be on Christmas Day. With a cutback in revenue from sponsors, NPR is looking to cut $10 million in costs (3% of their budget), announcing they would severely curtail any hiring and would cut back on any discretionary spending. By doing so NPR is hoping to avoid layoffs. Vice Media announced they will lay off 2% of their staff or roughly 12 members in its sales, branded content, editorial in the U.S., Canada and Europe.
Economic slowdowns and market valuations are transient and a hiring binge in media and tech companies could take place relatively soon as a workable business model evolves. Another silver lining is there are now thousands of experienced and talented workers now available for hire.
Media Advisory: Auditor General to Deliver Report on a Performance Audit of Adult Custody and Community Corrections – News Releases – Government of Newfoundland and Labrador
Auditor General of Newfoundland and Labrador, Denise Hanrahan, will deliver a performance audit report on The Department of Justice and Public Safety's Corrections and Community Services Division (Adult Custody and Community Corrections) to the House of Assembly tomorrow (Wednesday, December 7).
A technical briefing for media will take place on Wednesday (December 7), beginning at 10:30 a.m. in the Office of the Auditor General's boardroom, 7 Pippy Place, St. John's. Media representatives planning to participate are asked to RSVP to Chrysta Collins (chrystacollins@oag.nl.ca).
The Auditor General will be available to the media beginning at 11:30 a.m.
Media planning to participate are asked to be at the Office of the Auditor General no later than 10:15 a.m.
-30-
Media contact
Chrysta Collins
Manager of Communications and Stakeholder Relations
709-730-1568
chrystacollins@oag.nl.ca
Media Release – December 6, 2022 – Guelph Police – guelphpolice.ca
Resident confronted by armed intruder
A Guelph male faces charges after an elderly homeowner was confronted by an armed intruder in her home Monday evening.
At 8:38 p.m. Monday, a male entered a home near Cambridge Street and Yorkshire Street North and confronted the homeowner. The victim was able to direct the male out of her home as he showed what appeared to be a black firearm inside his coat.
The male was located nearby. A black imitation firearm was found in his jacket pocket. A 45-year-old Guelph male is charged with break and enter, possessing a weapon for a dangerous purpose and possessing stolen property. He was held for a bail hearing Tuesday.
At the time of his arrest the male was wearing a knitted ¾-length coat believed to be stolen. If anyone recognizes this coat they are asked to call Constable Matt Ball at 519-824-1212, ext. 7525, or email him at mball@guelphpolice.ca.
Ammunition found in stolen truck
The Guelph Police Service is investigating after ammunition was recovered from a stolen pickup Monday.
Monday morning an officer was conducting proactive patrols on Willow Road near Applewood Crescent when he located a grey Ford F-150 pickup with stolen licence plates attached. Investigation revealed the truck had been stolen last month from Halton Region. A quantity of ammunition was discovered inside.
A witness reported the truck had been parked in the lot earlier in the day by a white male in his 40s or 50s with a thin build and white beard.
Anyone with information about the vehicle is asked to call Constable James Perdicaris at 519-824-1212, ext. 7382, email him at jperdicaris@guelphpolice.ca, leave an anonymous message for Crime Stoppers at 1-800-222-8477 (TIPS) or leave an anonymous tip online at www.csgw.tips.
Pickup stolen from driveway
The Guelph Police Service is investigating after a pickup truck was stolen from a driveway overnight.
Police were called at 6:30 a.m. Tuesday by a resident of Auden Road near Leacock Avenue. They had come out to find their grey and black 2022 Dodge Ram pickup missing from the driveway. The truck is described as a crew cab style with a moon roof and a hard tonneau cover.
Anyone with information is asked to call Constable Greg Mitchell at 519-824-1212, ext. 7170, email him at gmitchell@guelphpolice.ca, leave an anonymous message for Crime Stoppers at 1-800-222-8477 (TIPS) or leave an anonymous tip online at www.csgw.tips.
Total calls for service in the last 24 hours – 211