'Disturbing stories' of intimidation 'unacceptable,' says Strang – HalifaxToday.ca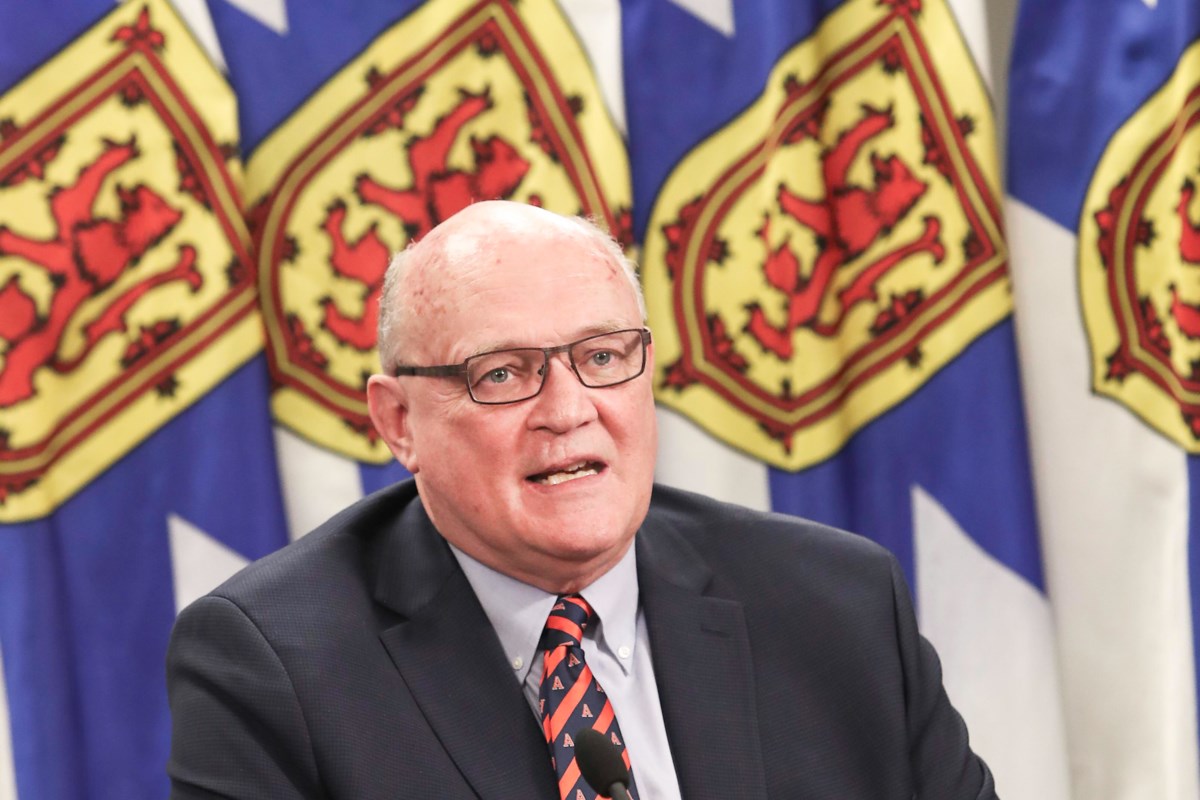 The province's chief medical officer of health wants to see more caring and compassion and less blame and shame when it comes to dealing with COVID-19.
Dr. Robert Strang said, even though there is no longer a recommendation against all non-essential travel into and out of areas of HRM and Hants County, he's heard that people who have been in the Halifax area are being denied service in other parts of the province.
"We've also heard stories about rotational workers who continue to be targeted within their communities, as well as their families and children," Strang said at a Tuesday briefing. "I've heard disturbing stories. We are hearing instances of serious and intimidating communication to these individuals and families.
"This is unacceptable. We can not tolerate such behaviour in our communities."
He understands there's a lot of fear when it comes to COVID-19, but said "shaming and blaming" is not going to help stop the spread of the virus, and it could actually make the situation worse.
"Shaming and blaming creates stigma. It drives people underground, and when we drive them underground we lose our ability to work with them and keep our communities safe entirely," he explained.
"We need to be able to have people be open and transparent about their activities and their travel so we can work with them around testing and keeping our communities safe."
Strang said COVID-19 is not just an issue in the Halifax area. There have been recent cases in all four Nova Scotia Health zones in the province.
"There isn't a single hotspot," he said. "The potential for COVID is here regardless of what community you're in in Nova Scotia."
He suggested rather trying to find out who might have been exposed or who has tested positive, we should focus on making choices that will keep ourselves and our families safe.
"We are in the midst of a pandemic. People are going to test positive and we need to accept that," he stated.
"Our goal right now is to keep our numbers as low as possible and we're doing that, but we have to be realistic and it's not realistic to expect that we'll have no COVID at all."
He's urging us to show caring and compassion to fellow Nova Scotians as we move into the new year.
"We can't assume everyone's situation is like ours. We don't know what other battles and challenges people may be having as they deal with COVID and all sorts of other issues," he said.
"We need to be good to one another. That's the energy I'm taking into 2021 and I ask you to do the same." Strang added. "Caring, compassion and building up community — not blaming and shaming — and with a commitment to do the very best we can all together."
Central Health reveals more details over vaccine hiccup, as N.L. reports no new cases of COVID-19 – CBC.ca
Central Health is revealing more information about a problem with its COVID-19 vaccine rollout, which forced the health authority to hastily organize an immunization clinic to prevent it from losing some doses.
After repeated requests from CBC, the health authority provided more details by email Tuesday afternoon.
The statement said a shipment of the Pfizer-BioNTech vaccine "went to a temperature that did not permit longer storage" on its way to Grand Falls-Windsor on Jan. 7, and had to be administered within six hours.
The health authority said that batch made up only a "small portion" of its supply: 160 doses that were allotted for a clinic the next day.
The temperature monitor for the shipment went outside the recommended 2 to 8 C, meaning they could not be refrozen. According to the statement, the health authority "engaged provincial consultants who confirmed the vaccine was safe to use but had to be administered in the required time frame."
The health authority says it suspects there may have been an issue with the placement of the monitor that was measuring the temperature of the vaccine. It said the doses fell out of the recommended temperature range, but none of them were wasted.
"We quickly organized an impromptu clinic with priority health-care workers, along with a small number of additional employees who were available to attend at such a short notice," the statement said.
"The 160 doses were safely administered with no wastage. Many of those who were immunized already had appointments booked for Friday onward."
Central Health refused two requests to do an interview with CBC, and wouldn't provide more information on the incident until Tuesday afternoon, such as what the exact problem was, what type of vaccine was involved, and how many people ended up vaccinated.
On Tuesday, a spokesperson for the health authority said someone would speak about the issue to CBC's Newfoundland Morning on Thursday.
The Pfizer-BioNTech vaccine must be stored at ultra-low temperatures to be viable, between –60 C and –80 C. The Moderna vaccine is more stable, but must still be stored at around –20 C. The provincial government has said that due to Moderna's stability, those doses were earmarked for remote communities in Labrador.
Also on Tuesday afternoon, Maj.-Gen. Dany Fortin, the person in charge of national vaccine distribution, said Canada would not receive any doses of the Pfizer-BioNTech vaccine next week, as the company upgrades its European plant. Fortin said that delay will have "considerable impact."
It's not clear yet on how the drop in shipments will affect Newfoundland and Labrador.
No new cases Tuesday
The province has five active cases of COVID-19, with one person in hospital, the Department of Health said Tuesday.
No new cases were reported Tuesday, and one person in the Eastern Health region has recovered since Monday, with a total of 384 people recovering since March.
As of Tuesday, 76,740 people have been tested, and as of last Wednesday, 5,291 vaccine doses had been administered. The Department of Health has said vaccination data will be released weekly.
Read more from CBC Newfoundland and Labrador
Ottawa sees lowest daily COVID-19 case count in three weeks – CTV Edmonton
OTTAWA —
Ottawa Public Health is reporting 56 more people in Ottawa have tested positive for COVID-19, the lowest daily figure in three weeks.
However, two more residents of Ottawa have died of COVID-19.
It comes amid a drop of cases provincewide, with fewer than 2,000 new cases reported across Ontario, due in part to a technical issue in Toronto.
"Due to a technical issue, Toronto Public Health could not report an undetermined number of new cases today, resulting in an underestimation of the daily counts," Public Health Ontario said.
Figures from OPH and the province often differ due to different data collection times. The province reported 41 new cases in the city.
According to Ottawa Public Health's COVID-19 dashboard, there have been 12,427 laboratory-confirmed cases of COVID-19 since the pandemic began and 407 deaths.
There are early signs of some improvement in the COVID-19 situation in the city, with the number of known active cases falling for the third day in a row, and some weekly trends also on the decline. The number of cases in the past seven days per 100,000 residents has been slowly falling, and the estimated reproduction rate in the last week is below 1, suggesting viral spread is slowing down.
The COVID-19 wastewater monitoring is also showing signs of a decline after a peak in early January.
However, there are still more than 30 COVID-19 outbreaks in congregate care settings such as long-term care homes and retirement homes and new outbreaks are still being regularly declared.
OTTAWA'S COVID-19 KEY STATISTICS
A province-wide lockdown went into effect on Dec. 26, 2020. Ottawa Public Health moved Ottawa into its red zone in early January.
A provincial stay-at-home order has been in effect since Jan. 14, 2021.
Ottawa Public Health data:
COVID-19 cases per 100,000 (previous seven days): 81.9 cases
Positivity rate in Ottawa: 4.0 per cent (Jan. 11 – Jan. 17)
Reproduction number: 0.96 (seven day average)
Reproduction values greater than 1 indicate the virus is spreading and each case infects more than one contact. If it is less than 1, it means spread is slowing.
VACCINES
As of Jan. 18, 2021:
Doses administered in Ottawa (first and second doses): 21,938
Doses received in Ottawa: 22,245
As of Jan. 19, 2021:
Doses administered in Ontario: 224,134
Vaccinations completed in Ontario: 25,609
Doses received in Ontario: 277,050 (Jan. 14, 2021)
ACTIVE CASES OF COVID-19 IN OTTAWA
The number of people with known active cases of COVID-19 in Ottawa is below 1,200 for the first time in a week.
OPH reported 1,137 active cases of COVID-19 on Tuesday, down from 1,232, driven largely by a jump in resolved cases.
The number of resolved cases rose by 149 on Tuesday to 10,883.
The number of active cases is the number of total laboratory-confirmed cases of COVID-19 minus the numbers of resolved cases and deaths. A case is considered resolved 14 days after known symptom onset or positive test result.
HOSPITALIZATIONS IN OTTAWA
There are 39 people in Ottawa hospitals with COVID-19 complications and eight people are in the ICU.
Of the people in hospital, one is between the ages of 10 and 19 (this person is in the ICU), one is in their 30s (this person is in the ICU), six are in their 50s (one is in the ICU), eight are in their 60s (two are in the ICU), seven are in their 70s (three are in the ICU), nine are in their 80s, and seven are 90 or older.
TESTING
Ontario health officials say 34,531 COVID-19 tests were performed on Monday across Ontario and 36,750 tests remain under investigation.
The Ottawa COVID-19 Testing Taskforce says 1,717 swabs were taken at assessment centres on Monday and local labs performed 2,640 tests. There are 2,368 COVID-19 tests in progress as of Jan. 19.
The positivity rate for the week of Jan. 11 to 17 was 4.0%
The Average turnaround from the time the swab is taken at a testing site to the result was 23 hours.
CASES OF COVID-19 IN OTTAWA BY AGE CATEGORY
Here is a breakdown of all known COVID-19 cases in Ottawa by age category:
0-9 years old: 7 new cases (888 total cases)
10-19 years-old: 8 new cases (1,572 total cases)
20-29 years-old: 15 new cases (2,638 total cases)
30-39 years-old: 10 new cases (1,716 total cases)
40-49 years-old: 10 new cases (1,627 total cases)
50-59 years-old: 3 new cases (1,469 total cases)
60-69-years-old: 2 new cases (897 total cases)
70-79 years-old: 0 new cases (562 total cases)
80-89 years-old: 1 new case (632 total cases)
90+ years old: 0 new cases (423 total cases)
Unknown: 0 new cases (3 cases total)
COVID-19 CASES AROUND THE REGION
Eastern Ontario Health Unit: 14 new cases
Hastings Prince Edward Public Health: 3 new cases
Kingston, Frontenac, Lennox & Addington Public Health: 3 new cases
Leeds, Grenville & Lanark District Health Unit: 0 new cases
Renfrew County and District Health Unit: 2 new cases
Outaouais region: 20 new cases
INSTITUTIONAL OUTBREAKS
Ottawa Public Health is reporting COVID-19 outbreaks at 38 institutions in Ottawa, including long-term care homes, retirement homes, daycares, hospitals and schools.
Five new outbreaks were declared on Tuesday at an Andrew Fleck Children's Services daycare, the Montfort Long-term Care Centre home, the Perley and Rideau Veterans' Health Centre, the Peter D. Clark long-term care home, and a supported independent living home.
The outbreak at the Duke of Devonshire retirement home has ended.
There are six active community outbreaks. An outbreak at a multi-unit dwelling has ended.
Three are linked to health workplaces, one is linked to an office workplace, one is linked to a distribution centre, and one is linked to a services workplace
The schools and childcare spaces currently experiencing outbreaks are:
Andrew Fleck Children's Services – Home Child Care – 29101 (NEW)
Greenboro Children's Centre
Montessori by Brightpath
Ruddy Family Y Child Care
Services à l'enfance Grandir Ensemble – La Maisonée – 28627
The long-term care homes, retirement homes, hospitals, and other spaces currently experiencing outbreaks are:
Alta Vista Manor
Besserer Place
Centre D'Accueil Champlain
Colonel By Retirement Home
Extendicare Laurier Manor
Extendicare Medex
Extendicare New Orchard Lodge
Extendicare West End Villa
Garry J. Armstrong long-term care home
Grace Manor Long-term Care Home
Granite Ridge long-term care home
Group Home – 28608
Group Home – 28740
Group Home – 28848
Group Home – 29045
Group Home – 29049
Group Home – 29052
Hillel Lodge
Madonna Care Community
Montfort Long-term Care Centre (NEW)
Oakpark Retirement Community
Park Place
Perley and Rideau Veterans' Health Centre (NEW)
Peter D. Clark long-term care home (NEW)
Redwoods Retirement Residence
Shelter – 28365
Sisters of Charity Couvent Mont Saint-Joseph
St. Patrick's Home
Supported Independent Living – 28110
Supported Independent Living – 29100 (NEW)
Valley Stream Retirement Residence
Villa Marconi
Villagia in the Glebe Retirement Residence
A single laboratory-confirmed case of COVID-19 in a resident or staff member of a long-term care home, retirement home or shelter triggers an outbreak response, according to Ottawa Public Health. In childcare settings, a single confirmed, symptomatic case in a staff member, home daycare provider, or child triggers an outbreak.
Under provincial guidelines, a COVID-19 outbreak in a school is defined as two or more lab-confirmed COVID-19 cases in students and/or staff in a school with an epidemiological link, within a 14-day period, where at least one case could have reasonably acquired their infection in the school (including transportation and before or after school care).
PM warns Canada could impose new COVID-19 travel restrictions without notice – CTV News
OTTAWA —
Citing the evolving situation with the identified COVID-19 variants from other countries, the prime minister is strongly urging Canadians not to travel because federal travel rules could change very quickly.
In French, the prime minister implored anyone who has booked trips to cancel them, saying a vacation is not worth it given the uncertainty and chance of either contracting the virus or ending up stranded abroad.
He said the federal government is closely following the latest science on more transmissible strains, such as those from the U.K. and Brazil, and officials could impose new restrictions without advance notice at any time.
The government continues to advise against any non-essential travel, though that decision is left up to Canadians and no outright ban is in place.
Canadian airlines and travel companies continue to offer vacation packages and flight deals to warmer destinations, with flights departing from Canada daily.
Acknowledging that people have the right to travel, Trudeau said the government also has the ability to impose penalties for those endangering others' health.
Canada has had restrictions on international travellers entering the country since mid-March 2020, as well as a mandatory 14-day quarantine period for anyone who returns from an international location.
In December, while some Canadians opted to vacation abroad, the federal government imposed new travel rules, including the requirement to show a negative COVID-19 test result before boarding a flight coming back into this country. As well, for a short period of time flights from the U.K. were banned with little notice, but have since resumed.
Violating any of Canada's international travel screening and self-isolation requirements can result in charges under the Quarantine Act, with maximum penalties of up to six months in jail or a fine of up to $75,000.
According to Chief Public Health Officer Dr. Theresa Tam, in Canada there have been 23 confirmed cases of the variant first reported in the U.K., and two cases of the South African strain. Further, the Public Health Agency of Canada is reporting nearly 200 recent international flights that have landed in Canada with at least one COVID-19 positive passenger aboard.
"Every vacation travel we postpone for a better time in the future, every outing or activity we avoid, shorten, or limit to essentials… helps to reduce spread of the virus," Tam said Tuesday.