Do You Have Any Questions?
For 45 minutes, your interview has been going well—better than well! You quickly built rapport with your interviewer. You gave concise answers that were on point and clearly articulated the ROI to be expected from hiring you. You're in the "interview zone." You're thinking, "I got this!"
Then your interviewer asks: "Do you have any questions?"
Even though this question will inevitably be asked, most candidates end up stumbling around for what to ask. You don't want to be such a candidate.
Furthermore, you do not want to be a candidate who asks questions that are clearly "off the cuff." (e.g., "When does the position start?", "Are there opportunities for advancement?", "What's parking like around here?")
Worst is the candidate who says they have no questions. This shows a lack of interest in the position.
It's fair to say candidates are concerned about their questions being acceptable. They're afraid of appearing picky or demanding or worry their interviewer will judge them negatively. Yes, it can be nerve-racking to diplomatically elicit the information you really want (e.g., "What are you really like as a manager?", "Does everyone secretly hate it here?"), however, it's in your best interest to make an informed decision.
While I can't speak for all hiring managers, there's no question you can't ask me. I want the candidate to have all the information they need to decide whether the job is right for them. Feel free to ask me anything!
A candidate once asked me what my pet peeves are. I replied my top two are lateness and poor communication skills. The candidate responded by telling me they lived close by and were the editor of their college newspaper. (Information that didn't appear on their resume.) I hired the person.
The only questions you shouldn't ask are self-serving questions, such as, "What does the position pay?", "How many vacation days will I get?", "What's your sick-day policy?" You want to strategically ask questions that show you're serious about contributing to the organization. You're not looking for a paycheck, you're looking for a long-term employer/employee relationship.
Here are 10 questions you can ask to gain further insight into whether the job and company are a match for you and show your interviewer you're not just looking for a paycheck.
"How is success measured for this position?"
"What are some of the challenges a person in this position can expect to face?"
"Please describe a typical day or week in the job?"
"How long did the previous person in the role hold the position?"
"What are you hoping I will accomplish in my first six months and in my first year?"
"Thinking back to people who've held this position, what differentiated the ones who were good from the ones who were really great?"
"How would you describe the culture here? What type of people tend to thrive, and what type seems to struggle?"
"Is there an employee performance review process? How often does that occur? Can you walk me through a typical one?"
"Is there anything else I can provide you with that would be helpful or additional questions I can answer?"
"What's your management style like? How will you manage me?"
I always ask question number 10. Several times, my interviewer's answer determined I wouldn't be a good fit.
Of course, you won't be able to ask all 10 questions. Have these questions and any others you can think of, ready to ask. Tailor the above questions and others you may think of, so your questions don't come across generic. For example, "Can you describe a typical day or week in the job?" should be, "Please describe a typical day or week for an account manager at Zorin Industries ."
Prepare at least 5 questions to ask your interviewer. Don't be put off if your questions are answered throughout the interview. (Never ask a question that was answered during the interview.) There's a good chance questions will occur to you during the interview. That's great! You want the interview to be a conversation between peers. Don't wait for your interviewer to ask if you have any questions. Ask clarifying questions as needed, making the interview conversational. This shows you're paying attention, and to a degree, you're controlling the conversation.
During your next interview, don't hesitate to ask questions. Should you receive a job offer you want to make an informed decision whether to accept or not.
______________________________________________________________
Nick Kossovan, a well-seasoned veteran of the corporate landscape, offers advice on searching for a job. You can send him your questions at artoffindingwork@gmail.com.
China cuts rates on policy loans for first time since April 2020 – CNBC
A woman walks past the headquarters of the People's Bank of China in Beijing, China.
Jason Lee | Reuters
China's central bank on Monday cut the borrowing costs of its medium-term loans for the first time since April 2020, defying market expectations, to cushion any economic slowdown.
The People's Bank of China (PBOC) said it was lowering the interest rate on 700 billion yuan ($110.19 billion) worth of one-year medium-term lending facility (MLF) loans to some financial institutions by 10 basis points to 2.85% from 2.95% in previous operations.
Thirty-four out of the 48 traders and analysts, or 70% of all participants, polled by Reuters last week predicted no change to the MLF rates, although a rising number of market participants start to forecast a rate cut.
With 500 billion yuan worth of MLF loans maturing on Monday, the operation resulted a net 200 billion yuan of fresh fund injections into the banking system.
The central bank also lowered the borrowing costs of seven-day reverse repurchase agreements, or repos, by the same margin to 2.10% from 2.20%, when it offered another 100 billion yuan worth of reverse repos into the banking system on the day, compared with 10 billion worth of such short-term liquidity tool due on Monday.
Credit Suisse chairman resigns after company probe – BBC News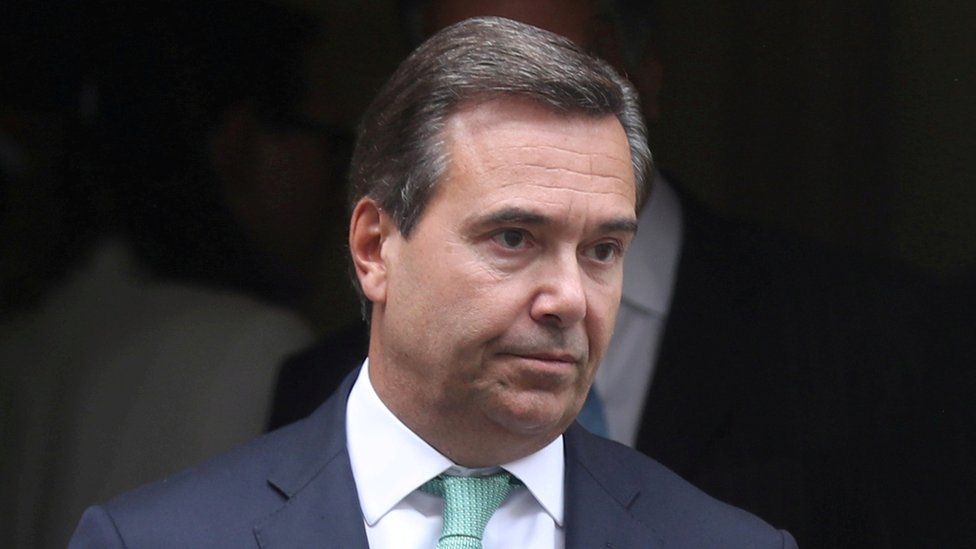 The chairman of global banking giant Credit Suisse, Antonio Horta-Osorio, has resigned with immediate effect after an internal company probe.
He was reportedly found to have broken the UK's Covid-19 quarantine rules.
The former boss of Lloyds Banking Group joined Credit Suisse after a series of scandals at the Swiss bank.
Now, Mr Horta-Osorio, who was the chairman of Credit Suisse for less than a year, has been replaced by board member Axel Lehmann.
"I regret that a number of my personal actions have led to difficulties for the bank and compromised my ability to represent the bank internally and externally," Horta-Osorio said in a statement issued by the bank.
"I therefore believe that my resignation is in the interest of the bank and its stakeholders at this crucial time," he added.
Last month, it was reported by the Reuters news agency that a preliminary investigation by Credit Suisse had found that Mr Horta-Osorio had breached Covid-19 rules.
He reportedly attended the Wimbledon tennis finals in July at a time when the UK's Covid-19 rules required him to be in quarantine.
Speaking to the BBC, a spokesperson for Credit Suisse said that the bank would give no further details on Mr Horta-Osorio's resignation other than those in its statement.
They also said that there were no plans to release the findings of the investigation.
Before joining Credit Suisse Mr Horta-Osorio was chief executive of British lender Lloyds Banking Group.
He was brought in to lead Switzerland's second-largest bank to help clean up a corporate culture marred by its involvement with collapsed investment company Archegos and insolvent supply chain finance firm Greensill Capital.
In February 2020, then-Credit Suisse chief executive Tidjane Thiam resigned after a scandal revealed the bank had spied on senior employees.

You may also be interested in:
UK government to cut funding for BBC – Mail on Sunday report
Britain's government will cut the BBC's funding by ordering a two-year freeze on the fee that people pay to watch the broadcaster, the Mail on Sunday reported.
The future of the licence-payer funded British Broadcasting Corporation is a perpetual topic of political debate, with Prime Minister Boris Johnson's government most recently suggesting its funding needs to be reformed.
Set against an inflation rate expected to reach a 30-year high of 6% or more in April, freezing the licence cost at its current 159 pounds ($217.40) would provide some relief to consumers battling sharply rising costs of living.
But it would also be a large blow to the BBC's finances as it tries to compete with privately funded news outlets and the likes of Netflix and other entertainment streaming services funded by consumer subscriptions.
In November, the government launched negotiations to agree how much the TV licence would cost, part of a five year funding settlement due to begin in April 2022.
The Digital, Media, Culture and Sport department declined to comment when asked about the Mail on Sunday report.
Culture secretary Nadine Dorries said that the licence fee settlement would be the last such agreement and tweeted a link to the Mail on Sunday article.
"Time now to discuss and debate new ways of funding, supporting and selling great British content," she said on Twitter.
The BBC declined to comment on Dorries' tweet or the Mail on Sunday report.
The opposition Labour Party said the funding cut was politically motivated.
"The Prime Minister and the Culture Secretary seem hell-bent on attacking this great British institution because they don't like its journalism," said Lucy Powell, Labour lawmaker and culture policy chief.
The BBC's news output is regularly criticised by UK political parties. Its coverage of Brexit issues – central to Johnson's government – has long been seen as overly critical by supporters of leaving the European Union.
Last week, one Conservative lawmaker said BBC coverage relating to parties in Johnson's Downing Street residence during coronavirus lockdowns amounted to a "coup attempt" against the prime minister.
($1 = 0.7314 pounds)
(Reporting by William James. Editing by Jane Merriman)