Doctor-turned-artist makes house into playful art using thousands of toys – CBC.ca
This time of year in New Brunswick isn't known for being colourful. The grass is mostly light brown, and trees and bushes are just beginning to grow tiny buds.
But, take a drive through a quiet downtown neighbourhood in Fredericton and you'll be greeted with a riot of colour from Brian MacKinnon's latest art exhibition, which is on display — on his house.
The retired family doctor still works part-time as a physician, but spends his down time as a visual artist. For his latest project, melted toys are his chosen medium. Thousands of them, fixed to panels, and now adorning the windows as shutters on his charcoal grey home off Waterloo Row.
"So far people have been laughing and being very surprised," MacKinnon said, adding that he's been enjoying the reactions of people so far.
The pop of colour on this quiet side street can be seen from the main road — and it's enough to cause drivers and pedestrians to take a detour to get closer.
MacKinnon's latest labour of love was kept a secret from his neighbours until it was revealed last weekend.
"I like the element of surprise in art," he said, adding that his neighbour have been very supportive of his work.
MacKinnon said he chose only contemporary toys and specifically picked toys with bright colours. There are blues, reds, greens, oranges and yellows… squirt guns, bubble-blowing pipes, beach rakes, toy electric drills… you name it, you can probably find it. After all, there's about 6,000 of them.
He has no personal attachment to the toys he used, but he hopes people who pass his house to view the art will make a personal connection of their own.
"I hope people can have their own fun, and their own memories from finding some of the toys, which some of the neighborhood kids have done."
MacKinnon said putting his art outdoors in a public viewing area brings a new perspective for people coming to see the work. And, part of what he wanted to do in this case was take art away from a gallery setting.
"People can see them from their car, they can be walking by, they can laugh at them and do what they want — but nobody's telling them how to think."
MacKinnon lives on a flood plain, and said this work is his way of celebrating that, so far, the spring has been relatively flood-free.
"And it's the dullest visual time of year — probably this week, and I really wanted to burst forth with this colour."
MacKinnon said he doesn't know how long he'll leave the display up, but he hopes all this colour will bring people onto his street.
Windsor Public Library wants to show you local art while you ride your bike – CBC.ca
Windsor Public Library wants to showcase the city's downtown art. It plans to have two cycling tours to show it off.
Becky Mayer, a librarian at the Windsor Public Library organized the tours. She said the main reason she wanted to do this is because people think there's nothing to do or see in Windsor.
"I often ride my bike around and I see a lot of cool and weird stuff," said Mayer. "So, I just thought that maybe a few people would want to join me on a weird stuff tour."
Mayer said she'll be bringing Betty the Bookmobile along for the journey. She said the ride will be pretty casual and if someone has a story to tell she's happy to give them space to share.
"I'm fine with talking as well. If you want to have a silent tour, that's also cool. Like, it's very, very casual. Go with the flow. We'll see what happens," Mayer said.
The first tour starts at 6 p.m. August 16, the second tour is on August 20 starting at 10 a.m. The tours last about an hour and starts at the library's Central Branch at the corner of Ouellette Avenue and Pitt Street.
Youth get creative at summer art camp – Lakeland TODAY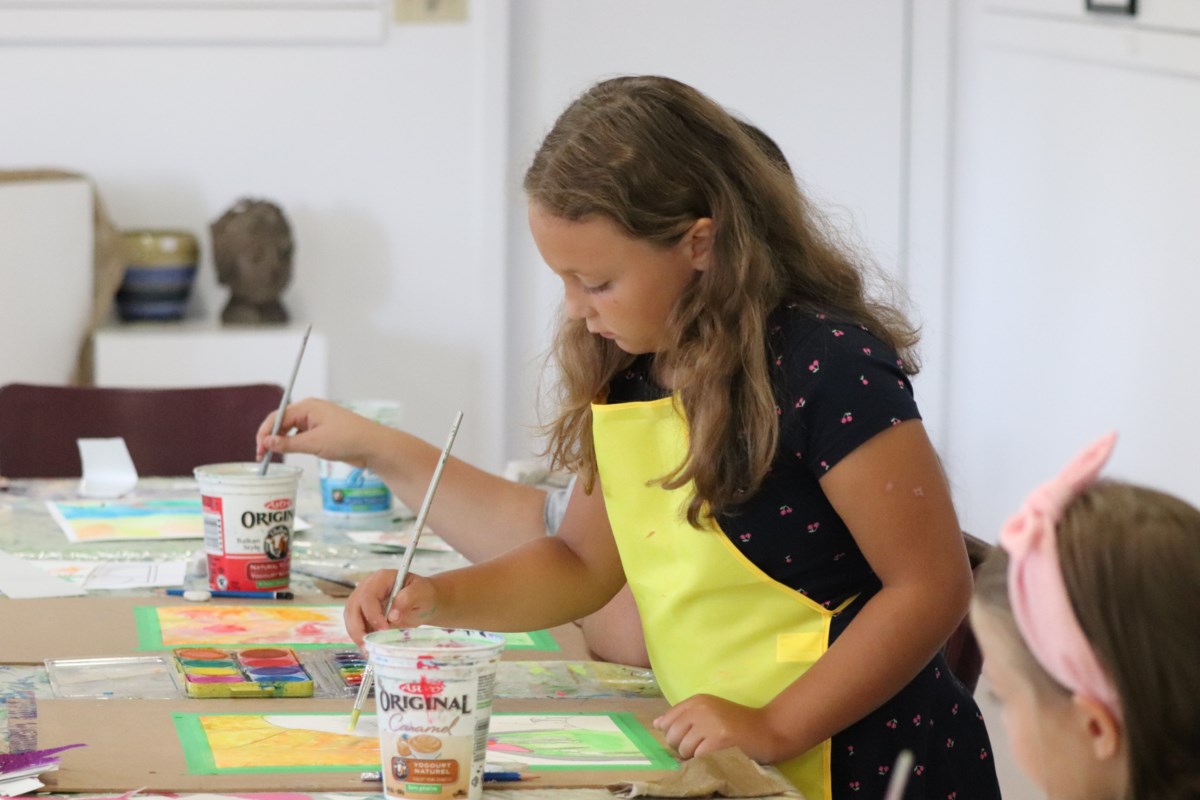 ST. PAUL – A variety of mediums were used to create unique works of art during a week-long Youth Art Camp held at the St. Paul Visual Arts Centre, last week.
Pam Bohn, the art instructor for the art camp, said the camp gives youth the chance to not only do art but form friendships.
"We also go outside to play and go to the park, and so it is also a day where they can make friends."
The art camp included acrylic painting, watercolour painting, mixed media projects, and much more.
"While I facilitate the classes, [the children] are free to create as they please," she said. "That allows those who like to do art that freedom to have different art mediums and try things that they may be unable to do at home."
Bohn said the participating youths have enjoyed the art camps, adding, "They all get excited when they come and take their [art] home to show their parents."
The Hive celebrates three new exhibitions at Art Gallery of Burlington | inHalton – insauga.com
Published August 15, 2022 at 2:41 pm
A special event celebrating three new exhibits is being hosted by the Art Gallery of Burlington.
The Hive is happening Saturday, Aug. 27, from 1 to 4 p.m. This free, all-ages event incorporates the organization, cooperation and energy of a beehive into an afternoon of art, activity, learning and fun.
The Hive will feature a special workshop led by Toronto's Clay and Paper Theatre, live arts and crafts demonstrations, a screen-printing presentation, live performance, food and drink.
The event is being held in celebration of the AGB's three new fall exhibitions:
The Future of Work, an exploration into how the pandemic has affected labour markets and our quality of life

ਨਜਰ ਨਾ ਲੱਗੇ

/Nazar na lage/Knock on wood, a vibrant and meaningful interpretation on the art of rangoli by artist Noni Kaur
Know your Place, an exhibit of cartoon-like clay sculpture that reveal the raw emotional experiences of the artist Sami Tsang
Known for work inspired by oral traditions, folk songs, poems and fables, Clay and Paper Theatre will charm participants and audiences with their original multi-disciplinary performance-based production. Guests who wish to participate with Clay and Paper Theatre should arrive early and be ready to create.
Visitors are invited to an interactive, screen-printing demonstration led by artist Jesse Purcell and are encouraged to bring any used clothing to be transformed into a bunting display to be hung in the gallery by the artist collective Works-in-Progress.
Arts Burlington will be opening its doors to guests with arts demonstrations and the Burlington Handweavers and Spinners Guild will guide guests through a natural plant-based dying demonstration, teaching attendees what they need to know to create from home.
The AGB parking lot will be free for the day. For more information, visit the AGB website.

insauga's Editorial Standards and Policies
Stay the know
Subscribe now to receive our daily email of today's top stories in your city!
advertising