Does it matter who owns Black art?
In 2017, Jean-Michel Basquiat's Untitled skull painting was purchased for $110.5 million US by Japanese entrepreneur and billionaire Yusaku Maezawa. The historic purchase joined a growing number of works by Black American artists that have skyrocketed in value on the art market. These astronomical prices are frequently in the headlines, but I have also been curious about the collectors who choose to own these pieces. Who buys Black art? Why do they buy Black art? And does it matter who owns these works?
To grapple with these questions and more, I spoke virtually with Dr. Kenneth Montague, one of the most noted Black art collectors in Canada. Earlier this year, Montague published As We Rise: Photography from the Black Atlantic, a book by Aperture containing select photographic works from his extensive collection. It's a moving assemblage of images that invites the viewer to witness an array of intimate moments in the wide expanse of Black life. According to Montague, Aperture was interested in putting together a book not only featuring the work of Black artists but specifically highlighting pieces that had found their home within a Black-owned collection. "That was really special and really kind of foundational for me. I didn't really want to deal with a company that didn't get that important fact." Montague notes the soaring prices of work by many of the artists featured. "[Today] I couldn't even afford many of the works in my collection," he tells me. "In a way, we're trying to hold on to something and keep something for ourselves, and I think Aperture understood that."
I've been reflecting on Montague's desire to "keep something for ourselves." An early title for the book was "Black Owned" and I am curious about the implied assertion that who owns the art may hold just as much significance as the question of who made the art.
For Montague, who began purchasing works in the late '90s, collecting is a form of storytelling, and he believes the works he acquires are engaged in a constant dialogue with each other. Each one contributes to Montague's personal curatorial mission: to explore the multifaceted variations of Black experience. "I'm connected with the works and with my collection," he told me. "It's very much about figuration and portraiture. It's about people. I see my own family. I'm very connected to the work spiritually because this is my community. I'm not saying that someone outside of the community can't appreciate work by Mickalene Thomas or work by Dawit Petros or Sandra Brewster. I'm just saying that it's extremely visceral and very intimate for me because these are my people."
When I reached out to Julie Crooks, curator in the department of Arts of Global Africa and the Diaspora at the Art Gallery of Ontario, and asked her if there was a need to interrogate who owns Black art, she was adamant that "everyone has the right to own art." However, she added the caveat that the purpose and intention behind the purchase was also important. "If you're just collecting it to then put it back on the market, like in an auction, to kind of flip it, to make a profit — and a profit for which the artist doesn't benefit — I don't know if that's with good intention." The transactional nature of art collecting is one that both Montague and Crooks flagged. It is an inherent part of an art market that frequently requires considerable capital to participate in. As Crooks noted, "Collecting is tethered to wealth. It is about a class bias."
I'm connected with the works and with my collection… it's extremely visceral and very intimate for me because these are my people.– Dr. Kenneth Montague, art collector
According to Montague, there are two different kinds of art collectors. The first is one he calls a "shopper." This collector is driven by what is hot and trendy in the market. "[They often] have this very disparate collection that doesn't really say anything other than 'I've got money.' It doesn't tell any stories." The second kind of collector, the kind Montague identifies himself as, is driven by a "burning" connection to the work that needs to be extended beyond a visit to a gallery. "You see work and you want to spend longer with it. You want to have a longer conversation with it."
Works by Black American artists are being auctioned off for larger and larger numbers — numbers that sometimes don't lead to any direct monetary gain for the artist themselves. In the absence of a royalties system, once an artist has sold their work, they are not directly entitled to any forthcoming value it may accrue. When we talked about the transactional nature of the art market, Crooks invoked the memory of the historic auction block where Black labour and creativity was bought and sold. This conversation is complicated by the fact that there is also an increasing number of Black art collectors who are paying the big bucks for works by Black artists.
In 2018, music mogul Sean "Diddy" Combs made headlines when he paid over $21 million US for Kerry James Marshall's monumental painting Past Times, the highest price ever paid for an artwork by a living African American artist. The sale was reportedly orchestrated in part by music producer and art collector Kasseem "Swizz Beatz" Dean, who convinced Diddy that the painting "has to stay in the culture." However, I'm curious what that means. Is it still "in the culture" if it lives on the walls of Diddy's mansion as opposed to being exhibited in a gallery available to the public? Is it still "in the culture" if the artist, Marshall, received none of the money from the historic sale?
We have yet to see these historic sales happen for Black Canadian artists and there is little infrastructure (and few Black millionaires) here to create the kind of Black art stars that we see south of the border. It's partly why Montague pushed so hard to include Black Canadian artists, such as Michèle Pearson Clarke, Jalani Morgan and Anique Jordan, in his book alongside more internationally-recognized names, like Gordon Parks and Kehinde Wiley. His hope, he told me, was to introduce these Canadian image-makers to a wider art community. "This insertion is not to say we're as good as, just to more sort of say we have our own thing going on here."
Although Canada may lack the headline-grabbing auction sales happening in the U.S., there have been recent projects that inspire another way of considering Black art collecting. The Art Gallery of Ontario's Montgomery Collection is a fascinating case study in Montague's notion of "keeping something for ourselves." It is an invitation to consider the possibilities of Black ownership and art collection in Canada in a way that is not limited to private acquisition, but rather a possibility for collective mobilization and public offering.
In 2018, Crooks and curator Sophie Hackett were invited to check out a private collection of Caribbean photography that had been assembled by filmmaker and photography collector Patrick Montgomery. The astonishing collection of more than 3,500 prints, postcards, daguerreotypes, lantern slides, albums and stereographs included works that were taken between 1848 and 1940 across 34 countries. "As he was pulling out these boxes, my heart started beating really wildly," Crooks told me. "It blew our minds." The images are an important documentation of the region, capturing faces and moments that we rarely get to see on gallery walls. But most of these images were not captured by the subjects themselves. They were frequently taken by outsiders to the region. It was clear to Crooks that this archive required critical and thoughtful interrogation as well as appreciation and care.
Over the next few months, Crooks, Montague (who serves as a trustee at the AGO) and others began working towards the purchase of the collection. They saw the moment as an opportunity to shake up the way things are typically done at the AGO and begin cultivating new relationships between the institution and Caribbean communities. "It had to have some kind of ownership by our community," Crooks stated. "It had to be a kind of legacy building."  Sidestepping the usual processes for fundraising, they tapped into their networks, building relationships with individuals who had the interest and the capital.  "I petitioned people of means in the Black and Caribbean community," Montague told me. "Let's do this one for us, by us. Let's not wait for one of those big five names that you always see all over Toronto — these families that are very wealthy, that do great work. But what a difference it would be to have this work, featuring and reflecting people in our Caribbean community, bought and paid for by Caribbean and Black people of Toronto." Crooks admits that once they showed sample photographs to potential donors, it took very little convincing to get people to come on board. "As soon as folks saw those images, the immediate response was, 'Oh my gosh, that's Jamaica! That's my parish! Those are the hills that I played in as a child." That recognition was all the spark that was needed.
In 2019, the AGO announced the acquisition of the Montgomery Collection of Caribbean Photographs thanks to a group of 27 donors, largely from Toronto's Black and Caribbean communities, who quickly and collectively raised over $300,000.
In the fall of 2021, the groundbreaking exhibition Fragments of Epic Memory presented over 200 photographs from the collection. I went to see it with my family and was moved to tears, not only by individual pieces, but because I'd never seen such a monumental artistic exploration of the Caribbean in a Canadian institution. Curated by Crooks, the archive was crucially placed in dialogue with paintings, sculptures and video works by contemporary Caribbean artists. "I didn't want to tell the story simply from the colonial archive, the colonial lens, the perspective of European photographers or American photographers who go to the region," Crooks said. "I wanted to interrogate, problematize, contest, while also understanding the archive."
The acquisition of the Montgomery Collection and its exhibition in Fragments of Epic Memory is a powerful example of Black investors choosing to work collectively to acquire important works in order to share them with the community. For many of these investors, this was their first time purchasing art and it has ignited a desire to become ongoing patrons and collectors, sparking a potentially long-lasting cultural shift in the Canadian art market. The experience has led Montague to reconsider his own direction. "As a collector, where I'm headed is more about institutional change. I'd like to sort of keep putting the foot on the gas for institutions to come over to broadening their collections and for the audiences to start experiencing the kind of joy I experience in my own personal life as a collector."
Her Art Was Once Viewed as "Obscene." Now Martha Edelheit's Nudes Are Finally Gaining Acclaim After Decades in Obscurity – artnet News
I am rooting for Martie Edelheit.
At the age of 91, she's finally emerging from years of obscurity. Her mind is clear and her body agile enough to enjoy every small step of it all—a bustling opening, a post-opening dinner at the fashionable restaurant Il Buco—while leaning on a cane, or a friend's arm. Small, fierce, outspoken, Martha Edelheit keeps pushing forward, with new 11-foot paintings and a planned return to New York City, her hometown.
I first encountered Edelheit in the context of another story, which explored the asymmetry of market acclaim for female artists based on the findings of the Burns Halperin Report.
As I wrote in December: "The overwhelming majority of women, especially women of a certain age, are ghosts as far as auction sales go. The reasons for this vary, from the market's preference for painting over conceptual and performance art to lack of access to the gallery system to individual choices to slow artistic production during child-rearing years."
Edelheit came to my attention because she wasn't listed among more than 2,000 women surveyed in the report. That's because not a single one of her works has come up for auction since she started making art some 70 years ago.
But things are changing. This week, Edelheit's solo show "Naked City: Paintings from 1965-1980" opened at Eric Firestone Gallery in Manhattan, with prices ranging from $20,000 to $500,000. Her 1962 painting, Tattooed Lady, was a recently a star of "New York 1962-1964," an exhibition at the Jewish Museum exploring the rise of Pop Art. A limited-edition print based on this work and priced at $2,200 just came out on Her Clique, with half of the proceeds benefiting Planned Parenthood and Doctors Without Borders. Next month Edelheit's early abstract paintings will be part of "Action, Gesture, Paint: Women Artists and Global Abstraction 1940-70," a survey of an overlooked generation of 81 international women artists at the Whitechapel Gallery in London.
"A lot has happened for her in the past five years," said Eric Firestone, listing strong sales from her first exhibition in 2017, multiple museum acquisitions, scholarly texts, and upcoming institutional shows.
Edelheit's figurative paintings still shock, irk, dazzle. The naked body is there to behold in all its glorious detail— every pubic hair, skin roll, and nipple—on a scale that succeeds in being both monumental and intimate. The models look relaxed as they lounge and recline, enveloped by verdant foliage or sumptuous fabrics. One canvas, Women in Landscape (1966-68), consists of three panels and measures almost 17 feet across.
"She's taking gestures, poses, compositional framework from the Renaissance and redoing them around these concerns of the body and the self," said art historian Melissa Rachleff, who included Edelheit in "Inventing Downtown: Artist-Run Galleries in New York City, 1952-1965," at the Grey Art Gallery in New York in 2017. "When you look at her works compositionally, you see Dürer, you see Rubens, you see Botticelli."
Edelheit said her interest in the naked body has been keen since childhood. She was one of those girls who immediately undressed and dismembered a new doll. "I was looking for genitals," she said. "But all dolls were neutered."
Her early works in the 1950s were abstract paintings that owed color sensibility and compositional patchwork to Michael Loew, an American artist who lived on the island of Monhegan in Maine. Edelheit and her first husband, psychoanalyst Henry Edelheit, visited Monhegan in the summers.
"We were sharing a house," she recalled. "He had a studio on the first floor, and we were on the second floor. There was a balcony, and I would look down and watch him work. And I learned more about painting by watching him work than I learned any from any class. He was what they called back then a Neoplastic painter, a disciple of Mondrian."
In New York, Edelheit was becoming part of the avant-garde scene, a member of the Tenth Street artist-run space and its offshoot the Reuben Gallery, where she had her first solo show in 1960. She was friends with Susan Sontag, the first person she met as a University of Chicago undergrad, and artists Carolee Schneemann and Rosalyn Drexler. Her male peers included Claes Oldenberg, Lucas Samaras, Jim Dine, Robert Rosenquist, and Allan Kaprow.
"As she befriended artists who were engaged in performance and happenings, those exchanges opened up a space of possibility for her to consider the body," Rachleff said.
Despite her active exhibition history, Edelheit sold very little art and was rarely reviewed while "the boys all got galleries and moved uptown and into the museums," she said.
It didn't occur to her that this had something to do with gender because she didn't see herself as a female artist—she simply thought of herself as an artist.
The feminist movement opened her eyes to gender discrimination. Initially reluctant to join it—she was "dragged in kicking and screaming," she said—she became an active member.
"I was forced into it because of what was happening with women artists," she said. "Not just me, but all the women artists I knew."
The overt sexuality of her artworks—later dubbed "radical eroticism" by art historian Rachel Middleman—was also a complication.
In 1966, a New York Times critic spent more than two hours at her exhibition at Byron Gallery uptown only to inform the gallery owner that he "can't review that obscene woman," she recalled. "Charles Byron had a show in his office of a guy who did postcard-size landscapes. So, he did a review of that."
An event that had a profound impact on Edelheit's life and art took place in 1957, when her younger brother, Robert Ross, suffered a horrific motorcycle accident while on vacation in Sweden. He spent months in a coma and years in rehabilitation. A Korean War veteran, he was treated in U.S. military hospitals that were filled with crippled servicemen. What she saw there while looking after him found its way into her works on paper from the early 1960s.
Her "Children's Games" series of ink drawings are filled with headless, limbless figures doing horrible things to themselves and each other. Masked amputees appear in her ink-and-watercolor works like Bird House With Baby (1962) and Dream of the Tattoo Lady (1961). The chains and masks in these works are suggestive of sadomasochism.
"I wasn't thinking about S&M," Edelheit said, explaining instead that "masks were a way of not having to show the emotions of the figures represented."
The circus, which she loved as a child, was another frequent theme.
"Back then, before you walked into the circus, there was what they called the freak shows," she remembered. "That's where you'd see the world's tallest man, the world's fattest woman, a two-headed dog or a two-headed cow."
That's where she also first saw tattooed people.
"I was hypnotized by them," she said. "The idea of painting your body, of marking your body forever was really a powerful image for me."
She began exploring tattoos in earnest in 1962 with a series of "Tattoo Paintings." She painted tattoos on mannequin hands, arms, and legs as well as in her "Back Paintings" of 1972 to 1975. Several of these works are now on view at Eric Firestone Gallery.
Tattoos were not just a decorative trope, according to Jennifer Samet, who works closely with Edelheit and organized both of her shows at the gallery.
"The paintings become this arena in which she can depict not only their bodies, but their ideas and dreams," Samet said. "She used imagined tattoos as a way to tell those dreams."
Edelheit spent the past 30 years in Sweden, where she moved after her first husband died and she remarried. She met her second husband, Sam Nilsson, years earlier, after her brother's accident. A budding journalist, he would go on to become the head of Swedish public broadcasting and a prominent figure in the media and culture circles. Edelheit unexpectedly found herself in a new role, attending Nobel Prize galas and having dinners with the country's king and queen.
"It's like someone handed me a movie script," she said. "All of a sudden I had a closet full of evening gowns."
Her art had to adjust as well. She settled in a remote area on an island, with the nearest bus stop seven kilometers away. This wasn't the kind of place where she could ask a neighbor to strip and model for her.
"I think it was Rubens who said, 'I paint what's in front of my nose,'" she said. "And I looked out the window and what was in front of my nose was sheep. So, I did. I've been working with sheep and landscape for the last umpteen years."
She used materials she found in her environment, making canvases out of chicken wire and papier-mâché and creating a lot of wire sculptures of sheep.
Now another change is looming. Following Nilsson's death in 2020, Edelheit wants to return to New York. She spent several months in the city coinciding with her exhibitions at the Jewish Museum and Eric Firestone.
The stay brought back the memories of all the people who used to be part of her life, the models who became her friends, the 5,000-square-foot studio at the Hotel Wales on Madison Avenue and East 92nd Street (where she paid $125 a month in rent).
Once again seeing the paintings she created in that studio has been intense.
Follow Artnet News on Facebook:
Want to stay ahead of the art world? Subscribe to our newsletter to get the breaking news, eye-opening interviews, and incisive critical takes that drive the conversation forward.
What to do in Burnaby in February: Art exhibition at gallery – Burnaby Now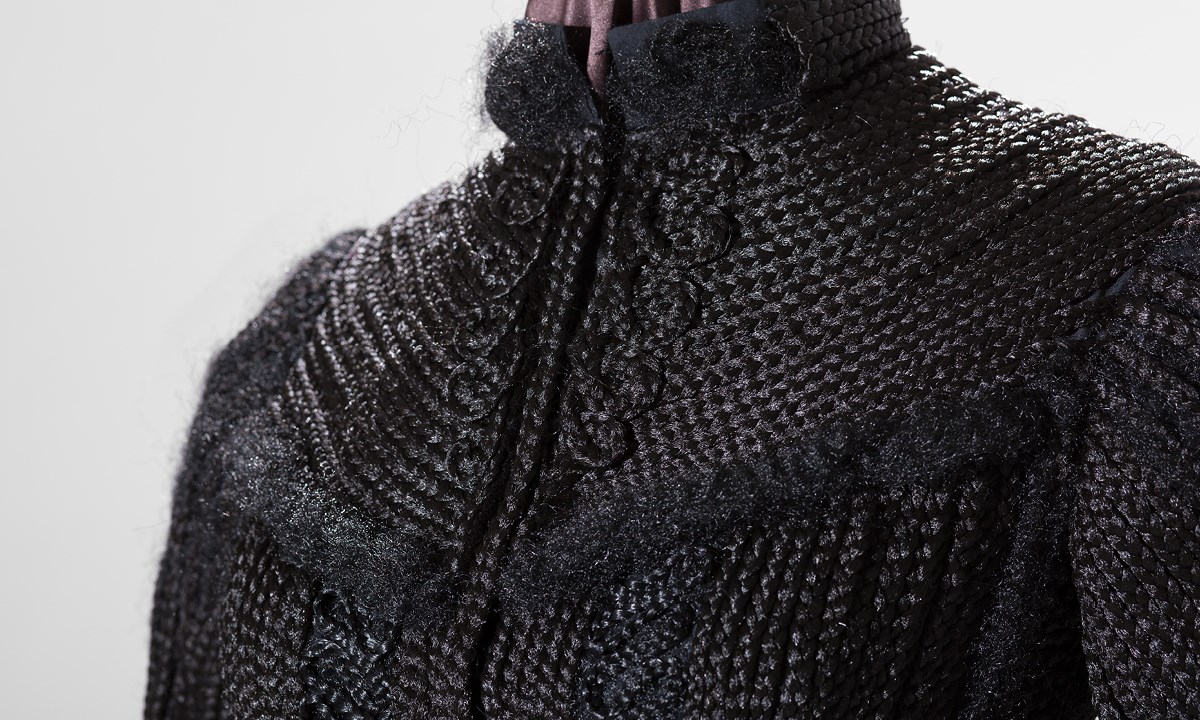 A new exhibition at Burnaby Art Gallery is weaving conversations of beauty, race and colonialism between fine tendrils of gold and hair.
The exhibit, Ornament and Instrument, showcases the intricate and meticulous work of Vancouver-based multidisciplinary artist Karin Jones.
Jones, who was nominated last year for the prestigious Sobey Art Award for emerging Canadian artists, studies how historical narratives shape identities.
Her installation piece Worn, commissioned by the Royal Ontario Museum, features prominently: a bustled Victorian mourning dress created using braided hair extensions, surrounded by cotton bolls scattered on the floor below – some stuffed with Jones' hair.
Her artist statement explains the mourning dress symbolizes sadness, "high culture," the British Empire and the constraints of feminine beauty norms.
The piece "underlines African hairstyles as a craft as refined as any decorative art produced in Europe; it alludes to the invisible labour of the thousands of Africans who contributed to the wealth of the British Empire," states Jones.
Jones has also created a new iteration of the work Freed, using an early 20th-century dress from the Burnaby Village Museum's collection.
Jones' expertise in jewelry and goldsmithing comes into sharp relief through "Damascene inlay work on objects such as farm tools," as she explores the intersections of beauty and race.
The exhibition's opening reception will be Thursday, Feb. 2 from 7 to 9 p.m.
The gallery's opening hours are Tuesday to Friday between 10 a.m. and 4:30 p.m. and weekends between noon and 5 p.m.
When: Feb. 2 to April 16
Where: Burnaby Art Gallery (6344 Deer Lake Ave.)
Cost: $5 suggested donation
PROFILE: Christine Hager a behind-the-scenes pillar of local art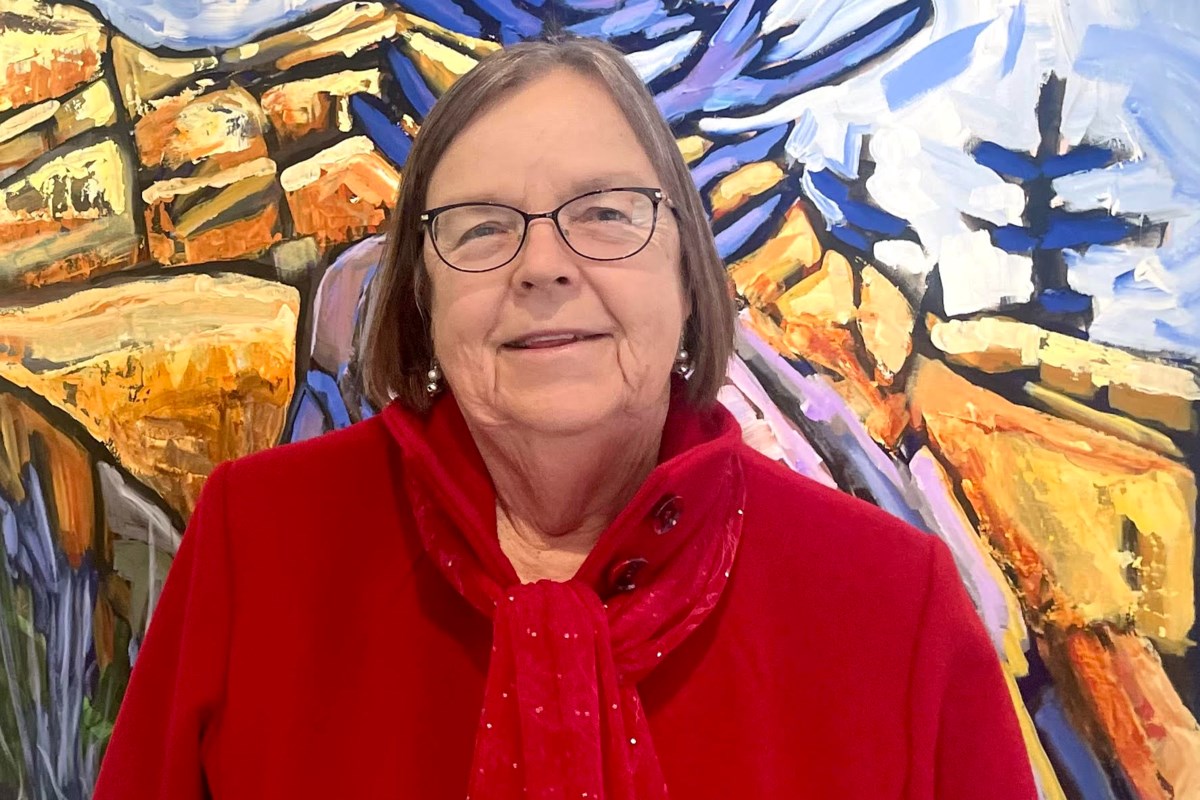 Behind every local art event and program are those who make it all happen, and one person who works hard to make Orillia's arts community thrive is Christine Hager.
Since moving to Orillia more than 20 years ago, Hager has found herself involved in a variety of non-profit organizations in the city.
She has volunteered full-time at Couchiching Jubilee House, served as executive director of the Sharing Place Food Centre and, for the past eight years, has worked as secretary for the Orillia and District Arts Council (ODAC).
One might think Hager, given her resumé, has had a lifelong passion for non-profit work and the arts, but her involvement in Orillia's creative scene stems from a background in business, and her artistic career is limited to her hobby of sketching horses while growing up.
"I am not an artist. I do not paint or sculpt anything … but I love art," she told OrilliaMatters. "It's part of your soul. Everything around you is art. People just need to open up their eyes and recognize that."
Originally from Sudbury, the soon-to-be-70-year-old Hager comes from a background in inside sales. She spent much of her career working for mining companies.
She said her current path began through making connections with others.
"You get tapped on the shoulder by somebody, you go for coffee, people ask you something," she said. "I moved down here around 2002, and that's when I kind of fell into doing not-for-profit work."
Her background in business and sales has helped Orillia's arts scene grow. Most arts programs and events in the city need funding, after all, and that's where Hager shines.
She recently stepped down from her position as secretary to take a role in revenue development for ODAC.
"That's what we need right now. We need the stability to be sustainable. We can't depend on grants. You have to have a diversified revenue stream," she said. "I'm the best one to do that because I have the most contacts."
Her transition to non-profit work happened smoothly, and it continues to bring her great satisfaction.
"It's given me that sense of satisfaction that, when I tell someone I can understand how (they're) feeling, it's because I've been there, and I can empathize with what they're going through," she said. "One of my favourite things at the food bank was until you walk a mile in somebody's shoes, you have no right to criticize them.
"It's always teaching and educating the public. That's all these positions have always been. The public needs to know the reality of not-for-profits and vulnerable people, homeless people, and hungry people — and the arts people, too. They are trying to make a living as well."
When Hager joined ODAC in 2014, "the board was very thin," she said, but the organization now boasts an array of opportunities for local artists, thanks to the work of Hager and others.
ODAC hosts numerous art exhibitions for members, local and county art projects, public events, and more, on top of advocating for its members and other local artists.
One new program rolled out through ODAC is its Helping Elders with Arts (HeARTS) program, which provides seniors with the chance to learn a variety of art styles, art history, and enjoy physical activity on a regular basis.
With all her work helping the local arts scene thrive, Hager — who said she enjoys Sudoku and jigsaw puzzles — does not take much downtime for herself.
She also volunteers with St. James' Anglican Church through its Sunday breakfast program, social justice committee, and community garden.
While she hopes to eventually take a bit of a step back from her responsibilities, Hager said she loves connecting with people.
"It's nice meeting people. I love meeting people and developing the network that I have," she said. "That's been one of my big things: just getting to know people, building relationships, and then finding opportunities."
Looking to the future, she hopes to see ODAC gain a full-time staff member and become a true "umbrella" organization that provides opportunities and advocacy for all local artists.
More about ODAC can be found here.