Dollar buoyed by signs of solid U.S. economy, pound ticks up – TheChronicleHerald.ca
By Hideyuki Sano
TOKYO (Reuters) – The dollar held firm at the start of a holiday-thinned week on Monday, as U.S. data pointed to solid economic growth while the British pound bounced slightly after having suffered its biggest weekly fall in three years.
A batch of economic data published on Friday showed the U.S. economy, already in its longest expansion in history, appears to have maintained the moderate pace of growth as the year ended, supported by a strong labor market.
Gross domestic product increased at a 2.1% annualized rate, the Commerce Department said in its third estimate of third-quarter GDP. That was unrevised from November's estimate.
"The U.S. economy appears to have stopped slowing. There is no indication it will be hitting a recession," said Ayako Sera, market economist at Sumitomo Mitsui Trust Bank.
Earlier this year, investors were spooked by fears over the possibility of a U.S. recession when the U.S. yield curve inverted, which has been historically one of the most reliable signs of a U.S. downturn.
Separate data showed consumer spending, which accounts for more than two-thirds of U.S. economic activity, rose 0.4% last month as households stepped up purchases of motor vehicles and spent more on healthcare.
That contrasted with an unexpected deterioration in German consumer sentiment.
The euro stood at $1.10778 , little changed on the day but in retreat since it hit a four-month high of $1.12 on Dec. 13.
The dollar index =USD> was at 97.659, flat on the day but maintaining its recovery trend since hitting a five-month low of 96.605 on Dec. 12.
The dollar has been supported by optimism over the global economy since Washington and Beijing came to an interim trade agreement earlier this month.
China said on Monday it would lower tariffs on products ranging from frozen pork to some type of semiconductors next year, as Beijing looks to boost imports amid a slowing economy and a trade war with the United States.
U.S. President Donald Trump said on Saturday the United States and China would "very shortly" sign their so-called Phase 1 trade pact.
Against the yen, the dollar changed hands at 109.41 yen , little changed on the day and not far from a six-month high of 109.73 touched earlier this month.
"One thing to look at is whether market players cut their (yen-short) positions ahead of the holiday period on concerns there could be a flash crash like a year ago," said Minori Uchida, chief currency analyst at MUFG Bank.
The dollar tumbled as much as 4.4% on the second trading day of this year as a lack of yen liquidity, due to a Japanese market holiday, amplified the dollar/yen's fall sparked by a rare revenue warning from Apple Inc .
Currency speculators have cut their net short positions in the yen slightly in the week that ended last Tuesday after having increased bets against the currency constantly for a few months, data from the U.S. financial watchdog showed on Friday.
Some noted concerns over increasing tensions between North Korea and the United States.
North Korean leader Kim Jong Un held a meeting of top military officials to discuss boosting the country's military capability, the state news agency reported on Sunday amid heightened concerns the North may be about to return to confrontation with Washington.
Sterling traded at $1.3011 , up slightly as it regained some stability after hitting a 2-1/2-week low of $1.2979 on Friday.
It fell 2.6% last week, the biggest weekly fall since October 2016, after UK Prime Minister Boris Johnson set December 2020 as a hard deadline to reach a trade agreement.
Graphic: World FX rates in 2019 http://fingfx.thomsonreuters.com/gfx/rngs/GLOBAL-CURRENCIES-PERFORMANCE/0100301V041/index.html
(Editing by Lincoln Feast and Jacqueline Wong)
China worries about lagging consumption as broader economy shakes off COVID – TheChronicleHerald.ca
By Gabriel Crossley and Kevin Yao
BEIJING (Reuters) – China will be looking to tweak its economic policies to get consumers to spend more, policy advisers in Beijing said after retail sales emerged as a weak spot in better-than-expected GDP data, underlining the need for reform.
They said that while supporting employment was key in the short run, reforms to help fatten ordinary people's wallets were needed to boost domestic spending – a priority for President Xi Jinping's "dual circulation" strategy to cut China's reliance on overseas markets.
"We need to discuss ways to boost incomes," said Yao Jingyuan, an adviser to the Chinese cabinet. "Who doesn't spend if they're rich?"
The advisers are influential in Beijing, and their recommendations are likely to be considered. Calls for deepening reforms to spur domestic consumption have been rising since Xi unveiled the dual circulation strategy last year.
Allowing more migration to cities, increasing the minimum wage, and easing restrictions like one on the sale of cars in big metros could be some of the policy initiatives to be considered, the advisers said.
China's economy grew 2.3% in 2020, according to official data this week, making it likely the only major economy that expanded last year.
But retail sales fell 3.9% over the full year, marking the first contraction since 1968, and final consumption dragged on growth for the first time in at least four decades, the data showed.
(Graphic: Consumption drags on growth for first time since 1978: https://graphics.reuters.com/CHINA-ECONOMY/CHART/jznpnmxbovl/chart.png)
Worryingly for policymakers, retail sales rose just 4.6% on year in December, missing expectations and slowing for the first time since steadily accelerating from the pandemic-induced slump the previous winter.
Incomes from catering fell by 16.6% in 2020, and people's average spending on education, culture and entertainment dropped by nearly a fifth.
Lost wages, more saving, job losses, and continued fears over COVID-19 accounted for much of the sluggish consumption, analysts said. They warned that if sustained, the slowdown could drag on economic recovery and jeopardize goals to rebalance the economy away from wasteful infrastructure investment and polluting industry.
Officials tout the vast potential of China's market – 1.4 billion people strong, with 400 million middle class consumers – but many of them have become wary amid the pandemic, building up precautionary savings.
(Graphic: China's household savings rise amid pandemic: https://graphics.reuters.com/CHINA-ECONOMY/CHART/nmopaoldapa/chart.png)
JOBS KEY
Policy advisers told Reuters that to boost consumption, incomes need to go up, and for that, jobs are key.
Official surveyed unemployment rates, which economic analysts say under-report actual job losses, rose sharply early in the year before subsiding to 5.2% in December. Although the export sector has seen a recent boom in hiring, analysts say labour demand remains weak in certain sectors, especially services.
"We should start with stabilising employment, because we can boost incomes of ordinary people only when employment is secured," said Xu Hongcai, deputy director of the economic policy commission at China Association of Policy Science.
Xu said that raising minimum wages, allowing more rural residents to settle in cities, and strengthening social safety nets would help increase earnings, and so spending, in the long run.
Some regulations could also be loosened, said Yao, the cabinet adviser.
"In Beijing and big cities, we still restrict auto purchases…there are no such restrictions in London, New York or Tokyo," he said.
LINGERING FEARS Incomes suffered under lockdowns and strict movement curbs. Some, especially migrant workers, lost months of wages. Urban disposable income growth slowed to 1.2% in 2020 from 5.0% the previous year.
Consumers chose to fill their bank accounts rather than empty their wallets. Households added 11.3 trillion yuan ($246.69 billion) in new bank savings in 2020, up from 9.7 trillion yuan the previous year, according to central bank data.
Fear of the virus, and continued small-scale outbreaks, continues to dissuade spending.
After a recent rebound in COVID-19 cases in the north of the country, around 30 million people were placed under a form of lockdown. Millions more have been asked to avoid travelling for Lunar New Year, usually a consumption hotspot.
"I won't go out unless it's absolutely necessary. This saves me from worry and saves me money too," said Hou Aiping, a retired woman in her 50s who now only leaves home in Beijing to visit her parents and the supermarket.
"Even though the epidemic is contained, and I always wear my mask, I can't guarantee I'll be completely safe," she said.
($1 = 6.4858 Chinese yuan renminbi)
(Additional reporting by Cheng Leng and Beijing newsroom; Editing by Raju Gopalakrishnan)
Bank of Canada will hold current level of policy rate until inflation objective is achieved, continues quantitative easing – Bank of Canada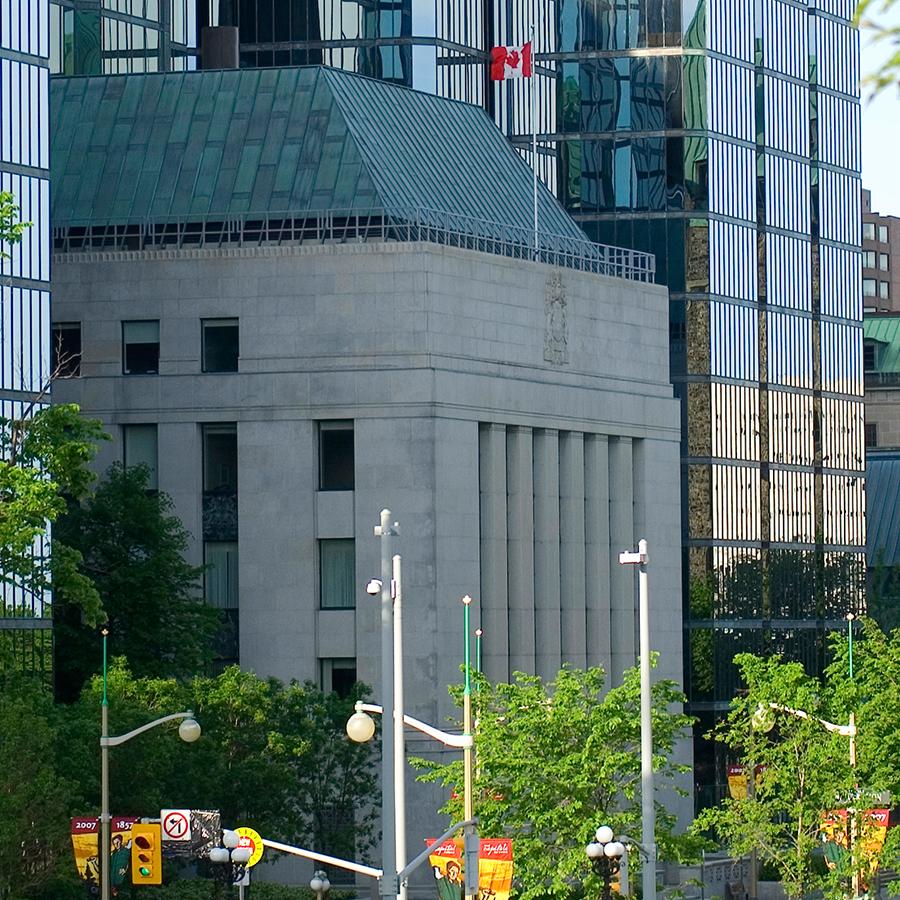 The Bank of Canada today held its target for the overnight rate at the effective lower bound of ¼ percent, with the Bank Rate at ½ percent and the deposit rate at ¼ percent. The Bank is maintaining its extraordinary forward guidance, reinforced and supplemented by its quantitative easing (QE) program, which continues at its current pace of at least $4 billion per week.
The COVID-19 pandemic continues to take a severe human and economic toll in Canada and around the world. The earlier-than anticipated arrival of effective vaccines will save lives and livelihoods, and has reduced uncertainty from extreme levels. Nevertheless, uncertainty is still elevated, and the outlook remains highly conditional on the path of the virus and the timeline for the effective rollout of vaccines.
The economic recovery has been interrupted in many countries as new waves of COVID-19 infections force governments to re-impose containment measures. However, the arrival of effective vaccines combined with further fiscal and monetary policy support have boosted the medium-term outlook for growth. In its January Monetary Policy Report (MPR), the Bank projects global growth to average just over 5 percent per year in 2021 and 2022, before slowing to just under 4 percent in 2023. Global financial markets and commodity prices have reacted positively to improving economic prospects. A broad-based decline in the US exchange rate combined with stronger commodity prices have led to a further appreciation of the Canadian dollar.
Canada's economy had strong momentum through to late 2020, but the resurgence of cases and the reintroduction of lockdown measures are a serious setback. Growth in the first quarter of 2021 is now expected to be negative. Assuming restrictions are lifted later in the first quarter, the Bank expects a strong second-quarter rebound. Consumption is forecast to gain strength as parts of the economy reopen and confidence improves, and exports and business investment will be buoyed by rising foreign demand. Beyond the near term, the outlook for Canada is now stronger and more secure than in the October projection, thanks to earlier-than-expected availability of vaccines and significant ongoing policy stimulus. After a decline in real GDP of 5 ½ percent in 2020, the Bank projects the economy will grow by 4 percent in 2021, almost 5 percent in 2022, and around 2 ½ percent in 2023.
CPI inflation has risen to the low end of the Bank's 1-3 percent target range in recent months, while measures of core inflation are still below 2 percent. CPI inflation is forecast to rise temporarily to around 2 percent in the first half of the year, as the base-year effects of price declines at the pandemic's outset — mostly gasoline — dissipate. Excess supply is expected to weigh on inflation throughout the projection period. As it is absorbed, inflation is expected to return sustainably to the 2 percent target in 2023.
In view of the weakness of near-term growth and the protracted nature of the recovery, the Canadian economy will continue to require extraordinary monetary policy support. The Governing Council will hold the policy interest rate at the effective lower bound until economic slack is absorbed so that the 2 percent inflation target is sustainably achieved. In our projection, this does not happen until into 2023. To reinforce this commitment and keep interest rates low across the yield curve, the Bank will continue its QE program until the recovery is well underway. As the Governing Council gains confidence in the strength of the recovery, the pace of net purchases of Government of Canada bonds will be adjusted as required. We remain committed to providing the appropriate degree of monetary policy stimulus to support the recovery and achieve the inflation objective.
Information note
The next scheduled date for announcing the overnight rate target is March 10, 2021. The next full update of the Bank's outlook for the economy and inflation, including risks to the projection, will be published in the MPR on April 21, 2021.
As announced, starting with this decision the target for the overnight rate will take effect on the business day following each rate announcement.
The Economy in Charts as Biden Takes Helm of Uneven Recovery – Bloomberg

Joe Biden assumes the helm of the world's largest economy and faces an uneven recovery — steady in some areas like housing and manufacturing but rough in others, most notably the job market.
In the week prior to his inauguration Wednesday as the 46th U.S. president, Biden vowed to push for more aid once in the White House, unveiling an initial economic recovery plan with a $1.9 trillion price tag.
Janet Yellen, Biden's pick for Treasury Secretary and a former Federal Reserve chair, backed that proposal at her Tuesday confirmation hearing — urging lawmakers to "act big" in efforts to rescue an economy battered by the coronavirus.
The financial system regained its footing swiftly last year after the federal government doled out trillions in fiscal support and the Fed cut interest rates. While some areas such as residential real estate and manufacturing continue to improve, the pace of hiring has slowed and a summertime burst of consumer spending dissipated as the year drew to a close.
The following six charts help depict the degrees of progress in various sectors since the pandemic upended the economy nearly a year ago and as the nation continues to get vaccinated.
The Overview

The economy snapped back quickly in the third quarter, posting its fastest annualized pace of growth in records going back to the 1940s. Still, economists project more tempered growth when fourth quarter data is released.
A slowdown in household spending, which accounts for about two-thirds of gross domestic product, explains most of that moderation.
Rough Seas

When Americans headed to the polls in November, the government's retail sales data painted a bright picture of demand from May through September. While the value of retail receipts remains above the pre-pandemic level, purchases have declined in each of last three months.
Job growth helped bolster household consumption for several months. But employment gains aren't coming fast enough and the pandemic is worsening, helping explain the urgency among some in Washington to keep the fiscal-aid spigot open.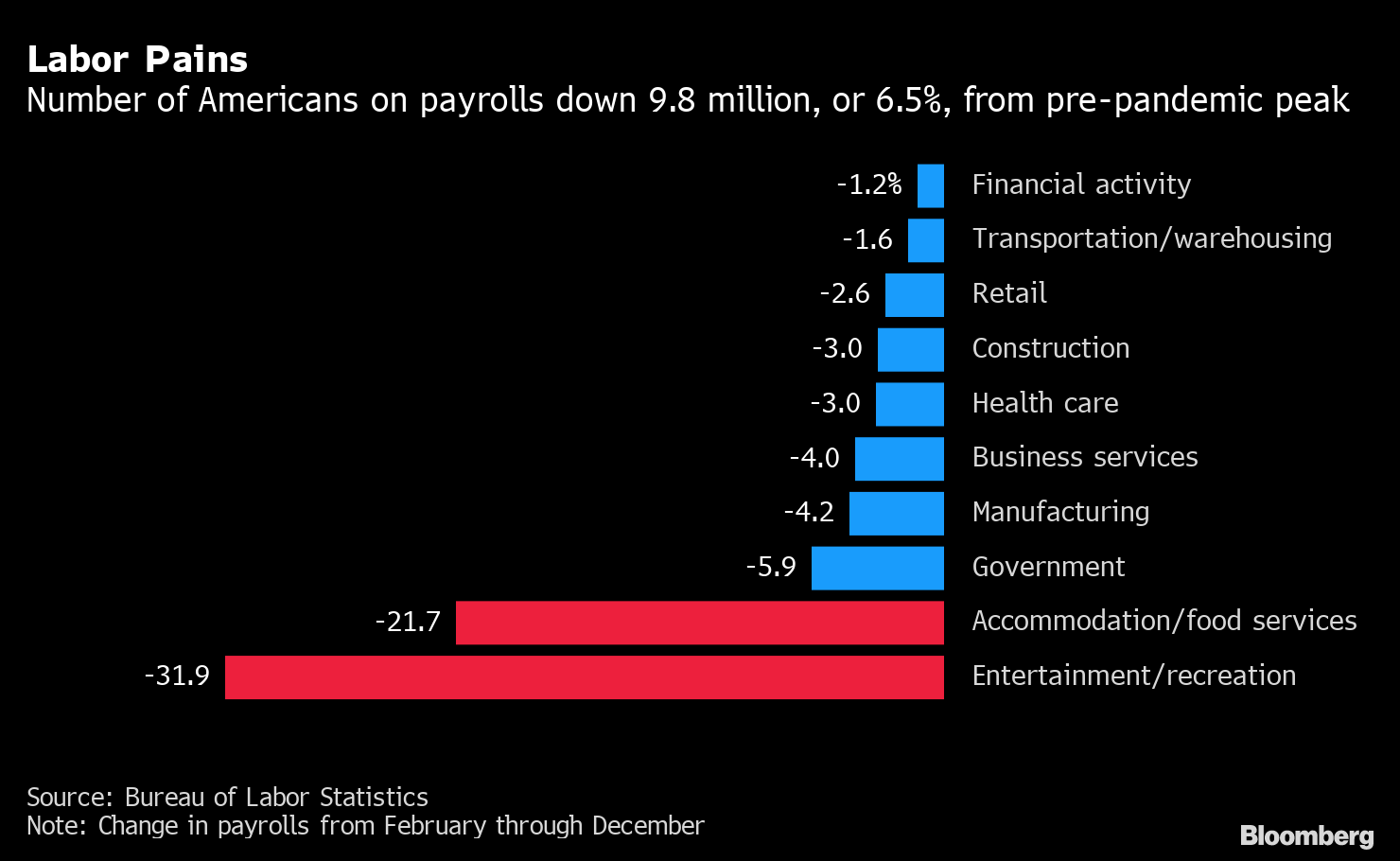 Employment plunged by more than 22 million in March and April combined. While payrolls have since increased by some 12.3 million, industries such as accommodation, food services and entertainment — those most impacted by the virus and subsequent restrictions — remain severely depressed.
Meanwhile, other parts of the economy have been sailing along.
Steadier Waters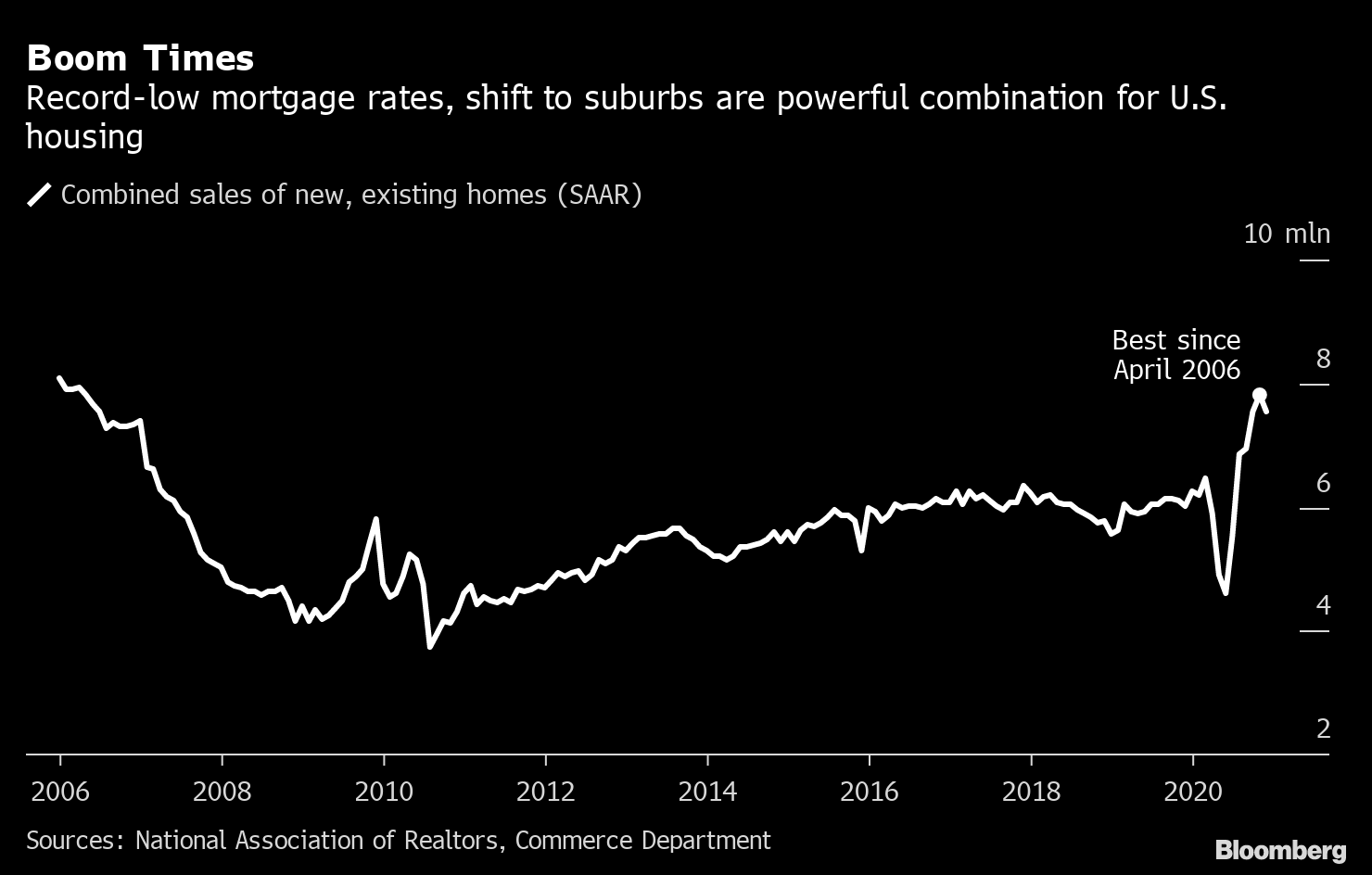 A drop in mortgage rates to record lows, coupled with a desire for bigger spaces as more Americans worked from home, ignited a housing boom. In October, combined purchases of new and previously owned homes were at highs not seen since the spring of 2006.
The red-hot demand has come at a cost. Asking prices have soared, reducing affordability, because inventory levels have plunged. Still, elevated sales are expected to continue fueling more construction projects.

Inventory of merchandise and equipment also is depressed, which translates into good news for U.S. factories.
Manufacturing has gathered steam since the early days of the pandemic. Fed data show the longest string of gains in factory output since 1997-1998, and inventory-sales ratios indicate there's impetus for more production.

Ultra-low borrowing costs have also encouraged companies to invest in their operations.
Business investment in equipment such as communications gear, machinery and computers registered a notable pickup in the third quarter. By October, the value of core capital goods shipments and orders hit their highest in records dating back to 1968.
— With assistance by Kyungjin Yoo