Dollar pauses after losses as investors seek fresh clues on U.S. economy – The Guardian
By Ritvik Carvalho
LONDON, (Reuters) – The dollar steadied against major currencies on Monday as traders waited for more data on the U.S. economy, after a disappointing jobs report last week ended a rally in the greenback.
The euro was little changed against the dollar, after data showed German industry avoided a contraction in December. Despite coronavirus lockdowns at home and abroad, demand from China helped export-oriented manufacturers in Europe's largest economy weather the COVID-19 pandemic.
Speculators have been reducing short positions in the dollar, but some analysts say better U.S. economic data and continued progress in fighting the COVID-19 pandemic will be needed for further dollar gains.
"Although much of the optimism towards U.S. macro is probably well founded, it is less apparent this will come to the data …," said Kristoffer Kjær Lomholt, chief analyst, FX and rates strategy at Danske Bank.
"Indeed, the U.S. jobs recovery has more or less stalled, and that did leave some space to take EUR/USD higher. The next big theme that may be priced further in to spot is moving ahead with U.S. fiscal talks."
Against the euro, the dollar traded 0.1% higher at $1.2032 after a 0.7% slump on Friday. Due today is Sentix's euro zone investor sentiment index for February due at 0930 GMT.
In a note to clients, J.P. Morgan strategists said they "have growing confidence of underperformance of EUR vs USD."
"That warrants two changes to the portfolio: 1) rotating away from USD to fund trades primarily out of EUR, and 2) selling EUR/USD outright in spot."
Graphic: Euro zone investor sentiment on the uptick, https://fingfx.thomsonreuters.com/gfx/mkt/rlgvdemlwpo/Pasted%20image%201612774128948.png
The British pound bought $1.3715, 0.15% lower to the dollar.
The dollar was quoted at 105.57 yen, having pulled back from a three-month high reached on Friday.
The U.S. economy created fewer jobs than expected in January and job losses the previous month were greater than initially reported, data at the end of last week showed.
U.S. consumer prices and consumer sentiment reports later this week will help determine whether a recent rise in inflation expectations and Treasury yields was justified.
Any disappointing numbers from either report could knock the dollar lower, some analysts said. Investors are also closely monitoring a U.S. debate on additional fiscal stimulus.
President Joe Biden and his Democrats are pushing ahead with $1.9 trillion COVID-19 relief package. House of Representatives Speaker Nancy Pelosi has predicted the final relief legislation could pass Congress before March 15.
The dollar index against a basket of six major currencies stood at 91.130, after falling 0.6% on Friday.
Speculators' net bearish bets on the dollar fell to $29.95 billion for the week ended Feb. 2, compared with a net short position of $33.81 billion for the previous week, according to calculations by Reuters and U.S. Commodity Futures Trading Commission data.
In the cryptocurrency market, ethereum spot prices rose 1.6% to $1,642 after the listing of ethereum futures on the Chicago Mercantile Exchange on Sunday.
Bitcoin, the world's biggest cryptocurrency by market capitalisation, rose 1% to $39,244.
The onshore yuan edged up to 6.4569 per dollar, but trade is likely to be subdued before the week-long Chinese New Year holidays beginning Thursday.
Elsewhere, the Australian dollar was off 0.15% at $0.7665. Across the Tasman Sea, the New Zealand dollar traded flat at $0.7192.
(Reporting by Ritvik Carvalho; additional reporting by Stanley White in Tokyo; editing by Larry King)
Spike in Canada exports to U.S. leads to surprise January trade surplus
By Julie Gordon
OTTAWA (Reuters) – Canada's exports to the United States, its largest trading partner, rose sharply in January, leading to a surprise trade surplus, Statistics Canada said on Friday.
Canada's trade surplus with the rest of the world was C$1.41 billion ($1.11 billion) in January, the largest since July 2014. Analysts polled by Reuters had predicted a deficit of C$1.40 billion.
"In a sea of really bad news this is an island paradise. Everything is up," said Peter Hall, chief economist at Export Development Canada.
"This is very strongly driven by our top trading partner," Hall said, noting that demand from the United States will continue to be strong as its economy strengthens with increased vaccinations spurring a broader recovery from the COVID-19 pandemic.
The Canadian dollar clawed back some of its earlier decline after the data, trading 0.1% lower at 1.2678 to the greenback, or 78.88 U.S. cents.
Canada's exports jumped 8.1% in January, led by a large sale of used aircraft to the United States. Even without the atypical aircraft sale, aggregate exports would have been up, with strong exports of gold bars, crude oil and lumber.
Excluding the swings of 2020, exports posted their largest increase since August 1995.
"The return to surplus in January … is consistent with expectations that Canada's trade position will improve through 2021 amid returning global demand and firmer energy prices," said Ryan Brecht, a senior economist at Action Economics.
Canada's export of services rose slightly on an increase in transportation services, but they still remain 16.3% below the February 2020 level.
Imports edged up 0.9% in January, mostly on higher imports of energy products. Canada's December trade deficit was revised to C$1.98 billion.
(Reporting by Julie Gordon in Ottawa, additional reporting by David Ljunggren and Dale Smith, Fergal Smith in Toronto; Editing by Paul Simao and Bill Berkrot)
Lebanon's caretaker PM threatens to quit as economy plunges – DW (English)
Demonstrators blocked roads after the Lebanese pound fell lower. As poverty and hunger spreads, pressure is mounting on politicians to form a new government.
Demonstrators blocked roadways nationwide for the fifth day in a row on Saturday and armed forces rushed to occupy parts of the capital Beirut as anger builds over the country's economic downturn.
The Lebanese currency tumbled to a new low on Tuesday, enraging a population already suffering from the country's financial meltdown.
With the crisis worsening, caretaker Prime Minister Hassan Diab threatened to stop performing his duties in a bid to pressure politicians to forge a new Cabinet.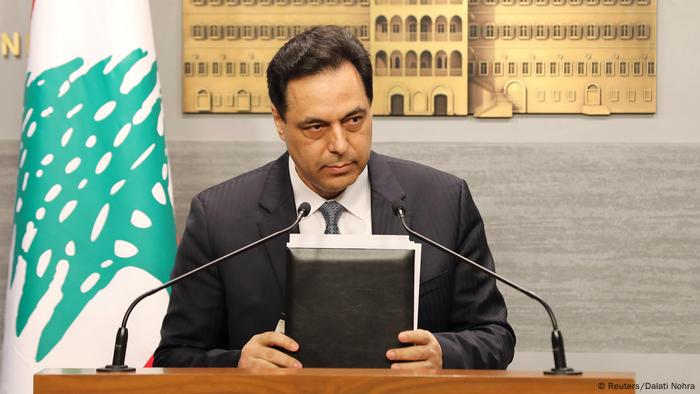 Caretaker Prime Minister Hassan Diab warned of "chaos" if a new government isn't formed soon
What did Diab say?
In his nationally televised speech on Saturday, Diab said he was prepared to suspend his caretaker duties "if it helps to form a government."
"The country is confronted with enormous challenges that a normal government cannot face without political consensus," said Diab. "So how can a caretaker government face these challenges?"
Diab warned Saturday against inaction and appealed to politicians to put aside differences and quickly form a new government that can attract desperately needed foreign assistance.
"What are you waiting for, more collapse? More suffering? Chaos?" Diab said, chiding senior politicians without naming them for continuing to debate over the future shape and size of the government.
"What will having one minister more or less [in the Cabinet] do if the entire country collapses," he asked.
"Lebanon is in grave danger and the Lebanese are paying the price."
What is happening to Lebanon's economy?
Lebanon's two year-long financial crisis shows no signs of ending as joblessness spreads along with hunger.
The collapse of the Lebanese pound, to 11,000 to the US dollar on Tuesday, was the last straw for citizens already suffering from steeply rising prices on consumer goods such as diapers and cereals.
The financial crash has also resulted in delays in the arrival of fuel shipments, leading to more extended power cuts around the country, which in some areas now are stretching more than 12 hours a day.
The crisis has driven nearly half the population of the small country of six million into poverty.
"Doesn't the scramble for milk constitute a sufficient incentive to transcend formalities and roughen out the edges in order to form a government?" Diab said, referring to a recent Beirut supermarket incident in which shoppers fought over powdered milk.
The now viral video seemingly underscores the desperate state of the economy.
"Social conditions are aggravating, financial conditions are putting a severe strain on the country, political conditions are increasingly complex," Diab added in his speech.
What can a new government do?
The nation has been drifting since August when Diab's cabinet resigned following the massive Beirut port explosion that devastated much of the city.
Prime Minister-designate Saad al-Hariri was nominated in October but has failed to form a new Cabinet due to the political deadlock between him and President Michel Aoun.
Despite Lebanon's need for foreign currency, international donors have said they will only help the country financially if major reforms are implemented to fight widespread corruption, which has brought the nation to the brink of bankruptcy.
A new Cabinet would be in a position to institute the necessary financial reforms.
mb/rs (AP, Reuters)
ECB Confronts Shifting Markets as Economy Stays Frozen: Eco Week – BNN
(Bloomberg) — European Central Bank officials will set policy this week against a backdrop of investors betting on a global upturn even as the euro zone remains mired in pandemic lockdowns and painfully slow vaccinations.
President Christine Lagarde will need to test her institution's current stimulus plans against the challenges presented by those contrasting situations. While some of her colleagues have signaled concern over rising global bond yields, driven partly by the faster vaccine drive and bigger stimulus plans of the U.S., others are taking it in their stride for now. Investors will be watching Monday's bond-buying data to see if the ECB ramped up purchases last week.
Meanwhile the ECB will assess the damage to growth from another lost quarter, with lockdowns throughout the euro region freezing activity as health authorities' immunization efforts struggle to gain traction compared with the U.K. and U.S. Along with the decision on Thursday, Lagarde will unveil new quarterly forecasts at a press conference.
Where the Frankfurt institution can take some comfort is that it already has extensive stimulus in place. The centerpiece of that is its pandemic purchase program, whose original aim was to keep yields in check. That's currently set to last at least another year.
But sooner or later, as officials observe how a recovery takes shape, they are going to have to decide whether the support currently pledged with that tool is enough.
What Bloomberg Economics Says:
"The ECB has emphasized its intention to maintain favorable financing conditions in an effort to support the recovery. We anticipate a clear message from the Governing Council that higher bond yields are triggering an unwarranted tightening of conditions."
–Maeva Cousin, David Powell and Jamie Rush. For full preview, click here.
Elsewhere, Canada, Serbia and Kazakhstan are among countries with interest-rate decisions, the OECD presents its latest economic forecasts, and the U.K. will release data that may show the initial impact of post-Brexit trading.
Click here for what happened last week and below is our wrap of what is coming up in the global economy.
U.S. and Canada
Investors in the U.S. are watching for the latest consumer price data Wednesday as debate heats up over fears of inflation rising in pockets of the economy. Other reports due out this week include updates on the federal budget, weekly jobless claims and consumer sentiment. Federal Reserve policy makers are in blackout ahead of the central bank's next meeting on March 16-17.
President Joe Biden's signature $1.9 trillion Covid-19 relief bill passed the Senate on Saturday, following a more than 25-hour marathon of amendment votes that was completed only after a lengthy interruption while Democrats settled an intra-party dispute over unemployment aid. The measure, the American Rescue Plan Act, now heads back to the House, where Majority Leader Steny Hoyer said a vote will be held Tuesday.
Bank of Canada policy makers meeting Wednesday are likely to indicate they have no plans to withdraw stimulus from the economy any time soon, even as they prepare to adjust their quantitative easing program.
For more, read Bloomberg Economics' full Week Ahead for the U.S.
Europe, Middle East, Africa
A turning point in the U.K.'s pandemic response is due on Monday, when schools in England reopen. The measure is an initial step unveiled as part of Prime Minister Boris Johnson's plan to unlock the economy as vaccinations roll out.
Britain's other pressing economic challenge, its exit from the European Union, may feature in gross domestic product for January. That report on Friday will reveal a glimpse of the growth impact from the country's new trading relationship with the bloc as of the start of this year, in addition to the third lockdown.
The U.K.'s two most senior economic policy makers will also speak, with Bank of England Governor Andrew Bailey delivering a speech, and Chancellor of the Exchequer Rishi Sunak testifying to Parliament's Treasury Committee about last week's budget.
In the euro region, policy makers will be bound to a quiet period before the ECB decision later in the week. German industrial production data for January on Monday will signal how the factory base there is weathering the global slump and a continuing lockdown.
Elsewhere on the European continent, Serbia's central bank will release its latest policy decision on Thursday, showing whether officials will keep the interest rate on hold at 1% for a third month after a surprise cut to that level in December.
Data on Tuesday will probably show the South African economy still contracted from a year earlier in the three months through December, even as it's expected to reflect strong quarter-on-quarter annualized expansion. Israel will move into the next stage of reopening its economy from lockdown restrictions, with restaurants and cafes that will be allowed to open for full service in the world's most vaccinated country.
For more, read Bloomberg Economics' full Week Ahead for EMEA
Asia
Chinese trade data released Sunday, inflation numbers on Wednesday and credit figures for February will all be closely watched after PMIs pointed to slowing momentum for the world's No. 2 economy.
Bank of Japan Deputy Governor Masayoshi Amamiya speaks on Monday ahead of a policy review later this month. The words of one of the principal architects of yield-curve control will be closely scrutinized for possible signaling from the central bank of what is in the pipeline.
A raft of data including household spending, wages and bankruptcies will show how the Japanese economy was faring during the state of emergency, while revised GDP figures for the last quarter may show slightly slower growth after the release of weaker capital spending data last week.
For more, read Bloomberg Economics' full Week Ahead for Asia
Latin America
In Chile on Monday, look for year-on-year inflation data to come in right around the 3% target, where expectations appear well-anchored, yet again.
On Tuesday, Mexico's inflation reports are the next-to-last price readings before the central bank's March 25 meeting. The figures here may keep a quarter-point interest rate cut in play.
In Brazil events have overtaken policy, with the February report out Thursday expected to show inflation bumping up against the top of target range. Economists see a strong likelihood of a half-point interest rate increase at next week's central bank meeting while swap traders have priced that in with six more to follow by year-end.
Later in the day, Argentina's statistics agency posts consumer price data, and Peru's central bank is expected to keep the key rate unchanged at 0.25%.
The week concludes with January reports on Brazilian retail sales and Mexico's industrial production.
For more, read Bloomberg Economics' full Week Ahead for Latin America
©2021 Bloomberg L.P.