Donald Trump may not be done disrupting American politics, only this time it could actually end up being an improvement
President Joe Biden set the tone for his new administration last week seeking to reunite a divided country.
It was a noble, aspirational inauguration speech and a message this divided country needed to hear. But it won't be easy, not in a political environment where for years Americans have been pushed into clans and fed resentment and mistrust.
This assumes the Republican Party can be salvaged. It may be too late for that, and there's another guy who shares that view: Recently unemployed Florida man Donald Trump.
Wouldn't you know it, as soon as he's out of office he comes up with an idea that makes sense. I say that not because it might blow up the Republican Party. I say it because the two-party system is the worst feature of modern American politics.
Our government is so hopelessly dysfunctional that facing a crisis of historic proportions, it took months to pass a COVID relief bill — and that's just one example. But the larger problem is that the current party structure isn't about governing at all. It's about power and holding onto that power by creating a big enough tent.
It has reached a point, however, that in this push to be everything to everybody, the parties have lost any philosophical cohesion.
In what world can you have a Republican Party going forward that includes both Mitt Romney and the people who rampaged through the Capitol looking to take members of Congress hostage? And how does the average Republican feel represented by that party?
The Democrats have an identity crisis of their own, trying to hold together people like Ben McAdams and Alexandra Ocasio-Cortez.
Trying to find a way for everyone to fit means nobody fits well, like Cinderella's stepsisters trying to cram their feet into ill-fitting slippers. It makes sense that nearly a third of Utah voters choose to not affiliate with either party. That number will continue to grow.
That's because, as humans, we all have different experiences that inform different world views and beliefs. Things aren't black-and-white, purely Democratic or Republican.
Maybe you are pro-life but believe in a liberal immigration policy and are a dyed-in-the-wool union member. Or you are devoutly religious, love your guns and think the threat of climate change is dire and everyone deserves a guaranteed income. Or you're a Black entrepreneur who opposes government regulation but believes Black Lives Matter and police should stop shooting people.
None of that matters in our current system. Donkey or elephant, blue or red — those are your choices. Don't like it? Feel free to throw away your vote.
If your grocery store gave you two choices of toilet paper — both of them bad, like mesh vs. extra coarse — you'd probably find another store, but this is the only store we have.
Hillary Stirling, the newly minted chairwoman of the United Utah Party would like to give people more choices. Both nationally and in Utah, she said, the two major party agendas are driven by the fringes.
"The people on the extremes are the people who are most active, most interested in politics, so they're the ones who show up and are most vocal," she said. That leaves those in the middle dissatisfied with their voices, but the United Utah Party has struggled, like all third-parties, to make much headway.
The inevitable result of these two combatant parties trying to remain in power is we end up with pure bloodsport. The incentives are on obstruction and demonization, not collaboration and compromise. It partly explains why we've seen the fierce polarization — fueled by media and online outlets that drive the wedge deeper, which in turn are exploited by opportunistic, ambitious politicians.
We've seen other parties rise and fade and we have a handful of third parties in place now, but they aren't viable because the two parties that make the rules have created a system that perpetuates their power. And because they're the only viable options, they get
all the
money.
Without money, minor parties can't put their candidates in front of people, they can't get on the ballot, they can't get into the debates, they can't win — and when they can't win donors won't give money.
"Especially the way our current system is set up, it's either/or. The question that is currently asked is: Who do you want out of these two people?" Stirling said. "There are better ways to do it, so let's try those better ways."
Those better ways, though, will take serious structural changes like public campaign financing, ranked-choice voting or electing members of Congress proportionately, rather than from districts gerrymandered to benefit one party or the other.
The other possibility is the rise of a viable third, and maybe fourth, parties, something Theodore Roosevelt's popularity couldn't do and that Ross Perot's money couldn't do. It's possible Trump could use both money and a cult-like following to disrupt the two-party system.
Or, perhaps, Biden is right and, despite a track record to the contrary, Democrats and Republicans can come together and chart a new course and we don't need major reforms to our system. I hope he is right.
Given our recent history, however, it seems more likely that we'll see more of the same, with the two parties, left to their own self-serving devices, continuing to pull Americans further and further apart until there is a rift that can't be healed.
Source: – Salt Lake Tribune
How rape allegations have rocked Australian politics – BBC News
Just a fortnight ago, Australia was shocked by a former political adviser's allegations that she had been raped in the nation's Parliament House.
Brittany Higgins said she'd been attacked by a male colleague – also an adviser for the ruling Liberal Party – in a government minister's office in 2019.
Her story has triggered a flood of other women to come forward with their own experiences of alleged sexual assault and harassment in Australian politics.
The most explosive of these – a 1988 rape allegation – now hangs over an unidentified cabinet minister. The minister denies rape, Prime Minister Scott Morrison said on Monday.
A rape accusation against an opposition MP has also been referred to police.
As the allegations pile up, Mr Morrison's government in particular is facing a public clamour for answers. Here's how events have unfolded so far.
Brittany Higgins speaks out
Ms Higgins said she was 24 and weeks into a new "dream job" when she was taken to parliament by a senior colleague after a night out in March 2019.
Heavily drunk, she had fallen asleep in the minister's office before waking, she said, to find the man sexually assaulting her.
The man was sacked in the days following, not for the alleged assault but for breaching office security with the late-night visit.
Meanwhile Ms Higgins told her boss – then Defence Industry Minister Linda Reynolds – that she had been sexually assaulted. The meeting occurred in the same room where Ms Higgins alleged the attack took place.
Ms Reynolds has said she offered support to her aide to go to the police. Ms Higgins said she felt pressure that doing so would lead to her losing her job.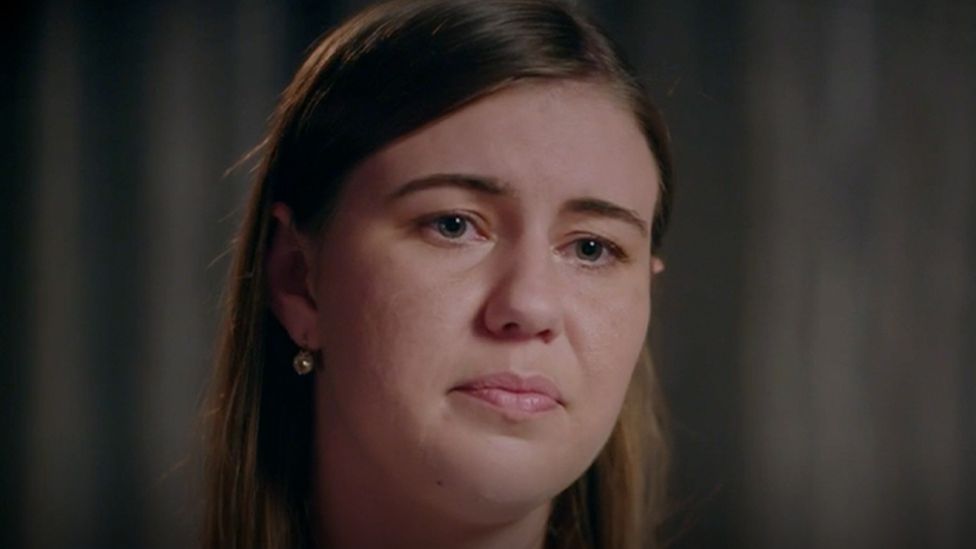 Ms Higgins said she had since felt "silenced" by the Liberal Party, but decided to speak out after seeing a photo of Mr Morrison in January which showed him celebrating the activism of a sexual assault survivor.
"He's standing next to a woman who has campaigned [for survivors' rights]… and yet in my mind his government was complicit in silencing me. It was a betrayal. It was a lie," she told news.com.au.
PM criticised for response
A day after Ms Higgins came forward, Mr Morrison apologised for the way her complaint had been treated by the government two years ago. He also promised inquiries into parliament's work culture and support for political staff.
However, he sparked a public backlash when he appeared to suggest that he'd understood Ms Higgins' experience better after his wife urged him to think of his two daughters.
"She said to me: 'You have to think about this as a father. What would you want to happen if it were our girls?'" he told reporters.
Women in particular condemned Mr Morrison's framing of the issue. Did he need to think of Ms Higgins as someone's daughter, they asked, before he could empathise or take her account seriously?
Critics also used the comment to argue that Mr Morrison wasn't tackling the issue seriously enough.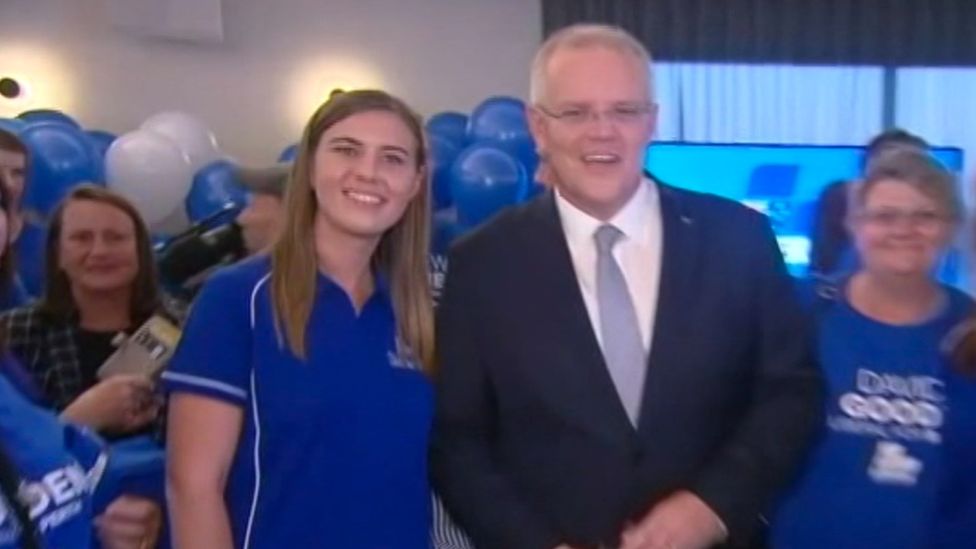 Mr Morrison and his ministers were also accused of skirting questions about who within the government knew what and when, and why they didn't do more.
It has since emerged that several people in Parliament House – including at least three cabinet ministers – knew about the alleged crime.
Mr Morrison maintains he found out about the allegation at the same time as the rest of the nation.
But when he disputed a suggestion by Ms Higgins that one of his advisers had been "checking up" on her – doubting her recollection in that instance – she said: "The continued victim-blaming rhetoric by the prime minister is very distressing to me and countless other survivors."
Other women come forward
Since Ms Higgins' spoke out, four other women have come forward to local media to accuse the same man of sexual assault or harassment.
One woman said she'd been raped by the man in 2020 after drinks and dinner with him. "If this had been properly dealt with by the government in 2019 this would not have happened to me," she told The Australian.
Another woman, an election volunteer, said she was also raped by the man after a night out in 2017.
A third woman said the man had stroked her thigh during a group dinner with colleagues in 2017. She made a report to police after seeing Ms Higgins speak out, the ABC reported.
Last Wednesday, a fourth woman told news.com.au she had felt pressured by the man to have sex in 2014.
Then late last week, amid suggestions that some lawmakers had been reticent to report Ms Higgins' allegations earlier, the Australian Federal Police (AFP) issued a statement to lawmakers. It reminded them to report any criminal allegations they had come across.
Cabinet minister accused of rape
On Friday, two opposition lawmakers – Labor Senator Penny Wong and Greens Senator Sarah Hanson-Young – referred a letter they had received to the AFP.
It alleged that a man who was now a cabinet minister had raped a 16-year-old girl in 1988.
The identity of the minister and the alleged victim have not been reported by Australian media. The woman took her own life last June, aged 49.
Earlier last year, the woman reported the allegation to New South Wales Police, but an investigation was suspended after she died.
Last week, friends of the woman wrote a letter to Mr Morrison and other lawmakers, urging him to establish an independent investigation.
Mr Morrison has declined to do so, insisting that the matter is one for police.
"The individual involved here has vigorously rejected these allegations," he told reporters on Monday.
"And so, it's a matter for the police," he said, adding that "there was nothing immediate considered that was necessary for me to take any action on".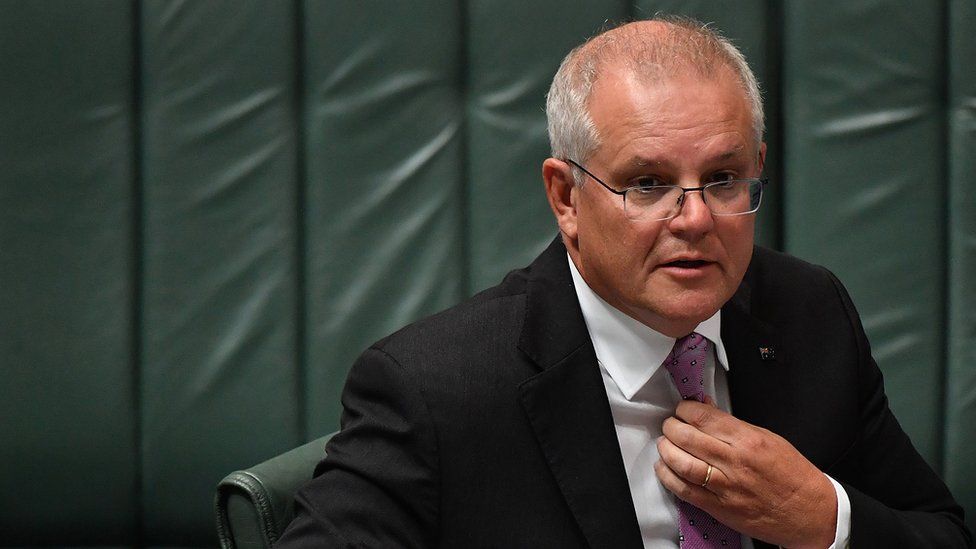 But the letter argues that because the alleged victim is dead, police are unlikely to pursue their own investigation because such cases typically require testimony from a complainant.
"Failure to take parliamentary action because the New South Wales Police cannot take criminal action would feel like a wilful blindness," the letter said.
On Sunday, a government lawmaker referred a rape allegation against a Labor MP to police. No further information about that allegation is yet known.
Public pressure
The allegations of the past fortnight have reignited wider questions about Australian political culture, including long-held debates about sexism and misogyny.
One of the women who alleges she was raped by the political adviser said she had come forward, in part, to "help shine a light on this awful culture".
Last week, Mr Morrison said: "I think we've got a problem in the parliament and the workplace culture that we have to work on."
But calls for more action from the government continue to grow.
Critics argue, for instance, that a cabinet minister accused of a serious crime should be stood aside pending an investigation – a suggestion the government has rejected.
Meanwhile, Ms Higgins says she has now filed a police complaint and is "determined to drive significant reform" in how parliament handles cases such as hers.
"I believe that getting to the bottom of what happened to me and how the system failed me is critical to creating a new framework," she said.
Armenia's political tensions rise amid rival rallies – CTV News
YEREVAN, ARMENIA —
Political tensions in Armenia heightened Monday, with supporters of the embattled prime minister and the opposition each holding massive rallies at separate sites in the capital.
Prime Minister Nikol Pashinyan has faced opposition demands to resign since he signed a peace deal in November that ended six weeks of intense fighting with Azerbaijan over the Nagorno-Karabakh region. The Russia-brokered agreement saw Azerbaijan reclaim control over large parts of Nagorno-Karabakh and surrounding areas that had been held by Armenian forces for more than a quarter-century.
Opposition protests seeking Pashinyan's ouster abated during the winter but intensified last week amid a rift between him and the country's military leaders.
The spat was sparked by Pashinyan firing a deputy chief of the military's General Staff who had laughed off the prime minister's claim that only 10% of Russia-supplied Iskander missiles that Armenia used in the conflict exploded on impact.
The General Staff then demanded Pashinyan's resignation, and he responded by dismissing the General Staff chief, Col. Gen. Onik Gasparyan. The dismissal has yet to be approved by Armenia's largely ceremonial president, Armen Sarkissian, who sent it back to Pashinyan, saying the move was unconstitutional.
Pashinyan quickly resubmitted the demand for the general's ouster, and the prime minister's allies warned that the president could be impeached if he fails to endorse the move.
Sarkissian's office responded with a strongly worded statement condemning "inadmissible speculation" about his move and emphasizing that his decision was "unbiased and driven exclusively by national interests."
Addressing a rally of thousands of his supporters, Pashinyan voiced hope the president would endorse the dismissal of the General Staff's chief for meddling in politics.
He blamed the country's former leader who lost power in the 2018 "velvet revolution" for influencing the military brass and trying to "set the army against the legitimately elected authorities and the people."
The prime minister also suggested calling a constitutional referendum in October to ask voters about expanding presidential powers to avoid future crises, although he didn't spell out specific changes.
After an hour-long speech, Pashinyan led his supporters on a march across Yerevan under the heavy escort of police and security officers.
Amid the escalating tensions earlier in the day, a group of protesters broke into a government building in central Yerevan to press for Pashinyan's resignation, but they left shortly afterward without violence. Later, thousands of opposition supporters attended a demonstration demanding that the prime minister resign.
Pashinyan, a 45-year-old former journalist who came to power after leading large street protests in 2018 that ousted his predecessor, still enjoys broad support despite the country's humiliating defeat in Nagorno-Karabakh and the opposition calls for his resignation.
The prime minister has defended the peace deal as a painful but necessary move to prevent Azerbaijan from overrunning the entire Nagorno-Karabakh region, which lies within Azerbaijan but was under the control of ethnic Armenian forces backed by Armenia since a separatist war there ended in 1994. The fighting with Azerbaijan that erupted in late September and lasted 44 days has left more than 6,000 people dead. Russia has deployed about 2,000 peacekeepers to monitor the Nov. 10 peace deal.
Armenia has relied on Moscow's financial and military support and hosts a Russian military base — ties that will keep the two nations closely allied regardless of the outcome of the political infighting.
Last week, the Russian Defence Ministry rebuked the Armenian leader for criticism of the Iskander missile, a state-of-the-art weapon touted by the military for its accuracy. The Russian military said it was "bewildered" to hear Pashinyan's claim because Armenia hadn't used an Iskander missile in the conflict.
In a bid to repair the damage to Armenia's ties with Moscow, Pashinyan rescinded his claim Monday, acknowledging that he made the statement after being misled.
China says Taiwan pineapple ban not about politics as war of words escalates – TheChronicleHerald.ca
BEIJING (Reuters) – China on Monday denied accusations by Taiwan that a ban on pineapples from the island was about politics, saying it was purely a matter of biosecurity, in an escalating war of words that has added to existing tensions.
China announced the ban last week, citing "harmful creatures" it said could come with the fruit, threatening China's own agriculture.
Taiwan, which China claims as its own territory, says there is nothing wrong with its pineapples and that Beijing is using the fruit as another way to coerce the island.
China's Taiwan Affairs Office said the decision was "totally rational and necessary" and that customs had a responsibility to prevent diseases carried by plants from entering the country.
"The Democratic Progressive Party (DPP) authorities have deliberately misrepresented and maliciously interpreted technical issues, taking the opportunity to attack and discredit the mainland," it said, referring to Taiwan's ruling party.
The DPP has neither the will nor the ability to solve practical problems, and they can only evade their own responsibility by "slandering the mainland", it added.
While Taiwan is best known internationally for exporting semiconductors, the sub-tropical island has a thriving fruit industry developed when it was a Japanese colony, and last year more than 90% of its exported pineapples went to China.
Politicians have rallied behind pineapple farmers, posting pictures of themselves in fields with farmers and tucking into the fruit on their social media pages, encouraging domestic consumers to pick up the slack.
The government has also been asking Taiwanese companies to make bulk purchases, and looking for alternative export markets.
President Tsai Ing-wen on Sunday visited a pineapple farm in southern Taiwan, where the bulk of the fruit is grown and where the DPP traditionally enjoys strong support.
China has ramped up pressure to get Taiwan to accept Chinese sovereignty, including regularly flying fighter jets and bombers near Taiwan or into its air defence identification zone.
(Reporting by Beijing newsroom; Writing and additional reporting by Ben Blanchard in Taipei; Editing by Nick Macfie)