Dr. Bonnie Henry wants people to stay home this Christmas as COVID-19 deaths climb in B.C. – CHEK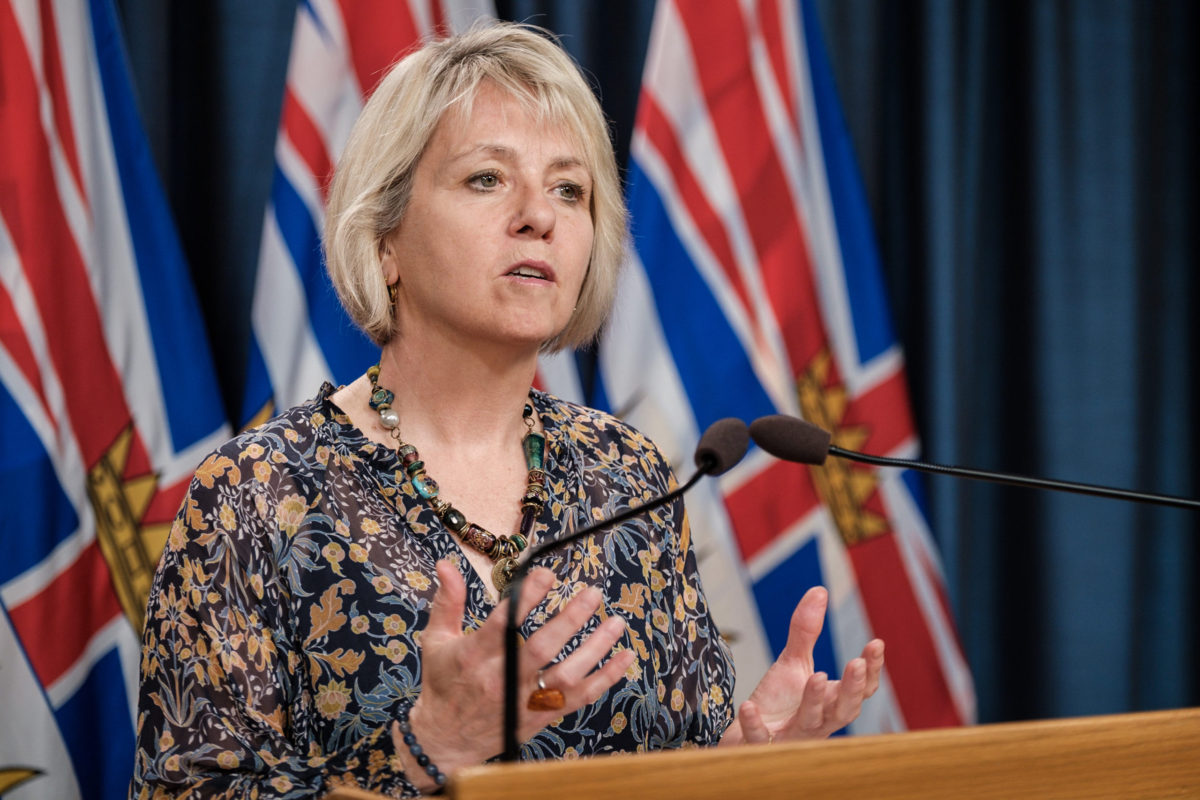 It's been a deadly few days in B.C., with 111 COVID fatalities in the last week alone.
That accounts for a quarter of all deaths since the pandemic began.
"It has been a difficult week for all of us and reminds us of what we need to do right here, right now, before a vaccine," says health minister Adrian Dix.
B.C. health officials are urging everyone to follow the public health orders, stay close to home, avoid all non-essential travel and only see people in their household or bubble.
"We are continuing to see unchecked transmissions despite our efforts," provincial health officer Dr. Bonnie Henry says. "We need more than ever to stay local, stay small, not mix with others."
That means Christmas — as we know it — is cancelled.
"What I want for Christmas is for everyone to stay home and stay safe so we can get through to next year," says Dr. Henry.
MORE: B.C. reports 12 deaths, more than 800 new cases of COVID-19
B.C.'s top doctor won't yet say if the ban on all events — which is in effect until Dec. 7 — will be extended.
But the premier has a strong message for the holidays:
"This is a critical, dangerous time for British Columbia with respect to COVID 19," Premier John Horgan said. "It's absolutely essential we reduce interactions with people. There will be difficult times ahead for family gatherings."
Additional restrictions on indoor adult team sports are also being put in place.
And high-intensity indoor group fitness is on hold — indefinitely.
"This is the worst time for transmission," says Dix. "What was possible in August is not possible now and no amount of arguing or litigating will change that."
It's a message they hope will finally get through to those following the rules, before it's too late.
COVID-19 Bulletin #321 – news.gov.mb.ca
Need More Info?
Public information, contact Manitoba Government Inquiry: 1-866-626-4862 or 204-945-3744.
Media requests for general information, contact Communications Services Manitoba: 204-945-3765.
Media requests for ministerial comment, contact Communications and Stakeholder Relations: 204-794-0732.
Twitter Feed
Quick Links
BC records 500 new COVID-19 cases Wednesday, 14 deaths – Burns Lake Lakes District News
B.C. public health officials reported 500 new COVID-19 cases on Wednesday, in line with recent results, as Fraser Health deals with an outbreak at Surrey Pretrial provincial prison.
Prisons and homeless shelters are among the priorities for B.C.'s immunization program after front-line health care workers and residents and staff of long-term care homes receive vaccine. There were 14 additional coronavirus-related deaths reported Wednesday, for a total of 1,104 since the pandemic began in B.C.
Health Minister Adrian Dix and provincial health officer Dr. Bonnie Henry said recent test results show "our COVID-19 curve is trending in the right direction," as vaccine delivery is expected to slow until early February. B.C. is approaching 100,000 vaccine doses given.
B.C. public health officials reported 584 new cases in the 24 hours up to Saturday, another 445 up to Sunday and 301 up to Monday, a lower total that generally reflects fewer test results completed on Sunday. There were 465 new cases on Tuesday.
The case distribution for Jan. 20 continues the recent pattern, with 216 cases in the Fraser Health region, 125 in Vancouver Coastal, 91 in Interior Health (Okanagan and Kootenay region), 35 in Northern Health and 32 on Vancouver Island.
There were two new outbreaks reported in the health care system, at Acropolis Manor in Prince Rupert and Villa Cathay Care Home in Vancouver. Outbreaks at Guildford Seniors Village in Surrey, Maple Ridge Seniors Village, Mountainview Village in Kelowna and Village by the Station in Penticton have been declared over.
---
@tomfletcherbc
tfletcher@blackpress.ca
Like us on Facebook and follow us on Twitter.
Province pushes on with huge revamp of health care amid pandemic – Winnipeg Free Press
More than 1,600 workers battling the pandemic braced for more upheaval after the Manitoba government said it would forge ahead with the second wave of health-care restructuring.
Health Minister Heather Stefanson and Mental Health Minister Audrey Gordon announced the plan on Wednesday.
"Key information management and public health roles (will be) consolidated within Manitoba Health and Seniors Care, while an integrated mental health and addictions service (will be) established within Shared Health, Health and Seniors Care."
"By establishing a solid foundation within Shared Health, we will be able to adopt new and improved ways of delivering care provincially, in ways that improve access to these vital services closer to home for many Manitobans," Gordon said in a news release.
Responsibility will be given to Shared Health, or another entity to be established by government, for Cadham Provincial Laboratory, Selkirk Mental Health Centre, the Addictions Foundation of Manitoba; as well as some employees who currently work in the Department of Health and Seniors Care, the Department of Mental Health, Wellness and Recovery; and the Department of Central Services.
The changes were identified by the 2018 health system transformation blueprint, the province said, and the transfer won't take place before May 20.
The reorganization represents yet another stressful challenge for health-care and front-line workers, who are coping with the challenges of COVID-19, says the head of the Manitoba Government and General Employees' Union.
"It is very concerning that this government would trigger such large-scale disruption for health-care staff and operations in the middle of the ongoing pandemic," union president Michelle Gawronsky said in an email.
"Many of the impacted members are focused on processing COVID-19 tests. Others are providing mental health and addictions treatment at a time when we know the need for these services has never been greater," Gawronsky said. Health workers are busy keeping the system going while it is under tremendous strain, she said.
"It is simply unconscionable that the government would add the disruption, anxiety, and risk associated with implementing large-scale restructuring on our health-care system," Gawronsky said.
Critics said the timing of the announcement and the restructuring — on a day when the news media is focused on the inauguration of U.S. President Joe Biden and during a pandemic — is telling.
"The government shouldn't be using the pandemic as cover to try and sneak through significant changes to the health-care system they had planned long before COVID-19," said NDP Leader Wab Kinew.
He's especially concerned about "turning the management of Cadham lab upside down during the pandemic."
"I don't think they should be making these huge changes to the very office that is doing the testing for COVID," said Kinew. "It's an opportunity for more mistakes to creep into our pandemic response."
Pushing ahead with "transformation" while COVID-19 is raging is "absolutely irresponsible and reckless," Liberal Leader Dougald Lamont said. The timing of the announcement, he said, suggests the Tories don't want much publicity.
"It's inauguration day in the United States. It's pretty clear what's going to be the lead story tomorrow… It's not going to be the fact that the Pallister government, in the middle of a pandemic, is still pursuing more upheaval and more changes to the health-care system," Lamont said.
carol.sanders@freepress.mb.ca
Carol Sanders
Legislature reporter
After 20 years of reporting on the growing diversity of people calling Manitoba home, Carol moved to the legislature bureau in early 2020.