Dr. Martin Luther King JR: Facts not really known in Canada
As America honours Dr. Martin Luther King Jr's legacy, there are still some facts unknown to many Canadians.
Here are 10 little-known facts about the life and legacy of Dr Martin Luther King Jr.
'I have a dream' speech was improvised
Halfway through his speech at the 1963, gospel singer Mahalia Jackson shouted: "Tell them about the dream, Martin!"
"I have a dream that my four little children will one day live in a nation where they will not be judged by the colour of their skin, but by the content of their character. I have a dream today," Dr King said.
The iconic moment would later become known as the "I have a dream" speech. And there is still work to be done to truly live up to Dr King's dream of equality, said Lerone Martin, director of the Martin Luther King Jr Research and Education Institute at Stanford University.
His dream of equality is quintessentially American, Mr Martin told the BBC.
"Despite all the disparagement he endured, King did a wonderful job of constantly trying to show how his efforts were in line with American ideals," he said.
His birth name was Michael King
When born on 15 January 1929, he was named after his father, Michael King. But six years later, King's father visited Germany and learned about Martin Luther, the leader of the Protestant reformation.
He was said to have been so inspired that he returned home and officially changed both his and his eldest son's names to Martin Luther King.
King decided at college to become a preacher
In 1944, Martin Luther King Jr was admitted to Morehouse College at the age of 15. Generations of the King family had graduated from the prestigious all-male historically black college in Atlanta, Georgia.
According to the King Institute, the future civil rights leader was said to have been an "ordinary" student, but his time at Morehouse was instrumental in awakening his passion for social and political equality and inspired him to become a preacher.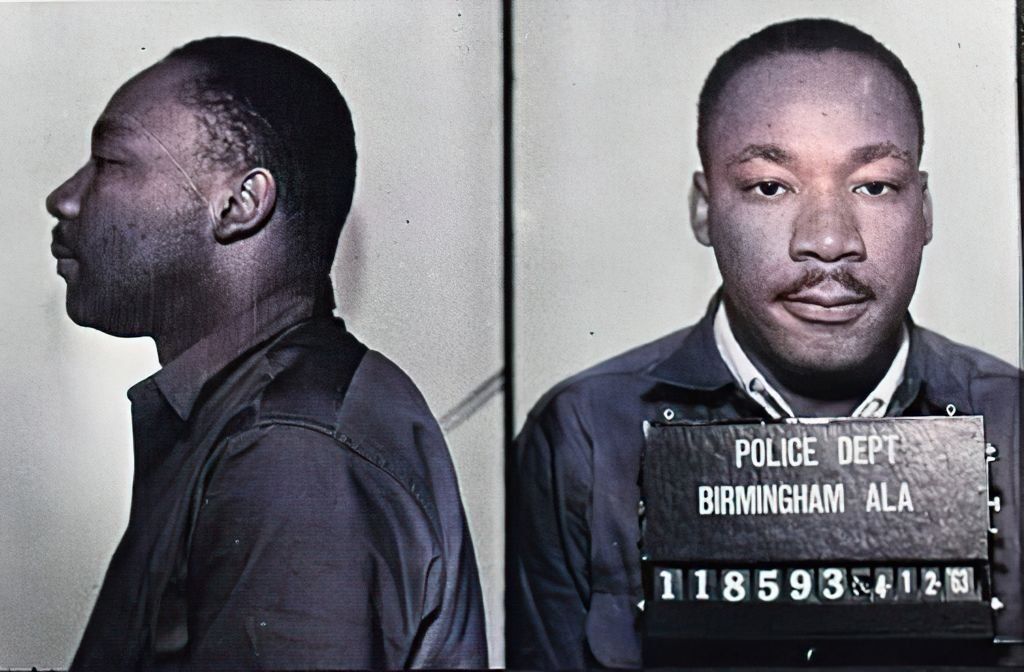 He was arrested more than 25 times
In his 13 years as a civil rights leader, King was arrested 30 times, largely for misdemeanours and civil protest violations, according to the King Center. Though he was often a target of law enforcement, King did not relish being imprisoned.
He was arrested in October 1960 after a sit-in at a department store in Atlanta and was held in Georgia State Prison. He wrote to his wife, Coretta, from jail saying that he hoped the "excessive suffering that is now coming to our family will in some little way serve to make Atlanta a better city, Georgia a better state, and America a better country".
According to the King Center, King wrote five books over the course of his lifetime and published numerous collections of his letters and sermons.
His 1964 book, Why We Can't Wait, recounted the events that led to the landmark Birmingham, Alabama, campaign to end segregation.
Nichelle Nichols, better known as the original Lt Nyota Uhura in Star Trek, was once introduced to someone claiming to be "her biggest fan" – Dr Martin Luther King Jr. Nichols had resigned from her ground-breaking role on Star Trek days before they met at an awards ceremony. But when she informed King she planned to leave the show, she told the Television Academy Foundation, King was adamant that she could not abandon the iconic role.
"He said: 'For the first time on television we will be seen as we should be seen every day, as intelligent, quality, beautiful people… who can go into space,'" Nichols recalled.
"I just stood there realising every word he was saying was the truth. At that moment, the world tilted for me." She would continue in the role for years.
He survived previous assassination attempts
In September 1958, King was approached by a mentally ill woman as he signed copies of his latest book, Stride Toward Freedom, in Harlem, New York City. The woman verified that he was indeed King before stabbing him with a seven-inch blade.
At the time, doctors said he was "a sneeze away from death", because the knife was so close to his aorta, according to the King Institute.
After learning the woman was mentally ill, King said: "I bear no bitterness toward her" and instead called for her to receive treatment.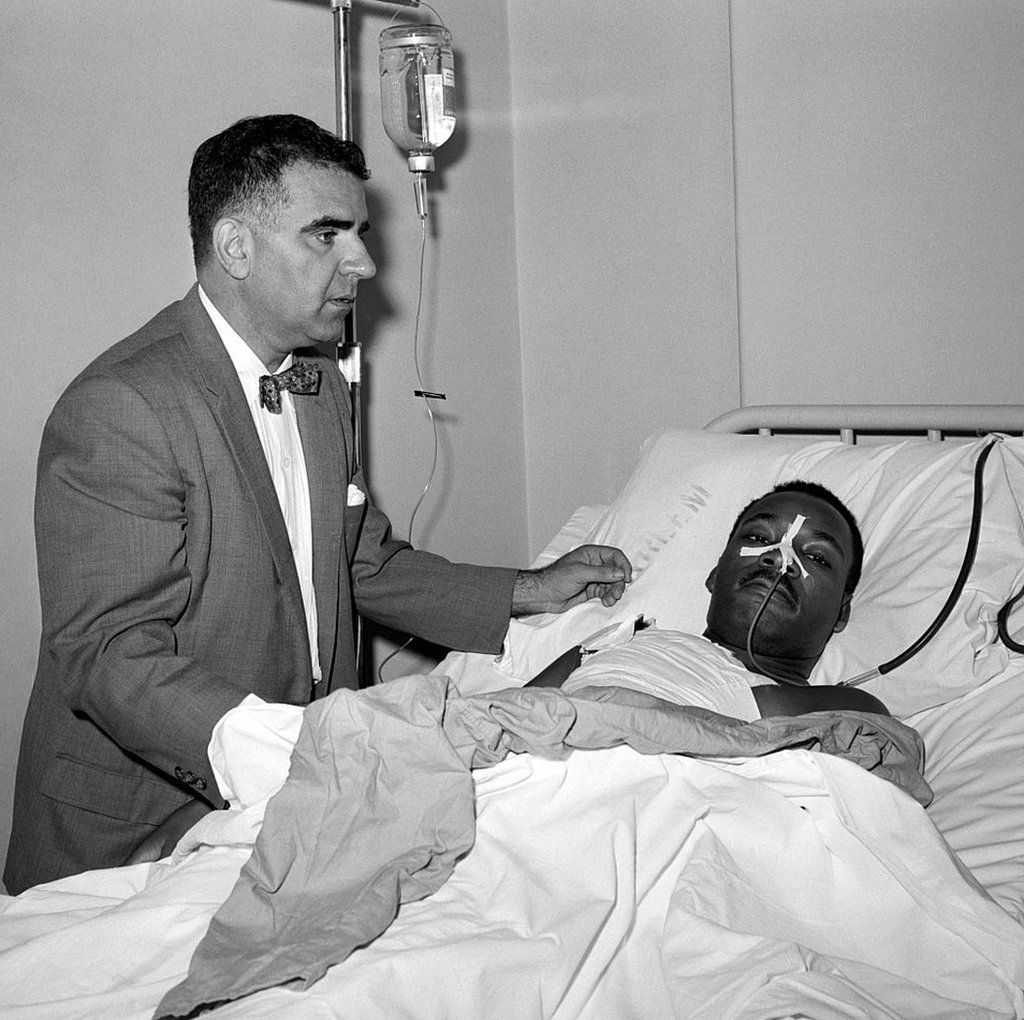 King's mother, Alberta, was also assassinated
On 30 June 1974, six years after King's assassination, a 23-year-old man shot and killed King's mother, Alberta Williams King, while she was playing the organ during a service at Ebenezer Baptist Church.
The shooter was found guilty and sentenced to death, but was later re-resentenced to life in prison in part because of the King family's opposition to the death penalty.
The King family paid for Julia Roberts' birth
In an interview with Gayle King that recently went viral, actress Julia Roberts confirmed a little-known fact about the day she was born.
"The King family paid for my hospital bills," she said, adding that the Roberts and King families became close because her parents welcomed King's children into their Atlanta acting school.
Later, when Julia was born and her family couldn't afford the hospital bills, King and his wife, Coretta, "helped us out of a jam".
He was only 39 when he was killed
Dr King was only 39 years old when he was assassinated on 4 April 1968. He spent less than 13 years in the public eye campaigning for civil rights and racial equality.
Germany won't be a 'party to the war' amid tanks exports to Ukraine: Ambassador – CTV News
The German ambassador to Canada says Germany will not become "a party to the conflict" in Ukraine, despite it and several other countries announcing they'll answer President Volodymyr Zelenskyy's pleas for tanks, possibly increasing the risk of Russian escalation.
Sabine Sparwasser said it's a "real priority" for Germany to support Ukraine, but that it's important to be in "lockstep" coordination with other allied countries.
"There is a clear line for Germany," she told CTV's Question Period host Vassy Kapelos, in an interview airing Sunday. "We do want not want to be a party to the conflict."
"We want to support, we want to do everything we can, but we, and NATO, do not want to be a party to the war," she also said. "That's I think, the line we're trying to follow."
Defence Minister Anita Anand announced this week Canada will send four Leopard 2 battle tanks — with the possibility of more in the future — to Ukraine, along with Canadian Armed Forces members to train Ukrainian soldiers on how to use them.
Canada first needed permission from Berlin to re-export any of its 82 German-made Leopard 2 tanks to Ukraine. After a meeting of 50 defence leaders in Germany earlier this month, it was unclear whether Germany would give the green light.
But following what German Chancellor Olaf Scholz called "intensive consultations," Germany announced on Jan. 25 it would send tanks to Ukraine, and the following day, Canada followed suit. It is now joining several other countries, including the United States, the United Kingdom, and Poland, which are sending several dozen tanks to Ukraine.
NATO Secretary General Jens Stoltenberg said this week the tanks would allow Ukraine to "significantly strengthen their combat capabilities."
"It demonstrates also the unit and the resolve of NATO allies in partners in providing support to Ukraine," he said.
Meanwhile Sparwasser said Germany is "walking that fine line" of avoiding steps that could prompt escalation from Russia, while supporting Ukraine, and staying out of the war themselves.
"I think it's very important to see that Germany is very determined and has a real priority in supporting Ukraine in its struggle for freedom and sovereignty," Sparwasser said. "But we also put a high priority on going it together with our friends and allies."
Sparwasser said despite warnings from Russia that sending tanks to Ukraine will cause an escalation, Germany is within international law — specifically Article 51 of the United Nations Charter — to provide support to Ukraine.
"Ukraine is under attack has the right to self defence, and other nations can come in and provide Ukraine with the means to defend itself," Sparwasser said. "So in international law terms, this is a very clear cut case."
She added that considering "Russia doesn't respect international law," it's a more impactful deterrent to Russia, ahead of an expected spring offensive, to see several countries come together in support of Ukraine.
With files from the Associated Press
COVID: Canada retaining Evusheld – CTV News
While Health Canada says it is "aware" of the U.S. decision to withdraw the emergency use of Evusheld, a drug by AstraZeneca used to help prevent COVID-19 infection— the agency is maintaining its approval, citing the differences in variant circulation between Canada and the U.S.
The U.S. Food and Drug Administration (FDA) announced on Jan. 26 that its emergency use authorization of the drug was pulled due to its inefficacy in treating "certain" COVID-19 variants.
The FDA stated in a release on its website that as the XBB.1.5. variant, nicknamed "Kraken", is making up the majority of cases in the country, the use of Evusheld is "not expected to provide protection" and therefore not worth exposing the public to possible side effects of the drug, like allergic reactions.
In an email to CTVNews.ca, Health Canada said the U.S. Food and Drug Administration pulled the drug as the main variant of concern in the U.S. is XBB.1.5.
"Dominant variants in the [U.S.] may be different from those circulating in Canada," the federal agency said in an email. "The most recent epidemiological data in Canada (as of January 1, 2023) indicate that BA.5 (Omicron) subvariants continue to account for more than 89 per cent of reported cases."
On Jan. 6 the FDA said in press release that certain variants are not neutralized by Evusheld and cautioned people who are exposed to XBB.1.5. On Jan. 26, the FDA then updated its website by saying it would be limiting the use of Evusheld.
"Evusheld is not currently authorized for use in the U.S. until further notice by the Agency," the FDA website states.
On Jan. 17, Health Canada issued a "risk communication" on Evusheld, explaining how it may not be effective against certain Omicron subvariants when used as a preventative measure or treatment for COVID-19.
"Decisions regarding the use of EVUSHELD should take into consideration what is known about the characteristics of the circulating COVID-19 variants, including geographical prevalence and individual exposure," Health Canada said in an email.
Health Canada says Evusheld does neutralize against Omicron subvariant BA.2, which according to the agency, is the dominant variant in many communities in Canada.
The drug was introduced for prevention measures specifically for people who have weaker immune systems and are unlikely to be protected by a COVID-19 vaccine. It can only be given to people 12 years and older.
"EVUSHELD is not a substitute for vaccination in individuals for whom COVID-19 vaccination is recommended," the agency's website reads.
Health Canada says no drug, including Evusheld, is a substitute for vaccination.
Alberta Justice spokespeople deliver duelling statements on prosecutor email review
An email probe into whether Alberta Premier Danielle Smith's office interfered with Crown prosecutors took a confusing turn Friday after two government spokespeople delivered duelling statements that raised questions over how far back the search went.
The review was ordered by Smith a week ago to respond to allegations in a CBC story that reported a staffer in the premier's office emailed prosecutors last fall to question decisions and direction on cases stemming from a blockade at the Canada-U. S. border crossing at Coutts, Alta.
The Justice Department said Monday it had done a four-month search of ingoing, outgoing and deleted emails and found no evidence of contact.
Two days later, Alberta Justice communications director Charles Mainville said in a statement that deleted emails are wiped from the system after 30 days, meaning the search for deleted emails may not have covered the entire time period in question.
On Thursday night, Ethan Lecavalier-Kidney, a spokesman for Justice Minister Tyler Shandro, responded to questions about Mainville's statement. He said while emails are deleted after 30 days, they live on in the system for another 30 and could have been checked that far back by investigators.
"For example, if an email was deleted on Oct. 17, 2022, the email would no longer be accessible to the user as of Nov. 16, 2022, but would continue to be available to our investigation team until Dec. 16, 2022," said Lecavalier-Kidney in his statement.
A 60-day search would have stretched back to late November, capturing all but the first six weeks of Smith's United Conservative Party government. Smith was sworn in as premier on Oct. 11.
But while Lecavalier-Kidney's statement said investigators could go back 60 days, it did not state that they did so, leaving confusion on how far back they went.
When asked Friday to clarify whether investigators went back 30 or 60 days on the deleted emails, Lecavalier-Kidney did not respond to questions while Mainville reissued the original statements in an email.
The government has also delivered conflicting messages on who was investigated in the review.
Smith promised that emails from all Crown prosecutors and the 34 staffers in her office would be checked.
However, the Justice Department later said emails between "relevant" prosecutors and Smith staffers were checked. It did not say how it determined who was relevant.
The Coutts blockade and COVID-19 protest at the border crossing last year saw RCMP lay charges against several people, ranging from mischief to conspiracy to commit murder.
Smith has said she did not direct prosecutors in the Coutts cases and the email review exonerated her office from what she called "baseless" allegations in the CBC story.
The CBC has said that it has not seen the emails in question but stands by its reporting.
The Opposition NDP said questions stemming from the CBC story, coupled with multiple conflicting statements from the premier on what she has said to Justice Department officials about the COVID-19 cases, can only be resolved through an independent investigation.
Smith has given six versions in recent weeks of what she has said to justice officials about COVID-19 cases.
Smith has said she talked to prosecutors directly and did not talk to prosecutors directly. She has said she reminded justice officials of general prosecution guidelines, but at other times reminded them to consider factors unique to COVID-19 cases. She has also suggested the conversations are ongoing and that they have ended.
She has attributed the confusion to "imprecise" word choices.
Smith has long been openly critical of COVID-19 masking, gathering and vaccine mandate rules, questioning if they were needed to fight the pandemic and labelling them intolerable violations of personal freedoms.
She has also called those unvaccinated against COVID-19 the most discriminated group she has seen in her lifetime.
Last fall, Smith said charges in the cases were grounded in politics and should be open to political solutions. But she recently said it's important to let the court process play out independently.
This report by The Canadian Press was first published Jan. 27, 2023.