Dylan Cozens scores twice as Team Canada defeats Team Finland to win group at World Juniors – TSN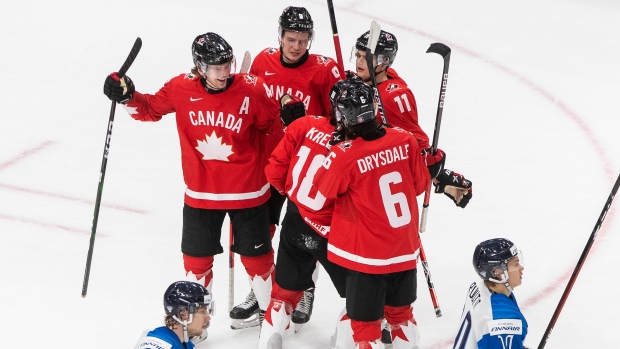 After four preliminary games, Team Canada appears to have found their identity.
"They're a real strong opponent but we played our best game so far," Dylan Cozens said following Team Canada's 4-1 win over Team Finland on Thursday night. "We reloaded hard on pucks and they had a tough time getting out of their zone, that was all because of our track."
Cozens scored twice as Canada dominated the Finns to close out Group 'A' action at the World Juniors in Edmonton.
With earlier games against a short-staffed Team Germany and an underwhelming Team Switzerland squad resulting in routs, Finland represented Canada's toughest challenge to date.
Apart from a push back in the third period, Finland had no answer for a dominant forechecking Canadian squad for much of the night.
"At the start of the game we weren't ready at all. Team Canada was so good," Finnish head coach Antti Pennanen said. "They played with high speed that it was a high-demanding game for us."
Devon Levi made 18 saves for Canada (4-0-0-0), who will face the Czech Republic in quarterfinal action at the World Juniors on Saturday.
Dylan Holloway and Peyton Krebs also had goals for Canada.
Brad Lambert scored the lone goal for Finland (3-0-0-1). His goal snapped Levi's shutout streak of 106:29.
Kari Piiroinen made 36 saves for Finland.
Cozens opened the scoring with his fifth goal of the tournament. Canada was on a 3-on-2 while on the attack. Cozens elected to keep it and beat Piiroinen for a 1-0 lead at 3:49 of the first period.
Canada has scored in the opening five minutes in all four preliminary games in the tournament.
Finland was slow to establish any form of attack. Their first shot on goal came at 9:48 of the opening frame.
Canada outshot Finland 17-1 after 20 minutes, but only led 1-0 after the first period. The Canadians also failed to capitalize on a pair of power-play opportunities.
"I'm not going to lie, I would have loved to be up by a few goals," Canada head coach Andre Tourigny said of the period. "But up 1-0 the only thing on my mind was we need to keep playing that way. Don't change a thing."
The second period was similar to that of the first.
Holloway made it 2-0 Canada when he deflected a shot from Jakob Pelletier. Braden Schneider picked up the second assist at 6:54.
Krebs gave Canada a 3-0 lead when he picked up the rebound from Bowen Byram's point shot. Connor Zary picked up the second assist at 12:58.
Canada continued to outpace Finland as they outshot them 18-6 after 40 minutes.
Finland got its first power play of the game in the third period, and they cashed in on the opportunity when Lambert's shot went off Canada's Thomas Harley and beat Levi for a goal. Topi Niemela and Juuso Parssinen picked up assists at 5:05.
Finland continued to press as Canada shifted to a defensive mode to hold onto the lead.
Cozens scored his second goal of the game with an empty-netter at 18:43 to ice it for Canada.
Dubbed as the 'Workhorse from Whitehorse', Cozens has stood out as Canada's most consistent player at the World Juniors. His speed and two-way ability has helped carry Canada's offence. With its captain, Kirby Dach, unavailable to the team after suffering a broken wrist in pre-tournament play against Team Russia, Cozens has become a leader on the scoresheet and in the dressing room.
"He competes and he wants it, he wants to be a difference maker," Tourigny said of Cozens. "Now he has the maturity to stay with it."
Apart from some issues on the power-play (0-for-5), Canada put on a dominant performance that should put the remaining teams on notice. Despite an impressive outing against the Finns, there doesn't appear to be any overconfidence from Canada heading into the knockout stages.
"The Czech (Republic) did us a favour by beating the Russians," Tourigny said, "They showed us how good they can be."
NOTES: Canada forward Alex Newhook left the game at the start of the second period. Newhook appeared to favour his shoulder after a collision with Finnish defenceman Eemil Viro in the first period. Newhook returned to the bench for the start of the second period, but went back to the dressing room and did not return. An update on Newhook's status is expected on Friday, according to Tourigny… With Schneider's assist, every skater on Canada's roster has recorded at least one point.
Sinclair to lead Canadian women's team in her fourth Olympics
Christine Sinclair, the all-time international goal-scoring record holder, was named to her fourth Olympic squad on Wednesday and will headline a Canadian roster at the Tokyo Games that features a mix of veterans and youth.
Led by Sinclair, whose 186 goals for her country are the most by a female or male soccer player worldwide, Canada won medals at both the 2012 and 2016 Olympics and was the only nation to make the podium in both competitions.
"I am looking forward to doing whatever I can to help take this team back to the podium and make history again," said Canadian captain Sinclair. "Our team is in a good spot, we are excited, we are hungry and we are ready to go."
The 18-player roster features 12 members of the squad that competed at the 2016 Rio Games while a quintet including Vanessa Gilles, Jayde Riviere, Julia Grosso, Adriana Leon, and Evelyne Viens will be making their Olympic debuts.
Goalkeeper Kailen Sheridan travelled to Rio in 2016 as an alternate.
Canada will kick off their Tokyo 2020 journey when they face Japan on July 21 and continue Group E play against Chile on July 24 and Britain on July 27.
(Reporting by Frank Pingue in Toronto, editing by Ed Osmond)
Which of the Canadians Picked in the 2021 NFL Draft Will Thrive This Season?
It was a good NFL Draft for Canadian players in 2021.
Some four stars from north of the border were selected by NFL franchises in the free agency pick 'em, and that is tied as the highest number of Canadians drafted in the 85-year history of the event.
Welcome to Miami, Jevon Holland

pic.twitter.com/DcnfeXw4hm

— PFF College (@PFF_College) April 30, 2021
Of course, the hope is that these young talents are more than just filler and roster depth, but can any of the quartet make the breakthrough into the big time?
Here's a look at which of the NFL's newest Canadian additions can shine in 2021/22.
Jevon Holland
The defensive back was the number 36 pick in the Draft by the Miami Dolphins, who beat off a number of rivals in the hunt for the Coquitlam native.
A versatile defender, Holland is a former Jim Thorpe Award semi-finalist thanks to his exploits in the NCAA back in 2019 with the University of Oregon.
He sat out the 2020 campaign, but representatives from dozens of NFL teams were in town to watch Holland go through his paces at the Oregon Pro Day.
The 21-year-old is following in the footsteps of his father Robert, who turned out for the Detroit Lions, and he is expected to force his way into the starting line-up at the Dolphins. And, who knows, maybe Holland could go all the way in his first season, with Miami priced at +2500 in the Super Bowl 2022 American football odds.
Benjamin St-Juste
When you're six foot three, 205 pounds and still able to run 40 yards in 4.51 seconds, it goes without saying that you have the physical credentials to succeed in the NFL.
Benjamin St-Juste is the man that can, and he will bolster the roster at a Washington Football Team that will be looking to improve upon their playoff showing in 2020.
The 23-year-old may only have been a third-round pick, but he comes with a burgeoning reputation thanks to a successful time at the University of Minnesota. An All-Big Ten special mention in 2019, more than 50 NFL recruitment personnel attended the college's pro day – largely to catch a glimpse of St-Juste going through his paces.
Both Brian Gutekunst and Jon Robinson made the trip but, in the end, it was Washington who snapped up the powerhouse from the Draft.
Chuba Hubbard
The third Canadian to be drafted in 2021 was Chuba Hubbard, who became the first Canadian running back to be selected from the Draft in 25 years.
It's the Carolina Panthers who have taken a chance on the 22-year-old and with his credentials, you can see why. Hubbard finished eighth in the voting for the Heisman Trophy in 2019 after a stellar campaign – he served up 2,094 rushing yards and 21 touchdowns, an NCAA best. He was named the Big 12 Conference Offensive Player of the Year.
Chuba Hubbard getting that work in 😎

(via @Panthers)pic.twitter.com/qQm1tvraya

— DAZN Canada (@DAZN_CA) June 18, 2021
While running backs are not the hottest of properties in the Draft, Hubbard provably has the talent to cross into the end zone with regularity – the Panthers might just have got their hands on an unheralded gem here.
With these three Canadians taking the step up to the NFL, the future of the sport north of the border looks in safe hands.
Berrettini ends Murray's comeback at Queen's
Andy Murray's grasscourt return was cut short in brutal fashion at Queen's Club as Italian top seed Matteo Berrettini dished out a 6-3 6-3 defeat to the former world number one on Thursday.
The 34-year-old two-time Wimbledon champion, playing in his first singles tournament on grass for three years, could not handle the ferocious pace of Berrettini as he slid to defeat.
Murray eased past Benoit Paire in his opening match on Tuesday but world number nine Berrettini was too big a step up.
Berrettini's huge first serve and forehand did most of the damage but the Italian also showed plenty of silky touch on the slick lawns to register his first career win over Murray.
Berrettini, 25, finished the match off with a powerful hold of serve, banging down four massive first serves before sealing victory with a clubbing forehand winner.
He faces British number one Dan Evans in the quarter-final after Evans beat Frenchman Adrian Mannarino.
Murray, a five-time winner of the traditional warm-up event but now ranked 124 after long battles with hip injuries including resurfacing surgery in 2019, has been handed a wildcard for the Wimbledon championships.
Apart from a slight groin niggle, Murray said he was reasonably happy with his condition, considering this was only his third Tour-level tournament of the year.
"I think obviously I need to improve," Murray told reporters. "I actually felt my movement was actually quite good for both of the matches. My tennis today was not very good today. That's the thing that I'll need to improve the most.
"I felt like today that that sort of showed my lack of matches."
Spanish veteran Feliciano Lopez, who won the singles title in 2019 and the doubles alongside Murray, was beaten 6-2 6-3 by Canada's Denis Shapovalov.
(Reporting by Martyn HermanEditing by Toby Davis and Pritha Sarkar)