Economy added just 210,000 jobs last month, far below expectations – NBC News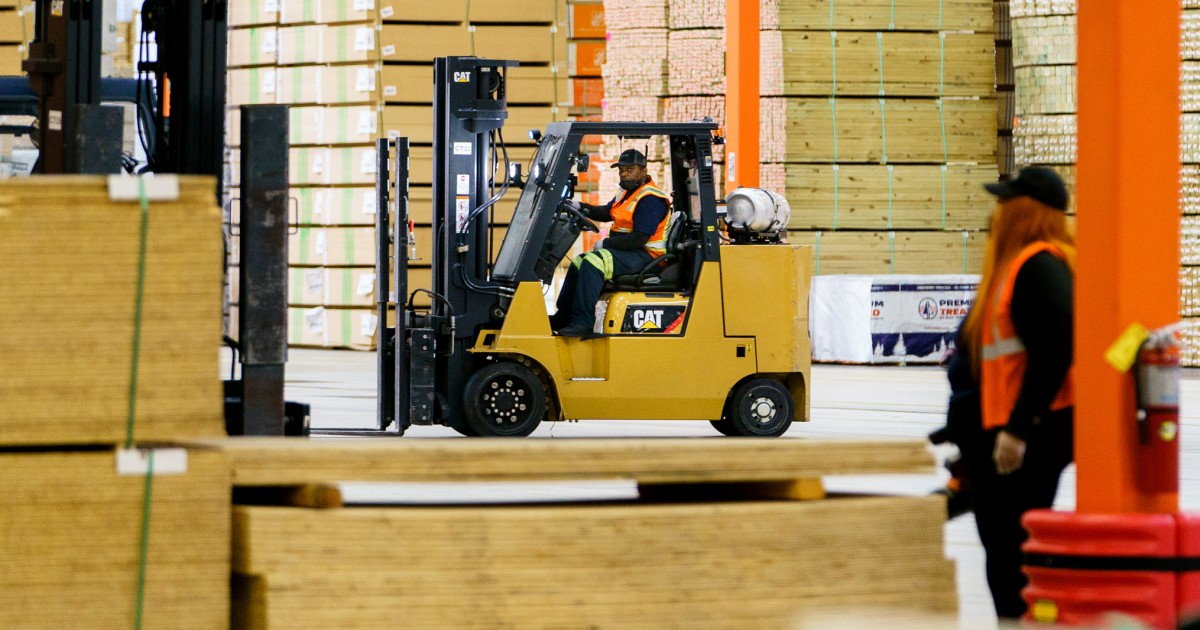 The economy added just 210,000 jobs in the month of November, the Bureau of Labor Statistics said Friday, and the unemployment rate fell to 4.2 percent from 4.6 percent.
Economists had been expecting a gain of 535,000 jobs and the unemployment rate to fall to 4.5 percent.
"At this point in the year, we're looking at the sharpest one-year decline in unemployment ever," President Joe Biden said during remarks delivered at the White House Friday morning. "America is back to work. And our jobs recovery is going very strong."
Citing upward revisions in previous months of jobs data, Biden said that "all told, in the first 10 full months of my administration, the economy has created 6 million jobs, a record for a new president."
Friday's release comes after payroll company ADP reported a gain of 534,000 private sector jobs in November, down from 571,000 in the previous month.
"It is unsettling to see that we were unable to build on October's strong numbers, with uncertainty only set to increase as the winter progresses," said Steve Rick, chief economist at CUNA Mutual Group. "That said, it is not completely surprising that this month fell short, with the country preparing to respond to the omicron variant and continuing to battle rising inflation and the ongoing supply chain crisis."
The omicron variant of the coronavirus has already led countries to impose new restrictions around international travel and triggered market volatility, with the major indices taking some of their biggest losses all year in recent days.
"It is still too early to see the impact of the omicron variant and how it will impact return-to-office and hiring plans, but this certainly bears watching," said Bill Armstrong, president of Gava Talent Solutions.
Given that the reference week in which the BLS survey data is gathered fell before the discovery of omicron, some suggested that data from future months could map the variant's economic impact.
"The jobs recovery was kicking into high gear… Hiring demand is strong, and we know it's broadly based," said Andrew Flowers, lead labor economist at Appcast. "Going forward in December and January, that's when we'll see if there's a material effect," he said.
"Whenever cases rise, job growth slows, and if they rise far enough, job growth even turns negative," said Julia Pollak, chief economist at ZipRecruiter. "But with each subsequent surge of the virus, the employment response has grown smaller… because we've learned how to respond in a more targeted way."
Whenever cases rise, job growth slows, and if they rise far enough, job growth even turns negative.
Pollak said that job postings, even in fields like travel that have been hard-hit by previous Covid surges, remained robust, but new restrictions around international travel could change that dynamic. "There's tremendous pent-up demand for leisure and hospitality," she said, which had fueled strong gains over the past few months in this sector. "These travel restrictions now throw that into jeopardy," she said, noting Wall Street's pessimism about the potential for an omicron-driven slowdown. "We've seen the stock prices of 'out and about' industries fall," Pollak said.
Economists predict that where omicron could inflict the most damage, though, is in holding down the lagging labor force participation rate. "The real problem is… can we get the labor force participation rate to change meaningfully?," said Ron Hetrick, a senior labor economist at Emsi Burning Glass labor market analytics firm. "That is the primary thing holding us back."
Federal Reserve Chairman Jerome Powell expressed surprise earlier this week that participation did not bounce back as expected when extended unemployment benefits expired and schools reopened.
"Even when we came out with vaccines, labor force participation remained the same," Hetrick said. "The primary concern is, what is it going to take for these people to meaningfully engage?"
A depressed labor force participation rate has implications for wages and, by extension, inflation. With fewer workers to fill job openings, companies have to raise pay to compete, then increase prices to stay ahead of their expenses, a phenomenon economists call a wage-price spiral.
To the extent that omicron makes people less able or willing to come off the sidelines and re-engage with the workforce, the variant could add fuel to the inflationary fire.
"If it is a concern, yes, I would expect labor supply to be depressed in the December jobs report. That will have an effect," Flowers said. "To what extent inflation is seeping into wage growth — that could be an early indication of a wage-price spiral ahead," he said.
China Rate Cuts Not Enough to Stabilize Economy: Ex-PBOC Adviser – Bloomberg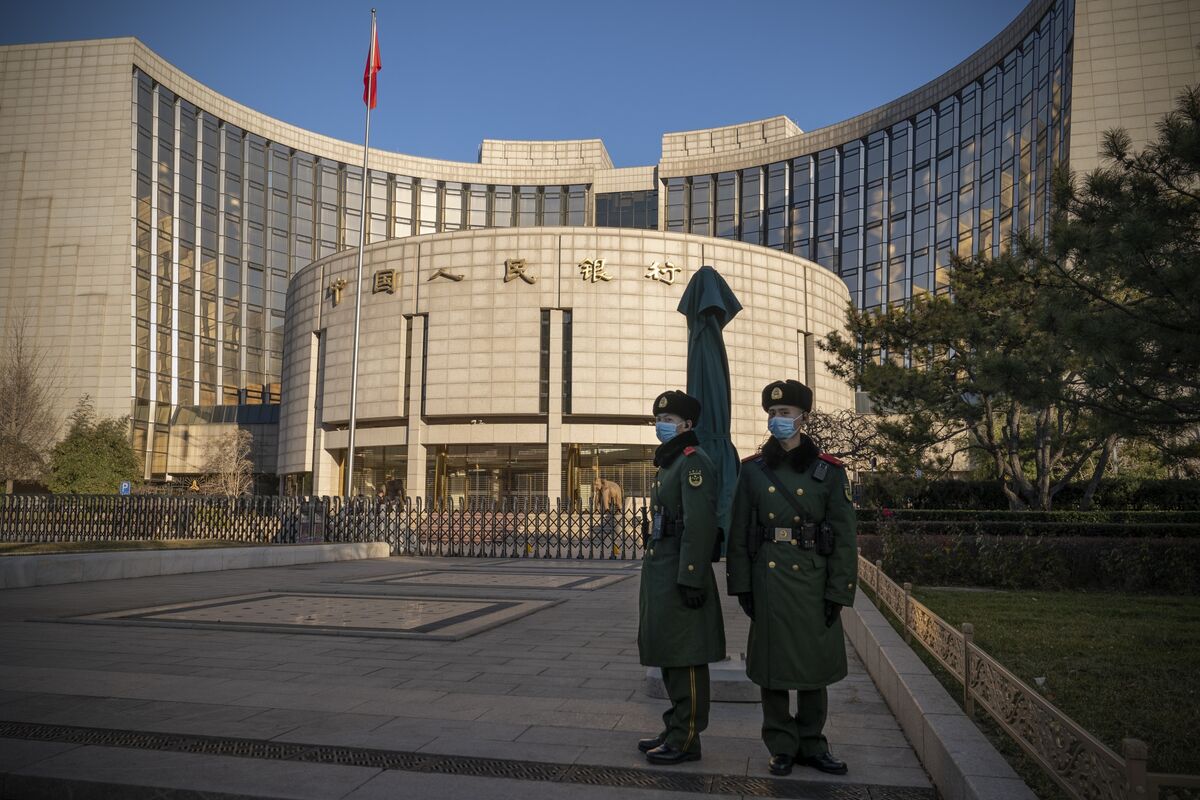 Looser monetary policy in China won't be sufficient to stabilize the economy and a faster increase in government spending is needed, according to a former adviser to the central bank.
"Under the current economic situation, the role the PBOC can play is limited," said Yu Yongding, a member of the monetary policy committee of the People's Bank of China in the mid 2000s, adding that he would "emphasize the importance of fiscal policy."
Eighty years late: groundbreaking work on slave economy is finally published in UK – The Guardian
Ignore the Hype, China's Leaders Cannot Re-Shape Economic Reality – Forbes
While worries about Evergrande seem to have quieted, none of this means there's nothing to learn from what happened. The Chinese real-estate giant is a useful reminder of how politicians and bureaucrats have no ability to prop up or grow any economy. None at all.
This is worth bringing up as news out of Beijing signals alleged economic support from China's leadership. In a recent front page piece ("Beijing Moves to Cushion Economy As Risks Worsen") at the Wall Street Journal, Stella Yifan Xie reported that "China's leaders" cut "two key interest rates" in "response to the impact of pandemic restrictions and a property-market slump." At best, these machinations will achieve less than nothing. And the reasons why are obvious.
Most obvious is that market interventions don't work. By definition. Markets aren't political or inclined one way or the other. Markets quite simply are. They're a reflection of what's known in the here and now. They're an ideology-blind verdict. Please keep this in mind with government interventions meant to "Cushion Economy As Risks Worsen." The translation of the latter is that Beijing's leaders will lean against the truthteller that is the market itself. The markets are signaling dismay with pandemic restrictions, and they're similarly signaling mistakes made by investors in the allocation of capital toward property.
In which case Beijing is aiming to reshape reality. Even if it succeeds (it won't) in overwhelming the message of the market, such a move will not enhance China's economy. We know this because restrictions on human action are by their very name a growth depressant, and China's leaders are trying to paper over their own freedom-limiting errors. Just as harmful would be attempts to limit the market's message about property mis-allocations. This is the equivalent of Congress intervening in the failure that was Warren Beatty and Dustin Hoffman's Ishtar as a spur for the stars to make Ishtar II. Massive federal support (buying tickets for empty theaters) could have theoretically created a blockbuster that was otherwise a flop, but doubling down on bad is rarely good. The movie industry is bolstered by its failures precisely because failure teaches it how to succeed. Applied to China, how will it aid the property market and the economy more broadly if bad decisions are subsidized?
To which some will say an ability to limit the pain of bad decisions is evidence that government interventions do in fact work. Precisely because government can spend in order to mitigate the pain of bad, so can it soften the blow of Evergrande's collapse by propping up same. The latter is a very debatable presumption (see below), but the presumption only speaks to what's visible as is.
What's not visible is what intrepid investors could achieve if able to acquire properties or resources on the fire-sale cheap. Economic growth is a consequence of investment in frequently unknown, untested, and potentially transformative ideas, but what's unknown, untested and potentially transformative is generally expensive. It's risky. This is important in consideration of bailouts. They limit the potential fall in prices, thus making it more challenging for the purchasers of troubled assets to take big risks. Investors quite simply have a lot more leeway to make audacious bets if they can buy distressed market goods for .25 cents on the dollar versus .75.
Worse, all businesses and entrepreneurs eager to rush a different, more vibrant future into the present must have access to precious resources (capital) in order to take the giant steps. Except that if government is providing an alleged "cushion" for a weakening economy, it's by definition keeping precious capital in the hands of those who've abused it or misused it, as opposed to those interested in treating it better.
Stated simply, bailouts are always and everywhere an economic wet blanket. It's been said here since 2008, but eventually it will be conventional wisdom that the interventions overseen by the George W. Bush administration and the Ben Bernanke Fed didn't avert a crisis, rather they were the crisis. Absent their naïve meddling, 2008 is presently a year instead of an adjective.
Which brings us back to Evergrande. There's more to its story than simple debt troubles. To see why, consider the currency denomination of so much of its debt. It's in dollars. This speaks volumes, and most crucially does about the globalization of capital. While Evergrande is based in China, it's apparent that the financing of its business endeavors is globalized.
On its own the above is a positive statement of the growing interconnectedness of the world economy, but it also speaks to the folly of "Beijing" attempting to cushion China's economy. Good luck.
Indeed, assuming China's economy is really contracting, rest assured that global capital intermediaries will pull from China's commercial sector much more capital than Beijing can add. There's no stimulus to speak of here. Money goes where it's treated well, and if the markets have decided that Chinese producers are overextended, no amount of meddling by Chinese bureaucrats will alter this truth. All the leadership can do is slow economic growth by subsidizing what market actors will not.
Conversely, assuming the markets are wrong about growth prospects in China, rest assured that globalized financiers will know this far sooner than the high functionaries in Beijing. Put more simply, if there's abundant potential for progress in China, copious funds from around the world will be there to finance it. Government cannot make great what isn't.