EDITORIAL: Developing broadband fast lane paramount in Zoom economy – TheChronicleHerald.ca
Opportunity has always knocked.
These days, it regularly downloads, too.
You have to be ready for it either way.
It's almost perverse to suggest that there's a silver lining to the COVID-19 pandemic, but one thing that there has been is a fundamental change for businesses, employees and entrepreneurs: with people working from home, and from decentralized workplaces of all kinds, geography suddenly doesn't play as much of a role in where you have to be to do your job.
If you're working at a computer terminal in Toronto, you can just as easily be working at a home office in Renews, N.L. — or in Margaree Forks, Cape Breton, or Morell, P.E.I.
There is, however, one important caveat: just the way you need basic infrastructure like electricity, drinking water and some sort of physical location, in the wired world, you absolutely, positively have to be wired.
Fully wired: effectively wired. In other words, you have to have the kind of internet service that allows for you to productively download, work on and share information worldwide, without service bottlenecks that make anything from data transfer to effective video conferencing untenable.
For years, there has been a steady and regular stream of news releases on internet broadband improvements in this region, both from internet suppliers and from provincial governments who are supplying seed money. The federal government has also promised highspeed internet for 98 per cent of Canadians by 2026, and all Canadians by 2030.
But despite all those regular missives, that effort often seems to be patchwork and incomplete, with long lead-times stretching years out into the future.
As a SaltWire Network business story pointed out earlier this week, right across the Atlantic provinces, there are areas where internet services are still painful slow — and a clear disincentive to decentralized business growth in the modern world.
It would be a terrible irony if the Atlantic region became a beacon of the possibilities of having safe, COVID-free dispersed workforces during a pandemic, but, outside of well-served (and more profitable to internet giants) urban areas, those same possibilities were dashed by poor or spotty internet service.
Consider this, from the story: "Recent data from the Canadian Internet Registration Authority brings into focus the gap that still exists between urban and rural areas when it comes to internet speeds. In August, CIRA reported that median download speeds for Canadians in rural communities for the month of July were roughly 10 times slower than in urban settings. Furthermore, from March to July, download speeds for urban internet users increased on average by 25 megabytes per second. At the same time, rural internet speeds stayed put."
To put it in old-time Hollywood terms, when the big players come looking, we have to be ready for our close-up.
Right now, there's plenty to suggest we're not.
RELATED:
Canadian dollar drops, posts weekly decline on greenback short-covering
By Fergal Smith
TORONTO (Reuters) – The Canadian dollar weakened against its U.S. counterpart on Friday as a decline in risk appetite led to broader gains for the safe-haven greenback, with the loonie giving back this week's gains despite data showing record home sales.
The Canadian dollar was trading 0.8% lower at 1.2732 to the greenback, or 78.54 U.S. cents, pulling back from a near three-year high on Thursday at 1.2621. For the week, the loonie was down 0.4%.
"It has primarily been some covering of short U.S. dollar positions," said Bipan Rai, North America head of FX Strategy at CIBC Capital Markets. "It's a move in line with what we have seen in other currencies … So it's not the Canadian dollar on its own."
Higher U.S. Treasury yields in anticipation of additional fiscal spending, have been supportive of the greenback since earlier this month.
President-elect Joe Biden proposed on Thursday a stimulus package of $1.9 trillion, but investor sentiment wavered as China reported the highest number of daily COVID-19 cases in more than 10 months.
Investors have also been grappling with the slower than expected rollout of vaccines. Pfizer Inc said it would slow production of its vaccine due to changes to manufacturing processes aimed at boosting production.
Global shares fell and U.S. crude oil futures settled 2.3% lower at $52.36 a barrel. Oil is one of Canada's major exports.
Canadian home sales rose 7.2% in December from November, setting a new record, the Canadian Real Estate Association said.
The housing market has benefited from record-low interest rates set by the Bank of Canada. The central bank is due to make an interest rate decision next week.
Canadian government bond yields were lower across a flatter curve in sympathy with U.S. Treasuries. The 10-year was down 4.6 basis points at 0.810%.
(Reporting by Fergal Smith; Editing by Andrea Ricci and David Gregorio)
Third wave, constrained government spending biggest risks to economy: Poloz – BNN
Former Bank of Canada Governor Stephen Poloz said the worst thing that could happen to the Canadian economy during the COVID-19 pandemic is for the federal government to put the brakes on its virus-related spending spree.
"My biggest risk is we get 'Wave Three' and more, and for that reason maybe governments lose faith in the model and they have to constrain their spending. That would be my biggest concern, but right now, I'm feeling more optimistic given the vaccines," he said.
While Canada entered the pandemic with an economy that Poloz described as "the best shape it's been in for a long time," data from Finance Canada shows the government's support measures relative to GDP were among the highest across G7 countries.
But Poloz said it's because of the targeted government aid and temporary measures like mortgage payment deferrals that Canadians have been "well-armed" through the pandemic.
"It boosted their savings quite a lot and at the same time they're actually spending more," he said. "So we have a very lively consumer with pent-up demand."
He acknowledged there has been some permanent loss of demand and damage done to the economy because of the pandemic, but added the government appears to be thinking differently about fiscal policy.
"It sounds like they're focusing a lot more on what we call 'structural' policies or investments. The first thing you think of is infrastructure. For example, you do a big piece of infrastructure and it serves us for 30, 40 or 50 years and it adds to the productivity of the economy," he said.
"Anything that comes along that can tilt upwards the long-term growth trend of the economy will be really timely at this stage."
Poloz said sustainability will be key when it comes to Canada's ballooning debt.
"The rate of growth in the economy needs to exceed the rate of interest you must pay on the debt. Provided it does so, the stock of debt will shrink as a share of the economy while they service the debt. And today, debt service is quite inexpensive," he said.
Charting the Global Economy: Economic Pain Lingering Into 2021 – Bloomberg
The economic distress of the Covid-19 pandemic is picking up where it left off at the end of 2020.
The latest high-frequency data show activity in the advanced economies softened in the first two weeks of the new year. In the U.S., government figures showed retail sales fell for a third month in December as a resurgent virus prompted another tightening of business restrictions. Europe is facing the possibility that output will shrink in consecutive quarters.
Here are some of the charts that appeared on Bloomberg this week on the latest developments in the global economy:
U.S.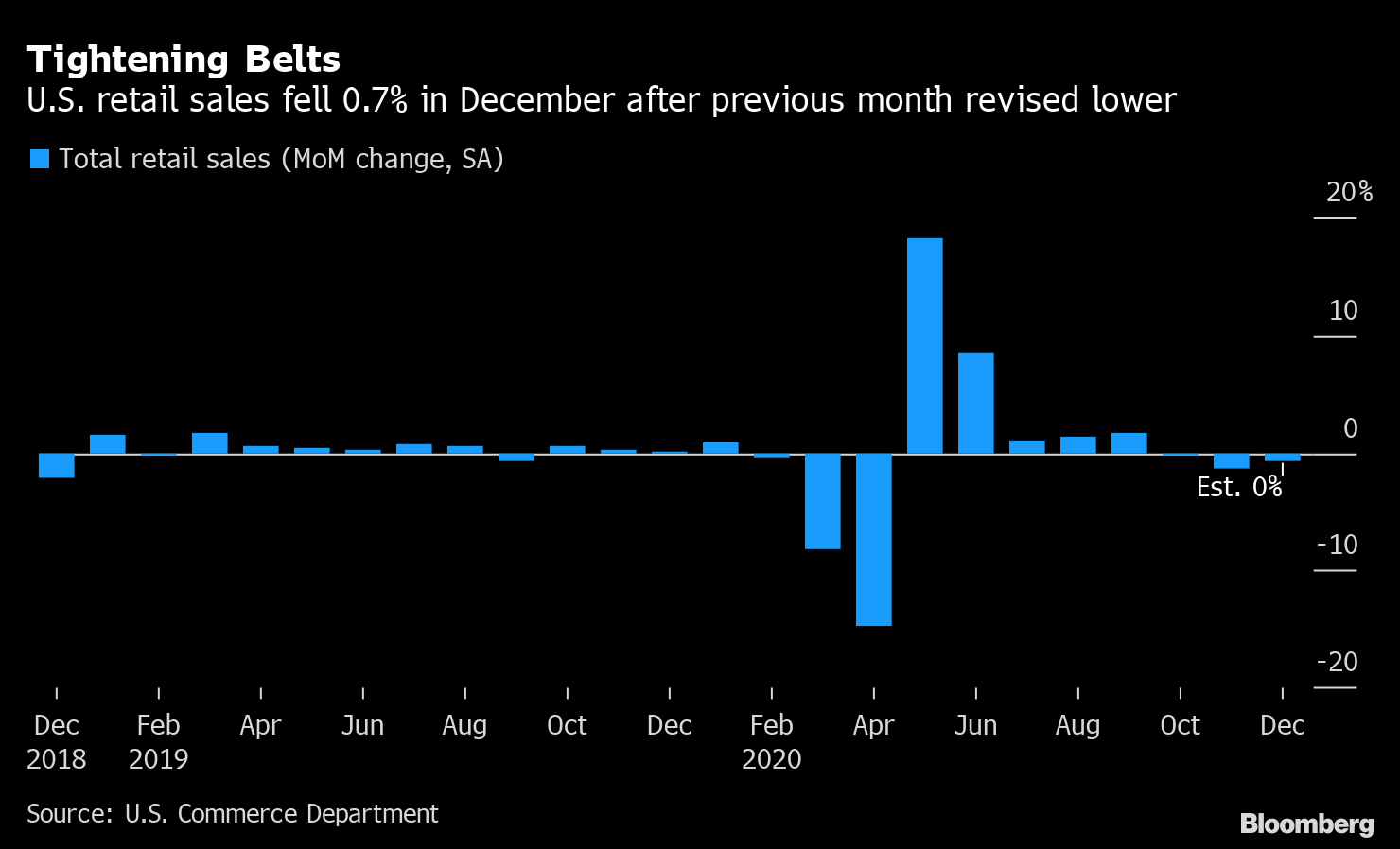 Retail sales declined at the close of the holiday-shopping season, wrapping up a painful year for the nation's merchants as the pandemic forced store closures and kept consumers at home. The value of receipts for all of 2020 rose just 0.6%, the weakest performance in 11 years.

Meanwhile, the U.S. factory sector continues to show promise. The rate of job openings, or number of available positions as a share of total employment in the non-durable goods industry plus the vacancies, hit 5.1% in November, the fifth straight record in data back to 2000.
Europe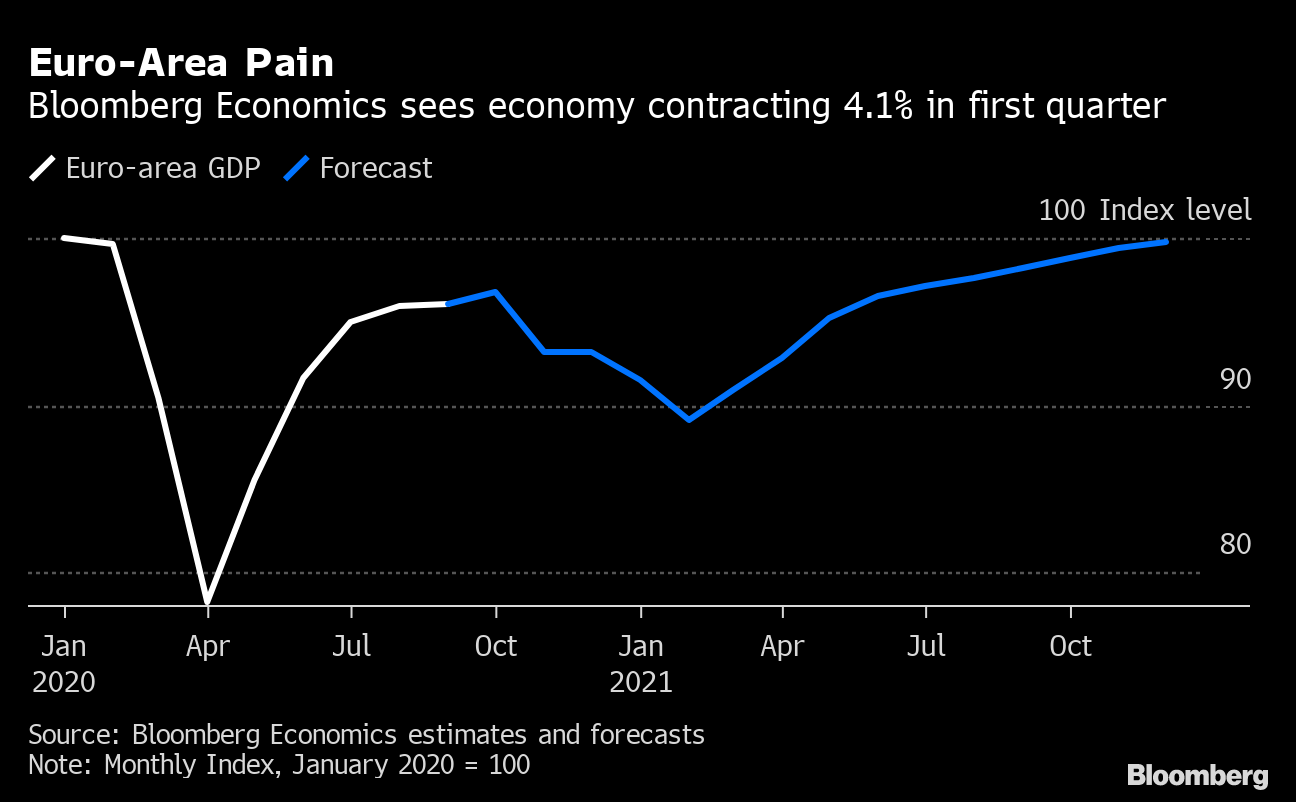 Under pessimistic assumptions on the duration of new lockdown restrictions to contain the spread of Covid-19, Bloomberg Economics lowered its first-quarter estimate for the euro-area economy to a 4.1% contraction, after a 1.5% drop in the final three months of 2020.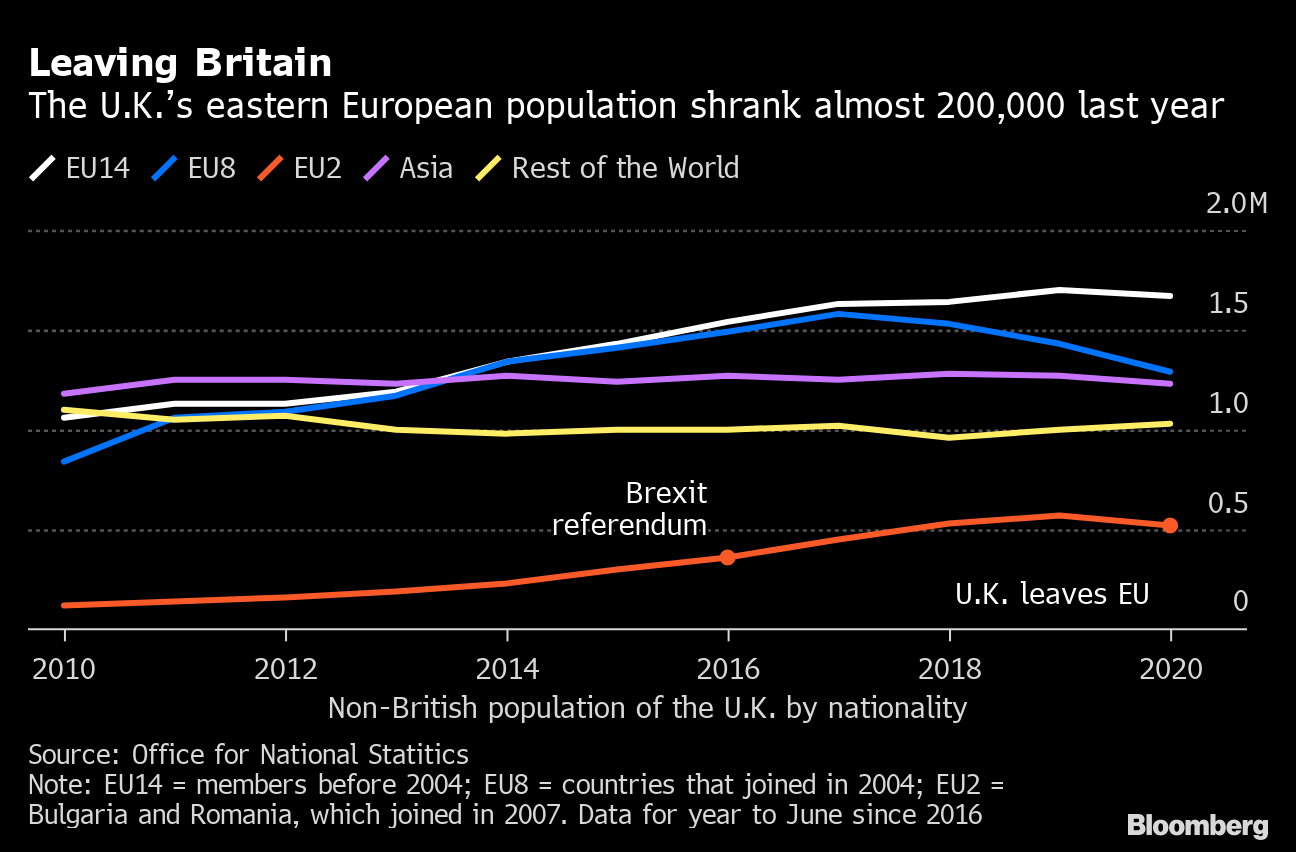 The number of eastern Europeans living in the U.K. last year slumped to levels last seen in 2015 ahead of the end of the Brexit transition and as the coronavirus lockdowns closed huge parts of the economy.
Asia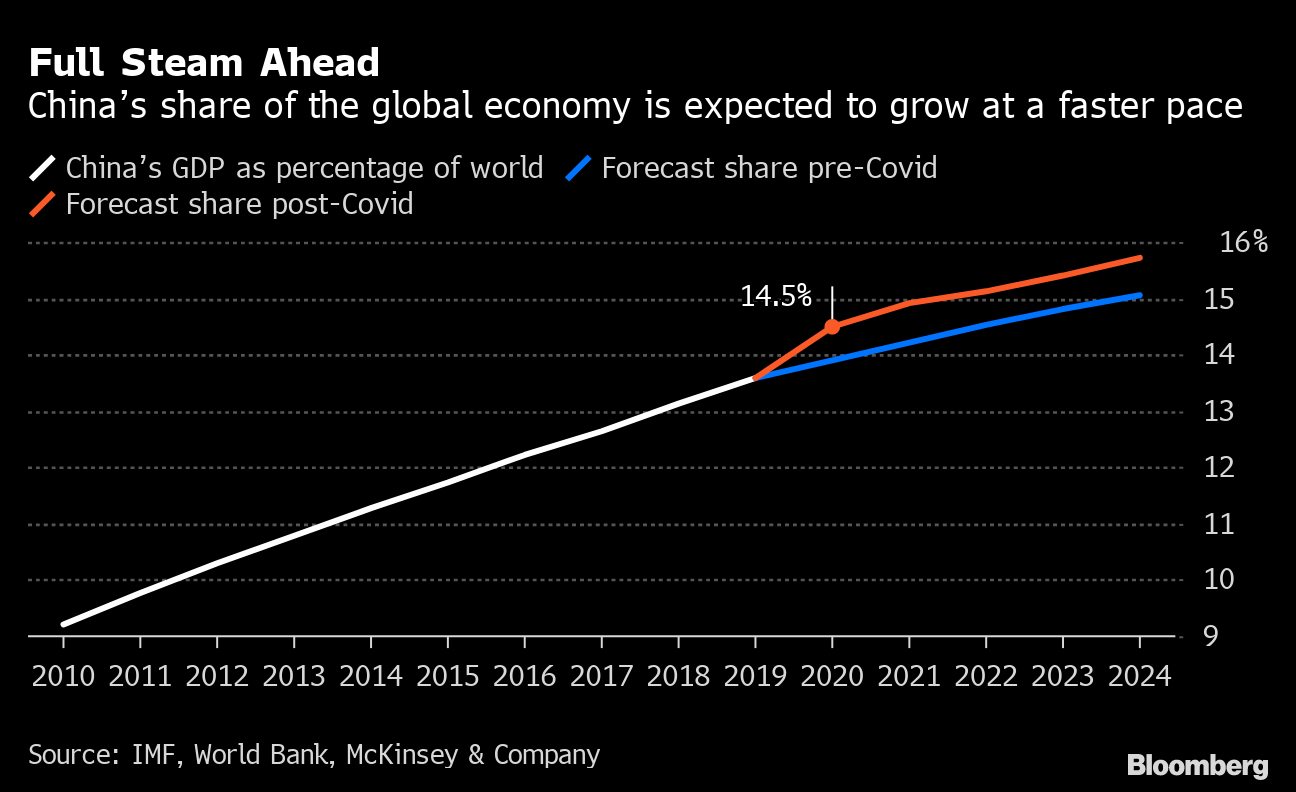 China's economic ascent is accelerating barely a year after its first coronavirus lockdowns, as its success in controlling Covid-19 allows it to boost its share of global trade and investment.
Emerging Markets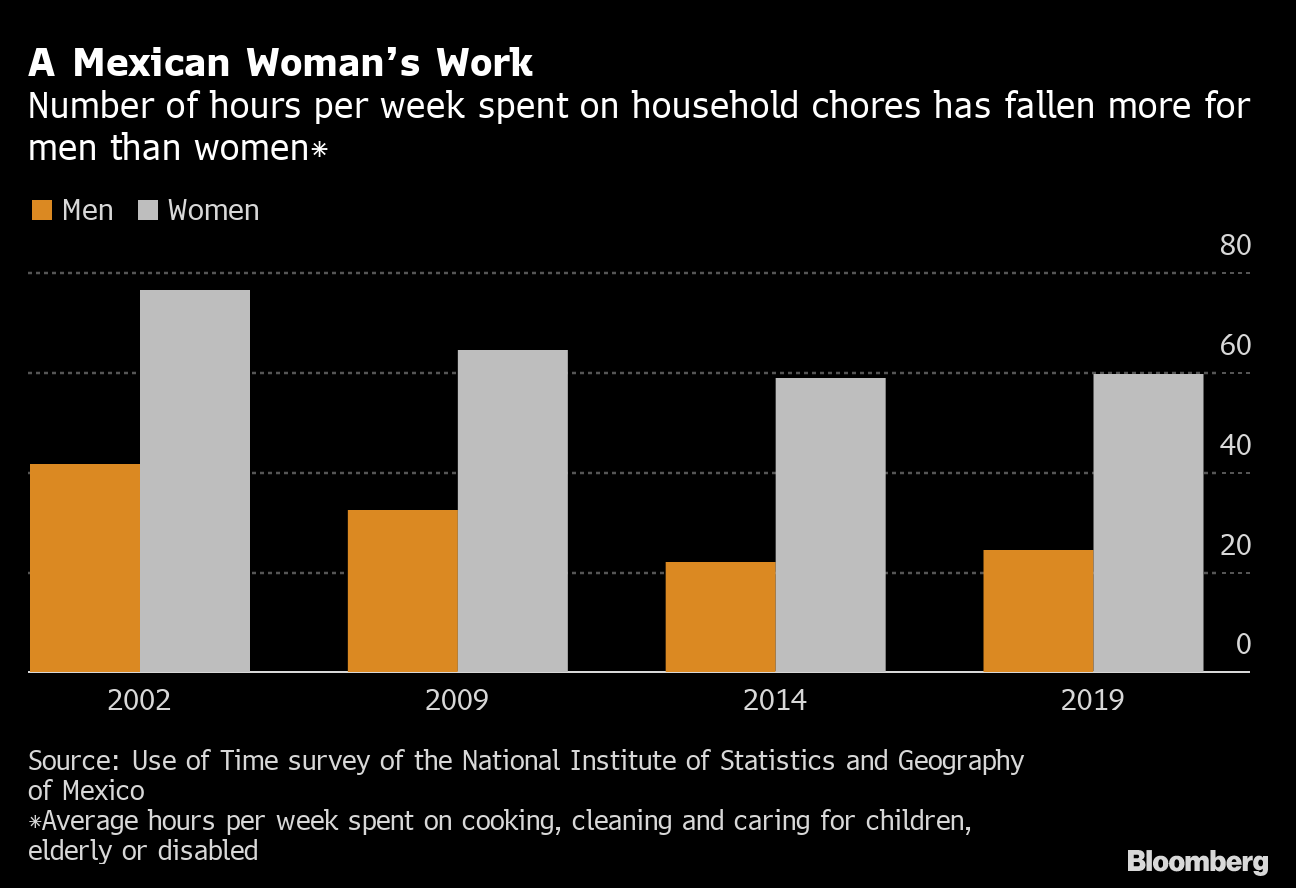 The women of Mexico already faced the worst economic prospects in Latin America. Now the pandemic threatens to sink them even further, aggravating chronic inequality and dragging down the country's fortunes.
World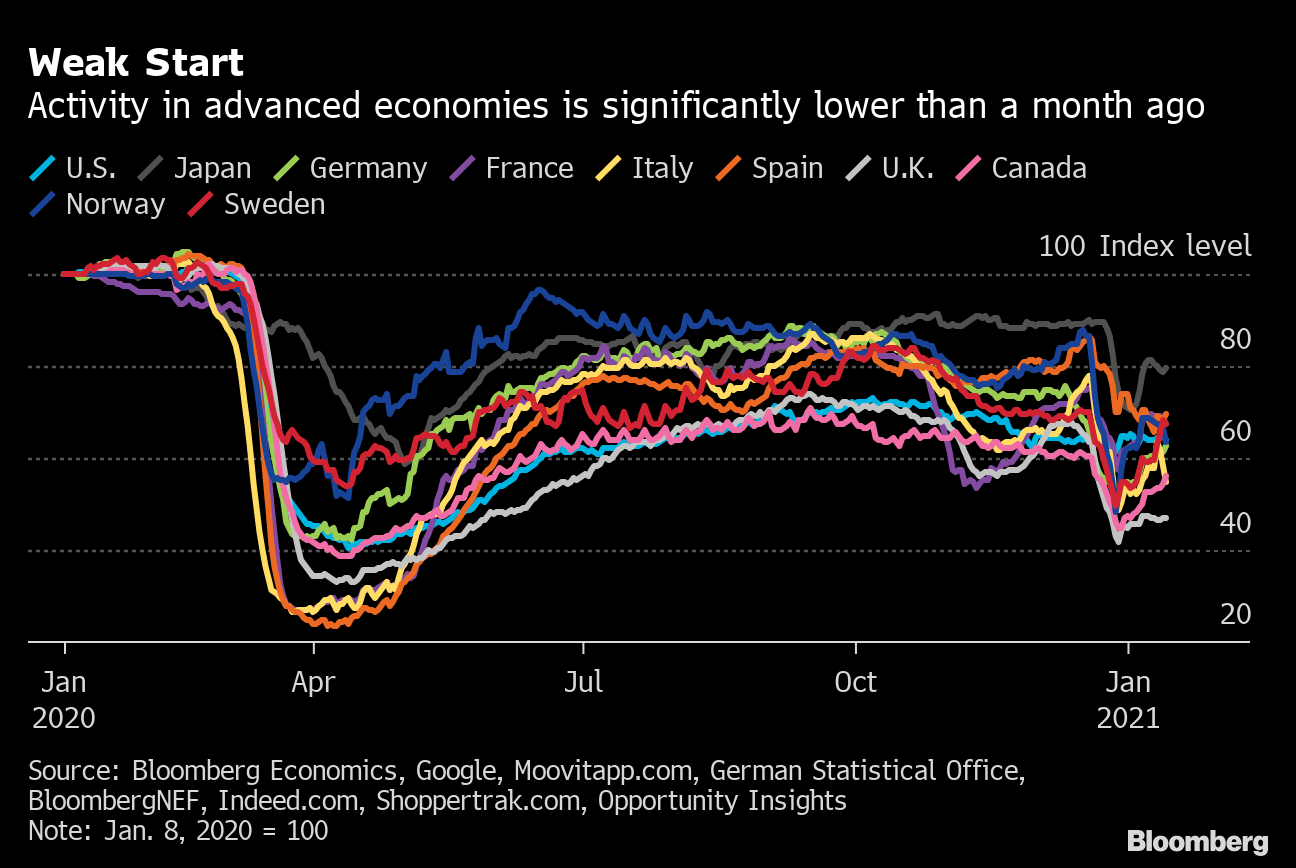 After the holiday slump, activity in several of the world's largest advanced economies extended their recovery in the second week of January. Yet compared with early December, Bloomberg Economics gauges that integrate data such as mobility, energy consumption and public transport usage remain significantly lower.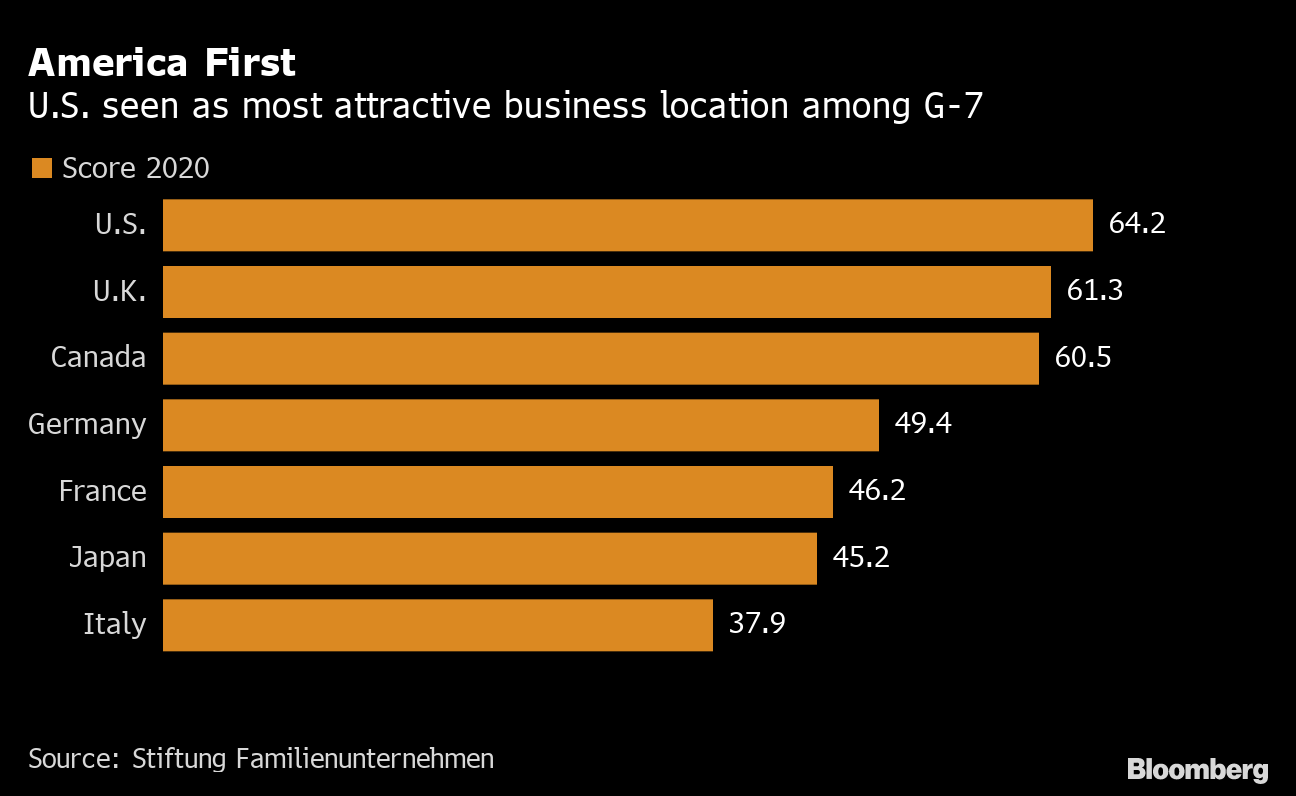 The U.K. dropped behind the U.S. as the best international business location for the first time since the ranking was created by Germany's Foundation for Family Businesses in 2006. Even so, it's still ahead of other Group-of-Seven countries, with Italy at the bottom of the list.
— With assistance by Maeva Cousin, Tom Orlik, David Powell, Bjorn Van Roye, Jamie Rush, Maria Eloisa Capurro, Sophie Caronello, Enda Curran, Max De Haldevang, Tom Hancock, Lucy Meakin, Iain Rogers, and Jordan Yadoo