Election 44: O'Toole preferred among leaders on economy, but Trudeau bests CPC leader head-to-head – Angus Reid Institute
42 per cent say they're more hopeful than anxious for economic rebuild, 58 per cent say the opposite
---
August 19, 2021 – Canada's post pandemic economic recovery has occupied politicians, policy makers and Canadians alike over the last year and a half. It is now poised to occupy a significant amount of the 44th federal election campaign.
But putting the domestic economy back on track after an unprecedented deliberate slow down elicits different reactions and different preferences from Canadian voters.
New data from the non-profit Angus Reid Institute shows the majority (58%) feel more anxious than hopeful (42%) about the country's near-term economic future.
For those leaning toward hope, the choice is clearly the Liberal Party. Half (53%) among this group say that they will vote for the LPC, compared to just 23 per cent among those more anxious. The first choice for that latter group is the CPC – chosen by 39 per cent. Notably, the NDP is chosen close to equally by both the hopeful (22%) and the anxious (19%).
As the first week of the campaign winds down, vote intent remains consistent – support for all major parties is statistically unchanged over last week – with the incumbent Liberal Party of Canada maintaining a six-point lead over the Conservative Party (36% to 30% respectively). The NDP remains in third place at 20 per cent – well behind the Liberals and the CPC, but well ahead of the Greens. The Bloc Quebecois, polling at six per cent nationally, trails the first place Liberals by 16 points in Quebec (41% to 25% respectively).
More Key Findings:
The top two issues in the 2021 campaign are the same as 2019: climate change and healthcare. COVID-19 rounds out the top three.
The Liberal Party holds a 10-point advantage in Ontario after winning the province by nine points in 2019. NDP support in that province is currently up five points compared to the previous election (22% from 17%).
Albertans are least hopeful about an economic recovery in the coming years. Just 28 per cent feel more hopeful than anxious, while 46 per cent say this in Ontario.
About ARI
The Angus Reid Institute (ARI) was founded in October 2014 by pollster and sociologist, Dr. Angus Reid. ARI is a national, not-for-profit, non-partisan public opinion research foundation established to advance education by commissioning, conducting, and disseminating to the public accessible and impartial statistical data, research and policy analysis on economics, political science, philanthropy, public administration, domestic and international affairs and other socio-economic issues of importance to Canada and its world.
INDEX
Part One: Top issues
Concern over climate change intensifies
Part Two: Canada's near-term economic future generates hope, anxiety
Which party and leader are best to lead the rebuild?
Part Three: Liberals lead by six points in vote intention
Part One: Top issues
Canada and the world have faced a year and a half of economic, social, and health challenges due to COVID-19. But when Canadians go to the polls on Sept. 20 to decide which federal party will lead them out of the pandemic and into a new, uncertain reality, many of their top priorities look staggeringly similar to those they identified in 2019.
As the 2021 campaign kicks off, Canadians say climate change and health care are the top two issues facing the country that they care most about. These two issues were most galvanizing in 2019. The new addition: COVID-19 response, chosen by 11 per cent of Canadians as their top national concern. Despite the pandemic, it is climate change that has intensified in the minds of voters over the last two years:
Asked to expand their list of national priorities, a suite of economic issues is chosen by one-in-four Canadians as top concerns in a second tier, alongside the COVID-19 response:
Concern over climate change intensifies
As COVID-19 concern has diminished compared to the beginning of the year, worry about climate change has risen in its wake. Summer wildfires in parts of the country have only further elevated these levels of concern to their highest mark of the year. Meantime, while the priority for Indigenous issues rose precipitously after the confirmation of unmarked graves at former residential school sites early in summer, levels of concern have declined:
For most voters, climate change is paramount among those who currently say they will support the Liberal Party, NDP or Bloc Quebecois. That said, the federal deficit is now a top issue for both Conservative and BQ supporters as all parties lay out their plans for economic recovery:
*Small sample size, interpret with caution. Note: data for the Green party omitted due to too small of a sample size
Part Two: Canada's near-term economic future generates hope, anxiety
The coming years will present challenge and opportunity for whichever party forms government. After the largest financial crisis since the Great Depression, the mood of the nation, with a fourth wave already surging, is still largely apprehensive. Three-in-five (58%) say they are more anxious than hopeful about what the next couple of years will bring, while two-in-five (42%) are more upbeat:
Notably, Canadians are remarkably consistent across age and gender demographics when considering the hope versus anxiety question. Those over the age of 54 show a slightly more optimistic lean, but all largely voice the same level of anxiety about their country's economic prospects:
Regionally, Ontario residents lead the nation in hope for the economic recovery, but not significantly. Just under half (46%) in Canada's most populous province feel this way. Albertans are most anxious, though many would likely be buoyed by a Conservative victory on Sept. 20:
Those who say they will support the incumbent Liberals are noticeably more buoyant about the nation's economic circumstances. This group is the only one for which hopefulness is the majority view:

*Small sample size, interpret with caution. Note: data for the Green party omitted due to too small of a sample size
Which party and leader are best to lead the rebuild?
If this were a campaign entirely centred on post-pandemic economic growth, Erin O'Toole would be in a relatively advantageous position. Two-in-five (41%) believe he and his party would be best suited to help the economy rebound from its COVID-19-induced malaise, while Justin Trudeau and the Liberals are at 36 per cent.
The Conservatives have been more concrete about their economic plans than the Liberals in the campaign's early days. O'Toole's party has promised to recover the one million jobs lost since the beginning of the pandemic within one year. To do so, a Conservative government will pay half of new hires' salaries for six months after the end of the Canada Emergency Wage Subsidy, as well as providing tax credits and loans to small- and medium-sized businesses. So far, the Liberals have said they will continue current COVID-19 business supports until March 2022, while also promising to subsidize wages and rent in the tourism industry.
One-in-five say Jagmeet Singh and the NDP would be best to lead the country's rebuild over the coming years. Singh has most prominently announced a wealth tax of one per cent on Canadians whose worth exceeds $10 million to help fund the recovery:
The picture is much less favourable for O'Toole in a direct head-to-head with Trudeau on the question of who is best to rebuild the economy. When presented with the two parties most likely to form government, a majority (56%) of Canadians believe Trudeau and the Liberals are the better choice to "build back better" after the pandemic, while 44 per cent say the same of O'Toole and the Conservatives:
NDP supporters hold nearly the same amount of belief in Trudeau's ability to grow the economy post-COVID as Liberal supporters. Meanwhile, there are hints at inroads to be made in Quebec for the Conservative party, as three-in-five (61%) Bloc supporters would choose O'Toole over Trudeau in a head-to-head on moving the economy forward post-pandemic:
*Small sample size, interpret with caution. Note: data for the Green party omitted due to too small of a sample size
Those who take a hopeful view of the economic recovery are much more likely to say they trust Justin Trudeau to lead through it – though they are a smaller portion of the overall population. Those who take a more anxious view lean toward Erin O'Toole and the Conservative Party:
Part Three: Liberals lead by six points in vote intention
The official launch of the 2021 federal election campaign has yet to cause significant movement in vote intention. The Liberal Party leads by six points, currently garnering 36 per cent of decided and leaning voters. Three-in-ten say they will support the Conservatives on Sept. 20, while one-in-five say they will be voting for the NDP:
Since the beginning of the month, the gap between the Conservatives and the Liberals has been at least five points in each wave of polling:
The three major federal parties are in a statistical tie in B.C., while the Conservatives continue to enjoy majority support in Alberta and Saskatchewan and plurality support in Manitoba. The Liberals garner the highest support in seat-rich Ontario and Quebec, as well as in the Atlantic provinces. The NDP's lowest support is in Quebec, a province that once helped the party reach a historically high seat total in 2011:
While there has been little movement in Ontario for the Conservatives and the Liberals since the 2019 election results, the NDP looks stronger than it did two years ago, currently polling five points higher than its 2019 percentage of popular vote. In Quebec, the Liberals are seven points ahead of where they landed in terms of popular vote in 2019, a gain largely at the expense of the Bloc Quebecois, who are polling seven points lower:
Men aged 18 to 34 are the most divided age-gender group, while women aged 18 to 34 are the only age-gender group that give the NDP a plurality of support. Men over 34 prefer the Conservatives, while women over 34 prefer the Liberals:
Economic outlook appears to play a factor in vote choice. For the hopeful, the choice is clearly the Liberal Party. Half (53%) among this group say that they will vote for the incumbents, compared to just 23 per cent among those more anxious. The anxious are far more likely to prefer the CPC at this point in the campaign, while the NDP is close to equally represented among both groups:
Survey Methodology:
The Angus Reid Institute conducted an online survey from Aug. 14-17, 2021, among a representative randomized sample of 1,614 Canadian adults who are members of Angus Reid Forum. For comparison purposes only, a probability sample of this size would carry a margin of error of +/- 2.5 percentage points, 19 times out of 20. Discrepancies in or between totals are due to rounding. The survey was self-commissioned and paid for by ARI.
For detailed results by age, gender, region, education, and other demographics, click here.
For detailed results by economic outlook, click here.
To read the full report including detailed tables and methodology, click here.
To read the questionnaire, click here.
MEDIA CONTACTS:
Shachi Kurl, Executive Director: 604.908.1693 shachi.kurl@angusreid.org @shachikurl
Dave Korzinski, Research Director: 250.899.0821 dave.korzinski@angusreid.org
Related Posts
---
Germany is the biggest economy in Europe. What if it shifts left? – CNN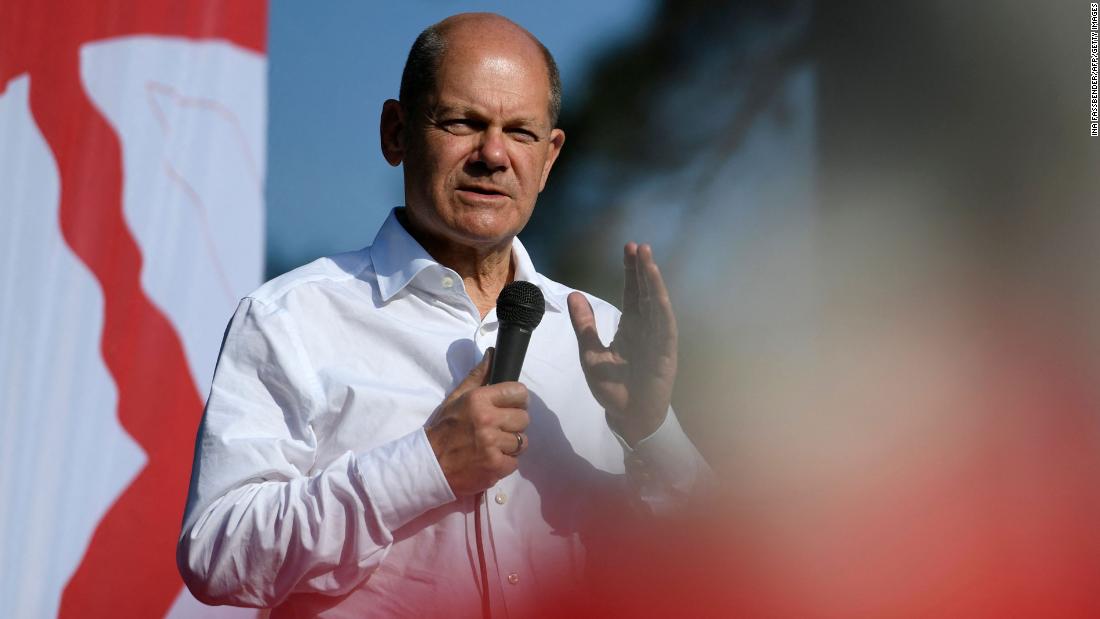 The results of
Sunday's election
are hard to predict, and the formation of a government could take weeks or months to play out. But when the dust settles, polls indicate that the new chancellor could be the left-leaning Social Democratic Party's Olaf Scholz, who steered Germany's economy through the pandemic as finance minister in a coalition with Merkel. Meanwhile, the Greens could more than double their number of seats in parliament.
Scholz's SPD and the Greens
could partner with the pro-business Free Democratic Party, gaining enough power to shift the country's economic agenda to the left. Taxation and spending could increase as political leaders double down on digitization and
climate policy
, while wariness about rising government debt may take a back seat.
"Greens and liberals in a coalition would bring the freshest innovative forces that we have had in a while in a German government," said Carsten Brzeski, ING's global head of macro research.
Spend more, worry later?
Global banks say that the eventual outcome of post-election jockeying among the parties is far from certain, while advising investors to prepare for two potential results: a coalition of the SPD, Green Party and the FDP, or a narrow victory for Merkel's center-right Christian Democratic Union, led by Armin Laschet, which would also likely need to team up with the Greens and FDP.
The former option would mark a move to the left, but would be less dramatic than an alliance between the SPD, Greens and hard-left Die Linke. This result, which could produce much more ambitious efforts to redistribute wealth and levy taxes, has been downplayed by analysts, and would likely take investors by surprise.
Whichever combination takes charge will have to manage the ongoing recovery from the coronavirus pandemic. Germany's economy is on track to grow by 2.9% this year and 4.6% next year after contracting by 4.9% in 2020, according to the latest projections from the Organization for Economic Cooperation and Development.
Yet recent data indicates momentum could be slipping. The Ifo index, which tracks the country's business climate, fell for the third month in a row in September, according to data released Friday. Slower growth in China, snarled supply chains and surging gas prices are likely to be taking a toll.
This pullback could add to pressure on the country's new leaders to scrap Germany's notoriously strict fiscal rules so they can keep spending on the domestic economy.
The country enshrined a so-called "debt brake" in the constitution in 2009, severely limiting public borrowing after the financial crisis with few exceptions. Because of the pandemic, debt rules were suspended until 2023. That allowed German borrowing to jump, with the country's debt-to-GDP ratio climbing sharply to 70% in 2020.
Though such a ratio pales in comparison with the United States, where debt is now projected to exceed annual GDP, Germany's centrist parties have been eager to get the country's public finances back under control. The Greens, meanwhile, want more permanent easing of debt rules.
UBS strategists Dean Turner and Maximilian Kunkel think the debt brake — which has become a key tenet of German fiscal conservatism — is likely to remain in place, since overturning it would require a two-thirds majority in parliament.
Still, they expect Germany's new leaders will find other ways to increase spending to address the climate crisis, an issue that gained even greater prominence after
devastating flooding
hit the country in July.
"The one common area of agreement for all parties is the need to tackle climate change," Turner and Kunkel wrote in a recent research note. Whatever coalition emerges, they continued, green investment "will rise."
Tackling the climate crisis
Brzeski expects that the incoming governing coalition, no matter its makeup, will create a special investment vehicle to circumvent the debt brake, allowing money to flow to green initiatives.
With a more liberal coalition government, however, some timelines could be moved up.
"[The Greens] would likely push for an acceleration of the green transition of the German economy as a pre-condition for entering government," Goldman Sachs said in a recent note to clients.
The Green Party has called for a 70% cut in greenhouse gas emissions from 1990 levels by 2030, compared to the current government goal of 65%. It also wants coal plants shuttered by the end of this decade, rather than by 2038, and for new cars to be emissions-free by that point, too.
This could set up a clash with Germany's most powerful businesses. In its latest strategy update,
Volkswagen
(VLKAF)
said it wanted 50% of sales to come from electric cars by 2030, rising to almost 100% in 2040.
How much the state should intervene could generate friction between coalition members.
"The biggest controversy will be: How do you change people's behavior?" Brzeski said. "Do you do this by incentives, and by educating people, or do you do this by [increasing] prices and costs?"
A left-leaning government in Germany could also lead to an increase in taxes for the wealthiest Germans, with the SPD proposing a new wealth tax on the super-rich.
But banks are emphasizing that it remains hugely unclear how the election will play out — and the more conservative CDU could still prevail, keeping Germany more firmly on its current fiscal and economic path.
Province Invests in Wellington County Businesses to Boost Local Economy – Government of Ontario News
Powell meets a changed economy: Fewer workers, higher prices – 95.7 News
WASHINGTON (AP) — Restaurant and hotel owners struggling to fill jobs. Supply-chain delays forcing up prices for small businesses. Unemployed Americans unable to find work even with job openings at a record high.
Those and other disruptions to the U.S. economy — consequences of the viral pandemic that erupted 18 months ago — appear likely to endure, a group of business owners and nonprofit executives told Federal Reserve Chair Jerome Powell on Friday.
The business challenges, described during a "Fed Listens" virtual roundtable, underscore the ways that the COVID-19 outbreak and its delta variant are continuing to transform the U.S. economy. Some participants in the event said their business plans were still evolving. Others complained of sluggish sales and fluctuating fortunes after the pandemic eased this summer and then intensified in the past two months.
"We are really living in unique times," Powell said at the end of the discussion. "I've never seen these kinds of supply-chain issues, never seen an economy that combines drastic labor shortages with lots of unemployed people. … So, it's a very fast changing economy. It's going to be quite different from the one (before)."
The Fed chair asked Cheetie Kumar, a restaurant owner in Raleigh, North Carolina, why she has had such trouble finding workers. Powell's question goes to the heart of the Fed's mandate of maximizing employment, because many people who were working before the pandemic lost jobs and are no longer looking for one. When — or whether — these people resume their job hunts will help determine when the Fed can conclude that the economy has achieved maximum employment.
Kumar told Powell that many of her former employees have decided to permanently leave the restaurant industry.
"I think a lot of people wanted to make life changes, and we lost a lot of people to different industries," she said. "I think half of our folks decided to go back to school."
Kumar said her restaurant now pays a minimum of $18 an hour, and she added that higher wages are likely a long-term change for the restaurant industry.
"We cannot get by and pay people $13 an hour and expect them to stay with us for years and years," Kumar said. "It's just not going to happen."
Loren Nalewanski, a vice president at Marriott Select Brands, said his company is losing housekeepers to other jobs that have recently raised pay. Even the recent cutoff of a $300-a-week federal unemployment supplement, he said, hasn't led to an increase in job applicants.
"People have left the industry and unfortunately they're finding other things to do," Nalewanski said. "Other industries that didn't pay as much perhaps … are (now) paying a lot more."
Christopher Rugaber, The Associated Press