Emirates Mars Mission: Hope probe lines up historic Mars manoeuvre – BBC News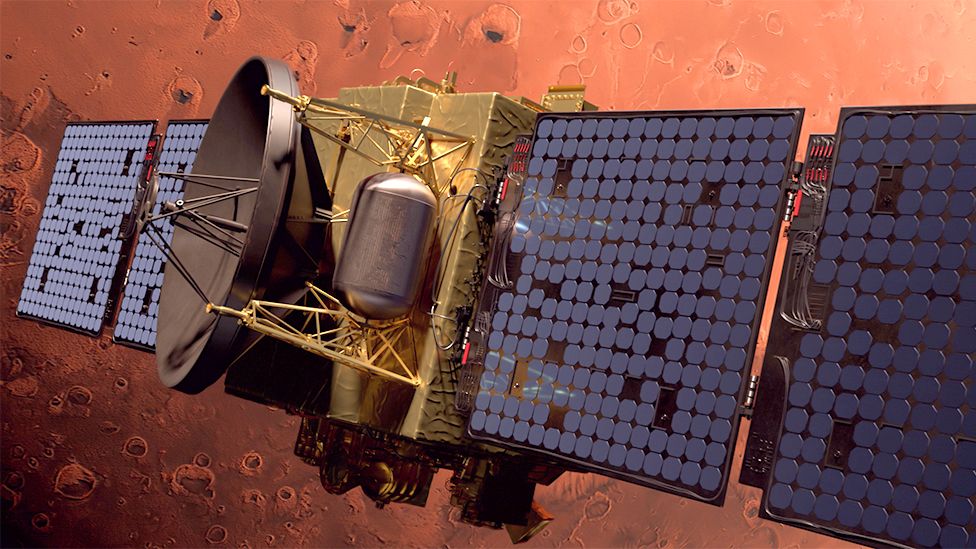 History beckons for the United Arab Emirates as it seeks on Tuesday to place a probe around Mars.
The Hope spacecraft, launched from Earth seven months ago, is about to reach the decisive moment in its long journey – orbit insertion.
Currently moving at over 120,000km/h (75,000mph), it must fire its braking engines for 27 minutes to be sure of being captured by the planet's gravity.
Success would enable Hope to begin its mission to study Mars' climate.
"We're entering a very critical phase," said project director, Omran Sharaf. "It's a phase that basically defines whether we reach Mars, or not; and whether we'll be able to conduct our science, or not.
"If we go too slow, we crash on Mars; if we go too fast, we skip Mars," he told BBC News.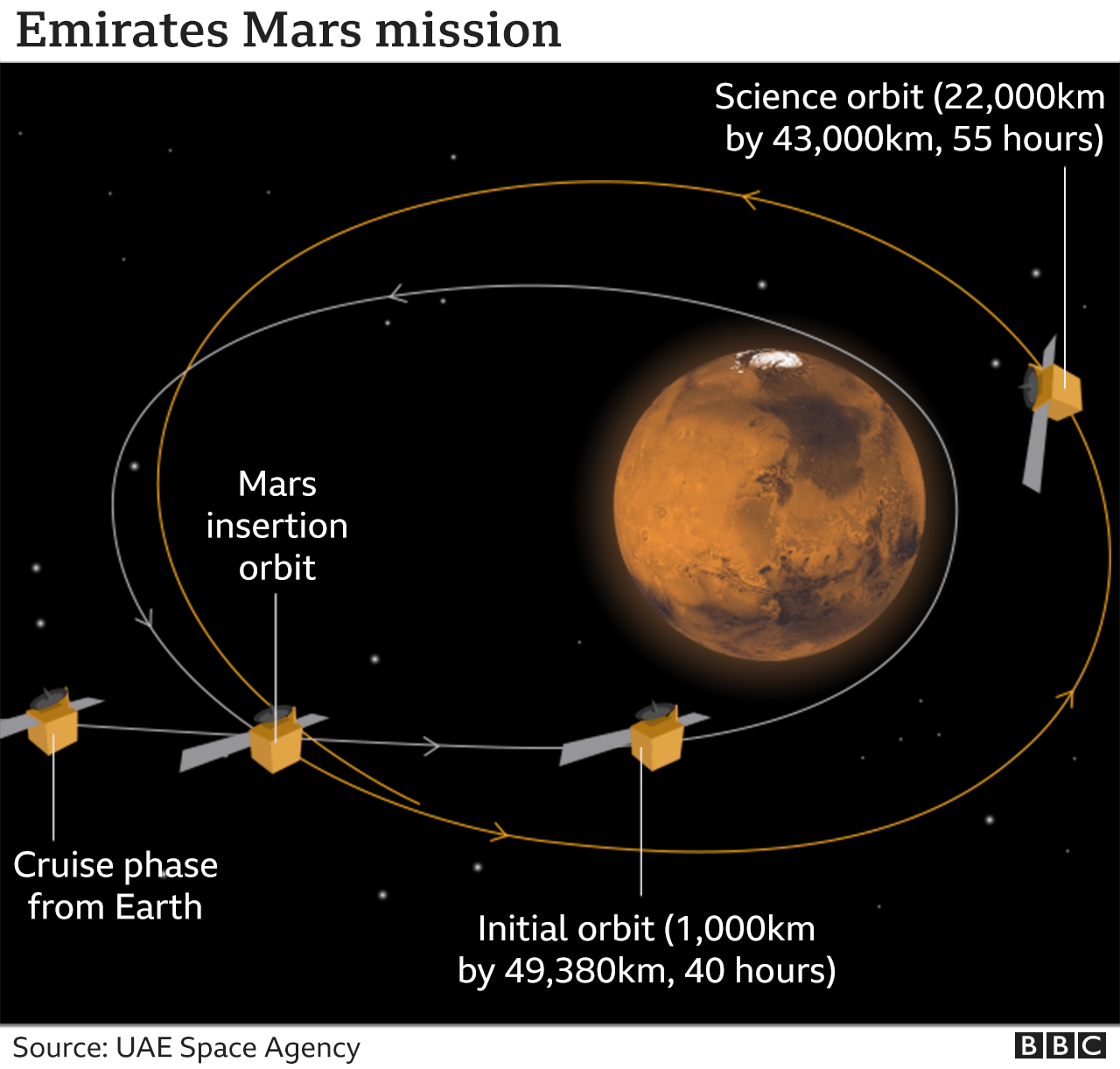 For Hope, everything rides on Tuesday's orbit insertion manoeuvre. In the past couple of months, engineers have trimmed the spacecraft's trajectory so that it reaches the planet at precisely the right moment in space and time to begin the braking burn.
The approach speed needs to come down to about 18,000km/h.
Mission control at the Mohammed bin Rashid Space Center (MBRSC) in Dubai will have some data streaming back on the performance of Hope's thrusters, but there is nothing anyone can do to intervene if something goes awry.
Mars and Earth are presently separated by 190 million km, meaning it would take a radio command fully 11 minutes to reach the probe – too long to make a difference. Hope must rely on autonomy to complete the manoeuvre.
"It's definitely going to be nerve-racking; just thinking about it gives me goose-bumps," said propulsion engineer Ayesha Sharafi. "But we do have a fault-protection system in place that can compensate for any problems that might happen during the burn, so I think we're in a good position for Mars obit insertion to happen successfully."
The confirmation signal that the braking burn has started should be received at Earth just after 19:40 Gulf Standard Time (15:40 GMT). This will come through the US space agency's (Nasa) Deep Space Network of radio dishes.
Hope carries roughly 800 kilos of fuel. About half this mass will be consumed by the six thrusters involved in the 27-minute-long manoeuvre.
Shortly after the engines shut down, the spacecraft will disappear behind Mars as its trajectory bends into the planned initial orbit. Once again, there will be an anxious wait at the MBRSC while the team hangs on Nasa's dish network re-acquiring Hope's signal.
If Tuesday's efforts are successful they will be rewarded with some fascinating science in the months ahead.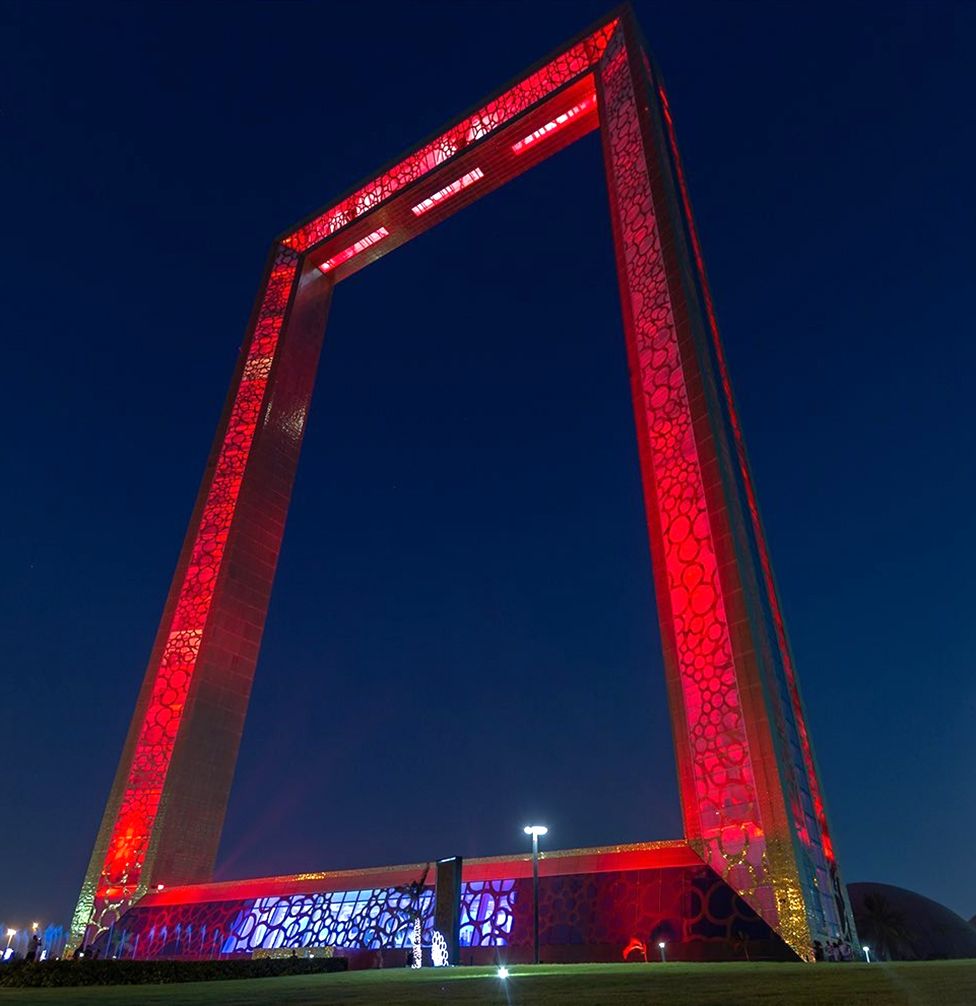 Hope can be described as a kind of weather or climate satellite for Mars.
More specifically, it's going to study how energy moves through the atmosphere – from bottom to top, at all times of day, and through all the seasons of the year.
It will track features such as lofted dust which on Mars hugely influences the temperature of the atmosphere.
It will also look at what's happening with the behaviour of neutral atoms of hydrogen and oxygen right at the top of the atmosphere. There's a suspicion these atoms play a significant role in the ongoing erosion of Mars' atmosphere by the energetic particles that stream away from the Sun.
This plays into the story of why the planet is now missing most of the water it clearly had early in its history.
To gather its observations, Hope will take up a near-equatorial orbit that stands off from the planet at a distance of 22,000km to 44,000km.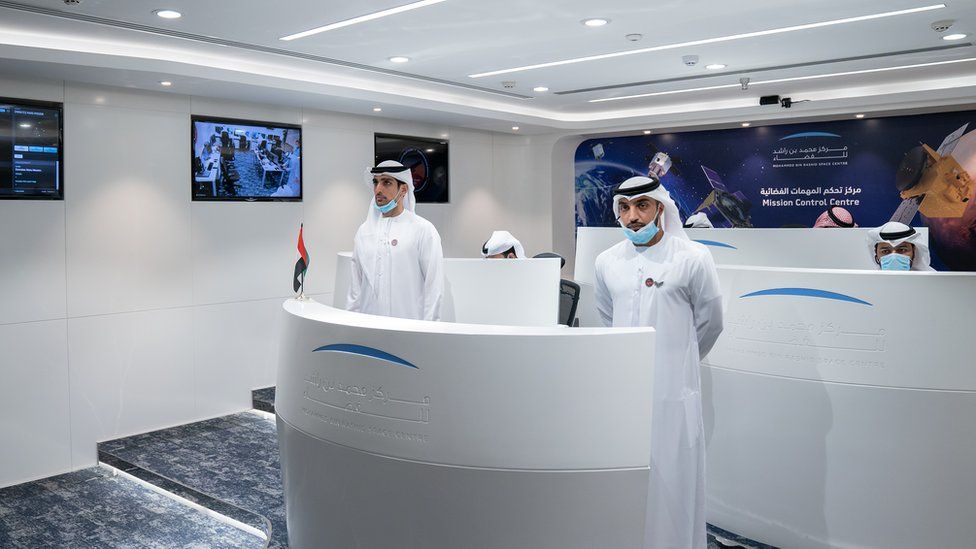 This means we will get spectacular images of the whole of the Red Planet on a routine basis.
"Any image we got of Mars would be iconic but I just can't imagine what it's going to feel like to get that first full-disk image of Mars, once we're in orbit," said Sarah Al Amiri, the Emirati minister of state for advanced technology and chair of the UAE Space Agency.
"And for me also, it's getting that science data down and having our science team start analysing it and finding artefacts that haven't been discovered before."
The excitement across the nation is palpable. Buildings are being lit up in red. The UAE is banking on this mission being an inspiration to its youth and Arab youth in general to take up STEM subjects in school and at higher education levels.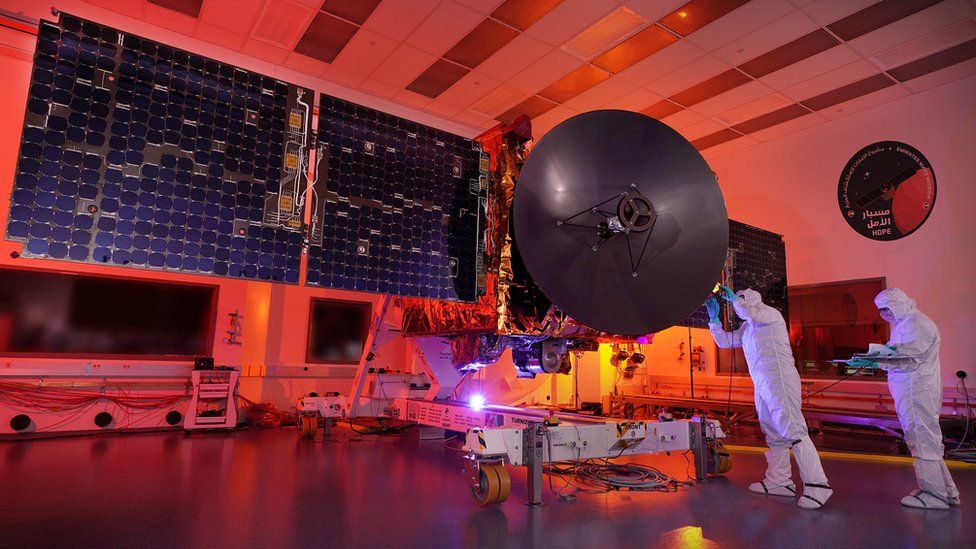 The mission was initiated six years ago to come to fruition at the time of the UAE's golden jubilee (The federation was founded on 2 December 1971). Having only recently started (2009) flying satellites at Earth, the nation didn't have the full skill-set to mount an interplanetary mission.
The Emiratis therefore approached a number of US research institutions to engage them in a mentoring role. The American institutions include the University of Colorado at Boulder; Arizona State University; and the University of California, Berkeley.
"It's been fun on a personal level, it's been fun on a technical level, and seeing everybody's personal abilities grow has been tremendously fulfilling," said Pete Withnell, the Hope programme manager at Colorado's Laboratory for Atmospheric and Space Physics.
"There are now lifelong personal friendships that will go forward long after this mission."
Asteroid twice the size of the CN Tower to make fastest flyby of Earth this month – CTV Toronto
TORONTO —
The biggest and fastest known asteroid of 2021 is expected to make a flyby of Earth later this month.
The space rock, officially called asteroid 231937 (designated 2001 FO32), will zoom past Earth on March 21 travelling at a speed of 123,887 kilometres per hour or 34.4 kilometres per second, according to NASA.
The asteroid is an estimated 1.1 kilometres wide, which is roughly twice the size of the CN Tower. Of the approximately 25,000 near-Earth asteroids that scientists know about, NASA says only about 3.5 per cent of them are larger than a kilometre.
Due to its size and proximity to Earth, asteroid 231937 has been classified as "potentially hazardous" by NASA's Center for Near-Earth Object Studies (CNEOS) and is being tracked by the space agency.
NEOs are defined as space objects, such as asteroids or comets, that come within 1.3 astronomical units (195 million kilometres) of the sun. If the object is larger than 140 metres across, it is considered a potentially hazardous object (PHO).
Nearly one hundred known asteroids are set to fly past Earth before the end of 2021, NASA says, but asteroid 231937 is set to be the largest and fastest.
However, NASA says the asteroid's orbit is well known and poses no threat to humans.
According to the space agency, the asteroid will make is closest approach at 16:03 UTC (11:03 a.m. EST), at over two million kilometres away from Earth. NASA notes that this is nearly five times farther than the distance the moon orbits Earth.
Despite being two million kilometres away, NASA says this will be the asteroid's closest encounter on record. According to NASA's records dating as far back as the early 1900s, the space rock has not come closer to Earth and won't do so again for 200 years.
Asteroid 231937 was discovered on March 23, 2001, by the Lincoln Near-Earth Asteroid Research program in New Mexico, according to NASA. It orbits the sun every 810 days and is classified as an Apollo asteroid as it travels from inside Mercury's orbit to the asteroid belt and back, crossing Earth's orbit in an elliptical pattern.
While those interested in catching a glimpse of the asteroid won't be able to do so with their eyes, EarthSky reports that stargazers may be able to see it using a telescope 20 centimetres or larger in diameter to detect the asteroid's motion in real time.
The asteroid will be relatively low in the southern sky, but EarthSky said observers might spot it moving between the constellations of Scorpius and Sagittarius just before dawn.
Organic matter was discovered on an asteroid – The Saxon
In both interesting and important news in the field of space research, researchers have just discovered water and organic matter in a sample of an asteroid in our solar system. The asteroid in question is called Itokawa and the sample, which is actually a single grain, was taken during the first Hayabusa mission carried out by Jaxa or Japan Aerospace Exploration Agency in 2010.
According to the results, the water and organic matter detected did not come from outside but from the asteroid itself. Researchers at the University of London's Royal Holloway thus suggest that the space object evolved over a period of billions of years by incorporating water and organic matter in the same way it did. is happening on Earth. According to scientists, the asteroid went through phases of extreme heat, dehydration, but also phases where it broke. He was, however, able to reform and rehydrate using the materials he was able to collect.
Pixabay credits
– Advertisement –
It is known that this study, published in the journal Scientific Reports, also shows that S-type asteroids, that is, those which are most common among those that come to Earth, may contain the primordial components of life. According to specialists, this could change everything we know about the history of life on Earth. Indeed, research has so far focused on type C asteroids.
The Hayabusa mission
According to the explanation of Dr Queenie Chan of the Department of Earth Sciences at the Royal Holloway, the Hayabusa mission was a robotic mission developed by JAXA. Its goal was to bring back samples from a small asteroid close to Earth called Itokawa in order to analyze them in laboratories on Earth.
Dr Chan said that the in-depth study of the sample, dubbed "Amazon", showed the preservation of primitive organic matter, that is to say that was not heated, but also of organic matter. having been heated, in a space measuring 10 micrometers in length. The part that has been heated indicates that the asteroid has been exposed to a temperature above 600 ° C in the past. But the presence of primitive organic matter nearby shows that it arrived on the surface of Itokawa after the space object cooled.
Read also : Windows 10 at a knockdown price
A basis for future research
Compared to these results, Dr Chen said these were very interesting since they reveal the most intricate details in the history of an asteroid. These results also show that the evolution of the asteroid is very similar to that of the prebiotic Earth.
Scientists hope that these first results will serve as a basis for the analysis of other samples. The Haybusa 2 mission has just brought back samples of another asteroid named Ryugu last year. We can thus hope for other equally important discoveries in the weeks or months to come.
s https://www.independent.co.uk/life-style/gadgets-and-tech/space/water-asteroid-hayabusa-mission-space-b1812285.html
Important Alert
Dear reader.
I hope you are in health and well.
I offer you important instructions regarding this article
The article has been translated based on the content of the source link below these instructions
If there is any problem related to the content, copyright, correctness of the information contained in this article, or If there are errors in the language, please leave a report below the article. or contact us via email [email protected]. We will try to process as quickly as possible to protect the rights of the author. Thank you very much!
We only want readers to access information quickly and easily using other multilingual content, rather than information only available in a specific language.
We always respect the copyright of the author's content and always include the original link of the source article, and if the author does not agree, leave the report below the article, the article will be edited or deleted at the author's request. Thank you so much! Warm greetings!
Source link
https://www.fredzone.org/on-a-decouvert-des-matieres-organiques-sur-un-asteroide-98547
A large asteroid known as Apophis zipped silently past the Earth – SlashGear
On Friday, a large asteroid roughly the size of the Eiffel Tower zipped past the Earth. The asteroid posed no hazard to the Earth on this flyby as it was more than 40 times as far away from Earth as the moon. However, on April 13, 2029, Apophis will get much closer to the Earth.
Scientists considered this week's flyby a dress rehearsal for 2029, when Apophis will get incredibly close to the Earth. That year, Apophis will get closer to the Earth than some of the highest-orbit satellites surrounding the planet. The asteroid measures 1120 feet wide and is made of rock, iron, and nickel.
Scientists believe it's shaped roughly like a peanut and its near pass by the Earth on Friday gave them a closer opportunity to inspect the asteroid. Apophis was too far away to be seen by the naked eye so scientists used the NASA Goldstone Deep Space Communications Complex in California and the Green Bank Telescope in West Virginia to image the asteroid it flew by.
The planetary radar study was meant to give researchers a baseline for the significantly closer flyby in 2029. Apophis is expected to get as close as 19,800 miles to Earth on its next pass. Scientists say that Apophis has a very complicated spin state that sees the asteroid spinning and tumbling simultaneously.
Interestingly, during its closest approach in 2029, Apophis will be briefly visible by the naked eye over Western Australia. In that area, the asteroid will be as bright as the stars in the Big Dipper. Its closest pass to Earth will happen at 6 PM EDT on April 13, 2029. It won't hit the Earth in 2029 or on its next pass in 2036. However, there is a slight chance the asteroid hit the Earth in 2068.