Epic, Spotify, Tile and more form Coalition for App Fairness – 9to5Mac
A number of big developers who object to Apple's App Store policies have jointly formed the Coalition for App Fairness, a non-profit intended to coordinate efforts to do battle with Apple. Founding members include Epic Games, Spotify and Tile, each of which is involved in high-profile disputes with the iPhone maker.
It will add to the antitrust pressure faced by Apple as the coalition accuses the Cupertino company of 'taxing consumers' and 'crushing innovation' …
Every day, Apple taxes consumers and crushes innovation. The Coalition for App Fairness is an independent nonprofit organization founded by industry-leading companies to advocate for freedom of choice and fair competition across the app ecosystem.
Founding members are listed as:
Basecamp
Blix
Blockchain
Deezer
Epic Games
European Publishers Council
Match
News Media Europe
Prepear
ProtonMail
SkyDemon
Spotify
Tile
It claims that Apple makes $15B a year from app commissions, and contrasts the 30% cut with the 5% maximum charged by payment providers. Apple would, of course, argue that it does much more than a payment provider: hosting apps, meeting all delivery costs and marketing apps to consumers. The iPhone maker would also point out that it created the platform that enabled developers to sell to its customers.
The organization is inviting developers of all sizes to join, and says that the only requirement is you have at least one app in the App Store.
This is an open call to all developers, big and small, to join us – and together we will fight back against the monopolist control of the app ecosystem by Apple.
It says it was established to tackle three issues: anti-competitive policies, Apple's 30% commission and no alternative app source for consumers.
Carefully Crafted Anti-Competitive Policies. Apple uses its control of the iOS operating system to favor itself by controlling the products and features that are available to consumers. The company requires equipment manufacturers to limit options, forces developers tO sell through its App Store, and even steals ideas from competitors.

30% "App Tax" on Creators & Consumers. For most purchases made within the App Store, Apple takes 30% of the purchase price. No other transaction fee -in any industry comes close. This app tax cuts deeply into consumer purchasing power and developer revenue. This app tax is especially unfair when it is imposed on apps that compete directly with those sold by Apple, driving up their prices and putting them at a distinct competitive advantage.

No Consumer Freedom. If consumers want to use a modern mobile device, Apple levies a tax that no one can avoid. No competition, no options, no recourse. The Apple App Store policies are prisons that consumers are required to pay for and that developers cannot escape.
The coalition then expands on this with 10 principles it believes should apply to any app store.
There is already an existing organization with a similar name and objective: the App Coalition, formed back in April. My guess would be that the developers behind the Coalition for App Fairness want to ensure that they have control of the agenda.
FTC: We use income earning auto affiliate links. More.
Check out 9to5Mac on YouTube for more Apple news:
[embedded content]
Sony boosts PlayStation profits despite looming PS5 launch – The Verge
Sony's gaming division is continuing to drive major profits for the company even as the PlayStation 4 era winds down. The company announced PlayStation-related revenue of 507 billion yen (~$4.9 billion) and an operating profit of 105 billion yen (~$1 billion) for its July-September quarter, respective improvements of 52 and 40 percent on the same period a year ago.
With the PlayStation 5 set to launch in a couple of weeks, normally you'd expect a significant negative impact on Sony's books for the previous quarter as the company ramps up manufacturing before it starts to bring in more revenue. Sony does say that its profits were hit by an increase in costs, while revenue was reduced by a predictable decrease in PS4 sales. Higher game software sales and PlayStation Plus subscriptions, however, more than made up the shortfall.
Sony's big PS4 release for the quarter was the open-world samurai adventure Ghost of Tsushima, which came out in July and sold 2.4 million copies in its first three days. Sony says it's the fastest-selling new IP on the platform.
Ghost of Tsushima is now PS4's fastest selling first-party original IP debut with more than 2.4 million units sold through globally in its first 3 days of sales.

Congratulations @SuckerPunchProd, and thank you to fans around the world for taking part in Jin's journey. pic.twitter.com/6aE4U7YZJH

— PlayStation (@PlayStation) July 24, 2020
Sony has now revised its full-year gaming forecast upward slightly, expecting to make 2.6 trillion yen in revenue and 300 billion yen in profit by the end of March 31st. That'd be a 26 percent increase in both revenue and profit, which would be impressive for the first year of a console cycle.
Sony's revenue is likely to be limited in the short term by the number of PS5 consoles it's able to manufacture. In an interview with Reuters today, SIE chief Jim Ryan said there was "very considerable demand" for the device, which he says was preordered in the US more times in its first 12 hours than the PS4 was in its first 12 weeks. "It may well be that not everybody who wants to buy a PS5 on launch day will be able to find one."
League of Legends: Wild Rift cinematic trailer revealed – Dot Esports
To coincide with League of Legends: Wild Rift's move into regional open beta the team at Riot Games has released an impressive cinematic trailer for the mobile game.
The trailer showcases many of the champions available in Wild Rift as they face off against each other to the tune of a remixed version of The Kinks hit song "You Really Got Me".
Players who reside in Regions currently serviced in the closed beta testing will now have unrestricted access to the beta, allowing new players to download and participate without being approved.
Both IOS and Android app stores will have the game available for their users to download in the included regions with more regions to come later in 2020 and into 2021.
Wid Rift offers mobile players a similar experience to that available on the League of Legends computer game with slight alterations to help the game function better on a mobile device. These include changes to champions kits that work better with the controls scheme as well as changes to gameplay that will see game times drastically lower than players' experience on the PC counterpart.
With COVID causing setbacks in Wild Rift's development and release, players in America will have to wait into 2021 before they are able to finally get their hands on the game.
iPhone 12 boasts latent reverse wireless charging feature, FCC filing suggests – AppleInsider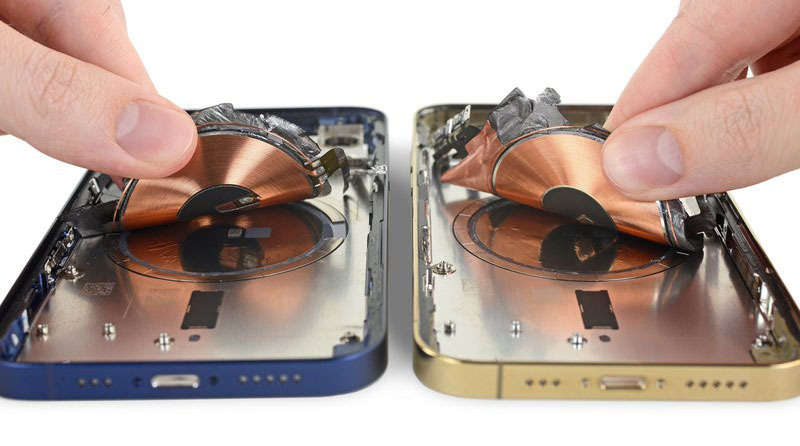 A Federal Communications Commission filing hints at a latent iPhone 12 feature that could one day allow the handset to wirelessly charge other accessories.
Apple's iPhone 12 series could be hiding a major feature that was rumored to debut with last year's iPhone 11 devices. Known as reverse wireless charging or "bilateral" wireless charging, the functionality enables smartphones to use their inductive charging coil to juice up smaller accessories or even other phones.
Evidence that Apple's new iPhone range might support the feature showed up in a recent regulatory filing detailing the company's 2020 handsets. Discovered by VentureBeat's Jeremy Horwitz, the document seemingly references the new MagSafe protocol that debuted alongside iPhone 12 this month.
"In addition to being able to be charged by a desktop WPT charger (puck), 2020 iPhone models also support WPT charging function at 360 kHz to charge accessories [including] an external potential apple accessory in future," the filing reads, according to Horwitz.
While mere speculation, the feature as described could enable charging of attached MagSafe accessories, including unannounced devices like a next-generation AirPods product. Just yesterday, Bloomberg reported that Apple will deliver new AirPods models, including a second-generation AirPods Pro, in early 2021.
Apple was previously rumored to bring reverse charging to iPhone in early 2019. At the time, TF Securities analyst Ming-Chi Kuo predicted that year's iPhone — what would become iPhone 11 — to feature "bilateral" wireless charging. The report was later seconded by supply chain sources, though Apple ultimately nixed those plans.
Today's discovery suggests Apple continued work on the charging feature and integrated functionality into its MagSafe protocol. In theory, reverse wireless charging could be activated via a software update, but it remains unclear if and when Apple intends to do so.