Eryn O'Neill paints everyday construction scenes with fine art touch – Ottawa Business Journal
We've all heard the joke that Ottawa has two seasons: winter and construction.
While the latter is often a nightmare for commuters, construction sites are just what artist Eryn O'Neill looks for when capturing the city's evolving urban landscapes through her unique works of art.
"It comes down to catching a city before it's finished," explained O'Neill during an interview at The Rectory Art House, where she and nine other artists each have their own studio space. "I want to offer a visual break between the before, when everything is torn up, and the after, when the site is cleaned up and functional again."
Don't expect paintings of pretty flowers and breathtaking landscapes from O'Neill. She isn't looking to provide the public with an escape from their city surroundings. "I'm putting them right back into that sensory overload," she said of her depictions of real-life spaces, from construction sites to urban architecture to light rail transit-themed works.
O'Neill presents the everyday and overlooked. "No one stops to appreciate the staircase they're walking up to get to work every day. Sometimes, you're just on autopilot. It's the same with moving through transit stations. You just keep moving. You're not stopping to soak it in. My work offers this pause between moving through."
These days, the Ottawa construction community has been noticing and appreciating O'Neill's work.
In June 2020, her paintings caught the eye of D-Squared Construction CEO Domenic Franco Madonna. The businessman checked out her solo art show at Wall Space Gallery in Westboro Village. Her series focused on the infrastructure within the LRT stations in Ottawa.
As well, he noticed her LinkedIn profile photo, taken by Dwayne Brown. She's featured with one of her construction paintings in the background. It includes a safety traffic barrel in black and orange, which also happens to be D-Squared's company colours.
Rubber traffic cones and safety barriers are regularly featured in O'Neill's work. So much so that people will bring damaged pylons to her. She has a collection of broken cones, stashed away in The Rectory Art House at 179 Murray St.
Madonna went on to hire O'Neill to create three paintings that were hung in his company's head office in Greely. Not long after, Tomlinson Group of Companies approached the artist and commissioned her for an ongoing series of works to be displayed in the company's beautiful new headquarters in Barrhaven. She's been meeting with CEO Ron Tomlinson, touring the quarries and pits, getting up close to the heavy equipment machinery, and having conversations and forming connections with Tomlinson employees.
"It's been really fun," said O'Neill, who snaps photos during her behind-the-scenes tours to take back with her to the studio. "I'm honoured that they've opened up this world to me and been so generous with their time and knowledge, and that they're so enthusiastic.
"There are just not a lot of artists out there doing this. I don't feel like I'm one of many, which is really exciting."
O'Neill, 36, was born in Ottawa and grew up in Westboro. She studied fine arts at the Nova Scotia College of Art and Design before earning her Masters of Fine Art at the University of Waterloo, spending three months studying in Edinburgh, Scotland. She's currently doing her second master's degree, in art history and curatorial studies, at Carleton University.
She also has deep roots with the Ottawa School of Art. She started taking classes at the art school at age seven, followed by night classes throughout high school. When she moved back to Ottawa after grad school, she began teaching in OSA's fine arts diploma program.
O'Neill has had paintings purchased for the City of Ottawa's Art Collection and Global Affairs' Art Collection.
The artist said she's always been fascinated by heavy machinery but that she discovered her love of construction sites while in Waterloo. The downtown core was undergoing heavy work during her time there. As an avid runner, she was continually jogging past the noise and chaos and finding inspiration for her paintings.
O'Neill has continued to explore her interest in transitional urban spaces upon her return to Ottawa. "It became less about getting stuck in it and a lot more about intentionally going out and finding construction sites," said O'Neill.
She said she's been inspired by American artist Charles Sheeler, who was hired in 1927 by Ford's advertising agency to create a series of photographs of one of its automobile factories, and by Edward Burtynsky, who's well known for his photographic documentation of industrial sites across Canada.
She's currently working on a new series of paintings focused on The High Line, a public park built on the historic freight rail line elevated above the streets on Manhattan's West Side. The paintings will show at Wall Space Gallery in March 2022.
As well, the two-time recipient of a grant from The Elizabeth Greenshields Foundation will create a new body of work based on phase two of the City of Ottawa's LRT project.
She hasn't ruled out a fourth university degree in her future, either. It would involve the Azrieli School of Architecture and Urbanism at Carleton University. "My motivation to apply for a Masters of Architecture comes as a culmination of my years of practicing as an artist and wanting to expand my skills further into urban renewal and growth," said O'Neill.
"I've been asked on several occasions where I studied architecture, due to my subject matter, so I figured I should have an answer."
caroline@obj.ca
Art Beat: It's Art Crawl weekend – Coast Reporter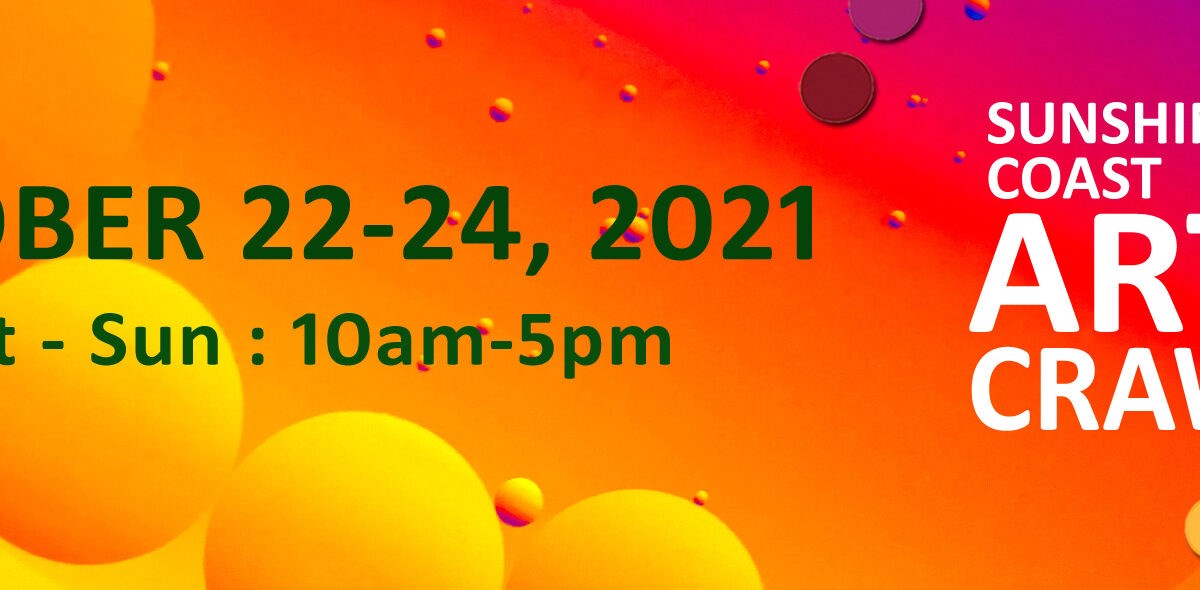 The 2021 Sunshine Coast Art Crawl kicks off Friday, Oct. 22 at 10 a.m., with 164 venues open to visitors until 5 p.m. all three days, through Sunday. And at 10 of those venues (as of press time), Friday evening from 7 to 9 p.m. will also be a time for celebration. Most of the partying is at Gibsons venues, but Redecor + Design (venue #111) on Cowrie Street in Sechelt will also be open, as are Halfmoon Bay venues The Mink Farm Gallery (#146), and Kito Tosetti (#147). Details are at the "Friday Night Parties" link at sunshinecoastartcrawl.com.
Art of Healing
The Sechelt Hospital Foundation's Art of Healing campaign holds its Gala on Saturday, Oct. 23 at the Sunshine Coast Botanical Garden (venue #126). That's where 36 works donated by some great local artists are on display and will be distributed in an exclusive online raffle draw to 36 ticketholders. All visitors to the exhibit can also bid on auction packages, and purchase raffle tickets for the grand travel prizes, among them a grand prize of a trip for two to Venice or any other European destination.
Sechelt Arts Festival
It's also the final weekend of the Sechelt Arts Festival, with the premiere of the play, Voices, at Raven's Cry Theatre. There will be three performances, Friday night, Oct. 22, Saturday night, and a Sunday matinee. The visual art and heritage canoe displays at Seaside Centre become Art Crawl venue #115. Poet Valerie Mason-John speaks in a free event (registration required) at Raven's Cry on Saturday at 11:30 a.m. And your last chance to add your touch to the Paintillio mural at Trail Bay Centre will also be on Saturday, until 4 p.m. Info and tickets at the festival website.
New writers' group
The Sunshine Coast Writers and Editors Society is holding its first meeting on Friday, Oct. 22 at 7 p.m., via Zoom. The society's purpose is "to serve writers, editors and groups on the Sunshine Coast to grow and develop their skills, as well as support other writers' groups and events in the province and across Canada," and "to hold events and launch projects to highlight the incredible talent that exists on the Coast." Contact Cathalynn Cindy Labonte-Smith at 604-724-3534 for a Zoom link.
Meet the author
Writer Jennie Tschoban will be signing copies of her funny and touching memoir, Tales & Lies My Baba Told Me, on Saturday, Oct. 23, from 1 to 3 p.m. at Daffadowndilly Boutique & Gallery, on Marine Drive in Gibsons.
Meet the artists
On Sunday, Oct. 24 starting at 2 p.m., Jennifer Bryant and Jennifer Ireland will talk about their new exhibit, Matters of Scale, on now at the Sunshine Coast Arts Council's Doris Crowston Gallery in Sechelt.
Live Music
The band Astral Motion bring their blend of originals and classics to Roberts Creek Legion on Friday, Oct. 22 at 7 p.m. On Saturday, Oct. 23 at the Creek Legion, Vancouver acoustic band Farmteam start their sets at 7:30 p.m.
The Locals play the Turf Stage at Tapworks in Gibsons on Saturday, Oct. 23, 2:30 to 4:30 p.m. On Wednesday, Oct. 27, Vancouver singer-songwriter Eamon McGrath plays Tapworks at 8 p.m.
At the Gibsons Legion on Saturday, Oct. 23, Poppa Greg and the band kick things off at 7:30 p.m.
At the Clubhouse Restaurant in Pender Harbour, catch Half Cut and the Slackers on Sunday, Oct. 24, from 2 to 5 p.m.
ArtCity: Art education in the gallery (and virtual) space – Woodstock Sentinel Review
In September, I returned to the Woodstock Art Gallery as the assistant curator of education intern, eager to actively bridge arts programming within the permanent collection and the public.
Article content
In September, I returned to the Woodstock Art Gallery as the assistant curator of education intern, eager to actively bridge arts programming within the permanent collection and the public. I have been involved with the gallery for three years, beginning as a co-op student with the education department in 2018 and then as the curatorial and collections assistant in 2019 and 2020. In my previous position, I worked exclusively in a background role curating exhibitions and assisting in collections management. With this new role as assistant curator of education, however, I was able to once again rekindle my interest in bringing the arts to the local community.
Article content
This position, of course, comes with unique challenges during a pandemic. Everything that we once considered emblematic of educational programming – in-person classroom trips, tours and studio events – has been put on pause in an abundance of caution. Over the last year and a half, the staff at the Woodstock Art Gallery have created online lessons and educational resources, virtual exhibitions and other online activities for the public. In addition, artist talks, curator webinars and exhibition openings have all been streamed virtually. It is within these unique circumstances that I began my new position in the education department.
The role of assistant curator of education is a fairly recent addition to the Woodstock Art Gallery staff roster. Created in 2018, this short-term internship aids the education and curatorial departments in realizing public programming. Previous interns have curated exhibitions, written a practical accessibility guide, conducted research and led education programming. The education department's current goals had to be completely reoriented to accommodate the pandemic, however. Virtual resources are being further developed and made accessible to both the public and teachers alike. As collaboration with the curatorial department at the Woodstock Art Gallery has become a central component of arts education programming, alternative methods to experience exhibitions are also currently in the works.
Article content
The future of education programming, however, will not remain entirely within a virtual space. There is a unique value to in-person programming that staff at the Woodstock Art Gallery yearn to return to. Releasing Community Creation Kits and art grab bags throughout this past year, for instance, has been a way to bring art-making materials back into the hands of the public during the toughest restrictions. Now as lockdowns slowly ease and restrictions lessen, we have begun to return to in-person educational programming.
In September, the gallery hosted its first Creative PA day program since the beginning of the pandemic with a small group of kids. The day was filled with the arts as we toured exhibitions, visited the park, and explored lessons in sculpture making. By the end of the day, each child brought home their sculpture and multimedia creations, along with the tools to create more. Building upon this successful day, the education department will slowly begin to roll out more in-person programming, including another Creative PA Day in November. But this, of course, will take time.
Throughout this pandemic, educational programming has taken on many forms – from entirely virtual resources to at-home art kits and PA days, educational programming has required innovation and creativity. The future of education will forever be shaped by the lessons learned during the pandemic and will perhaps take on a whole new form that has yet to be explored.
Julia deKwant is the assistant curator of education intern at the Woodstock Art Gallery. The Woodstock Art Gallery acknowledges the support for this position which is funded by Young Canada Works at Building Careers in Heritage.
Who Are the Indigenous Artists to Watch at Art Toronto? – Ocula Magazine