European Central Bank calls unscheduled meeting to discuss bond market 'panic' – CNN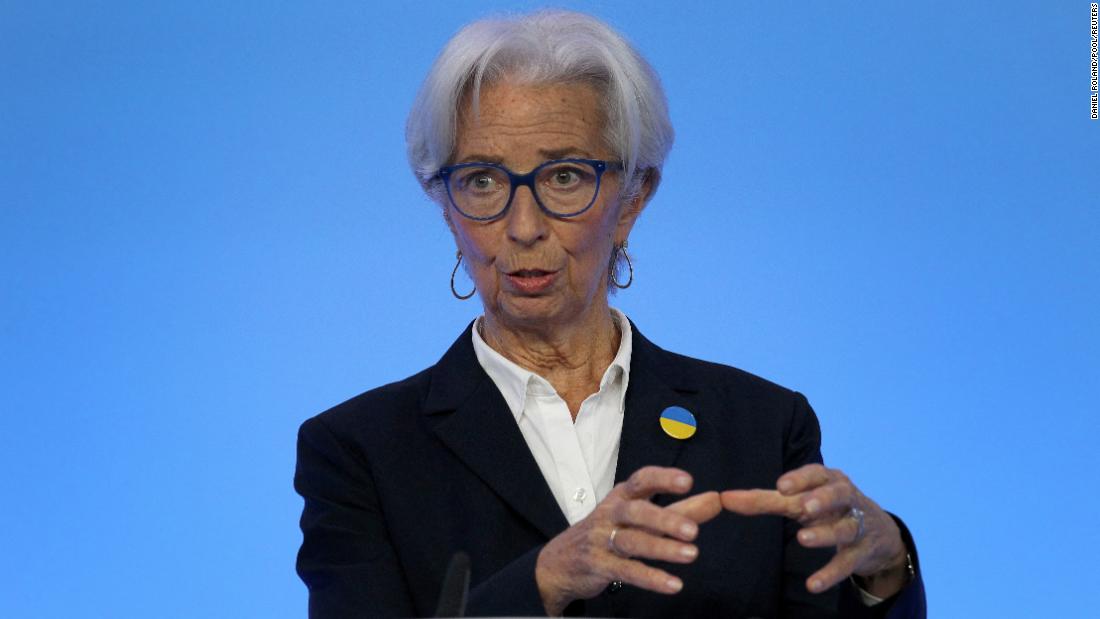 London/New York (CNN Business)The European Central Bank is holding an unscheduled meeting Wednesday to discuss a sharp bond market sell-off that has revived memories of the region's debt crisis more than a decade ago.
The bank would hold the "ad-hoc" meeting to discuss "current market conditions," according to a spokesperson for the central bank. The meeting was reportedly due to begin at 5 a.m. ET.
The ECB left interest rates unchanged at its regular meeting last week but
confirmed plans
to raise the cost of borrowing by 25 basis points next month — its first rate hike in 11 years — and said a bigger hike could follow in September "if the medium-term inflation outlook persists or deteriorates." It also said it would stop buying European government bonds.
The
US Federal Reserve
is also currently meeting to discuss interest rates, and is widely expected to raise US rates by three quarters of a percentage point, something it hasn't done since 1994.
Plans by the ECB to hike rates and end years of support for the economy through bond purchases have pushed up borrowing costs sharply in some of Europe's most heavily indebted countries, leading to calls for the bank to provide more details on how it proposes prevent the eurozone bond market fragmenting.
The gap between yields on 10-year German and Italian government bonds was at its widest since March 2020 on Monday, according to Tradeweb. The spread between German and Greek bonds has also widened recently.
The 10-year Italian yields fell back slightly on the news of the emergency ECB meeting, dropping to just below 4% from 4.3% Tuesday, according to Capital Economics.
"The ECB's carefully-communicated strategy was to end asset purchases, then raise rates, starting in small increments and accelerating if needed," noted Societe Generale strategist Kit Juckes. "This strategy is in all sorts of trouble today as the ECB meet to discuss their anti-fragmentation policy and tools."
At the end of 2021, Greece had the highest debt-to-GDP ratio in Europe at 193%. Italy was next at 151%.
'Panic in the periphery'
Europe is in better shape than it was the last time the ECB started raising rates.
Greece's economy, in particular, has been beating expectations for growth, and it has favorable conditions on its debt that make repayment less of a concern. But that's not the case in Italy, which will need to refinance its liabilities sooner, and where growth has been dragging.
"Italy has not done enough serious reforms," said Holger Schmieding, chief economist at Berenberg Bank.
And the turmoil in the bond market since last Thursday's ECB meeting has piled pressure on the bank.
"With memories of the European debt crisis still fresh, investors are asking how and under what circumstances ECB President Christine Lagarde would deliver on the promise … to act against 'excessive fragmentation' if required after the end of net asset purchases," Schmieding wrote in a note Wednesday headlined "Panic in the periphery: time for the ECB to show its hand."
The ECB has said it would step in and resume bond-buying if the situation deteriorates rapidly. Yet exactly when it would intervene isn't clear, making investors increasingly nervous.
"The ECB can contain the problem if they want to," Andrew Kenningham, chief Europe economist at Capital Economics said earlier this week. But they haven't laid out their "pain threshold," he added.
"Inflation Forecasts Aren't Worth the Paper They're Written on": This Is about the Bank of Canada's Reaction to Inflation, But it's the Same in the US and Everywhere – WOLF STREET
"Why the current tightening cycle is unlike anything we've observed in the past."

When Canada's Consumer Price Index for May was released a couple of days ago, it was – "as expected," I would say – a lot lot worse than expected, and exceeded once again by a huge margin the inflation forecasts by the Bank of Canada. According to the exasperated economists at the National Bank of Canada, CPI inflation runs 1.5 percentage points above the BoC forecasts of CPI, outrunning those forecasts at every step along the way. May was "the biggest miss yet in what has been a systematic underestimation of inflation," they wrote in a note.
"So if May's CPI report doesn't set alarm bells ringing at Governing Council [of the Bank of Canada], someone should check their collective pulse," they noted.
The headline CPI for Canada spiked by 7.7% in May compared to a year ago, the worst inflation rate since 1983, according to Statistics Canada: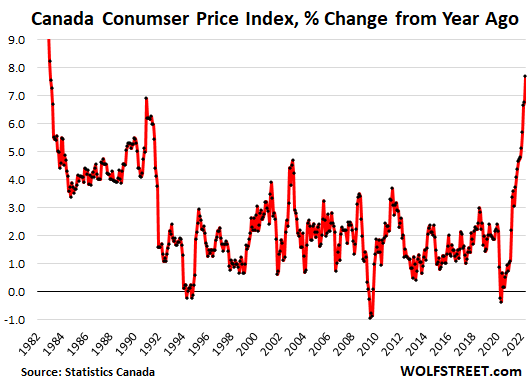 The BoC has already hiked its policy rates by 125 basis points, to 1.50%. At its last meeting, it included hawkish language of more and bigger hikes than expected, such as a 75- basis point hike at the July meeting. The BoC has also embarked on QT, and its balance sheet has been shrinking since March 2021. But the rate hikes and the hawkish language of future rate hikes were based on the BoC's inflation forecasts which have been "a systematic underestimation of inflation." So this rate-hike cycle is going to get interesting.
On a month-to-month basis, CPI jumped by a stunning 1.4% in May from April, not seasonally adjusted; and by 1.1% seasonally adjusted. As expected, I would say, those spikes totally blew away the expectations.
The month-to-month CPI rates of March, April, and May, annualized, spiked to an annual rate of 12.5%.
The red-hot month-to-month increases came across the board, and not just in a few commodities-linked items. It gave the BoC more than enough reasons to pull the trigger on a 75-basis point hike at its meeting on July 13.
"Inflation forecasts aren't worth the paper they're written on."
The BoC's inflation forecasts that it released at each of its prior meetings going back to April 2021 are depicted in different colors in the chart below from National Bank of Canada's Financial Markets shop. The red line is the actual CPI rate for each quarter. The BoC's estimates start at each meeting with the then current CPI rate.
So at its April 2021 meeting (light blue, first line from the bottom), as inflation had begun to surge, the BoC estimated that CPI would peak at just under 3% by mid-2021 and then decline to 2% by March 2022, hahahaha.
Then at its July 2021 meeting, the BoC forecast that inflation would top out at 3.8% by Q3 2021, then drop to 3% by about right now, hahahaha, and to 2% by Q3.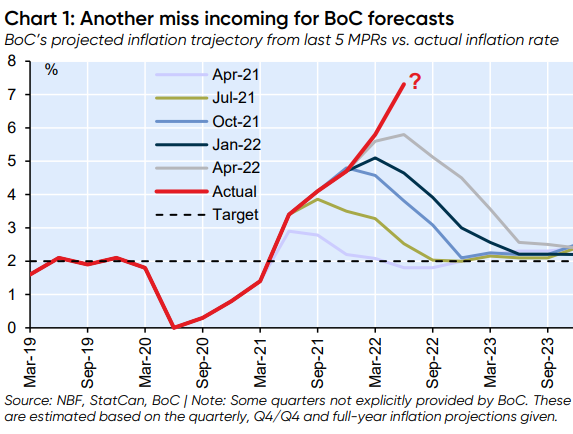 The above chart shows how ridiculously far off these inflation forecasts were, and how this inflation is a big wild card that just keeps getting worse, even as commodities prices have started to come down.
"For BoC watchers trying to compare today's inflation trajectory with earlier monetary tightening episodes, give up. There's simply no comparison in the overnight rate target era (that started in the mid-1990s). That's why the current tightening cycle is unlike anything we've observed in the past," said National Bank of Canada's Warren Lovely and Taylor Schleich in their note.
"As aggressive as the past couple of BoC actions may have seemed at the time, it's time to turn the screws even tighter," they said.
"A 75 bp rate hike on July 13th won't fix Canada's inflation problem, not with labour markets as tight as they are. As an aside, job vacancy data are clearly worrying, and Canada's acute labour shortage won't be remedied quickly despite a resumption of healthy population growth [through immigration]," they wrote.
And they added – sprinkled with stark inflation humor:
"To summarize: We have out-of-control inflation. Simply sending more money to households like some governments have done (or intend to do) is just like adding gasoline (itself already expensive) to the fire.

"Inflation demands an uber-forceful BoC reaction, including a 75 bp hike in three weeks' time.

"Exceptional rate hikes have done little to control prices (so far) but have turned housing markets upside down. Consumer psyches bear watching and recession risks have mounted.

"Indeed, with inflation data like this, securing a 'soft landing' might be like threading the eye of a needle. We haven't totally abandoned hope, but today's CPI report should sober up even the most enthusiastic among us."
The Fed was also ridiculously off with its inflation forecast every step along the way and by now has gotten burned at the stake for its use of "temporary" and transitory." The ECB too has been ridiculously far off with its inflation forecasts. And their monetary policies – their refusal to hike rates starting in early 2021, and their refusal to end QE and start QT at the same time – were driven by this ridiculous underestimation of inflation. But now they've gotten the memo.
It is an interesting turn of events that economists at the big banks in Canada as well as the US and everywhere are exhorting their respective central banks to crack down on inflation by raising rates further and harder as this inflation is threatening to spiral out of control, after which the economic and financial damage from runaway inflation is going to be huge.
Stock and bond markets have already reacted sharply to this tightening scenario, and in Canada, housing markets have already "turned upside down," and central banks have just started to tighten, and nothing central banks did in recent decades can be compared to what comes next, and if a recession is part of the deal of getting this runaway inflation under control, so be it.
Enjoy reading WOLF STREET and want to support it? Using ad blockers – I totally get why – but want to support the site? You can donate. I appreciate it immensely. Click on the beer and iced-tea mug to find out how:

Would you like to be notified via email when WOLF STREET publishes a new article? Sign up here.

The U.S. wants to ban Juul. Where is Canada on regulating e-cigarettes? – CBC News
Earlier this week, regulators in the United States ordered Juul to pull its vaping products from the market, dealing a major blow to one of the most powerful players in the industry.
The company is appealing the decision by the U.S. Food and Drug Administration (FDA), asking a federal court to block a government order to stop selling its electronic cigarettes.
While the attempted ban in the U.S. doesn't directly affect Canada, some health advocates say it raises questions about the slow pace of regulation in this country.
Here's a closer look at the FDA's decision and what's happening in Canada.
Why was Juul banned?
As part of the FDA's review process, companies had to demonstrate that their e-cigarettes benefit public health. In practice, that means proving that adult smokers who use them are likely to quit or reduce their smoking, while teens are unlikely to get hooked on them.
In its decision, the FDA said that some of the biggest e-cigarette sellers like Juul may have played a "disproportionate" role in the rise in teen vaping. The agency said that Juul's application didn't have enough evidence to show that marketing its products "would be appropriate for the protection of the public health."
On Friday, the e-cigarette maker asked the court to pause what it called an "extraordinary and unlawful action" by the FDA that would require it to immediately halt its business. The company filed an emergency motion with the U.S. Court of Appeals in Washington as it prepares to appeal the FDA's decision.
That dispute is far from over.
What about in Canada?
Juul's vaping products, as well as those sold by other companies, remain available in Canada.
Health Canada proposed a ban on flavoured vaping products last June. At the time, it cited research indicating that flavoured vaping products are "highly appealing to youth, and that youth are especially susceptible to the negative effects of nicotine – including altered brain development, which can cause challenges with memory and concentration."
But after a round of consultations last year, that proposed ban still hasn't been put into effect.
WATCH | P.E.I. now has toughest vaping, smoking laws in Canada:
As of March 1, people have to be 21 to buy vaping or tobacco products in P.E.I., giving the province the highest age limit in the country.
Several provinces and territories have put in place their own limits on flavoured vaping products, citing their appeal to teenagers.
(Juul voluntarily stopped selling many of its flavoured cartridges in 2020 following criticism they were designed to entice youth.)
David Hammond, a public health professor at the University of Waterloo who researches vaping in youth, said banning Juul products in the U.S. won't necessarily have a significant impact on the industry as a whole, given its declining market share and the variety of products available.
"You know, it's like a tube of toothpaste. If you press at one point, you just kind of squeeze it to a different spot," he said.
What does Health Canada say?
"Health Canada has no plans to remove any vaping products from the Canadian market that comply with the Tobacco and Vaping Products Act and the Canada Consumer Product Safety Act," the agency told CBC News in an email.
The government has recently put in place new restrictions on the sector, including limits on advertising for e-cigarettes and the amount of nicotine in the products. It's also undergoing a review of the legislation for vaping products that went into effect in 2018.
On its website, Health Canada warns of the risks of e-cigarettes, saying "the potential long-term health effects of vaping remain unknown" and the government continues to investigate "severe pulmonary illness associated with vaping."
Last week, Health Canada announced another set of proposed regulations that would require vaping companies to disclose information about "sales and ingredients used in vaping products," to help the government "keep pace with the rapidly evolving vaping market."
How popular is vaping?
Vaping is popular among young people, with 14 per cent of Canadians between the ages of 15 and 19 having vaped in the last month of 2020, up from six per cent from the same month in 2017, according to the results of the Canadian Tobacco and Nicotine Survey.
Vaping is less popular for adults over the age of 25, with just three per cent reporting that they vaped within the last month in 2020.
Robert Schwartz, a senior scientist at Toronto's Centre for Addiction and Mental Health, said the regulatory challenge is to strike a balance between making these products available to adults as an alternative to cigarettes, while at the same time limiting their appeal to younger non-smokers.
"We definitely are finding that young people who would not otherwise become cigarette smokers have started to use e-cigarettes and they fairly quickly develop a dependence on them," said Schwartz.
"Our research is also demonstrating that some adults are able to quit by … using these cigarettes."
What's the holdup?
Like Schwartz, Hammond said vaping products could be a useful tool in helping wean smokers off cigarettes. He said it doesn't make sense to put strict limits on vaping products if cigarettes, which are thought to be more harmful, are still available in corner stores.
"I don't think the answer lies just with how they are regulated," he said. "I think it lies with the industry and reframing these products as something that a 50-year-old uses to quit smoking and not a 15-year-old grabs on the way to a party."
Hammond, who sits on Health Canada's advisory board for vaping products, said the agency could stand to move more quickly given the stakes.
"There's no doubt these are difficult questions and the market shifts rapidly. But it's not an area where slow, plodding regulation is a good fit," he said.
Cynthia Callard, executive director of the advocacy group Physicians for a Smoke-Free Canada, said that, while the context is different in Canada, the FDA decision "is a reminder that governments can and should bar market access to products which cannot be shown to benefit public health."
Inflation: Half of Canadians' finances worse than last year – CTV News
As inflation rates soar to the highest they've been in Canada in forty years, nearly half of Canadians say that right now, they're doing worse financially than they were at this time last year.
A further third say they expect things to get even worse in the coming year, the largest number of people to answer this way in more than a decade.
The numbers come from a new Angus Reid Institute (ARI) survey released Friday, which surveyed more than 5,000 Canadian adults between June 7 and June 13 on their financial standing and struggles.
The results shed light on the plight Canadians are facing coast to coast.
Currently, inflation is at a staggering 7.7 per cent higher than last year, according to Statistics Canada. The inflation rate hasn't been this high since 1983, the year that Canada Day replaced Dominion Day.
TRENDING DOWN
The percentage of Canadians answering that they are worse off financially now than a year ago has been increasing steadily over the last few years. In 2018, only 29 per cent of Canadians said they were doing worse than the previous year. That number climbed to 32 per cent in the first quarter of 2020, then to 45 per cent in the second quarter of 2022.
It's now the highest that it has been since ARI started tracking this specific question in 2010.
At the same time, the number of Canadians who said they were doing the same as a year ago plummeted, going from 54 per cent in 2018, to 44 per cent in 2020, to 36 per cent in the second quarter of 2022.
Interestingly, the percentage of Canadians who say they are doing better than the previous year jumped to 23 per cent in 2020, after years of hovering around 13-14 per cent. That number is now at 17 per cent.
When these results are broken down into the household income of the respondents, those who are in the upper echelons of income, making more than $200,000 annually, were much more likely to report that they were doing better than last year financially, at 26 per cent, and the least likely to report that they were doing worse, at 30 per cent.
On the other end of the scale, those making less than $25,000 per year were more likely to say they were worse off this year, at 51 per cent, and less likely to say they were doing better than last year, at 15 per cent — underlining how the rich are hurt less by shifts such as inflation, and the poor keep getting poorer as rising costs hit their wallets.
Only one in five Canadians said they expected things to improve a year from now, while a third anticipated things to get even worse.
"Residents in Saskatchewan voice the most pessimism and least optimism on this question," the report stated.
COST OF LIVING IS EXORBITANT FOR MANY
Concerns about the cost of simply living is the one that consumes the time and energy of most Canadians, with food, housing and bills driving a huge amount of financial worries across the country.
When asked what the top provincial issues were, with respondents being able to choose up to three options, "cost of living/inflation" was overwhelmingly the most popular selection, with 63 per cent of respondents selecting it as a major issue.
Health care and housing affordability took second and third place at 52 per cent and 31 per cent respectively, with climate change and the environment coming in at fourth with 26 per cent.
"Some regions of the country are under more economic stress than others," the report stated. "In Atlantic Canada, the cost of living was already higher than most other parts of the country last year. And Newfoundland and Labrador, Nova Scotia, and New Brunswick have experienced higher rates of inflation than other provinces, alongside Manitoba and British Columbia."
When it comes to the country as a whole, more than half of those who rented said that it's difficult to afford their rent.
For homeowners, monthly mortgage payments are on the rise after a series of interest rate increase by the Bank of Canada. One quarter of Canadians with a mortgage say prices have already gone up, while another half said they anticipate a price jump. Two thirds say that if their payments increased by $300 a month, they might not be able to afford it anymore.
"The challenge for many, as pandemic-era supports are removed, and some struggle with repayment of the CERB they received, is to avoid debt creation," the report stated, noting that many Canadians are already struggling with debt.
Two in five Canadians said they had credit card debt.
Of those who scored high on the ARI Economic Stress Index and were classified as "struggling" on that index, 62 per cent had credit card debt, and three-in-five of this group said it would take them more than a year to pay it off.
The Economic Stress Index, created in January, looks at core costs related to quality of life, such as debt, housing and household food costs, as well as the respondents' anxieties and assessments of their own finances, to map out who is having a harder time.
There are four categories: struggling, uncomfortable, comfortable, and thriving. The proportion of those who are "thriving" has dropped six points since May, while the number of those who "struggling" has risen three points in that time period. Some good news is that 29 per cent of Canadians fit into the "comfortable" category compared to 26 per cent in May.
"A majority in each of the Atlantic provinces fall under the Struggling or Uncomfortable categories," the report stated, with 55 per cent in Nova Scotia and 64 per cent in Newfoundland and Labrador falling into one of these two categories.
Across the country, in most provinces, more than half of the respondents fell into the one of the bottom two categories, with 64 per cent in Newfoundland and Labrador, 59 per cent in Alberta, 62 per cent in Saskatchewan, 57 per cent in Manitoba, 55 per cent in Nova Scotia and 54 per cent in Ontario. Prince Edward Island was not included in the survey.
"Only in Quebec (61 per cent) and B.C. (52 per cent) do more than half fall into the top two categories on the ESI," the report stated. "Notably, by Statistic Canada's CPI, those provinces have the lowest cost of living of any province in the country."
The province with the single highest percentage of Canadian respondents deemed to be "thriving" was Quebec, with a whopping 30 per cent.
Just over 75 per cent of Canadians said their province had done a poor job of handling inflation.
Around one in three Canadians said their costs due to purchasing gas had increased, while just under half stated that those costs had gone down for them because they were consciously avoiding driving and seeking out other forms of transportation to save money.
FOOD PRICES LEAVING SOME HUNGRY
The report noted that inflation affects some goods more harshly than others.
"Food inflation was 10 per cent in May, higher than the 7.7 per cent inflation rate overall," the report said.
Just over half of Canadians surveyed reported struggling to make the grocery bill each month, with the report noting that this is seven points higher than last October.
And the lower your tax bracket, the harder it is to put food on the table. Seven out of ten Canadians making less than $25,000 a year said it is difficult to feed themselves and their family, while at least one third of all incomes reported finding it hard to budget for food.
One B.C. resident told The Canadian Press that her grocery bill has more than doubled. Food Banks Canada are concerned that more and more children — who make up a third of those who rely on food banks — could be going hungry this summer as school ends and access to school-based food programs is cut off.
Earlier this month, NDP leader Jagmeet Singh called out MPs for laughing in the House of Commons after he spoke about Canadians being unable to afford groceries. In a video Singh posted of the incident, laughter can be heard after he states that one in four Canadians are going hungry.
"I just mentioned that Canadians are hungry and I hear laughter in the chambers," Singh said after the Speaker asked him to repeat himself. "They should be ashamed of themselves. Absolutely ashamed." He stated on social media that those who were laughing were Conservative MPs.
TRUST IN INSTITUTIONS
Amid rising inflation, the Bank of Canada is meant to keep the impact on Canadians to a minimum through policy adjustments, but Canadian trust in this institution is split, according to the survey. While 46 per cent said they trusted the Bank of Canada, 41 per cent said they did not.
When the political leanings of survey respondents were taken into account, the results became more stark: Past supporters of the Conservative party and the People's Party of Canada were less likely to trust the Bank of Canada, with 59 per cent and 86 per cent indicating this respectively.
The Bank of Canada has admitted that it made missteps, and is now playing catch-up as Canada's economy overheats.